Don't let the dog days of summer keep you from heating up your social life! August is a fantastic month for a fun fiesta. Whether it's for your birthday, anniversary, or just because, there are tons of fun and creative themes that work perfectly for this month.
We'll show you how to handle some of the challenges of planning a party this month and give you tips for making sure it's a smashing success. Then we'll dive into 30+ of the most epic August party themes you can throw. Get ready to start making your guest list and let the good times roll!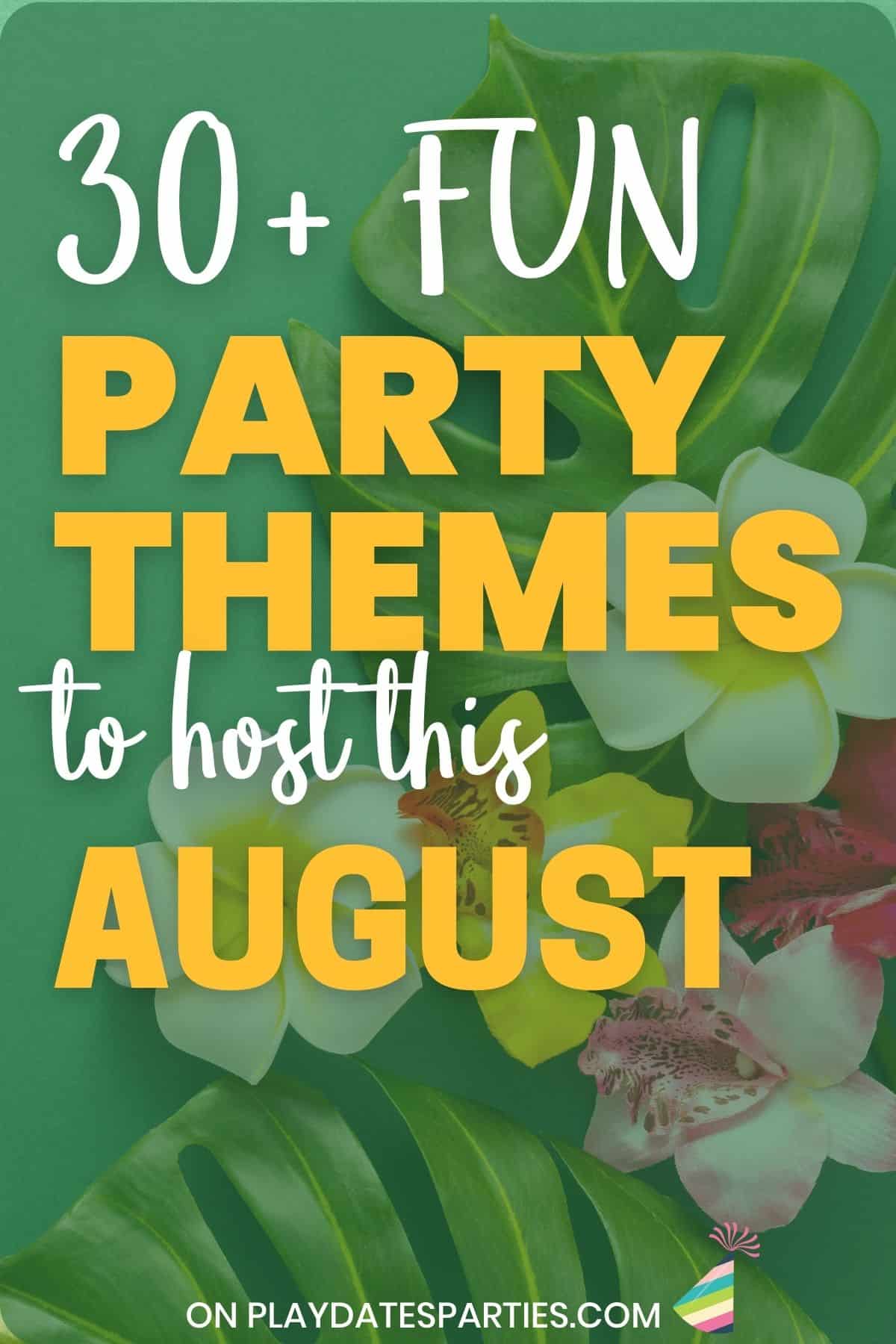 Challenges When Planning an August Party
August isn't always an easy month for hosting a gathering, but with some careful planning, it can be a piece of cake. Here are some of the challenges you might face and how to deal with them:
It's hot, hot, hot! If you can't party indoors, combat high temps with water activities, pop up tents, outdoor fans, and plenty of cold drinks to enjoy.
It's a popular travel month. Many families tend to take one more vacation before school starts up again, which means attendance may be lower than expected. Do your best to double check well in advance if your kids friends will be around.
Bugs, ew. Nothing ruins a good time like pesky mosquitos! Make sure to provide bug spray or citronella candles to keep your guests bite-free and comfortable!
Tips for Making Your August Party Successful
Here are some tips that will help you create an awesome August party like a pro:
Get creative with foods: Offer a variety of refreshing appetizers and desserts that are best enjoyed during the summer months, like popsicles, fruit kabobs, and no-bake cheesecake.
Take advantage of discounts: Many stores offer end-of-summer sales — stock up on decorations or supplies at great prices!
Send out personalized invites: Sending out digital invitations is an easy way to keep your guests informed about details while giving them something fun to remember your party by!
Now let's dive into some August party theme ideas that will have your friends talking for weeks to come…
The Best August Party Themes
No matter what the occasion, an August party can be a fun and memorable experience for everyone involved! With these creative themes and tips, you'll be sure to throw the best summer bash of the season.
Once you've picked your favorite August party themes, make sure to stay organized with our free one-page party planner. It's specifically designed to help you stay organized and on track with both your time and your budget.
---