If you're looking for timeless sports birthday party inspiration and ideas, this vintage sports party is just for you.
From the vintage-inspired sports birthday party decorations, to the fantastic cake and themed party games, you'll find plenty of ideas to get the wheels rolling.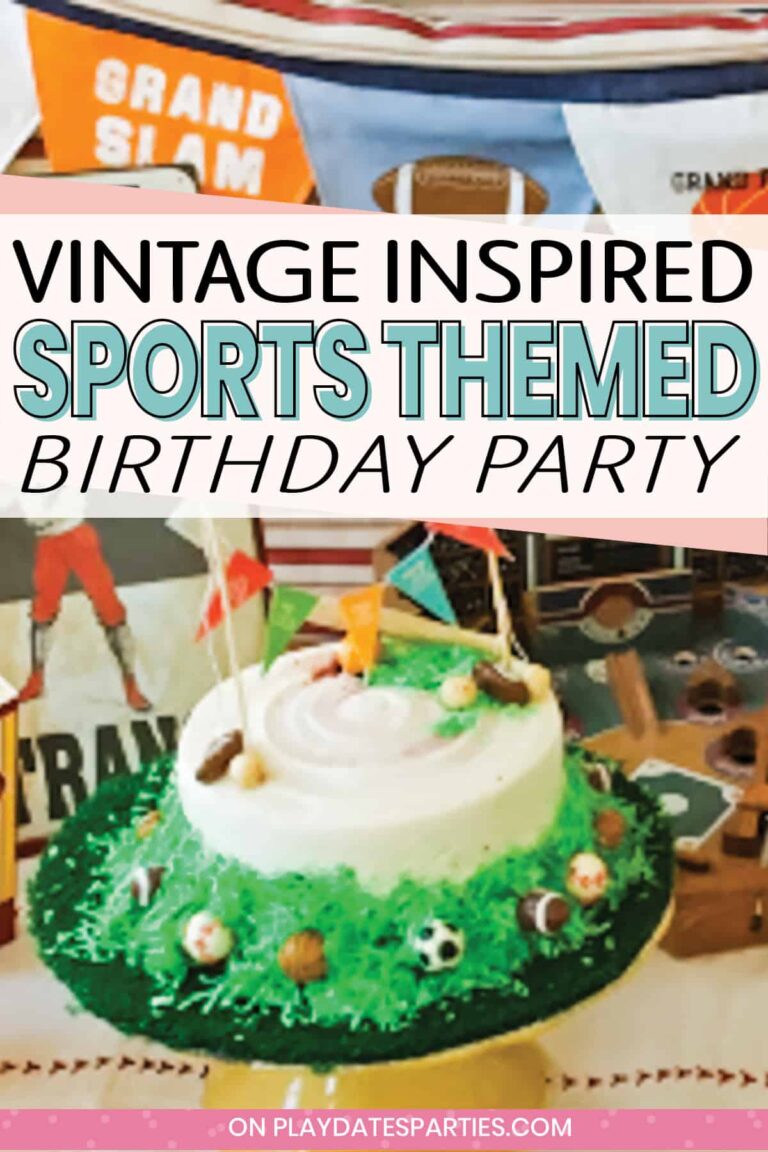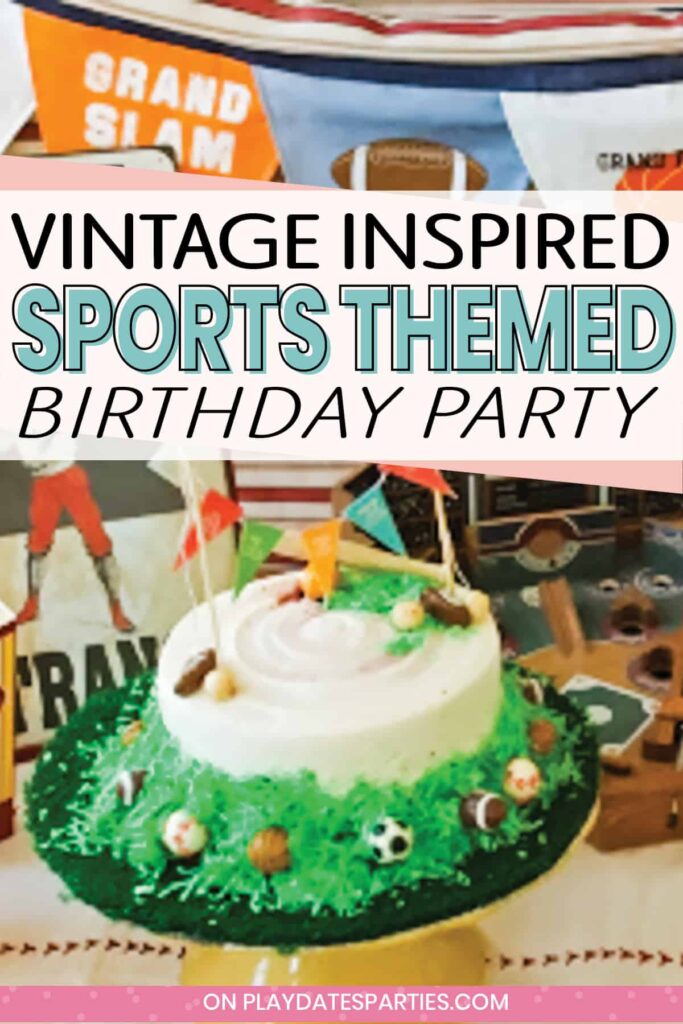 With playoff season about to begin, I thought it would be good to reach back and update some of the sports themed posts in the archives.
And when I saw this vintage sports birthday party that was first featured in 2011, I knew it needed to be resurrected.
I love that this real-life party keeps things simple, with a focus on a dessert table with only a few options. And even with such a small focus, there are plenty of ideas that are worth copying!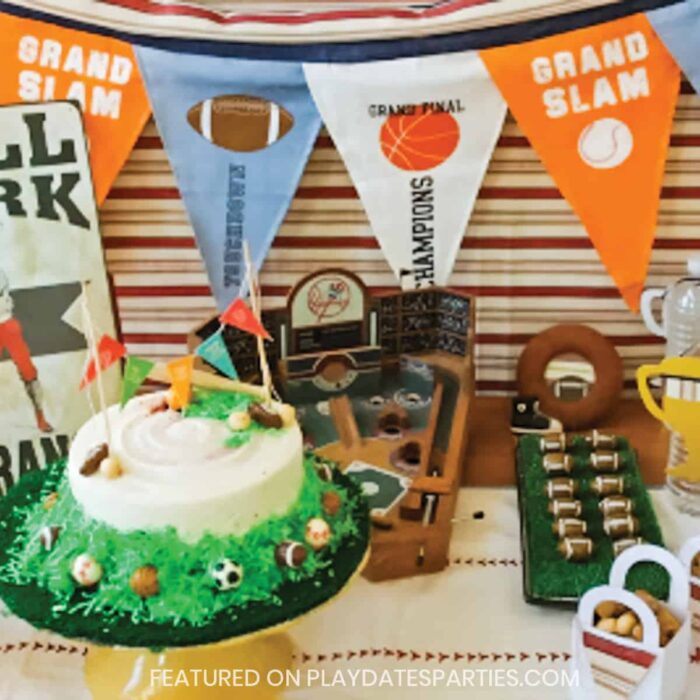 About the Party:
Vintage Sports Party Decorations
You know I love using party printables for easy-as-pie decorating. But sometimes you want to go the extra mile.
And with a vintage theme that means fabric. Fabric buntings, backdrops, tablecloths, and anything else that can hold up the weight.
Shawna even took it a step further by using a vintage-style red striped fabric that is reminiscent of baseball stripes for the tablecloth. (It's not just me seeing that, is it?)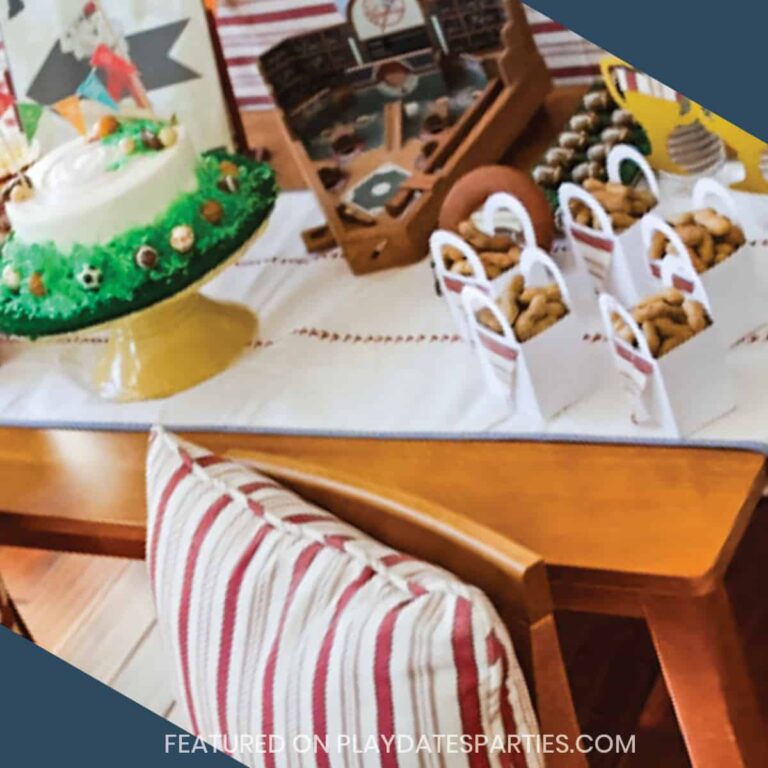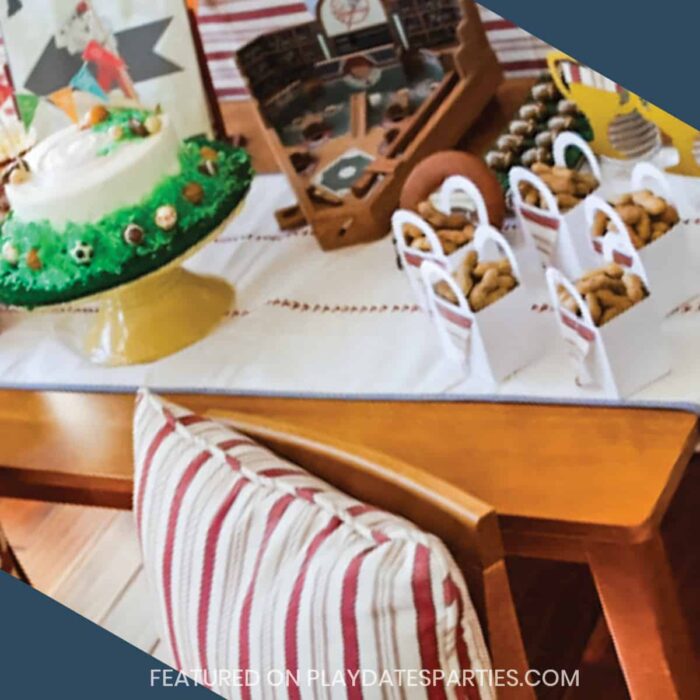 She even matched the pillow in front with the fabric backdrop. Love those skills!
Then she added the cutest mini vintage stadium gameboard as a centerpiece on the dessert table.
Doesn't it just take the whole thing over the top? (In all the right ways, of course. Those are the touches that really make a difference.)
RELATED>>>>5 Easy Ways to Make Stunning Throw Pillows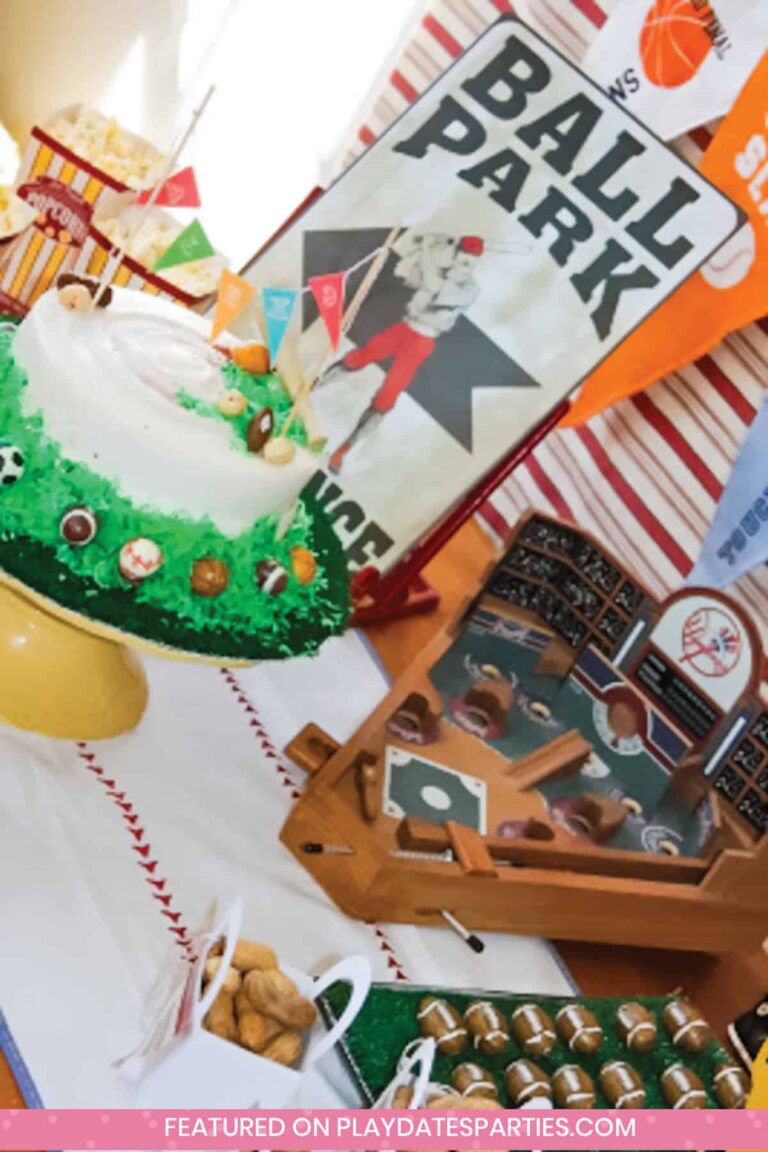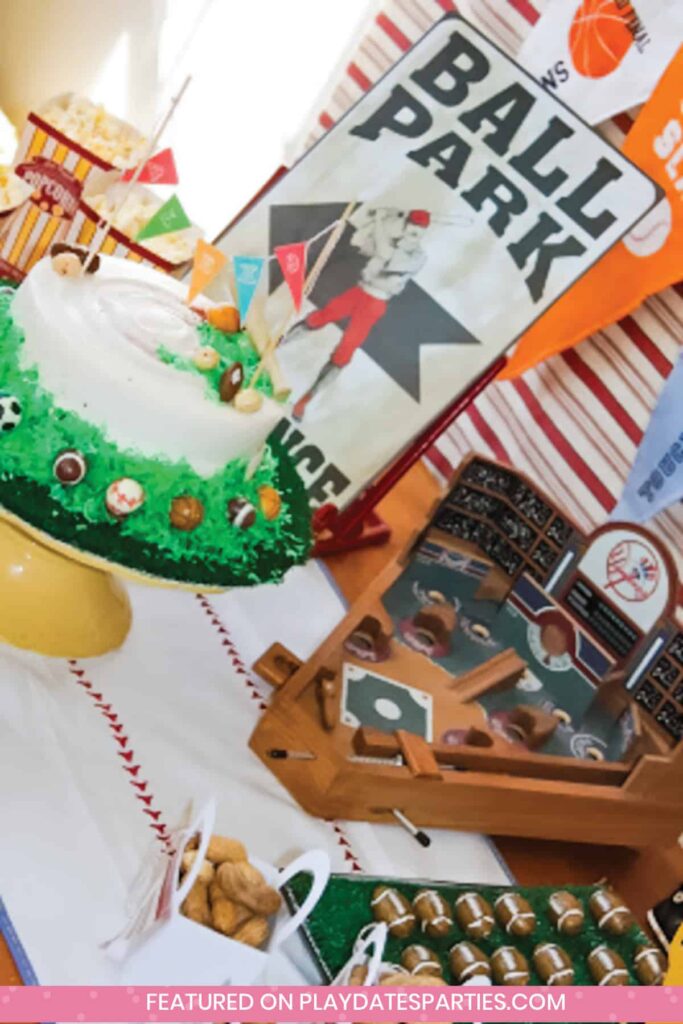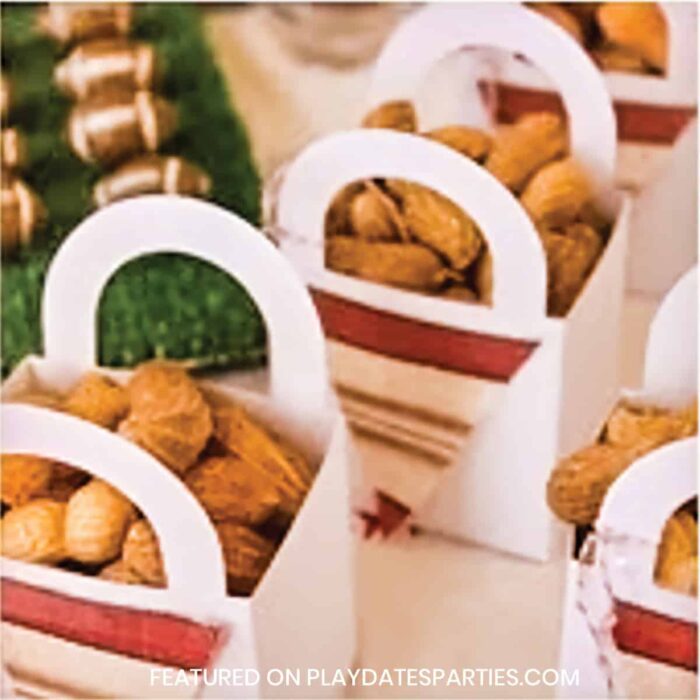 Sports Themed Party Food
Shawna only shared her dessert table, so I don't have a full menu for you, but here are some of the highlights:
Popcorn in vintage-style popcorn boxes
Peanuts served in the shell
Football shaped chocolates
Water bottles with trophy labels attached to the front
And, that amazing cake, of course
RELATED >>> The Best Way to Make Waterproof Water Bottle Labels
And while most kids would be thrilled with pizza to go along with their party snacks, some savory sports-themed appetizers or homemade chili might be a tasty change of pace, too.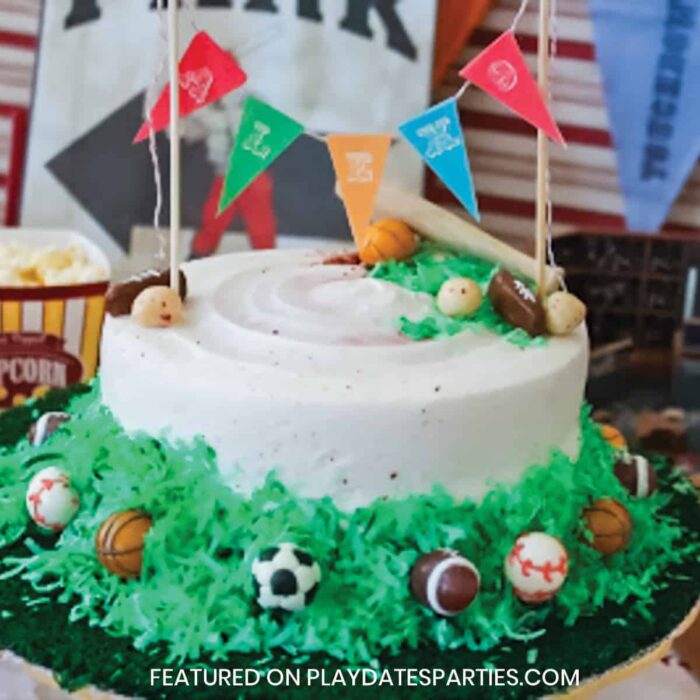 Sports Themed Birthday Party Activities and Games
Shawna's son and his friends enjoyed plenty of fun activities, including baseball themed pinball and soccer foosball.
My favorite, however, is the trophy banner photo booth. The kids look so cute with their faces in those trophy cups.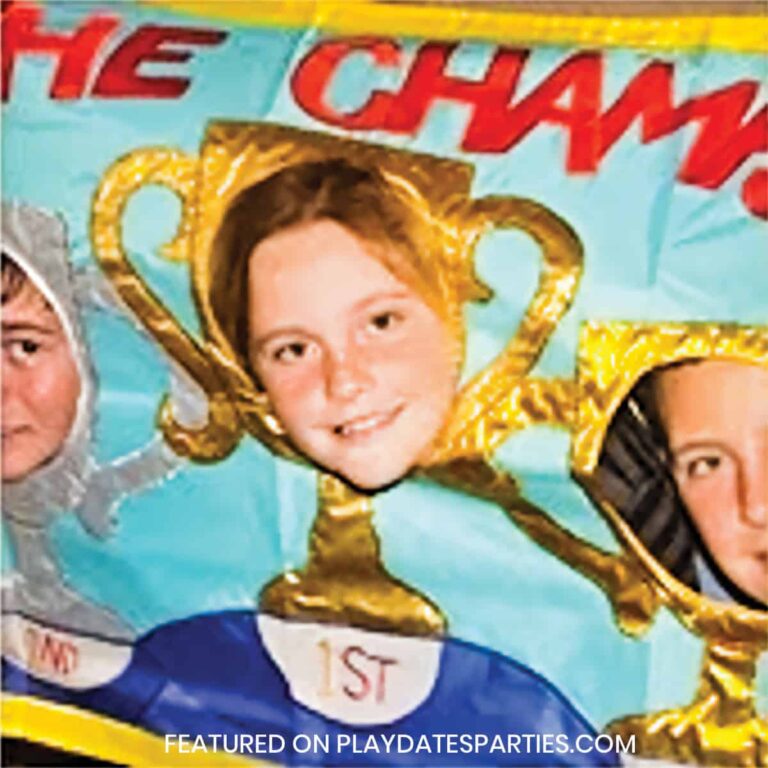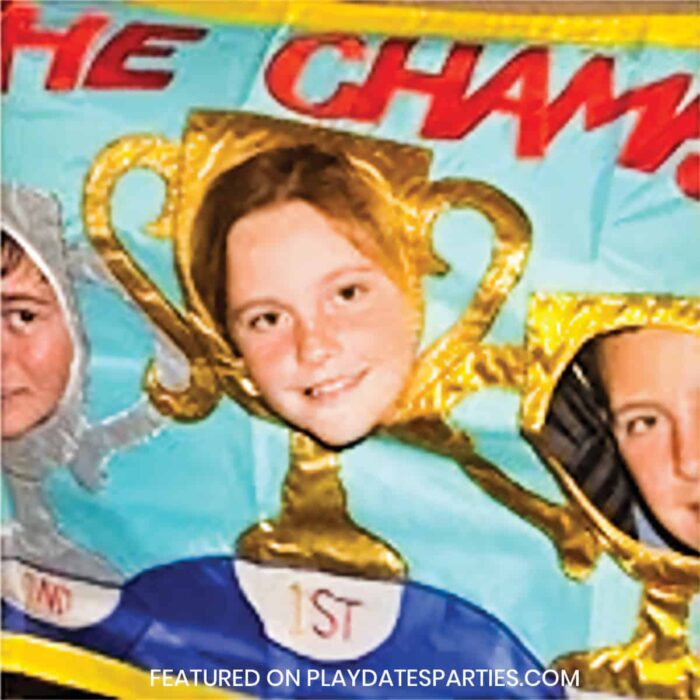 If you're looking for more sports themed birthday party games, you might want to check out Touchdown Tango and Hut Hut Hike. They're so easy, and perfect for kids parties.
More Birthday Party Ideas to Love:
Now It's Your Turn
Thankfully, Shawna at Pretend, Party, and Play still has her blog archives up and running, so you can see the rest of the fun party photos. Hopefully you find them as inspiring as I have.
This post was originally published on February 21, 2011. It has been updated with larger images and additional party details.
---