Grab some tips from a professional event planner and copy these amazing luau party ideas.
Inside you'll find including Dollar Tree party ideas, tropical decorations, kids food, and a set of free printables to download.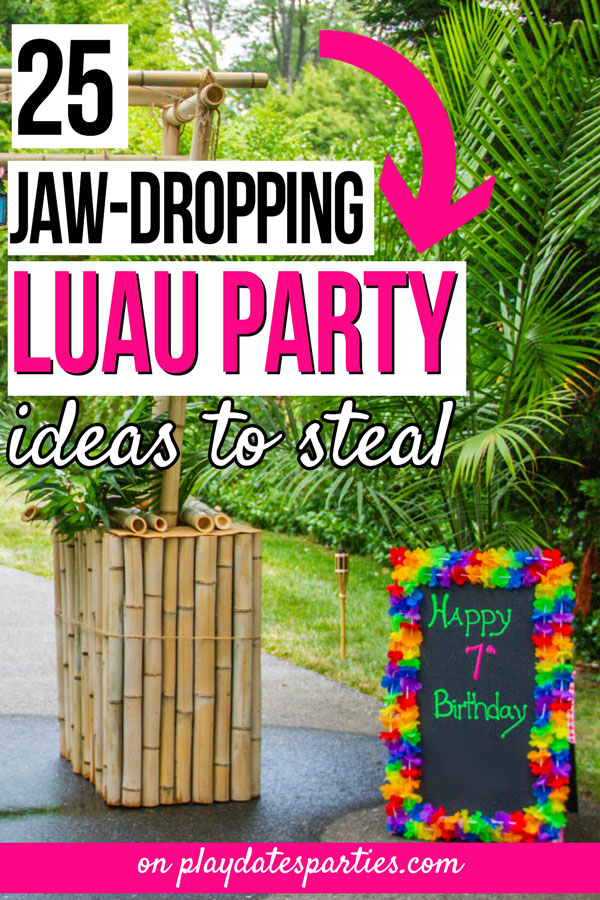 What do you do when you've got the sweetest little girl turning seven years old and you're too busy with work and your younger child to do much about it?
You let someone else do the work, that's what you do.
In this case, that would be my former-caterer stepmother. She knows how to take easy-to-find items from Party City and The Dollar Store and turn them into one big ball of awesomeness.
And this amazing backyard luau for my niece is the perfect example.
To be fair, there are some over-the-top aspects of the party that are outside the average budget. Things like the giant slide, table and chair rentals, the miniature beach, and all the extra greenery add up very quickly.
But don't be fooled by the sheer abundance of decor. You can adapt many of the unique and creative ideas to host a party people will be talking about for ages to come.
RELATED>>>>REAL TIPS FOR PLANNING A PARTY ON A BUDGET
Luau Party Decorations
Start with the Perfect Welcome
For this party, the driveway was taken over with giant palms, a tiki archway, an "Aloha" sign and a colorful chalkboard welcome sign. Talk about a grand entrance.
While bringing in giant palms and a full-size tiki archway may be out of most people's budget, the chalkboard sign framed in Hawaiian leis is a simple touch just about anyone can pull together.
If you're on the crafty side, you can also use a cutting machine like the Cricut to cut out an abundance of tropical leaves to create a similar effect over your doorway. (so much more affordable!)
Set the Stage by Setting the Table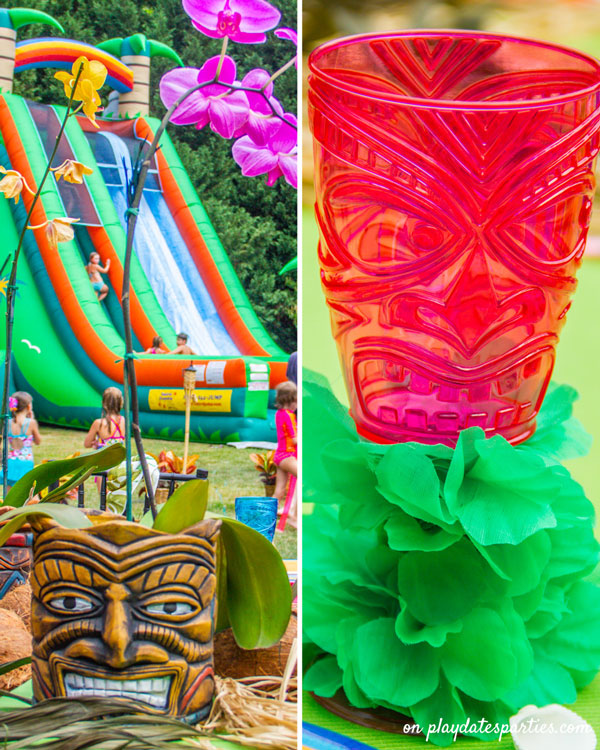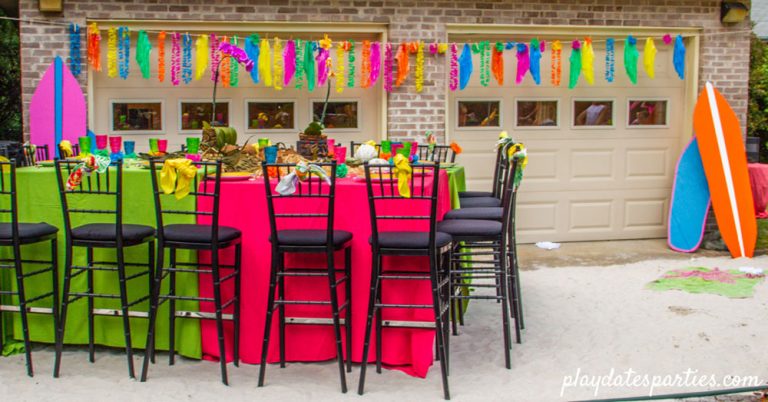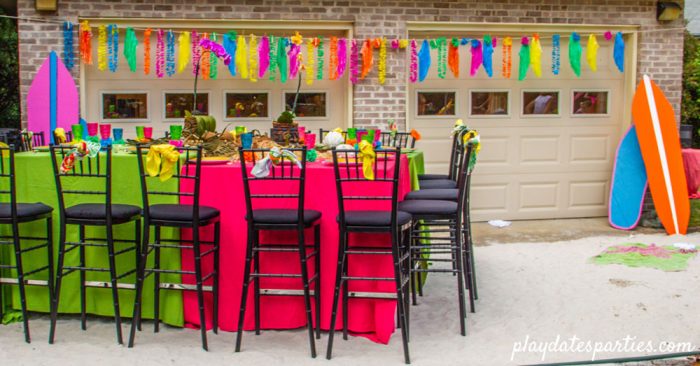 So, you may not be able to import a 10×20 foot beach to your backyard, but you can definitely copy some of these luau party ideas from this awesome table setting:
Start with brightly colored linens on your tables (tip: shop your home for bedsheets and washable blankets)
Make luau themed centerpieces using Tiki tumblers and faux plants. (or you can buy actual tiki planters, too)
Layer on some raffia and palm leaves (Tip: take apart a cheap grass skirt for the raffia, and use a cutting machine to cut out palm leaves)
Add Dollar Tree luau themed goblets at each place setting
Luau Decorations Around the Food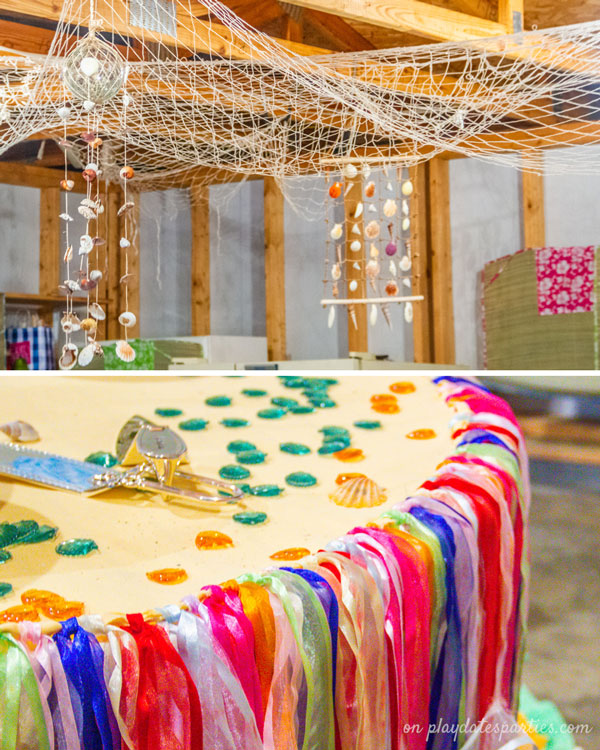 Behind the mini beach was a detached garage that was transformed into a 'tiki bar' with some awesome creative takes.
Decorative fishnets and seashell wind chimes were draped from the ceiling
Grass beach mats lined the walls
A ribbon skirt is a great alternative to grass skirts on tables
Glass beads and seashells were scattered all over the tables, and
Tropical flowers garnished most of the food
I have to admit, that ribbon table skirt is one of my favorite touches. It just goes to show that luau party decorations can go beyond grass table skirts and tiki torches.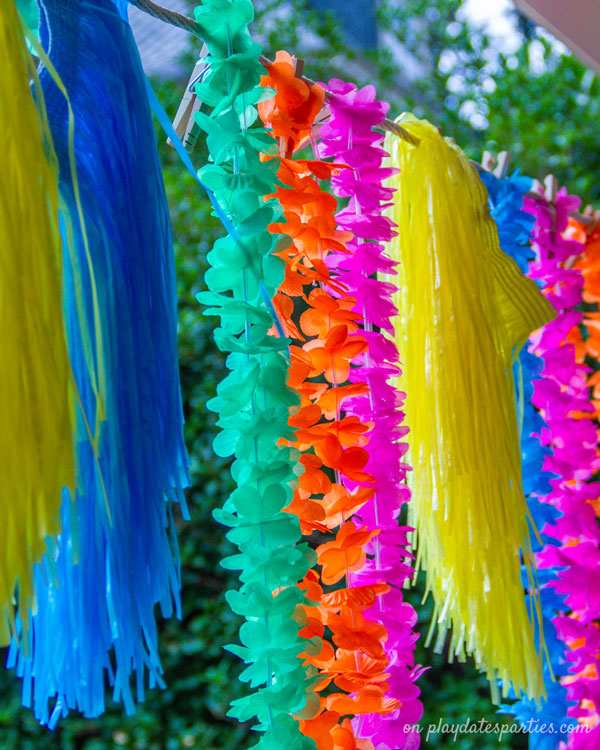 RELATED>>>>SEE HOW WE ADAPTED MANY OF THESE IDEAS FOR OUR FROZEN-THEMED LUAU PARTY
Double-Duty Luau Party Decorations
One of the best lessons from this party: Make the most of your favors by using them as decorations!
Colorful grass skirts and Hawaiian leis were clothespinned to a string to create a bright and cheerful banner behind the mini beach.
Bracelet leis were twisted around the stems of the Dollar Store tiki goblets.
The grass beach mats along the garage walls were handed out as favors too.
So smart, right? Not only does this mean you're buying less stuff overall, it also means you have less to store after the party, and even helps a little bit with the cleanup. It's a total win.
Looking for an easy way to get your luau party decorated? Grab a free set of luau party printables at the bottom of this post!
Luau Party Food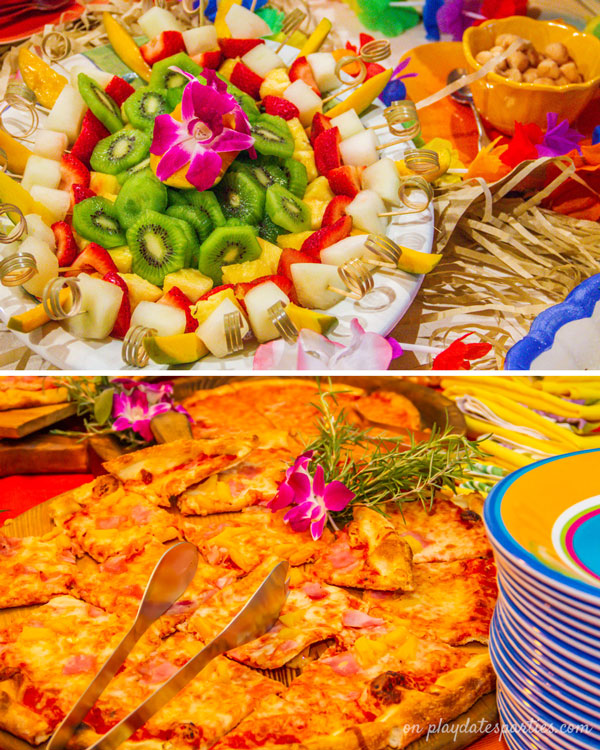 Kids Luau Party Food
While the kids were more interested in the giant waterslide than anything else, there was plenty of kid friendly luau themed food, too. Some of the favorites included:
Gatorade slushies
Fruit kabobs
Hawaiian pizza, and
Sweet Maui Onion Chips (OMG, so good)
Tortilla chips and salsa
Goldfish crackers
More Kids Summer Party Food Ideas: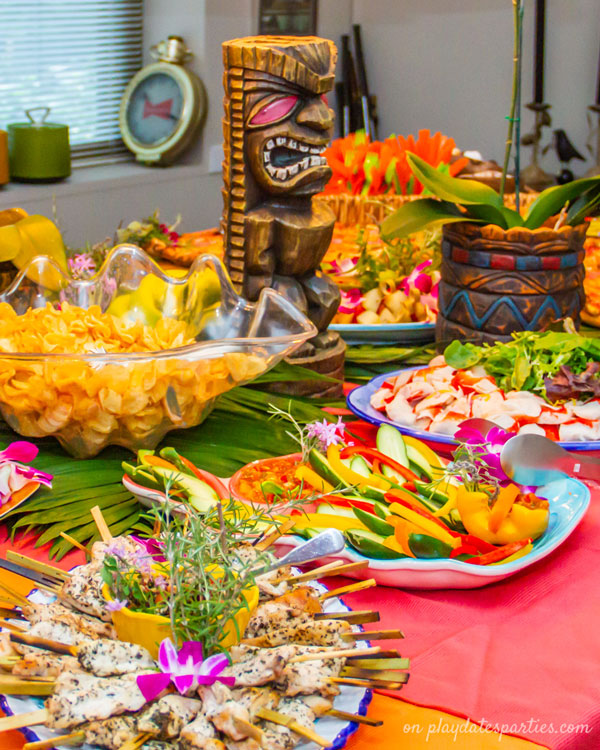 A Few Extra Foods for the Adults
With a party this big, you want to make sure that the adults feel welcome too. And that basically meant a menu perfect for kids, while also having some more 'sophisticated' options, too. Things like:
Bites of crab meat
Fresh vegetables
Bowls of Macadamia and other tropical nuts
Edamame, and
Skewers of chicken satay
Tip: crab meat can get expensive, but your local seafood store might have a crab-claw platter that you can order and put on your own tray.
Luau Party Games and Activities
Waterslide & Water Play
The main attraction of this party was clearly the 65-foot tiki themed waterslide. But if you don't have room for something that big, place some inflatable palm trees to the top of a slip and slide for plenty of fun.
Hula Dancing
At this party, a professional hula dancer came in and gave a hula dancing lesson. It was so much fun seeing all the kids try to sway their hips like the dancer.
If hiring a professional is out of your budget, you can also set up a station to display hula dancing tutorials on YouTube and let the kids follow along.
Other Crafts and Ideas:
If you're looking for a quiet activity for the kids to do, this Tiki Totem Pole craft and Tiki themed golf game look like they could be a lot of fun.
You might also want to check out my top tips for planning party activities for toddlers, and for older kids, too.
Extras that Make All the Difference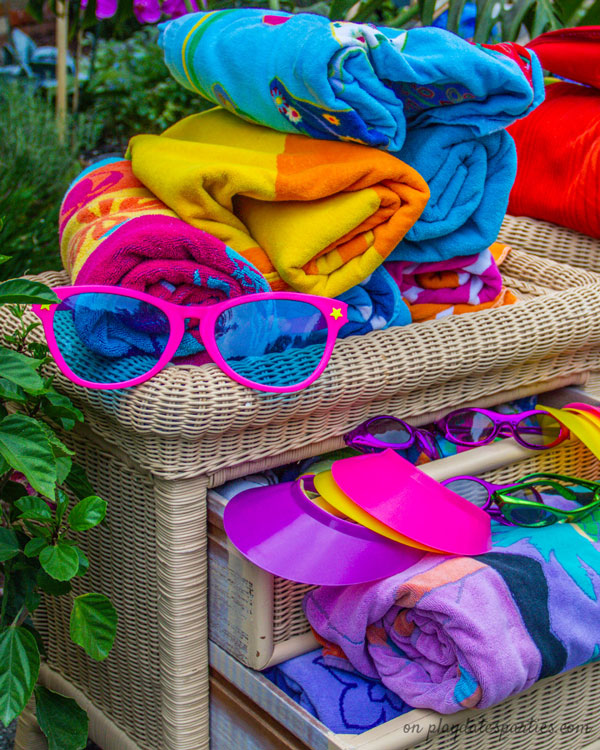 One of the most important tips I learned from my stepmother is to go out of your way to make guests comfortable.
At a luau party…especially one with water-themed activities, set aside an area for items guests may have forgotten. It doesn't have to be as big as these stations, but having have at least one basket filled with items like:
Extra towels
Sunscreen
Sun-visors, and
Sunglass
Now It's Your Turn
For most of us (myself included), our budgets aren't big enough to pull together a luau as big as this was. But as we've seen, we can adapt this inspiration to come up with smaller, more intimate, and just as awesome luau party ideas for our own events.
From this party, you can get a similar feel by doing things like:
Welcoming guests with palm branches and a fun sign
Add colorful linens and Tiki themed centerpieces to your tables
Decorate with inexpensive items such as fishnets and grass skirts
Serve simple food with a Hawaiian themed twist
Include some fun activities, using inexpensive decor items and YouTube videos to adapt them for a luau party theme, and
Grab some extra towels and sunscreen from around the house for guests who might need them.
Free Luau Party Printables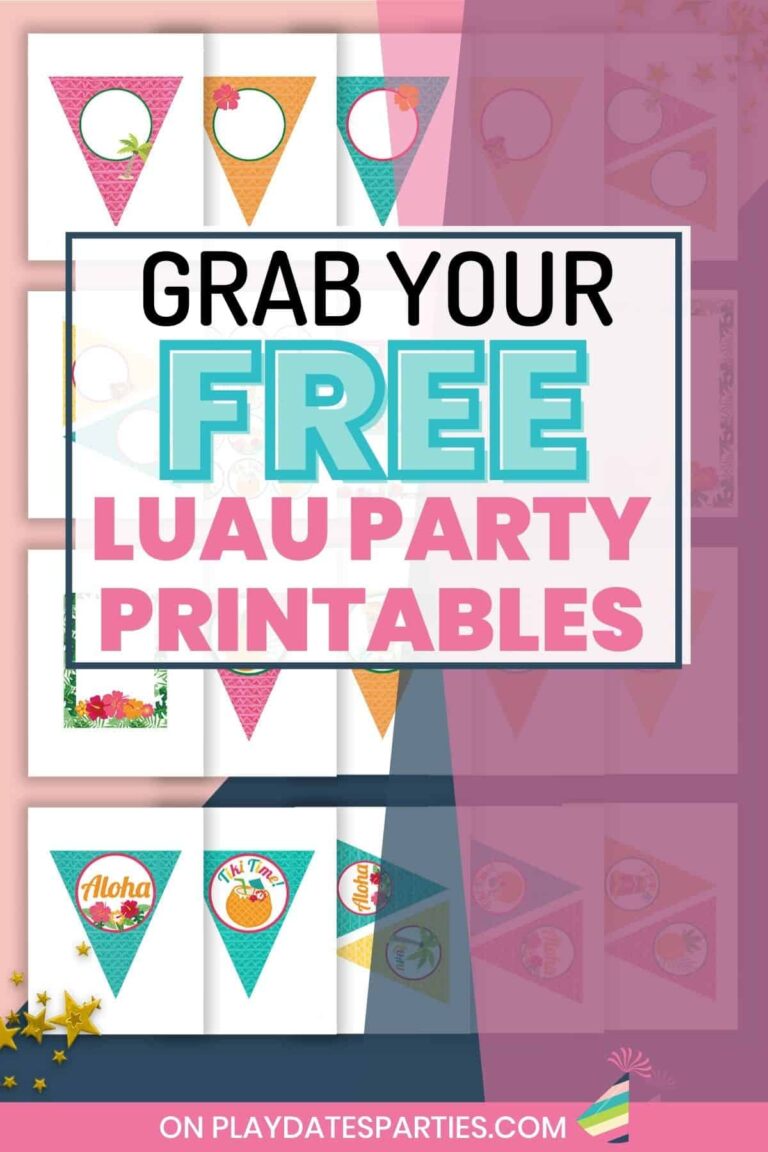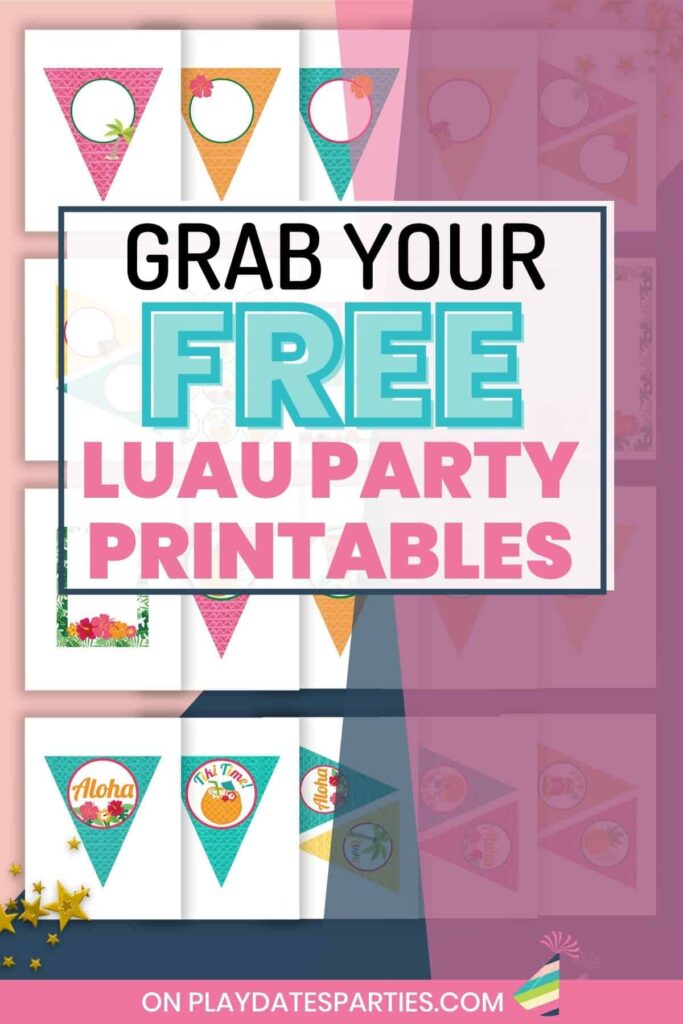 Party printables weren't included in this event, but I couldn't help myself. I have a simple set of tropical-inspired printables that would be awesome to add to all of these luau party ideas. Click here to see what's included and to download your free copy. (or check out all my summer party printables right here.)
Luau Party Supplies Mentioned in this Post:
Which of these luau party ideas is your favorite?
How would you adapt these luau party decorations and ideas for your own party?
---