Octonauts…to the launch bay! If you're looking for fun DIY Octonauts birthday party ideas, you've found the right place. Today I'm sharing this 100% homemade Octonauts party I pulled together for my daughter's 5th birthday party.
We created an entire "underwater" adventure for the kids, including floating fish, under the sea themed food, and plenty of games and activities. Keep reading to find out all the fun details!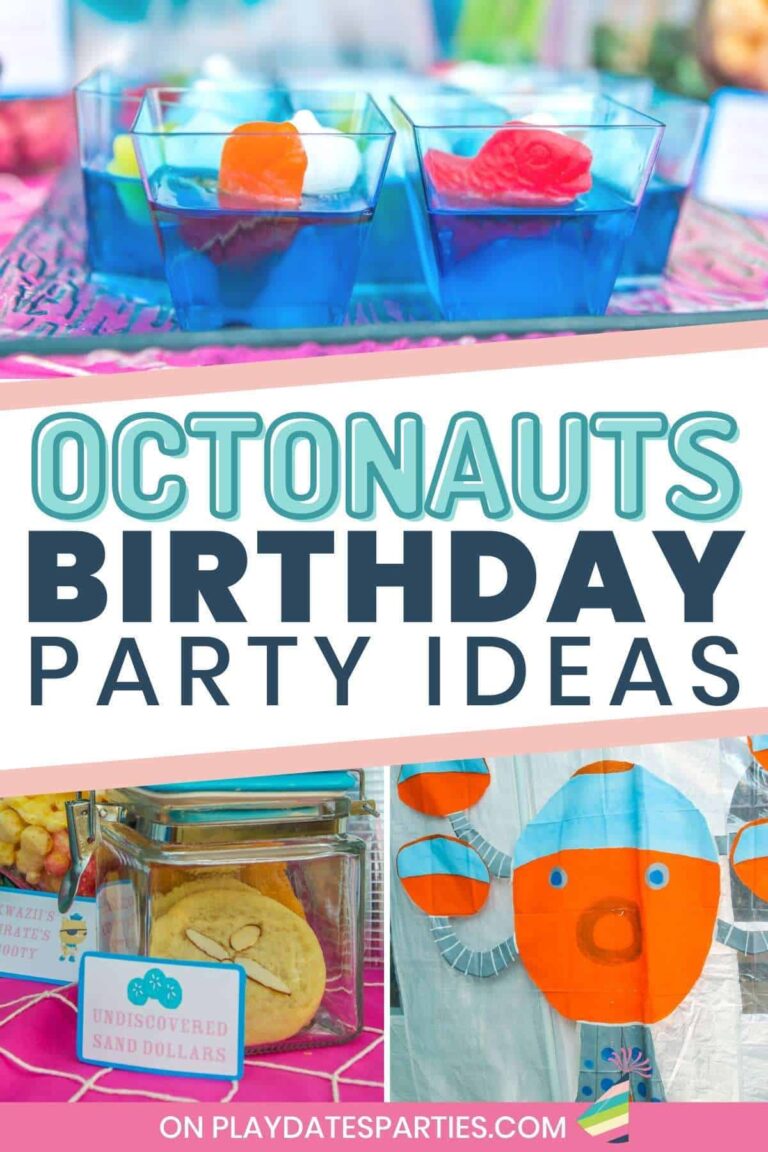 About the Party:
What Was the Occasion? 5th birthday party
How Many Guests Did You Have? 10 kids
Where Was the Party Held? Our Backyard
Our oldest turned 5 during the height of the Frozen craze. In fact, considering how often she watched the movie, I was convinced she was going to request Frozen as her birthday party theme.
Instead, she surprised us by asking for an Octonauts themed party! (She also asked for a treasure hunt, and a pinata, but more on that later.)
Now, this was nearly 7 years ago. And back then the Octonauts were still gaining in popularity in the US. So it was a bit difficult to find ready-made ideas.
Instead, I had to use a lot of inspiration from Under the Sea themed parties, with a healthy dose of my own creativity.
Still, I think it turned out pretty great! Let's take a look…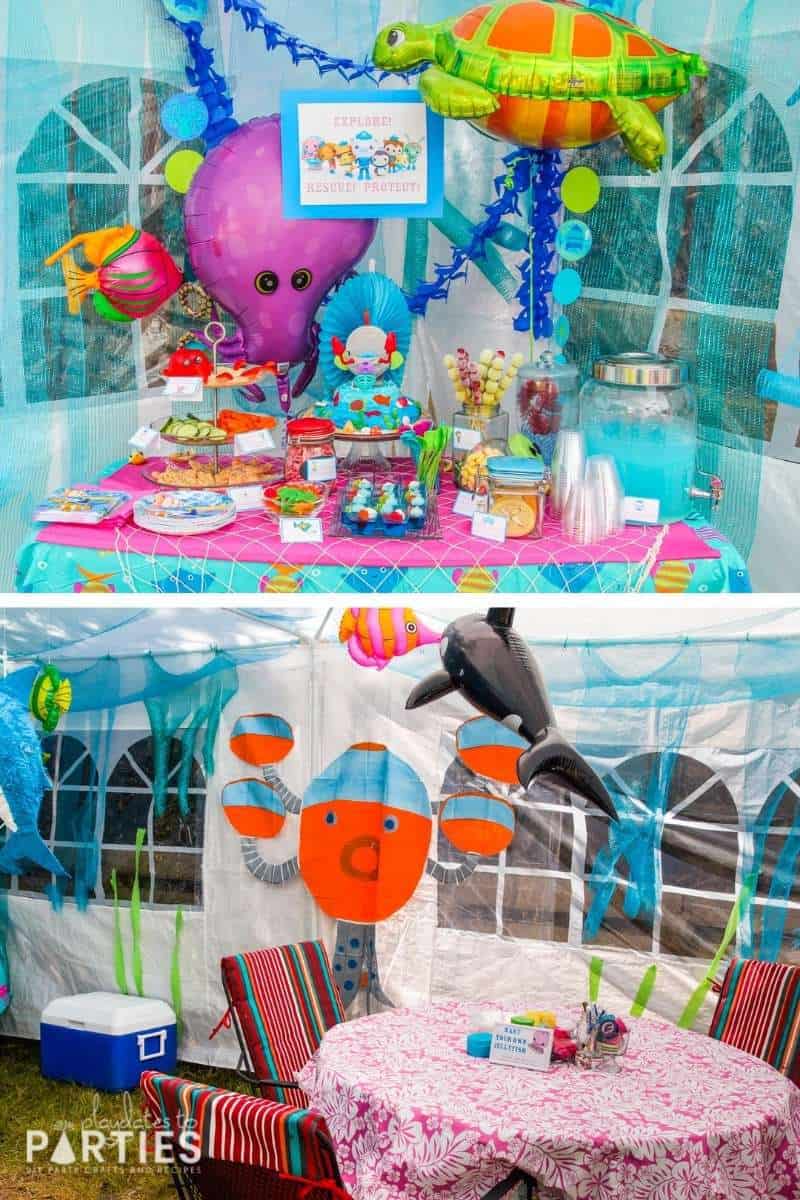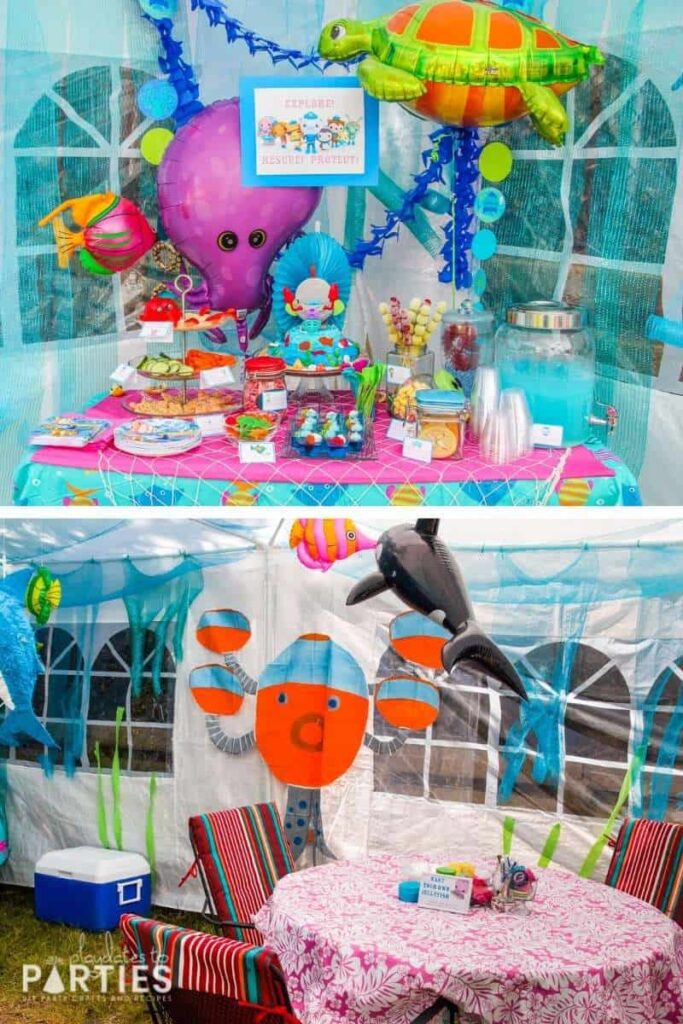 Octonauts Party Decorations
Underwater Party Tent
Okay, so technically, the party tent wasn't underwater. But we decorated an inexpensive backyard party tent to make everyone feel like they were under water.
That included plenty of simple things like:
18 inch wide blue mesh ribbon draped along the ceiling and hanging down the sides of the tent,
Sea creature balloons hanging from the ceiling with fishing line,
Crepe paper seaweed along the walls, and
Fishbowl filler and decorations as centerpieces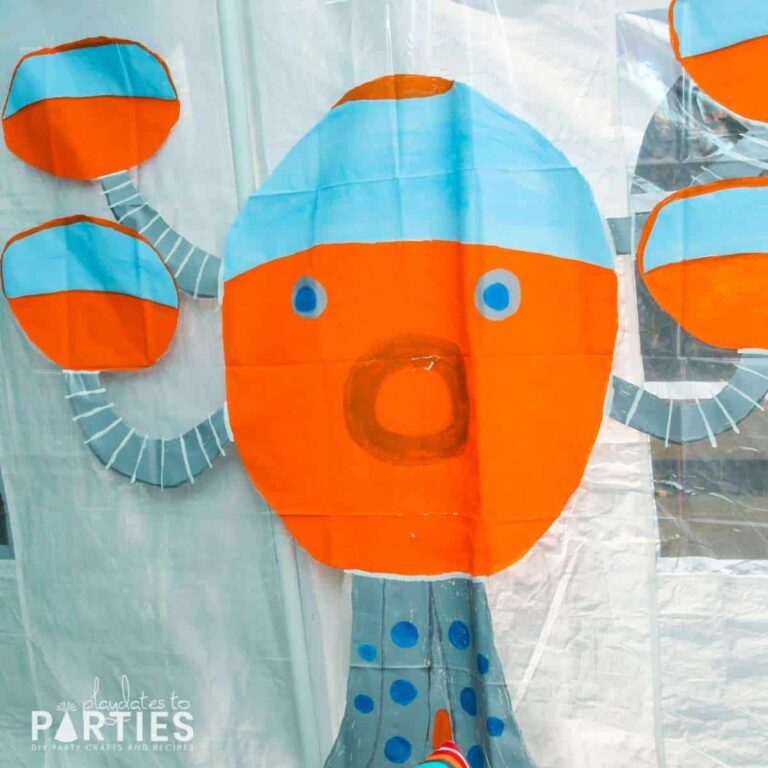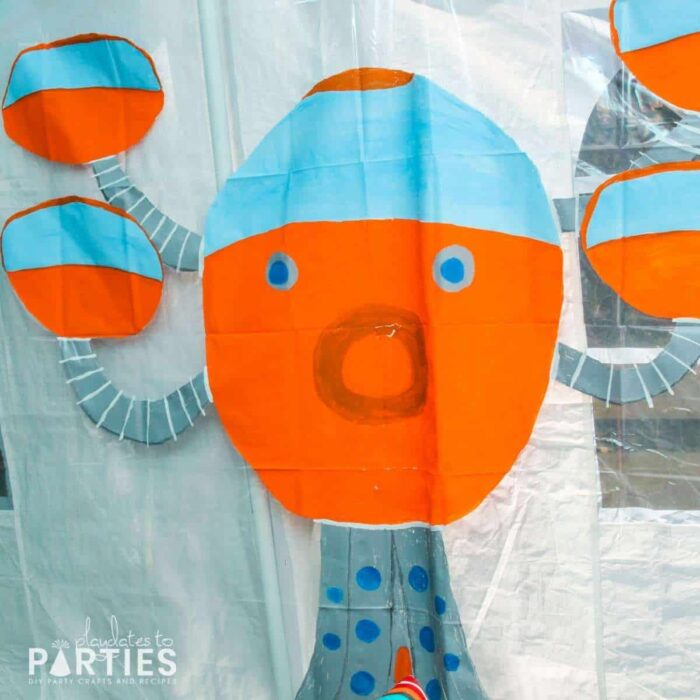 The Giant Octopod
You can't have an Octonauts party without an Octopod. After all, it's the headquarters for all the Octonauts.
But this was before I really delved into creating my own printable party designs, so I took a huge risk and hand painted an Octopod onto a clear shower curtain.
Seriously, if I can paint this thing, so can you.
That said, you may want to use oil-based paints if you try to paint your own Octopod. The acrylic paint started to peel away from the plastic shower curtain within a few days. 😢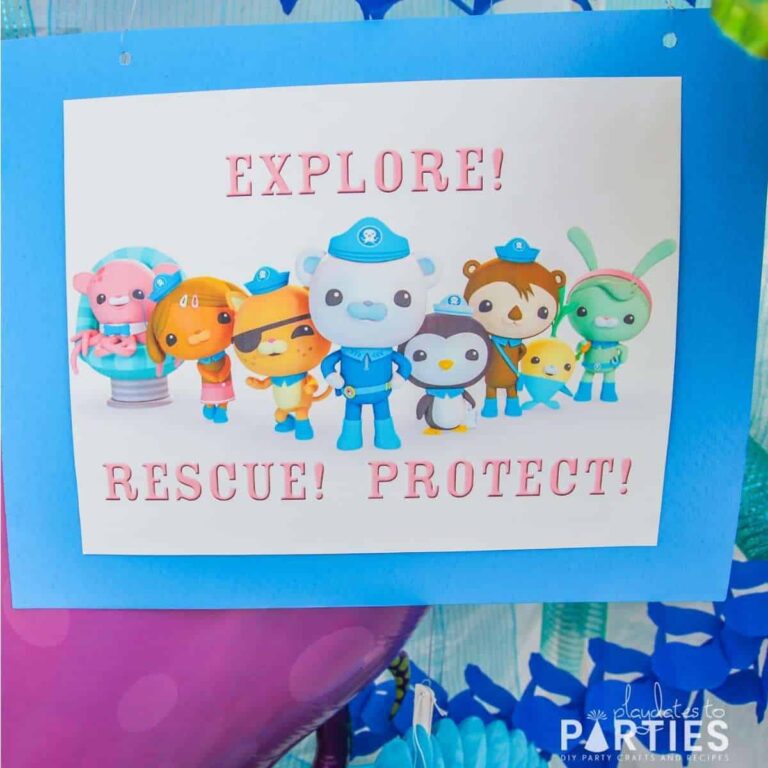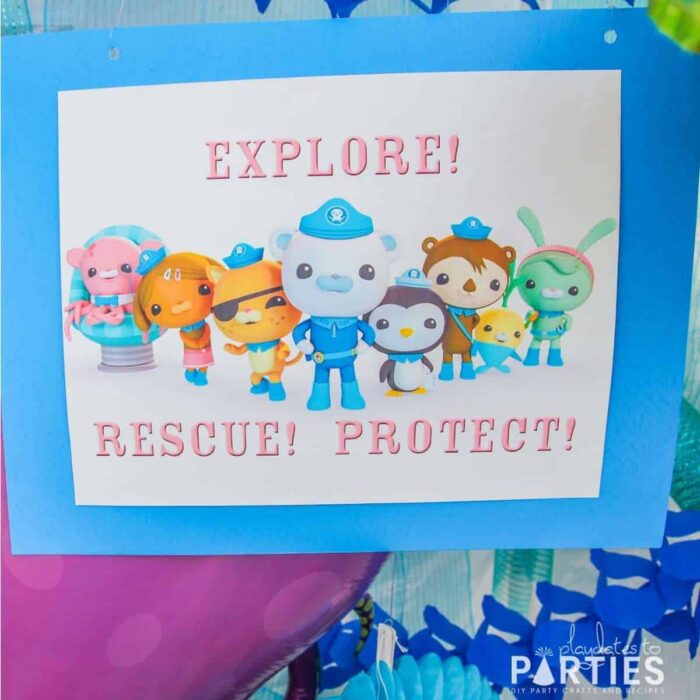 Cheap DIY Posters
One of the simplest things I did to add a bit more of the Octonauts theme to the party was to make inexpensive posters right from our printer.
I found a bunch of images online, added text using Photoshop and printed them on 8.5" x 11" paper; which I then taped onto 11 x 14 poster board.
It was a super cheap and fast way to "frame" each picture without the hassle of real frames.
Octonauts Party Food
Okay, so after the giant Octopod, this was the most fun part of preparing for the party.
We hosted our guests during snacktime, so a simple buffet of sweets and treats was all we needed.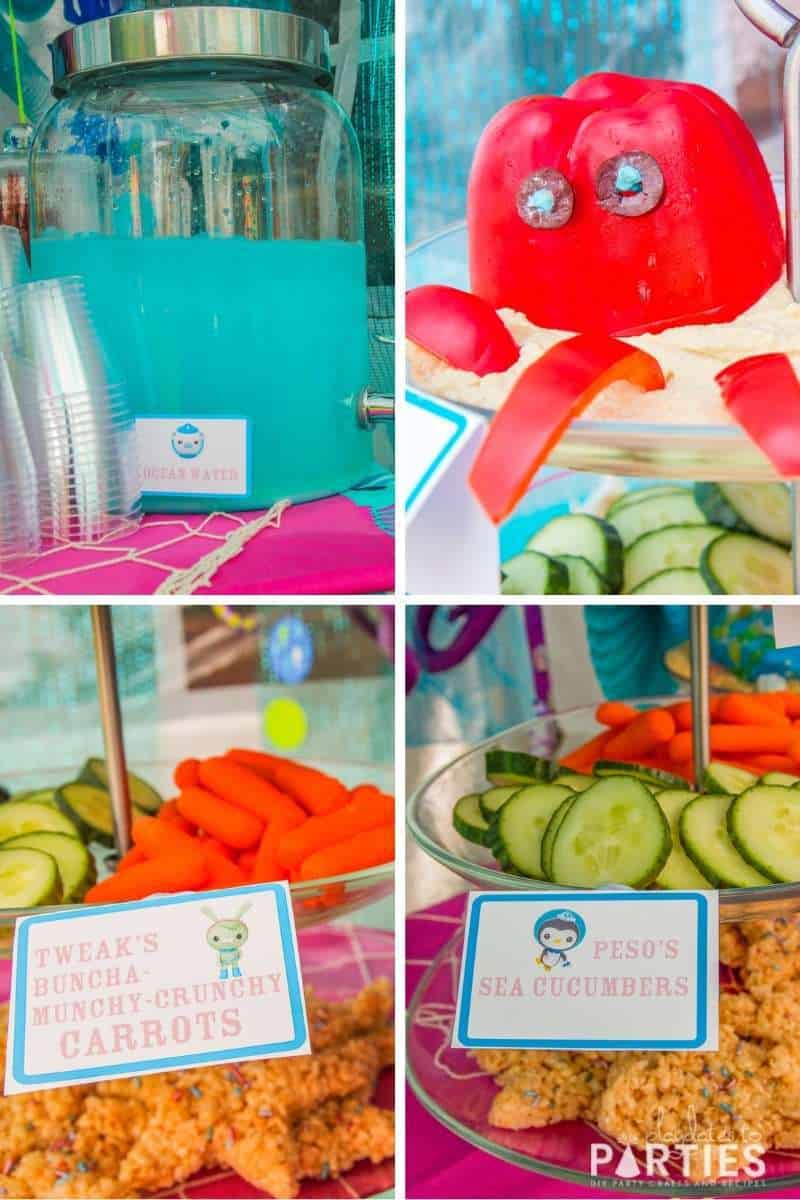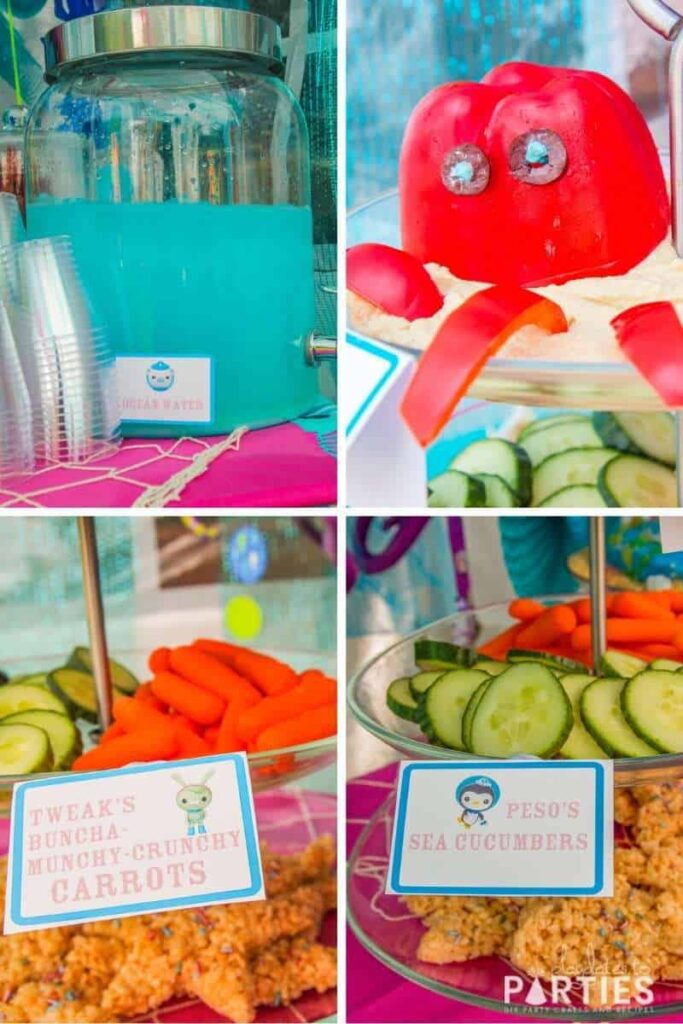 Ocean Water: Blue punch
Professor Inkling's Hummus: Regular hummus with a bell pepper octopus on top)
Tweak's Bunch-a-munchy-crunchy-carrots
Peso's Sea cucumbers
Kwazii's Pirate's Booty: Pirate's Booty Corn Puffs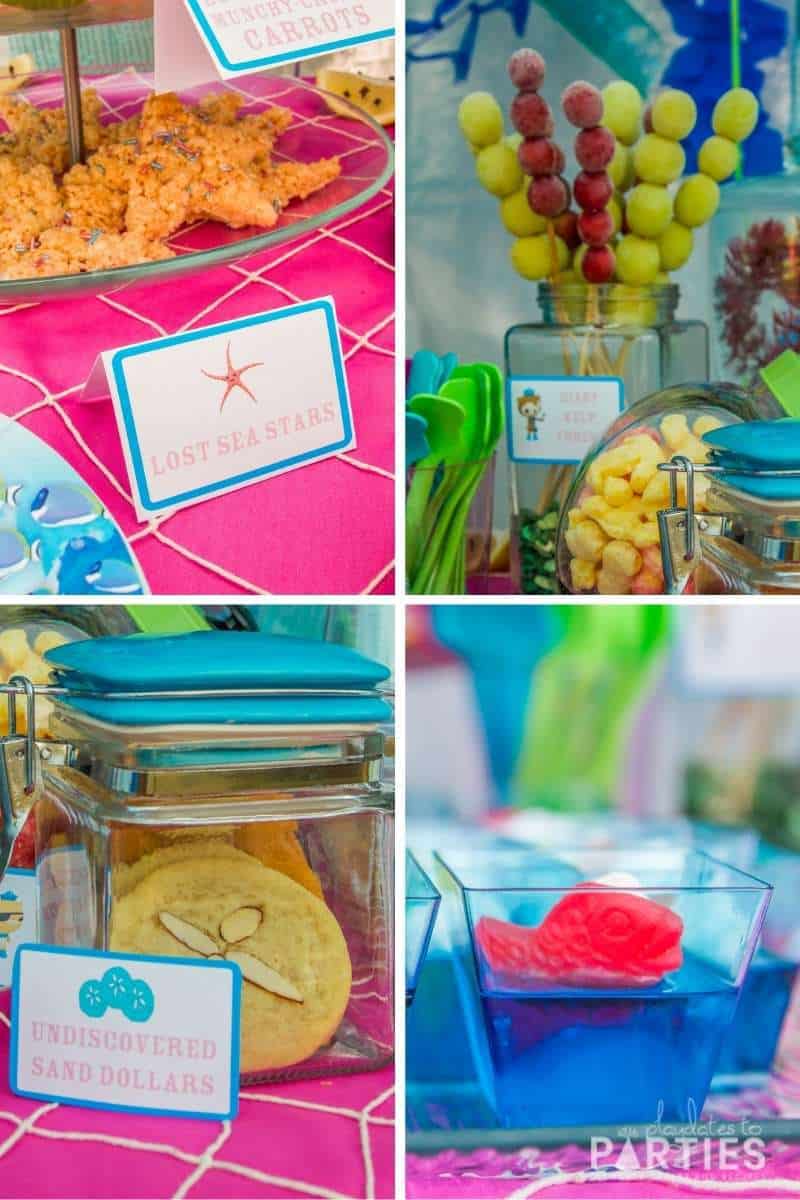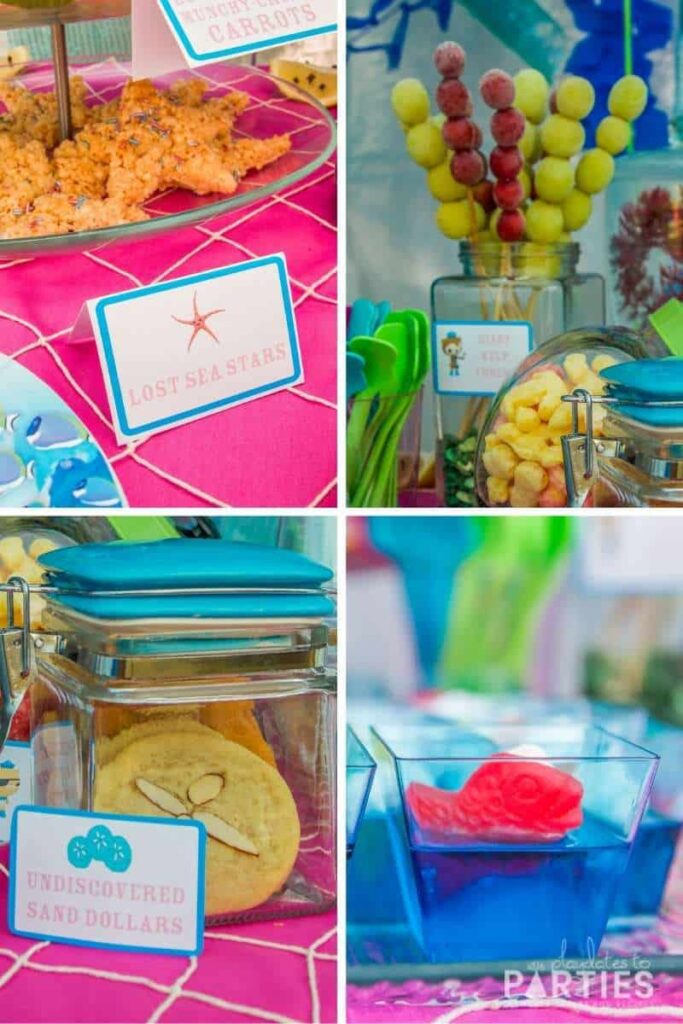 Lost Sea Stars – Star Shaped Rice Krispy Treats
Giant Kelp Forest: Frozen Grape Skewers
Undiscovered Sand Dollars: Sugar cookies with slivered almonds
Happy Humuhumunukunukuapua'a: Mini jello cups with a gummy fish and whipped cream whitecap
Tunip's Fish Biscuits: Goldfish crackers
Party Activities and Games
With summer babies, we almost always opt to have some sort of water play at our kids birthday parties. It's easy, and they love it. But we did include a few other activities in the mix as well.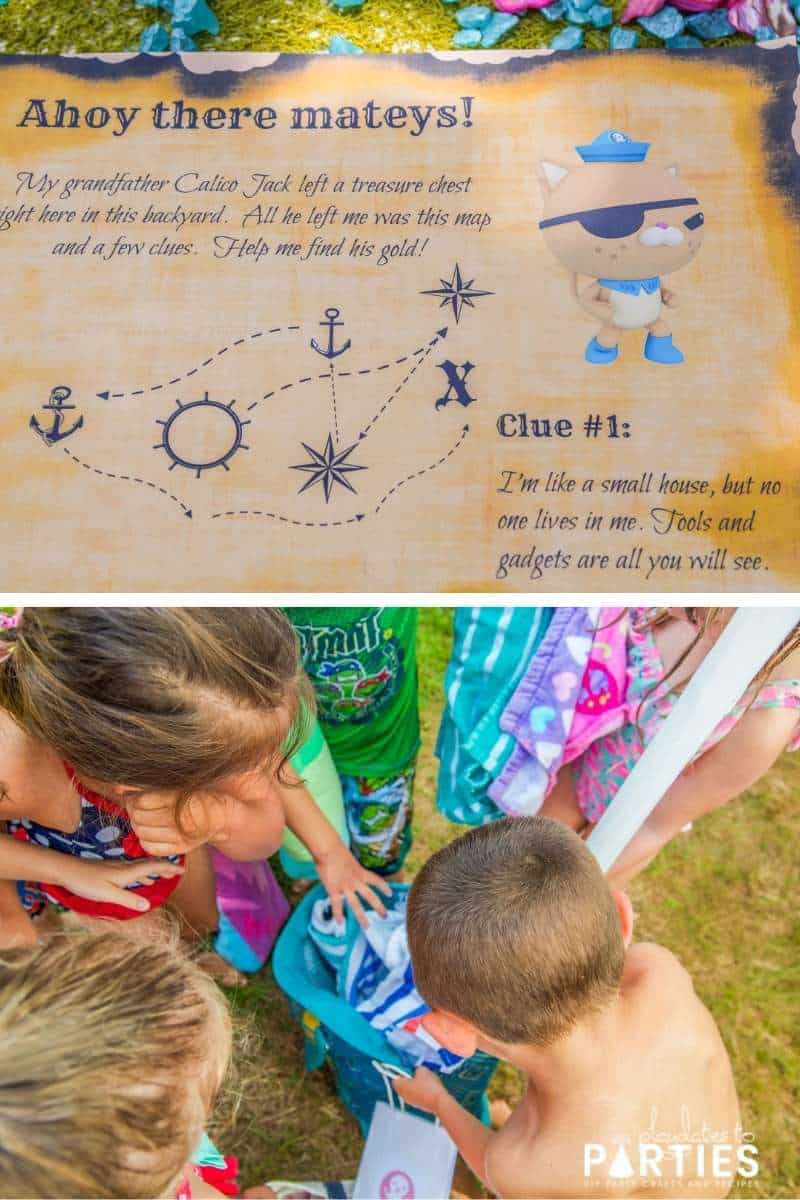 Treasure Hunt
T's favorite character from the show was a pirate cat named Kwazii. It's really no surprise, because he's the craziest of all the characters, and she loves to get a little (a lot) crazy.
But it was the perfect inspiration to create a treasure hunt based on the idea that his pirate grandfather left a treasure chest in our backyard and the kids had to find it.
At first I was worried that the kids wouldn't stay focused enough for a treasure hunt, but honestly it was the BEST part of the whole party.
You can see how to create your own treasure hunt (including our treasure hunt clues and prizes) right here.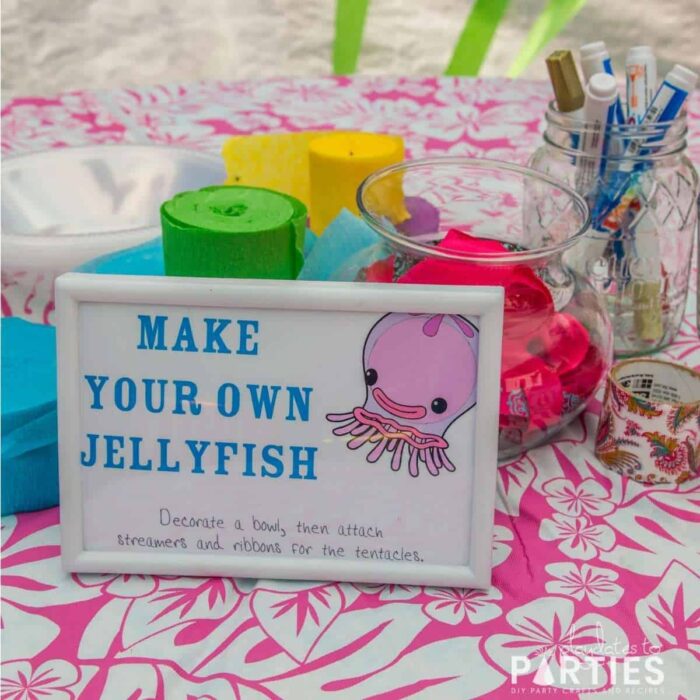 Make Your Own Jellyfish Station
When we have a large group of kids over, I always include a quiet activity for the kids that need a little bit longer to warm up to things.
This time it was a "Make Your Own Jellyfish" station using plastic bowls and craft supplies.
Here's what you need:
Plastic bowls (the body)
Crepe paper streamers
Ribbons,
Paint pens,
Washi tape or glue to hold everything together.
The kids enjoyed the activity, but I think the parents might have enjoyed it even more.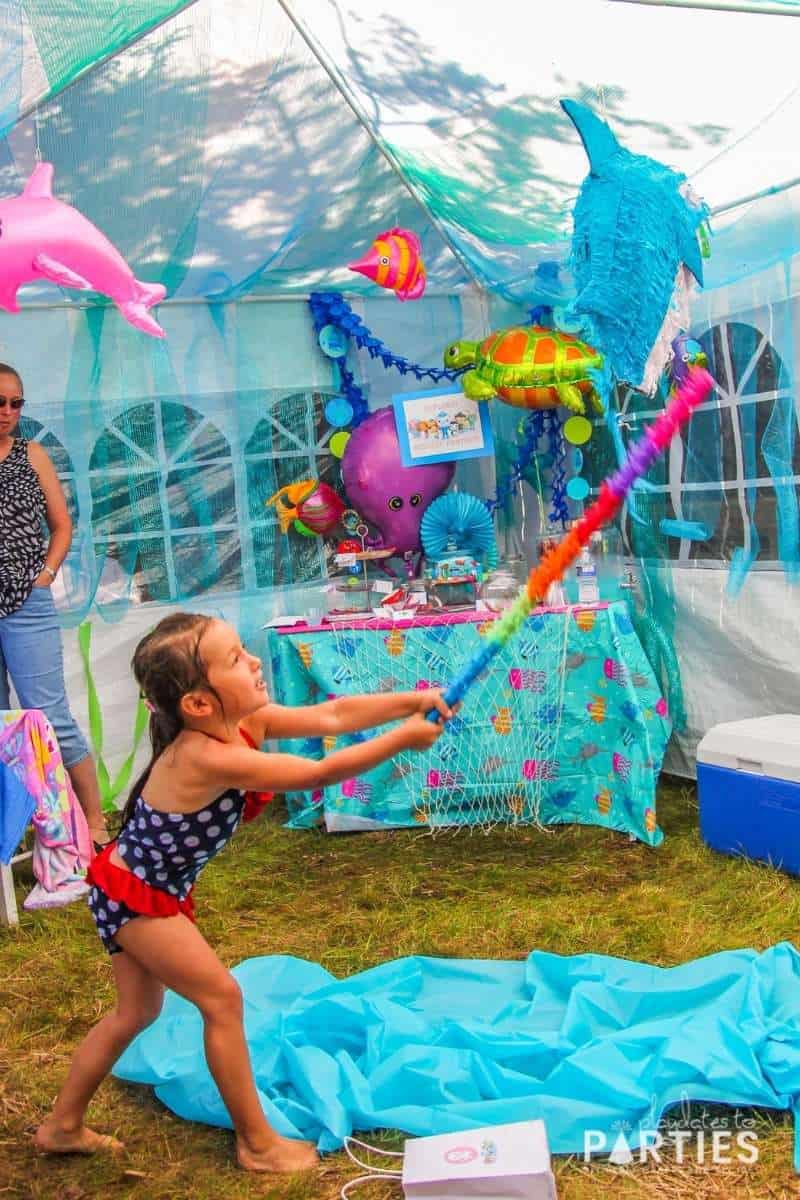 Shark Pinata
Remember, this was before Octonauts really took off in the US. So, even though the birthday girl requested a pinata, we couldn't find one that looked like any of the characters.
Thankfully, our shark pinata fit the underwater area perfectly. The kids each took turns swinging at it – but it took them a good long while before it finally ripped open.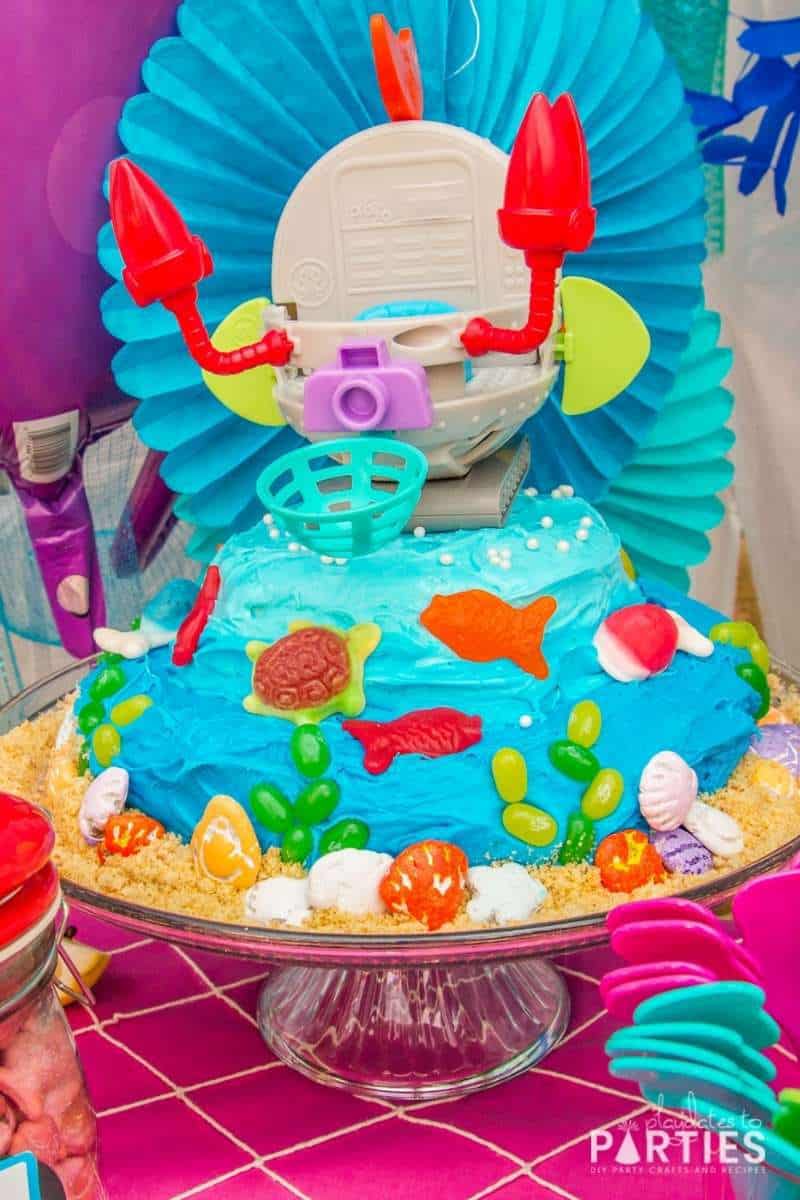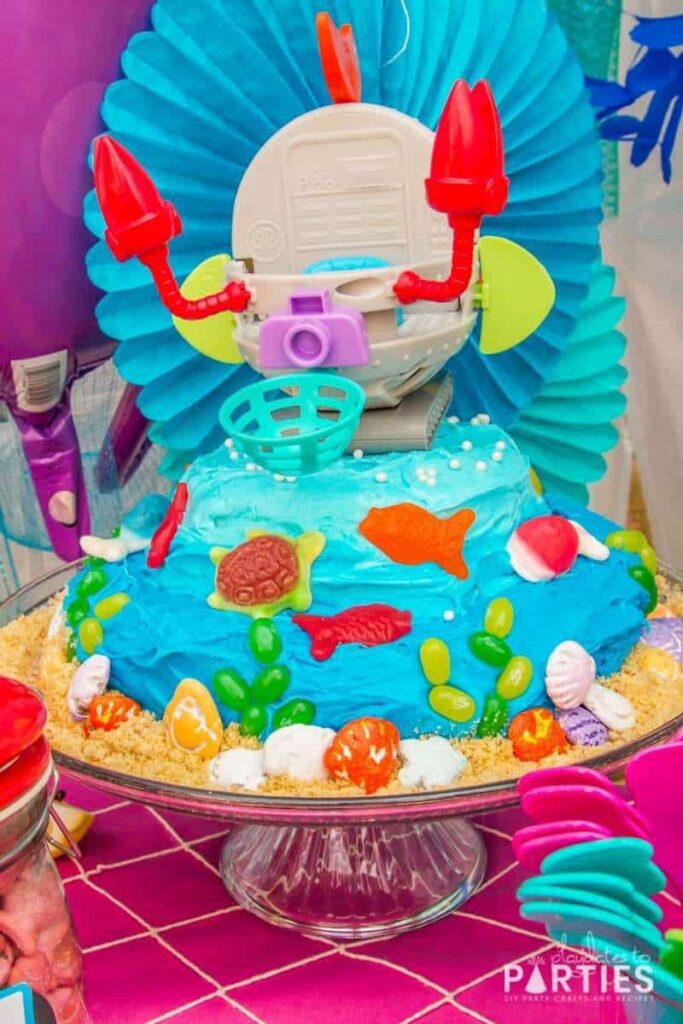 Ocean Themed Party Cake
Okay, so it's clearly not store-bought, but this was definitely a fun birthday cake to make.
Taking inspiration straight from the show, I made the frosting in an ombre-ish blue to represent the ocean's "Midnight Zone", the "Twilight Zone", and the "Daylight Zone."
To finish it off, we added:
Gummy sea creatures,
Green jelly beans for seaweed,
Crushed up cake and Nilla wafers for sand,
Chocolate seashells at the base, and
A toy gup as the cake topper (unfortunately Kwazii got lost before we could take a photograph)
It was such an easy cake to make, and the kids thought it was so much fun, too.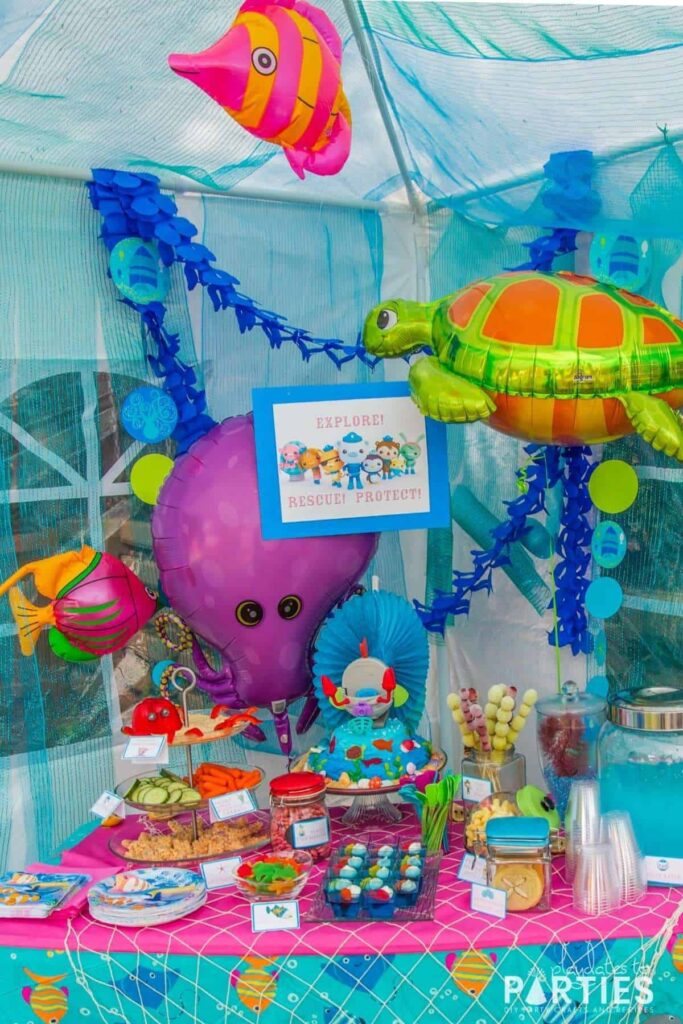 More Ocean and Beach Party Ideas for your Octonauts Party:
Now It's Your Turn
I hope you've enjoyed all the DIY Octonauts birthday party ideas and activities we shared with you today. It was so much fun to pull this party together – even my daughter still talks about the party nearly 7 years later!
If this is your first time here, be sure to sign up for our weekly newsletter so that you can receive regular party inspiration. Want more party inspiration? Join me over at Facebook, and Twitter, for regular updates and fabulous finds from around the web.

---
This post was originally published on September 16, 2014. It has been updated with larger photos and additional party information.