How do you celebrate your child's birthday when you're too broke for a party? Or maybe you just don't have the time or energy to plan an elaborate bash on top of everything else you have to do? Enter a Yes Day birthday!
Read on for all the details about what it is, including our rules (yes, there were rules), and a free printable planner your kids can use to plan their very own Yes Day celebration.
As you know, life got turned upside down a couple years ago.
Almost on a dime, we all shuttered ourselves in our homes and started keeping our distance. School closed without the normal good-byes and 'see you laters'. And the ability to plan any sort of meaningful party for my son's August birthday went out the window.
You see, he was in his first year of school, so we hadn't yet gotten to know the other parents in the class. Which also means that we didn't have their contact information.
Soooo…we were in yet another position where a birthday parade or zoom party wasn't an option.
Instead of a birthday party, we decided to give him a Yes Day!
What is a 'Yes Day'?
The concept is simple: For one day, your child can ask for anything, and you have to say yes.
Ice cream for breakfast: Heck yeah!
Movie Marathon: You got it.
Whole house fort: Go for it.
Telling silly jokes for an hour? Sure. Why not?
When you're known for pulling together big shindigs for your kids, they start to expect a fuss. (Yes, I know I have only myself to blame for this) And the nice thing about a Yes Day is that the fuss and focus is specifically on your child.
Which, honestly, it kind of how it should be, right?
It all got started with Amy Krouse Rosenthal's 2009 children's book 'Yes Day!' Then Jennifer Garner shared the aftermath of Yes Day with her children. And it just took off from there.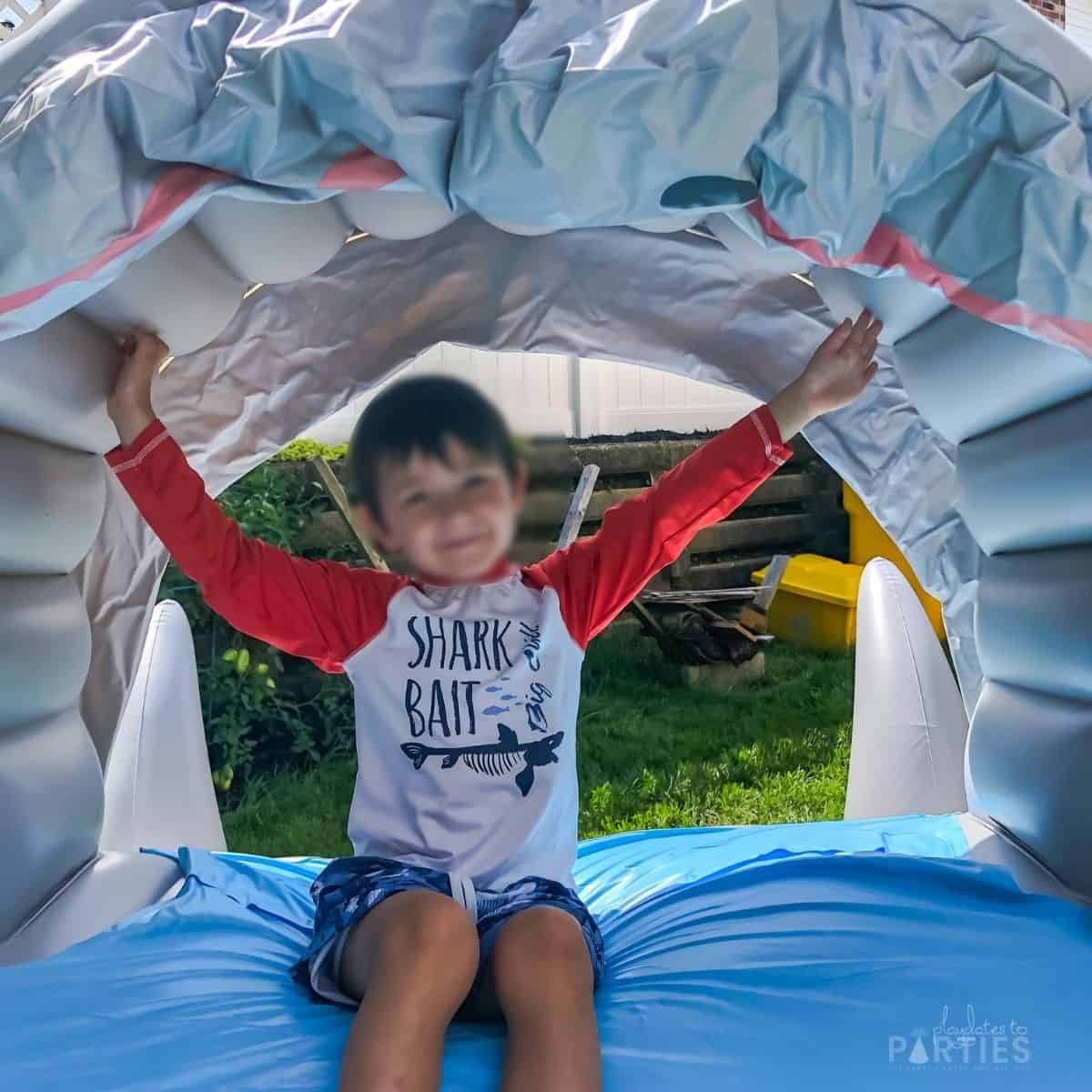 The Rules:
This day was for a rambunctious 5-year-old boy. He's known to climb anything and everything in his room, and ride the sled down the backyard slide.
In short…my son needs boundaries.
So, in the days leading up to his 'Yes Day' we frequently reminded him of the following rules:
Nothing mean,
Nothing dangerous
Nothing illegal, and
There is a budget (the kid would bankrupt us if he could 🤣)
Yes Day Planner
To make it even easier, I created a printable Yes Day planner to make sure your day ends with smiles instead of tears.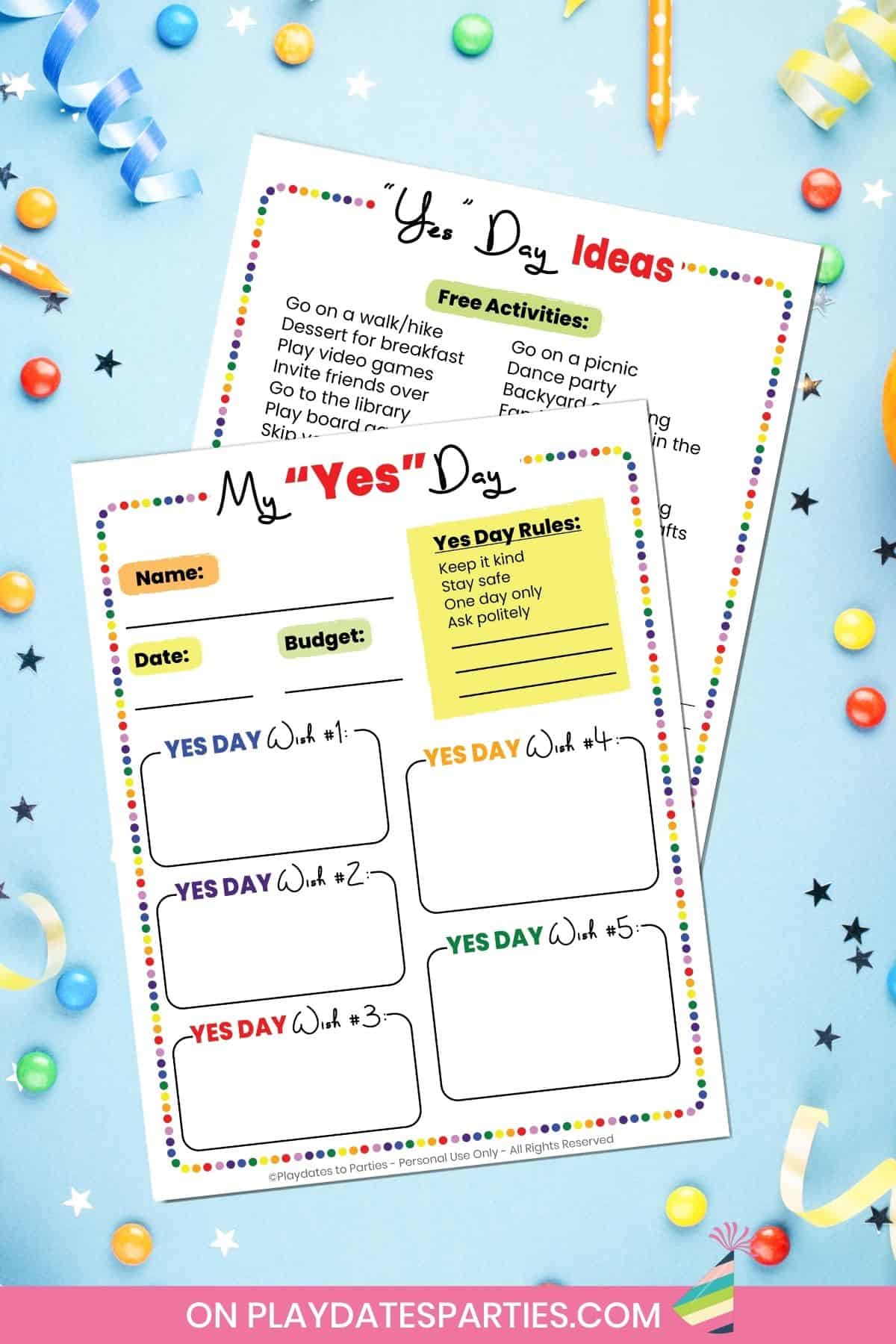 This colorful rainbow version is available right here, or you can grab a pastel version for free at the end of this post.
Both of them include plenty of space for your kids to write out their big Yes Day wishes. Better yet, they include a second sheet with both free and inexpensive activity ideas so you and your kids can plan a fabulous day that also fits your budget.
How It All Went
We started the day with a 'special' breakfast of his choice – in this case, Cocoa Krispies. Of course, the latest Octonauts special played on Netflix at the same time.
Easy peasy.
Then, after a morning of basic laziness, he asked if his neighborhood friends could come over to play.
My response: "Sure, kiddo. As long as it's outside, and we can keep a distance to stay safe."
So we planned an afternoon of water play with his two closest friends and the inflatable pool.
But before they came over, we needed to stock up. Which meant…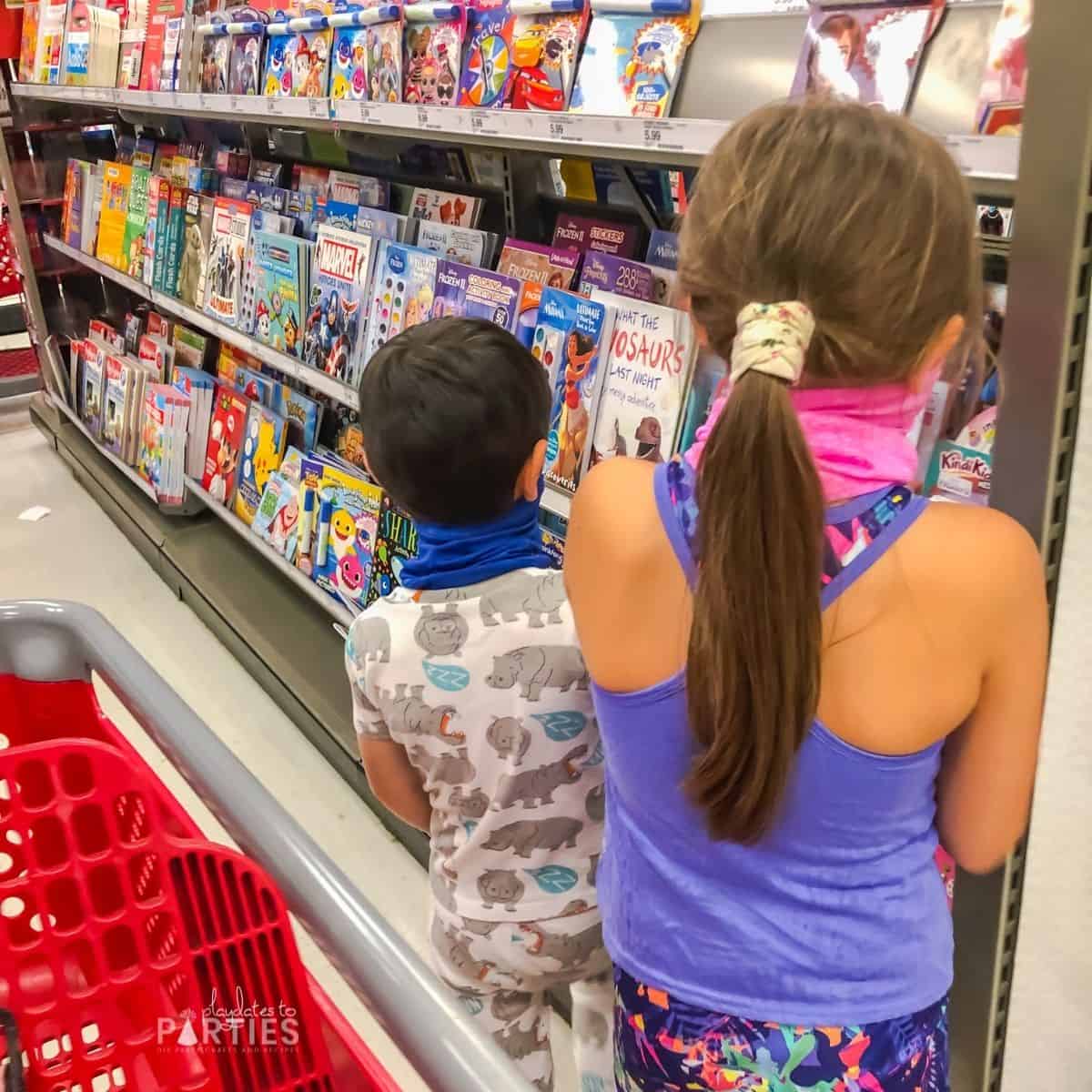 A 'Yes Day' Shopping Spree!
Off we went to Target, with my Red Card in hand – and the birthday boy in fresh jammies.
He was so excited. What 5 year old wouldn't be? All of Target, and anything he wants! …well, sort of.
Remember those rules? Yep, it was time to invoke the budget.
He was given a strict budget of $50 to buy any toys he might want as well as snacks for his friends.
We were both elated.
To a 5-year-old, $50 seems like a fortune. To me, $50 is a whole lot less than we usually spend on birthday parties.
Of course, he had some silly requests. But he didn't go overboard. And he also made sure to buy snacks and goodies for his friends, and a treat or two for his sisters too.
Cake & Decorations
Y'all know I can't help myself. I've got to make something special for my kids birthdays! But, frankly, I didn't plan a thing until a couple days before his birthday.
So I kept the projects to the bare minimum.
The night before his birthday, I pulled together a quick watermelon cake and matching birthday banner.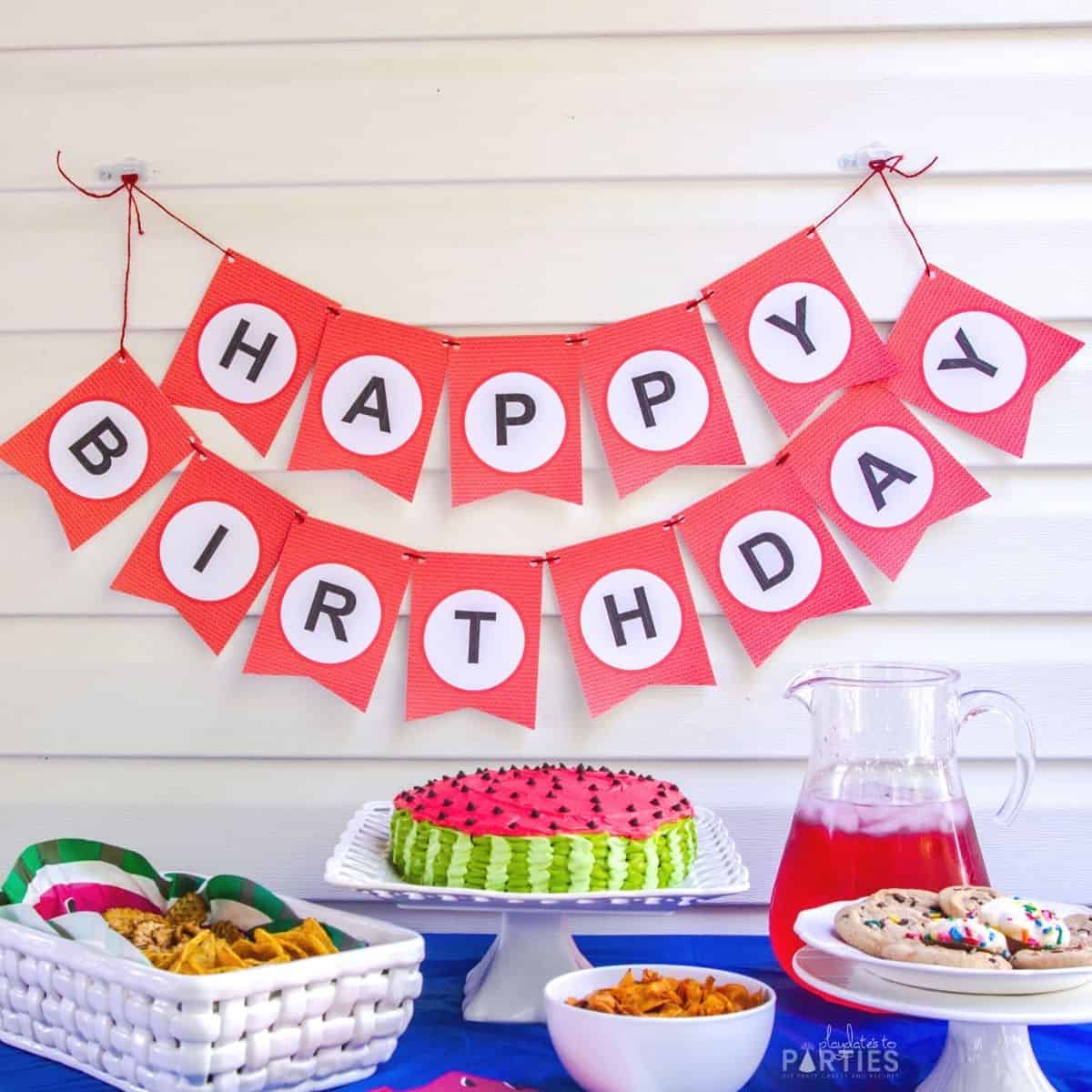 (The watermelon cake was super simple with a box mix, a bit of food coloring, and mini chocolate chips.)
And the birthday banner was straight from the Mix and Match Banners Set. After all, that set was made specifically for last-minute situations like this.
Paired with the snacks he picked out with his Target money, the cake and banner created the perfect little spread for a small gathering.
The day ended with a movie and the birthday's boy's choice of dinner: spaghetti and meatballs.
By 8:30 he passed out from joy and exhaustion. The perfect end to the perfect day.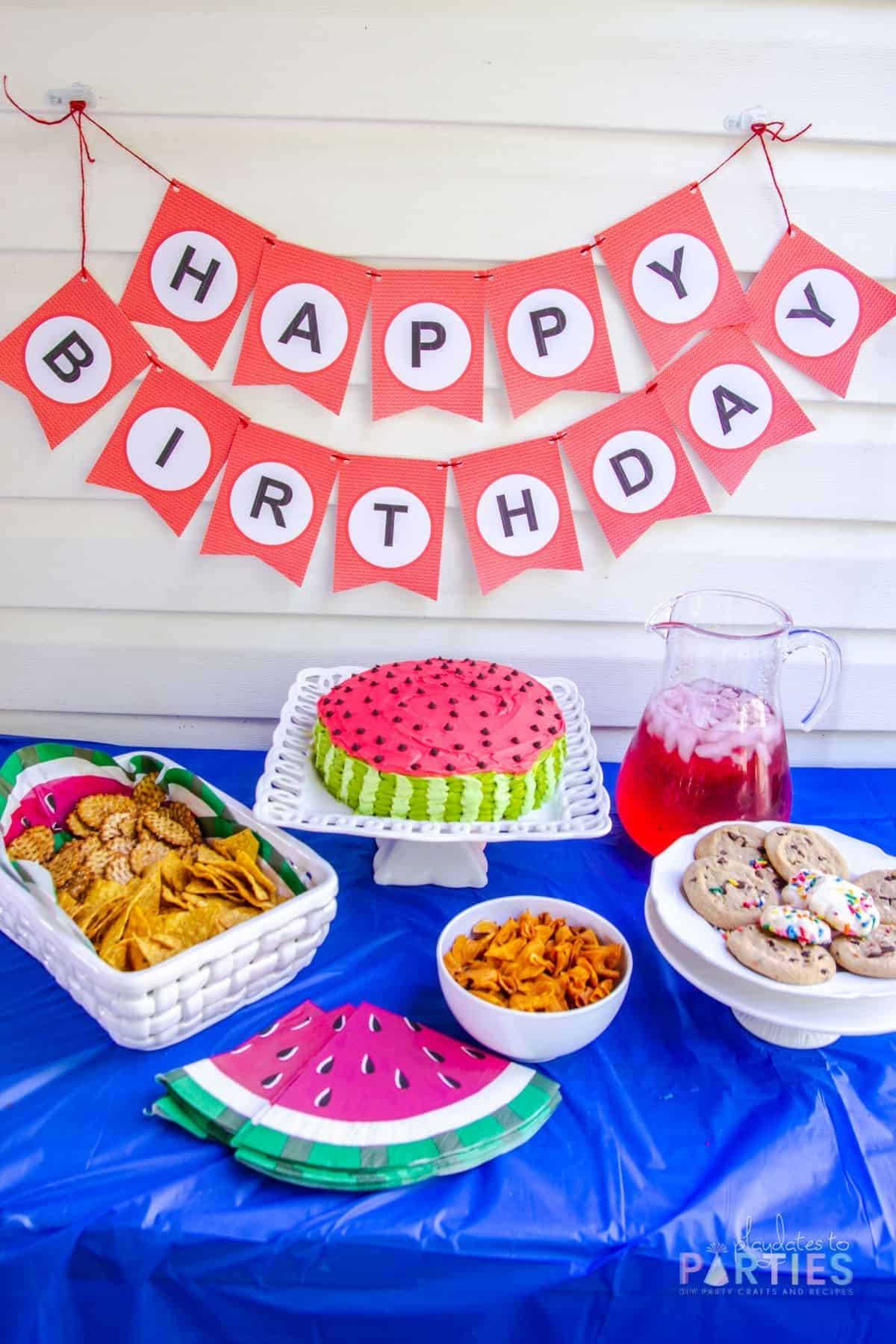 Would I Do Yes Day Again?
You know, when I first heard about the idea years ago, I was firmly against the whole idea of a 'Yes Day.'
Many kids these days – my own included – don't need any more spoiling. And I want to raise my kids to be considerate, not entitled.
BUT, with just a few simple boundaries it can be a fulfilling and rewarding way to celebrate one of your favorite little people.
What do you think? Would you let your kids have a Yes Day, or am I completely nuts? Let me know in the comments section below!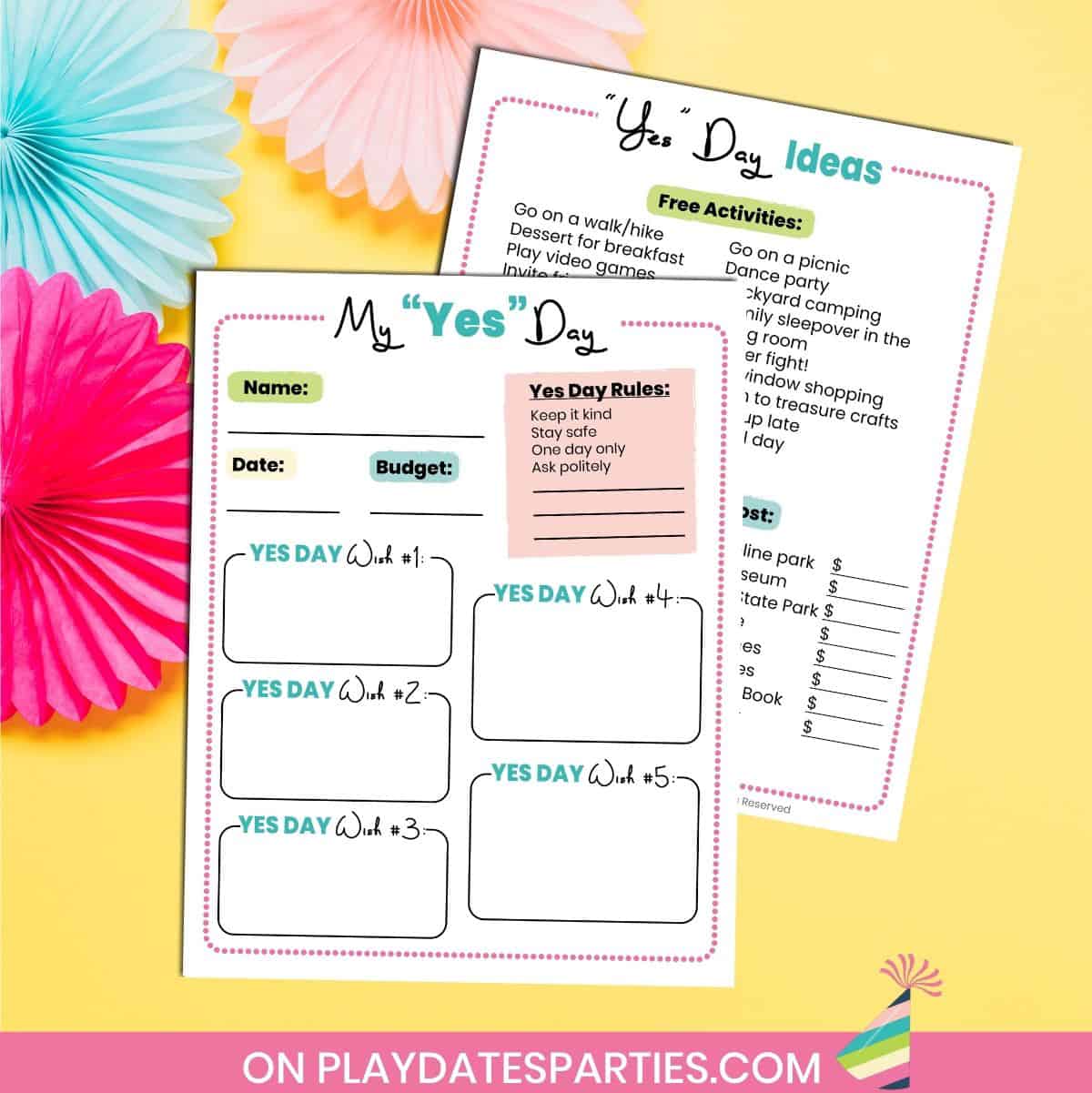 Download Your Yes Day Planner Here
If you're ready to celebrate a Yes Day birthday with your kids, you'll love this free pastel Yes Day planner. It's designed to be filled in with your kids…with a reminder of the rules right there on the first page. It also includes a list of over 30 fun Yes Day activities to keep everyone on track. Just add your name and email to the form below and I'll send it straight to you.
Don't want to subscribe? You can also purchase this Pastel Yes day planner or the Rainbow Yes Day Planner my shop for a small price.
---