Yes, kids love to listen to the same music on an endless loop. But mix in a few of these kids birthday party songs and you'll be dancing right alongside them.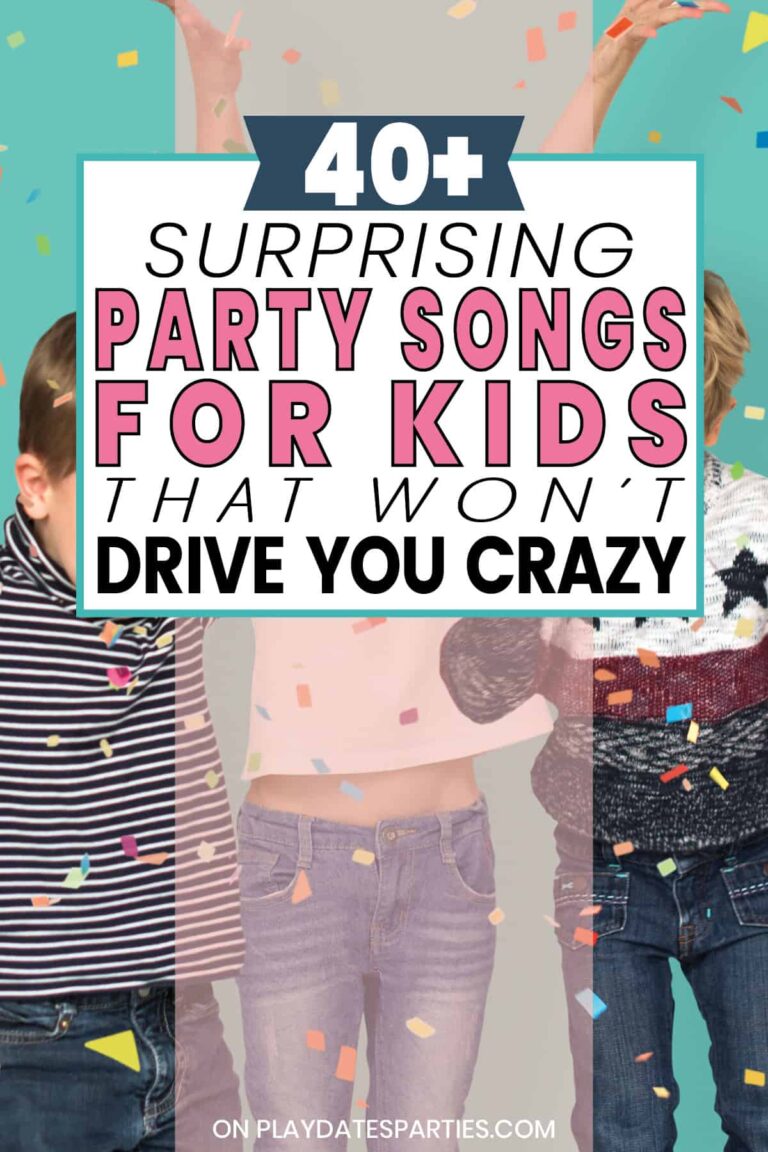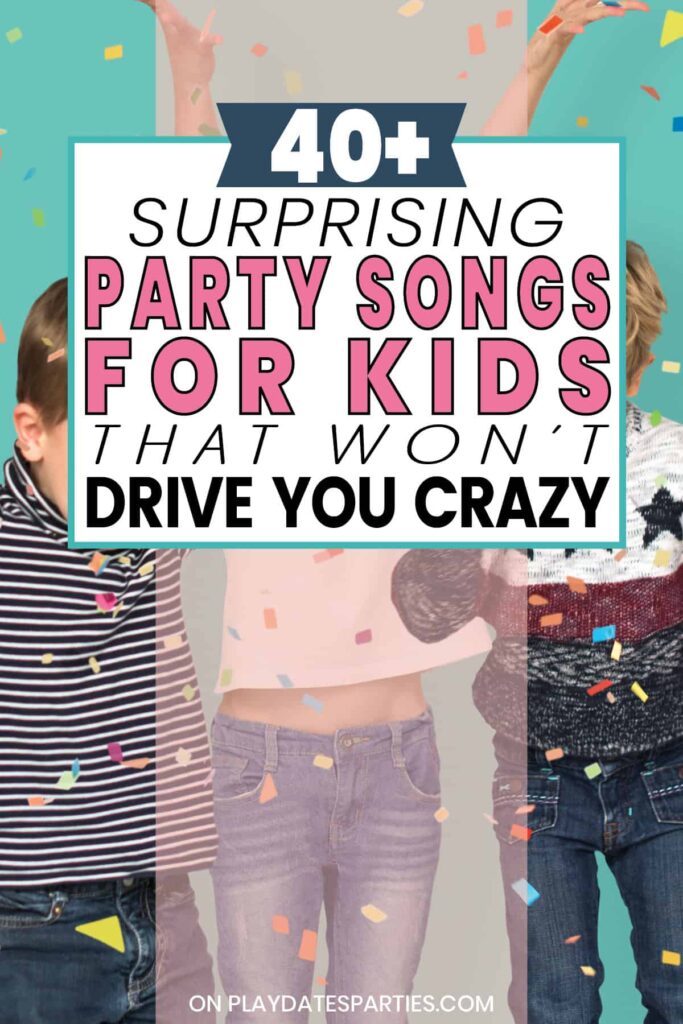 Who doesn't know a kid that insists on listening to the same blasted Disney song on endless repeat?
I'll be honest and admit that every single one of our kids has done that to us at one time or another.
My older two went through it at the same time, demanding Frozen's "Let it Go" so frequently that even the parodies made me twitch.
And then our youngest couldn't get enough of Moana's "You're Welcome." Let's just say I was definitely saying 'Thank You' when that phase ended.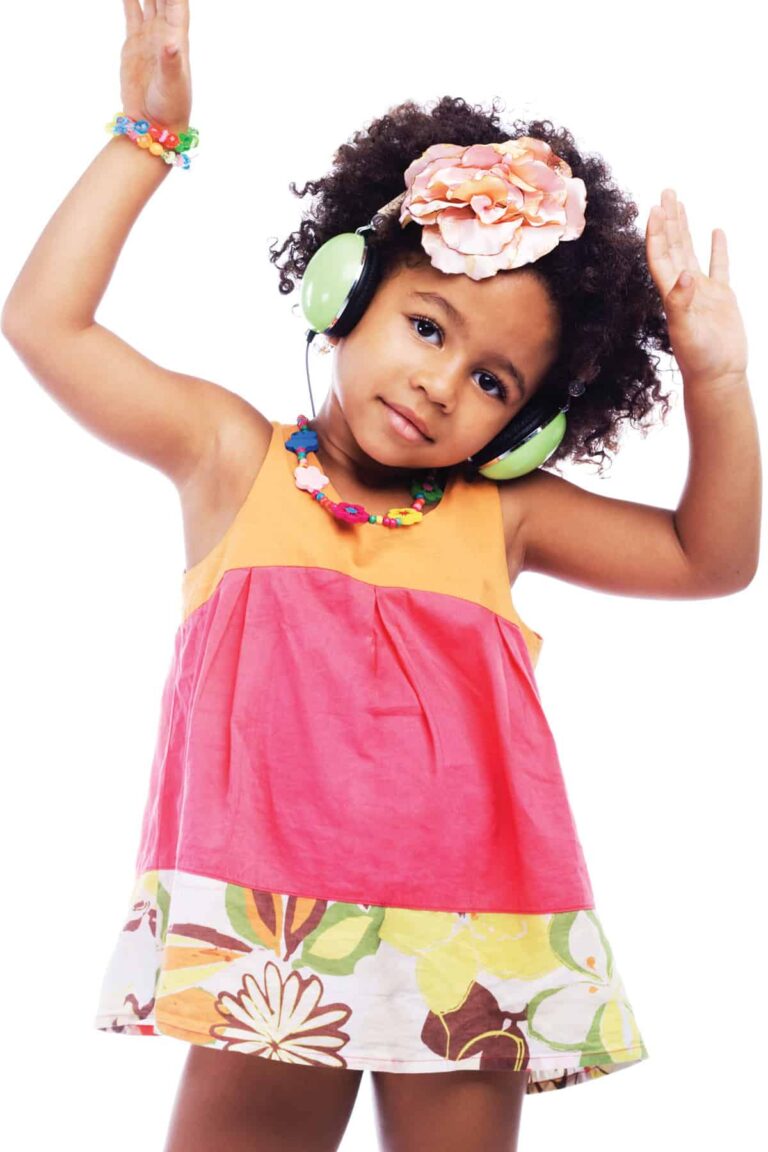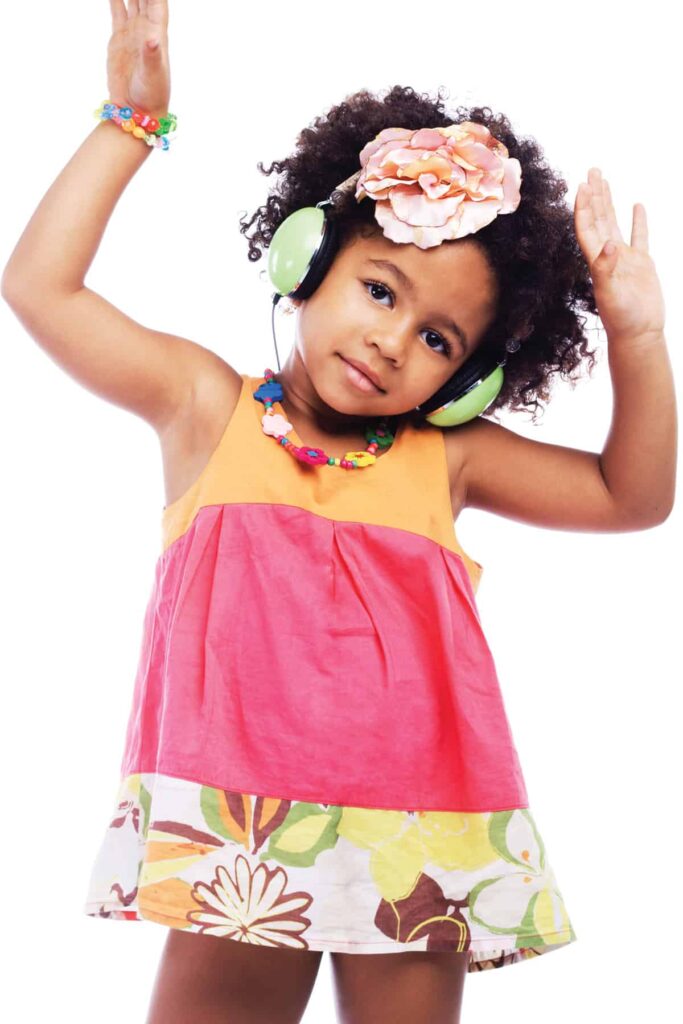 Finally, we decided it was time to introduce our kids to a wider variety of music.
It started small, telling little half-truths like "The car picks the music, honey. I can't change it" or "Your song is mixed into the Sonos playlist, you'll just have to wait to hear it."
Thankfully, they all took the bait. And now our kids love a variety of classics as well as modern hits.
(Well, except the tween. She still likes the music, but feels obligated to tell us how dumb it is. 🙄)
The best part is that doing this helped us pull together a Sonos list of kids birthday party songs that's over 200 titles long.
Without a single Kidz Bop file. 🙌
Now, this list was originally 30 songs long, but at a reader's request I sat down with my 7 and 10-year-olds recently to update the list for older kids and tweens.
40+ Kids Birthday Party Songs that Won't Drive You Crazy
Songs to Play at Any Kids Birthday Parties
Kids in the sub-five crowd can have pretty strong opinions on the music they want to hear. But these bright and happy songs are usually pretty well received by the little ones:
1. Birthday, Beatles
Even with only about three sentences in the entire song, it's still the best birthday song out there.
2. (Love is Like a) Heat Wave, Martha & the Vandelles
This song got 👍👍 from the kids – even the tween! The Motown classic is a great way to get everyone moving.
3. Fun, Fun, Fun, Beach Boys
C'mon. The name says it all, doesn't it?
4. Tusk, Fleetwood Mac
There's nothing quite like a college marching band to get everyone in the room amped up.
5. Best Day of My Life, American Authors
Every kid wants their birthday to be the best day of their life. So why not include a song that helps bring that feeling to life?
6. (Your Love Keeps Lifting Me) Higher, Jackie Wilson
This is a song we've often played (and sang to) our kids. Even through all the tantrums, they still light up your life, right? Which makes this just a perfect addition to a kids' birthday party.
7. My Girl, The Temptations
Hands down, the best song to play at a little girl's first birthday party. Queue happy tears.
8. Johnny Be Goode, Chuck Berry
Sometimes you just need a good ole rock and roll song. And this feel-good classic is sure to get your foot tapping.
9. Dancing in the Street, Martha Reeves & The Vandellas
Play this at your kids birthday party and everyone will be dancing in your backyard.
10. I Heard it Through the Grapevine, Marvin Gaye
Despite the less-than-happy lyrics of the song, this bluesy piece still makes us get up and boogie.
11. I Can't Help Myself (Sugar Pie, Honey Bunch), Four Tops
Just the perfect song to make you light up inside.
12. Wouldn't it Be Nice, The Beach Boys
What kid can't relate to a son that starts off with "wouldn't it be nice if we were older"?
13. Twist and Shout, Beatles
Whether this song makes you think of The Beatles or Ferris Bueller, it's just feel-good music all around.
14. Wipe Out, Surfaris
A must-have on any beach or luau themed party playlist.
15. Wooly Bully, Sam the Sham & The Pharaohs
You know you can't keep your feet still to this song, so your party guests will have their toes tapping too.
16. Build Me Up Buttercup, Foundations
Hands down, this is one case that the original is still the best.
17. Sugar, Sugar, Archies
Little kids will love this song for its reference to candy…even if they don't get that it's a love song.
18. Good Vibrations, Beach Boys
Bring some good vibrations to your backyard party with a summer classic
19. ABC, Jackson 5
The closest thing you're going to get to Kidz Bop on this list…but so much better.
20. You Are My Sunshine, Ray Charles
Don't let the smooth bass line fool you, this is still a toe-tapper, and a must-have song for a first birthday party playlist.
21. Volcano, Jimmy Buffet
Hosting a luau? Jimmy Buffet's steel drums and the staccato beat of Volcano are sure to set the mood.
22. Octopus's Garden, The Beatles
An adorably cute song by one of the best rock bands in history. This is perfect for a first birthday party or toddler get together.
23. Signed, Sealed, Delivered (I'm Yours), Stevie Wonder
Another classic for all generations that will have you up and dancing in no time.
24. You Are My Sunshine, Ray Charles
Don't let the smooth bass line fool you, this is still a toe-tapper, and a must-have song for a first birthday party playlist.
25. Love and Luck – Jimmy Buffet
Perhaps a lesser known song by Jimmy Buffet, but it's still got a great beat and that feel-good vibe.
26. Don't Stop 'Til You Get Enough, Michael Jackson
Not everything the king of pop made was appropriate for little ears, but this classic hit is the perfect way to introduce a little MJ into their repertoire.
27. Jump, Van Halen
Because it's not a real party until you pull out some 80s synth and hair bands. 🤣
28. Justin Timberlake, Can't Stop the Feeling
Okay, so technically it's from a movie, but it's so upbeat, it just makes everyone get up and start moving with a smile on their faces.
If you're lucky, your older kids and tweens will still enjoy the classics listed above. But they may want to hear a few more modern songs in the mix as well.
Birthday Party Songs for Older Kids and Tweens
Here are some that my older kids specifically approved (or requested).
29. Ed Sheeran, Perfect
Older kids will appreciate a balance of softer songs mixed in with the upbeat music, and this is a sweet song to get everyone swaying along.
30. Avicii, Wake me up
This is one of the few songs that every single person in our house agrees on, and the combination of a driving beat and positive message make it fantastic for a celebration.
31. Master of Tides, Lindsey Stirling
Our girls love Lindsey Stirling's music. And sometimes it's nice to have a fun piece of music that has no lyrics.
32. Happy, Pharrell Williams
I know, I know, this is another one of those overplayed songs from a popular kids movie. But man, it gets you moving every single time.
33. Lindsey Stirling, Lost Girls
Yes, another Lindsay Stirling piece…I had to limit my kids to two songs. Apparently that was difficult.
34. Uptown Funk, Mark Ronson Ft. Bruno Mars
The song that forever changed the phrase "Smoother than a fresh jar of Skippy"
35. Downside Up, Peter Gabriel
Another pretty piece that is great for slowing things down now and then. (It also happens to be stunning to watch)
36. Without You, David Guetta ft Usher
We're not much without the ones we love. Why not add a song that celebrates how much we need each other?
37. Good to Be Alive (Hallelujah), Andy Grammer
True story: I had my kids convinced that Any Grammer said "shift" at the start of the song. 🤣 After that, it's a perfectly acceptable song for kids.
38. Say Something, Justin Timberlake
This chill song got 👍👍 from the kids – and with coming from siblings who don't agree on much, that says something. (I know, I know 🤦‍♀️)
39. No Tears Left to Cry, Ariana Grande
Not my thing, but the kids like it, and it's fairly positive…so, okay. (Open mindedness runs both ways, right?)
40. Home, Phillip Phillips
This one's not necessarily a 'dancer', but it's a great choice if you're looking for background music that's upbeat.
41. Feel So Close, Calvin Harris
Turn down the lights and break out the strobe light for this one.
42. TobyMac – Lights Shine Bright ft. Hollyn
Lights Shine Bright has a great head-bopping beat, but includes enough changes in tempo to keep things interesting too.
43. The Middle, Zedd, Maren Morris, Grey
The Middle got an immediate "Yes!" from the tweens. And I have to admit, this song it is kind of catchy. It's no wonder
44. No Excuses Meghan Trainor
Meghan Trainor's peppy beat gets the kids up and moving every time.
45. Who Says, Selena Gomez
Listening to this will have everyone humming na-na-na-na for hours.
46. Cheap Thrills, Sia
It's a song all about having fun and dancing…what else do you need for a great party?
More Ways to Make Your Kids Parties Awesome:
Now It's Your Turn
Your kids don't have to be glassy-eyed Elsa's. With a little bit of creativity and a look back at a lot of the classics, you can pull together a list of kids birthday party songs that everyone will enjoy.

Want more party inspiration? Join me over at
Facebook
, and
Twitter
, for regular updates and fabulous finds from around the web.
Note: This is an updated post that was originally published in June 2016.