You've never seen a crab feast like this before. Take a look at this modern party with an easy party menu, fun nautical touches, and bright colors.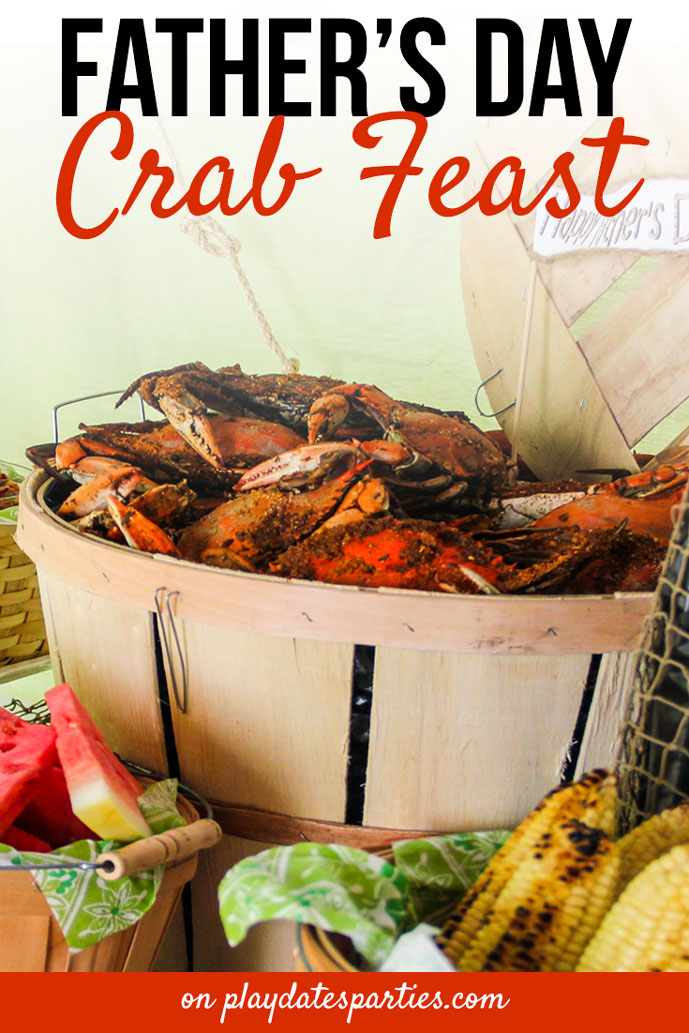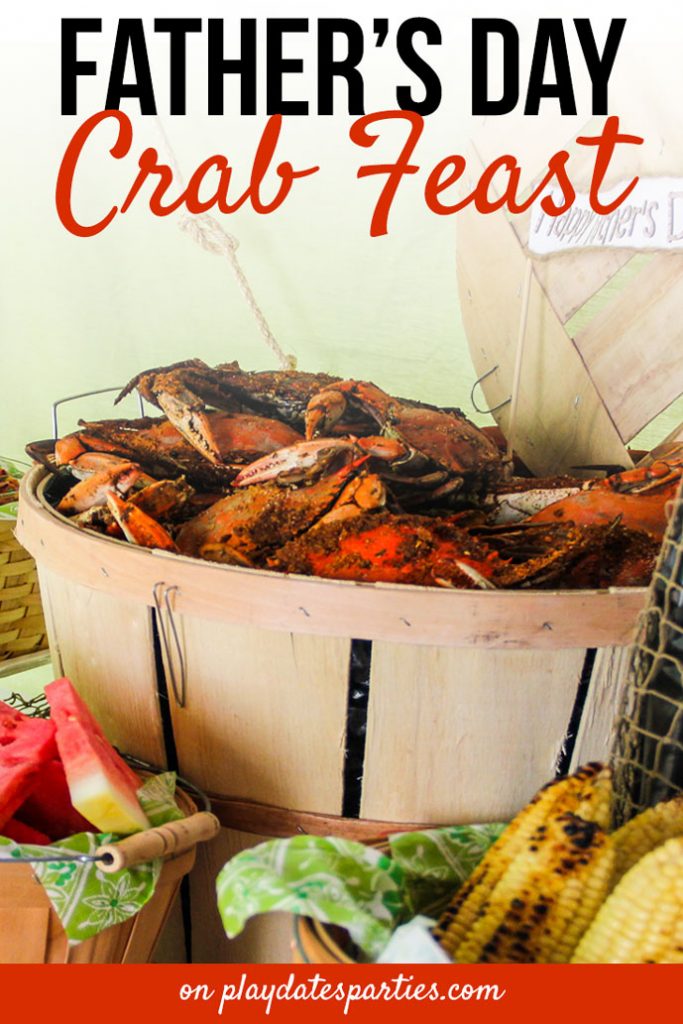 Father's Day is extra special at our house. It always falls within a few days of the Husband's birthday…and his brother's birthday.
You see, they are exactly three years apart in age. Without any scheduling at all, my MIL was somehow able to have her sons born on the same date. (Genius, if you ask me)
But Father's Day also falls during a very special season for us Marylanders…crab season!
There's just something special about gathering together with family for a crab feast. Even when I lived in Virginia, summer wasn't complete without at least one day picking crabs and gabbing around the table.
So, when I asked the Husband what he wanted to celebrate this special day, he didn't hesitate at all. He wanted a crab feast!
BUT, crab feasts can be so messy. So, I took on the challenge of creating a crab feast that is both pretty and practical.
Let's take a look at how we made that happen, shall we?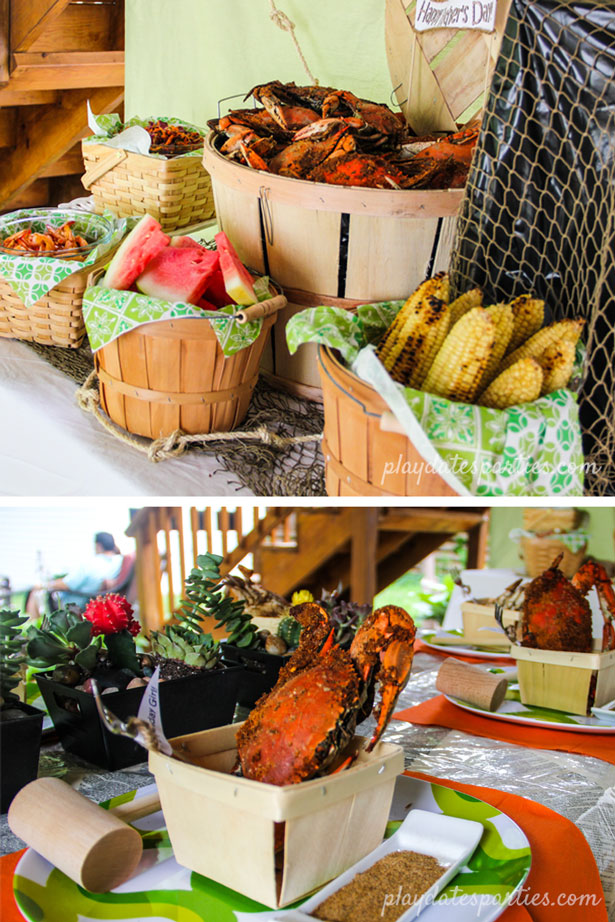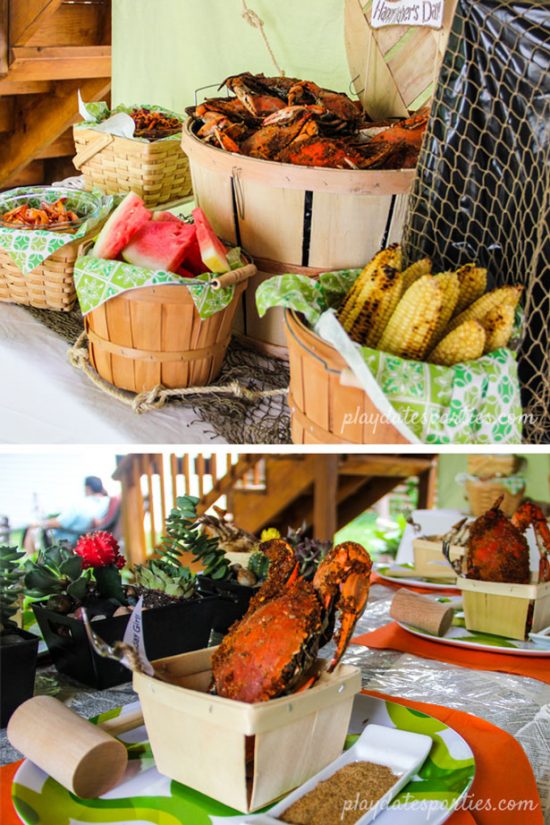 Crab Feast Menu
Of course, there's more to a crab feast than crabs. We kept the whole buffet simple, though. It was all about easy-to-prepare foods that would compliment the main course perfectly. Take a look:
Steamed Crabs with Old Bay
Fresh vegetables served with Hummus that was sprinkled with Old Bay
Crab Chips
Steamed Shrimp
Grilled Corn on the Cob
Fresh watermelon slices
Summer Slaw, and
Death by Chocolate cake
The crabs themselves were served out of a crabbing basket, and the rest of the food was served in natural half-peck bushel baskets and mini picnic woven baskets.
Crab Feast Decorations:
Of course, Maryland blue crabs come straight from the bay, so I thought it would be a fun idea to add some nautical touches to our decorations as well.
It all started with twine and rope.
Braiding together large gauge twine was a fun alternative to streamers and ribbons. And it came in quite handy in creating the chandelier made out of battery operated paper lanterns in the party's green and orange color scheme.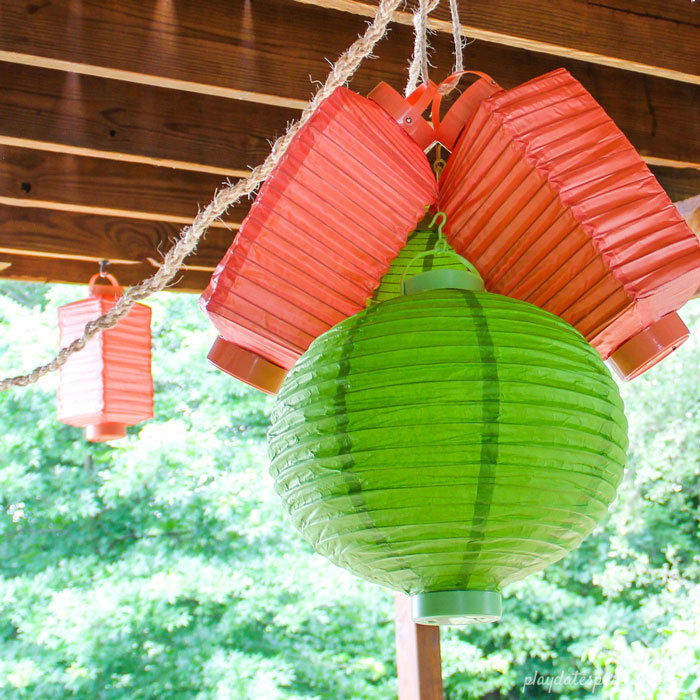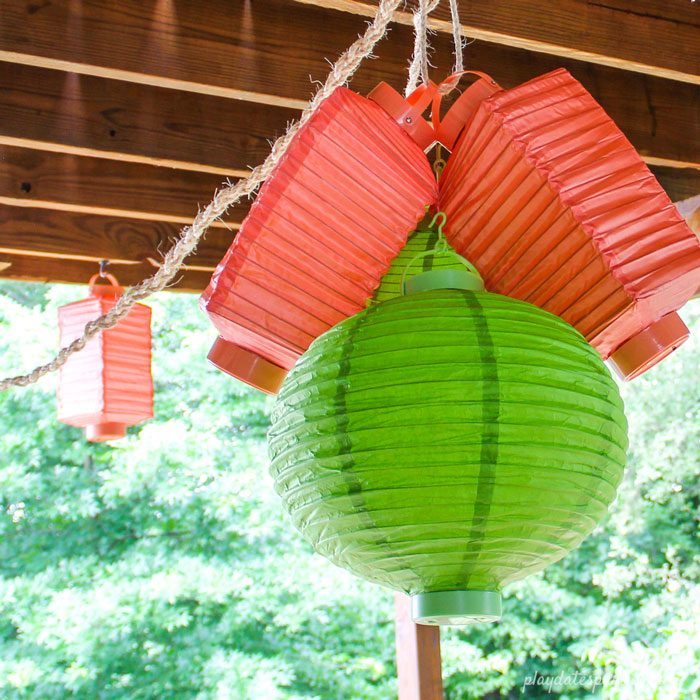 The Tablescape
Most crab feasts include a bunch of newspaper or trash bags spread over the table to collect muck and gunk. But I wanted something better.
I needed to find a way to protect the table, while being durable enough to handle the pounding that comes with cracking crabs.
My homemade mess-proof book page tablecloth was the perfect solution! It's fun to look at, and is wipeable too.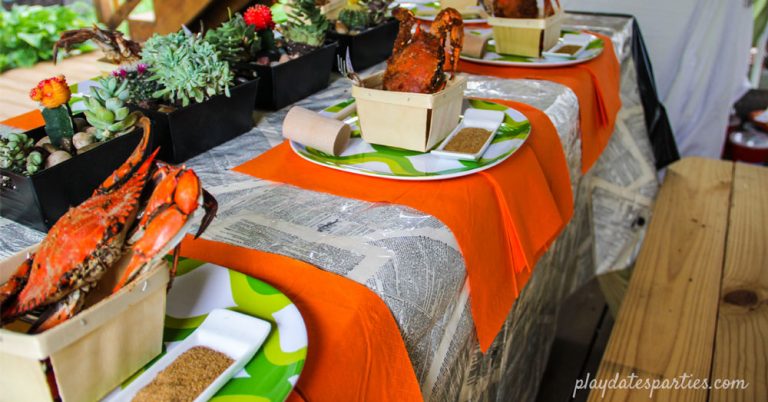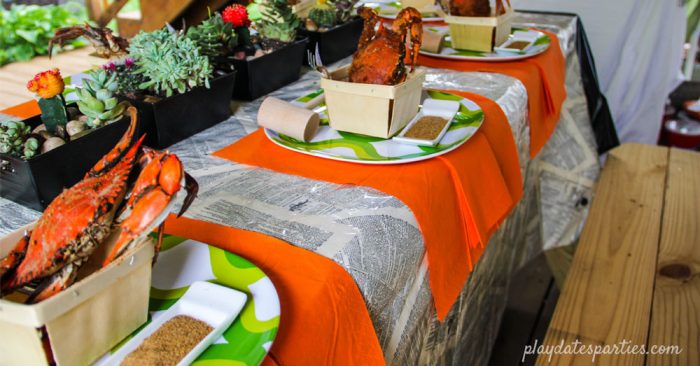 On top of that was plenty of napkins and melamine plates for each guest. (Melamine plates can also withstand the pounding of mallets on hard crab shells, though they might be a bit slippery.)
The place settings also had a berry basket for collecting crab shells, a mallet, and individual trays of Old Bay seasoning. The berry baskets were even prepared with a steamed crab, and a cocktail fork.
I just love the little party flags and twine accents on the cocktail forks, don't you?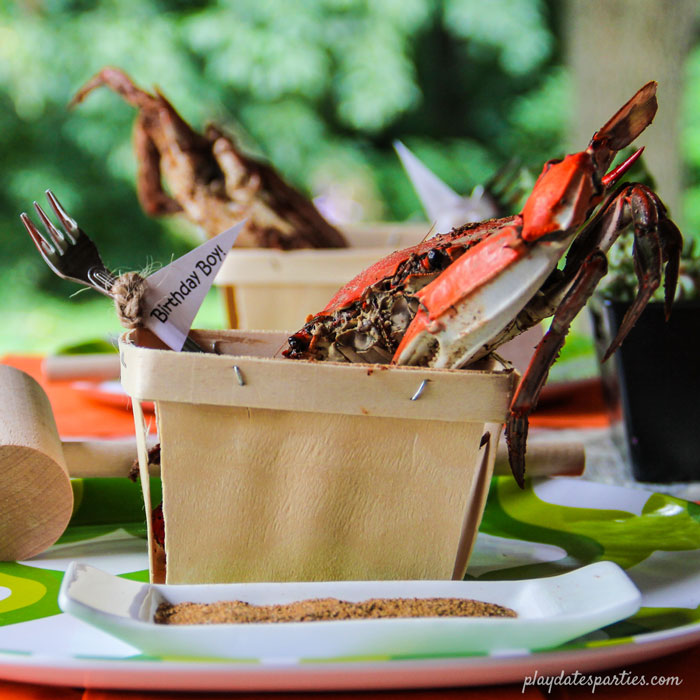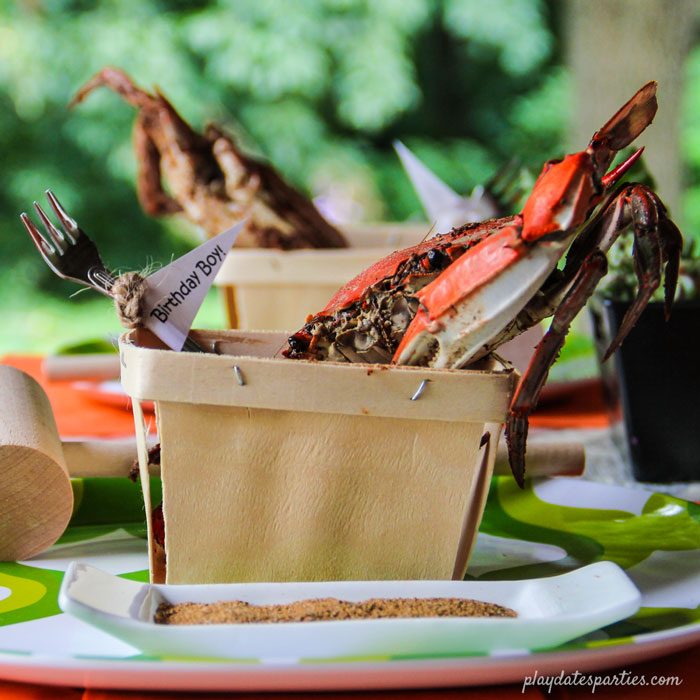 The Centerpiece
Instead of a big fussy centerpiece, I opted for making a quadruplet of succulent planters. The greens, reds and oranges worked perfectly with the decor. And they provided a nice pop of color without being too feminine.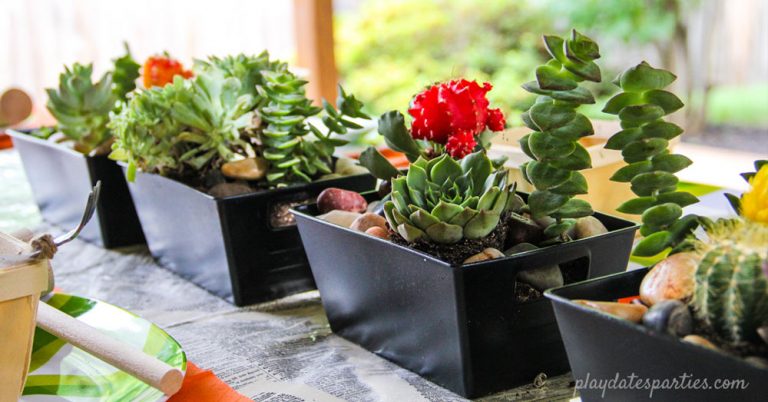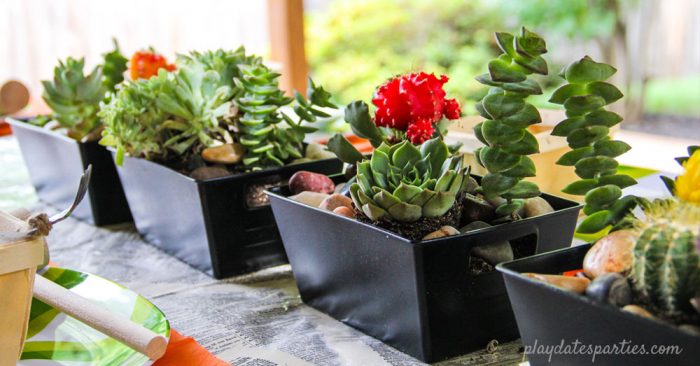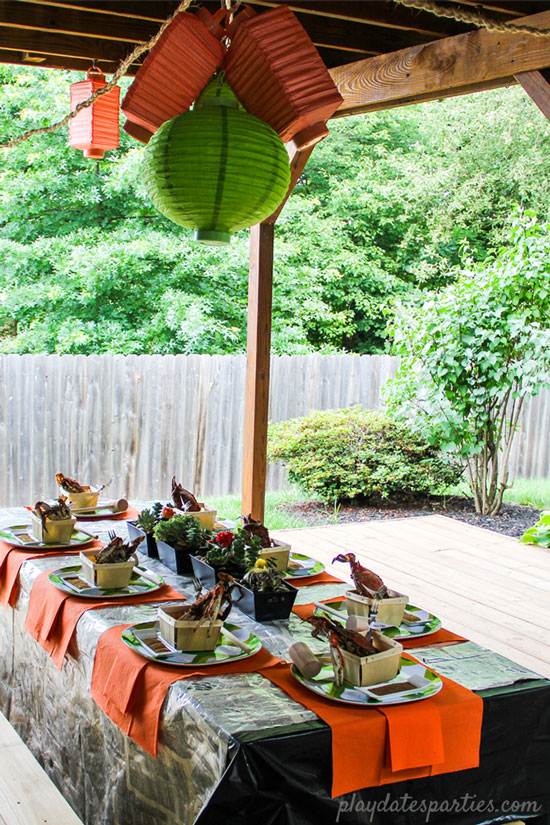 Now It's Your Turn
Yes, we Marylanders love our crab feasts, which made it the perfect way to celebrate Father's Day and my Husband's birthday.
But you can have a crab feast anytime during the summer! It's a fantastic way to just sit and spend time together doing something fun.
And even though it's a messy endeavor, you can still make it look nice for a special occasion. All it takes is a little bit of creativity.
Have you ever hosted a crab feast?
What's the messiest party theme you ever hosted?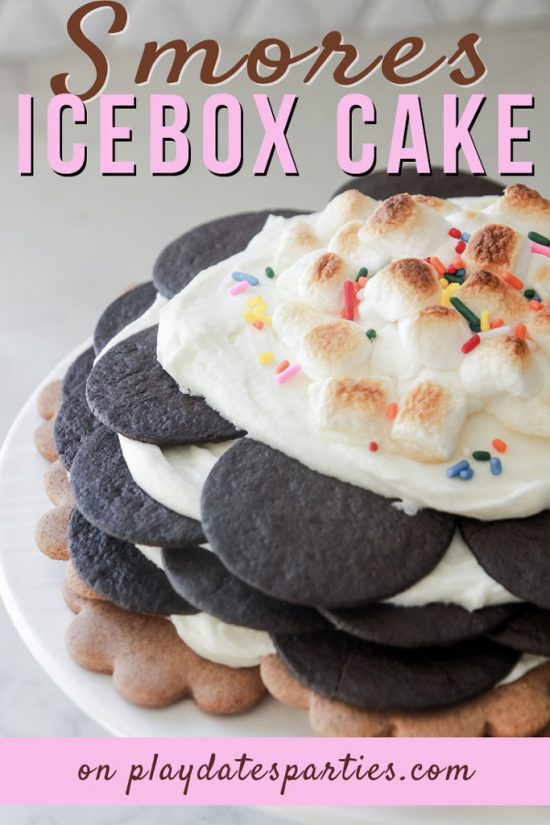 Subscribe via
Bloglovin, Facebook, and Twitter
to get more updates!