This adorable under the sea party has it all. From stunning party decorations to cute under the sea party food names, you're guaranteed to be inspired.
Get ready to be the talk of the ocean, because no one will forget your party if you copy these ideas.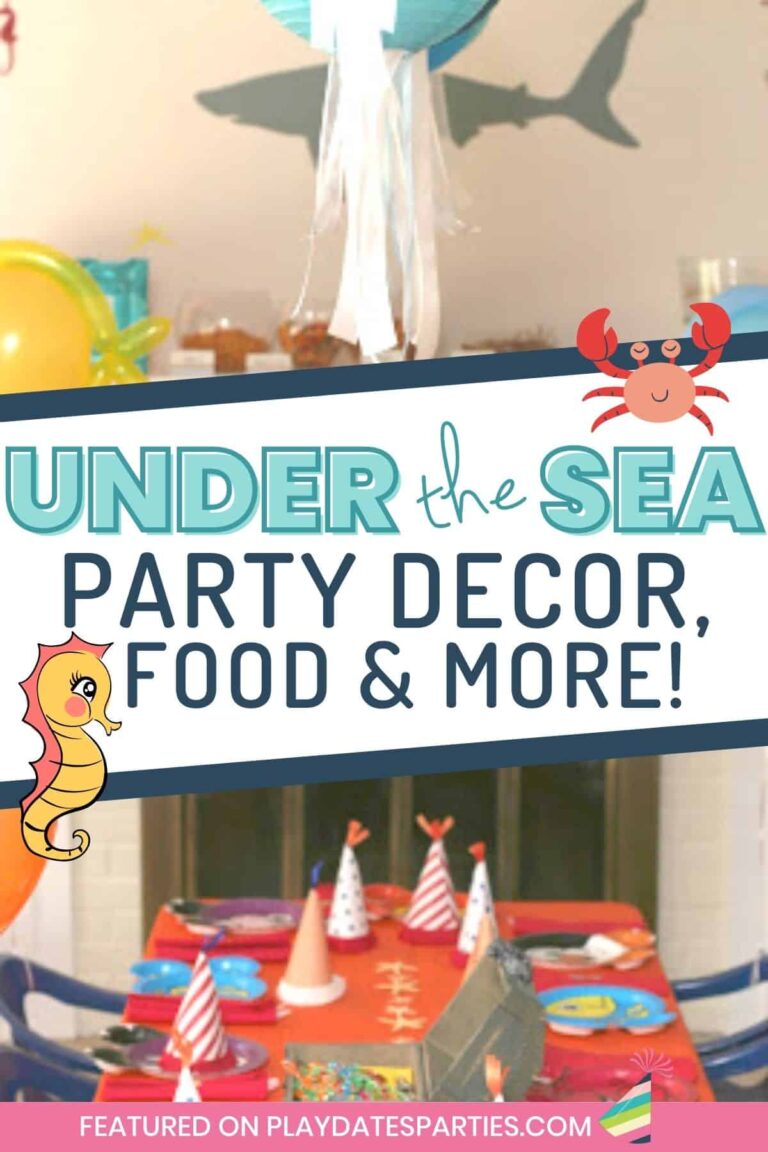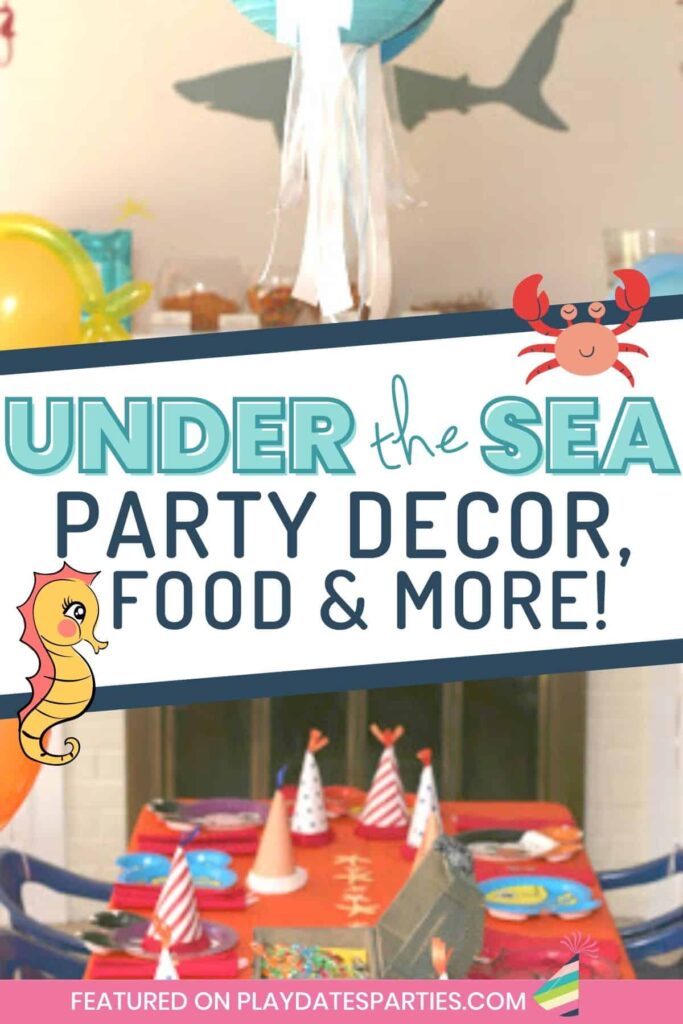 About the Party:
Creator: Kate at CupKates Events
What Was the Occasion? 3rd Birthday Party
Color Scheme: Blues, Orange, and Red
Where Was the Party Held? At home, indoors
Unforgettable Party Decorations
Like many of our favorite ocean creatures, Kate's decorations were big and bold. I think she did a fantastic job creating the feel of an underwater party space with simple items you can find just about anywhere.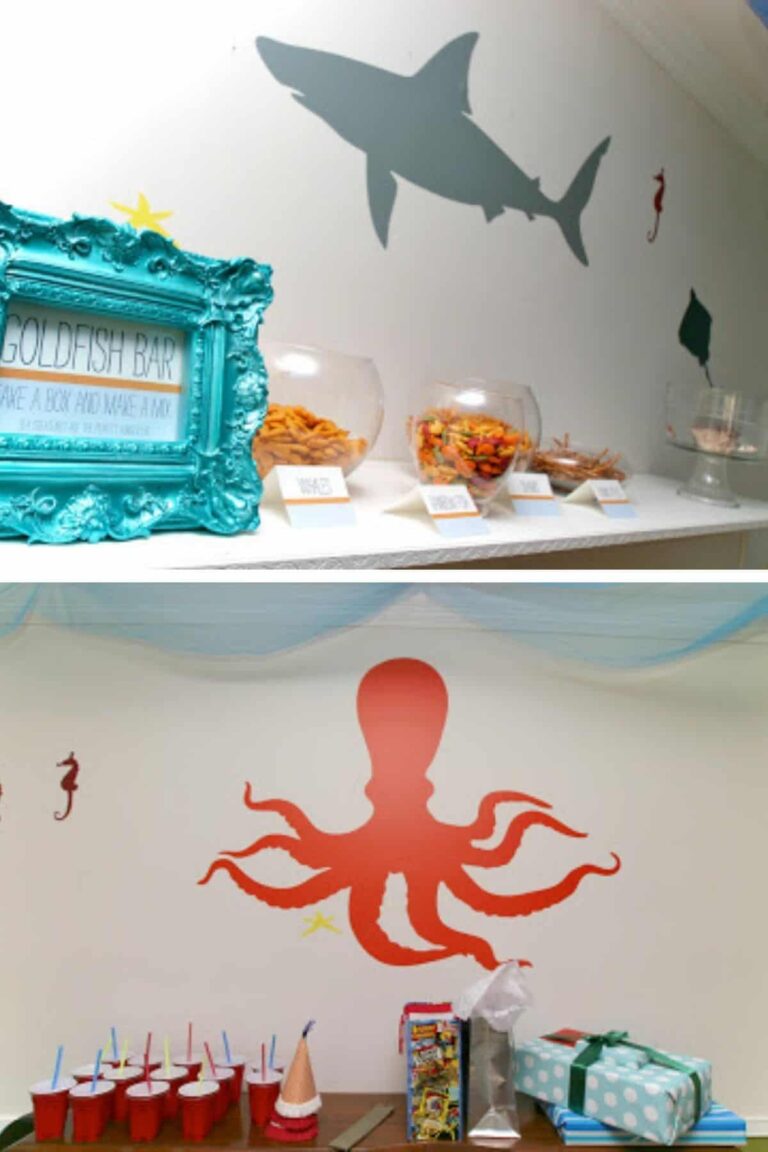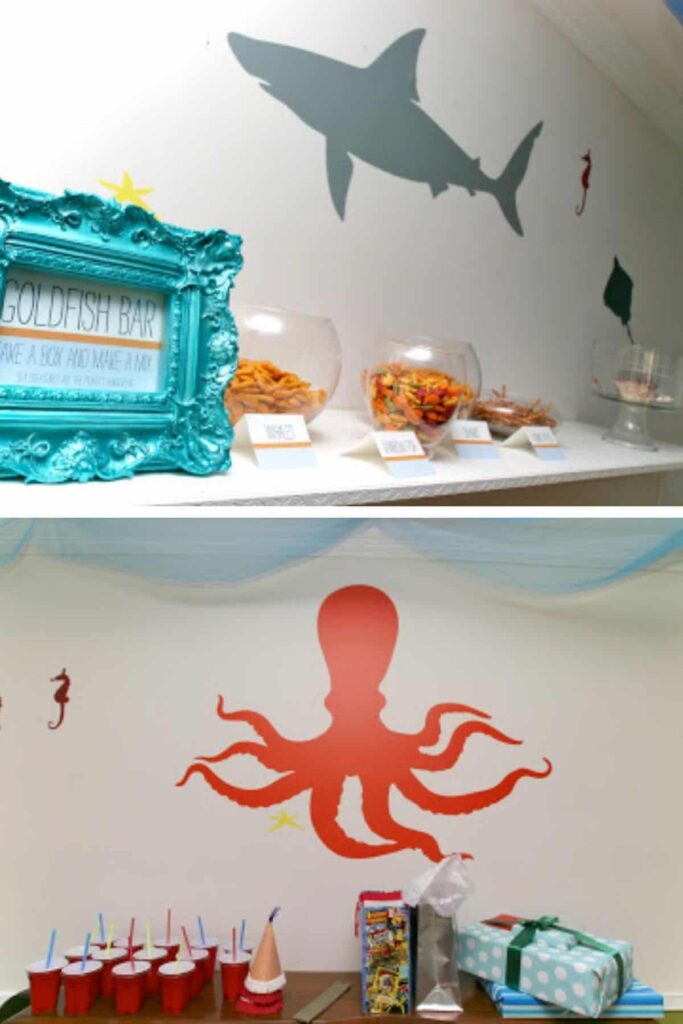 Vinyl Wall Decals
The decor with the biggest impact has to be the vinyl decals all over the walls.
The giant shark and octopus are pretty darn cool. But if you look closer you'll see that there are also seahorses, skates, and starfish too.
Vinyl decals can be fairly inexpensive, and you can even make your own if you have a cutting machine.
They also won't damage the walls when you want to take them down, which makes them a fantastic choice when you have a lot of wall space to cover.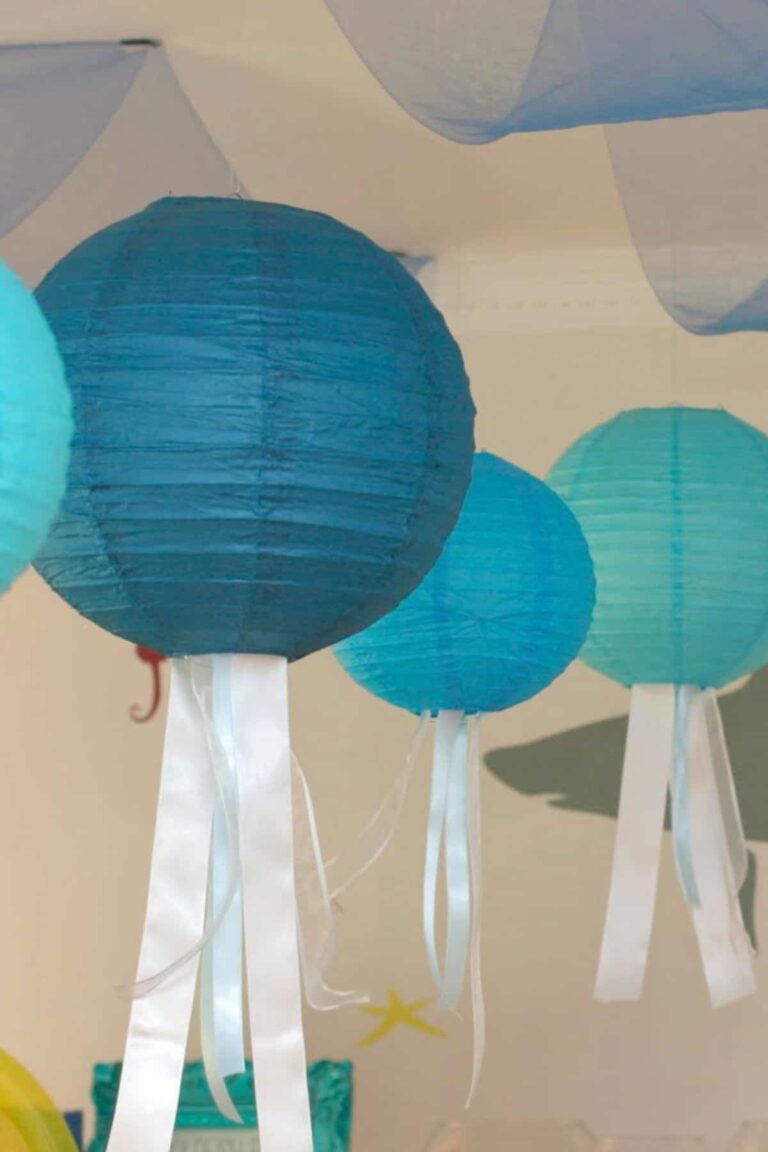 Floating Jellyfish Lanterns
How's this for an easy craft? Blue paper lanterns with ribbon hanging out of the bottom to look like jellyfish.
Hang several from the ceiling with monofilament and you'll feel like you're right in the middle of a jellyfish bloom.
Tulle Ceiling Drape
The tulle draped on the ceiling really makes you feel like you're in the ocean looking up at the waves.
Wondering how to get this effect? Here are some easy options:
Drop ceilings: Use paperclips, s-hooks, or drop ceiling clips to attach the fabric to the ceiling
Industrial/Open Ceilings: If the fabric isn't too heavy, you may be able to drape the fabric over the pipes or attach it with monofilament.
Drywall Ceilings: Thumbtacks or push pins are the most secure option. You can also try heavy duty command strips, but might need to secure the fabric to the command strip with a paperclip.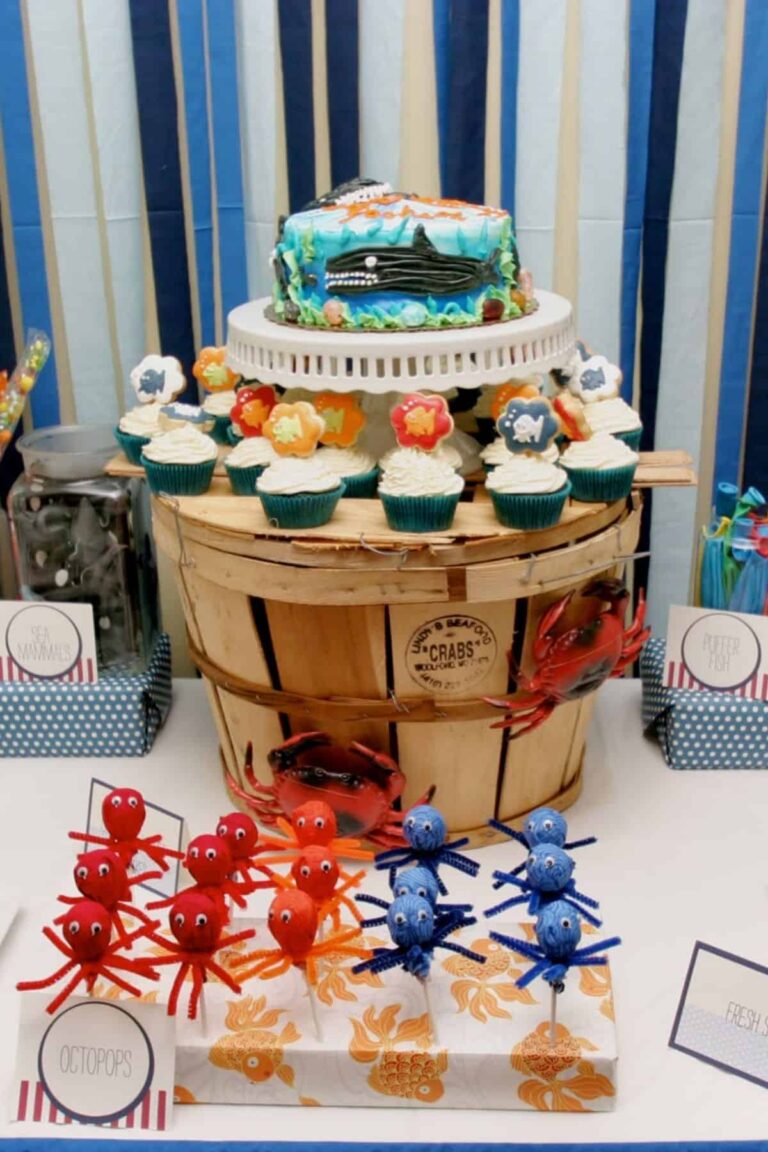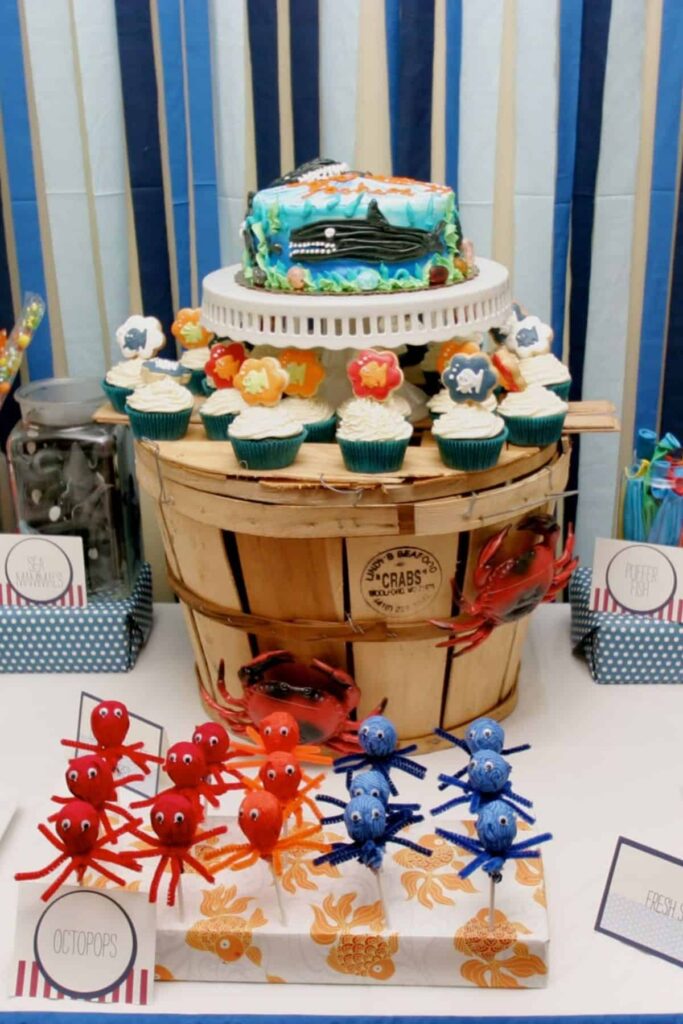 Favor Table Decorations
The favor table is simply stunning, and so easy to recreate or adapt for just about any party theme. Let's take a look…
Crepe Paper Streamer Backdrop
If you're looking for a super duper easy and budget friendly backdrop, this is it.
Crepe paper can be a real pain to work with, but by simply letting it hang from the wall, you get plenty of color and texture with very little effort.
Decorating Tip: Command Strips, Double sided tape, or Blue Tac all work well without ruining your walls.
Crab Basket Centerpiece
One of the most important things to do with a buffet is to add variations in height. Not only does it let you fit more food in a small space, it also makes the table more interesting.
Here Kate used a wood crab basket (basically a large bushel basket) to make the cake and cupcake display really stand out.
RELATED>>>BRIGHT AND COLORFUL CRAB FEAST
Wrapping Paper Risers
You can also see in the photo above that there she used coordinating wrapping paper to add a bit more interest to the table.
In the back are two shirt boxes wrapped in blue polka dot paper, and the Octopops are held up by a sheet of styrofoam covered with wrapping paper.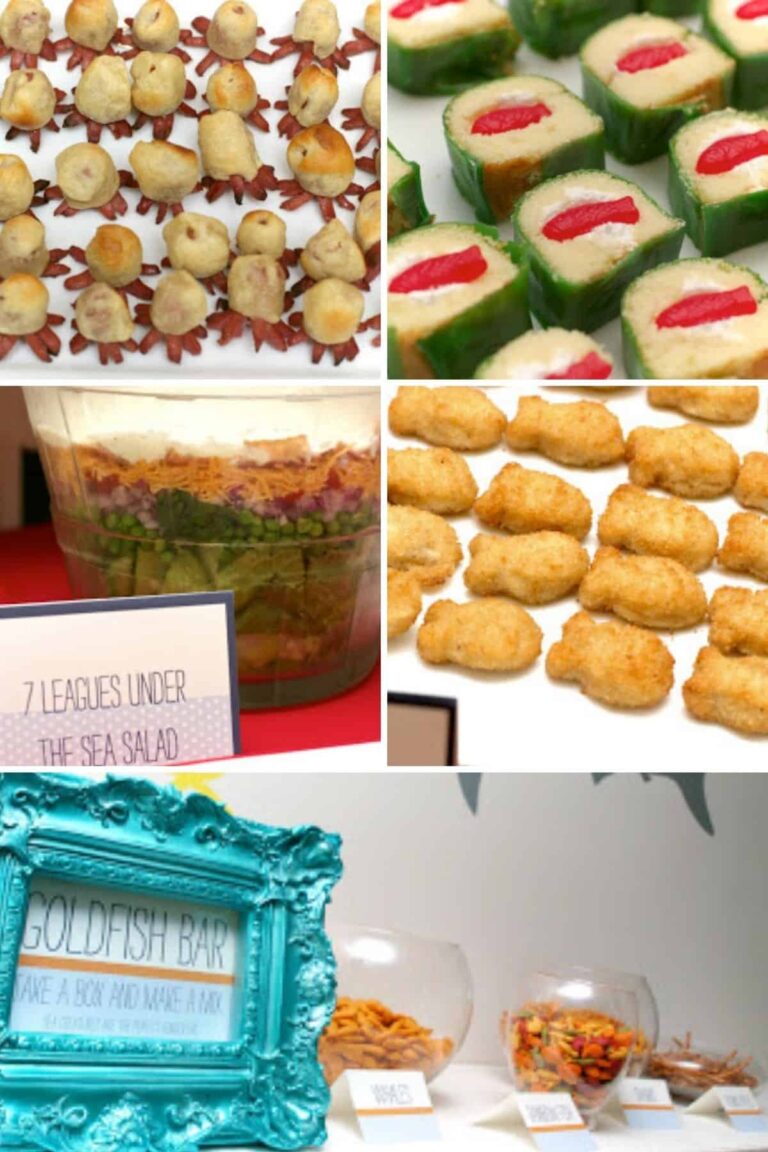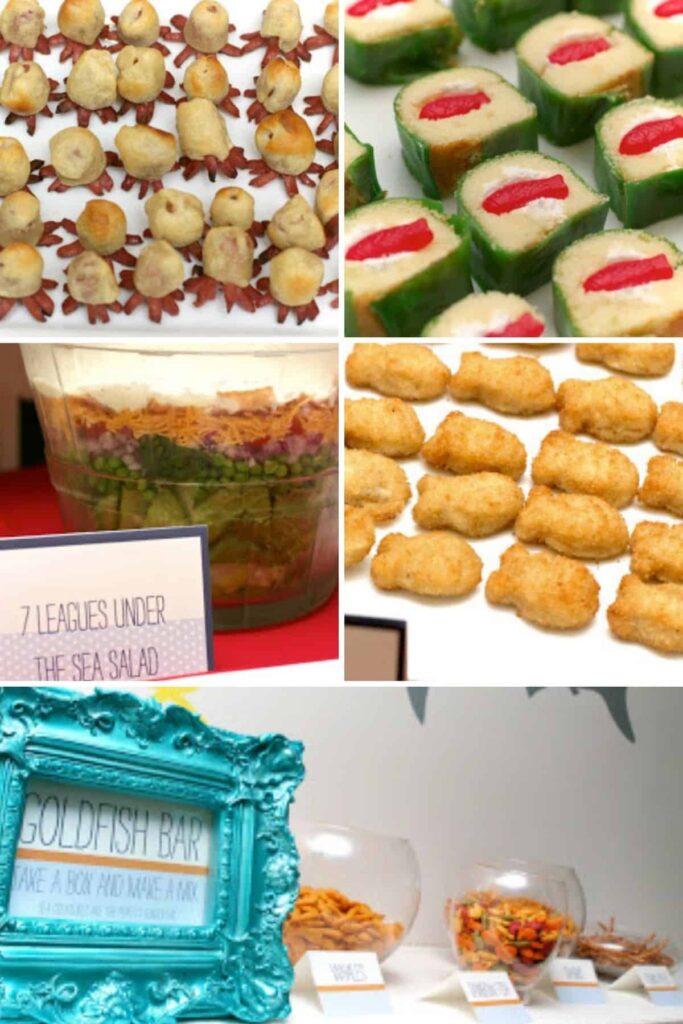 Under the Sea Party Food
Of course, a party isn't complete without some tasty eats. The menu featured everyday party foods, with cute ocean-themed names for everything:
Octopus in a blanket: Hot dogs with crescent roll dough
Fish sticks: shaped like fish!
Seaweed spread: spinach dip
Sand Dollars: Pop chips
Submarine Sandwiches
7 leagues under the sea salad
Conch shells and cheese
Fishing Poles – Pretzel Sticks
Goldfish Bar: a variety of fish crackers and pretzels
Sparkling Octopus Ink – Izze sparkling juice cans
Freshly Bottled Ocean Water
If you like these ideas, you'll also love these super easy Under the Sea Fruit Cups.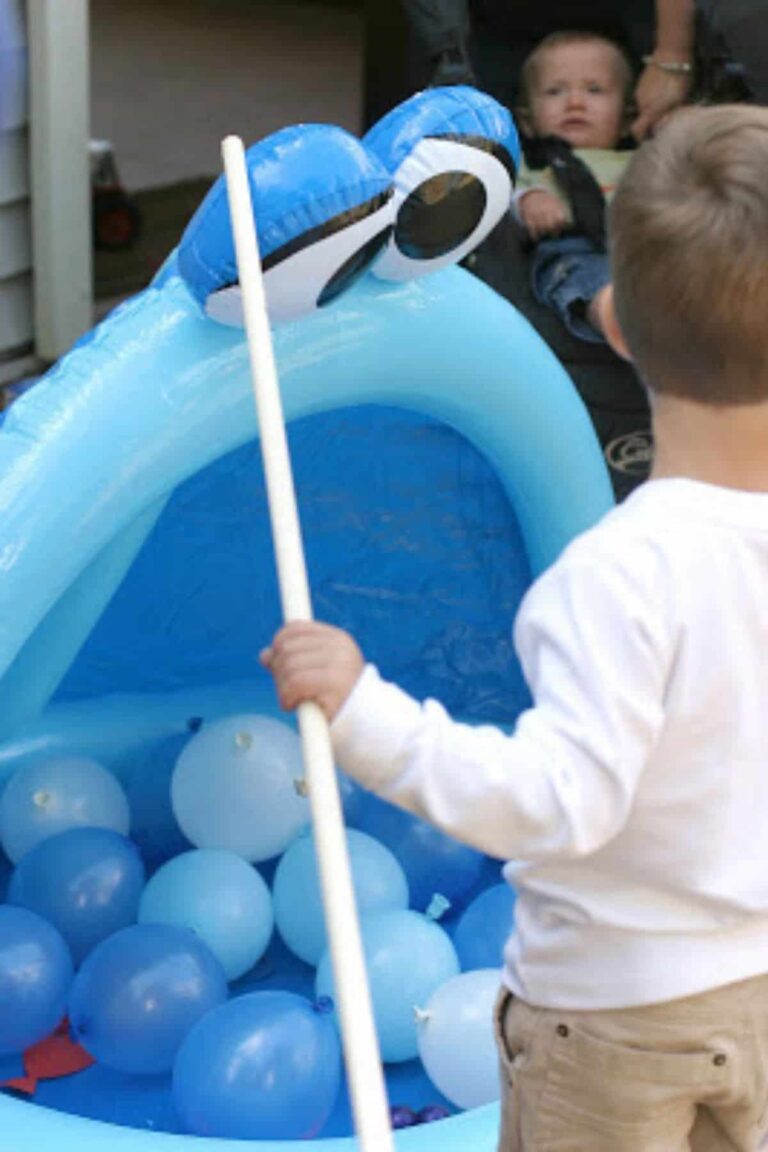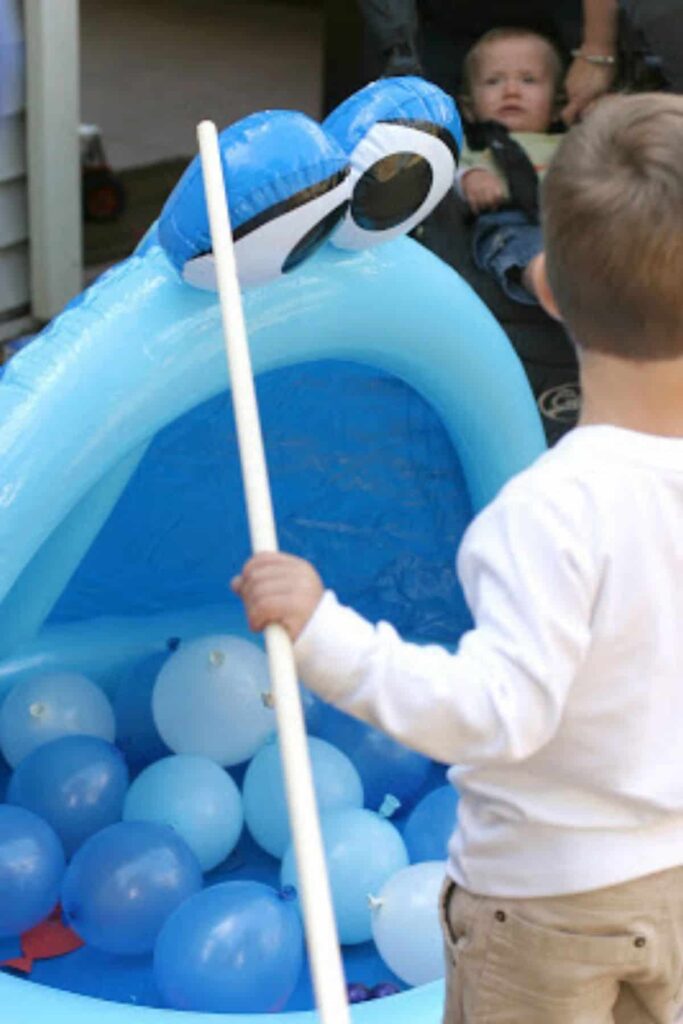 Ocean Themed Party Activities and Games
I'm a big advocate for keeping party games short and sweet for toddlers. And Kate did just that with only two activities.
Baby Pool Fishing:
Kate filled a baby pool (don't you just love the canopy?) with balloons and let the kids go 'fishing' for sea creatures.
The sea creatures were simply sea creature shapes cut out using a Cricut, with a paper clip attached.
The kids had a dowel rod with a magnet glued to the end to use for fishing.
A Note from Kate: I don't recommend using the balloons because the game was fairly difficult with them in the way.
To make it easier, you might want to:
Use blue ball pit balls,
Reduce the number of balloons in the pool, or
Have no balls or balloons at all (some starfish and shells in the pool will still make it look cute)
Make Your Own Ocean
Kids also got to make their own ocean in a bottle, which is a great sensory activity for little kids.
That said, with all the pouring and messy ingredients, you may want to make sure you have enough adults on hand to help out.
See how to make an ocean in a bottle right here.
A Note from Kate: Make sure you hot glue the lid on! You don't want a kid to open the bottle, or drink it!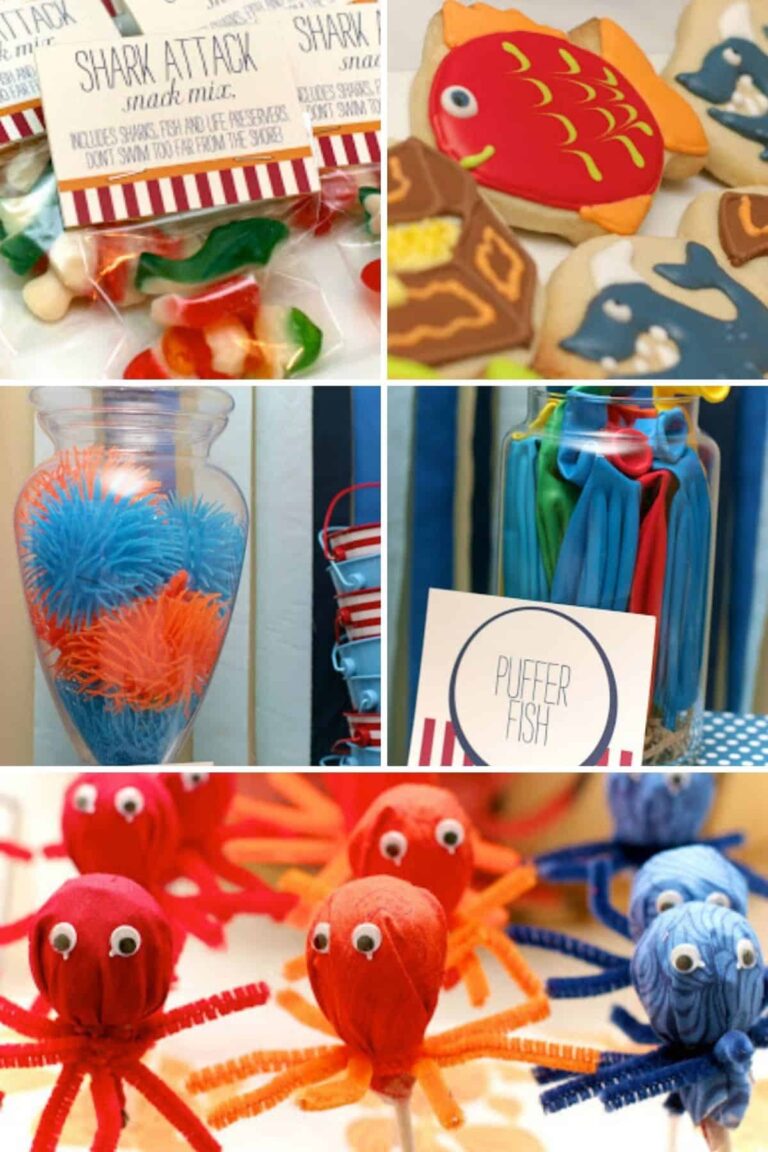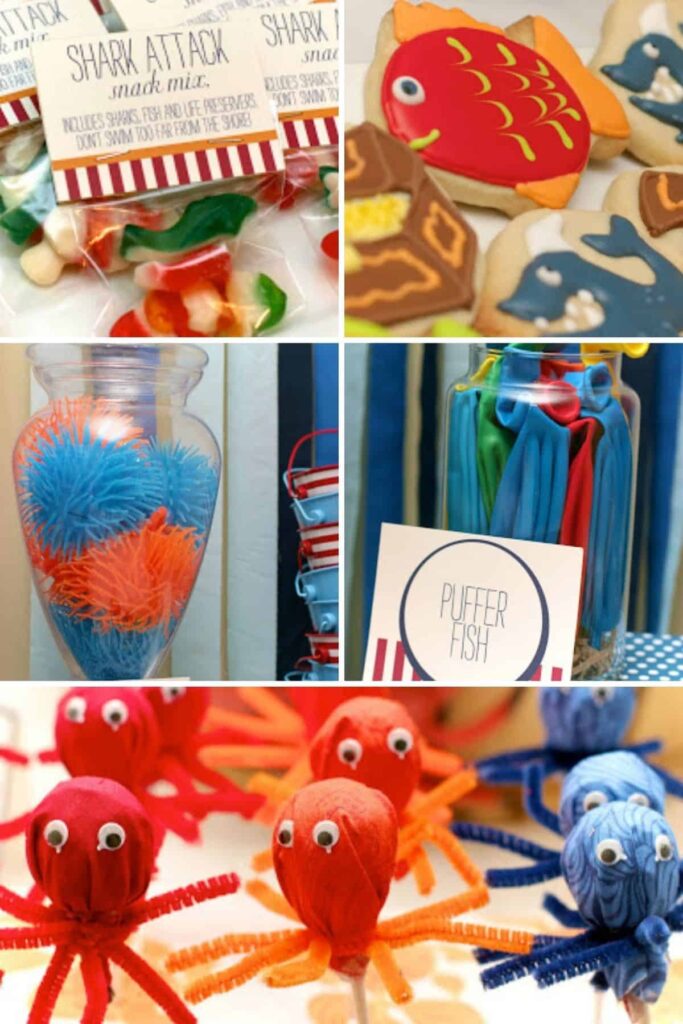 Under the Sea Party Favors
Yes, we discussed the favor buffet decorations, but the party favors themselves deserve a separate mention.
Kate mixed both sweet treats and toys on the favor bar to avoid sending toddlers home with a guaranteed sugar high.
She also continued the fun ocean themed names on the favor bar:
Edible Favors:
Shark Attack Snack Mix which included gummy fish and Os.
Octopops
Sea creature cookies
'Fresh Sushi' – Mini rolled cakes wrapped in green fruit leather, with a gummy fish inside
Fish Kabobs – Sea creature gummies on a stick
Toy Favors:
Sea Mammals – Toy rubber whales and sharks
Puffer Fish – Punch Balloons
Sea Urchins – Puffer balls
Beanie babies and books for younger siblings, and
Buckets to hold their loot
More Beach and Ocean Themed Party Ideas You'll Love: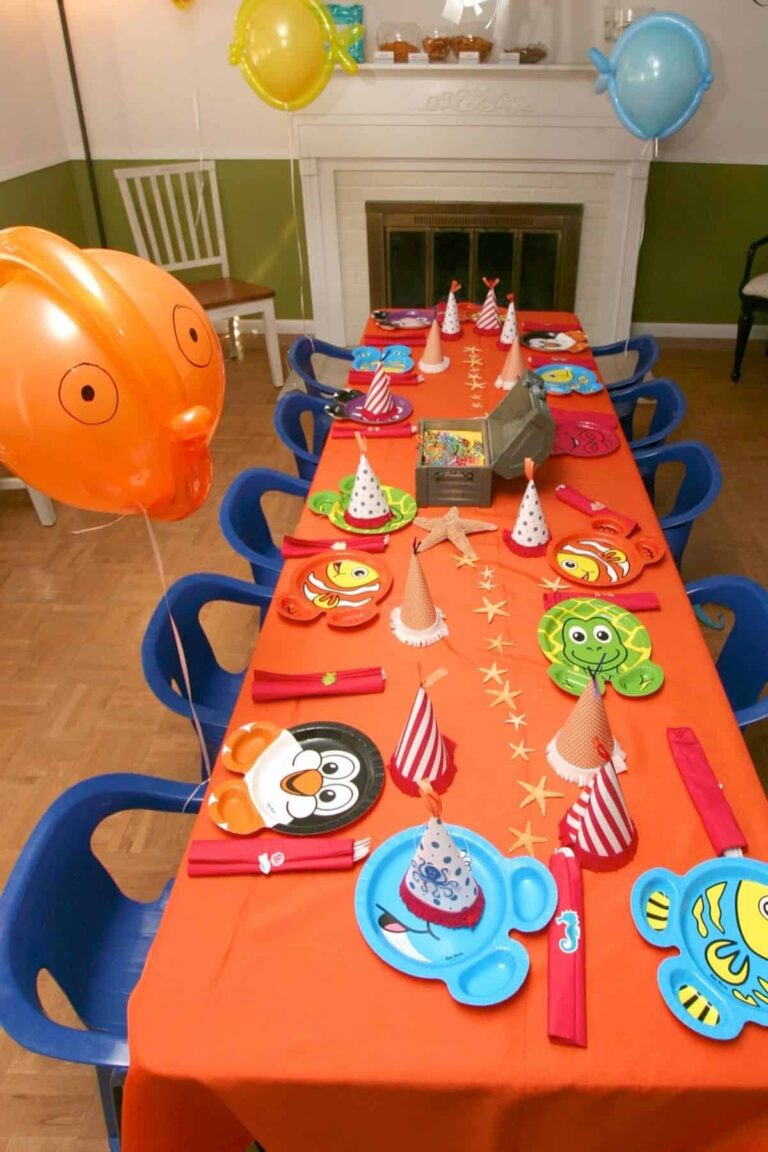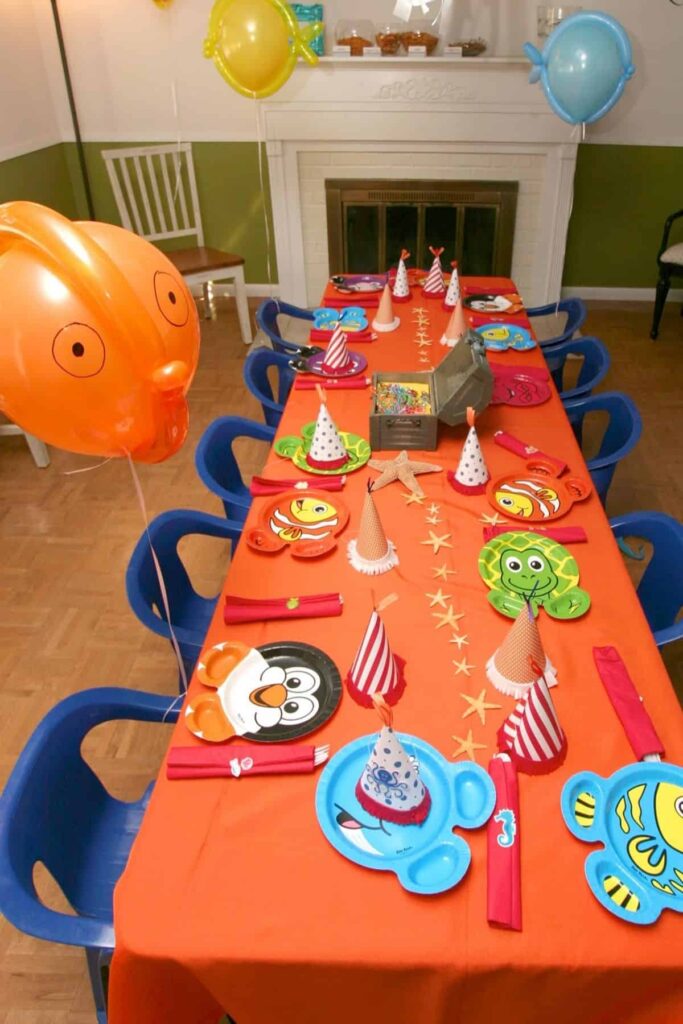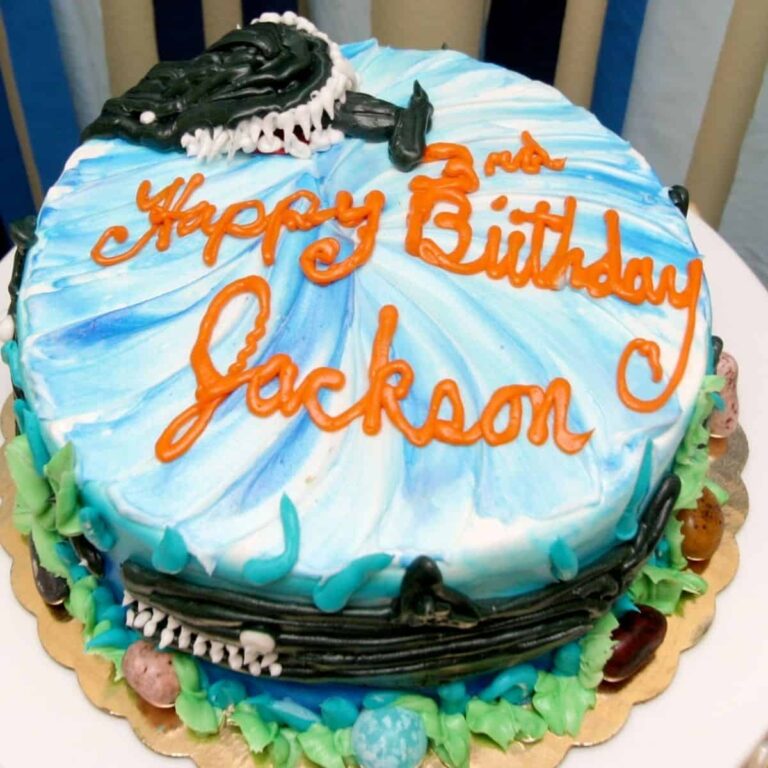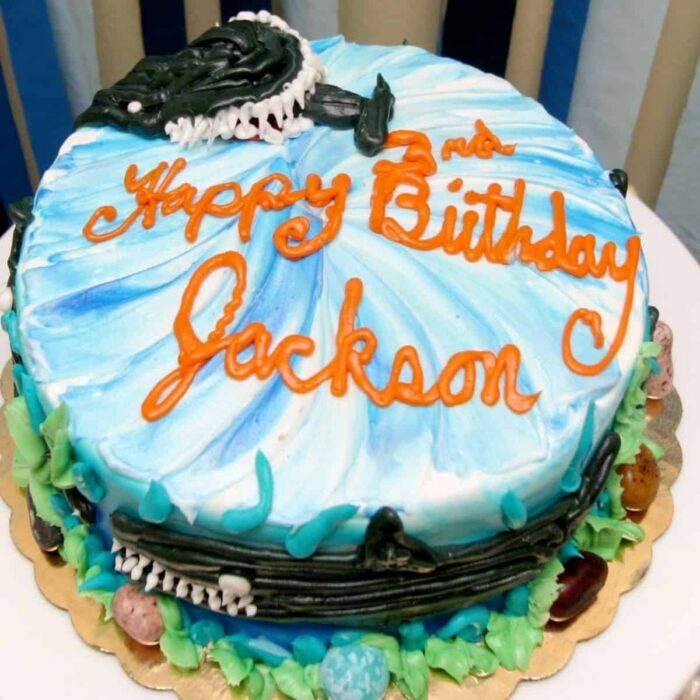 Now It's Your Turn
Whew! Talk about a lot of under the sea party ideas all in one place!
Even though I first featured this party over 10 years ago, I'm still impressed by all the DIY ideas. Use them for your ocean-themed parties, or adapt the ideas for a different theme. Either way, you'll be winning.
Now I want to know…
Which of these party ideas do you like best?
Do you have any additional under the sea party ideas you'd like to share?
---
---
This post was originally shared with permission on November 9, 2010. It has been updated to provide additional party details and larger photos. Photography was provided by Cellar Door Photography.