So, you're looking for a fun way to spend time with your other mom friends…even when you can't find a babysitter? Why not host a craft party for adults – or as we liked to call it: Crafts and cocktails!
This is a fantastic idea for mom's night in. You get to socialize with the other moms in the neighborhood, while everyone's kids get to hang out together. Let's take a look at how we created a fun night in that everyone loved.
As a mom, you always have to find ways to spend time with your friends, but it's practically impossible when there are hardly any reliable babysitters available.
That was exactly the situation we were in a few years ago, right as I was finishing chemo for breast cancer. I was desperate for some social time, but couldn't find anyone that would watch all three of our kids.
That's when I had the idea of hosting a craft party for adults – more specifically a Crafts and Cocktails party for mom's night in.
Basically, all the moms gathered around the kitchen for social time, while we let the kids run around in the basement. It didn't matter how many children ran around or who they belonged to because there were plenty of adults and older kids available to help settle any real disputes
Everyone had so much fun, that many moms are asking when we're going to do it again, so it's obvious that this is something to keep up.
Party Details:
What Was the Occasion? Mom's Night In
Theme: Crafts & Cocktails
How Many Guests Did You Have? 7 Adults, 11 Kids
Where Was the Party Held? Our Home
The Party Craft
We decorated clay plant pots!
It was so much fun. It was also easy enough that the kids could join in and the adults were able to socialize – which is what we really wanted to do anyway.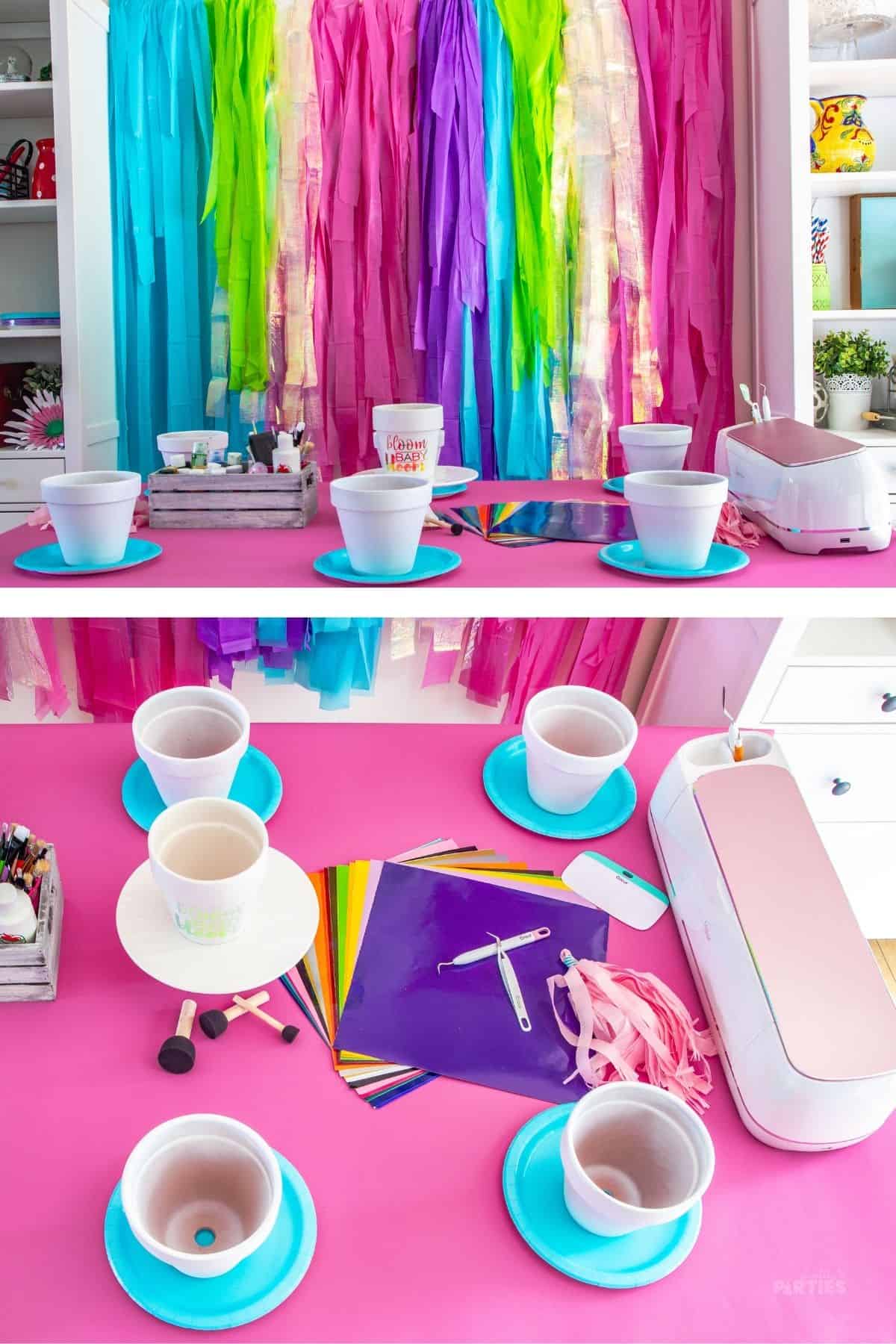 The Setup:
Our dining area was transformed into a crafting studio, with a DIY fringe backdrop on the wall, and pink bulletin board paper covering the dining table. (The paper was also there to protect the table from paint!)
The Supplies:
I kept the supplies simple: paints and vinyl.
A box in the center of the table was filled with acrylic paints, brushes, and sponge brushes. And at each place setting was a paper plate with a pot and saucer ready to be decorated.
But you know me, I have to add just a little something extra.
A couple days before the party, I had the idea to design several fun and cute catch phrases for plant pots. (Okay, I may have even gotten a little carried away with all the sayings I made!)
So, my Cricut Maker and a variety pack of permanent vinyl came upstairs from the craft room, and I offered to cut out custom sayings for everyone's plant pots.
Everyone loved watching the Cricut in action and adding personal touches to their pots with vinyl, paint, or even a combination of the two.
I even had one of the kids ask for a custom design…which I was happy to make right there. I only wish I'd grabbed a photo of the design for you. 😔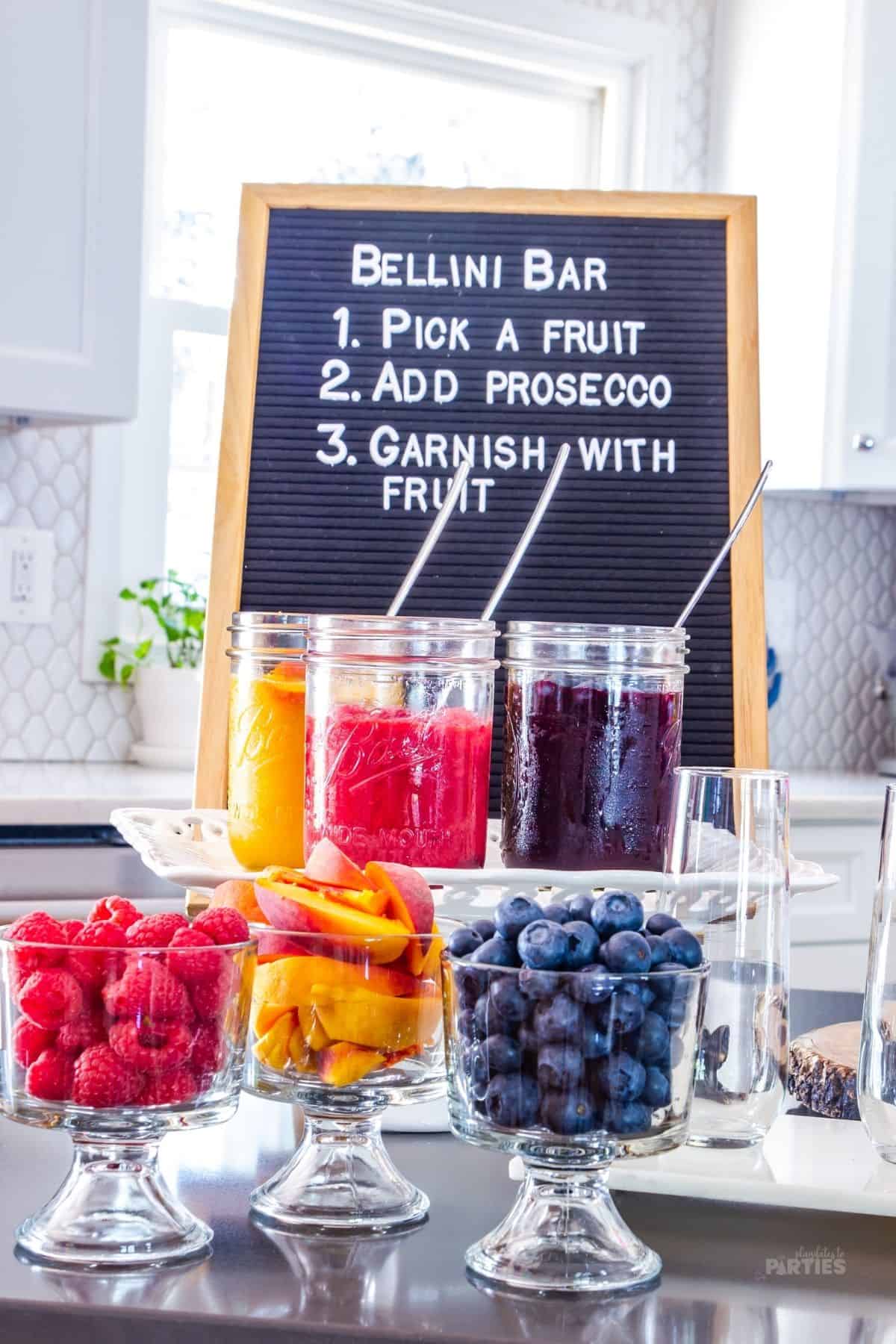 Bellini Bar:
Of course, we needed our cocktails to go with our crafts! But again, I wanted to keep things simple so we could all spend time together. I decided to keep it simple with a DIY Bellini bar.
So, our kitchen island was turned into a DIY Bellini Bar with three different fruit purees, and fresh fruit for garnish. Everyone was able to mix their own drink- which turned into the perfect way to make sure everyone had exactly how much they wanted.
And for those who didn't want Bellinis…we also had some tasty sangria made with white wine, lemons, limes and oranges.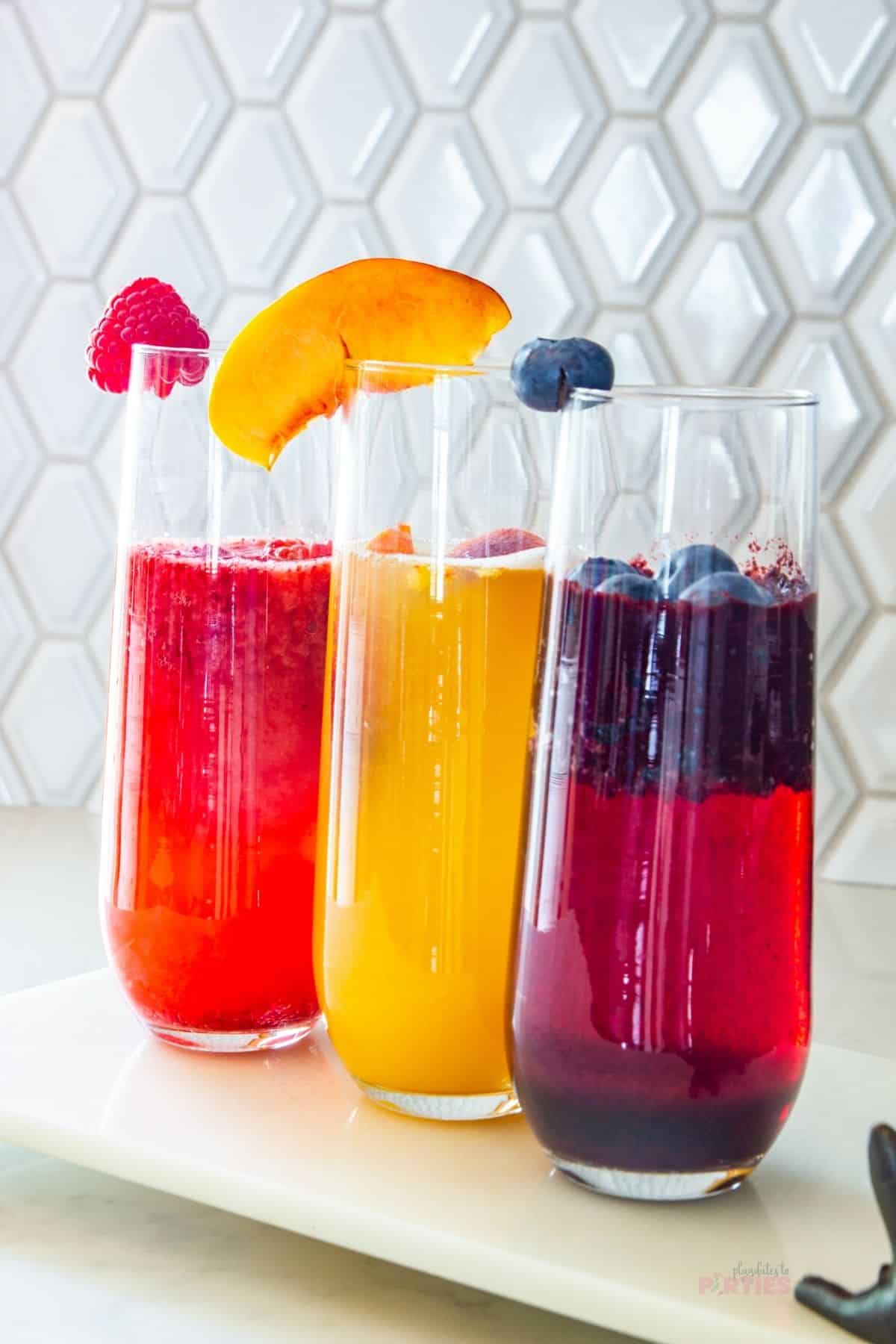 Party Food
To go with our cocktails, I prepped some super easy snacks and appetizers. And from there, we just ordered pizza for the kids to enjoy.
For the adults, we had some tasty appetizers to go with our cocktails. We all agreed that these were the perfect way for us to indulge without feeling too guilty about it. Here's what we enjoyed:
Spinach artichoke dip
Hummus
Fresh vegetables and chips for dipping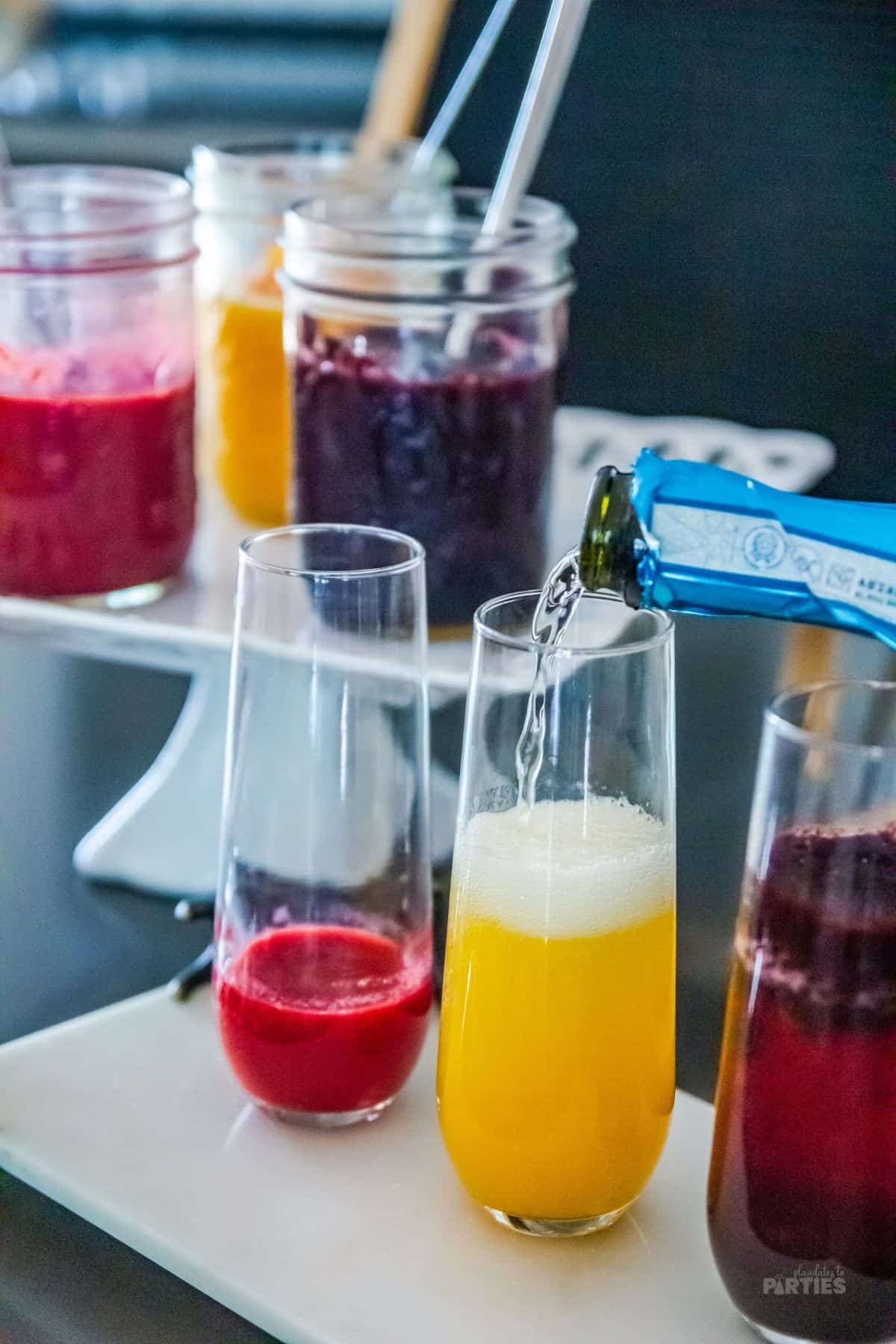 All in all, we had a great time at our crafts and cocktails party. Even though the kids were still running around (and even crashed our craft activity) no one really cared.
All we really wanted to do was spend quality adult time together with other adults – and that's exactly what we did.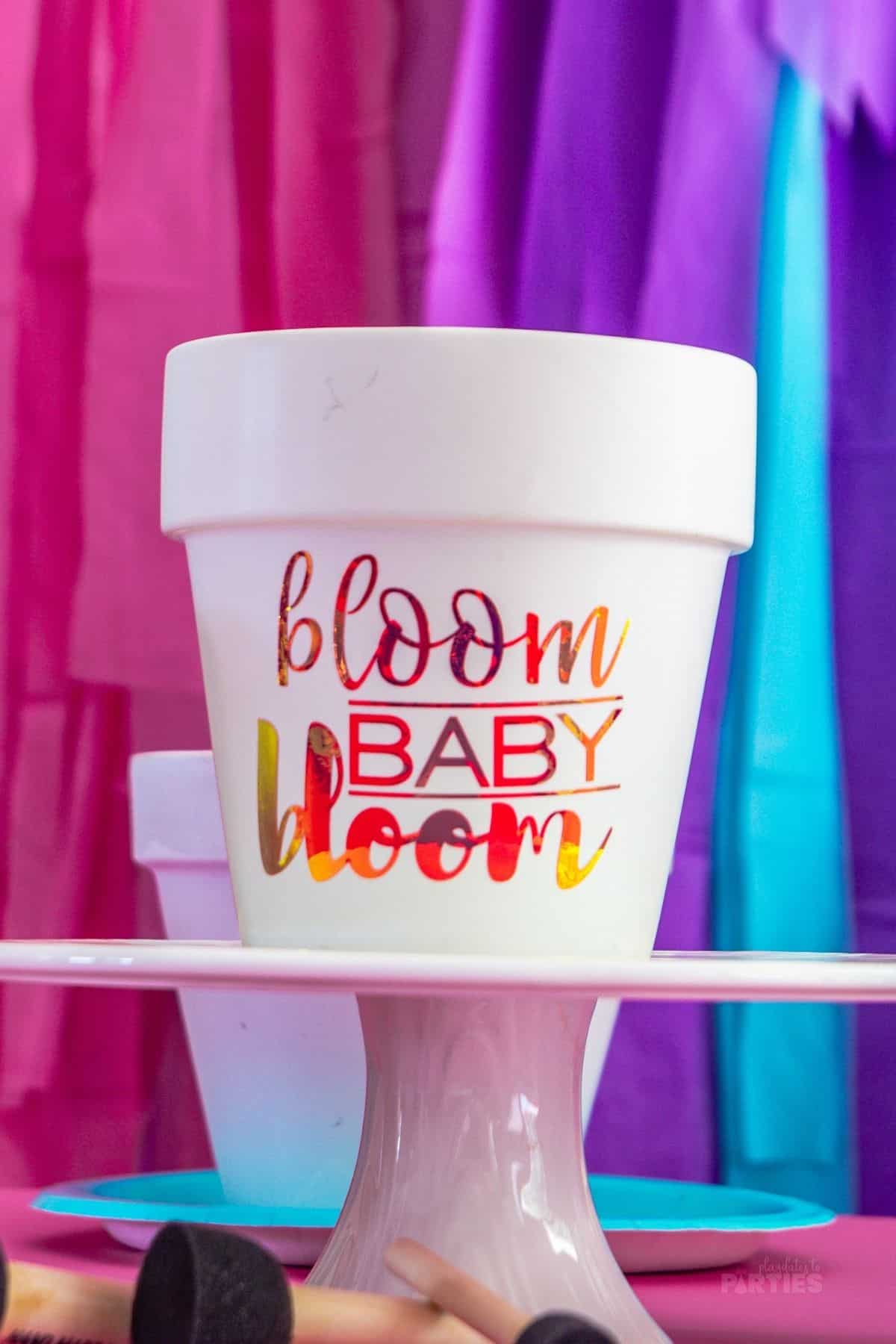 Plan Your Own Crafts & Cocktails Party with this Free Planner
If you're looking for a simple way to stay organized for your next party (so you can actually enjoy socializing with your guests instead of being stressed to the max), you'll love my free party planner. Add your name and email to the form below to get your free copy sent straight to your inbox!
---