Make your way to the front of the line and take a twirl with these adorable carousel party ideas. This party theme is the perfect combination of sweet, sparkly, and nostalgic.
Carousel party ideas can easily be adapted to work for baby showers or birthday parties – meaning this darling party theme is more versatile than you might think.
And with so many fun beautiful decor options, tasty carousel party food, and unique carousel party favors to choose from, your guests won't be able to stop talking about how much they loved your party.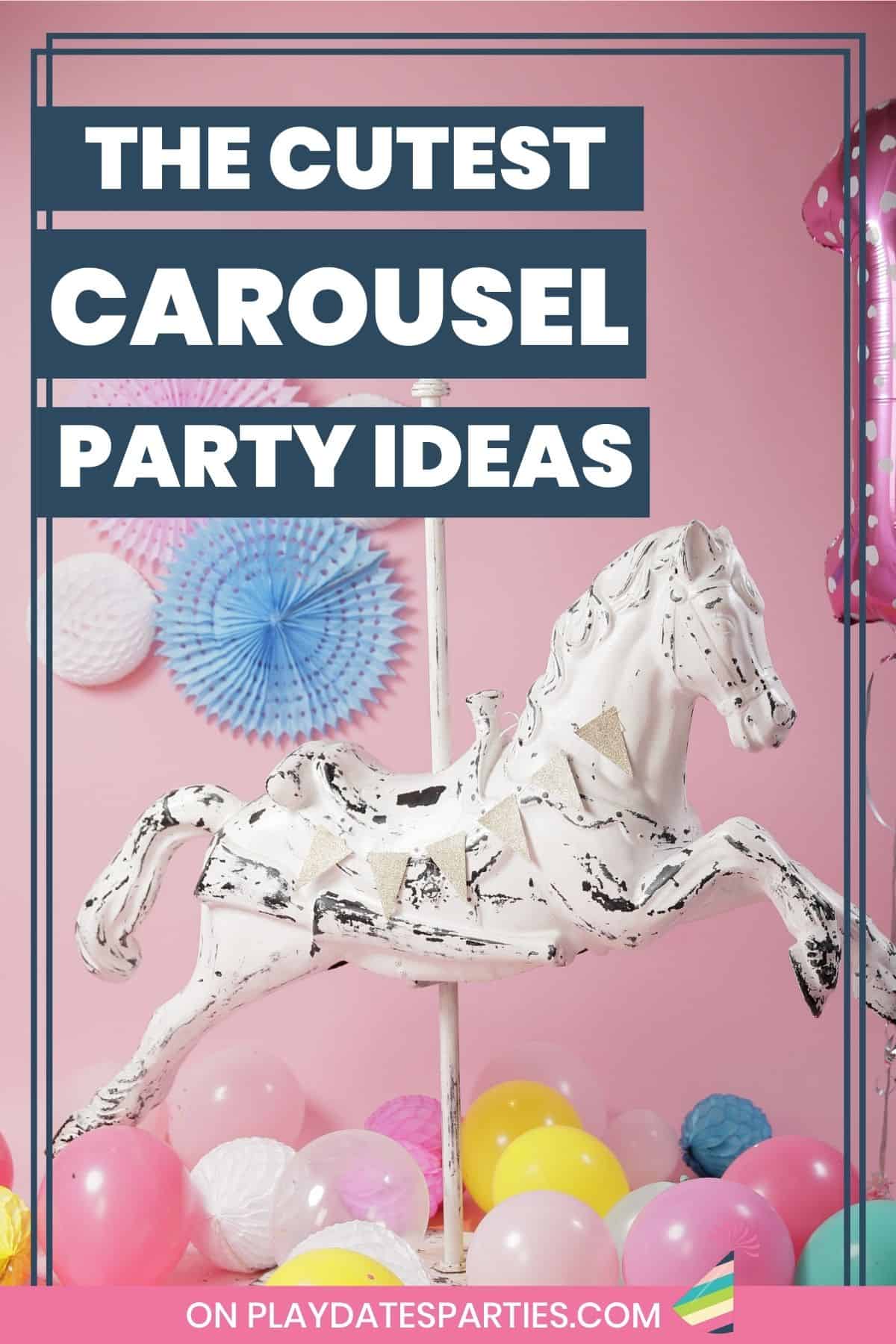 Carousel Party Color Palettes
I was recently out with my kids for the afternoon, and couldn't help but notice this gorgeous carousel at the heart of the children's museum we were visiting. So I quickly snapped a few photos as inspiration for this nostalgic party theme.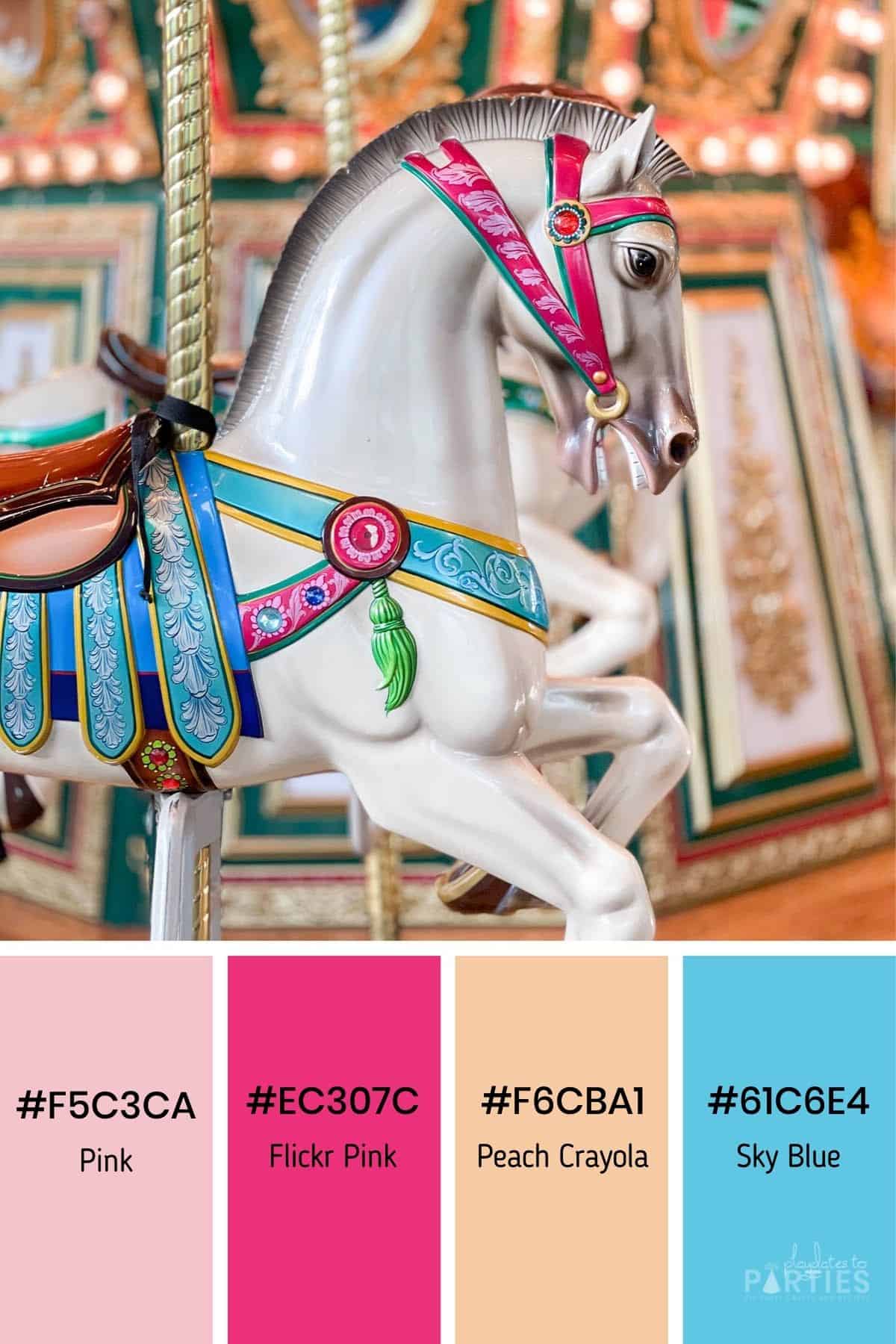 Bold Pink Color Palette
This sweet color palette is inspired by the combination of pinks and blues in this carousel horse's bridle and saddle pad.
I love that there are a combination of bold and soft colors that come together to create a color palette that is hints at traditional femininity, but still feels up to date.
Key colors in this palette include:
Classic Pink: F5C3CA
Flickr Pink: EC307C
Peach Crayola: F6CBA1 (Gold)
Sky Blue: 61C6E4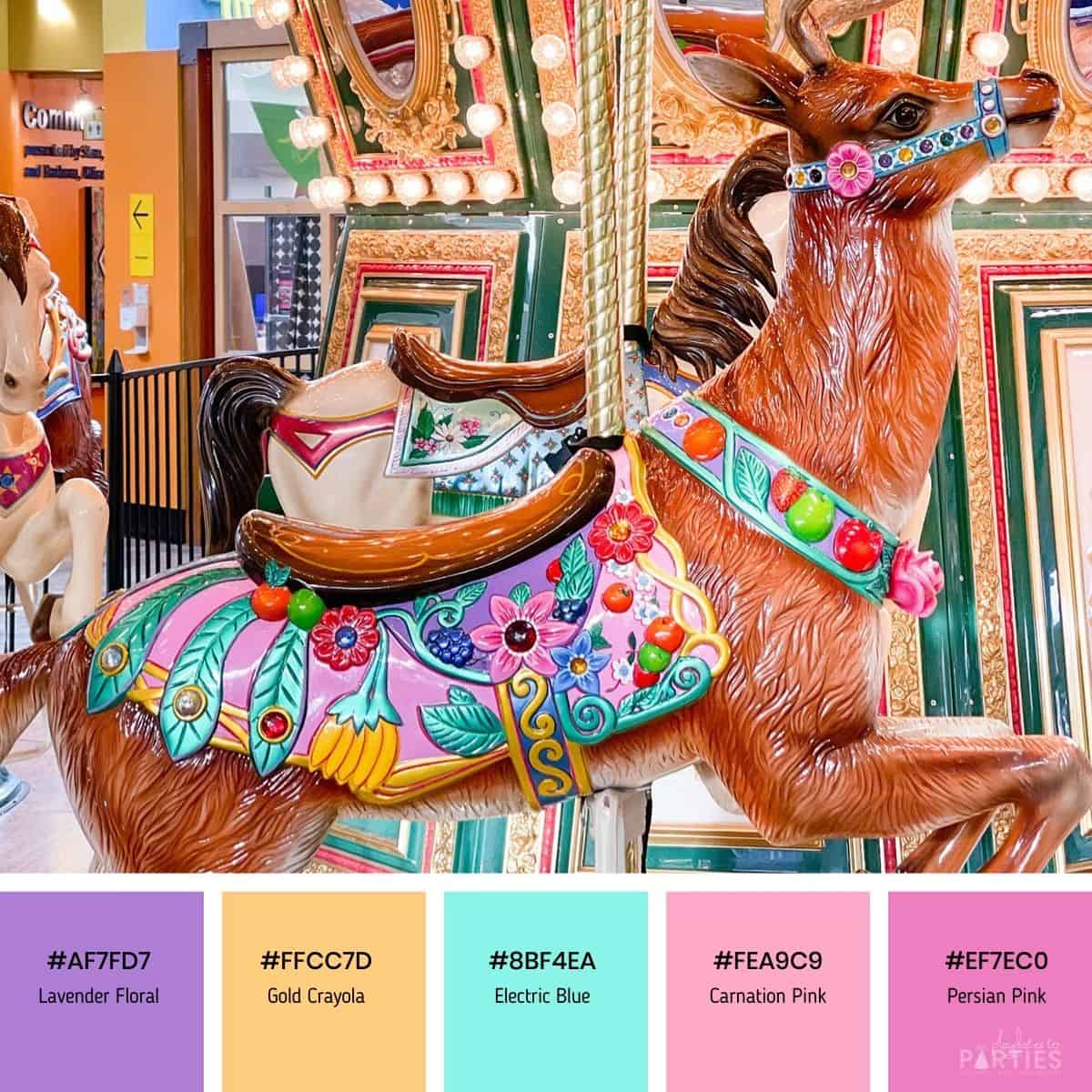 Multicolored Pastel Color Palette
I just couldn't help myself when I saw this boho deer on the carousel. That saddle pad is just gorgeous with so many colorful flowers and accents. It was the perfect inspiration for a multicolored color palette.
I chose to focus on the pastel tones here, but you could just as easily brighten things up by using the bolder side of each tone.
Key colors in this palette include:
Lavender Floral: AF7FD7
Gold Crayola: FFCC7D
Electric Blue: 8BF4EA
Carnation Pink: FEA9C9
Persian Pink: EF7EC0
Now that we have some color palettes figured out, it's time to move on to the rest of the party planning!
The Cutest Carousel Party Ideas
Whether it's a baby shower or birthday bash, these carousel party ideas ideas should help get your creative juices flowing. So grab the nearest glittery pen (or your computer mouse) and start planning today.
And if planning your party still feels overwhelming or too much work, we've got you covered. You can download our free printable party planner snapshot page that will help you manage all the major details in one spot.
Download your copy now and don't forget to tag us in photos when your party is done!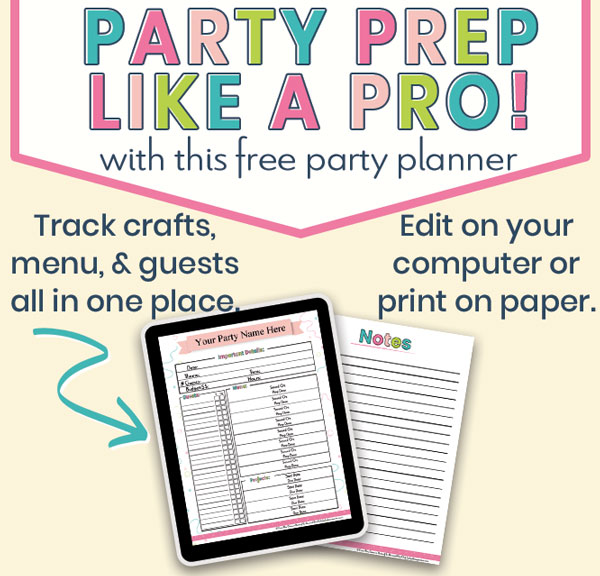 Make Life Easier
Start planning your parties like a pro with these FREE party planner sheets. Click the button below to get your planner sheets delivered straight to your inbox.
---