Wow! This is the most amazing cowgirl party that I've ever seen. This gorgeous party has it all, from easy DIY decor, to amazing buffet tables, and a fun favor bar – all with a vintage twist.
With over 70 guests, this party was huge. So today we're breaking down all the details to help you stay inspired without becoming overwhelmed.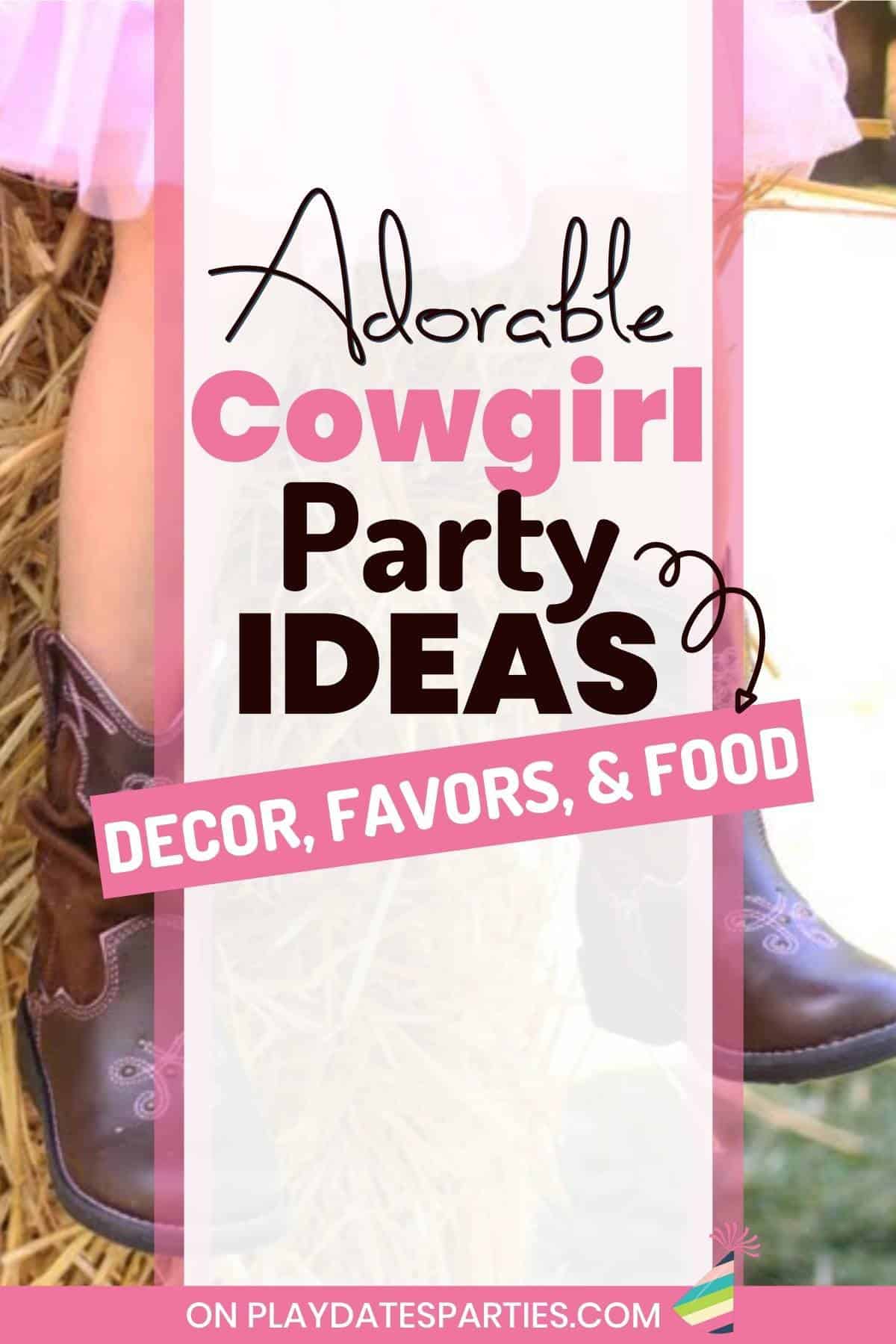 About the Party:
Creator: Melissa at The Larson Lingo
What Was the Occasion? 3rd birthday party
How Many Guests Did You Have? Over 70! 😲
Where Was the Party Held? The family's backyard
I can't stop ogling all the fun details from this adorable birthday party. There is so much to look at. I'm going to do my best to summarize it here, but you'll want to check out the original post for all the little details.
One of the best things Melissa did for this very large party was to create several 'stations' throughout the space:
The snack buffet held all the appetizers & munchies for people to enjoy before the main course was served
The drink table was named "The Watering Hole." How cute is that?
"Get Your Grub On" at the dinner buffet table
Claire's Country Store was the name given to the adorable favor buffet
No party is complete without some desserts, which were all served from the Sweets Station
Pro Tip: keep your buffet tables distanced from each other – not side by side. This encourages your guests to move around the party space and mingle.
Cowgirl Party Decorations
From the moment guests arrived, Mel did an amazing job creating the feel of being at an old western ranch for a little cowgirl's birthday party.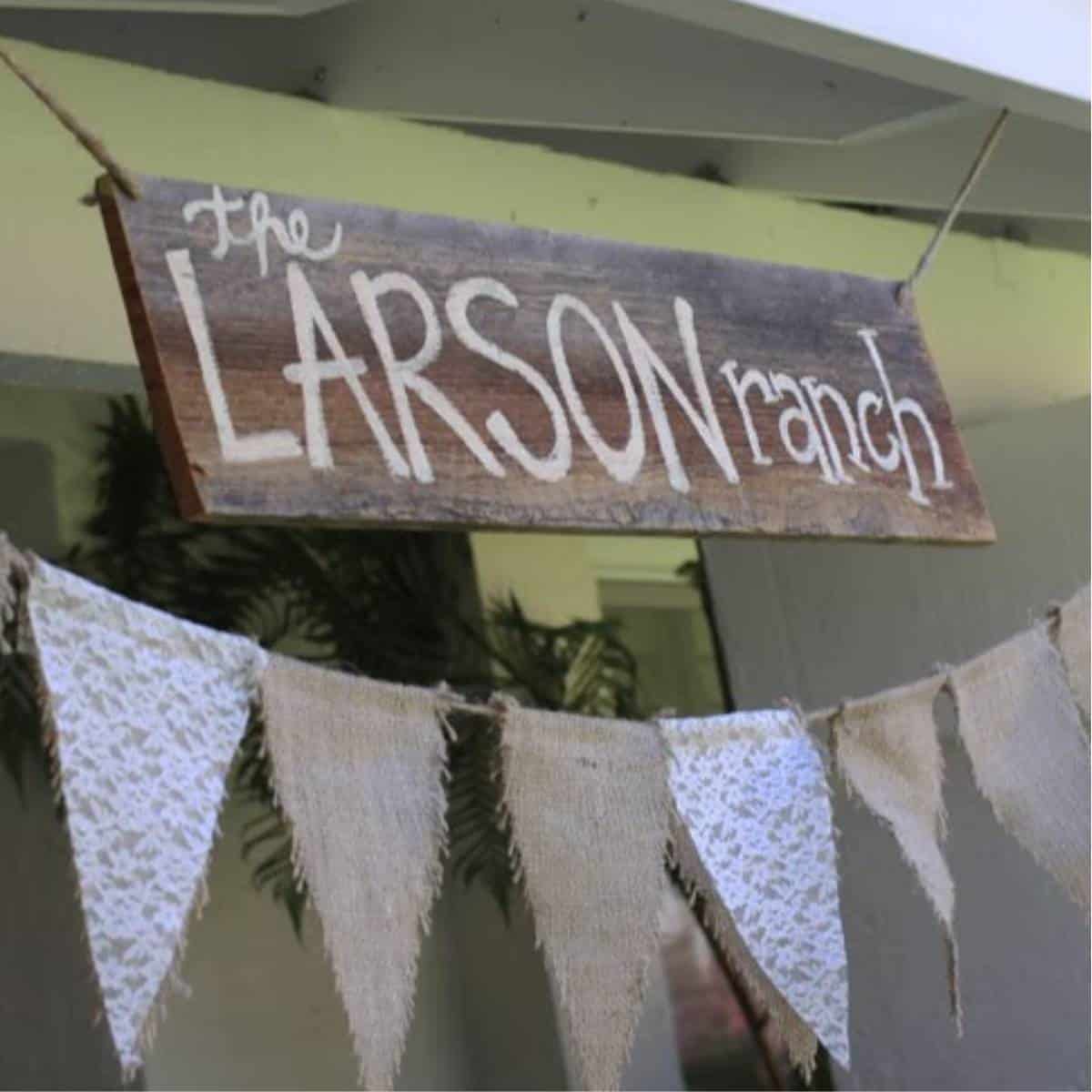 Welcome Sign
There are so many cute and creative ways to welcome guests to your party.
I love this rustic hand drawn wood sign paired with a burlap and lace bunting. Best of all, it's something the family can use for years to come.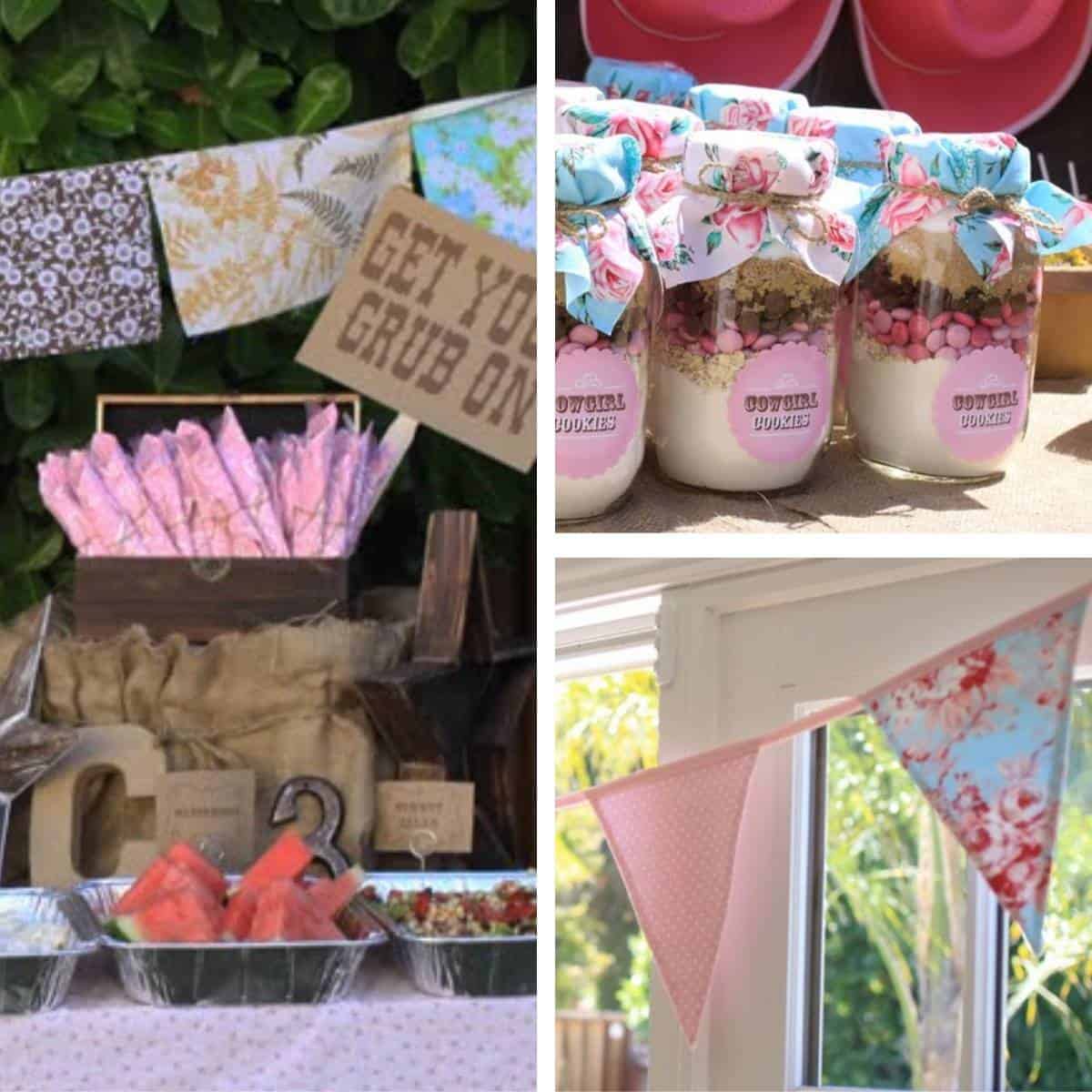 Decorating with Fabric
When you're using a lot of vintage or vintage-inspired fabric for your parties, it can be difficult to find enough of one pattern for all your decor. Melissa brilliantly combined a variety of fabric by keeping the main color scheme simple with pink and brown tablecloths.
With the majority of the fabric in the party color scheme, she was then able to use small doses of coordinating colors to keep the party decor interesting.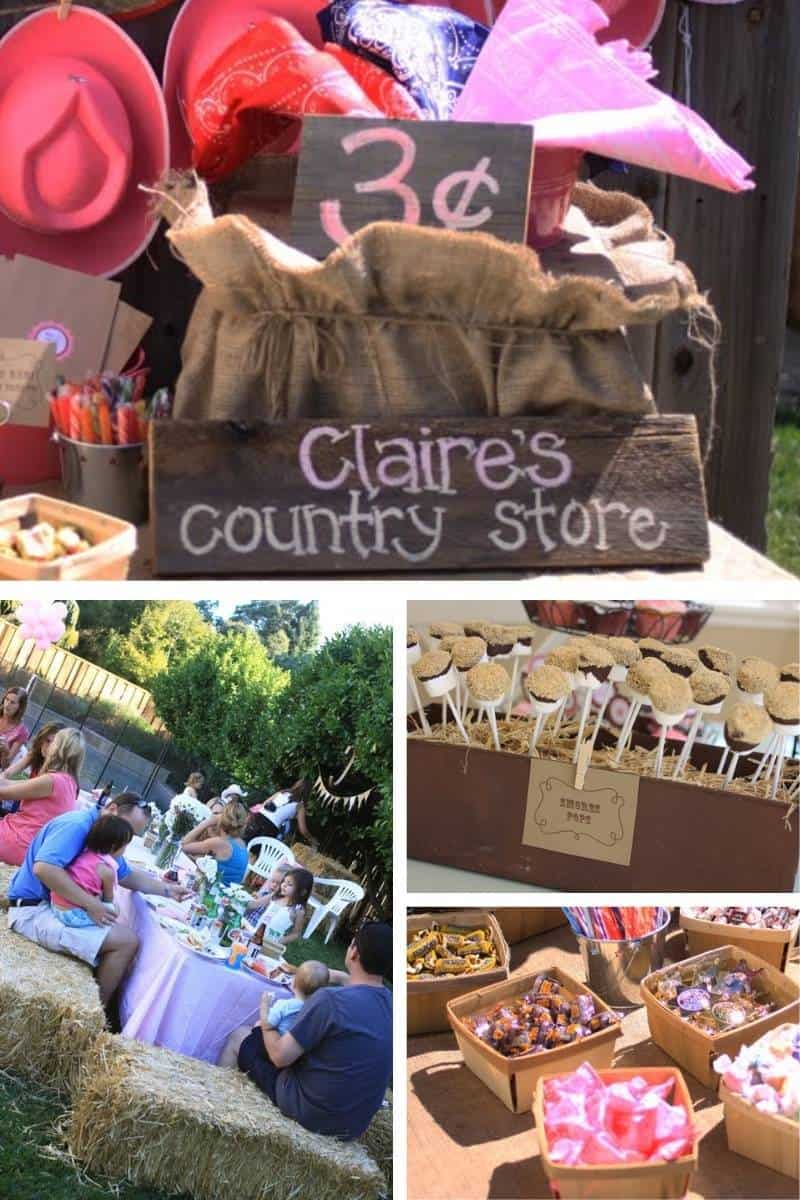 Natural Elements:
I love how Melissa used natural elements to make the party feel more vintage:
Wood signs with hand drawn messages
Hay bales used as seating for the kids tables
Wood and metal stars on the buffet tables
Oversized 3s and Cs in wood to celebrate the birthday girl
Wood berry boxes to hold treats on the kids tables and on the favor buffet,
Dark wood boxes to hold the party food,
Hay used to cover the styrofoam that held up the s'mores pops, and
Burlap wrapped around boxes on the buffets to add texture.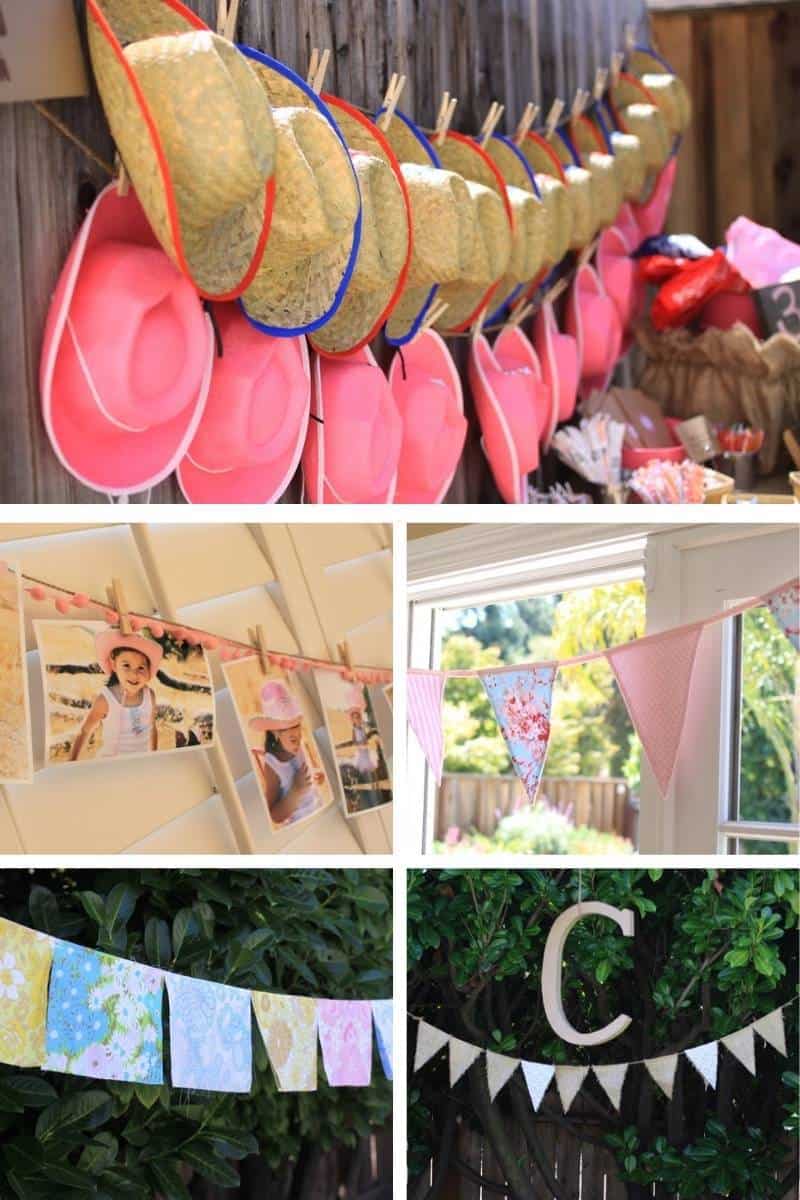 Banners everywhere!
Y'all know I love my banners and buntings. And it looks like Melissa agrees…there were no less than 6 different banners for this party:
Rectangle fabric banner behind the food buffet (made from vintage sheets)
Photo banner of the birthday girl with pom poms near the sweets station
Another triangle fabric banner behind the sweets station.
Vintage cowgirl illustrations from a storybook over the appetizers table
Cowgirl and cowboy hats behind Claire's Country Store
Burlap bunting with the photo booth and over the entrance to the party
Party Food & Drinks:
Feeding a crowd of 70+ people is no small task. But Melissa handled it brilliantly with four different food and drink tables.
The Watering Hole (aka. The drink buffet):
Sweet Tea & Pink Lemonade
Root Beer
Vanilla Creme Soda
Orange Creme Soda
Beer for the adults
Appetizers & Snacks:
While the guests mingled, they got to enjoy plenty of ranch hand-inspired snacks:
Jalapeno Poppers
On the Ranch Veggies & Dip – Individual cups of veggies with ranch dressing at the bottom
Corn Dip
Trail Mix
Corn Chips
If you like these ideas, you'll love my popcorn corn on the cob favors. Bags of popcorn are wrapped up to look just like ears of corn. They're super cute!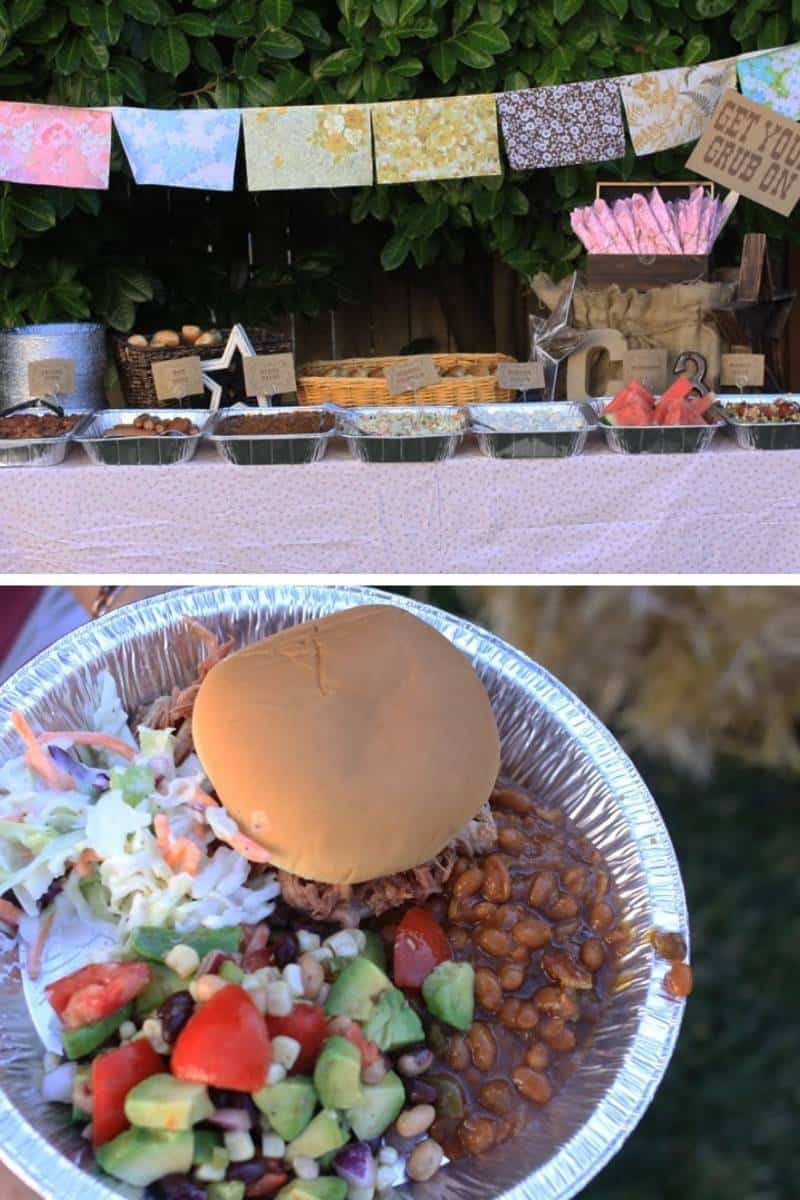 Get Your Grub On – Main Course Menu:
This party was full of standard barbecue fare, but displayed in such a cute way.
My favorite part has to be that Mel used pie tins instead of plates. Not only do they look great stacked on the table, but they're a fun and unique way to serve the food.
Pulled Pork Sandwiches
Hot Dogs
Cowgirl Coleslaw
Homemade Baked Beans
Potato Salad
Cowboy Salad
Watermelon Slices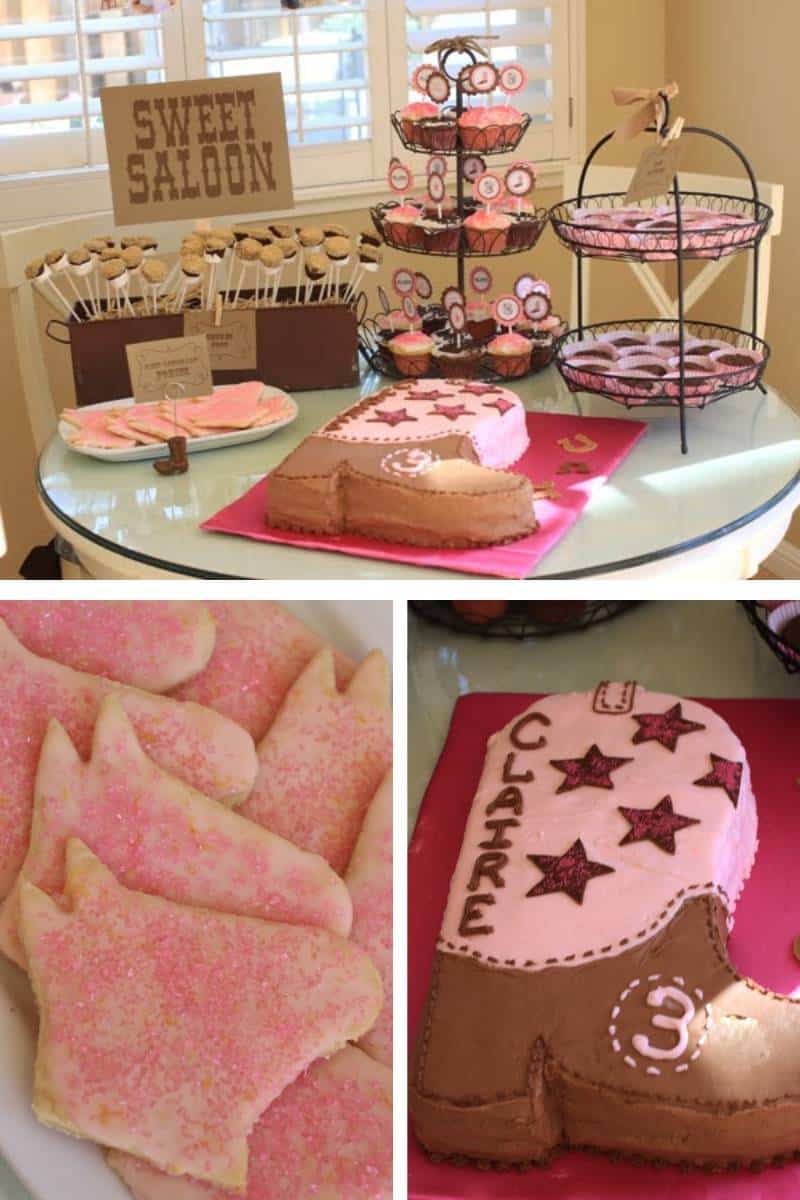 The Sweet Saloon (aka – The Dessert Table)
Cupcakes with themed toppers
Cow Patties – brownie covered oreos
Pink Lemonade Pony cookies
S'mores Pops
Games and Activities
With so many kids at the party, you know there needed to be some fun entertainment.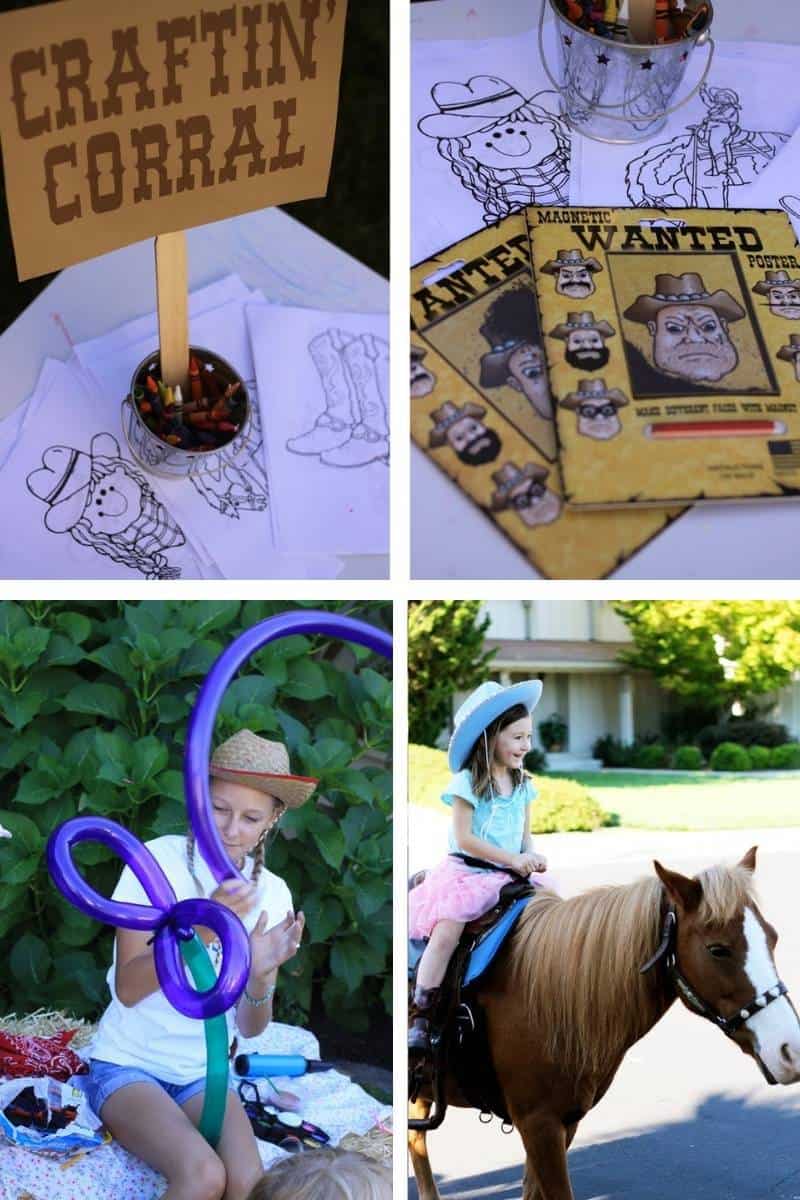 A definite wow moment had to be the pony rides. Apparently Melissa got them for a great price from a local farm.
And while the kids waited for their rides, she hired her babysitter to do face painting and to make balloon animals. (A genius way to keep the kids from getting bored)
RELATED>>>FIND OUT HOW HIRING YOUR BABYSITTER OR LOCAL TEEN CAN BE A HUGE SANITY SAVER WITHOUT BREAKING THE BANK.
Melissa also included a craft station for the kids – a party activity I definitely recommend when toddlers are present. In this case, she gave it the cute name "Craftin Corral" and included crayons, cowboy/cowgirl coloring sheets, and a magnetic drawing game.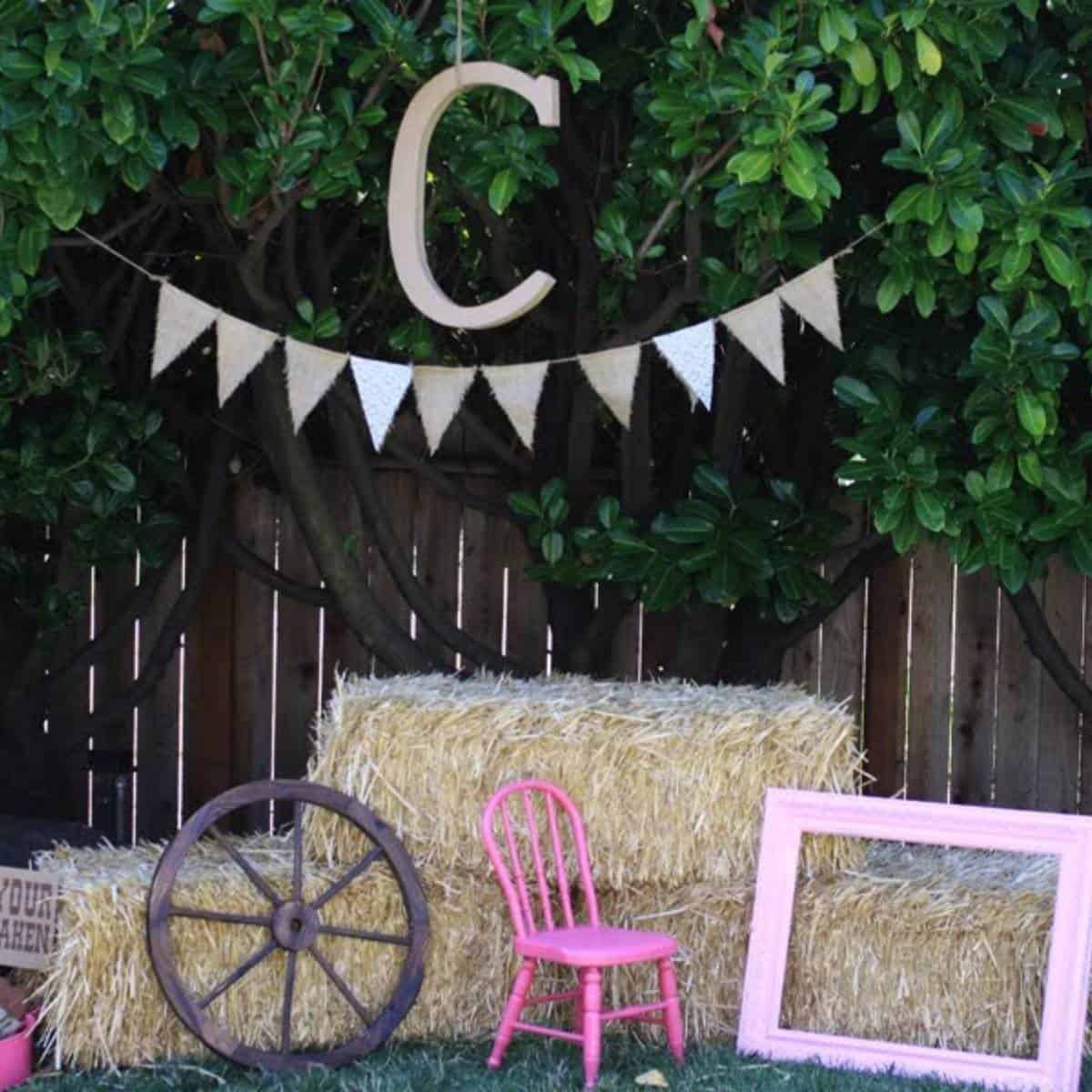 I especially love the photo booth area. The hay bales are perfect for putting people at different heights, and placing it in front of a naturally pretty area means there was no need for a special backdrop stand.
The props were pretty darn cute too, with the pink painted frame and chair, that wagon wheel, a chalkboard sign, and plenty of small props guests could use to goof off.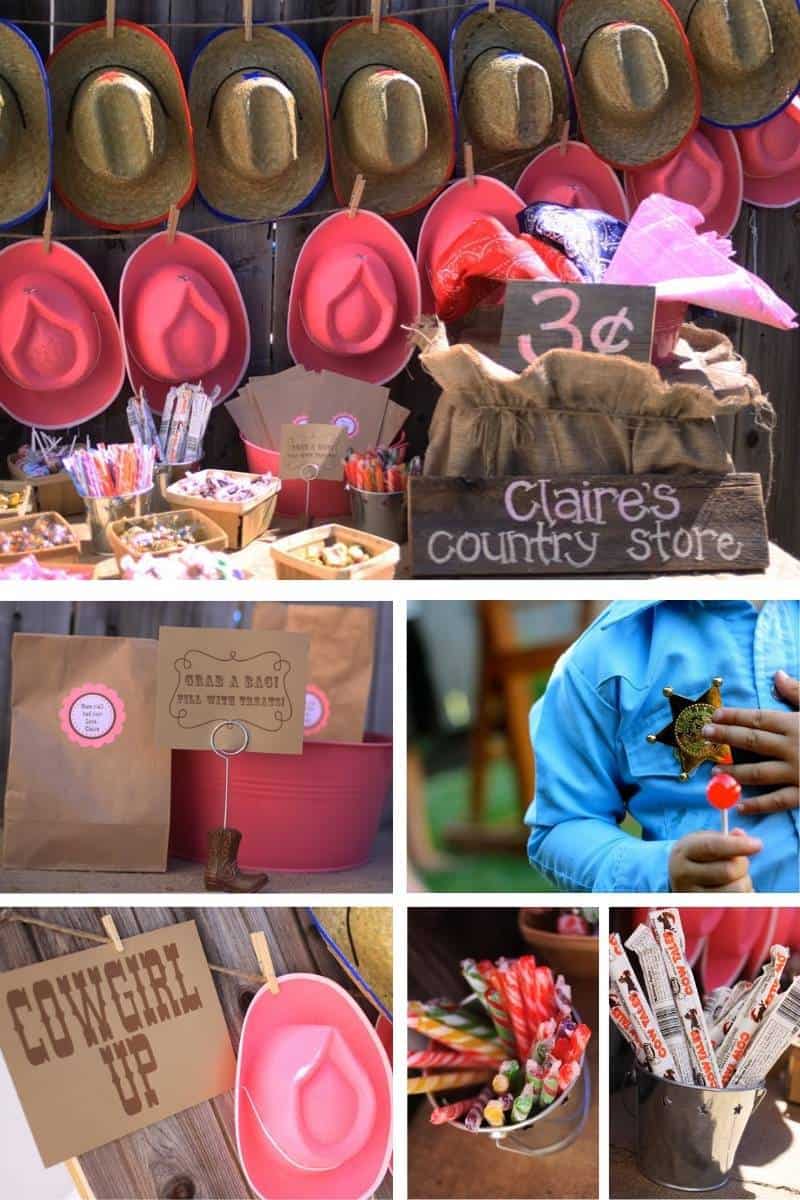 Cowgirl Party Favors:
Talk about an epic favor buffet.
The children all got a brown paper lunch sack with a simple, but oh so cute, sticker that said "Hope Y'all Had Fun." Then they got to fill the bag with goodies from "Claire's Country Store".
And while there was plenty of candy available at this buffet (let's face it: who doesn't love sweets?), Melissa also offered plenty of other options, too.
Cowboy/Cowgirl hats
Bandanas
Sheriff's Badges
Toy Coins
Old Fashioned Candies:

Cow Tails
Hard Candy Sticks
Mary Janes
Slo Pokes
Salt Water Taffy
Dum Dums

Cowgirl Cookie Mix in a Jar
I'm pretty sure these munchkins had something special for several days before their bags ran out.
If You're looking for More Cowboy and Cowgirl Party Ideas, You Might Like: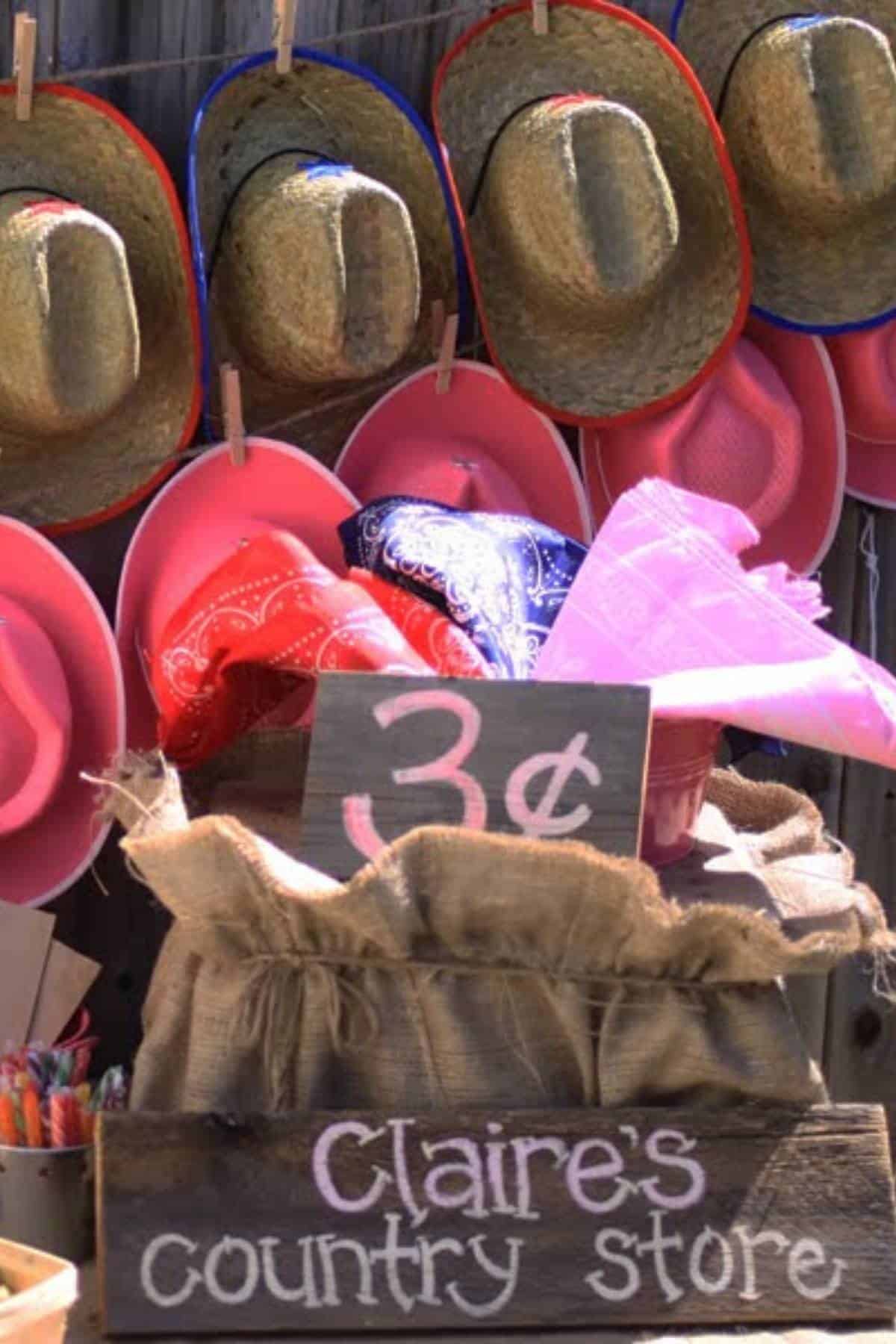 Now It's Your Turn
I hope you enjoyed seeing all these gorgeous vintage cowgirl party ideas – and that you were inspired to create some of these ideas for your own little cowgirl or cowboy.
I know it can be overwhelming to keep track of everything that needs to go into a successful gathering. So I've created a one-page party planner to help you keep it all straight and make planning your parties as easy as possible. Click here to grab your free copy.
---
---
*This post was originally shared with permission on September 21, 2011. It has been updated with improved photos and more useful details.