You don't need to throw a huge party to make memories that will last a lifetime when you have these 5 fun and easy birthday traditions.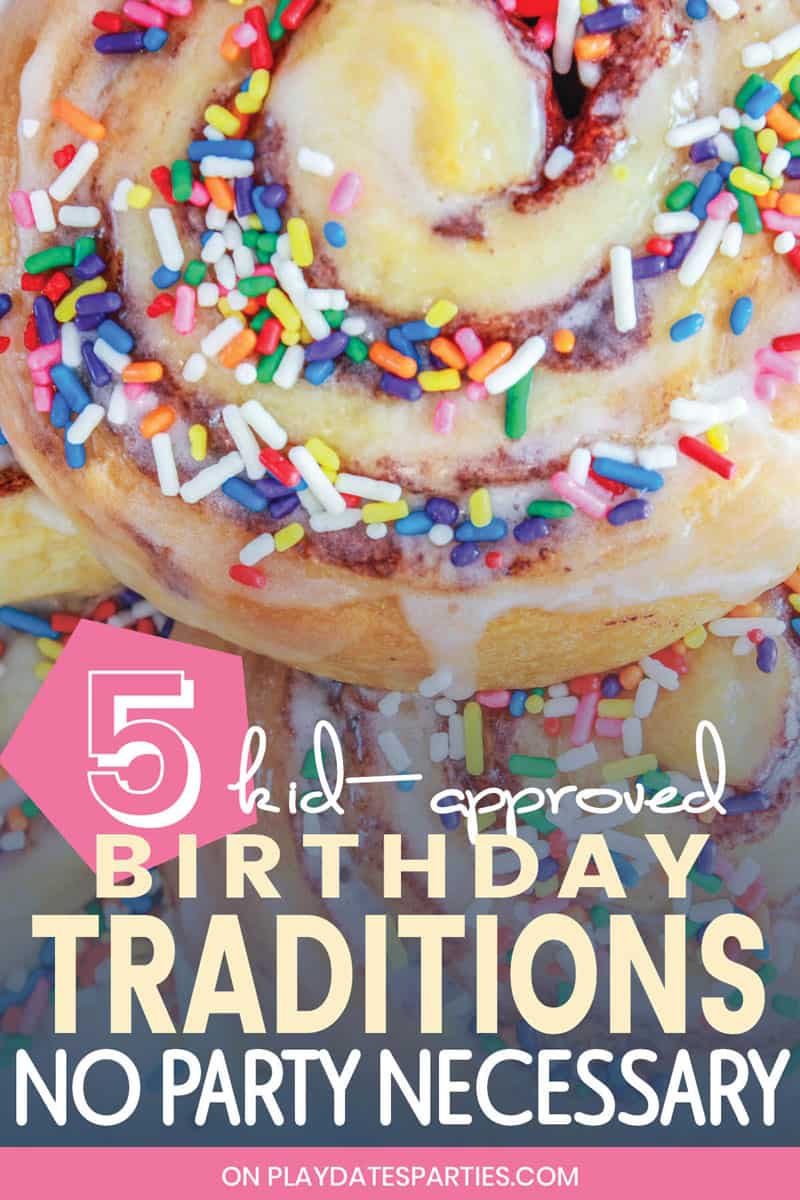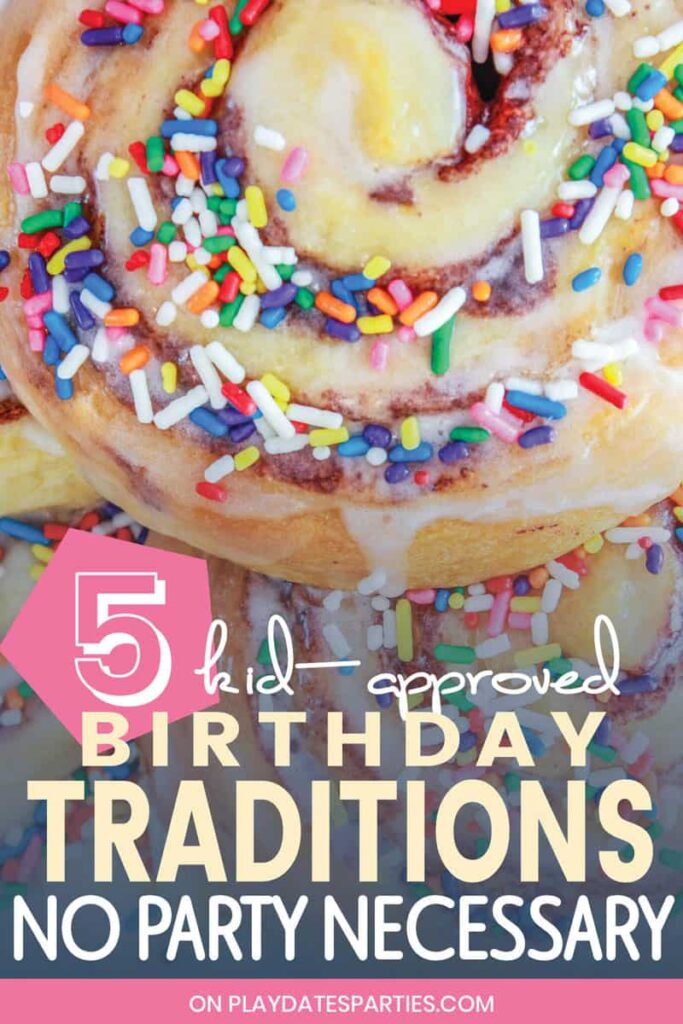 "I want to be a mommy or a teacher…that way I can be the boss"

My oldest on her 3rd birthday
Sometimes hosting a big birthday party just isn't possible.
You may have a tight budget one year, or health problems that sap all your energy. Or maybe there's just too much going on in the world around you to be able to invite people over.
And that's okay.
You can still go nuts for your kids parties when the dust settles and life is back to normal.
But in the meantime your kids definitely deserve to be celebrated...which is why starting some awesome birthday traditions now makes all the difference.
Keeping up with small things like the ideas below will give your kids something to look forward to each year, while also creating fond memories for years to come.
(like that quote from my oldest at the top…it's one of our favorite gems)
5 Spectacular Birthday Traditions That Don't Require a Party
Once your kid turns 3, it's so much fun to keep an annual interview series.
First off, their answers can be pretty darn hilarious. But it's also a lot of fun to go back and see what the kids' answers were year after year.
The kids love to see how the responses change over the years, too.
You can download a FREE copy of the birthday interview you see above. Then you (or your kid) can fill out the answers and add them to a binder or a folder to keep for next year.
You'll definitely want to grab your copy today! Fill out the form above or click Continue Reading to learn more.
We're all familiar with the phrase "It's the thought that counts."
Well, this birthday tradition is all about thought.
What you do: While your kid is asleep the night before their birthday, you take some time to set up an extra-special surprise either in their bedroom or right outside their bedroom. That way, they will be greeted with celebration from the moment they wake up.
Fair Warning: Doing this every year may be going a bit overboard, but it's a great idea for milestone birthdays, or if your kid is having to deal with some big transitions (new baby, tough time at school, family illnesses).
Tip: Don't forget to shop your house for supplies! If you have extra balloons and streamers left over from parties, then it won't cost you anything more than your time.
Here are a few surprises to consider:
- Sneak a few dozen balloons into the bedroom while your child sleeps
- Hang streamers on the birthday kids' door
- Add baby pictures to the strings at the bottom of helium balloons
- Cover the bedroom door with plastic and add balloons underneath to create a balloon avalanche when the birthday kid opens his or her door.
This is another fun idea that can be as big or as small as you want!
But the basic idea is that you leave messages around the house to surprise the birthday kid and to let them know how special they really are.
This will probably be one of those birthday traditions that adapts well as your child gets older, too.
Feel free to get creative with this one, but I like these ideas:
- Write on mirrors and windows with window crayons like Skip to My Lou did for her kids' 17th birthday
- Put post-its with little love notes on their toothbrush, in their drawer, or anywhere else that is hidden in plain sight
- Have older siblings help out and create a birthday sign with a big chalkboard
- Put a special note (and snack) in the birthday kid's lunch box.
Photo Credit: www.wherethesmileshavebeen.com
Okay, so the tweens and teenagers may start groaning about this, but I love it.
I first saw this birthday tradition over at Where The Smiles Have Been, where Christine shows how she makes a new piece of canvas art with her son each year. The results are just adorable!
But, it got me thinking about how many other ways you could incorporate one-on-one crafting time with your kids for their birthdays:
- Make canvas art, like Christine does
- Visit a do-it-yourself pottery store to make a new ornament for your Christmas tree
- Make a birthday scrapbook just for the birthday kid, and add in one new page each year, with photos and special highlights from the year.
- Make birthday party decorations together, even if it's just one or two things.
Now, It's Your Turn
See? You don't have to plan huge birthday parties to make your child feel special.
All it takes is one of these fun birthday traditions to make memories that will truly last a lifetime. And, with the free printable birthday interview it's easier than ever to get started!
Now I want to know…
Do you have any birthday traditions with your kids?
How do you make your kids feel special?
---
(Note: This Article was originally published on August 8, 2012)