Do you have a little train engineer chugging toward a big birthday? Then you'll definitely want to check out these easy train birthday party ideas.
We pulled the party together in less than two weeks, so this simple setup is full of simple DIY decorations, party food, and super cute party favors that you can easily recreate too.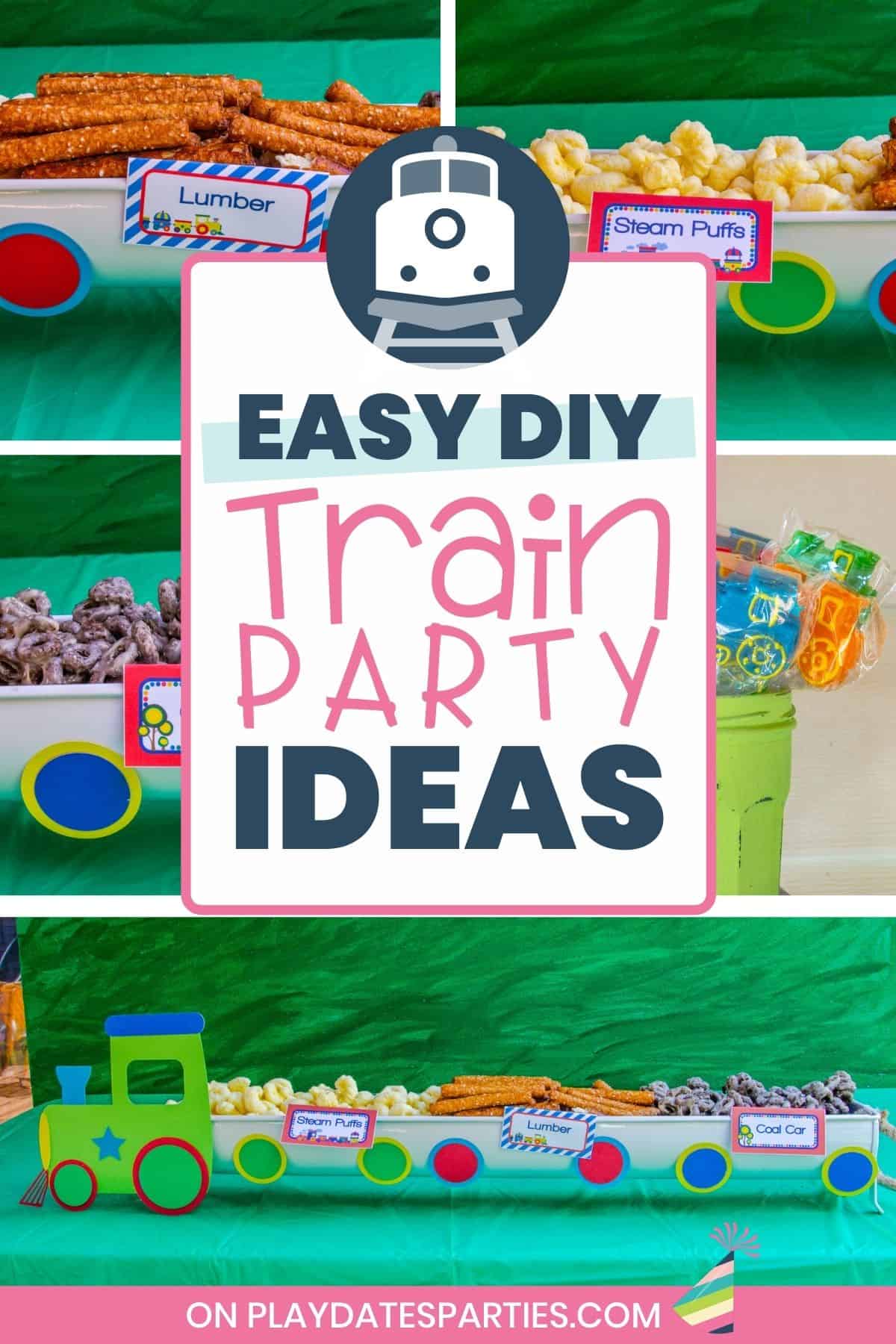 About the Party:
What Was the Occasion? 4th Birthday for a little boy
How Many Guests Did You Have? 8 kids + parents
Where Was the Party Held? Our backyard
My kids seem to enjoy surprising me with their birthday party themes. During the height of the Frozen craze, my oldest requested an Octonauts themed party (though I did get to create a Frozen themed luau a couple years later).
And when my son turned four, I was convinced he would want a puppy themed party, but instead he asked for a train birthday party. Go figure.
But the real challenge with this party was the timeframe.
You see, my son's birthday is only 4 days after his sister's, plus we were in North Carolina with my family only two weeks before the party. So, what do you think? Should I have started planning earlier – or was my two-ish week timeframe just right?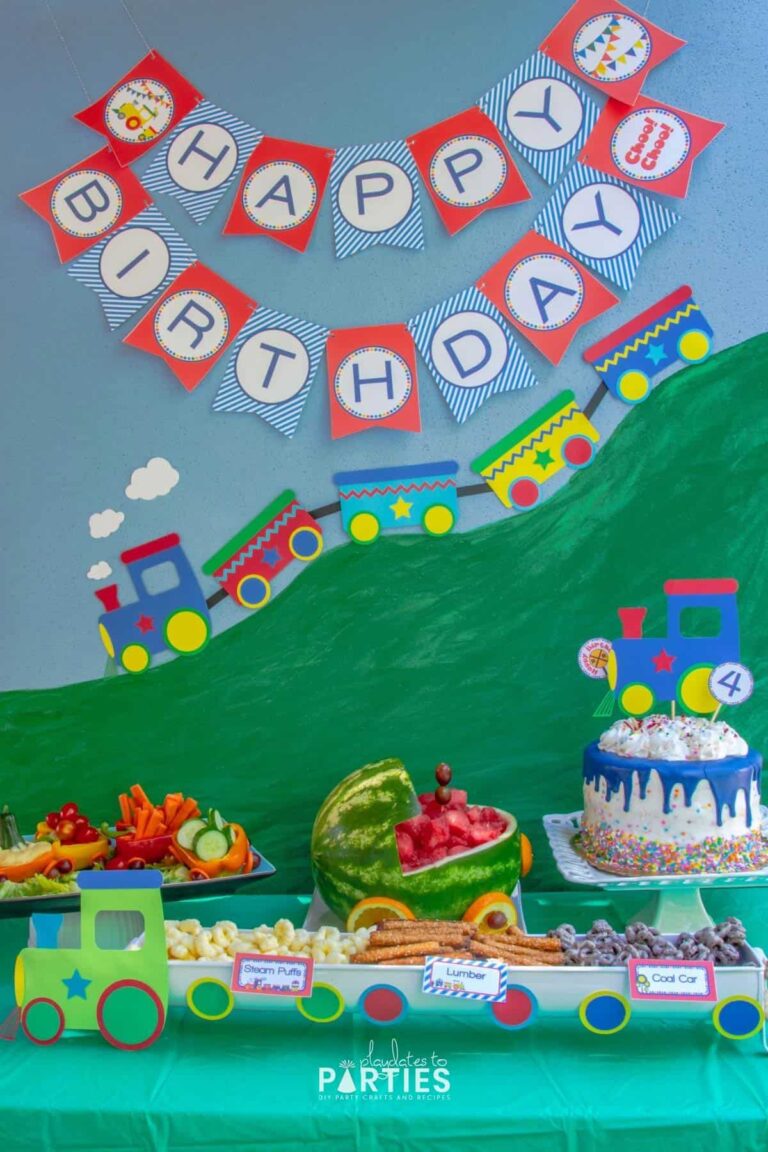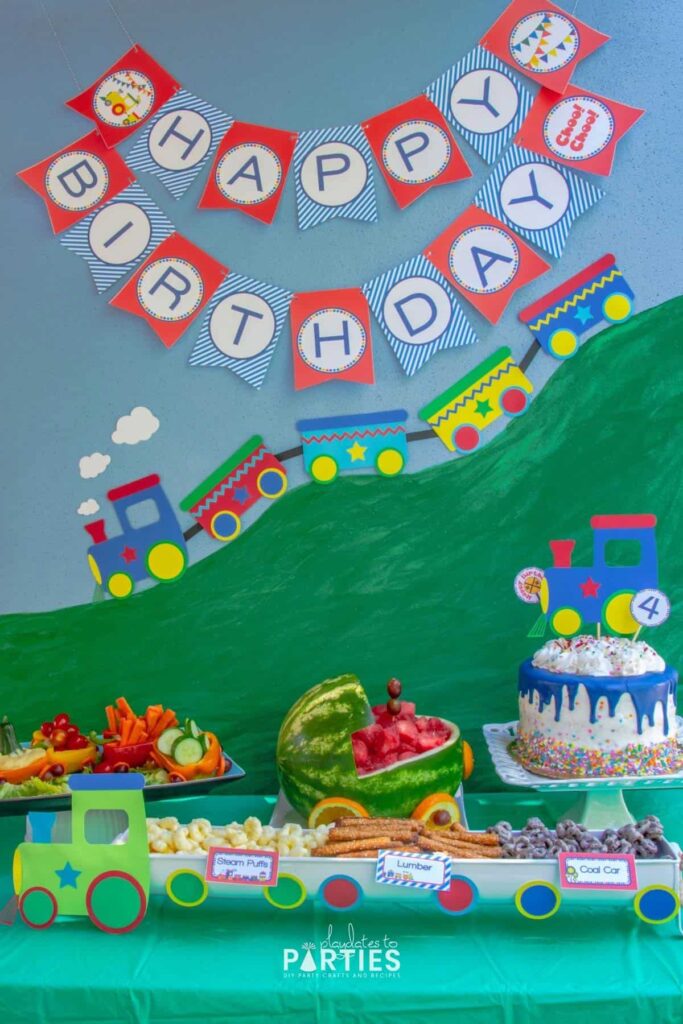 Train Birthday Party Decorations
I'm always saying to focus most of your effort on one big "wow" factor, and for this party, it was the backdrop. I hand painted the board and designed a paper train to look like it was rolling down the mountain (tutorial coming soon!)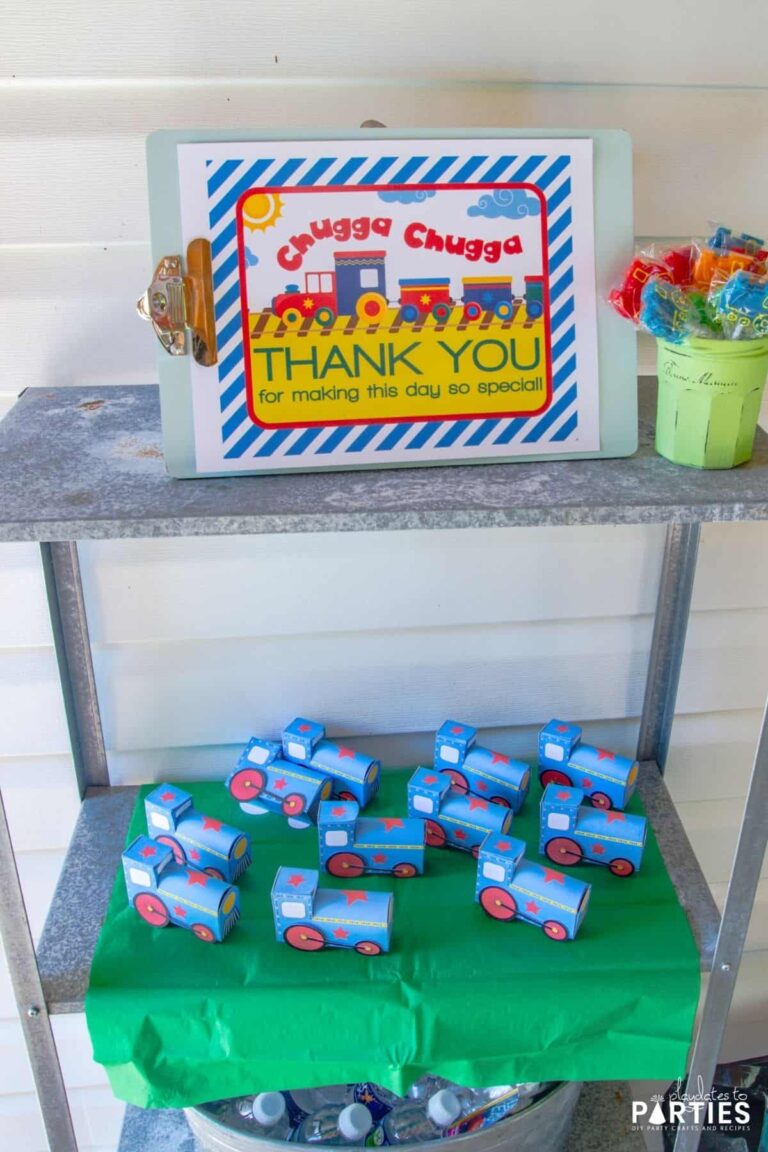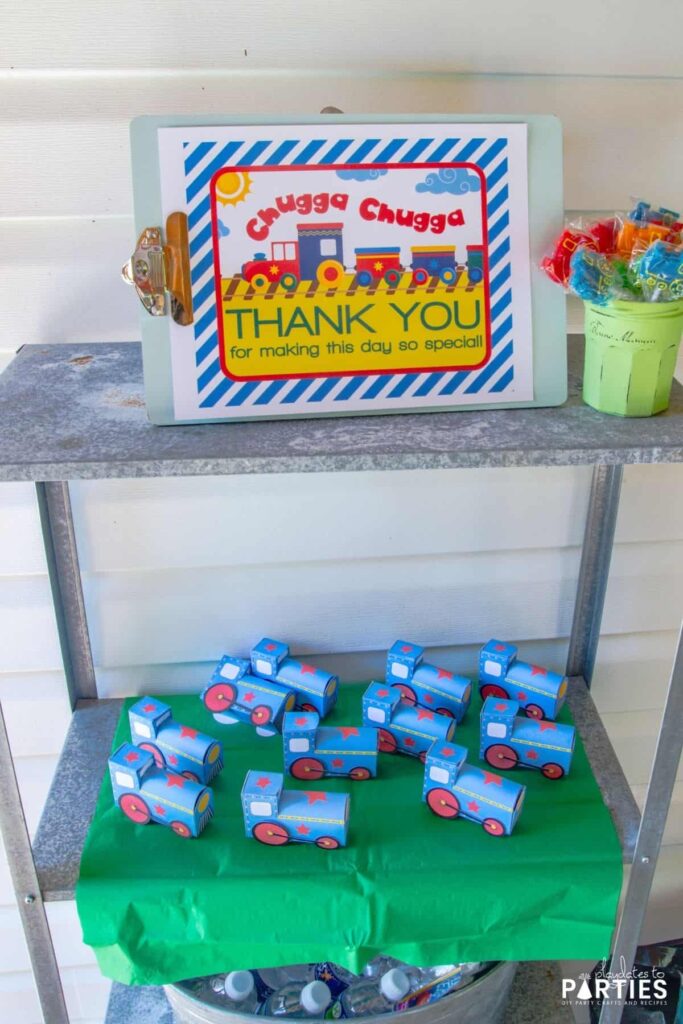 Of course, you know I can't decorate for a party without some kind of party printables. This time we kept it simple:
Printable Happy Birthday Banner
Train themed food buffet labels
Chugga Chugga Thank You Party Sign
Party circles on the cake with the custom train cake topper, and
Printable 3D train favor boxes (more on those down below)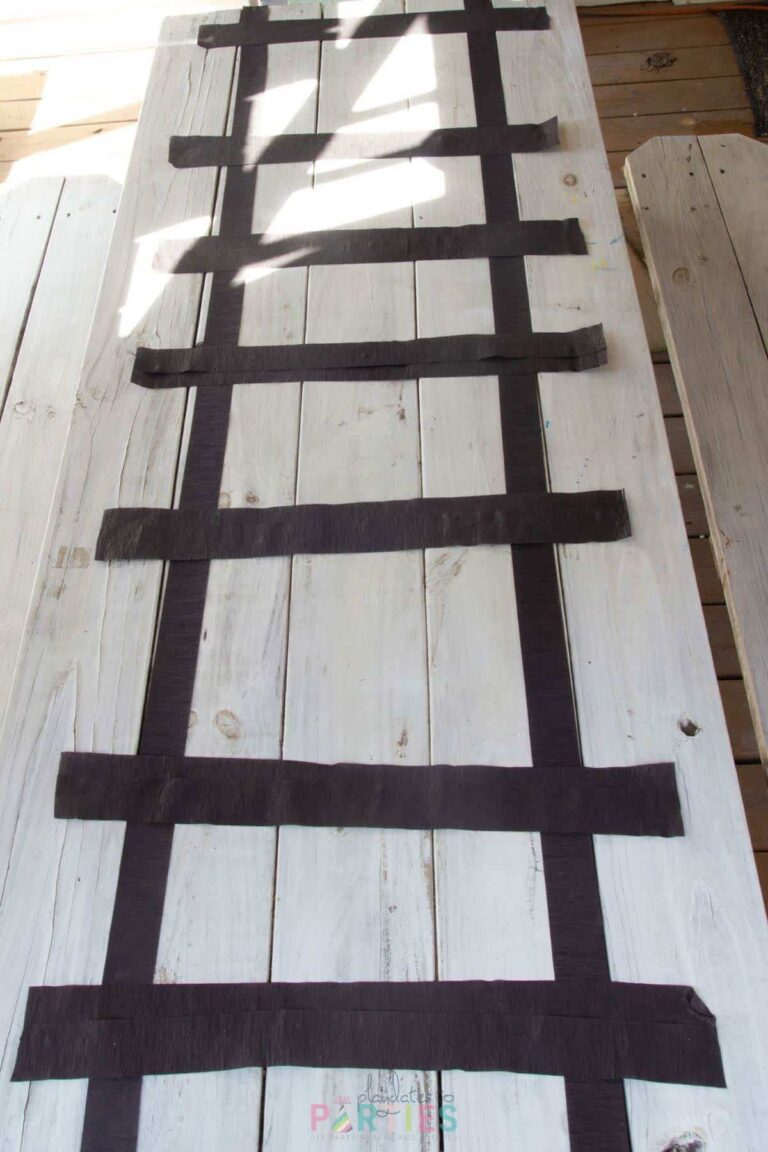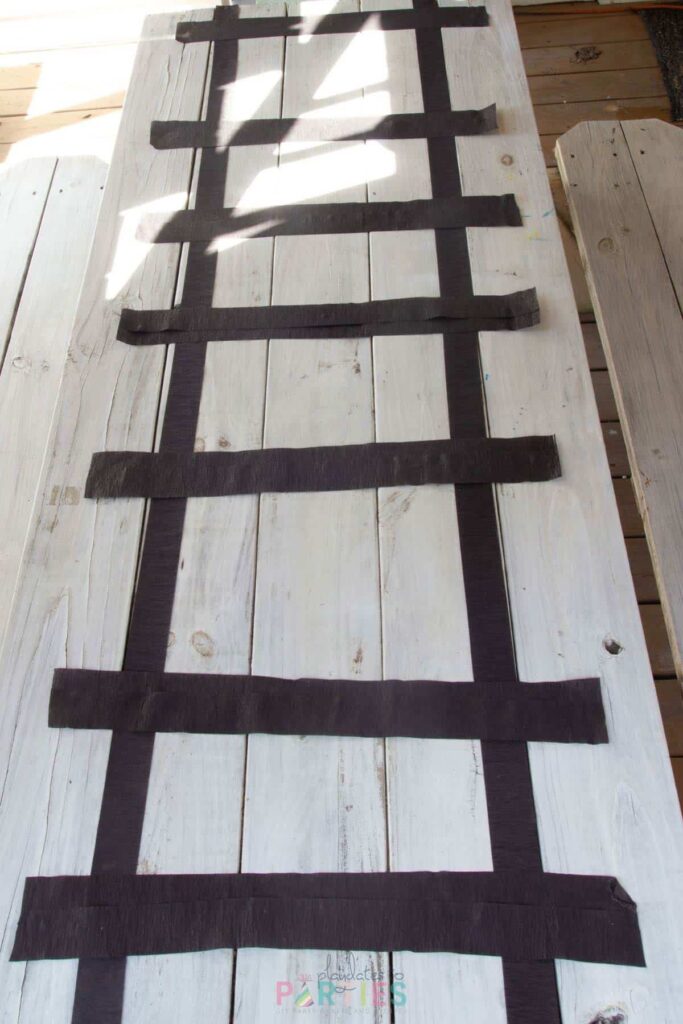 The only other decoration I did was this little crepe paper train track on our picnic table. A little bit of Blu-tac was all it took to hold everything in place, and it stayed put throughout the whole party. Definitely worth the 5 minutes it took to make it.
The Party Food
We did our usual snack-time party, so all we needed were enough snacks for the kids and the adults. And it turns out we had just enough food for everyone there.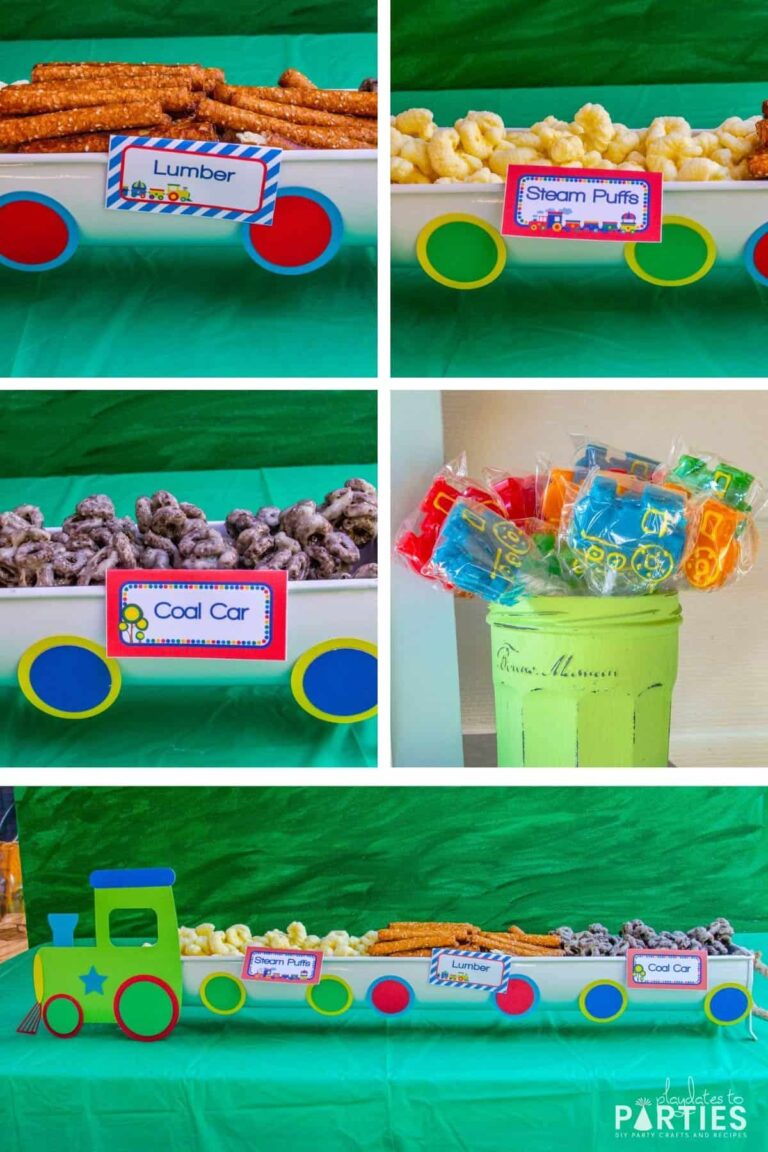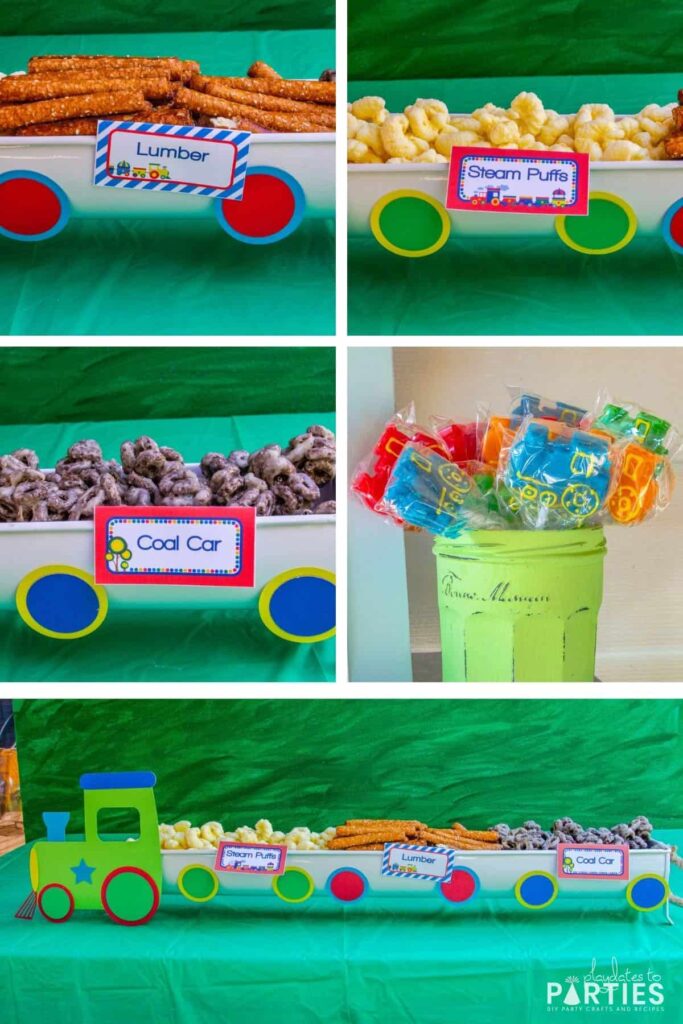 Here's what we served:
Fresh watermelon – the birthday boy's favorite
Veggie train – filled with fresh vegetables and hummus (see more about that below)
Steam Puffs – Pirate's Booty corn puffs snack
Lumber – Pretzel Rods
Coal Car – No bake Lumps of Coal Treats
Train Lollipops – from Oriental Trading Company
Birthday cake – with a train cake topper, of course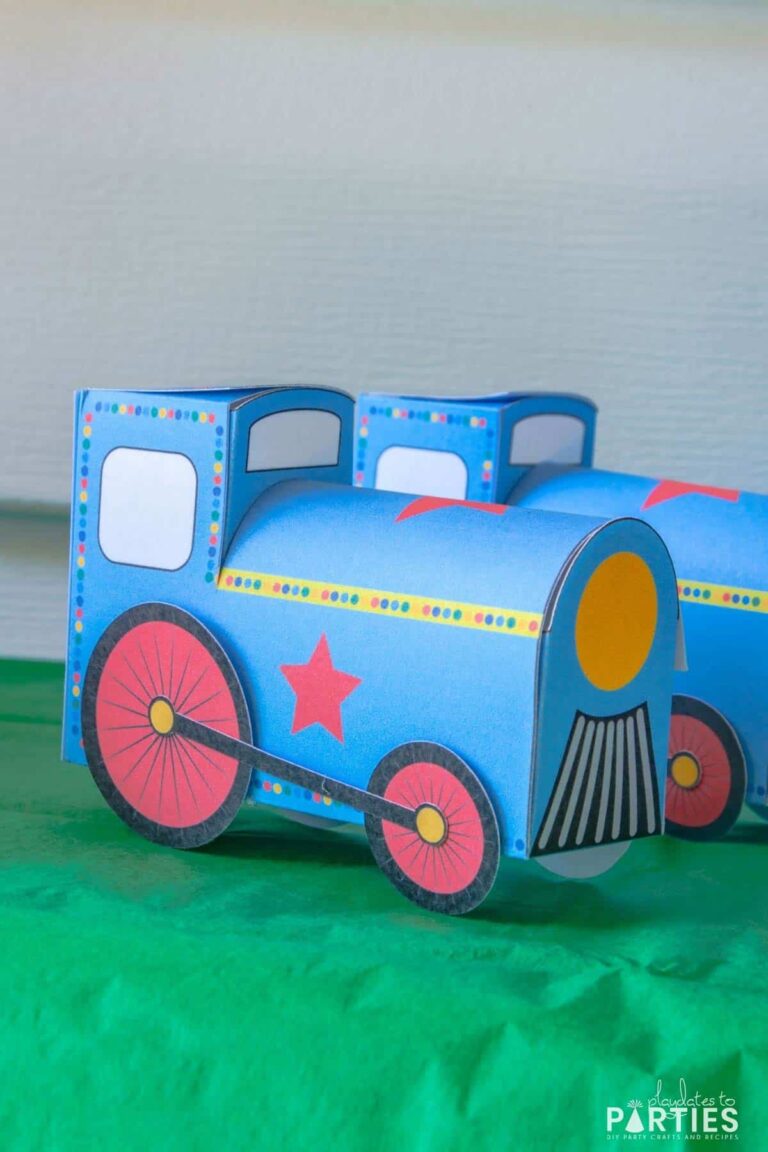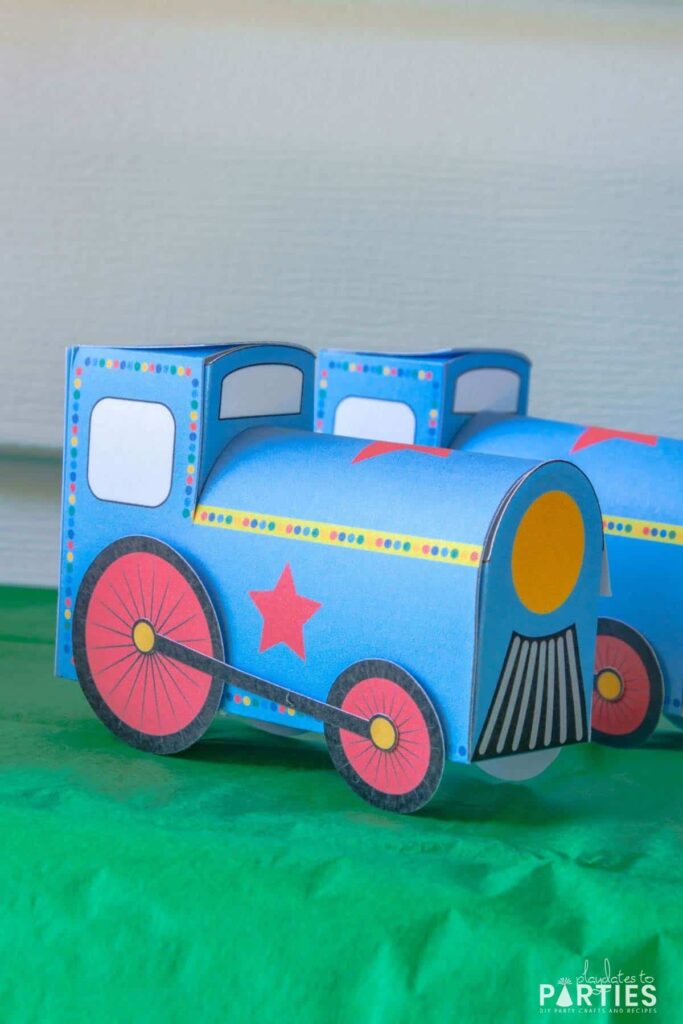 3D Train Favor Boxes
Y'all, this favor box was just so much fun to create. My close friends and family know that I love a challenge…especially if it means creating something new. And this definitely fit the bill.
I set up a little display on a shelving unit with some green tissue paper, and then added the favor boxes on top. We filled the boxes with short little lollipops and other small candies. The kids loved them so much, they were breaking the trains open in the middle of the party. 🤣
At least we had a fun pool for the kids to use to burn off that energy before they went home.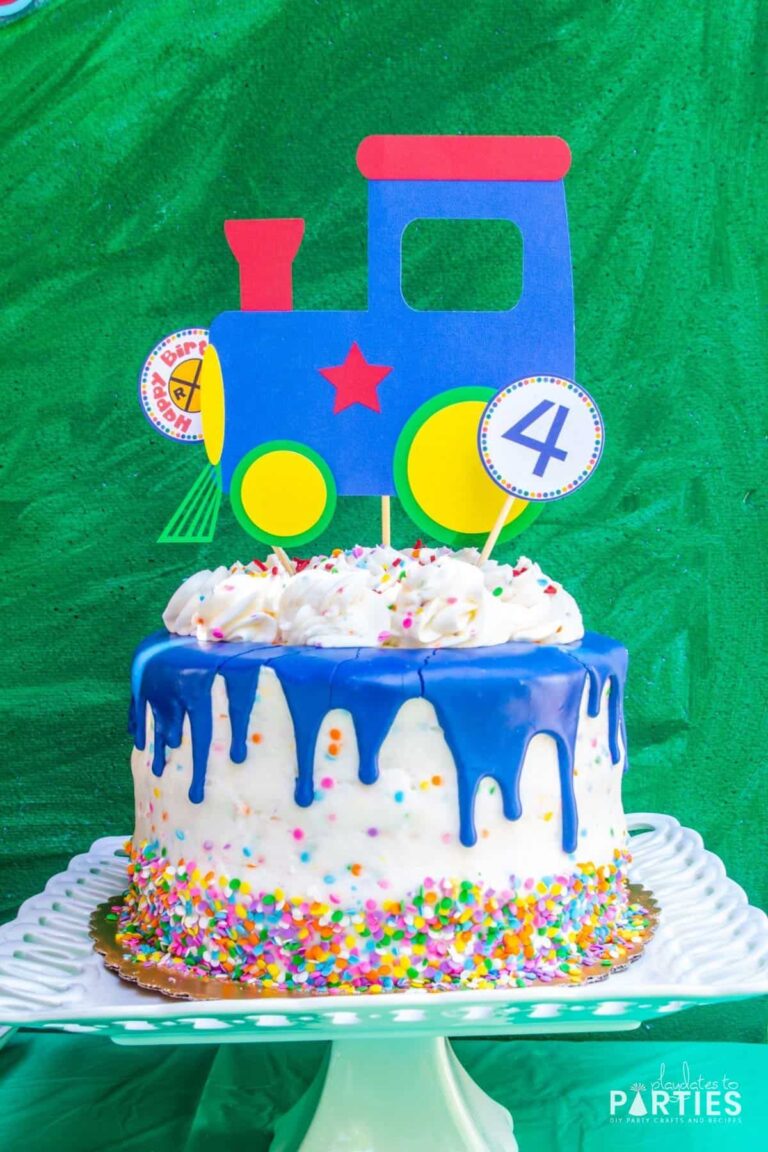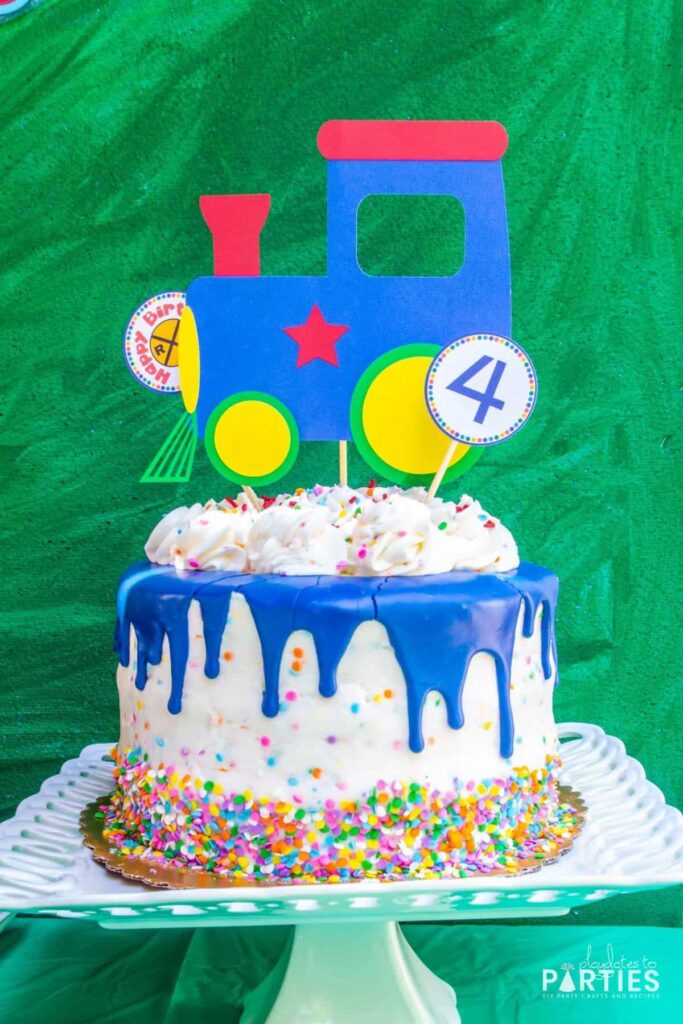 The Birthday Cake
Funny story – I was convinced this cake was going to be a total disaster.
We ordered it from the local grocery store, and the assistant behind the counter didn't write down any of the special requests we made. 😱
Thankfully I was very pleased with how it turned out. Especially once the paper train cake topper and party circles were added to the top.
Train Party FAILS
They say never to try something new for a party…but the DIY'er in me just can help it. Which, of course, means that I have my fair share of DIY fails.
This party was no exception: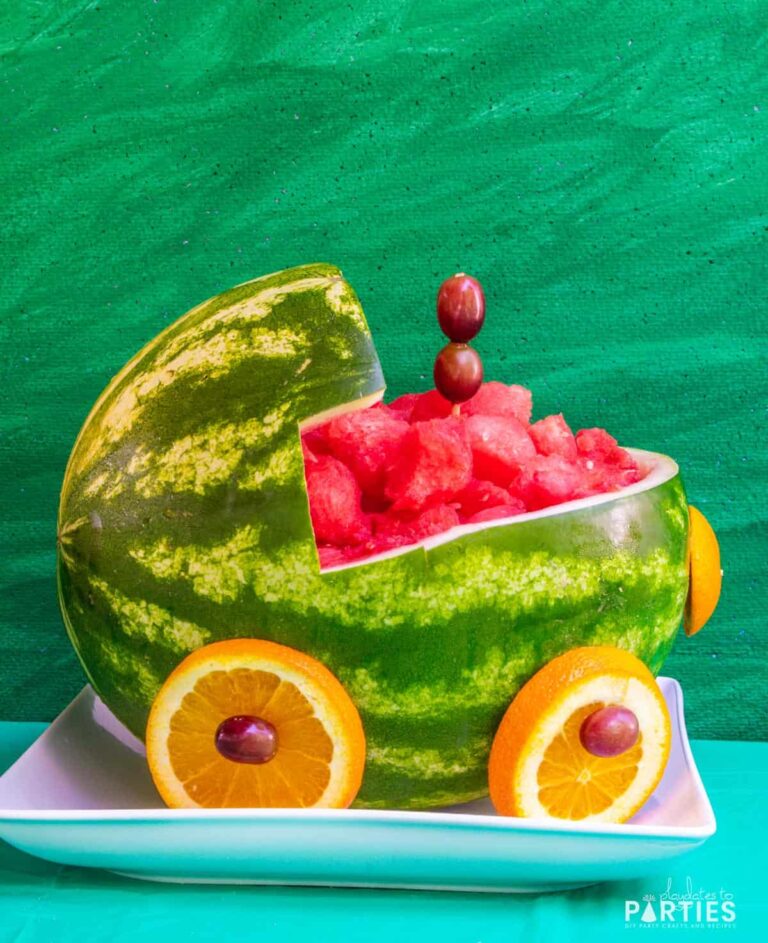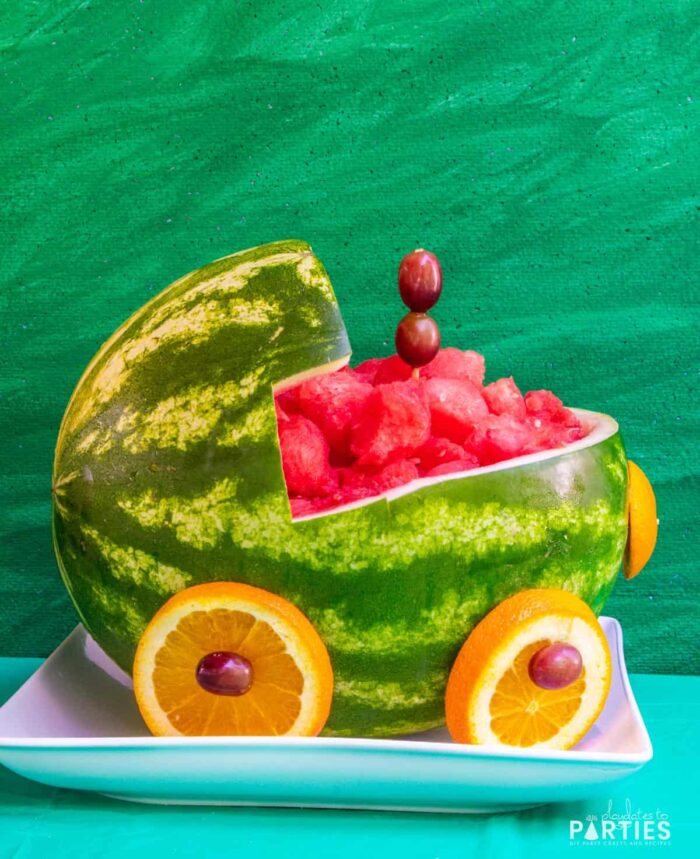 This watermelon carving was supposed to look like a train. Instead it looks like some kind of strange wizarding baby carriage. 🤣
It was right after my daughter's Harry Potter Themed sleepover, so maybe that's what happened?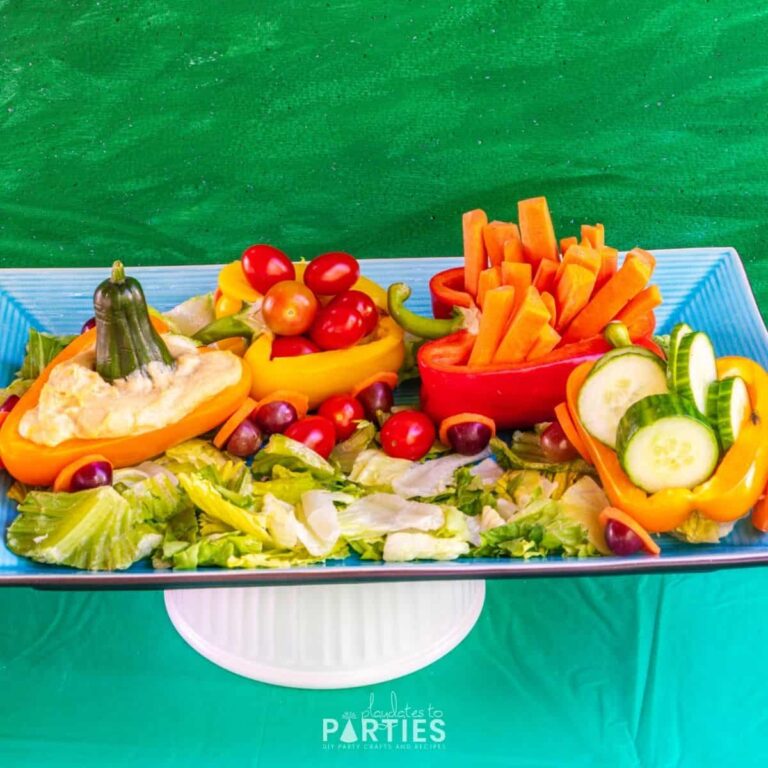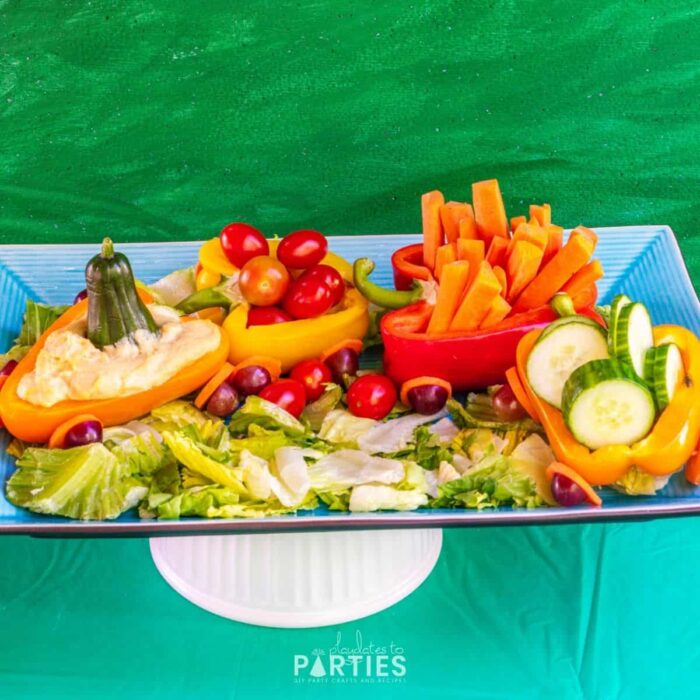 And the veggie train almost worked…but even I have to admit that the engine looks a little sad…
Even though these were definite failures, I have no regrets trying them and making them for the party. After all, it gave us something to giggle about while we mingled with the other parents.
Now It's Your Turn
This may not be the big, over-the-top parties you see everywhere, but for just a couple weeks preparation, I think it's not half bad. Most importantly, the kids thought it was amazing, and since we didn't go too overboard, I was able to mingle with the other parents too. That's pretty much a success in my books.
Hopefully you found these train birthday party ideas helpful too – especially if you're running around at the last minute like I was.
Don't forget to check the shop for train party printables coming soon! And if you enjoyed this party, we'd love it if you shared it on Facebook or Pinterest.

Want more party inspiration? Join me over at
Facebook
, and
Twitter
, for regular updates and fabulous finds from around the web.