Your guests are going to LOVE playing these fun and unique gender reveal party games. Don't forget to grab your free printables to make planning even easier!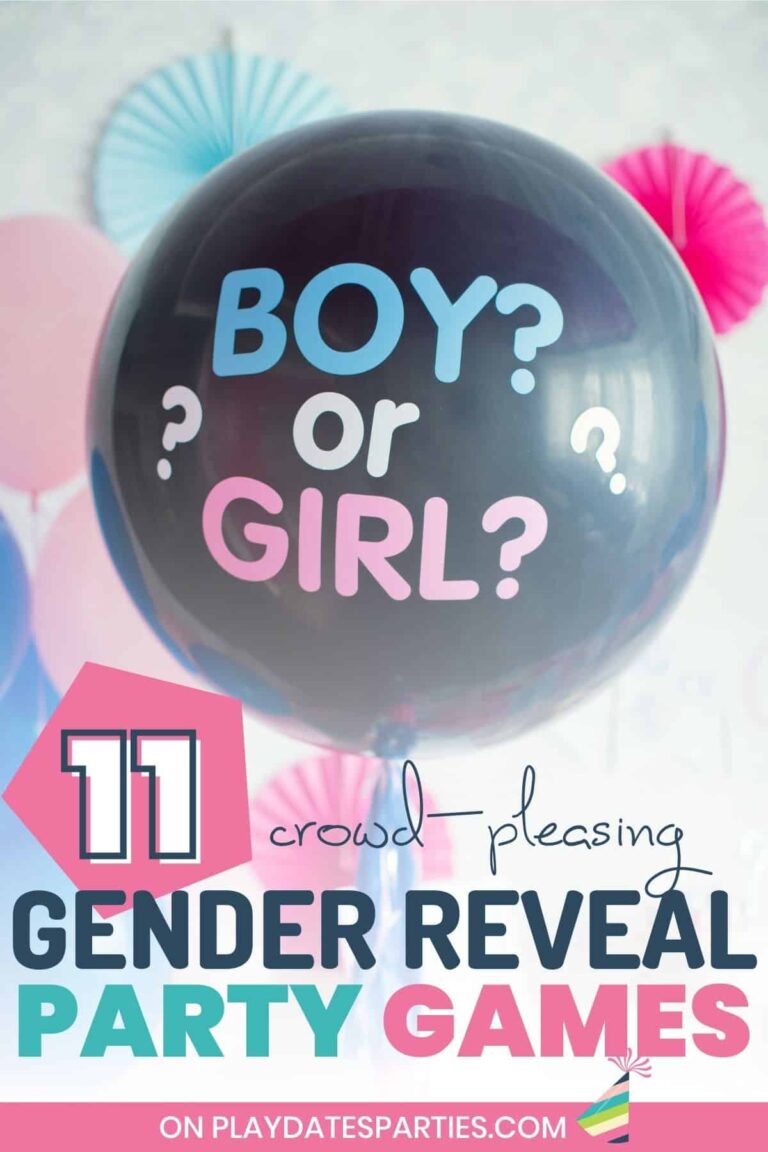 RELATED>>>>11 Amazing Gender Reveal Party Food Ideas (Sweet AND Savory!)
Typically I'm all about the food and decorations for parties. But I have to admit, gender reveal parties are less about the food and more about the big announcement!
That's why it's a good idea to keep the excitement going during the party with a variety of fun games and activities. It really helps build up the excitement before the final reveal.
Plus, figuring out gender reveal party games is actually pretty simple.
If you want, you can incorporate many of the traditional baby shower games, or you can stick to the theme and make all of the activities focus on one question: is it a boy or a girl?
Printable Gender Reveal Party Games:
Old Wives Tale Trivia
Talk about funny! This is a gender-prediction game that is a cross between the Newlywed Game and gender prediction myths. It's so funny to see how well dad-to-be and family members are paying attention to mom's pregnancy symptoms!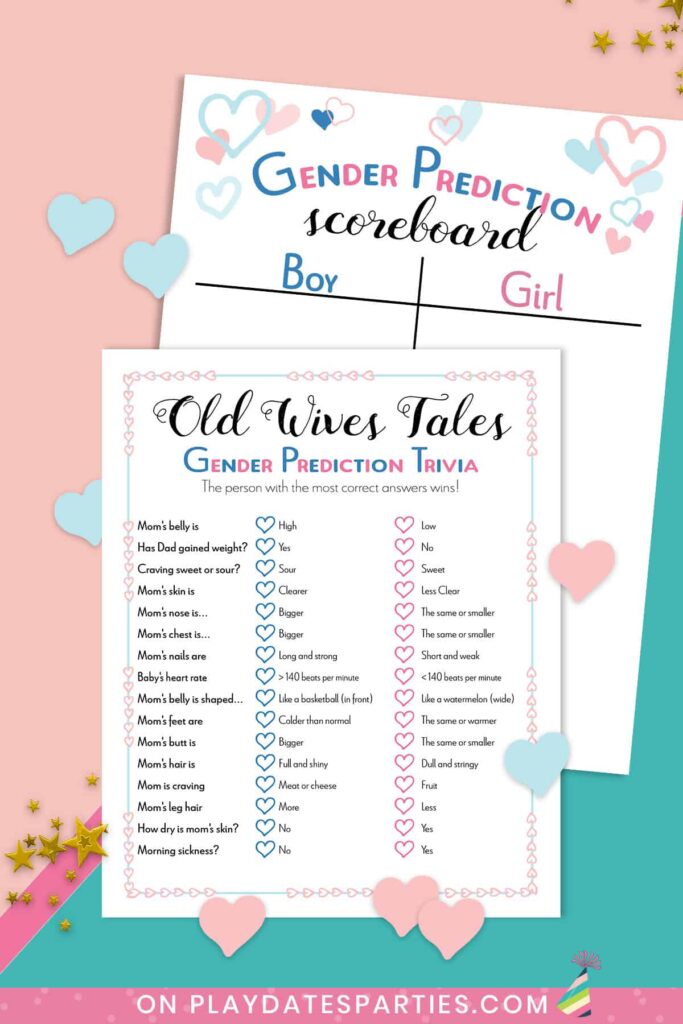 Before the gender reveal party starts, mom fills out the answer sheet detailing all of her pregnancy symptoms according to old wives tales. During the party, this game can be played one of two ways:
Mom vs. Dad:
In true Newlywed Game style, you can have dad-to-be front and center, answering the questions one-by-one in front of the guests.
Compare both parents' answers to what old wives tales say about the pregnancy symptoms and then mark both mom and dad off individually on the scorecard.
Mom vs. Everyone:
If dad isn't into being singled out, let the guests join in! Have everyone answer the questions and keep track of their responses in comparison to mom's answers. You'll really see who's paying attention!
Either way you play it, at the end of the game, reveal baby's gender and then see who won: mom, dad, guests, or old wives' tales!
Baby Mad Libs
Mad libs are always a hit, no matter what age you are, and they're a great option for a quick little pick-me-up if you find the party lulling.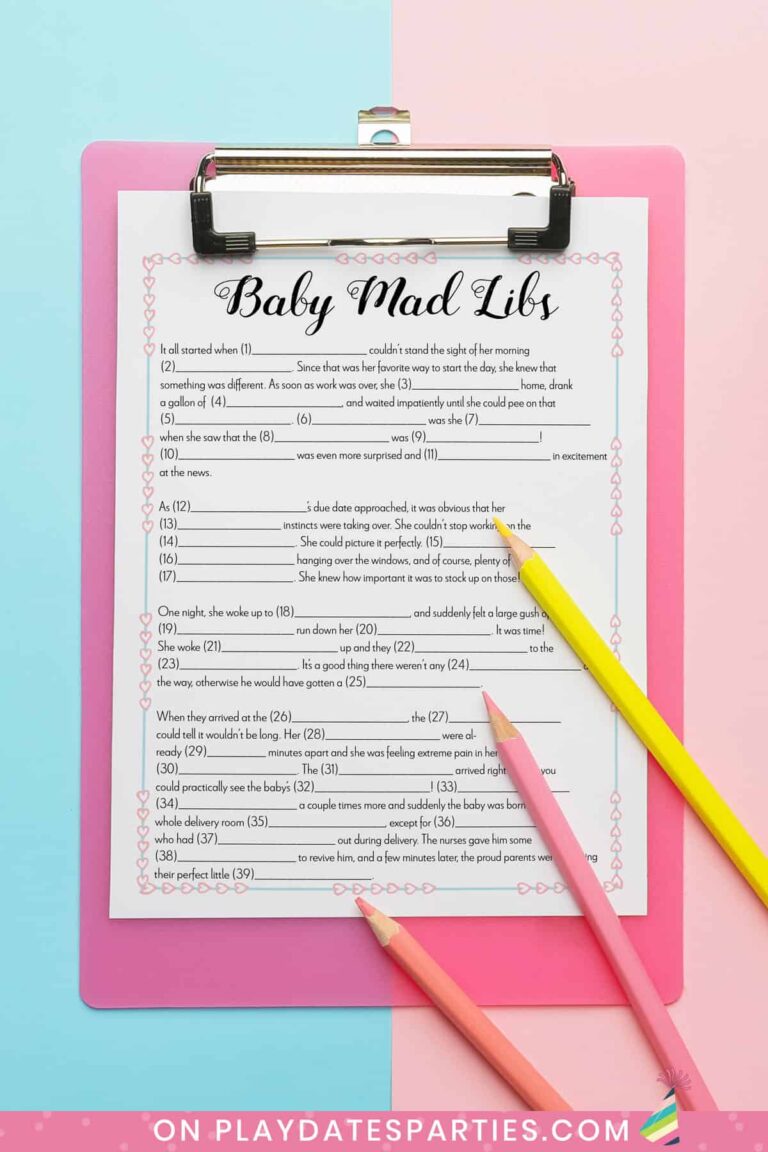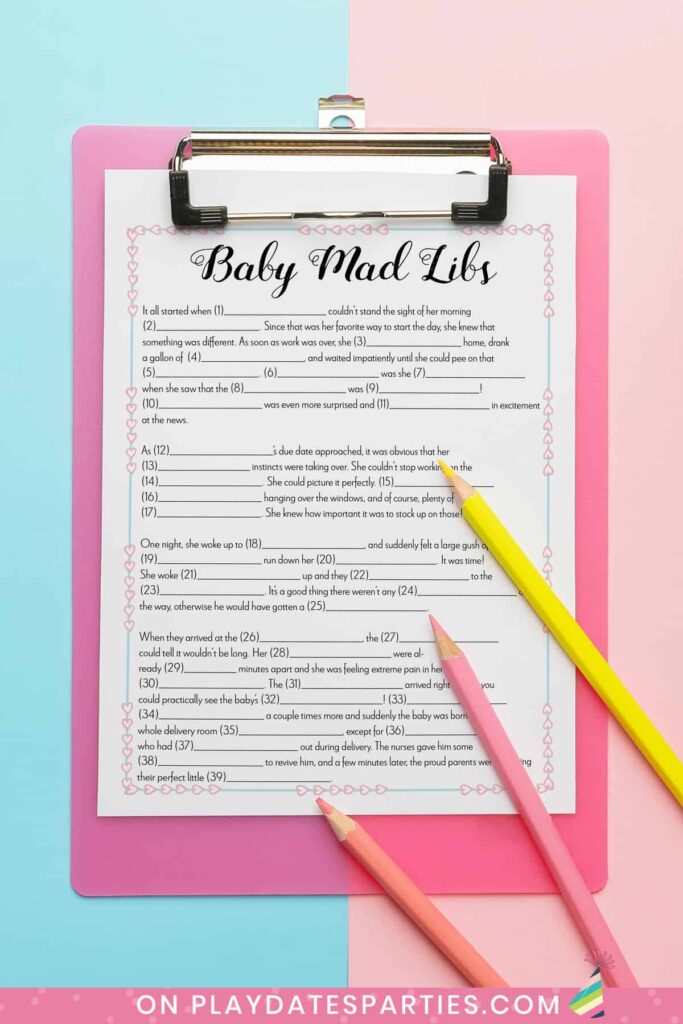 I've got a printable mad libs game that is perfect for either a gender reveal party or a baby shower. Keeping the storyline hidden, the host/hostess ask prompts the guests for different types of words and then fills in the printed storyline.
The end result is a story that is completely silly, ridiculous, and so much fun.
More Gender Reveal Party Games to Play for Fun
Yes, the party is all about announcing whether baby is a boy or a girl, but it's good to have some activities to enjoy before the big announcement. Here are some fun and easy options:
Gender Reveal Photo Booth
Photo Booths are a huge trend for parties right now, and this set from Amazon makes it so easy. All you need to add is a custom hashtag and you're ready to get the Instagram stories going!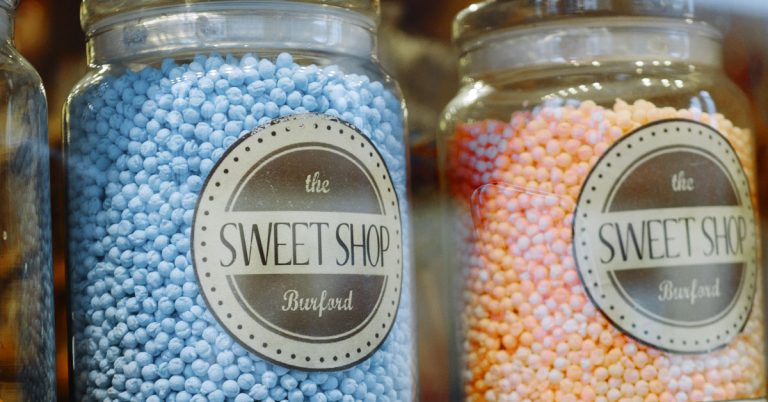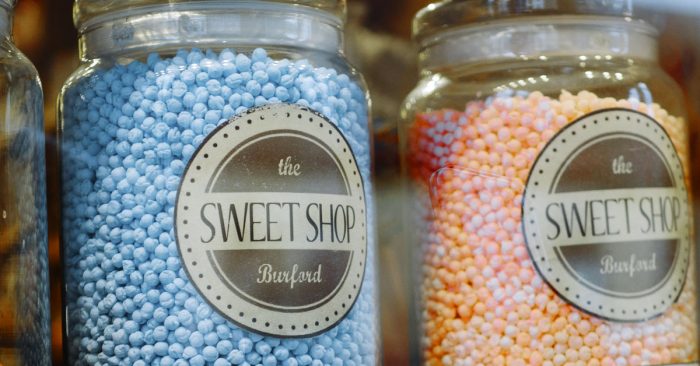 Candy Jar Guessing Game
Here's a classic game with an easy twist!
Have two candy jars side-by-side on display; one filled with pink candy and one filled with blue candy. The jar with more pieces reveals whether the couple is having a boy or girl. Throughout the party, guests inspect the jar and write down their best guesses.
To keep things interesting, make the difference between the candies only a few off, or use two different kinds of candies in each jar. (Note: we have these acrylic jars, which would work perfectly as a gift for baby's new bedroom!)
Ultrasound Hide and Seek:
This is a great game to have sitting out for guests to join in if they please.
Put a couple copies of the baby's ultrasound photos on a table with a sign and some magnifying glasses asking guests to check the picture for clues.
You can also have a list to let people write down their best guess, or you can just let them squabble over what they see and wait until the big reveal to find out the truth.
Gender Reveal Word Scramble:
Set these word scramble cards out on the guests' tables for a little downtime fun. Or make things a bit more structured and set a timer to see who figures out the most words first.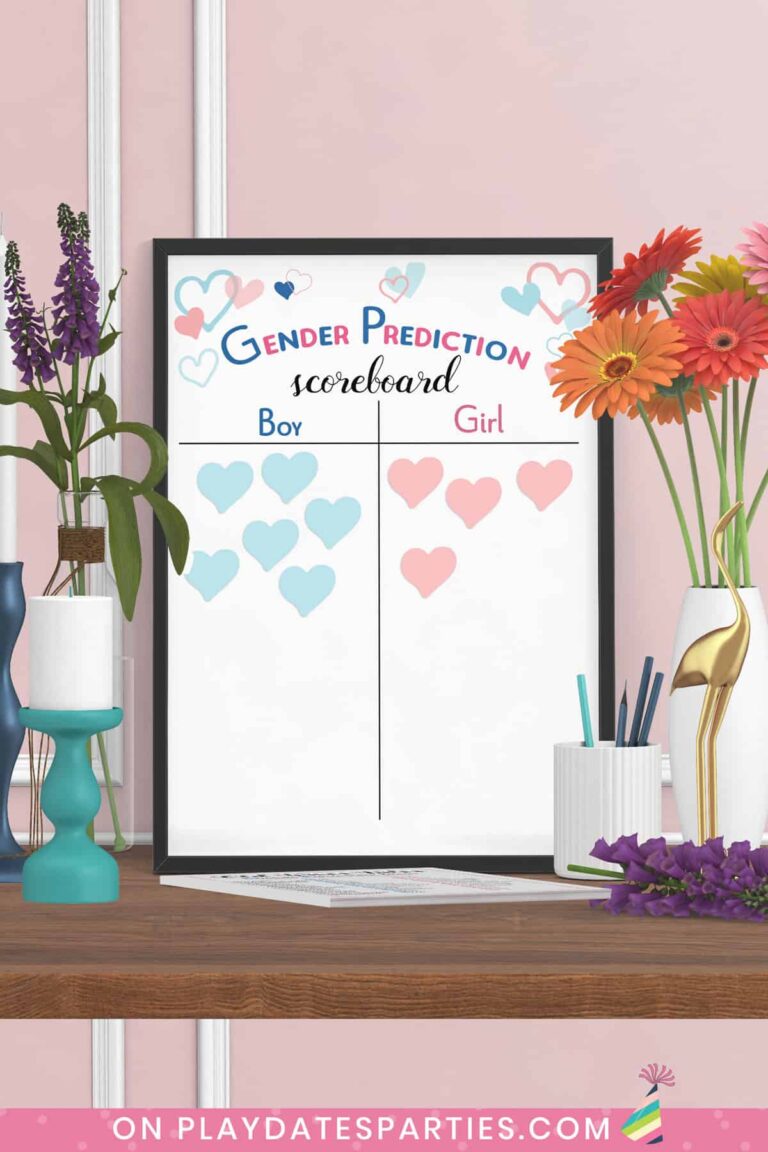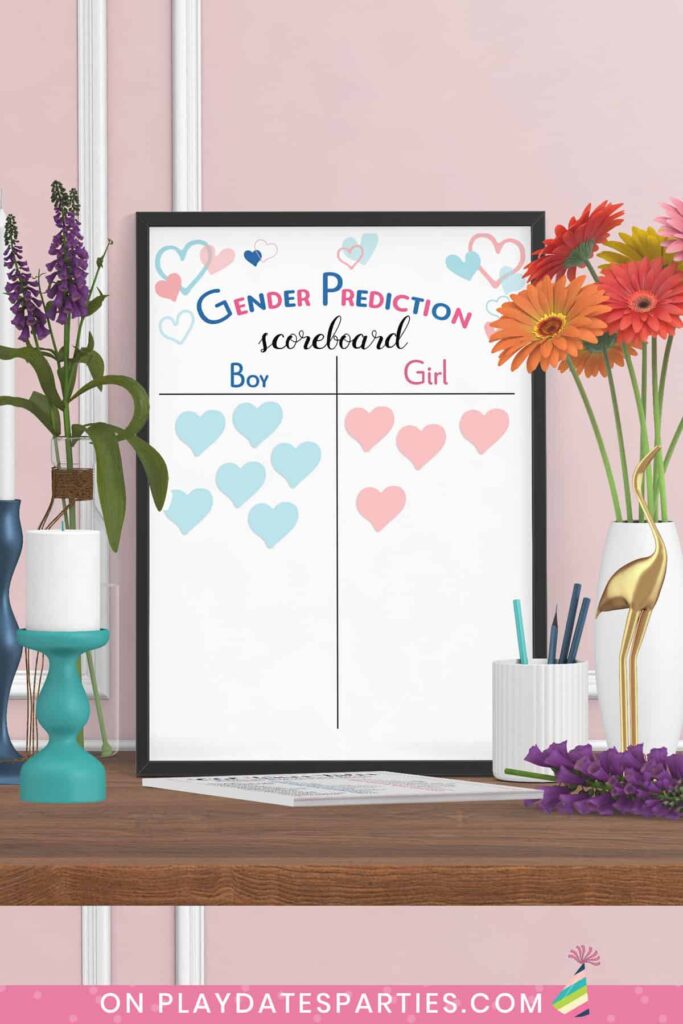 Let the Guests Cast Votes:
You can use the printable Old Wives Tale Scoreboard to let the guests cast votes for their guesses, too. Simply let guests place their bets on the voting sign using the pink and blue hearts provided.
Gender Reveal Party Games to Share the Big News
Once everyone has settled in with a few other party games and some good food and drink, it's time to do the big reveal! There are so many ways to unveil your gender reveal, but it's fun to incorporate it as a party game the guests can enjoy too!
Hidden Message Balloon Pop:
Fill dozens of balloons with little pieces of paper…only one of which has the gender reveal on it. Guests then must pop all the balloons and open up each piece of paper to find out whether baby is a boy or a girl. (This is great for competitive families!)
P.S. – If you have a Cricut, then making all those papers would be so fast and easy!
Giant Dart Board Balloon pop:
What's better than glitter filled balloons? How about a giant dart board where only ONE balloon is filled with either pink or blue glitter. Guests have to throw darts and pop each balloon to reveal baby's gender.
I like how this couple filled the other balloons with white glitter. Even the no-answer balloons are sparkly!
Candy Bar Gender Reveal Game
Have you ever seen those stories where key elements are represented by candy bars? This fun game is a lot like that.
Best for couples who are finding out at the same time as the guests, spread out a bunch of candies on a table and ask the parents a question. The corresponding candy bar has the next question.
The parents keep going until only two candy bars are left.
Pop the Belly
This is another take on the dart game above, but with a few twists. I love that there are little pictures above each balloon making the balloon the baby bump. And instead of glitter, the balloons were filled with paint.
I love the messy fun…and the paint is definitely easier to see. There was one more twist to the whole game too…but I'll let you go check that out over at Smudge.
More Ways to Plan an Amazing Gender Reveal Party
Now It's Your Turn
Yes, food and decorations are important at a gender reveal party, but I'm starting to think that with this theme it's really all about the gender reveal party games and activities.
While you can incorporate the gender reveal itself into some of these games, there are plenty of other activities you can include to keep everybody entertained throughout the party.
So, grab your free printable gender reveal party games, and have some fun!
---
This post was originally published on March 7, 2019. It has been updated with new photos and for readability.