Take a look and get inspired by these adorable DIY farm birthday party ideas. Which is your favorite: the rustic banner or the kid-friendly cake topper?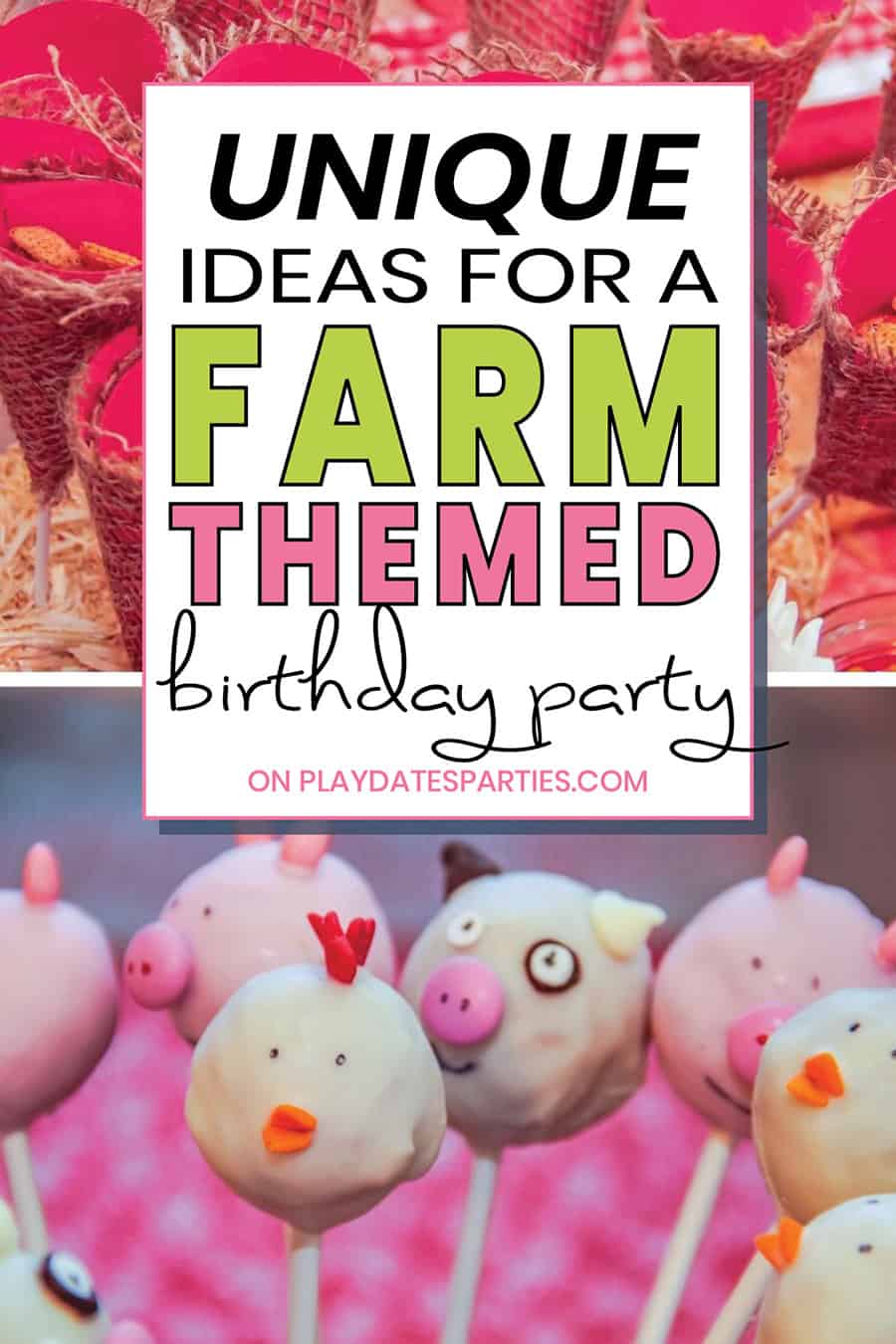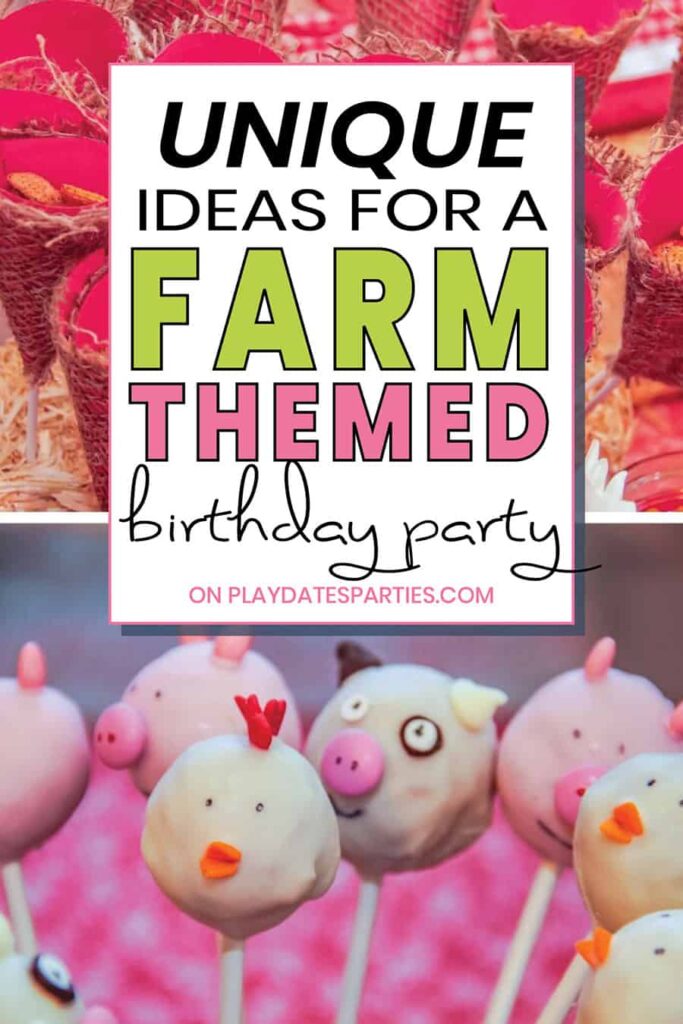 Have you ever had to travel with all your birthday party decorations? It's…well…it's interesting.
I actually pulled together this farm birthday party about ten years ago for my niece – who lived 150 miles away from us.
Yep, we brought the party all the way from Maryland to Petersburg Virginia. It was quite the trek.
But it was fun because their family's style is almost completely different from my own. While I like bright bold and modern colors, they lived in a historic home and preferred a more vintage style.
So, when they requested a barnyard theme for my niece's second birthday, I knew it needed to be full of vintage touches as well.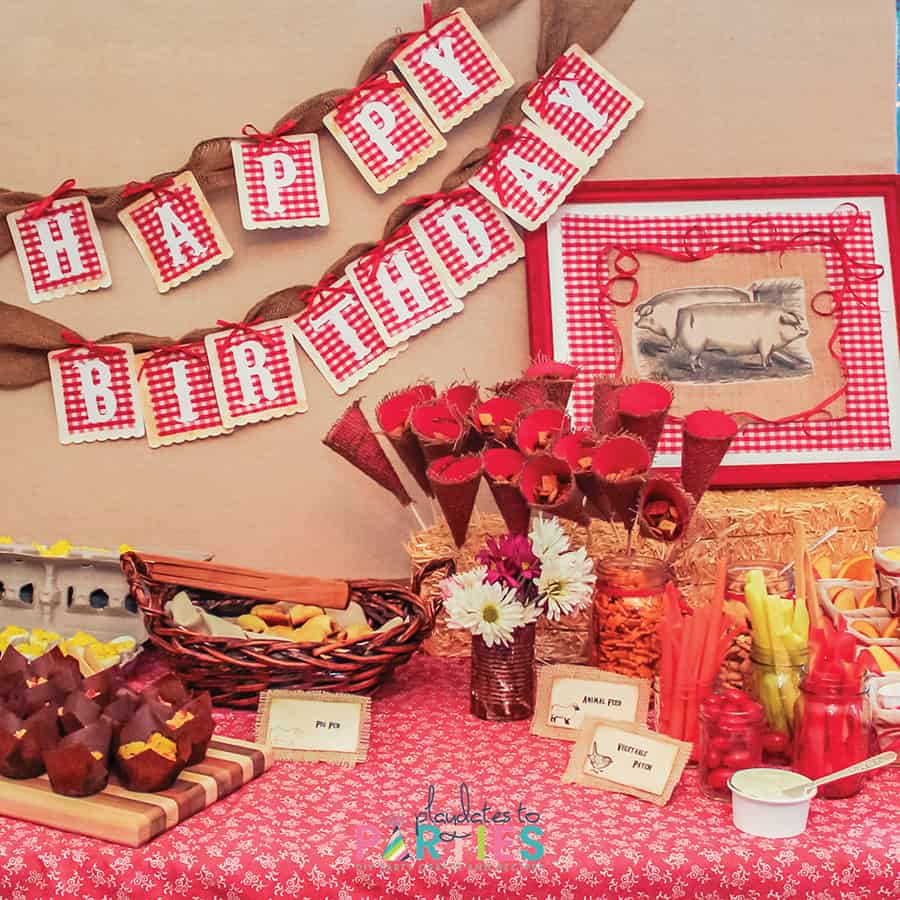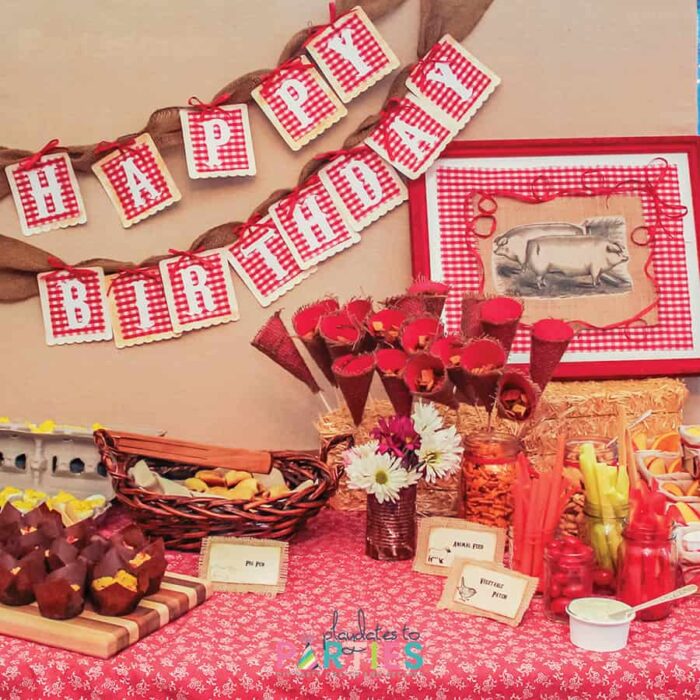 About the Party:
What Was the Occasion? a little girls' 2nd birthday
How Many Guests Did You Have? About 20, mostly adults
Where Was the Party Held? The family's historic townhome
Farm Birthday Party Decorations
While the party theme was 'vintage barnyard', the parents didn't want it to be girly. So we focused on using red gingham, vintage graphics, and lots of burlap to add color and texture everywhere possible.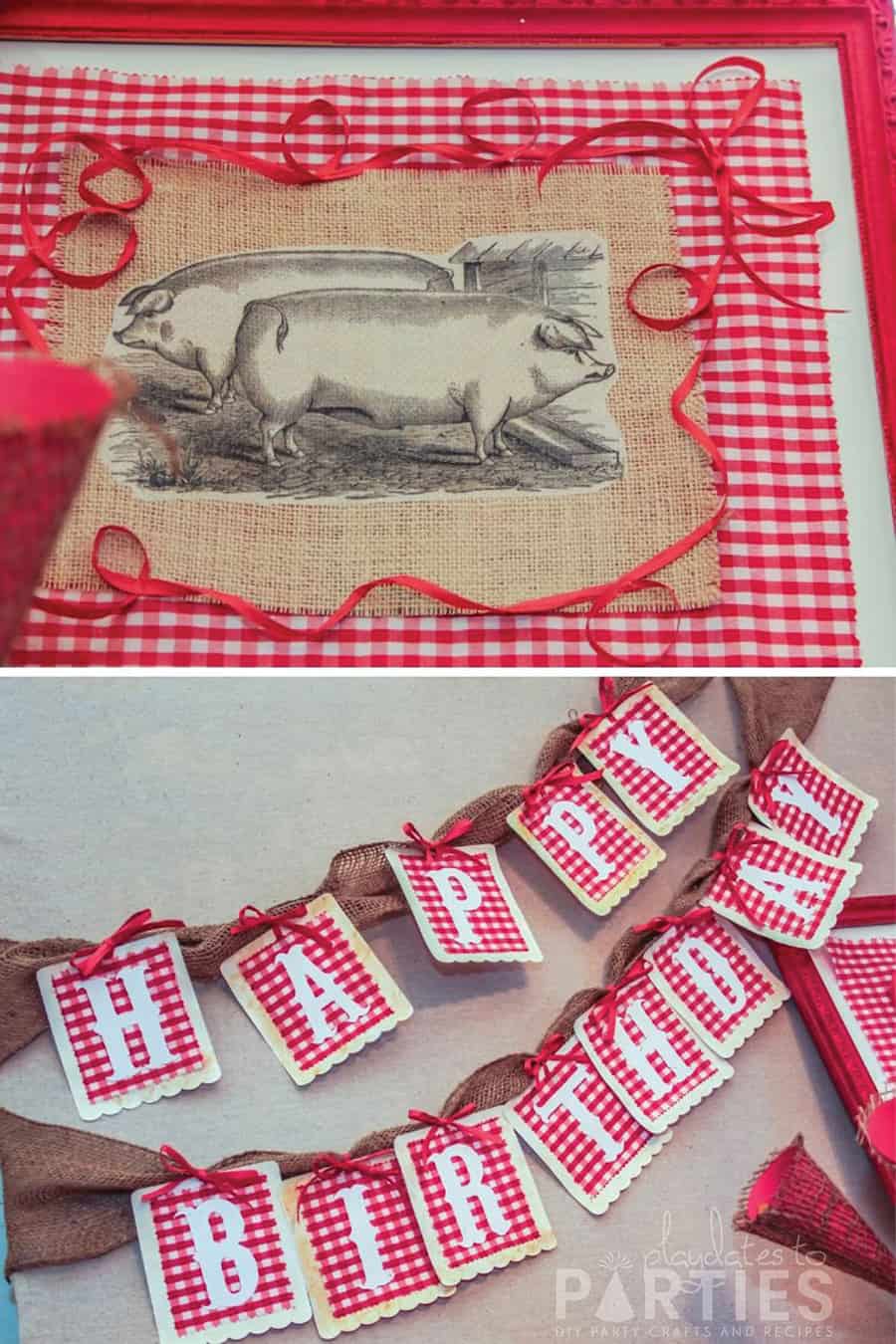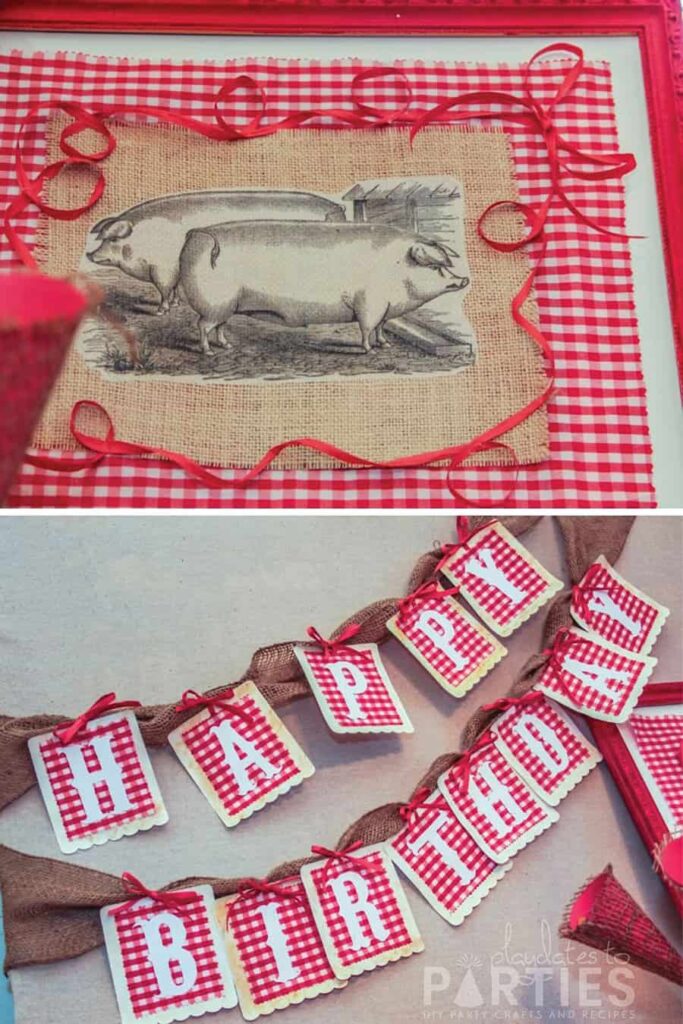 The party buffet was anchored with a handmade "Happy Birthday" banner that used layers of tea-stained cardstock, red gingham fabric, and letters cut on my cutting machine.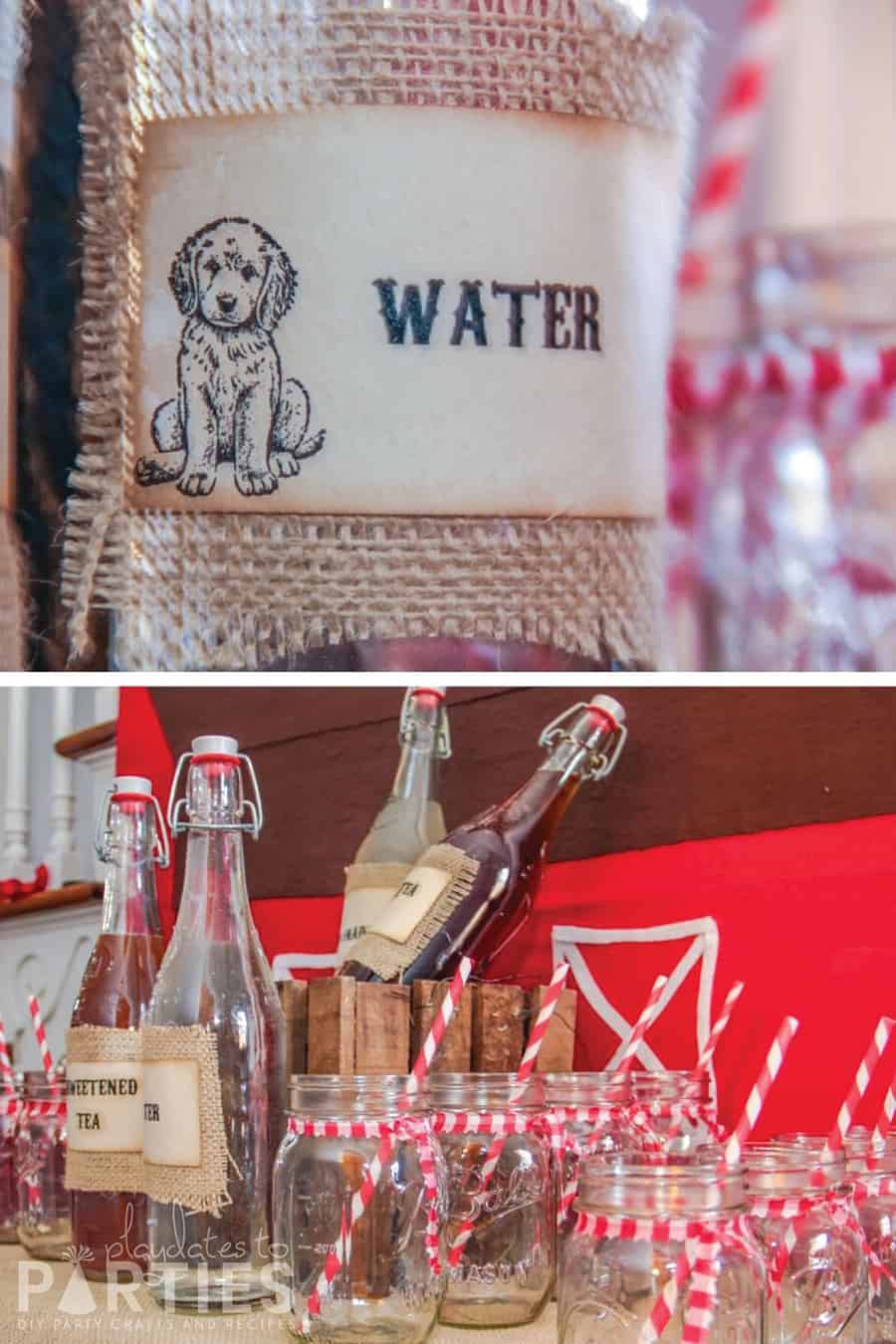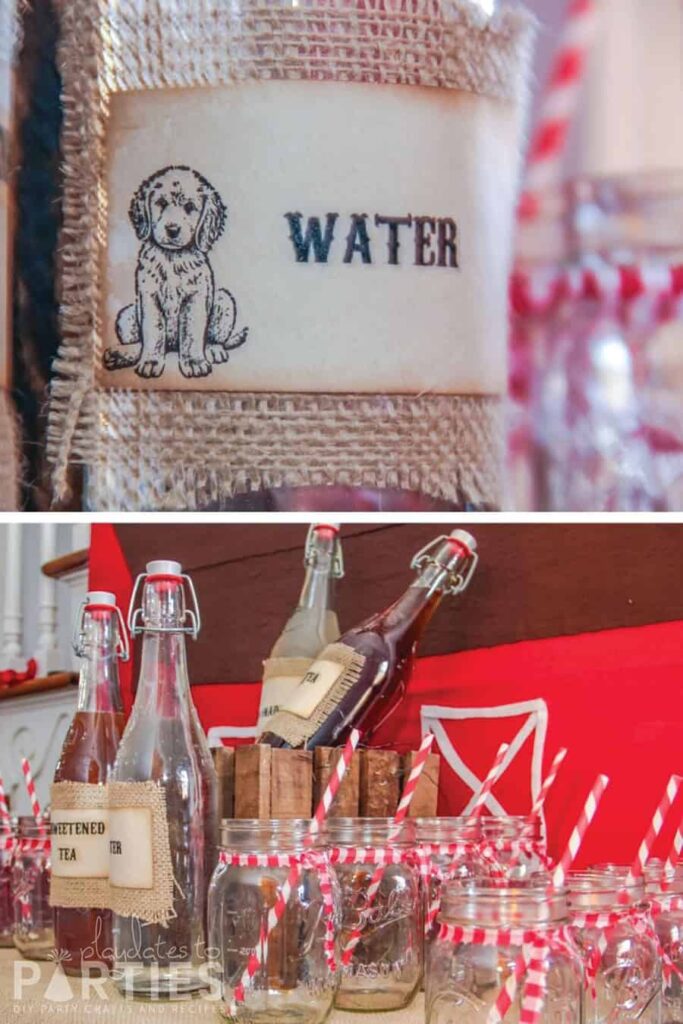 We also brought in a ton of vintage finds from thrift stores – and even a few discarded items from a different historic home (don't worry, we had permission.), like:
Vintage frames,
Old mason and jelly jars,
Weathered wood boxes,
Old wood shutters,
Painted tin can flower vases, and
Fabric that looks like it's straight out of granny's quilting stash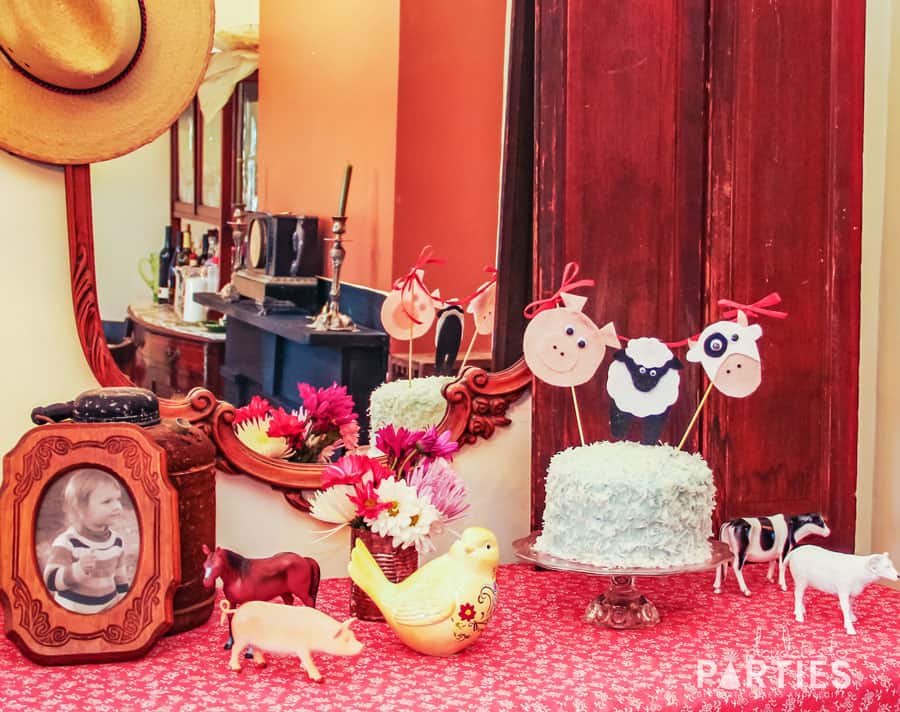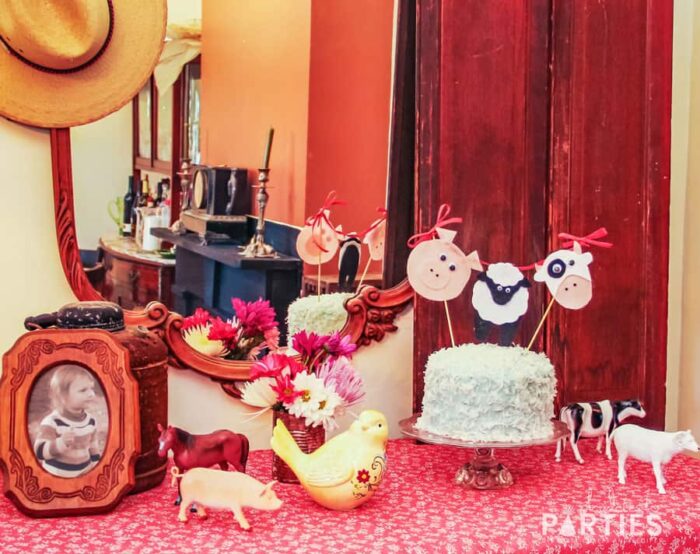 A little note:
This party was 10 years ago – back when I still tried to transform the entire home for a single event. And, well, I don't recommend doing that. Instead, I should have followed principles 4 and 5 when it comes to plannning a birthday party)
Oh well, live and learn.
Farm Birthday Party Food
While I consulted with the parents on what to serve, they actually made most of the food for the party…which made things much easier.
All I had to make were the cake pops, the whoopie pies, and the labels for the buffet.
And in the vein of keeping things simple, we served easy-to-make foods, all renamed in 'farm' terms:
The Orchard: Wood baskets filled with fresh fruit
Vegetable Patch: Mason jars filled with sliced vegetable strips
Animal Feed: Chex mix and Annie's bunny crackers in paper cones
Pig Pen: Pigs in a blanket
Haystacks: Macaroni and cheese muffins
Hatchlings: Deviled Eggs
Livestock: Farm animal 'cake pops'
The Party Cake
The birthday girl's mom made a coconut cake from scratch, which was completely delicious.
To top it off, I made this cute felt farm animal cake bunting. (aren't those faces just adorable?)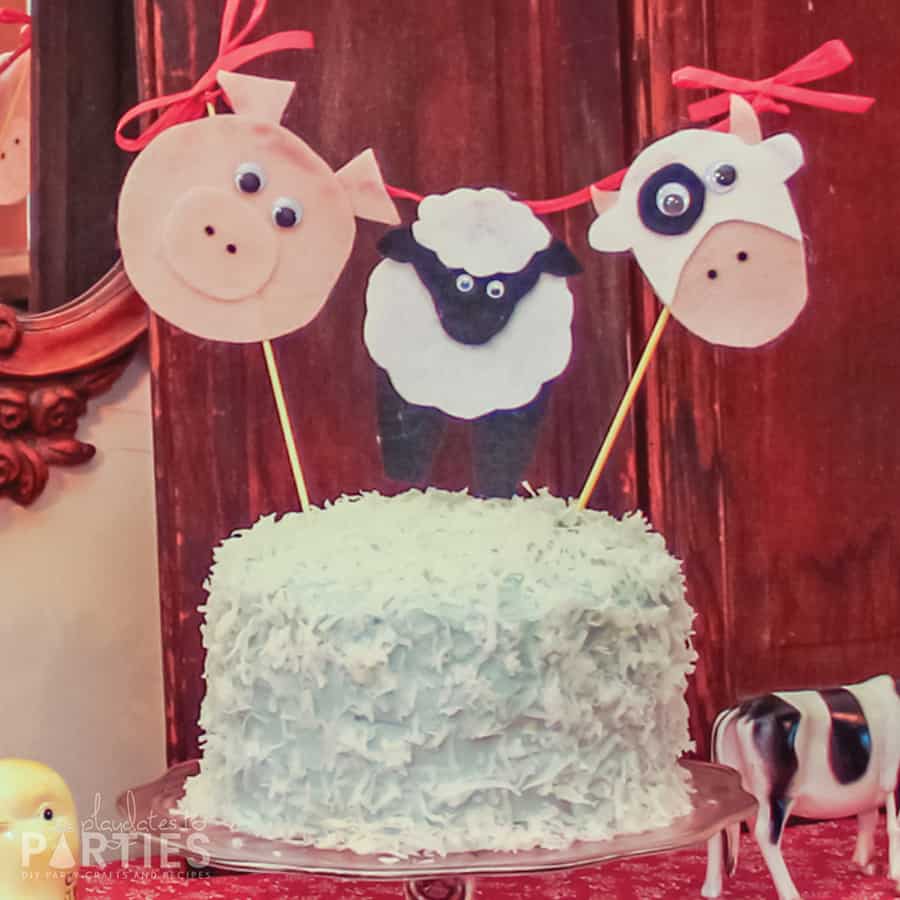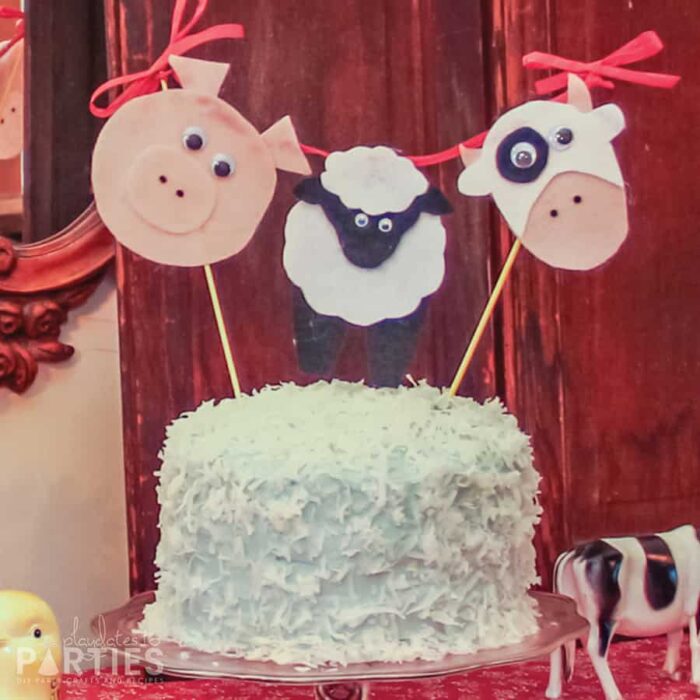 Barnyard Party Favors
We were lucky enough to find these felt barnyard boxes in the Target One Spot. They were the perfect size for party favors.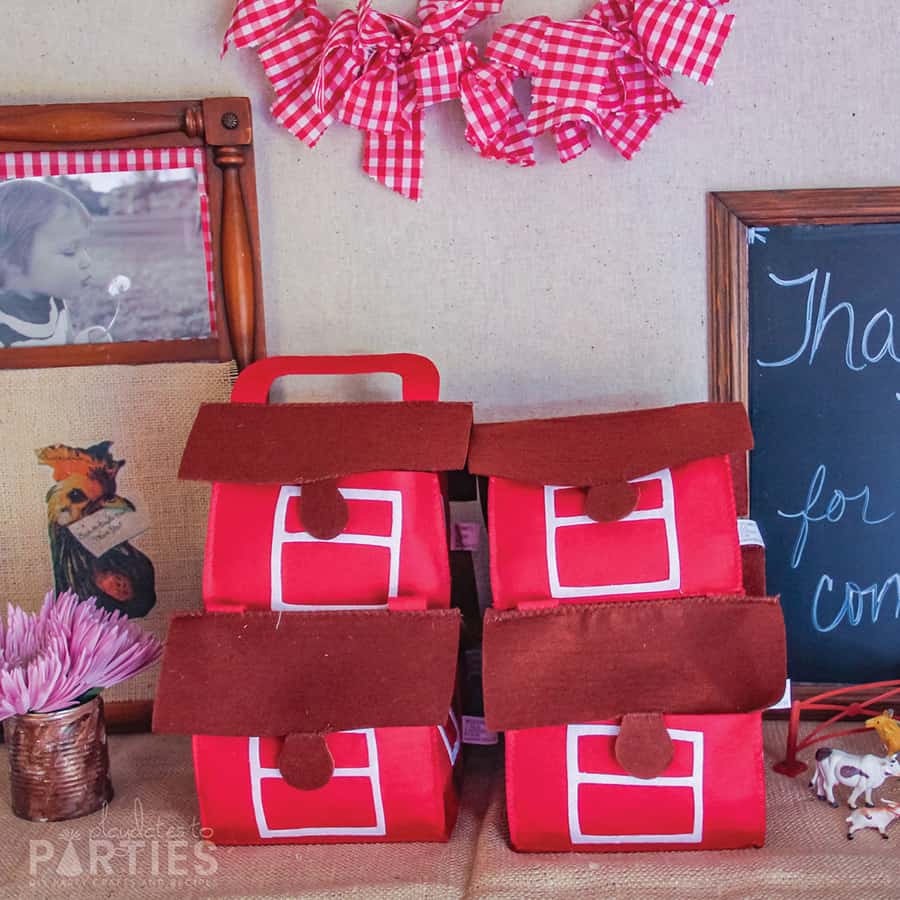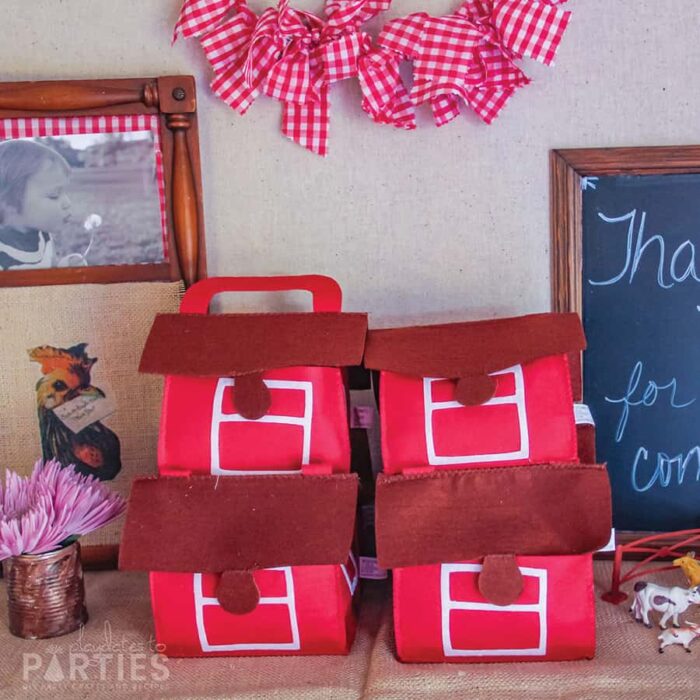 Obviously Target doesn't still have them ten years later, but these ready-made boxes, and these printable boxes are great alternatives that are just as cute.
Inside the felt barn boxes, guests each received a half egg carton filled with red velvet whoopie pies and farm animal 'cake pops'.
What is the one part of the party setup that you loved the most, and why?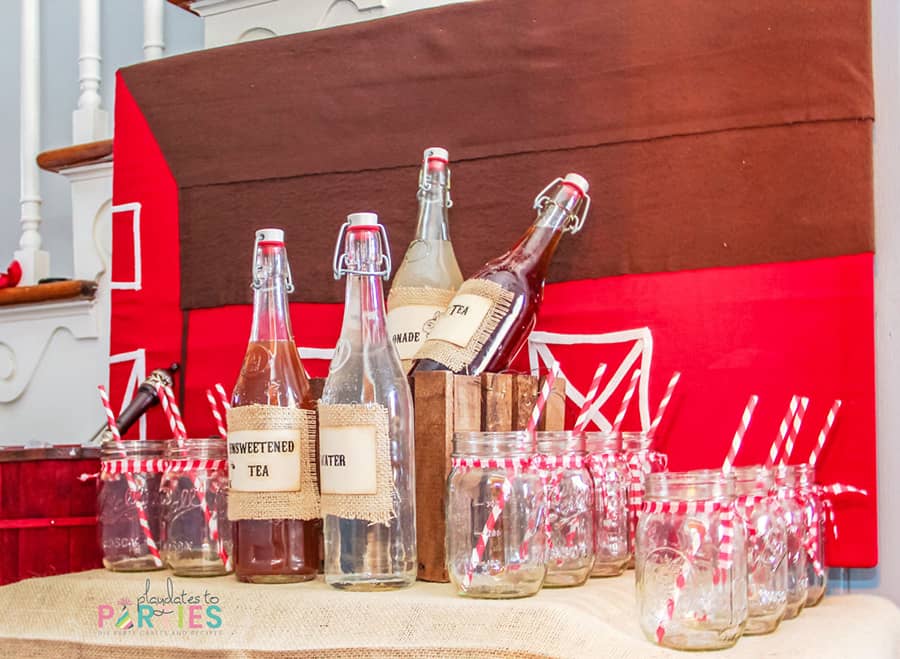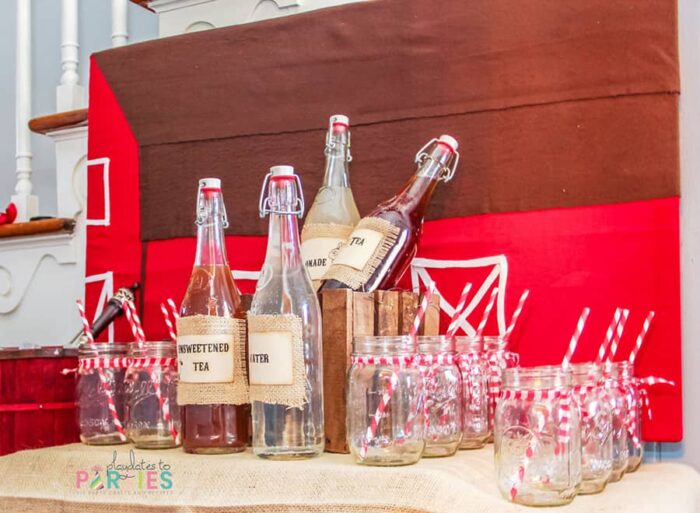 Well, I love the cake topper, but a close runner up is the felt barn backdrop on the drink buffet.
It took some time to pull together, even though it was just a 16×20 foam core board with felt shapes glued on top.
More Party Ideas You'll Love:
Where can I find the same supplies you used?
Many of the original vendors are no longer in business, but here are either the original vendors, or similar:
Now It's Your Turn
There are so many different ways to decorate for a farm birthday party. I love that this party took me out of my typical style and comfort zone and into a world of vintage-inspired rustic goodness.
Which is your favorite part of this barnyard party?
Would you like to see a tutorial or printable version of one of my DIY projects? Let me know in the comments below.
Note: This post was originally published February 16, 2011
---