Outdoor movie birthday parties are a great way to celebrate your child's special day. Invite a small group of friends over and set up an easy party with simple DIY decorations found right in your home.
If you're looking for a gathering with an easy and relaxed vibe – something that will make your guests feel like they're at home, rather than in some stuffy old movie theater – then this is the party for you!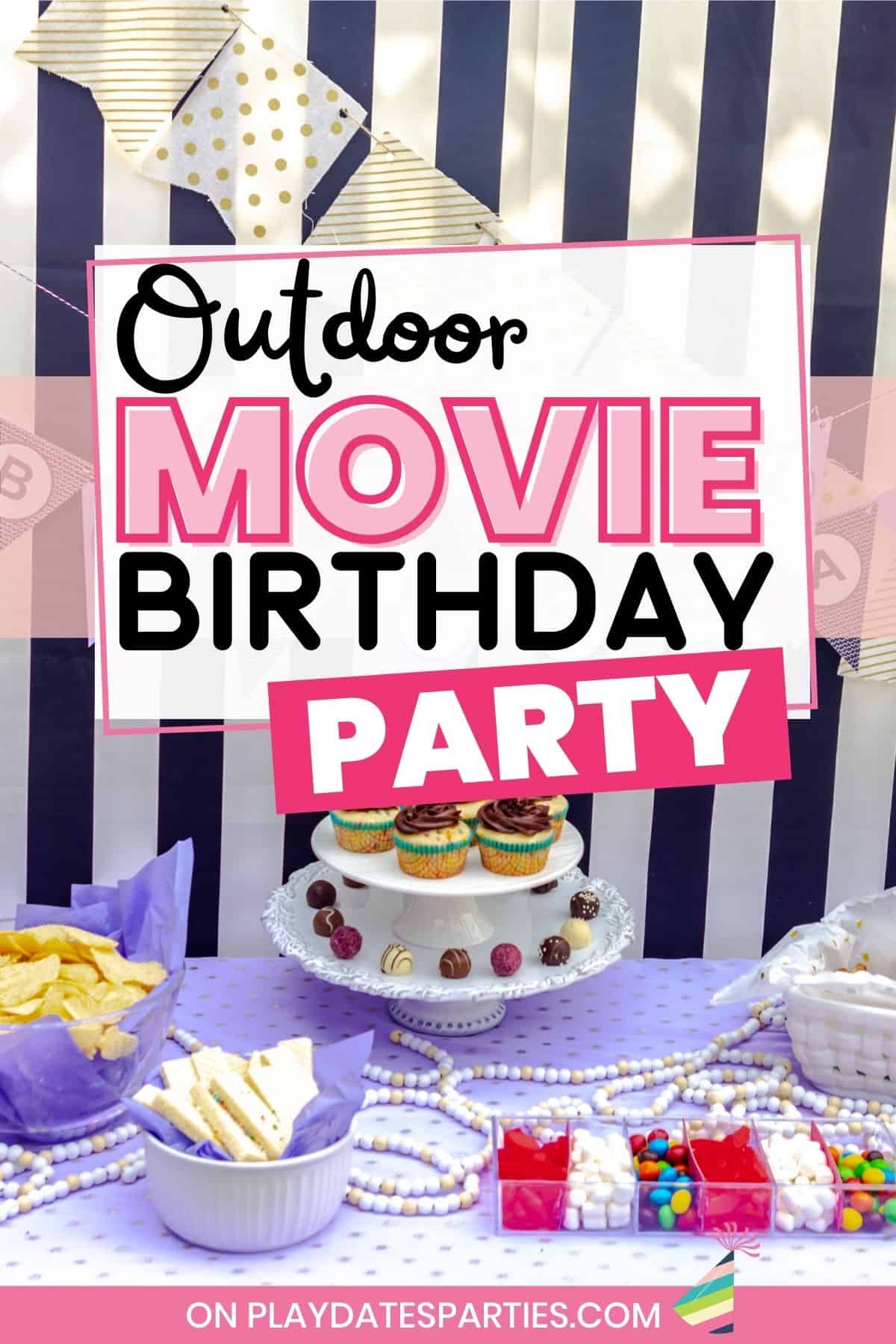 My oldest's birthday was a hot mess last year.
For some reason, I just couldn't get inspired to do anything…even right up until the day before the party was supposed to happen.
As it turns out, I didn't need to be inspired. Our middle child ended up with appendicitis the night before the party, and was had to be transferred between hospitals to get treated. (that's a whole other story 🤦‍♀️)
So, nearly a week late – and the day immediately following my son's Yes Day birthday – we finally got to celebrate.
About the Party:
What Was the Occasion? 11th birthday for a girl
How Many Guests Did You Have? 4
Where Was the Party Held? Our backyard
Outdoor Movie Night
At first, my daughter shocked me by saying she didn't want any kind of themed party or decorations.
Well.
You know me. 😊
I have no problem keeping it small, but with everything going on in 2020, I wanted to make sure she got something special.
So after some talking, we finally decided to hold an outdoor movie birthday party for her and her 3 best friends. She also agreed to let me set up a concession stand. Yay!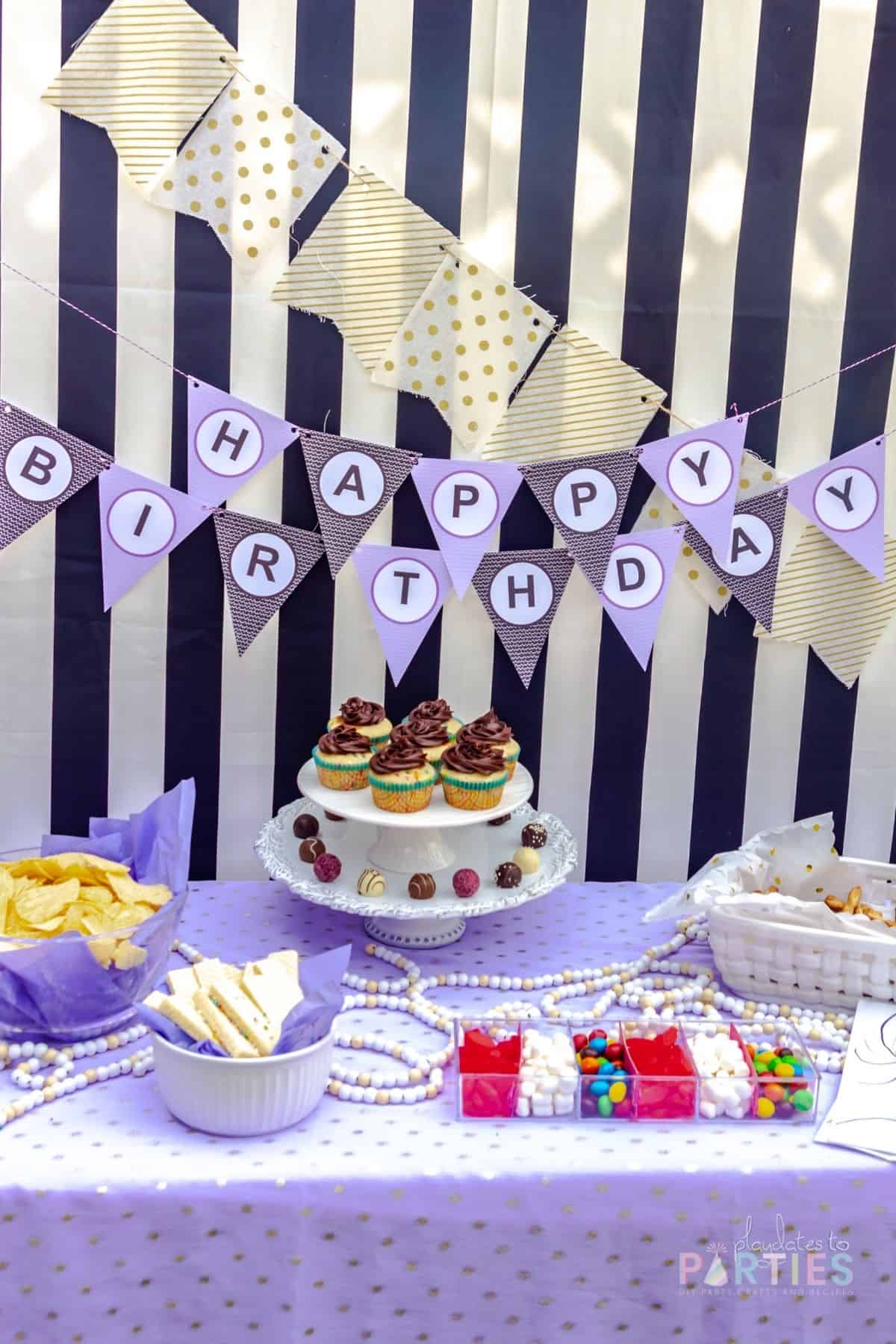 Go-to Party Supplies
Now, since we were pulling this together in less than a week (while also planning another birthday), we had to focus on keeping things easy and affordable.
If you're going to host a lot of parties at home, it's important to have a basic set of neutral dishware you can use over and over again.
For us, it's white ceramic.
I've used the same cake stands countless times. And things like bread baskets and small bowls are perfect for quickly corralling snacks like chips and pretzels.
All you need to do is add a pop of color with tissue paper, coordinating napkins, or even sprinkles from your pantry.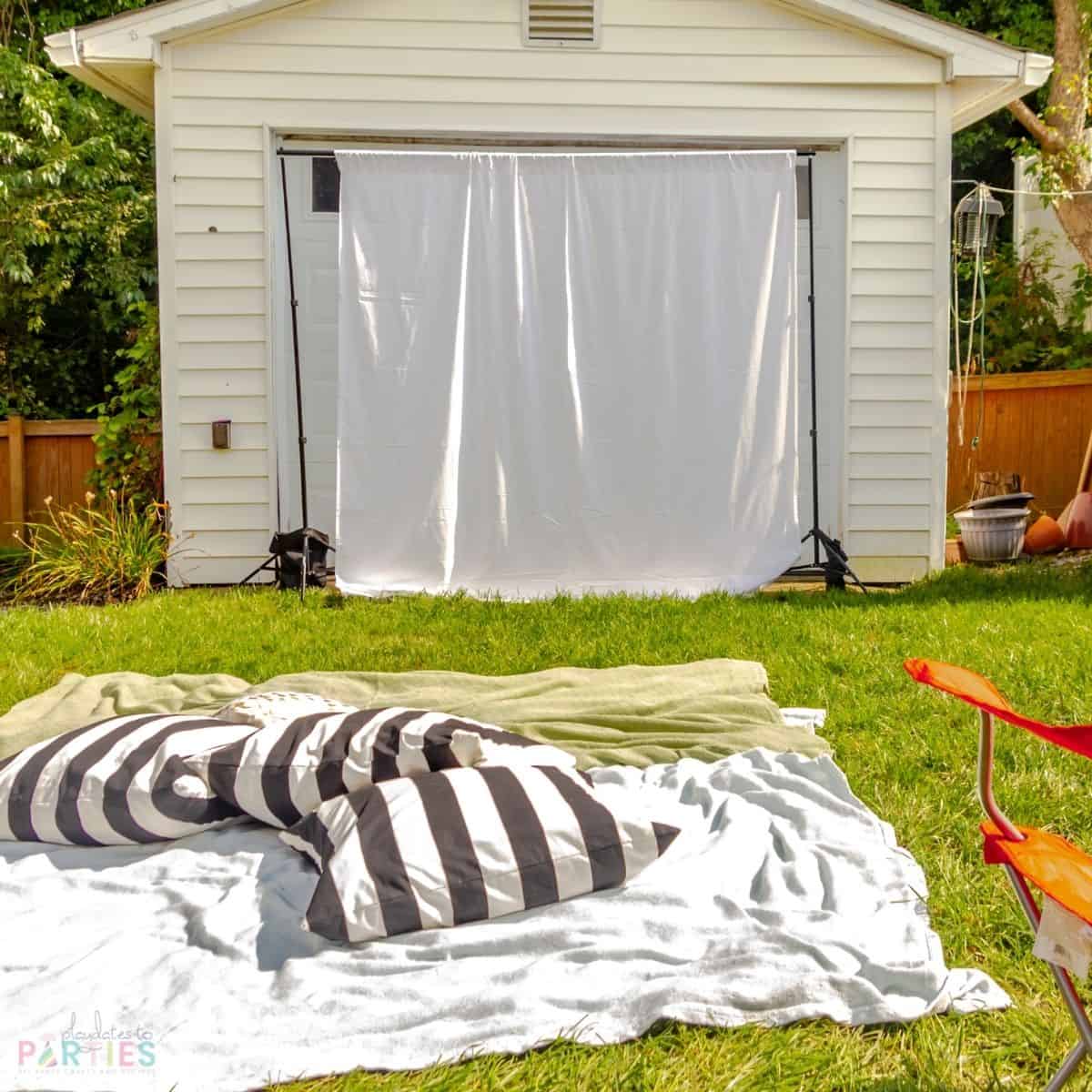 Shop Your Home for Decorations
Once you have your basics down, it's time to shop your home. My daughter requested decorations in purple and black, so I had to hunt down those colors (and plenty of neutrals)
To create a seating area, I grabbed a couple of big blankets and black and white striped pillows from my bedroom. The blankets weren't the party colors, but the kids didn't care.
It just so happened that I had plenty of leftover black and white fabric from making our master bedroom throw pillows. Add in a birthday banner from the mix and match banner set, and boom – backdrop solved.
Next came a layer of leftover gauzy gold polka dot fabric on top of a purple plastic tablecloth.
Voila, You have a simple setup that only cost us the price of the party snacks. 🙌
You can also shop your home in other ways too.
For example, you could just as easily use throw blankets or bedsheets instead of leftover fabric. Or take a neutral curtain from somewhere else in the house and add some twinkle lights behind it.
It just takes some out-of-the-box thinking.
Now, I know that not everyone has these things available. But with careful selection, you can build up a supply stash too. If you make smart choices in the years you have more money to spend, then it will pay off if you have a year when funds are tight.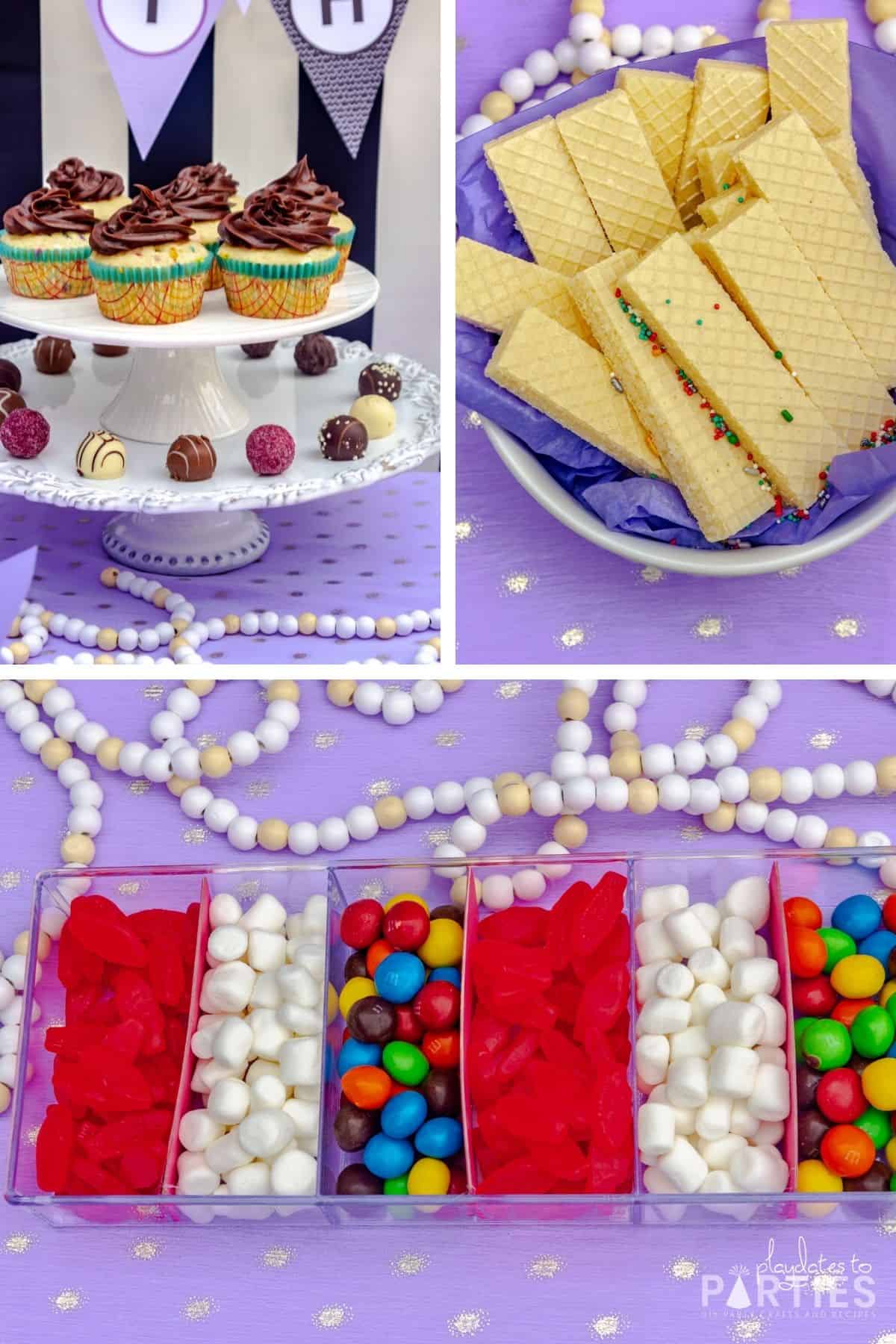 Party Food
I mentioned before that my daughter limited me to creating a concession stand for her outdoor movie birthday party. But even that was simple.
Each of the kids got a white lunch sack (also from our leftover party stash) which they used to hold their own snack mix from the following ingredients:
Chips,
Pretzel crisps,
Vanilla wafers,
Swedish fish,
Chocolate Truffles,
Marshmallows, and
M&Ms
The birthday girl even decorated the snack bags and made the cupcakes for her friends – which is so much more thoughtful than anything store-bought.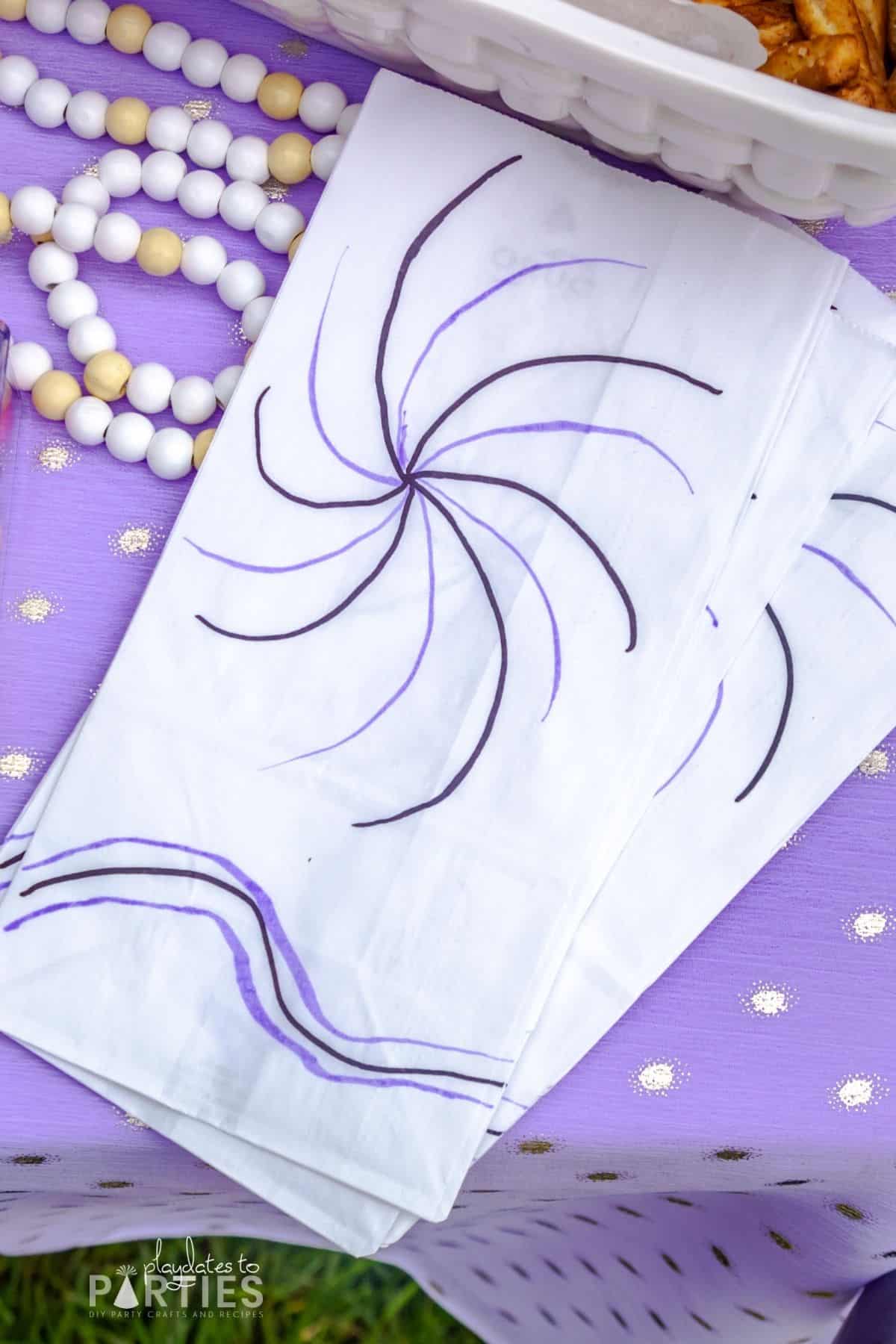 Outdoor Movie Party Setup
We were lucky enough to have friends who own a projector, so all we had to do was figure out how to get the video and audio set up.
Thankfully, my husband set up wifi extenders in our house long ago. So we were able to stream a movie to his laptop, which was connected to the projector for video, and one of our Sonos units for audio.
Then the projector was aimed at a backdrop frame outfitted with a white bedsheet.
Boom. Outdoor movie.
But, there are some problems with Outdoor Movies
Even though we got everything to work, it wasn't perfect.
First, there was the issue of light. The party was in mid-August, and the sun doesn't set until after 8pm. Now, any other year this party would have been a sleepover, so it wouldn't be a problem.
But this was in 2020. So…yeah. Parents were going to be showing up by 10.
There was just too much sunlight for a good viewing experience. Which is why we'll be keeping our outdoor movie nights to spring and fall from now on.
The other problem was the sound.
Now, we love our Sonos units. We've owned Sonos units for 14 years, with four separate units in our house. Seriously, we can't recommend them enough.
But…
The one thing that we (and other Sonos customers) have wished for is a good outdoor system. To be fair, Sonos has started to work on it, but the outdoor setups they offer don't compare with the 7.1 surround in our living room.
Thankfully, the kids were just so happy to be finally spend time together, they didn't care if the movie experience was perfect.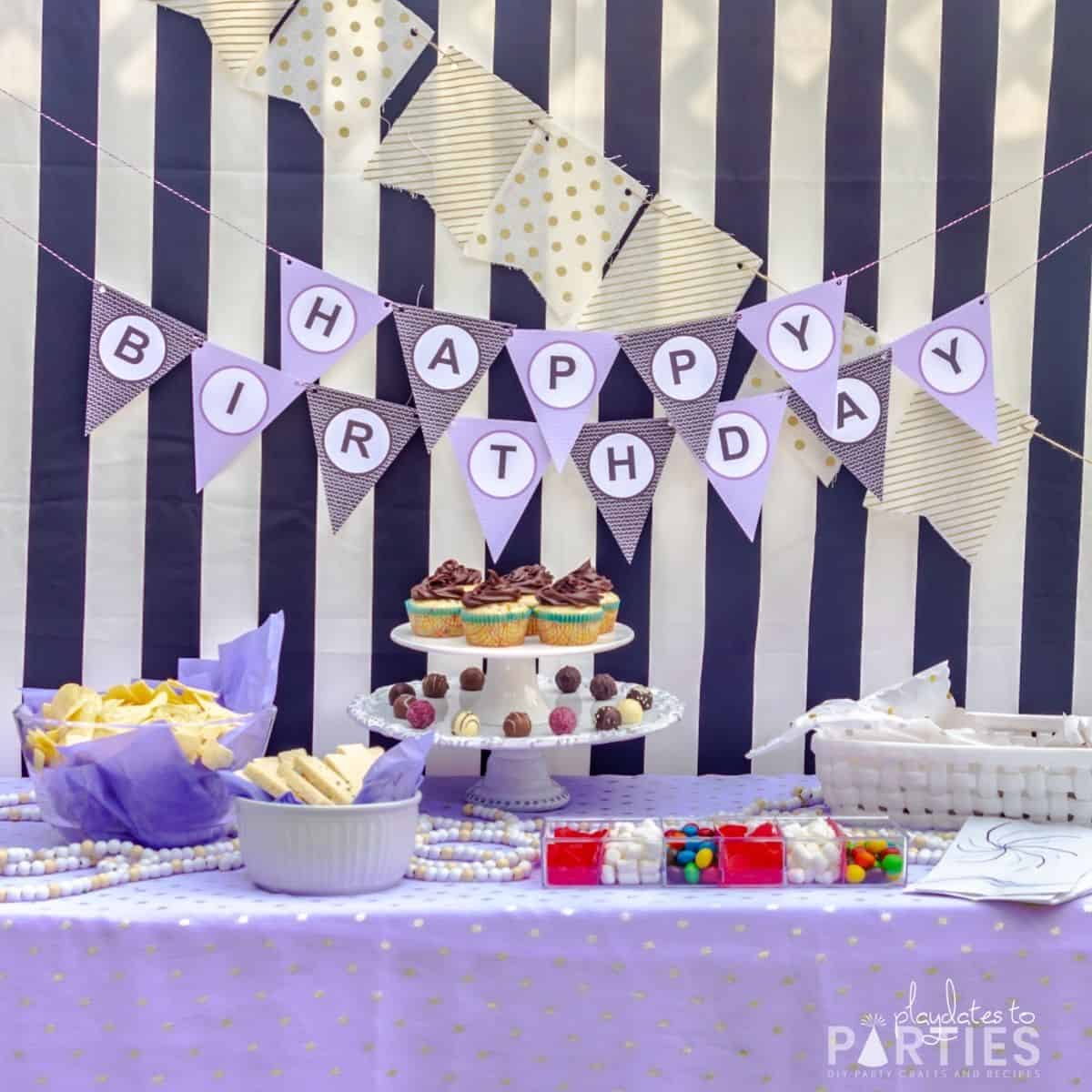 You know, even though life was insane leading up to the outdoor movie birthday party, and our budget those days was nearly nonexistent, we were still able to pull together a birthday that everyone loved.
And I know you can do it too.
Kick the habit of stressing over your kids' parties for weeks (or worse, months) and use these tips above to know you can always be ready for a party…even if you have less than a week to prepare.
I also know it can be overwhelming to keep track of everything that needs to go into a successful gathering. Which is why I created this one-page party planner to help you keep it all straight and make planning your parties as easy as possible. Grab your free copy today.
---