Find out what a golden birthday party is, plus over 30 gorgeous ideas for phrases, food, and DIY decorations to make it truly special.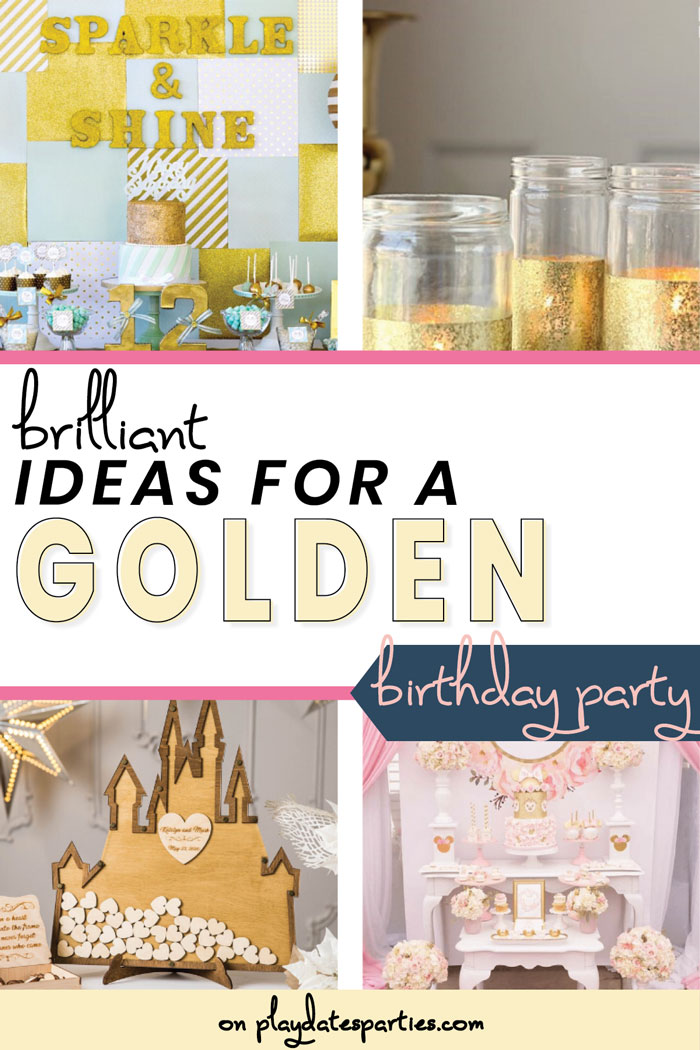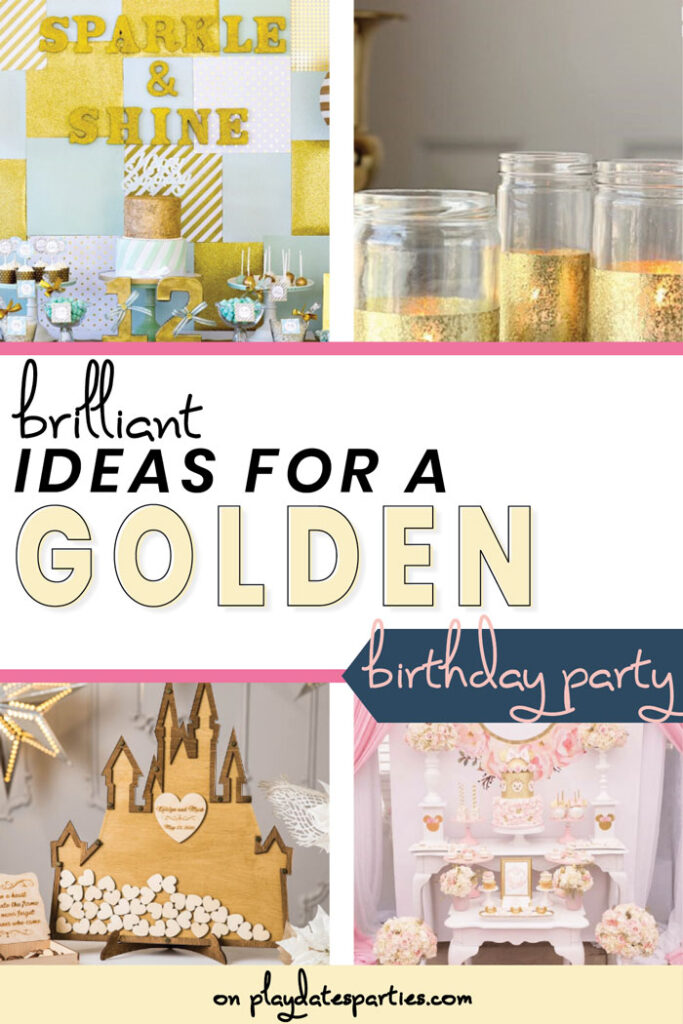 Have you ever heard of a golden birthday?
I've seen reverse baby showers, milk and cookies parties, and even the term swinter (a summer/winter mashup). But when a reader emailed me last week asking for ideas for her daughter's golden birthday, I'll admit, I was off my game.
But it turns out this isn't really all that new of a concept.
So, What Is a Golden Birthday?
Simply put, it's the year you turn the same age as your birth date. For example, if someone is born on March 21st. Then their 21st birthday is their golden birthday.
It's also referred to as a lucky birthday, champagne birthday, star birthday, or grand birthday.
Decorations for a Golden Birthday Party
The most obvious way to decorate for a golden birthday is to include as much gold as possible. (Not that you can't include other colors, but we'll get to that later.)
These fun DIY decorations really caught my eye: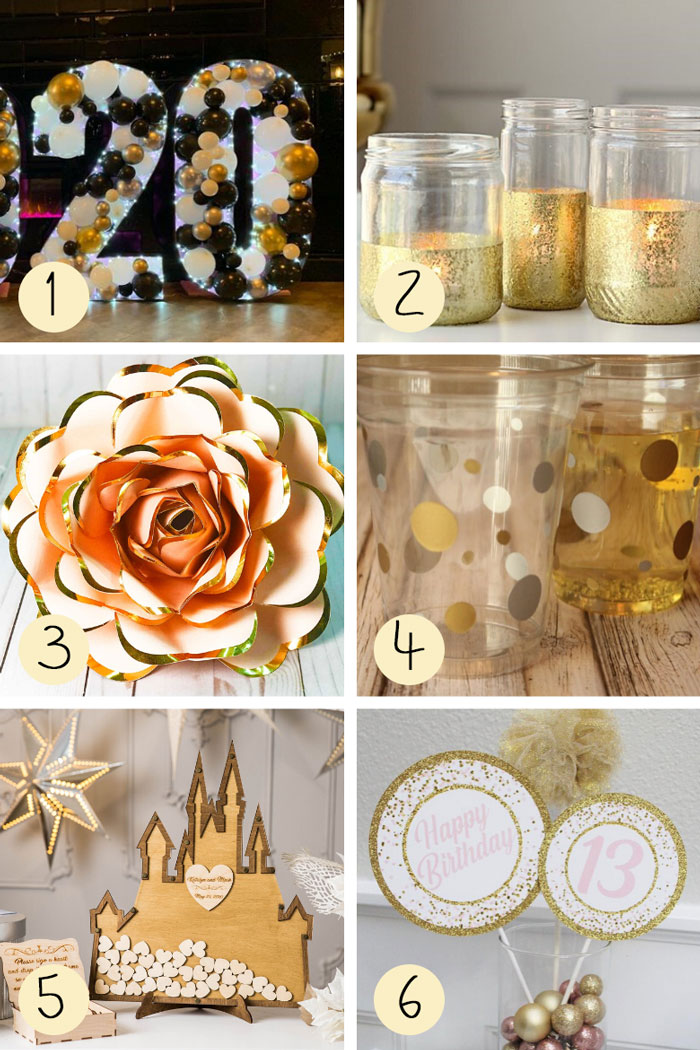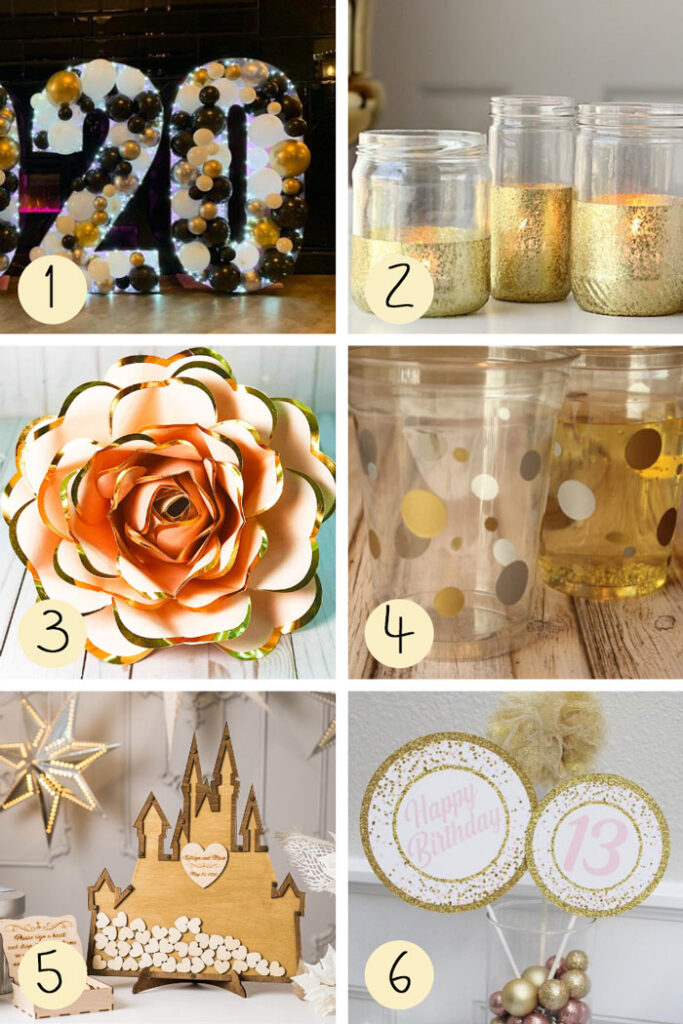 1. Balloon Mosaics
How fitting for a golden birthday to include the birthday date/age in giant balloon filled numbers. They're actually called balloon mosaics; and they're massively on trend right now.
Best of all, using templates like the ones provided by ShopMadeRo, you can DIY your own balloon mosaic instead of having to spend a fortune letting someone else make it for you.
2. Gold Dipped Anything
These gold dipped jars from Mason Jar Crafts Love are just stunning. Use them for vases, to hold utensils, as candle holders, and so much more.
But you don't have to let the gold dipped goodness stop there. The same effect would be adorable on the ends of wooden spoons and forks, on the stems of glasses,
3. Rose Gold Paper Flowers
*Sigh* I just love the look of giant paper flowers. And this giant rose gold paper flower is perfect for a golden party (especially if the guest of honor happens to be a little girl). Use several to make a backdrop behind your party table, or place a few strategically around your table as accents. Either way, they're sure to be a hit.
You can get a copy of the template and find how to make this same flower over here.
4. Gold Polka Dot Party Cups
Want an easy way to dress up your party without a lot of effort? Mom Endeavors shows how to use a cutting machine to dress up simple clear plastic party cups with fun gold polka dots.
She made them for a New Year's Eve party, but you could adapt the idea for any shape or theme. Gold crowns, gold stars, gold Mickey shapes. You're only limited by your imagination!
5. Drop Top Guest Book:
Isn't that castle shaped drop top guest book just stunning? These are more commonly seen at weddings these days, but they would be adorable as bedroom decor after the golden birthday party is over; especially if your little one's golden birthday happens to be a first or second birthday.
They can get pricey, however, so if you've got the time, you can also try making your own. Havoly made a thorough DIY tutorial for a standard rectangular drop top guest book, and you could easily add a castle, or any other shape inside the frame as an accent.
6. Golden Birthday Party Printables
You know I love party Printables. I honestly believe they're the easiest way to get a fantastic looking party on a budget. I love the sparkly effect of this set of party printables, and the fun signs.
This set of birthday party printables from 5MCreations is actually designed specifically for a golden birthday, making it perfect for just about anyone.
More Gold Party Decor Ideas:
Looking for easy, store-bought ways to infuse a lot of gold in just a little bit of time? Here are some great options: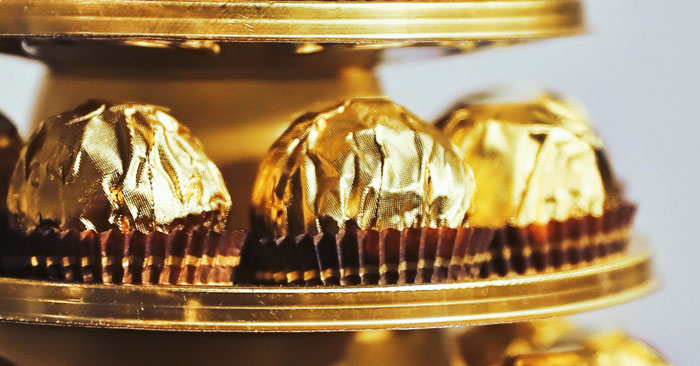 Gold Party Food Ideas
When you have a party theme that's based around color, including plenty of food in that color scheme truly takes your decor to the next level.
For a golden birthday party, you can add edible gold glitter to cupcakes and donuts. (add gold colored frosting (see how here), and you'll really shine!) You can also use gold food spray on solid items like ice cream cones, or cookies.
Here are some gold and yellow foods to keep the theme going:
Fererro Rocher chocolates
Caramel popcorn
Caramel apples
Butter crackers
Corn on the cob
Deviled eggs
Lemon cake or cookies
Golden Birthday Party Sayings
Add a little pun to your party with sayings and phrases sprinkled around the decor. You can use these phrases as is, or adapt them to make something truly unique:
Today, I am golden.
Shine like gold, sparkle like glitter.
Glorious and Golden
She leaves a little sparkle wherever she goes.
All that glitters is gold, our [child's name] is [age] years old!
Officially a golden girl
You are the gold standard. Happy birthday!
As good as gold
Gold Parties to Copy
This is my favorite part: seeing how other people have used gold to decorate their parties! These three parties all feature gold prominently in their designs, but all in dramatically different ways.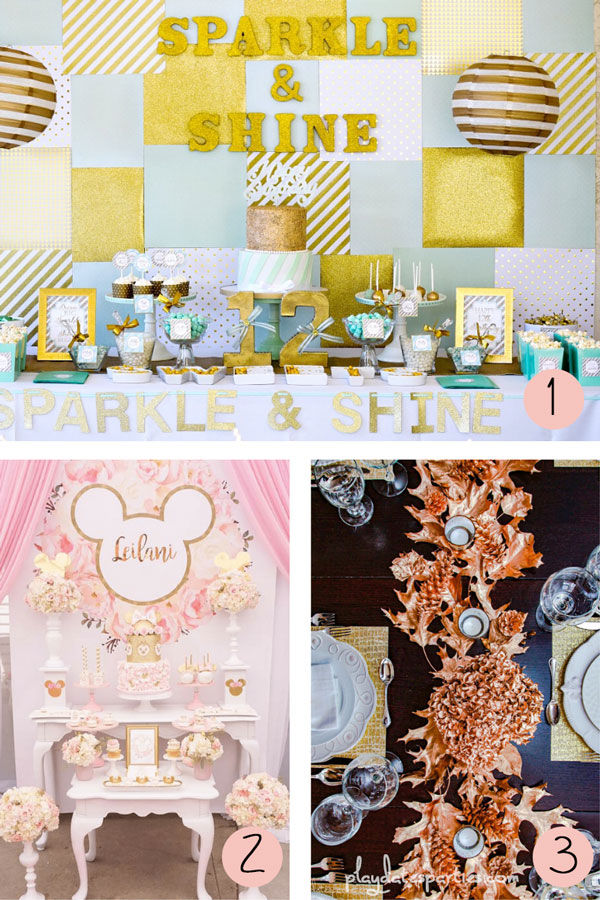 Mint and Gold Party by Style with Nancy
I have to admit, this mint and gold party makes me swoon, and it's a fantastic example of using contrasting colors to make your party theme pop. The mint color is also a fantastic option for boys or girls.
Details to Recreate:
That amazing card stock backdrop
Moving the banner to the front edge of the table and using 3-dimensional letters for the backdrop
Pink and Gold Minnie Mouse Party by Tinselbox
This Gold Minnie Mouse Party by Tinselbox is another example of a party that uses a complimentary color as part of the theme. nother color.
Details to Recreate:
Add some drama by creating a curtain effect. All you need is a DIY backdrop frame and either gold sequin tablecloths or curtains in a contrasting color.
Adapt the concept of gold decals used to reinforce the Minnie theme, by using a shape that matches your secondary theme. (e.g. Gold crowns for a princess theme)
Gold Thanksgiving Table
Okay, so this is technically gold Thanksgiving decor, so it's a little different than most kids parties. But that doesn't mean you can't use it as inspiration for other celebrations.
Details to Recreate:
Painting found items with gold spray paint. For birthday parties, that could be dried flowers from your backyard, cheap plastic toys that match the theme, and even old paper crafts (yes, you can spray paint card stock paper crafts!)
Use gold washi tape to quickly add a bit of sparkle on a budget. Here are some tips for using washi tape in party decor.
More Unique Party Tips and Inspiration
Now It's Your Turn
I have to admit, I'm kind of sad that I missed out on celebrating my golden birthday. But none of my kids have had their golden birthdays yet, so I'm looking forward to celebrating it with them. And thanks to my readers, I now have a head start!
Here's a quick recap of some of the awesome golden birthday ideas we've looked at today:
6 different DIY gold party decorations
8 quick and easy store-bought ways to add a punch of gold to your decor.
10 ways to add gold or yellow to your party menu
8 phrases and sayings to sprinkle throughout your party decor
3 gorgeous gold parties with ideas worth copying
When was the first time you heard of a golden birthday?
Has this list inspired you to create something new?