This stunning Frozen luau party is full of easy DIY projects and simple tips that you can absolutely recreate for a special little girl in your life.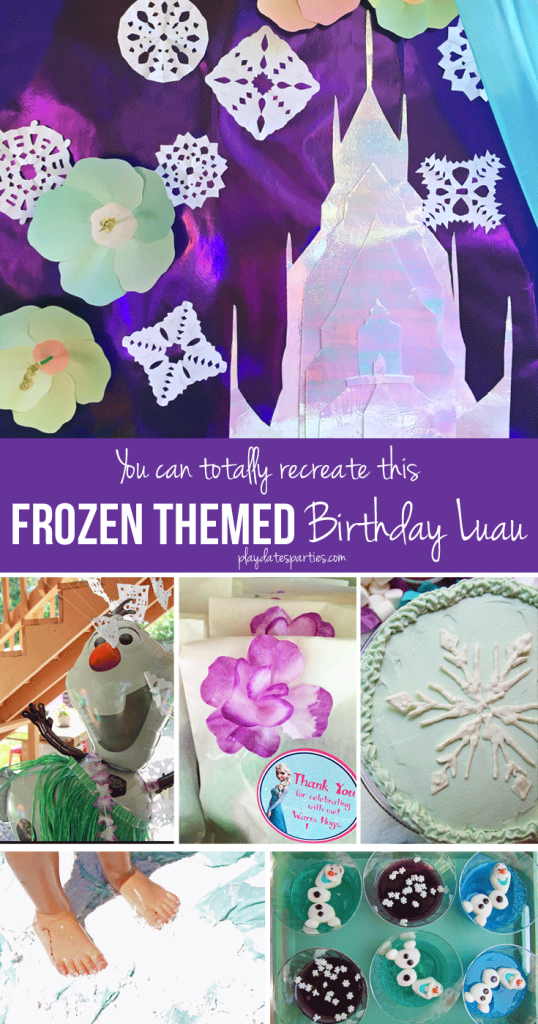 My first daughter was born in 2009. My second daughter was born in 2012.
The movie Frozen was released in 2013.
I was doomed from the start. At some point a Frozen birthday party was inevitable.
The time finally came last June, when my second-born daughter decided she somehow wanted to combine the movie Frozen with a backyard pool party. Unfortunately, all that research I did for Frozen-themed birthday party inspiration didn't take the pool party aspect into account. Yet, while a Frozen summer pool party may sound contradictory, we were able to bridge the gap and create a whimsical Frozen Luau birthday party that made everybody happy.
In the end, our newly re-done backyard became a tropical paradise, with a bit of a snow problem. It may look like a lot, but trust me, you can absolutely recreate this party in your own backyard!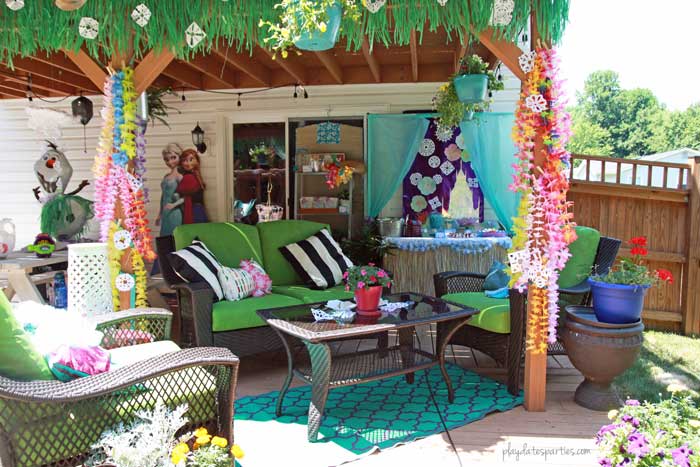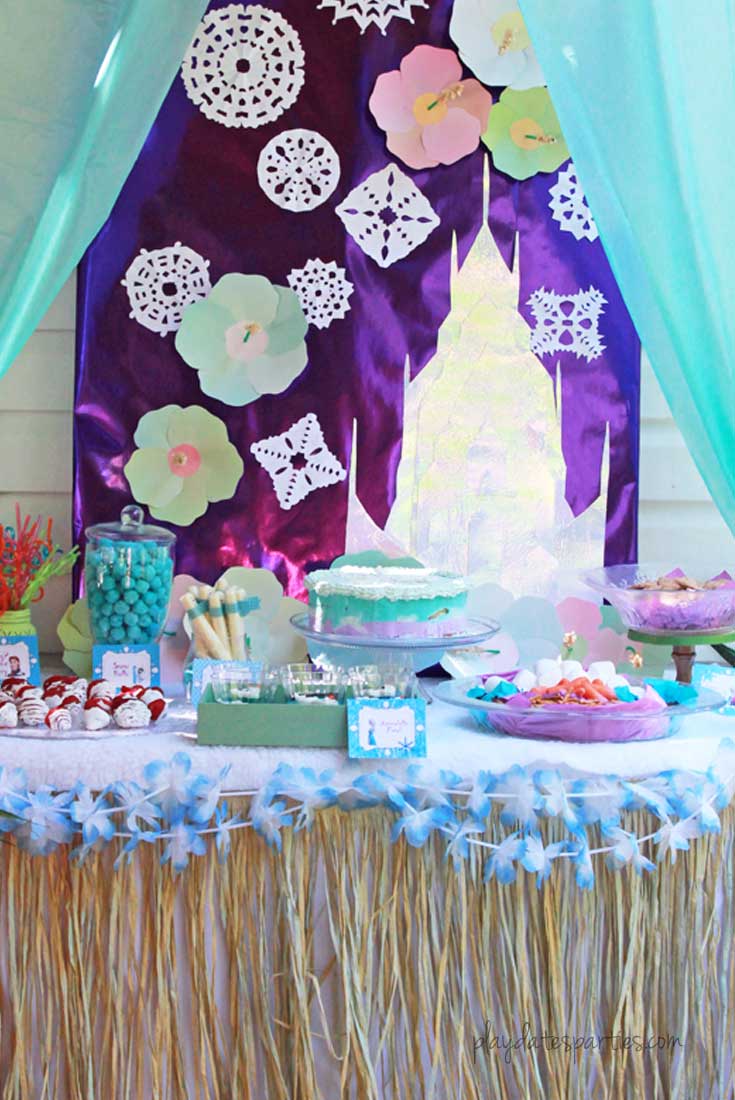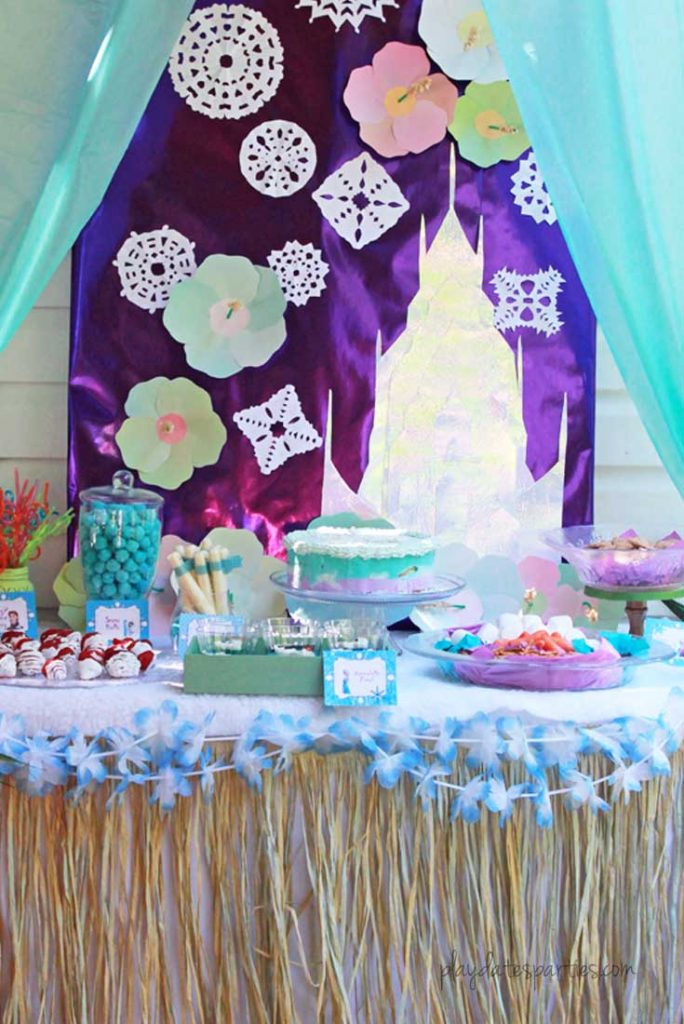 Getting the kids Involved
I love crafting and creating my own decorations and foods for our kids' birthday parties, and this Frozen Luau party is no different. But one change made a huge difference in my prep time: My oldest got involved by making dozens of paper snowflakes. It was a fantastic way to keep her occupied during the first couple weeks of her summer break and became a central part of the party decor.
After I taught her a few basic techniques for making paper snowflakes, my then 6-year-old spent hours each day cutting out snowflakes of all sizes and shapes. It was so much fun to see all the different patterns she came up with. Truly, no two snowflakes were the same, and we were able to use them in almost every part of the party decor.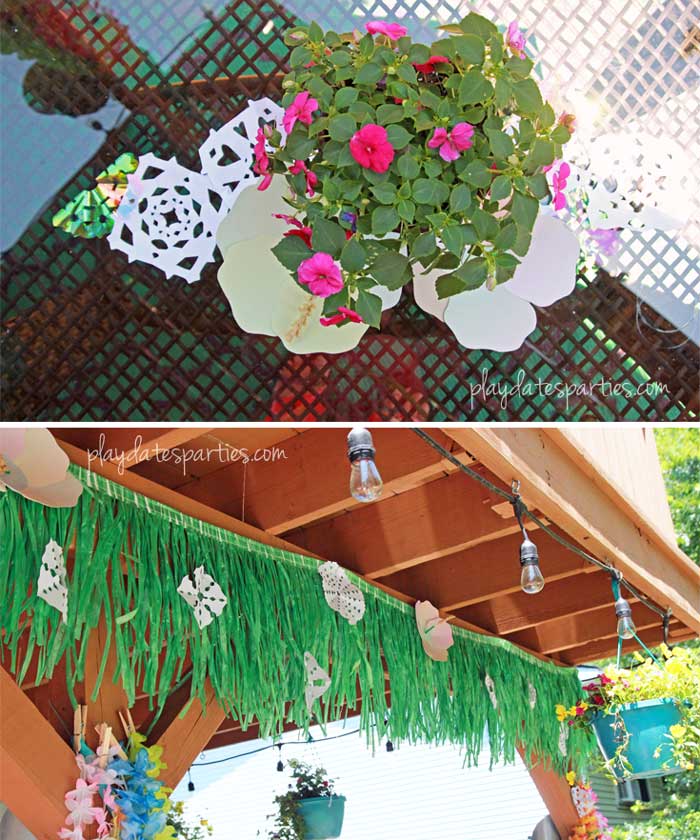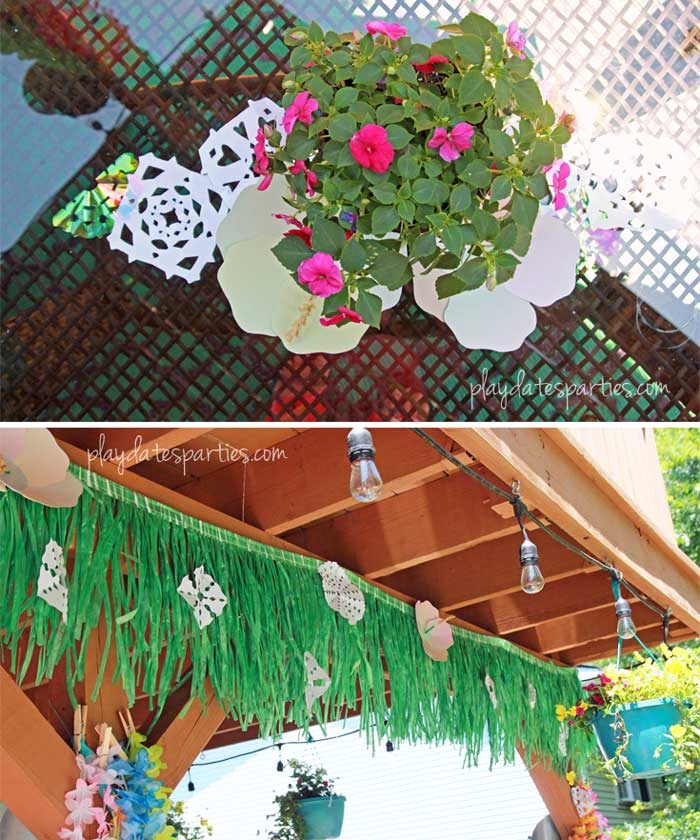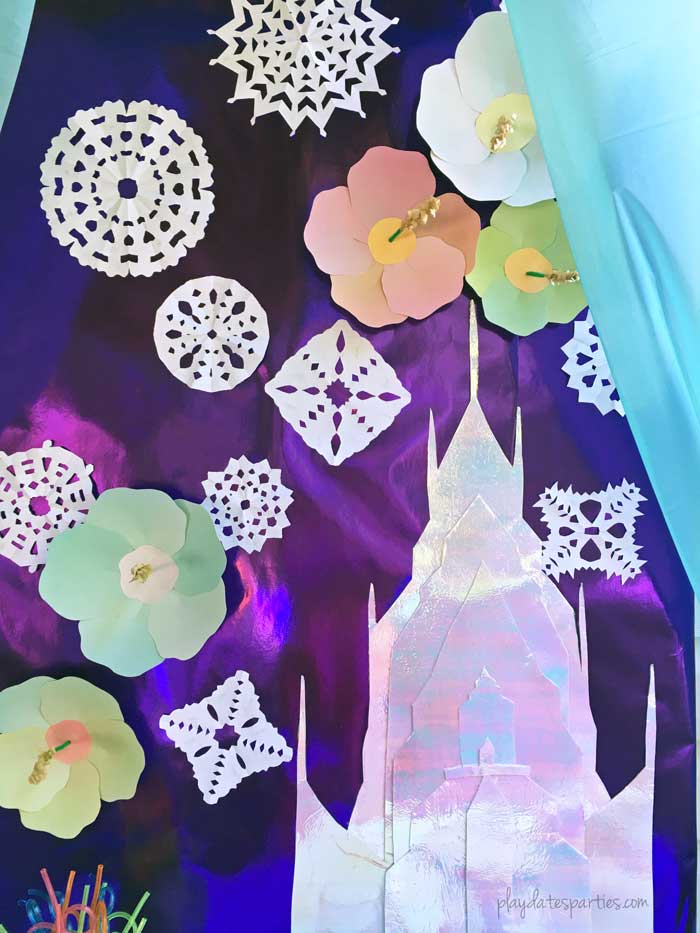 Her best snowflakes were displayed at the party table, where a slightly 3-dimensional, shimmering ice castle was surrounded by paper hibiscus flowers and T's paper snowflakes. The remaining snowflakes were intertwined with the grass skirts, Hawaiian Leis, and even around a fun surprise – Olaf and his very own flurry!
I couldn't help myself. He had to wear his grass skirt and lei as well. Can't you just hear him singing "In Summer?" right there on our picnic table?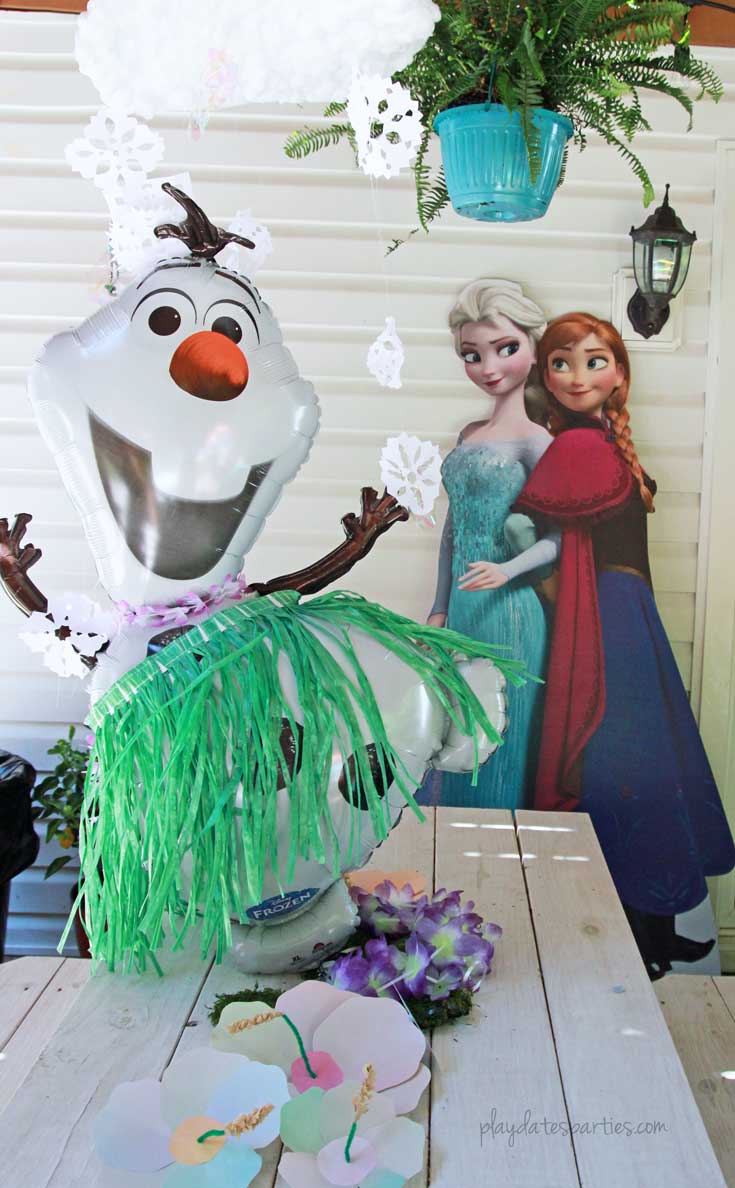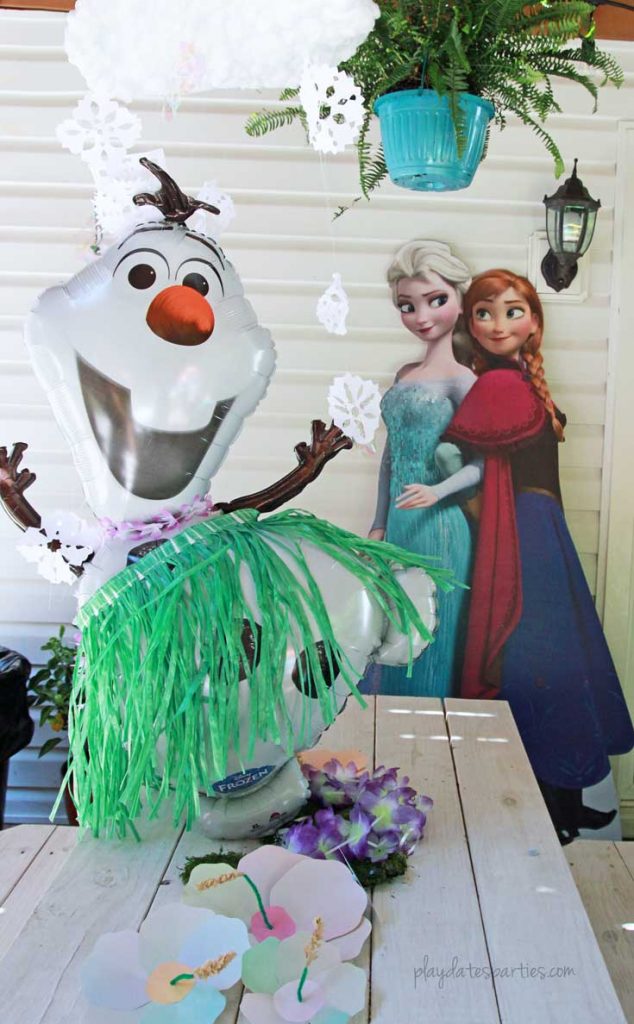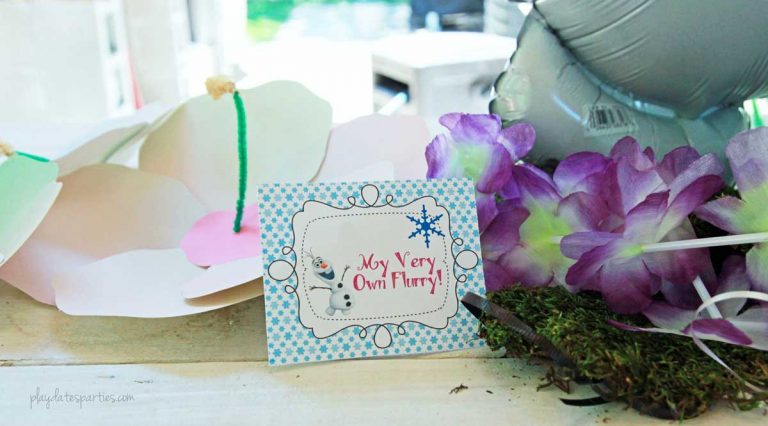 The very best part of getting my oldest involved was how she wanted to provide personal touches of her own to help celebrate her sister. Even after all that time making paper snowflakes, probably the most personal touch was the welcome sign she made using sidewalk chalk and the girls' Ikea art easel.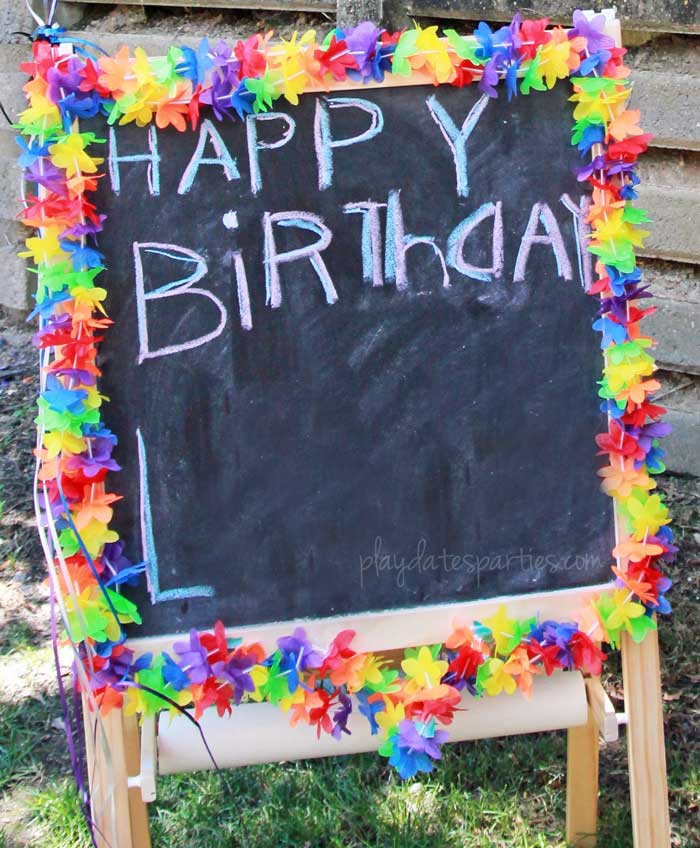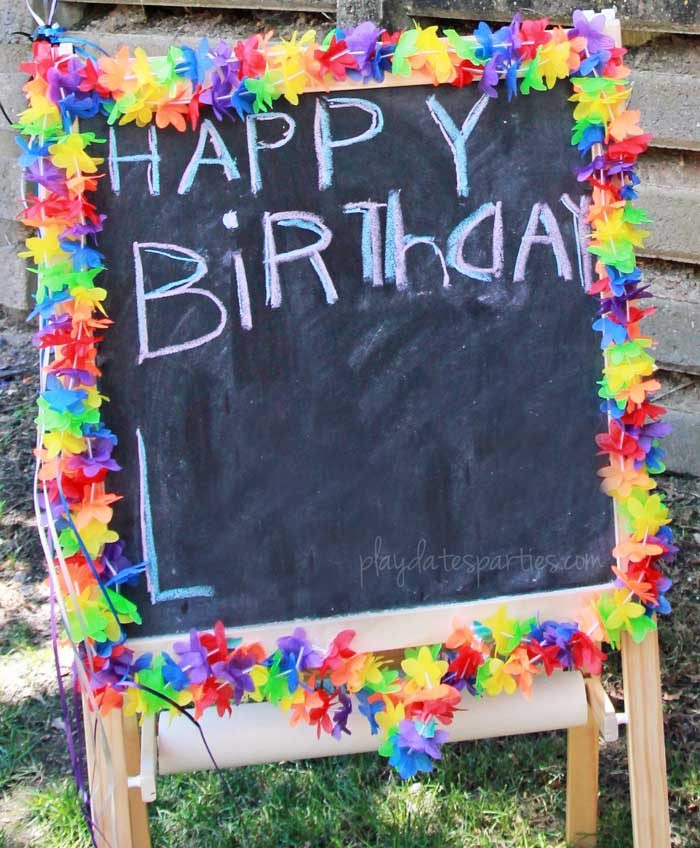 Frozen Luau Party Foods
We hold most of our parties during afternoon snack time. This really helps to simplify the party prep because we don't have to worry about serving a full meal's worth of food for the kids. Though we do try to provide a variety of healthy foods in with the treats. Our Frozen luau snack table held all sorts of Frozen-themed goodies including:
Cheese stick snowmen,
Snowballs (cotton candy cheese balls),
Frozen hearts (white chocolate covered strawberries),
Frozen portraits (graham crackers),
Snowman pieces (a tray with marshmallows, pretzel sticks, chocolate chips and carrots), and
Floating Olaf jello cups.
It turned out to be the perfect mix of homemade and store-bought treats.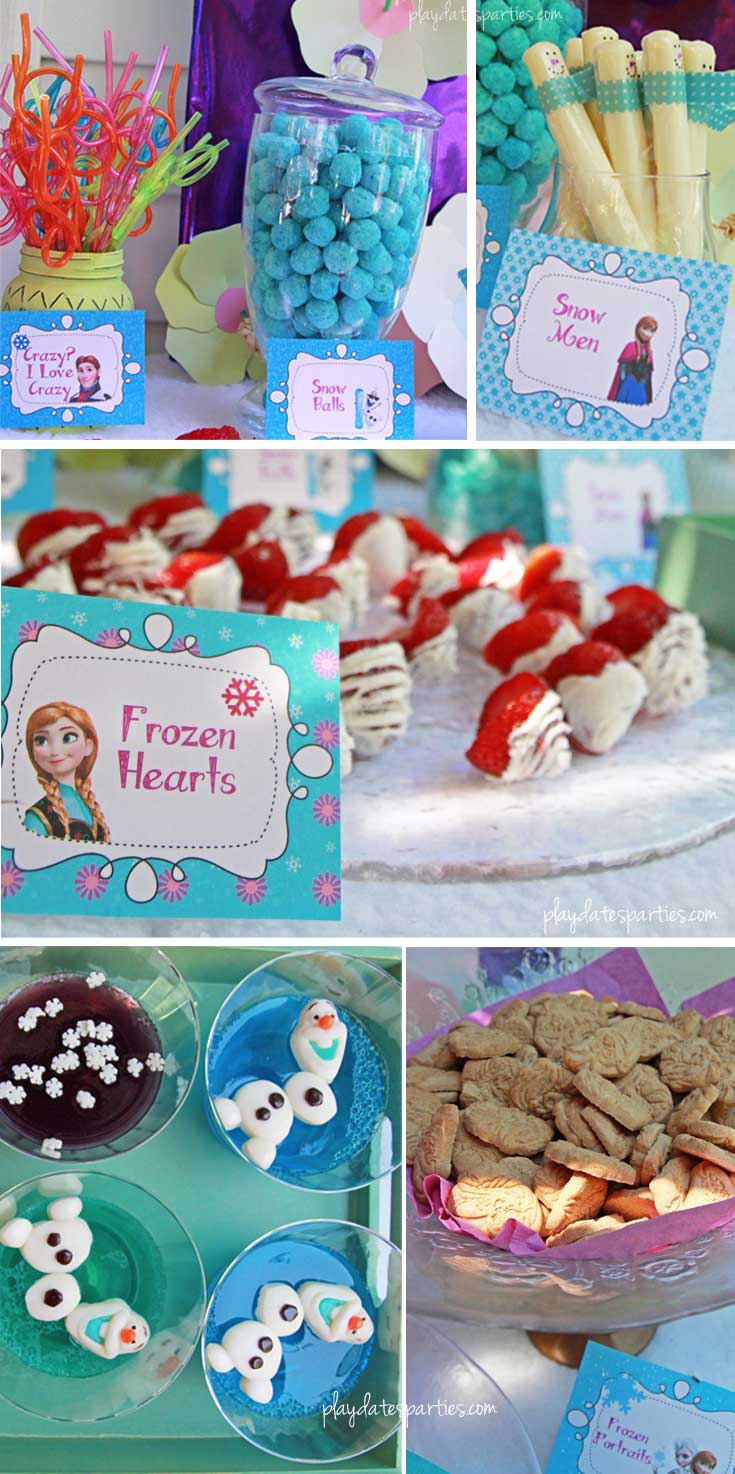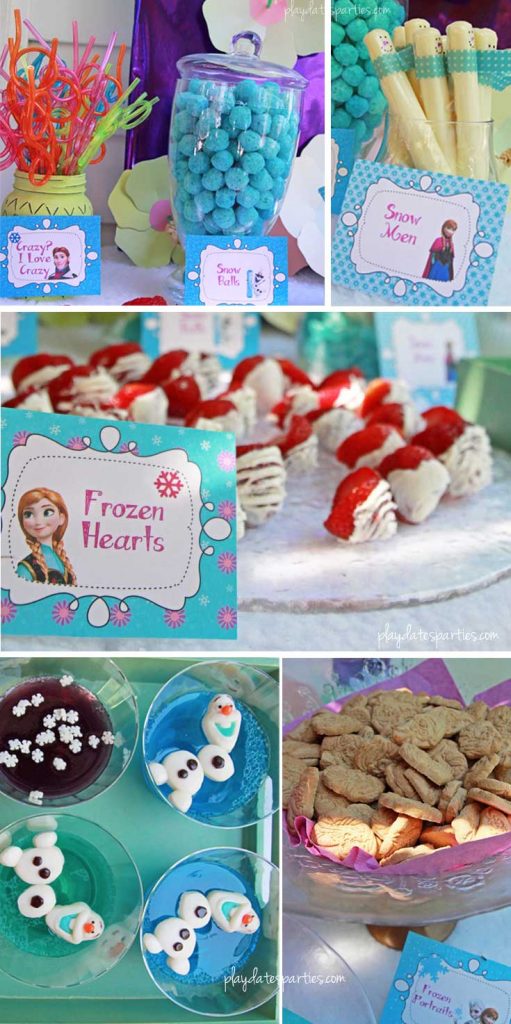 We're big fans of silly puns around our house, which was evident throughout the table. Seriously, I couldn't help quoting Hans with the crazy straws. "Crazy? I love crazy!"
Frozen Luau Party Activities
In addition to our inflatable backyard pool, we set up a super easy 'snow beach'. All you need is a blue plastic tablecloth and LOTS of fake snow.  The kids loved squishing their feet and hands in the snow and carrying it over to the pool.
A word of caution: The fake snow killed any grass that it touched. Thankfully, the yard seemed to recover by the end of summer, but my husband was not too happy with the brown trail of dead grass that was left between snow beach and the inflatable pool.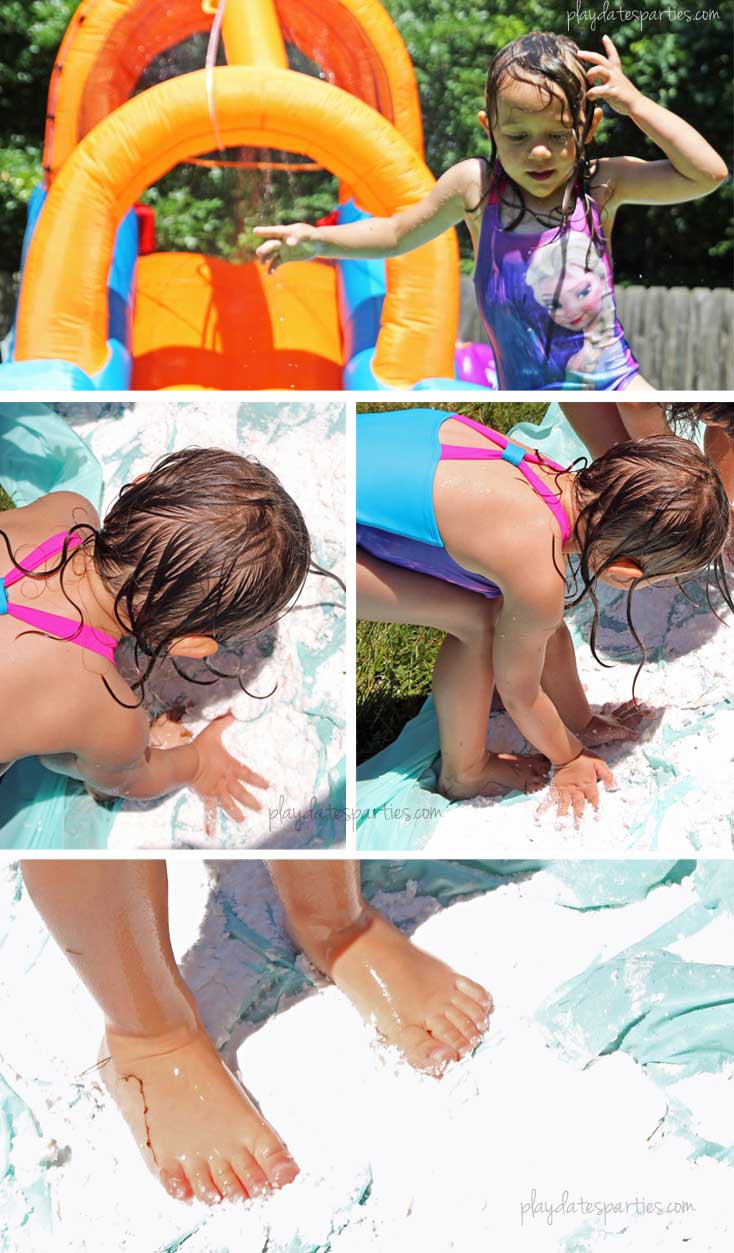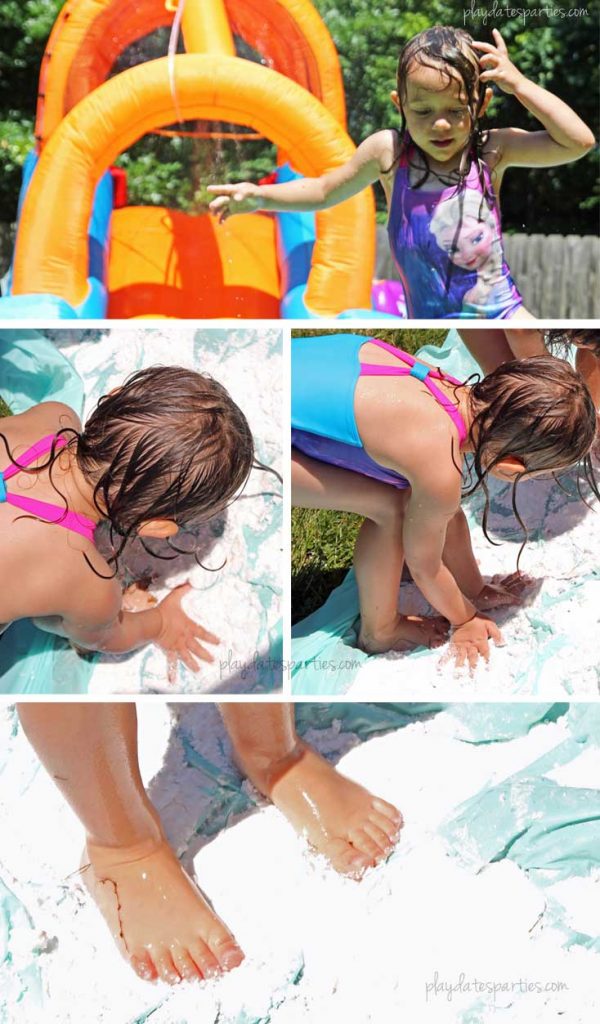 Then again, what's a party without a surprise? We surprised all of our guests with a shaved ice truck during the party. It turns out that the price for the truck is very reasonable, so we couldn't resist adding such a special treat.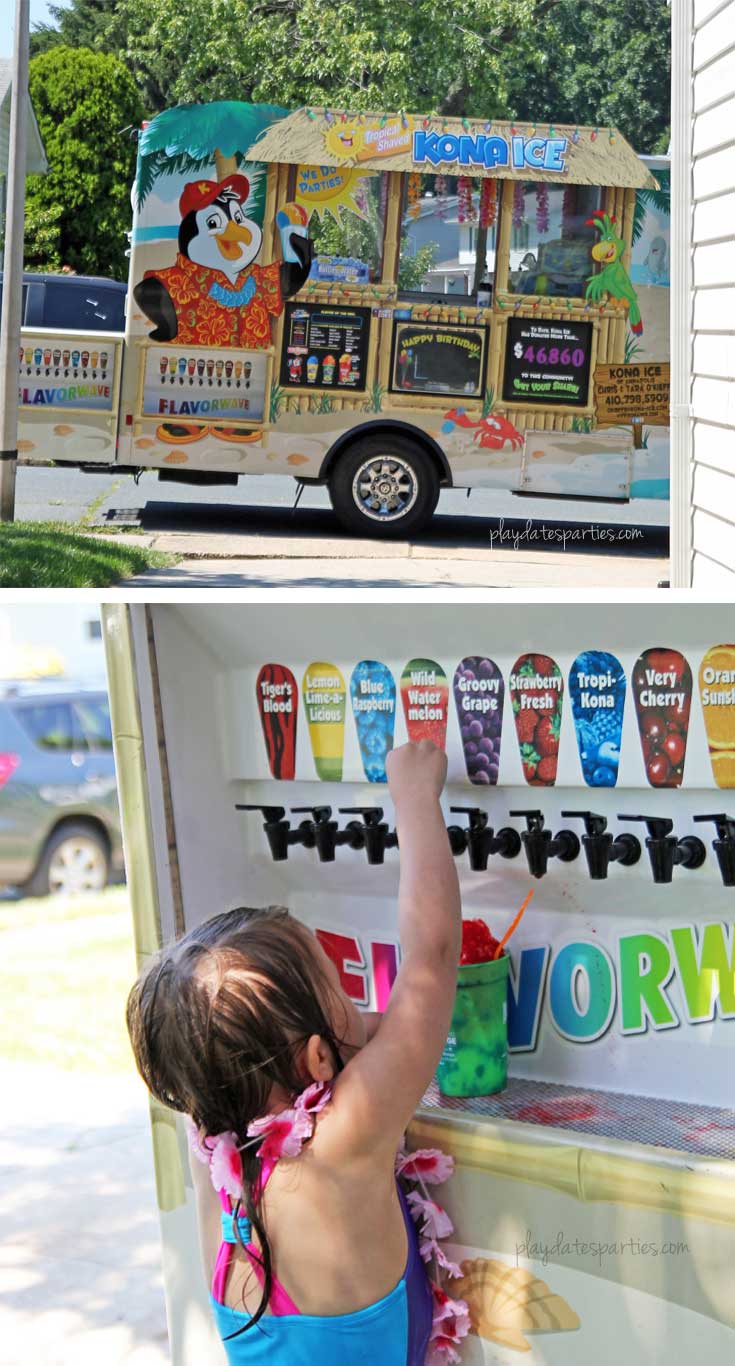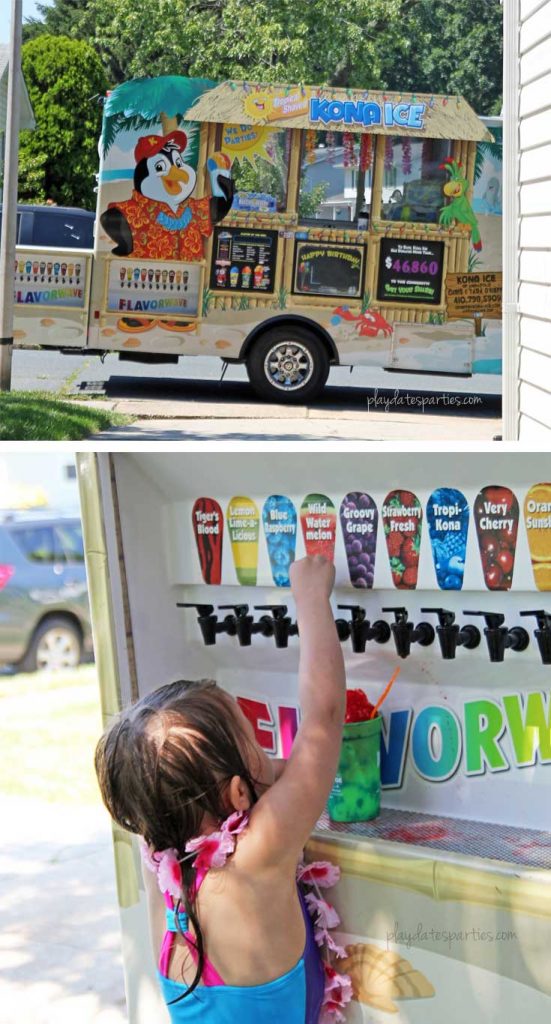 The Frozen-themed Ice Cream Cake
By the end of the party, the kids were exhausted. But, exhausted kids still love birthday cake! And with the warm temperatures, a frozen-themed ice cream cake in bright blue and purple fits the bill perfectly. There wasn't a single slice left at the end of the party.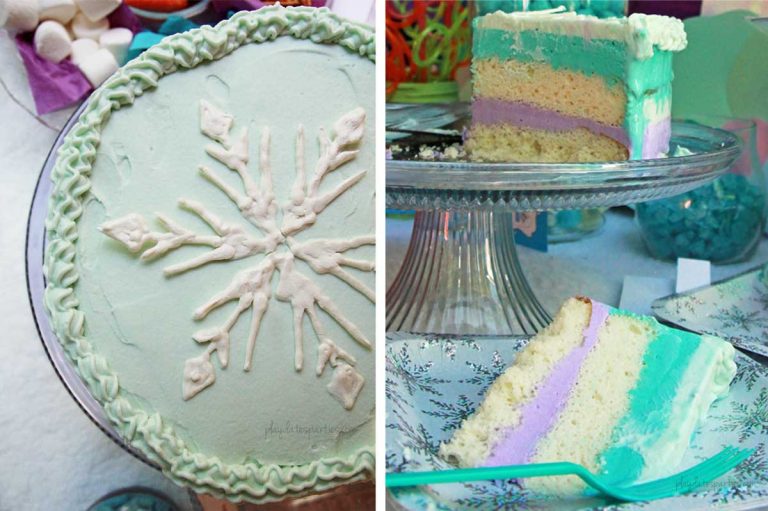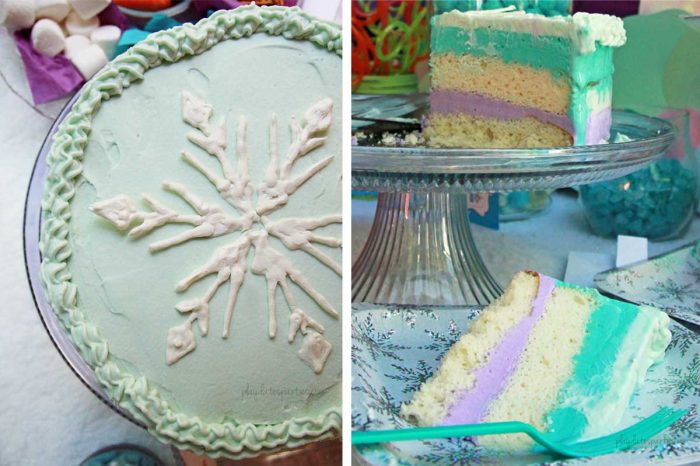 Guests left with their bellies full, worn-out kids, and glassine bags filled with even more Frozen-themed goodies. The flowers on the bags were a last-minute addition that made such a difference. (And yes, we kept the puns going long after the party was over.)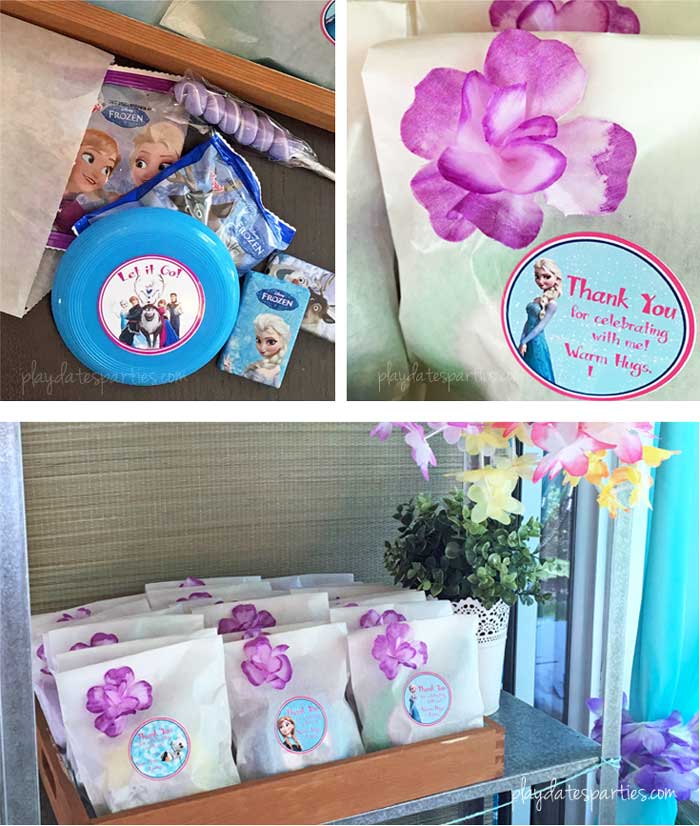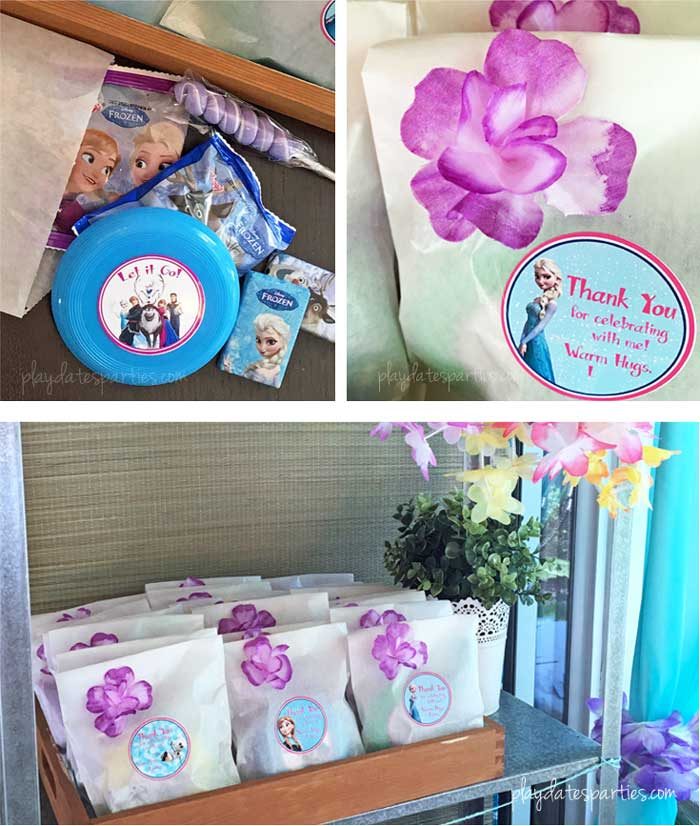 So How Can You Recreate this Frozen Luau Party?
Tutorials will be coming over the next few weeks, but here's a quick recap:
Host the party at snack time to make the menu simple.
Find plenty of store-bought Frozen themed snack food.
Make a few homemade treats.
Fill in the rest of the snacks with semi-homemade treats like Olaf Jello and Snowman Cheese Sticks.
Make LOTS of paper snowflakes. Get the kids involved and have fun with it!
Make a simple shimmering ice castle for your backdrop.
Buy leis in bulk and then hang them everywhere. (Don't forget to mix in some of those snowflakes)
Make a snow beach with fake sensory snow
Serve an ice cream cake to keep you cooled off.
Even though I'm officially tired of it, I'm kind of glad that the movie Frozen came out right after my girls were born. Combining our favorite inflatable pool with a luau theme and moments from the movie was a fun way to put a new spin on Frozen themed birthday parties.
How would you combine the movie Frozen with a luau theme?

Subscribe via
Bloglovin, Facebook, and Twitter
to get more updates!
Don't forget to check out these awesome posts:
[pt_view id="e559ef84e6″]