August will be here before you know it. With it comes both T's seventh and E's first birthdays. And I'm still winding down from L's birthday party that was a couple weeks ago. We never intended to have three kids born within 10 weeks of each other. But you just can't really plan these things, can you?
And as much as I love to throw parties, I'm starting to think that one giant birthday bash is the way to go. T is on board. She loves the idea of anything over-the-top. L still wants her own party. Of course, E is still too young to care.
But then, if we do have a giant birthday bash for all of our kids, what themes would we use? I need a theme that is good for both boys and girls, and spans 6 years of personality.
I think that may be one of the reasons I love all the camping themed parties that are trending these days. It's not just the rustic elements. It's that camping parties are good for all ages and genders. It really is a very versatile and fun theme to work with. Just take a look at these 10 camping parties, and find out how easy it is to recreate them.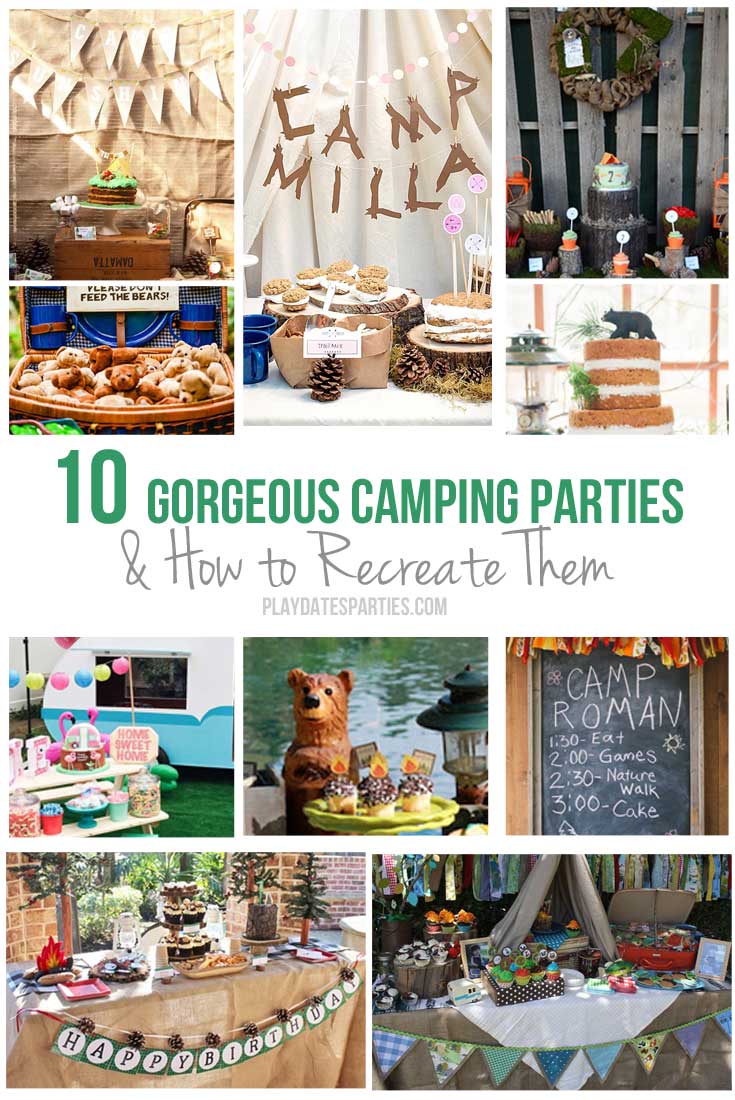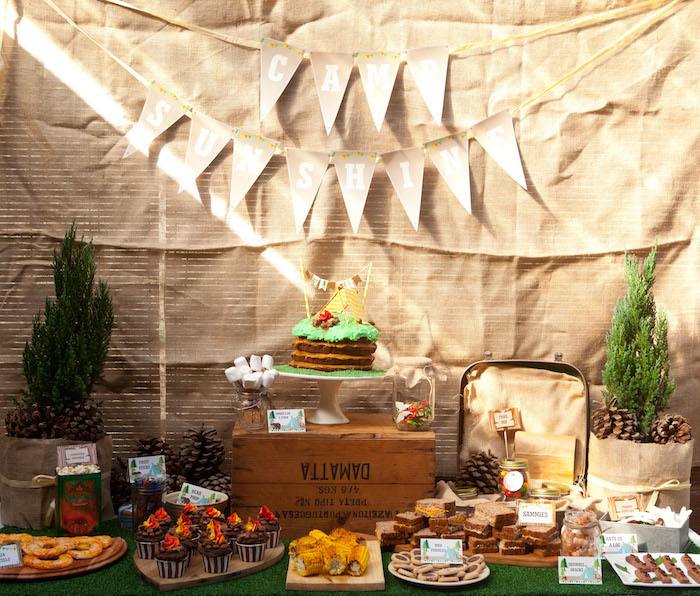 Don't let that table fool you. It looks so simple, but it pulls in just enough outdoor elements without feeling being overwhelming. The star of the show is that adorable cake, with a teepee and campfire topper. But other elements, like the trees, pinecones, and faux grass make you feel like you're on a fun hike in the woods.
Elements to Recreate:
Real evergreens with paper bags over the pots
Dried pinecones
Creative names for foods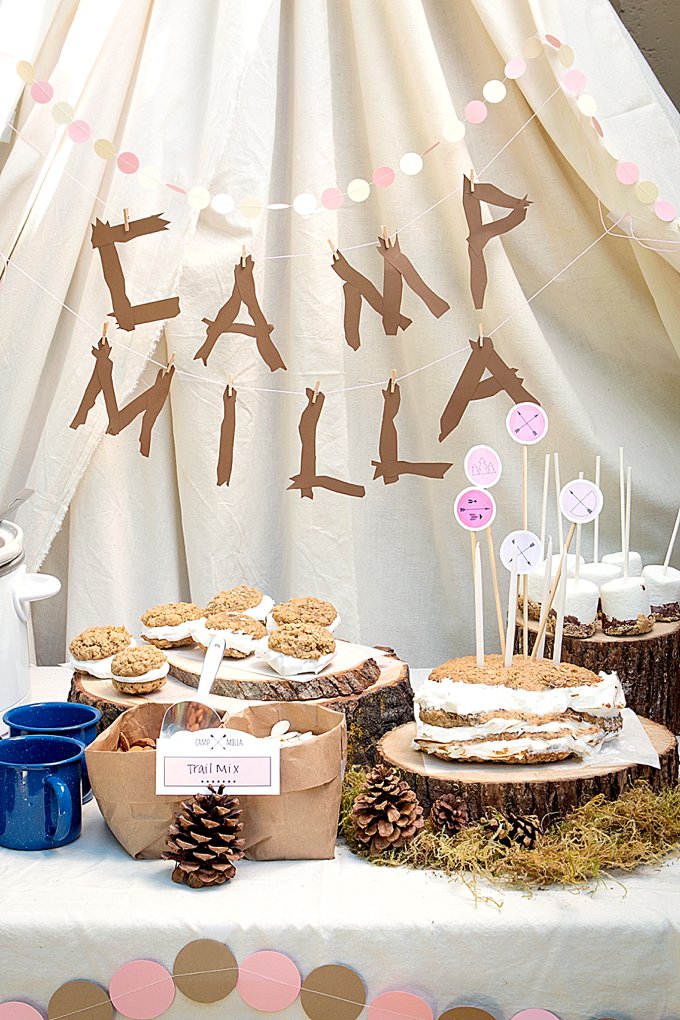 This party is just so adorable. I love that there's just enough pink in the color scheme to make it a little bit girly.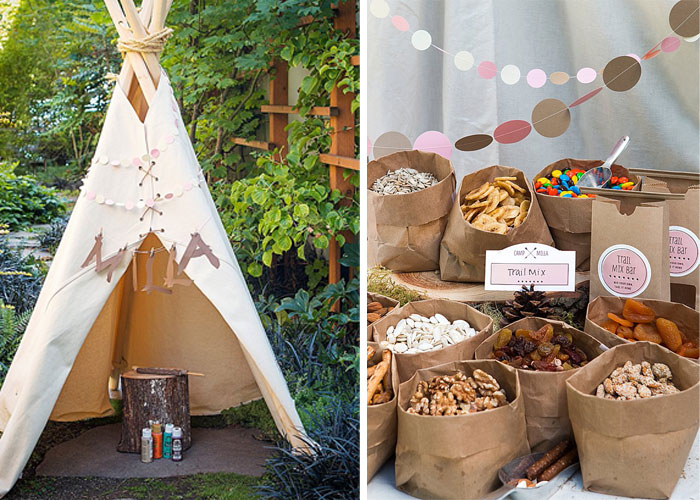 Elements to Recreate:
Full sized teepee for kid play
Paper bags used to hold food
Pinecones used as label holders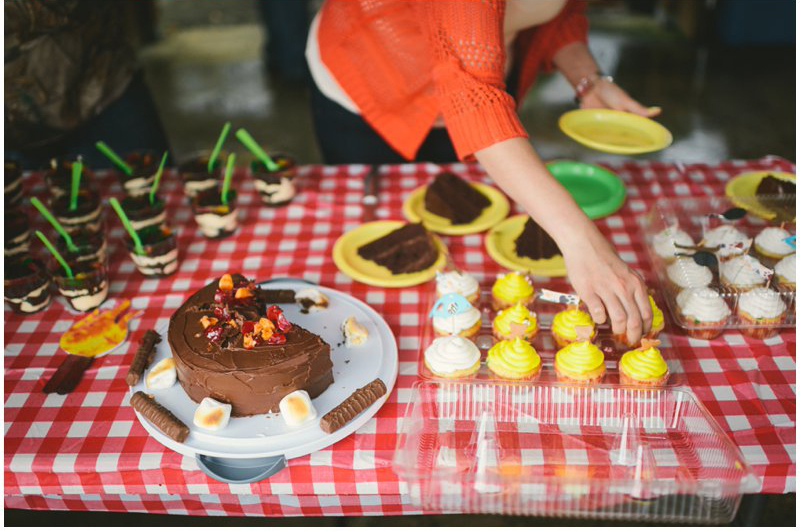 There are so many cute elements to this party. Dena enlisted the help of her very talented friends and family to create a fantastic picnic for her son.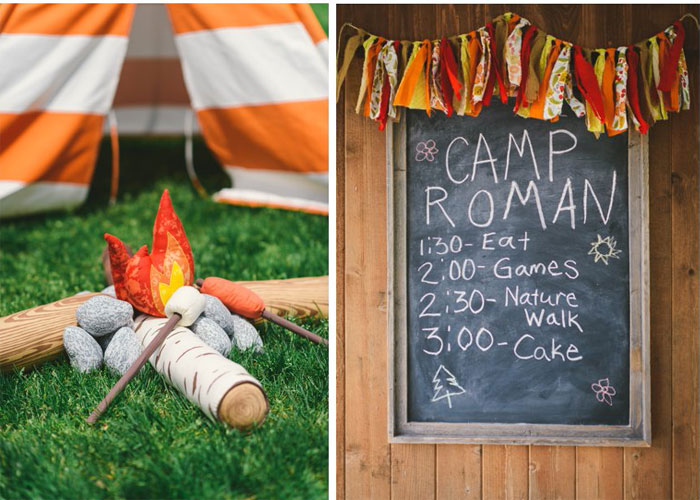 Elements to Recreate: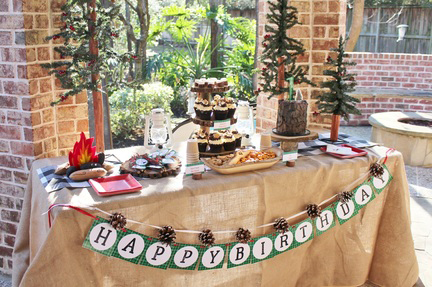 What an adorable theme for a first birthday party! The green plaid is the perfect accent to the fake trees and the burlap tablecloth.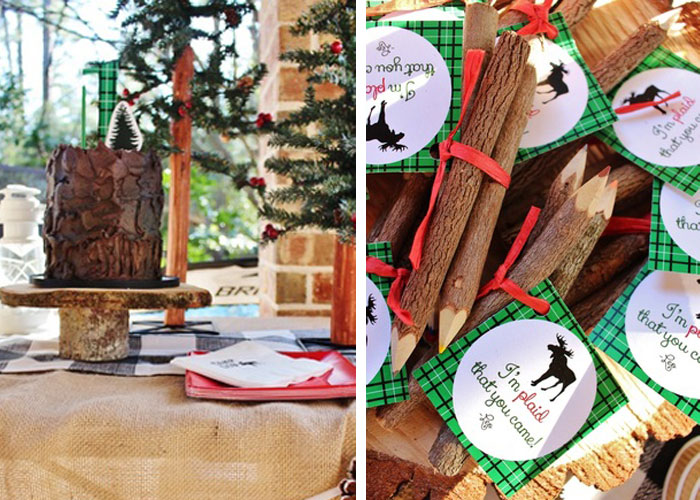 Elements to Recreate:
Rustic cakes made with brown frosting to look like tree stumps
Twig pencil favors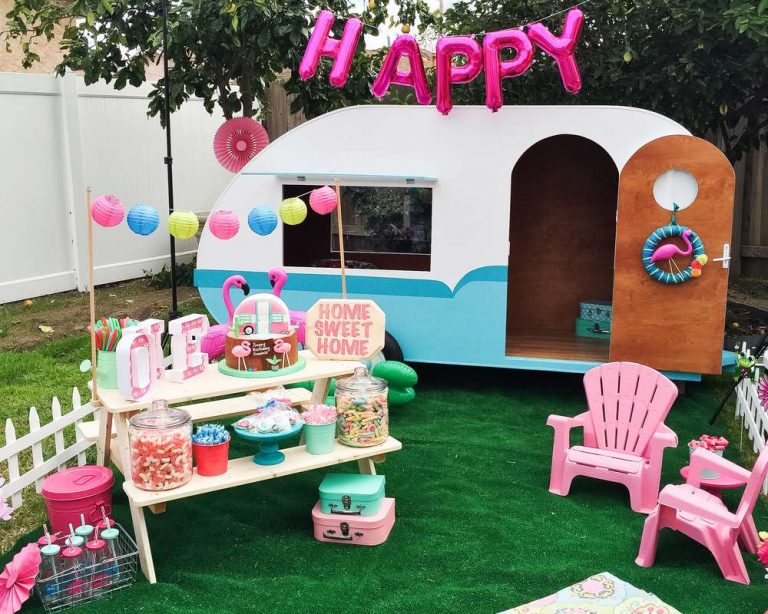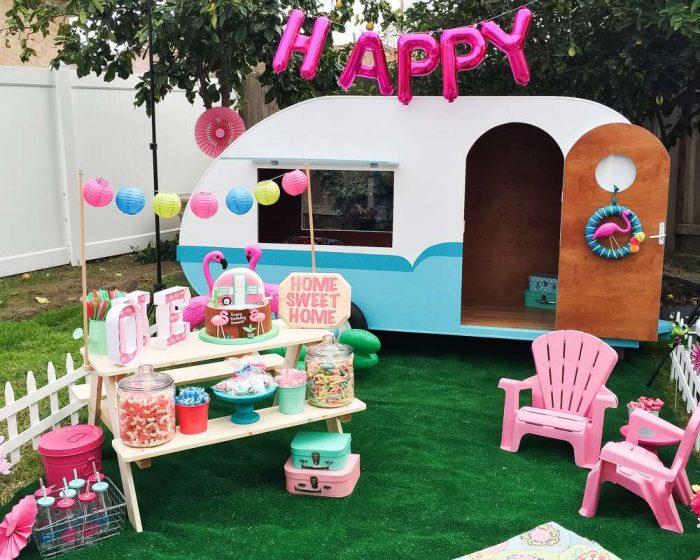 If you want a twist on the camping party theme, you'll love this kitschy camper party. I especially love the bright colors and the quirky accents.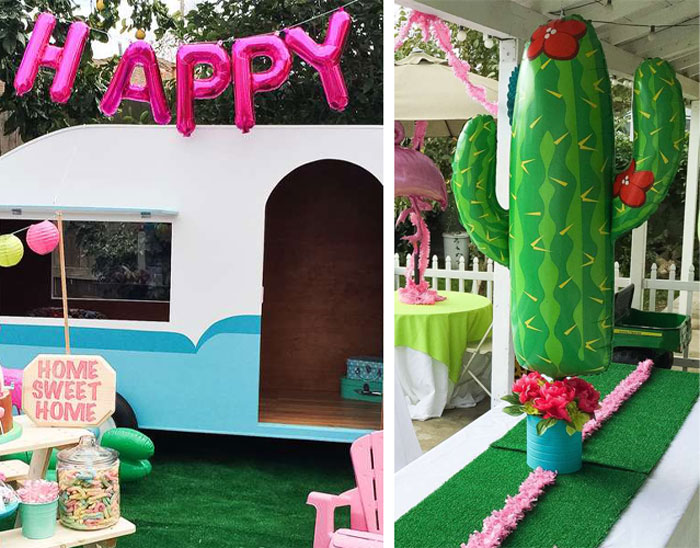 Elements to Recreate:
Brightly colored balloon word banner (shown here saying 'Happy')
Turf table runner with fringe table runners and inflaable centerpiece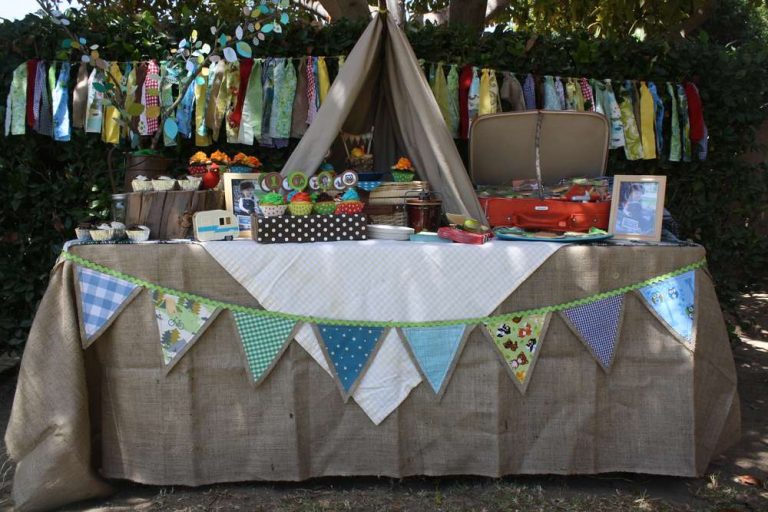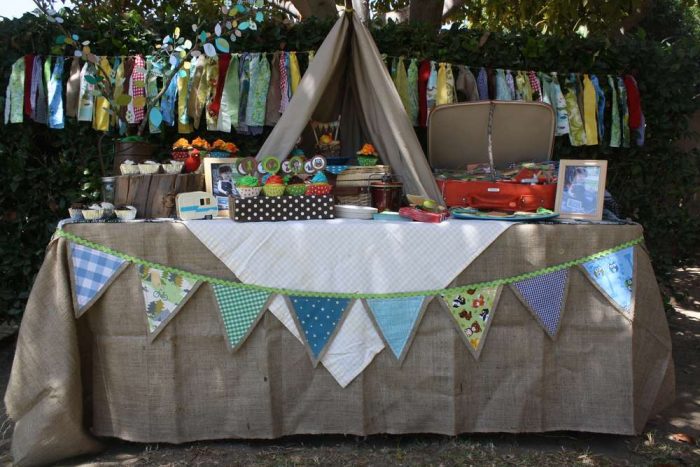 Some of the really fun details of this party are hard to see, but that doesn't mean they aren't worth looking at. Kenna used lots of colorful fabric to create a more whimsical feel that is perfect for a first birthday party.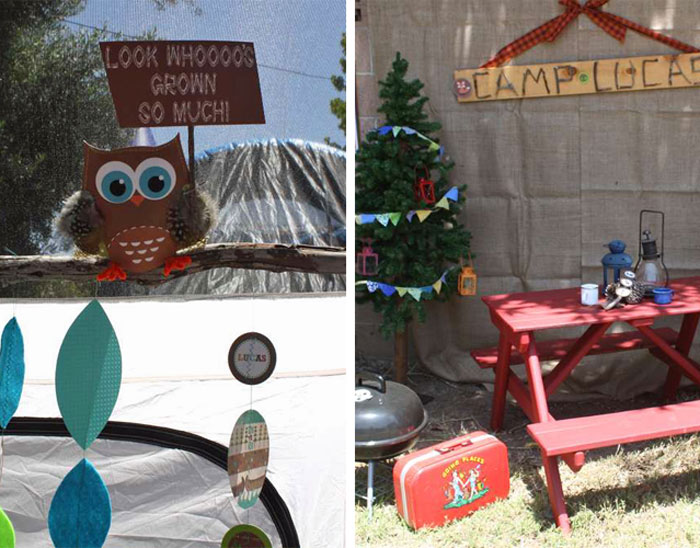 Elements to Recreate
Use a twig to hang a banner over top of the buffet
'Miniature campsite' with kid-sized picnic table, mini grill, and kid's luggage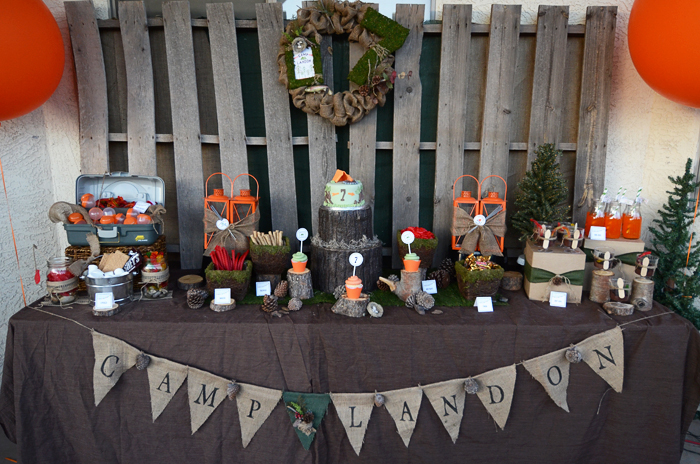 Hosting a party for an older child? The dark brown and bright orange color palette here are less whimsical, but still havve a dramatic impact.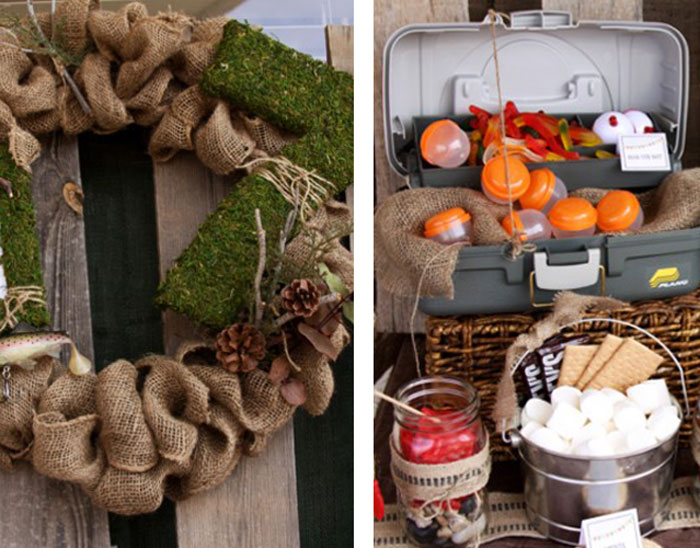 Elements to Recreate
Backdrop against an old fence or old pallet
Burlap and moss wreath
Tackle boxes and picnic baskets used for serving and decor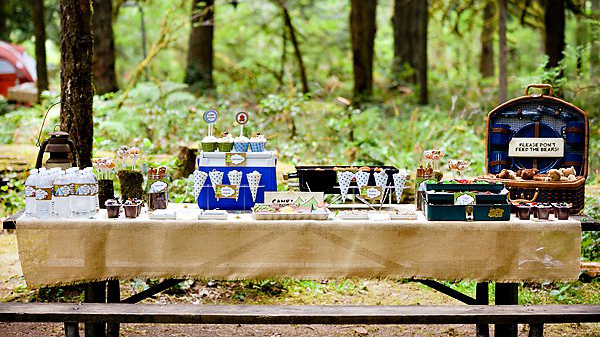 I just love that this party was actually at a park. You don't have to go overboard decorating every little nook and cranny. Take one spot and do it right. Nature, of course, provides the best backdrop.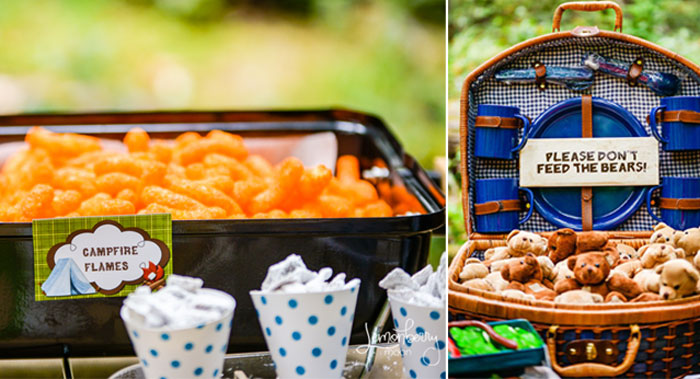 Elements to Recreate
Creative re-naming of store-bought food
Teddy bear favors in a picnic basket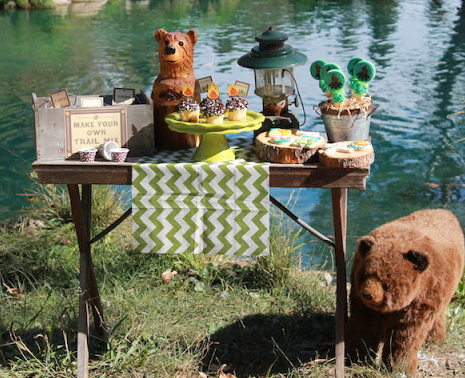 Aren't those bears adorable? This little lakeside party looks effortless, and is full of fun ideas.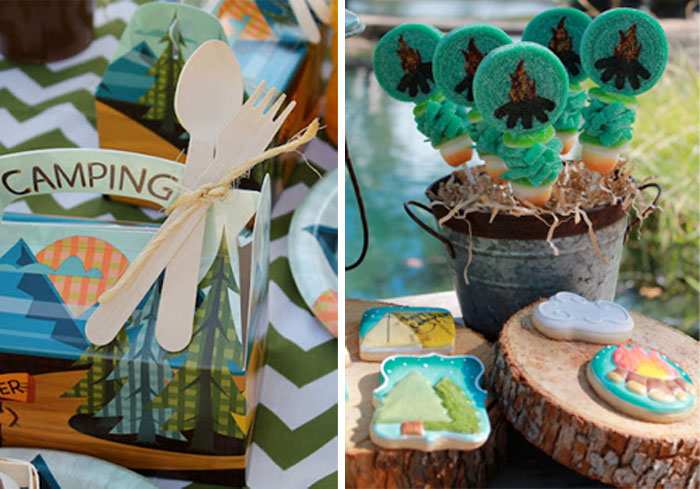 Elements to Recreate
Wooden spoons and forks
Galvanized steel buckets for props and serving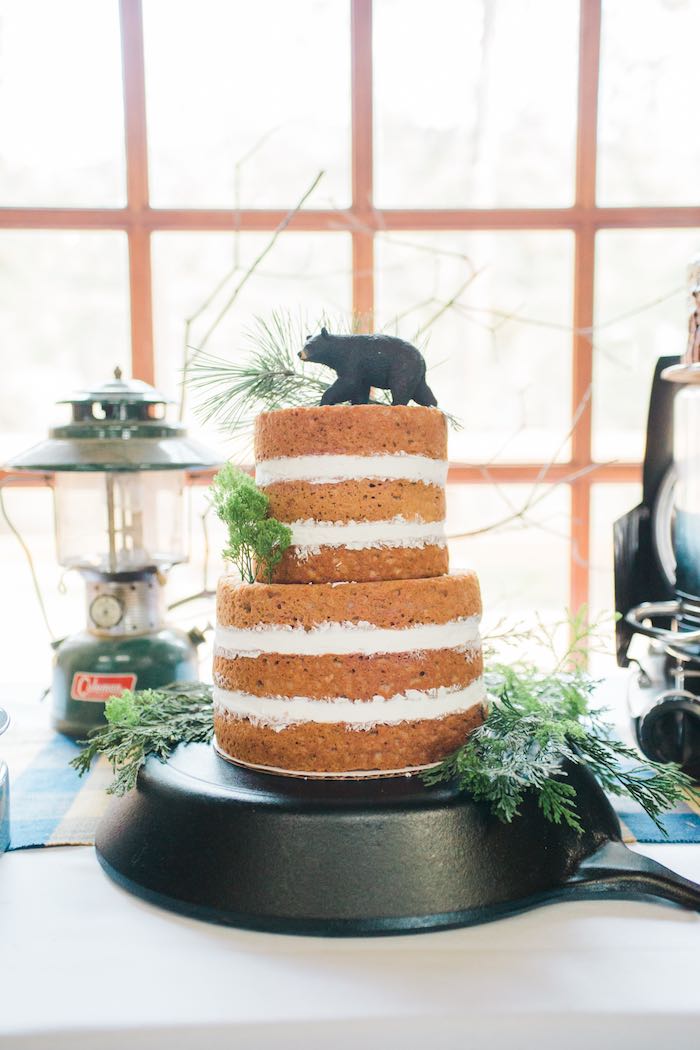 This is definitely a more is more kind of party- in all the right ways. Between having multiple cakes, teepees, and a nap station. This party is full of inspiration.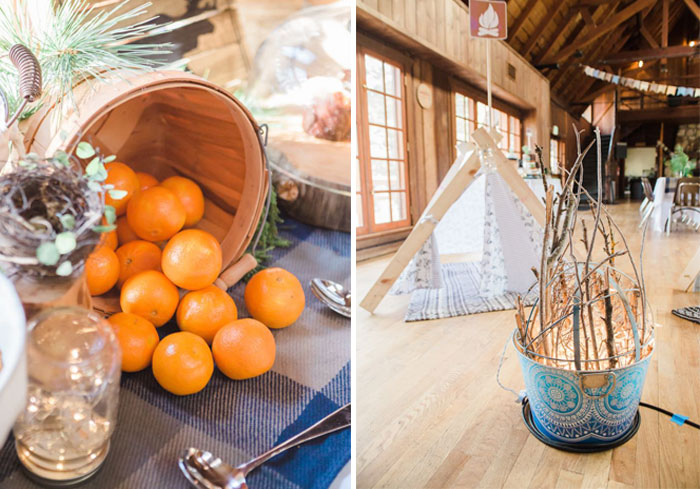 Elements to Recreate
Lots of greenery
Use wooden baskets to display whole foods
Fake a campfire with twinkle lights and twigs in a bucket
No matter what your personality or style, camping parties are huge right now, and are a fun and easy theme to customize. If we do have a single party for all three kids next year, this might actually be the perfect theme.
Would you host a camping themed party?
What theme would you use for an all-sibling bash?
Don't forget to subscribe via
Bloglovin, Facebook, and Twitter,
to get more updates!