This mermaid munch recipe combines sweet and salty ingredients for the perfect 10-minute treat to feed a whole crowd of hungry kids.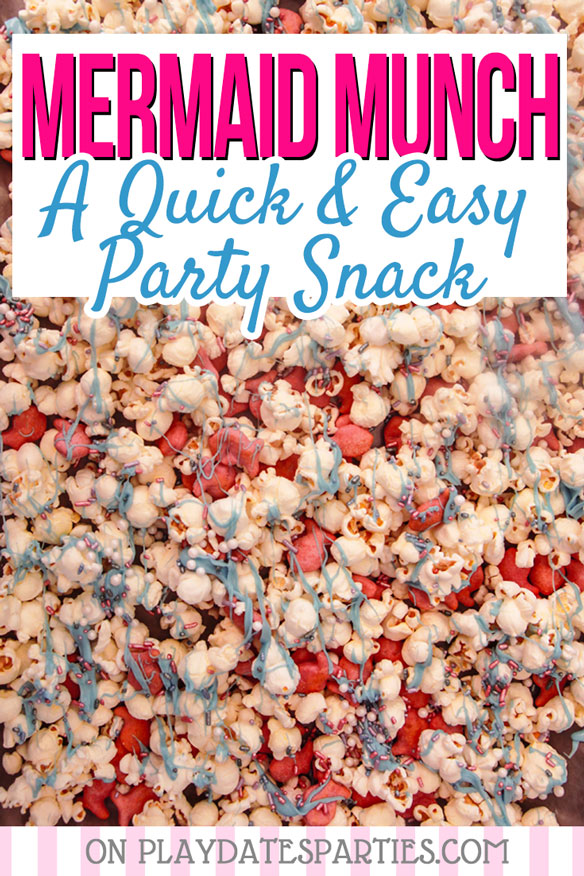 Planning and preparing for a birthday party when you're 8 months pregnant is exhausting.
By the time my oldest's sixth birthday rolled around, all I wanted to do was take a nap. Despite trying to keep in shape during my third pregnancy, I could barely go more than a few blocks without needing to stop.
Of course, the August heat didn't help either.
And as much as my big girl understood that the pregnancy took a lot out of me, she still wanted her birthday day to be special.
Who could blame her? For kids, birthdays are one of the most important days of the year.
So how do you make a special treat for a crowd of kids without breaking your back (or the bank)?
The answer lies in popcorn. And sprinkles. And chocolate.
I don't think I've ever met a kid that didn't like any of those three things. Put them all together and you've got an instant hit.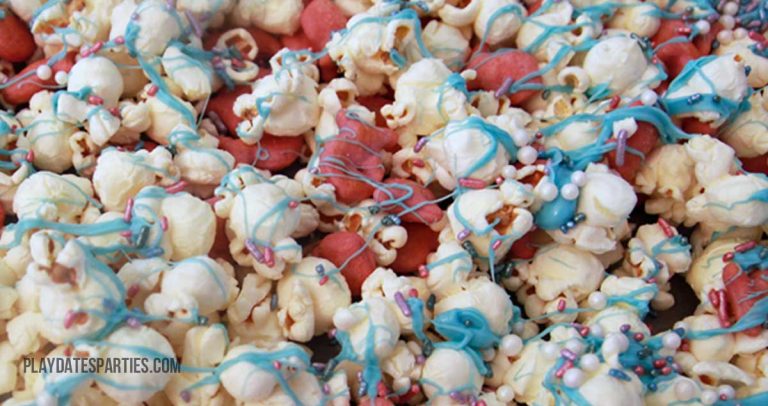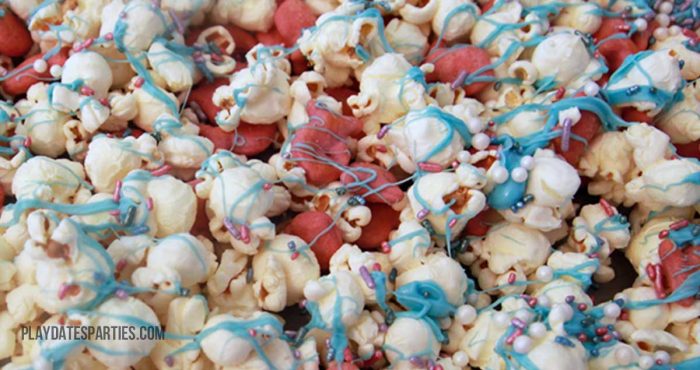 We're always experimenting with different popcorn munch recipes around our house.
It only takes about 10 minutes to pull together a large batch, and it's easy to customize for any theme or occasion. We like making these mixtures so much that my girls ask for 'special popcorn' with almost every movie night.
Usually, I just pull together some popcorn with whatever treat I can find in the house. That could be miniature marshmallows, M&Ms, or even cookie crumbles (like the cookies & cream version I made for my friend Tamara).
But I wanted to make sure that whatever I made for my daughter's Mermaid party was extra special while staying easy on my pregnant body.
Mermaid Munch for a Crowd
Grab these necessities before you get started:
Yield: 10
Mermaid Munch for a Crowd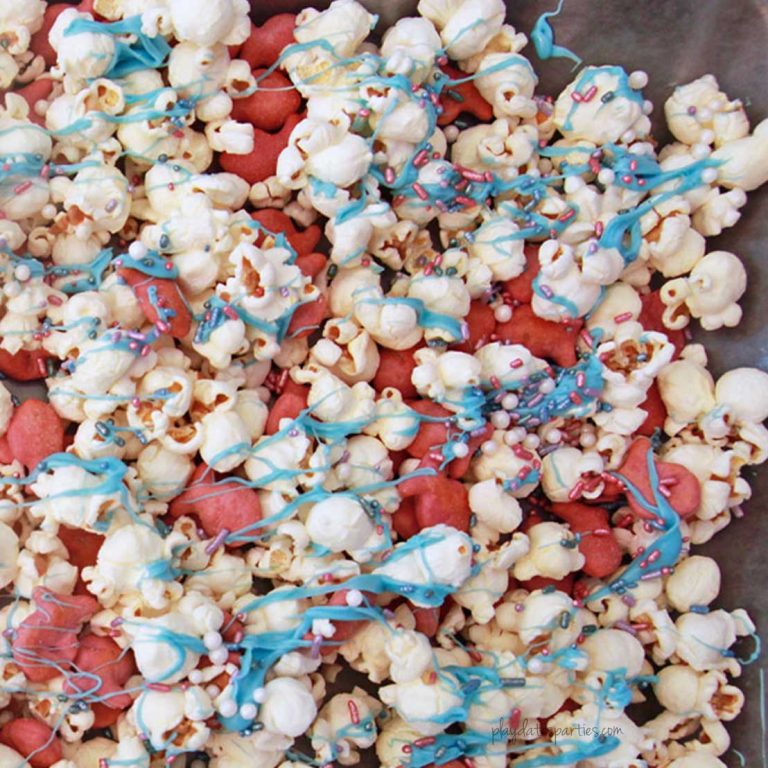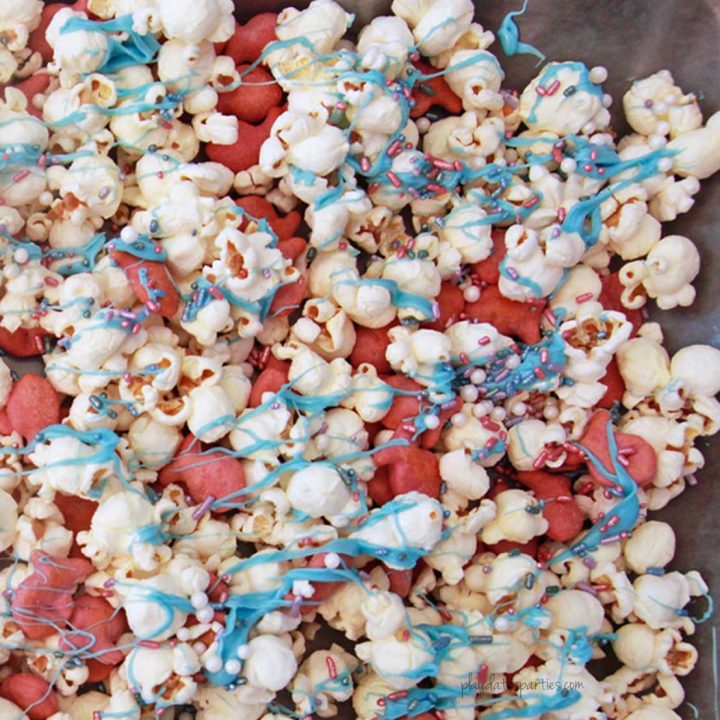 This mermaid munch recipe combines sweet and salty ingredients for the perfect 10-minute treat to feed a whole crowd of hungry kids.
Ingredients
2 large bags of pre-popped popcorn
1 bag of pink "princess" Goldfish crackers
Blue candy melts
Pink, Blue, and purple shimmering sprinkles
Pearl sprinkles
Instructions
Line two sheet pans with parchment paper and spread popcorn on top.
Add the Goldfish crackers and mix well.
In a microwave safe bowl, melt the blue candy melts. Microwave the candy melts for 30 seconds to start, then stir with a fork. Repeat at 10-second intervals until the candy melts are melted and smooth.
Using a back-and-forth motion, drizzle the candy melts over the popcorn mixture with a fork. Alternatively, flick the fork across the candy melts to get thinner drizzles.
Before the candy melts harden, add the shimmering sprinkles and pearls.
Allow the candy melts to harden completely and then break apart into chunks.
Store mermaid munch in airtight containers for up to 3 days.
Nutrition Information:
Yield:
10
Serving Size:
1 grams
Amount Per Serving:
Unsaturated Fat:

0g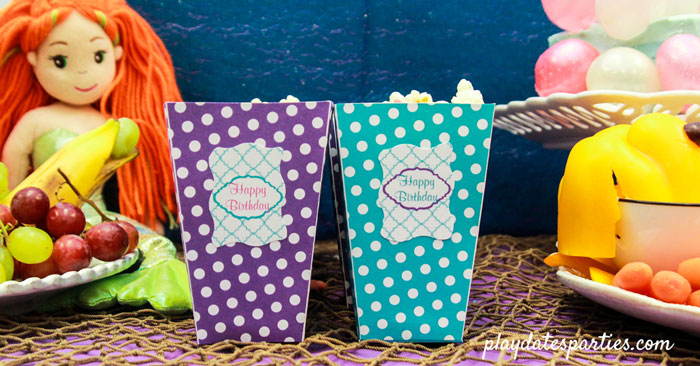 Now, It's Your Turn
Even if you're not sporting an 8-months-pregnant belly, Mermaid munch is a perfect recipe for your little girl's birthday party.
And, if you're going off-site for a party, it's easy as pie to just bring the whole batch in gallon-sized ziplock bags to fill paper popcorn boxes on site. Score!
What's your favorite easy treat for a crowd?
What would you put in mermaid munch?
Don't forget to subscribe via
Bloglovin, Facebook, and Twitter,
to get more updates!