What do you do for a little girl who loves to tumble, jump, and flip? You host a gymnastics party, that's what you do!
Keep reading to see how we celebrated our daughter's third birthday with a simple but fun party at the local kids gymnasium – including easy snacks, cute party decor and favors perfect for active toddlers.
Sometimes you need to keep your party planning simple. Like when you've got a new baby in the house and don't want to be completely overwhelmed.
Which is why that's probably also not the time to plan two parties for the same weekend.
Trust me. I speak from experience.
You see, 9 years ago, I made this mistake, and I haven't done it since. The same weekend we held this gymnastics party for my oldest, we also hosted a reception for my 2-month old's baptism.
Our hearts were in the right place – not wanting to make family travel more than once – but man it was stressful.
In the end, we decided to celebrate our little one with an easy, no-frills birthday party at her favorite kids gym. And even though it's not your typical Pinterest party, I'm so grateful it turned out as well as it did.
About the Party:
What Was the Occasion? 3rd birthday
How Many Guests Did You Have? 12
Where Was the Party Held? Rolly Pollies in Maryland
Color scheme: Bright pink, green, and blue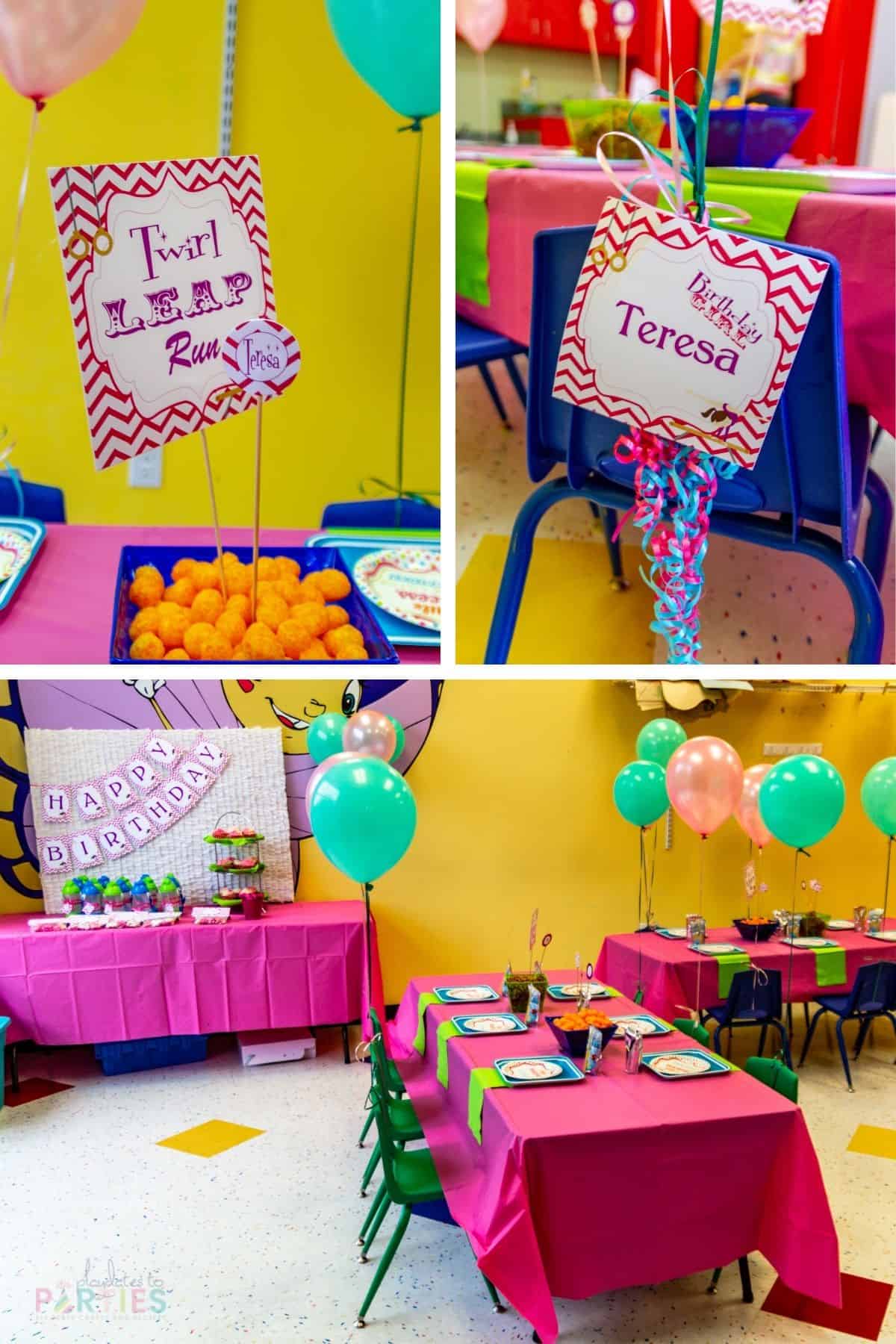 Gymnastics Party Decorations
The most challenging part of hosting a party outside your home is that you're usually very limited on time. In this case, I had 90 minutes to decorate the party room while the kids played in the gymnasium.
Considering everything else going on that weekend…I don't think it turned out too bad. Here's a quick rundown of the decor:
disposable pink tablecloths
helium balloons tied to each chair
colorful plates and napkins at each place setting
ruffled party backdrop behind the favor table (repurposed from the earlier baptism)
Custom party printables to pull it all together
(If you want to see a real challenge…you can check out this Mermaid party, where we had only two hours to set up, party, and clean up!)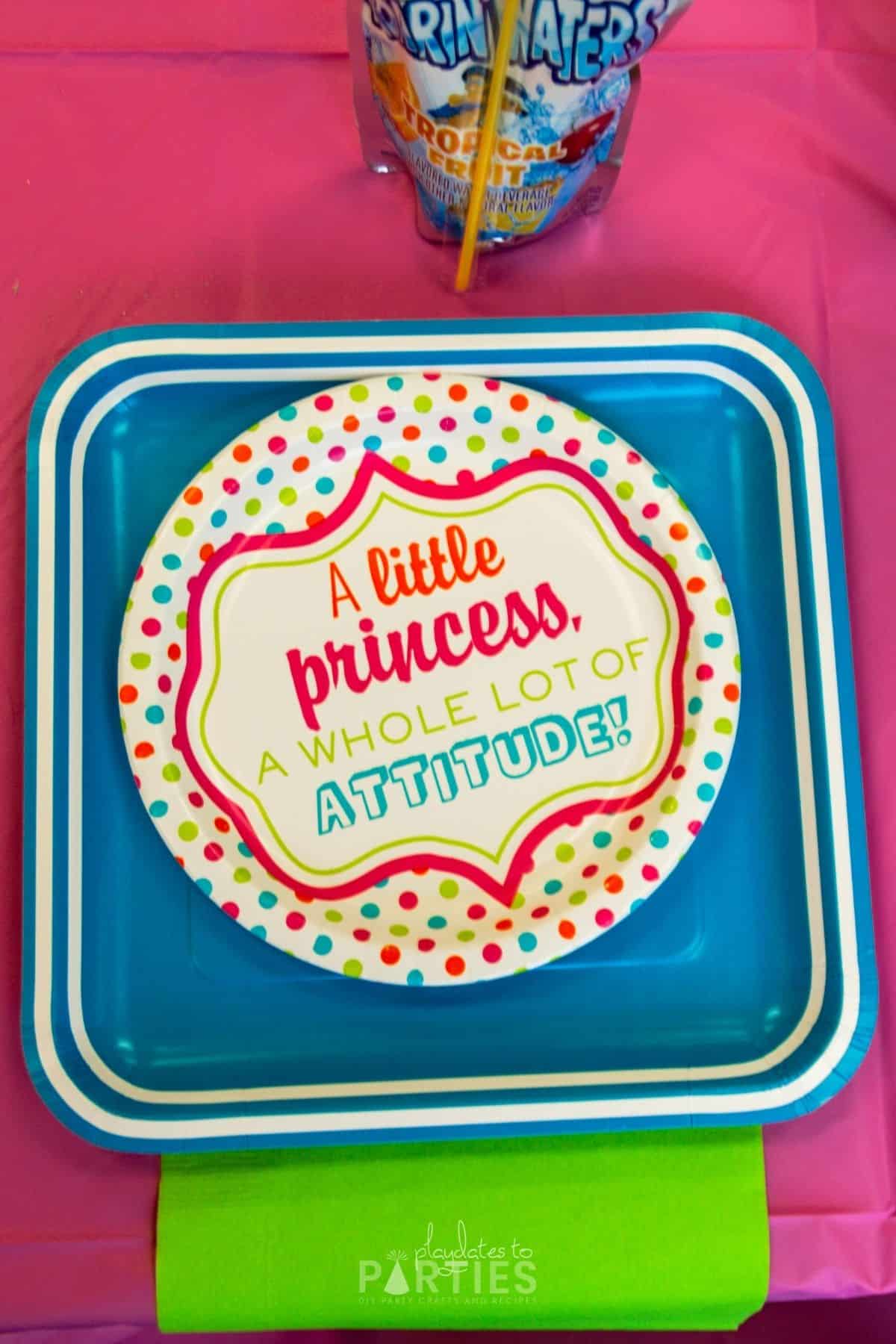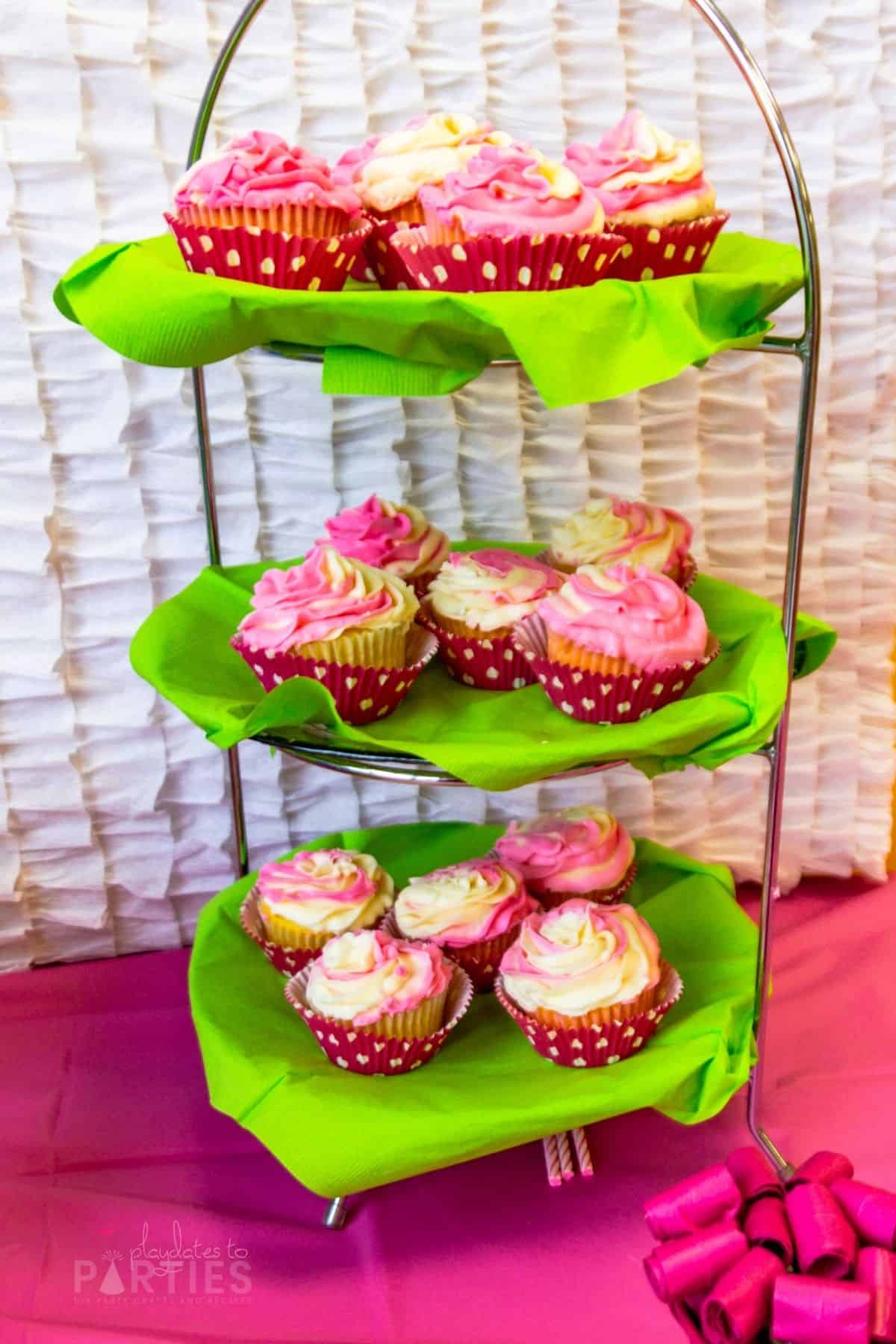 Easy Party Snacks
Usually I like to go overboard with party food, but this time I kept it simple with store bought treats:
Cheese balls
Pretzels
Homemade cupcakes
Juice pouches
Colorful bowls from the dollar store were the perfect way to display the snacks, along with cute paper plates and napkins I snagged from Target.
We didn't forget about the adults, either. A tray of leftover food from the baby's baptism reception was the perfect treat for the adults to snack on.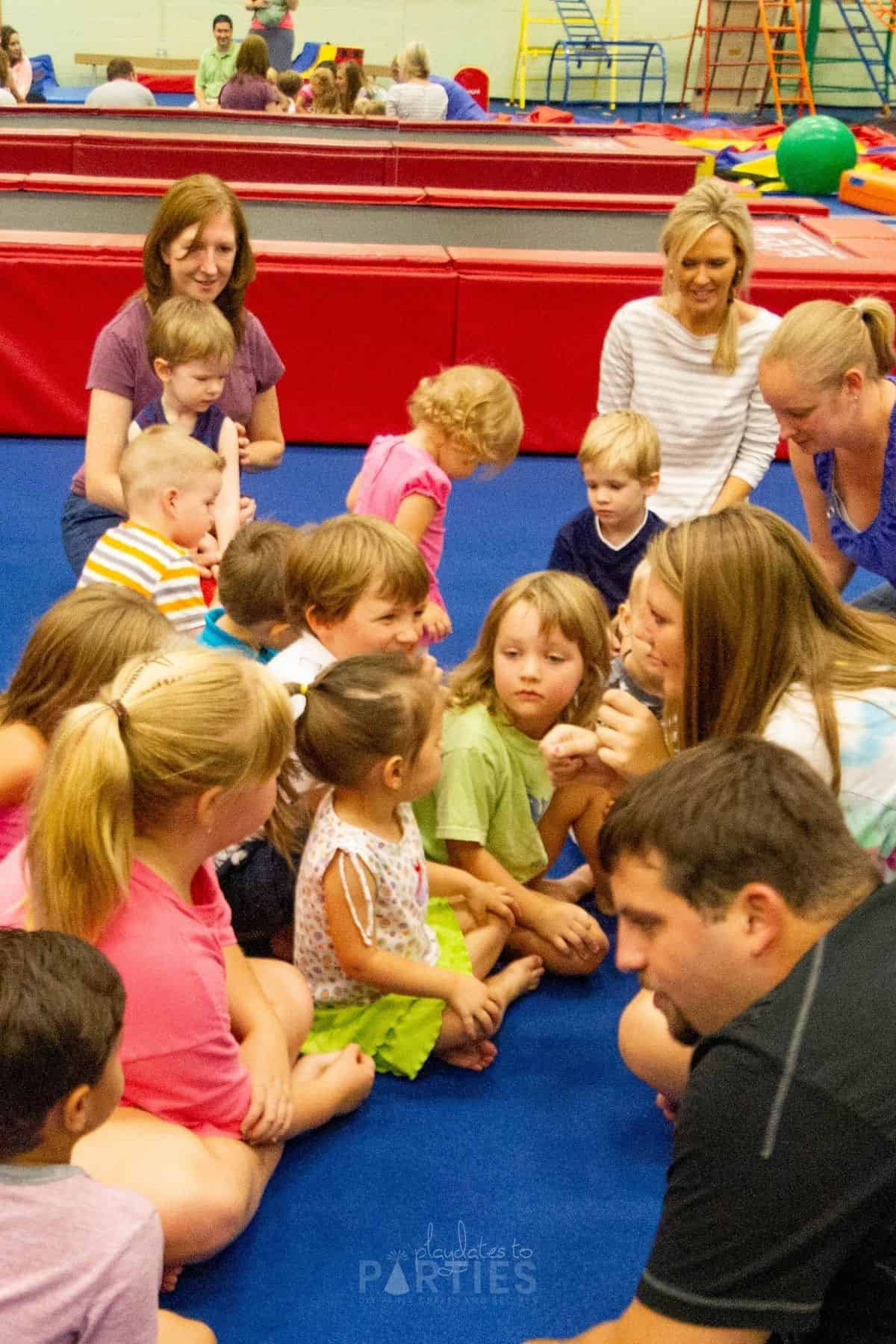 Activities and Games
Aside from not having to clean our home, the best part of hosting a party at a venue is that entertainment is usually included.
And this kids gym has been a favorite for all our children. The staff led the kids in welcome songs, age-appropriate activities, and so much more fun.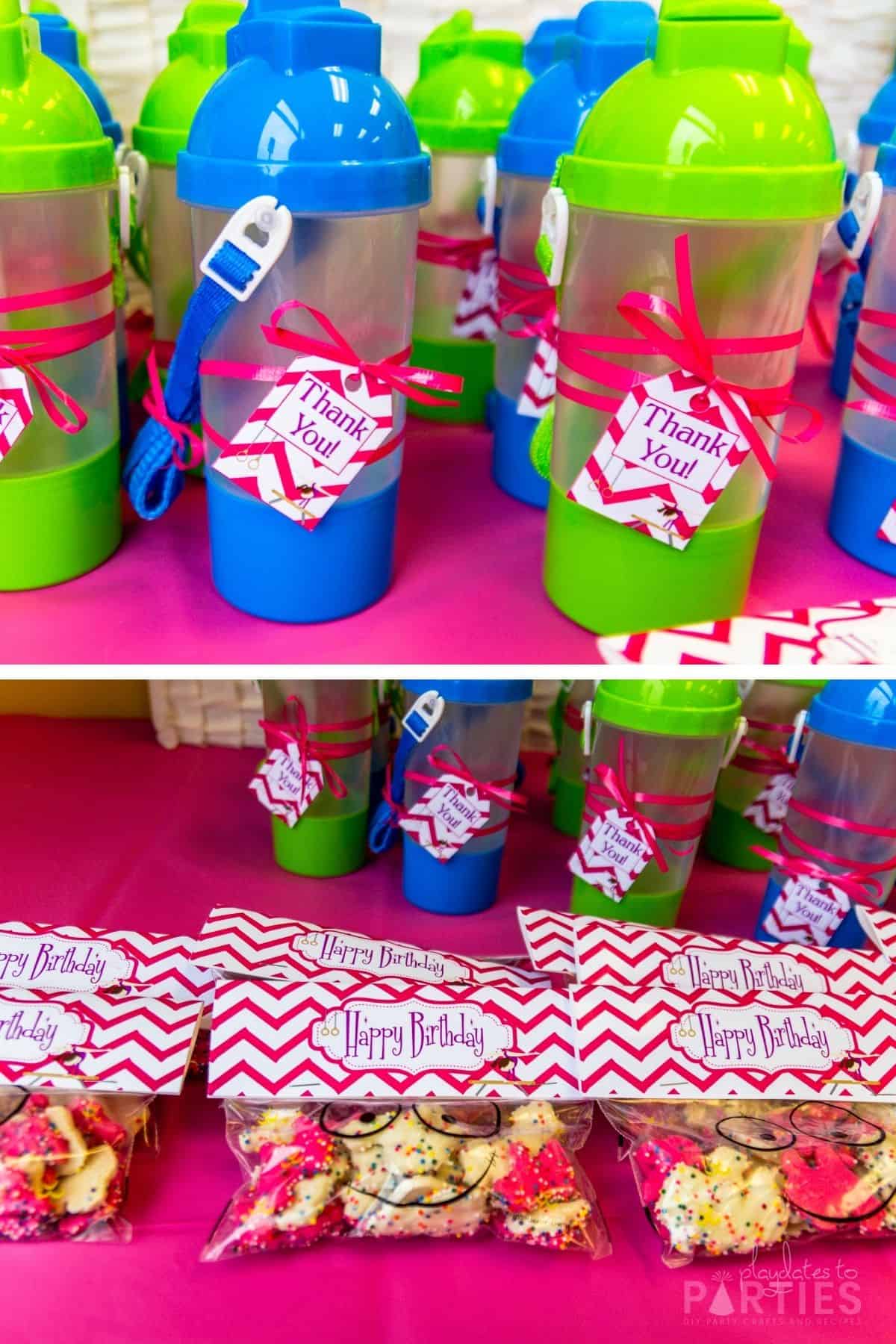 Party Favors
Sometimes figuring out favors for little kids can feel difficult…but the nice thing is that they're not that picky. Because this party was held on the same day as her little sister's baptism(!), we kept it extra simple.
Each of the guests received a drink cup with a hidden snack compartment, and a bag of the birthday girl's favorite frosted animal crackers topped with a label from the custom printable party package.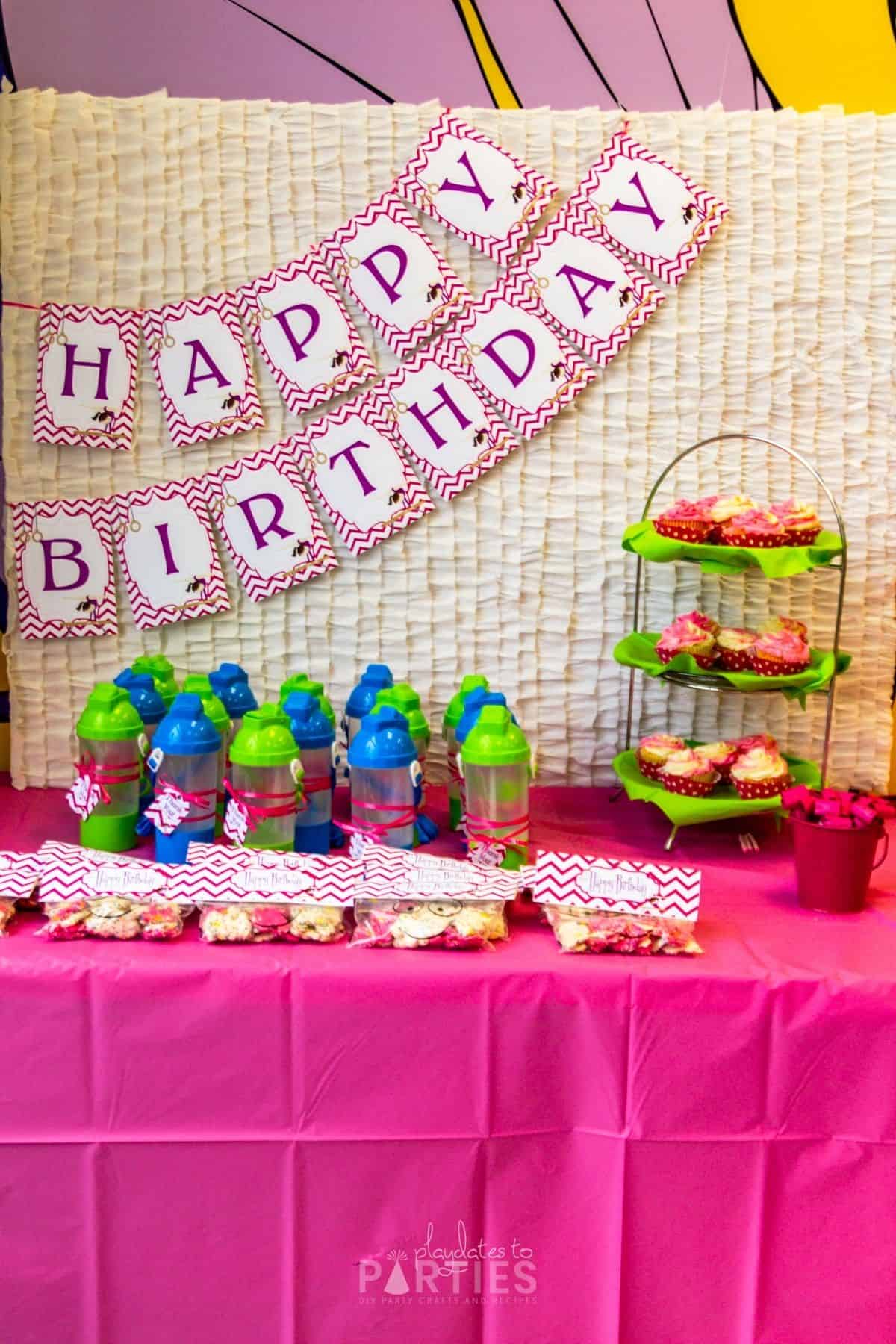 Overall, I'd say this party was a success.
I was worried about hosting two parties back-to-back, but with some easy store-bought snacks, and repurposing as much as possible, everything went smoothly.
It may not have been super fancy or elaborate but we got to celebrate our little girl turning three, and the kids were all thrilled to play at their favorite spot in town. And that's really what matters most.
And if you're looking for help planning your next party – especially when it comes to scheduling your time – you'll want to check out my free party snapshot planner. On one page, you'll be able to see the master plan for your entire party…including how much time it will take to pull it all together.
---