When it comes to throwing a memorable tea party, the sky's the limit. But between picking the invitations, selecting the perfect food, and arranging for decorations and favors, all those tea party ideas can be downright overwhelming.
Not to worry! From the menu to the decorations, this comprehensive guide will help you pull off an unforgettable tea party with ease. Whether you're planning a birthday tea party for a 3 year old or the sweetest tea party themed baby shower, these 35+ tea party ideas are sure to please.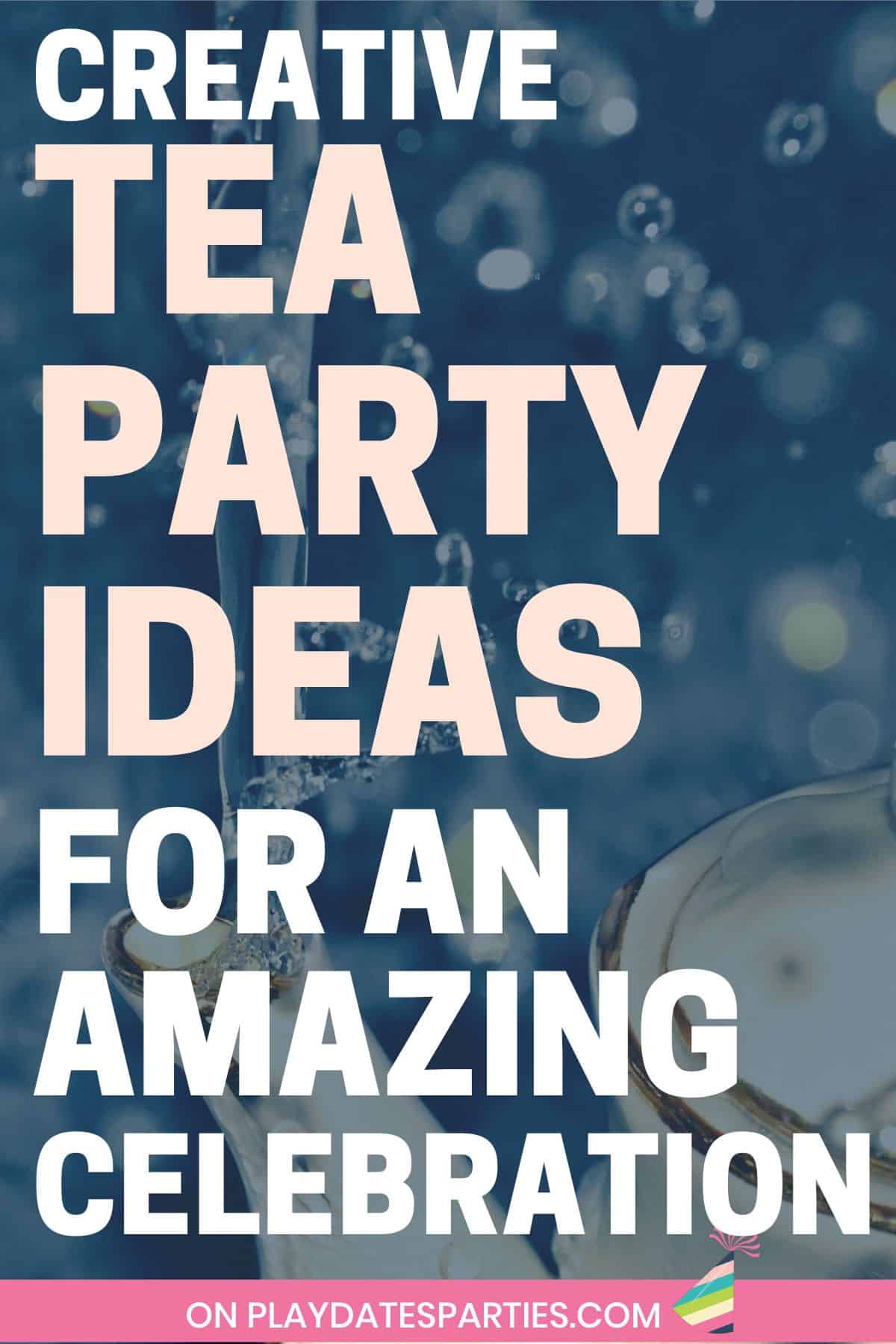 When you're hosting a tea party, a good party plan is key to making sure everything goes smoothly, and everyone has a good time:
You'll know what to make, and when to make it for optimal time management,
Guests will have enjoy themselves with fun games and activities,
You'll be able to keep track of all the little details, and
You can make sure everything looks exactly the way you want it to.
To make it simple for you, we've got a free one-page party planner that you can download right to your computer. It's specifically designed to help you track not only your budget, but your time as well.
Afternoon Tea vs High Tea – What's the Difference?
Did you know that there are two types of tea party? When most of us think about tea parties, we're picturing afternoon tea, also known as 'low tea'. So what's the difference between afternoon tea and high tea?
Afternoon Tea
Afternoon tea has its origins in the early 1800s, when Anna, the 7th Duchess of Bedford, is credited with inventing the tradition. At the time, dinner was served quite late in the evening (around 8pm), and the Duchess found herself feeling hungry in the afternoon.
She started ordering a light meal to be brought to her room in the afternoon. At some point, she began inviting friends to join her, and the afternoon tea party trend had begun.
A typical afternoon tea is served in the the later afternoon, and has light sandwiches, sweets, and scones with jam and clotted cream. The food is usually served on a tiered tray, allowing guests to select what they would like to eat.
High Tea
High tea, or 'full tea' is a meal that replaces lunch. It generally features heavier foods such as savories, scones, and cakes.
High tea is more formal and starts earlier, usually before 5:00 pm. You would take it after lunchtime, but before dinner time.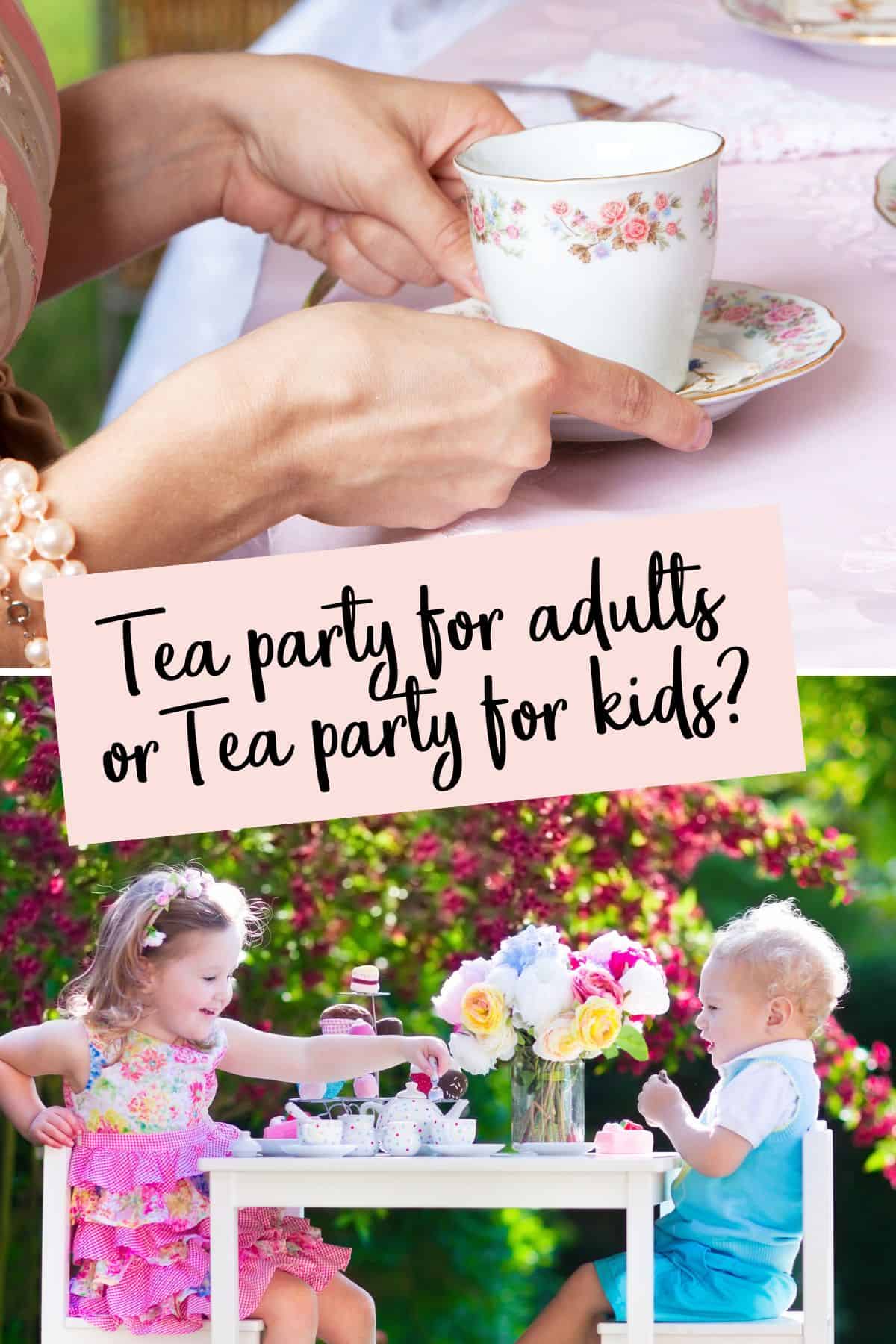 Who is your Tea Party for?
Tea parties are a popular party theme for everything from baby showers, to kids birthday parties, bridal showers, or even just a casual afternoon get-together.
Which is why it's important to remember who your party is for when you're planning. After all, a tea party for a group of 3 year olds is going to look quite different than one for a group of 30-something women!
Tea Parties for Kids
Kids tea parties are less about the actual tea and more about the experience of 'feeling fancy.' When looking at ideas and inspiration, keep these tips in mind:
Have some tea around, but don't forget to include plenty of other drinks, like punches, juices, and flavored waters.
You'll also want to serve kid-friendly foods such as mini sandwiches, chicken fingers, and cut up fruit and vegetables. And don't forget the sweets! Cute cupcakes, cookies, and other small desserts are always a big hit with kids.
Also keep in mind that they'll have shorter attention spans than adults. Make sure there are plenty of party games and activities to keep them engaged and entertained.
Tea Parties for Adults
A tea party for adults is a whole different ballgame!
Focus on creating a relaxing and elegant atmosphere with simple, chic decorations. A few well-placed flowers, a beautifully set table, and some soft music in the background can go a long way.
When it comes to food, you'll want to keep it sophisticated…even if it's simple. Light finger sandwiches, scones, and and a few stunning, but tasty tea party desserts.
Make sure to have several varieties of tea available (at least 4-5), and feel free to add in a few alcoholic options as well. Champagne cocktails, anyone?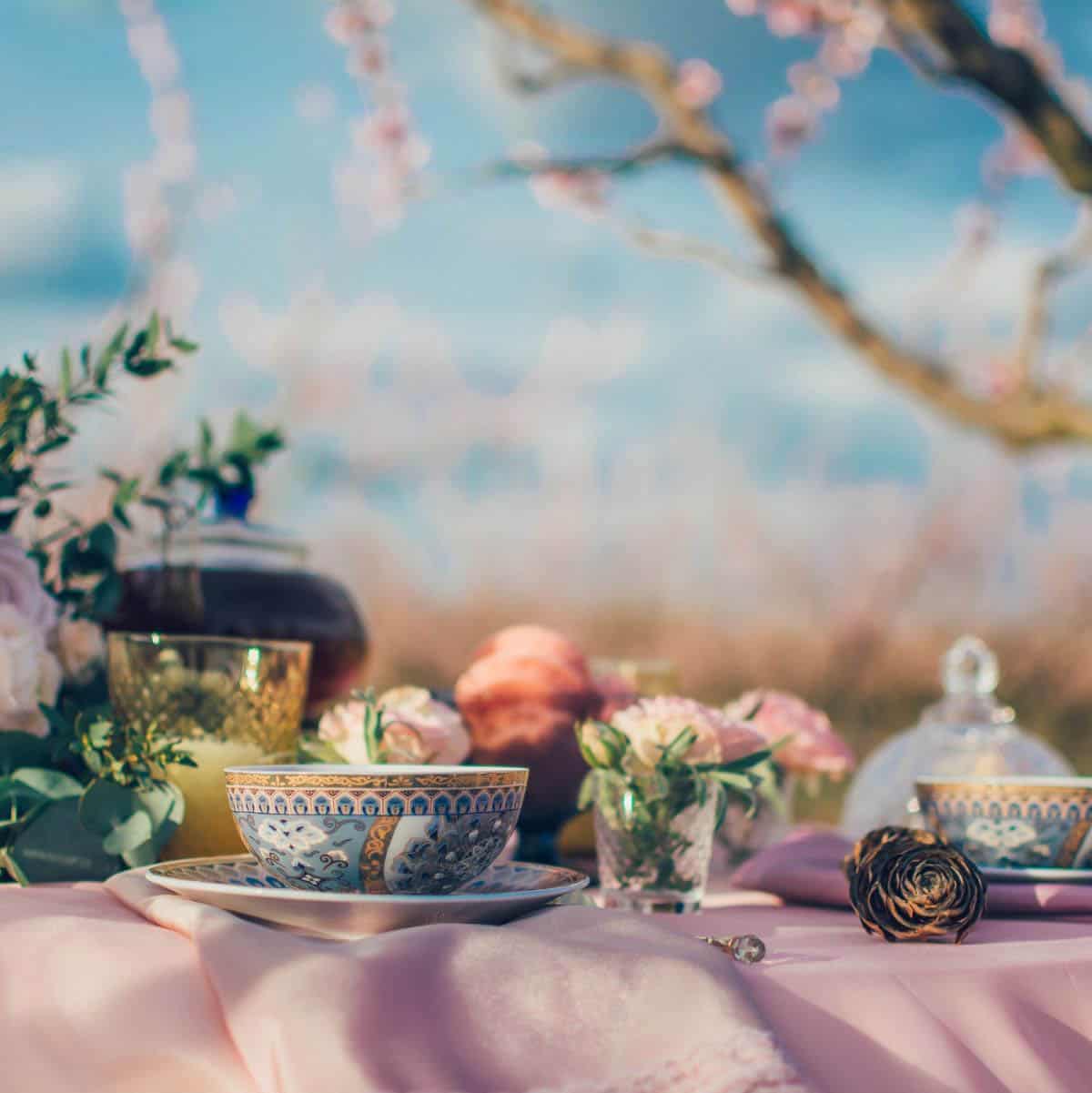 Where to Host Your Tea Party
There are many things to consider when choosing a place to host your tea party: budget, the size of your party, the size of your space, and the expected weather.
Most of us will plan to host our tea parties at home, but there are some places where you can go out to host a tea party. Here are some popular choices:
Bed and Breakfast
Coffee House
Private Dining Hall
Tea Room
Botanical Garden
Just remember, most of these locations will require catering, or purchasing food and beverages through them.
If you're interested in making your own food, but don't want to host your tea at home, you can consider renting a pavilion at a local park for a sweet, but casual event.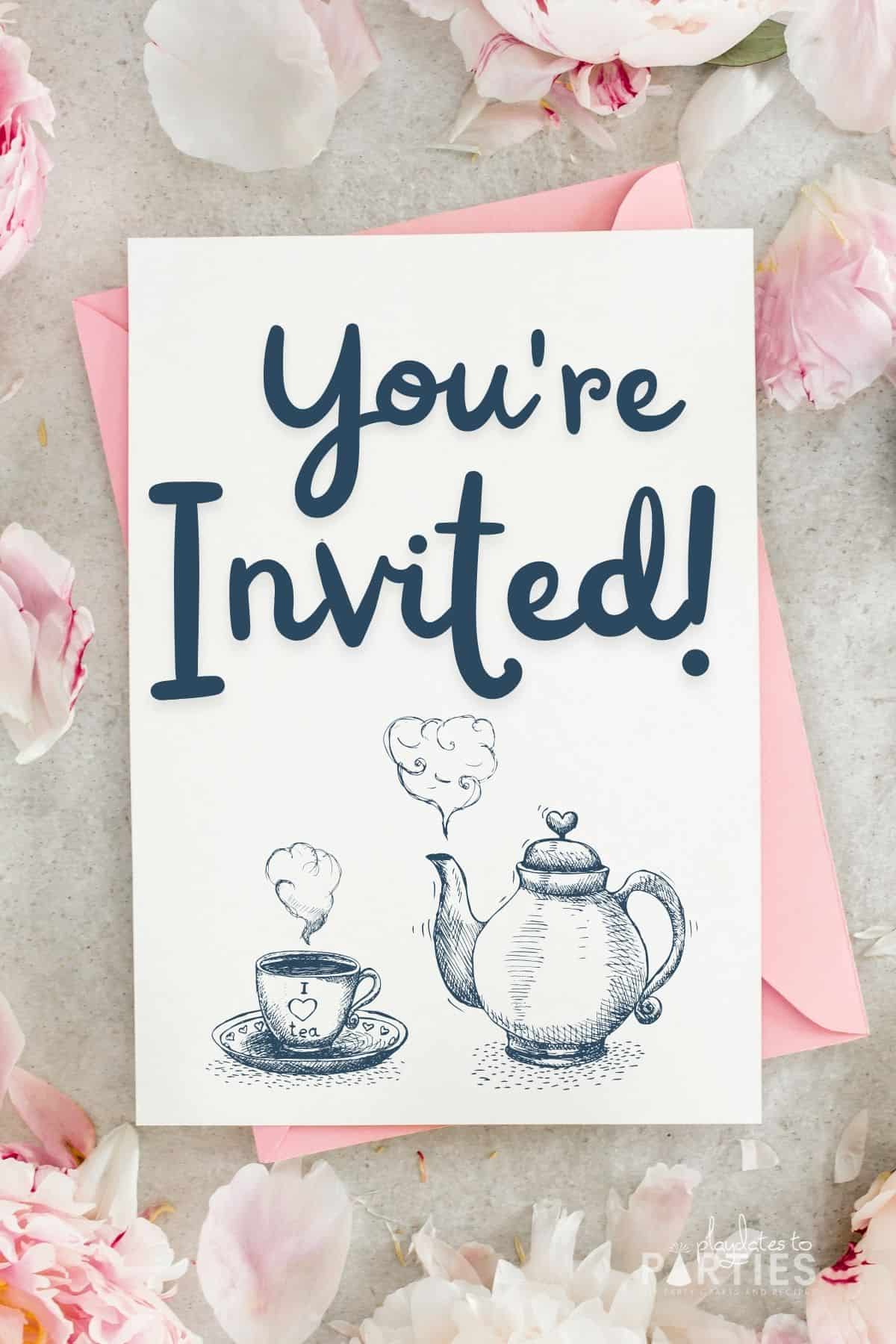 Tea Party Invitations
When planning any party, invitations are key. They set the tone for the event, and let your guests know what to expect.
Make sure to send your invitations at least two weeks in advance, though six weeks is best. This ensures guests have enough time to RSVP and make any travel arrangements.
When selecting invitations, choose a design that not only reflects the theme of the party, but also reflects your personality. Remember, you don't have to use a formal style invitation if that's not who you are.
Here are a few invitation ideas to inspire you:
Editable Par-Tea Birthday Party Invitation: If you're looking for a girly, pastel-colored invitation to a Tea party then this is the perfect design for your event. This printable template features an adorable tea cup stack with flowers and sweet treats. It's cute enough to make any girl feel like royalty.
Boho Florals Mommy To Be Party Invitation: Put the focus on mom with these "Time for Tea with Mommy to Be" baby shower invites. They're the perfect option for an intimate gathering. Featuring a navy blue teapot and burgundy florals, it's a sophisticated choice that isn't too girly.
Tea Bag Shaped Tea Party Invitations: Wow. These vintage style tea party invitations are definitely a unique and memorable way to invite guests to your upcoming royal tea bridal shower. Cut into the shape of giant tea bags, these done for you invites are sure to set the tone for an elegant and sophisticated event.
See more gorgeous tea party invitations right here.
Tea Party Food
A tasty menu is essential for every celebration. After all, is it even a party without good food?
Most people are familiar with finger sandwiches and scones for tea parties, but there are actually many more options you can include to suit any flavor palette. The only thing that is pretty much constant is to keep your portion sizes dainty, as this is a light meal after all.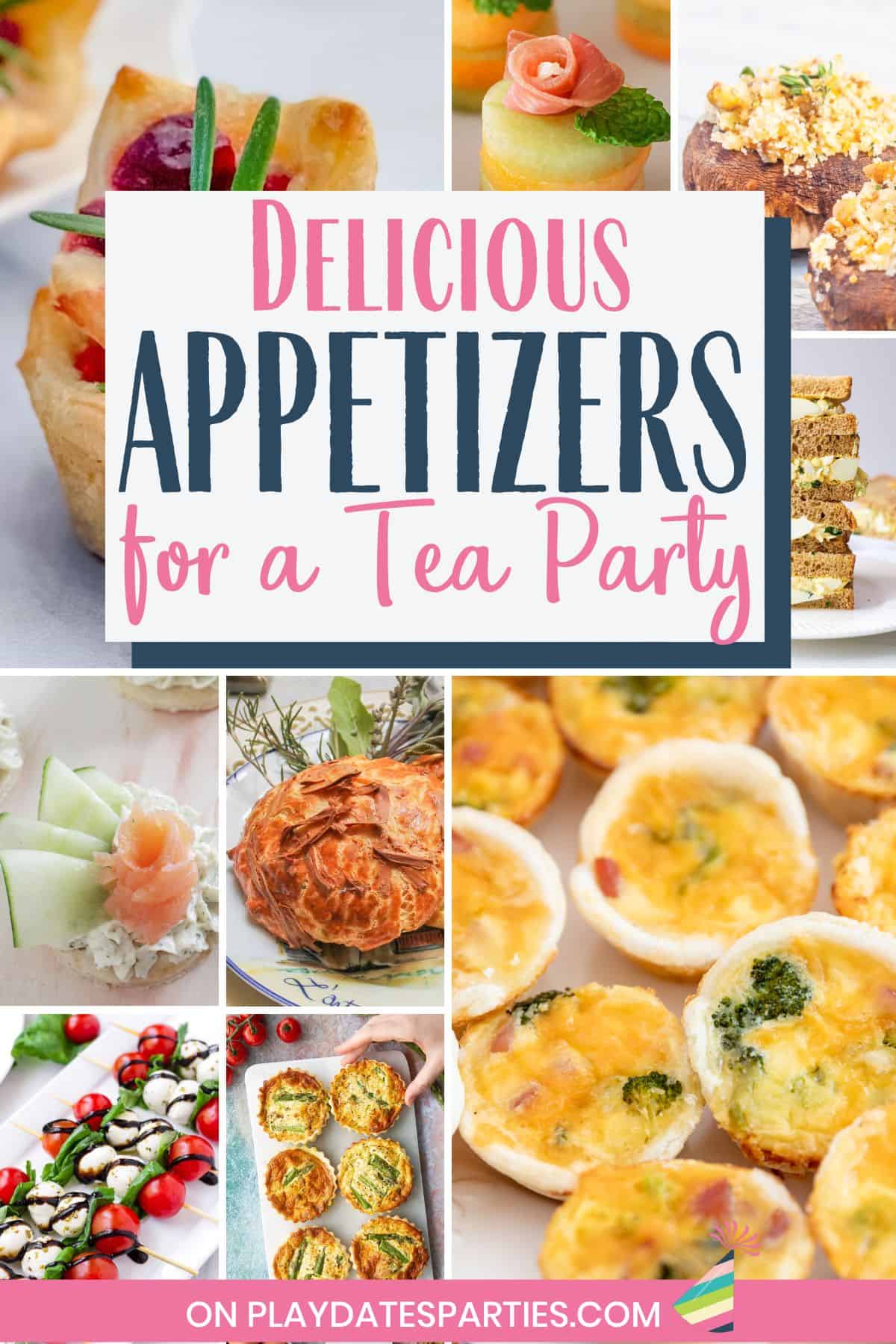 Appetizers and Finger Foods:
Appetizers, finger foods, and small bites are pretty much the epitome of dainty food. They're also easy for guests to eat, and you can set up your trays pretty much anywhere.
Here are some tasty small-bite ideas:
Ham and Broccoli Quiche Bites: Mini Ham and broccoli quiche bites are perfect for any party! Easy to make and full of flavor, this is a simple recipe your guests will love.
Finger Sandwiches: A tea party isn't complete without at least one or two dainty finger sandwiches. We've got the best list of finger sandwiches that is sure to please everyone. Whether you're looking for classic cucumber sandwiches, or need some fun ideas for the kids, this is your list.
Cranberry Brie Bites – Buttery brie and tangy cranberries come together in just minutes to create a heavenly combination that looks as good as it tastes.
Easy Stuffed Mushrooms – Filled with a savory mixture of breadcrumbs and pecans, this is going to become one of your go-to party appetizers.
Giant Gougeres – Don't let the name fool you, giant gougeres are are a simple way to make mega-sized versions of a popular cheesy appetizer. Best of all, you can freeze them in advance so your party day is that much easier.
Caprese Skewers – Made with cherry tomatoes, fresh mozzarella cheese, basil, and a topped with a sweet balsamic glaze, your guests will love noshing on these easy, no-cook caprese skewers.
Smoked Salmon Canapes – Always elegant, these smoked salmon canapés are filled with lemon artichoke cream cheese, and fresh cucumber. It's the perfect bite sized snack for adult tea parties.
Asparagus Tartlets – Crisp tart shells are filled with layers of pesto, tomato, and asparagus, all enveloped in a creamy egg filling for a delicious and stylish appetizer.
Prosciutto and Melon Appetizers – These stacks of melon and prosciutto are a gorgeous spin on a classic appetizer.
Smoked Salmon Deviled Eggs – Creamy yolks are blended with smoked salmon, lemon, and dill then topped with a garnish of dill and smoked salmon for a delicious twist on an old classic.
Want to see more tasty finger foods? See all my appetizer recipes right here.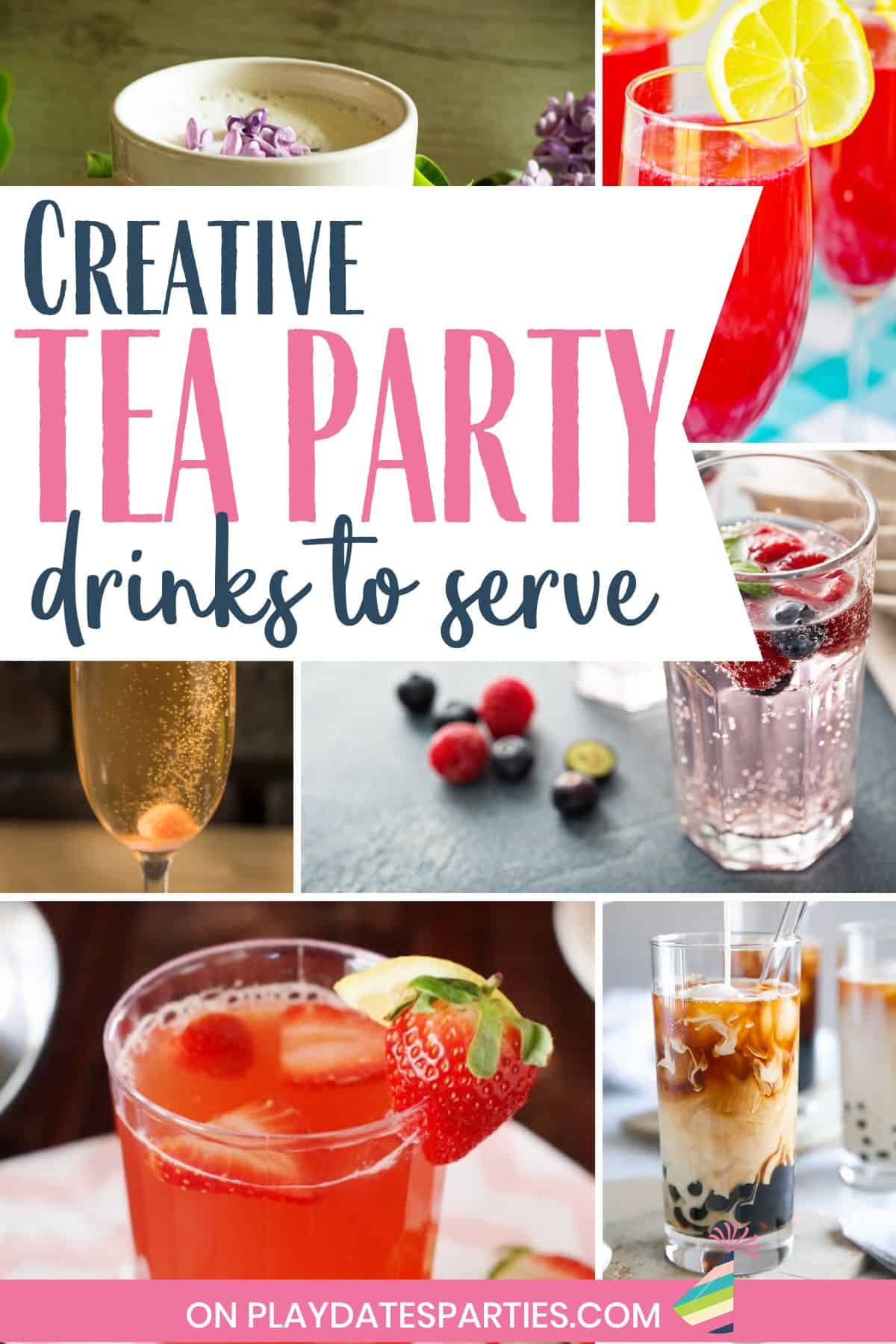 Drinks to Serve at a Tea Party
You don't have to just stick to hot tea when you're hosting a tea party. Consider serving a selection of different teas, as well as some non-tea drinks. Here are some great beverage ideas for your tea party menu:
Blueberry Lemonade Mimosas – These mimosas (lemosas?) are a delicious blend of sweet, tart, and bubbly. It's the perfect drink for a spring or summer party!
Classic Champagne Cocktail – Considered one of the earliest cocktails ever made, there's nothing quite like a classic champagne cocktail recipe when you feel like celebrating.
Bubble Tea – Did you know you can make your own bubble tea at home? You can serve the classic recipe like this one, or you can grab a bubble tea kit with a variety of flavors.
London Fog with Lilac Milk – A London Fog is a strongly brewed Earl Grey tea with milk, sugar, and sometimes a touch of herbs. It's a delicious drink that most casual tea drinkers will enjoy. But adding lilac infused milk takes it up to a new level.
Strawberry Tea Punch is a perfect option if you've got little kids coming to your tea party. It's refreshing and sweet, and still technically counts as tea!
Sparkling Water – You can't go wrong with a refreshing sparkling water. It's perfect for those who don't want any caffeine, or for anyone who wants to drink alcohol-free cocktails.
Want more drink ideas? Check out all my party drinks right here.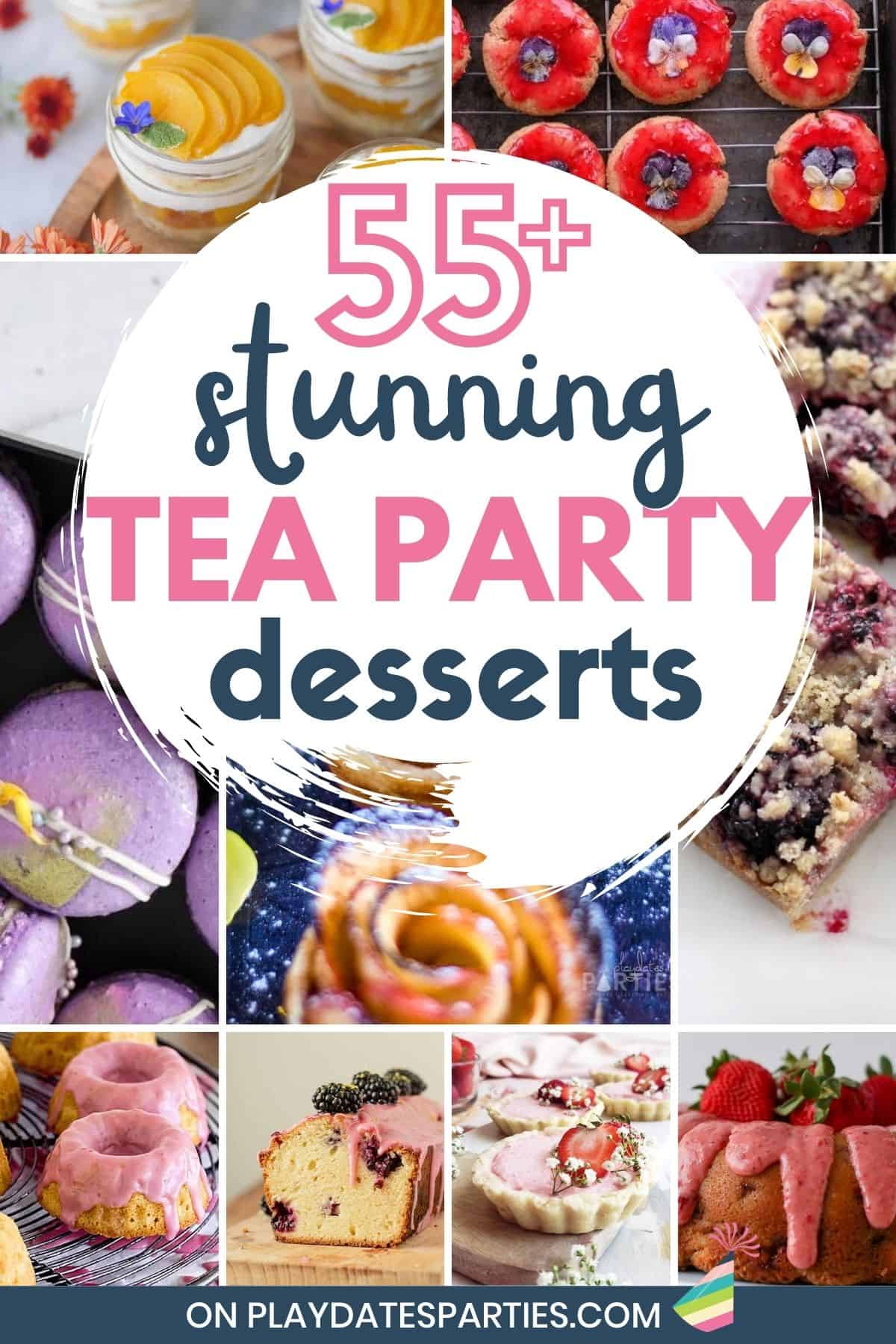 Tea Party Dessert Ideas
While everyone enjoys tasty appetizers and dainty finger sandwiches, we all know that the real star is the dessert tray.
And at a tea party, you can go all out with the prettiest sweet treats possible. Make sure to include a variety of recipes to suit everyone's preferences. Here are a few sweet treat ideas to inspire you:
See the full list 55+ tea party dessert recipes for every age and style right here.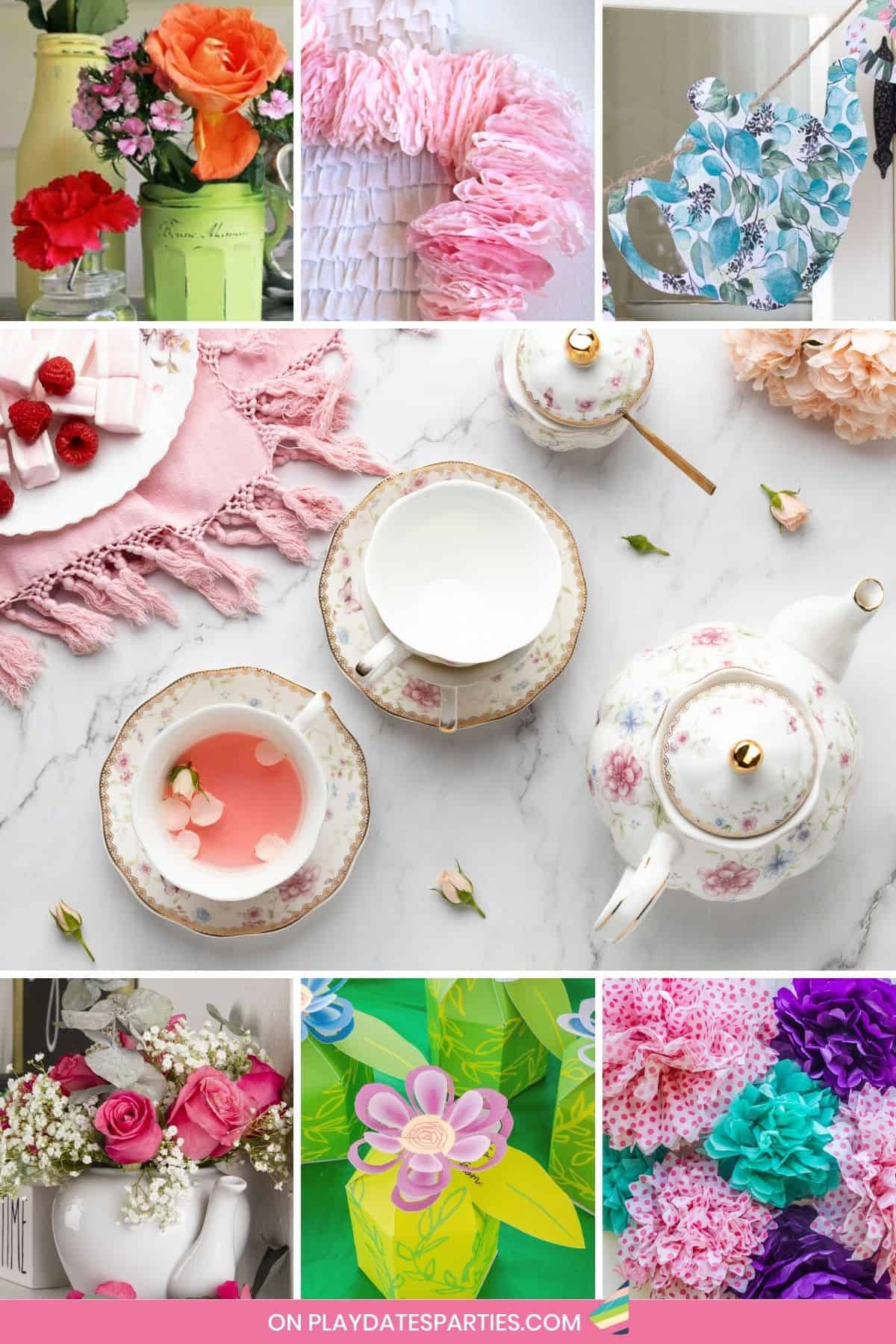 Tea Party Decorations
You can have so much fun decorating for a tea party. Better yet, well chosen decorations can also help you save money, since many of them can be made from materials you already have around the house.
Here are a few gorgeous ideas for decorating your own tea party:
DIY Flower Favor Box – If you love the idea of making crafts double up on their purposes, you'll definitely want to use these 3 dimensional DIY flower favor boxes if you're hosting a tea party or garden party. Add one to each place setting for a sit down luncheon or on a tiered tray for a stunning presentation.
Free Blue and Pink Poppy Party Printables – If you're hosting a spring or summer tea party, you're going to love this blue and pink poppy printables set.
Coffee Filter Garland – Who knew that a pack of coffee filters and a bit of food coloring could create something so pretty?
Colorful Jars as Vases – Using chalk paint to transform jars into a variety of colorful vases can give you a surprisingly gorgeous centerpiece for hardly any money. Pass out the finished vases as party favors, or store them to decorate for another party.
Paper Teapot Garland – This charming DIY teapot garland is the perfect budget friendly decoration for a tea party at home. With just a little bit of scrapbook paper and twine, you can create your own version that perfectly matches your other decor.
Want more fun ideas? Check out all 23 creative tea party decorations on a budget.
Tea Party Games
Tea parties aren't just for sipping a cup and snacking on tasty treats. Remember to include a few games to keep guests entertained and engaged at your tea party.
Here are a few ideas that are fun for all ages:
Looking for tea party ideas for baby showers, or bridal showers? Or want more ideas that are age appropriate for kids? You love this list of 15 tea party games for everyone.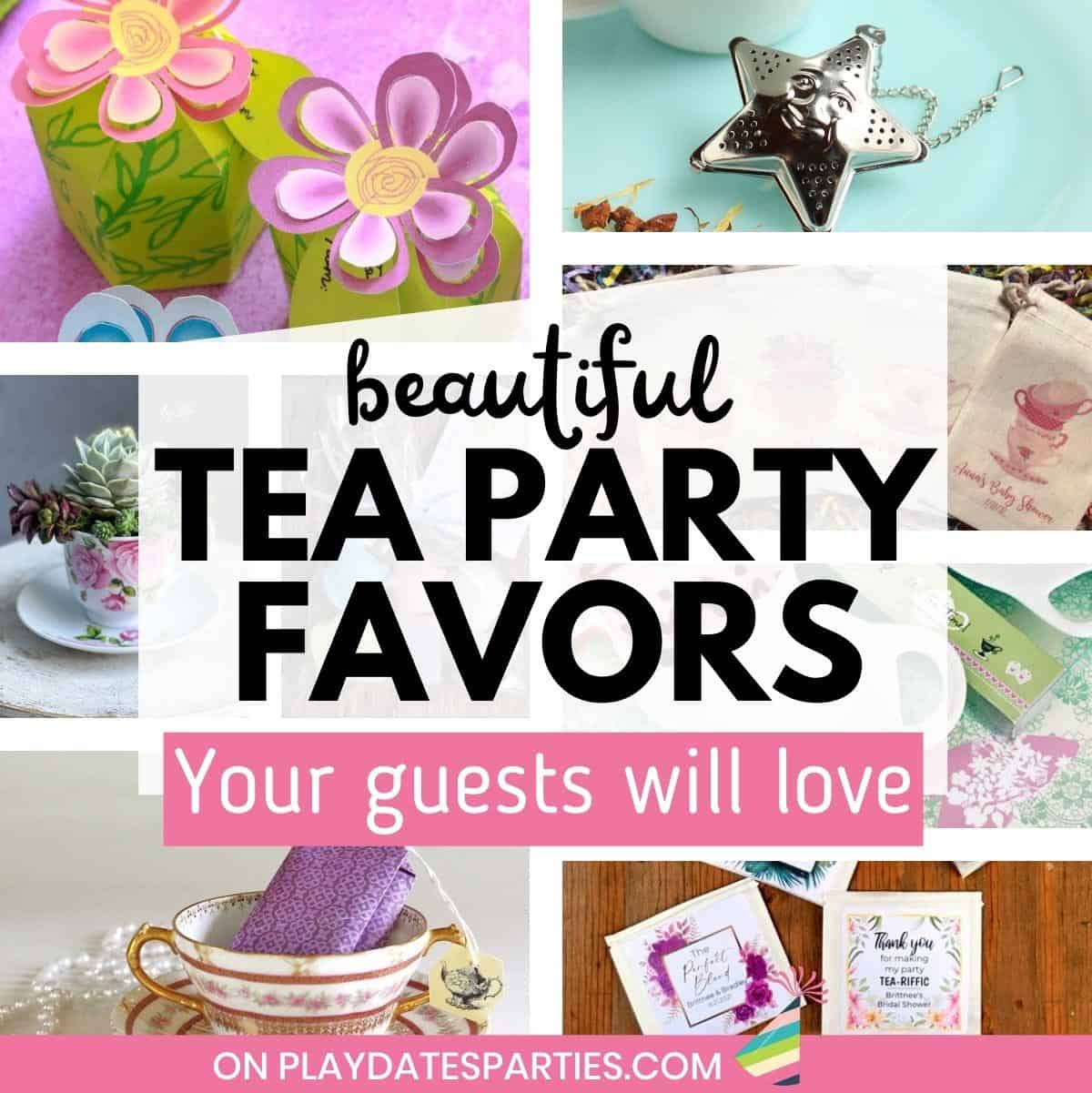 Tea Party Favors
Choosing the right favor is an important part of planning any party. After all, it's one of the few things your guests have to remind them of the fun you had together.
You'll want to pick something that fits your theme, your budget, and the the purpose of your gathering.
Thankfully, there are lots of great favor options to choose from. Here are some of our favorites:
Homemade Cookies – Cut out sugar cookies decorated with this easy cookie icing are a simple, but heartfelt party favor that works for just about every age and party theme.
Vintage Teacup Mini Planter – My stepmom made favors similar these for my bridal shower by using thrifted teacups and colorful garden store flowers. The guests all loved them, and they looked gorgeous spread out on the table.
Personalized Tea Bags – These personalized tea bag favors are the perfect combination of DIY and done-for-you. You get the labels and the tea bags, and simply add the sticker to the labels. Easy, and cute!
Cute Tea Infuser – Looking for a cute and practical favor? These adorable star shaped tea infusers are the perfect choice. Combined with one of the customized tea favors above, you'll have a unique gift your guests will enjoy for years to come.
Teapot Favor Box – Teapot shaped favor boxes with a bold floral accents are a chic and fun way to show your appreciation. Fill them with tiny treats, like small candies, or a custom tea sachet.
Don't forget to check out these other cute and unique tea party favors for more inspiration.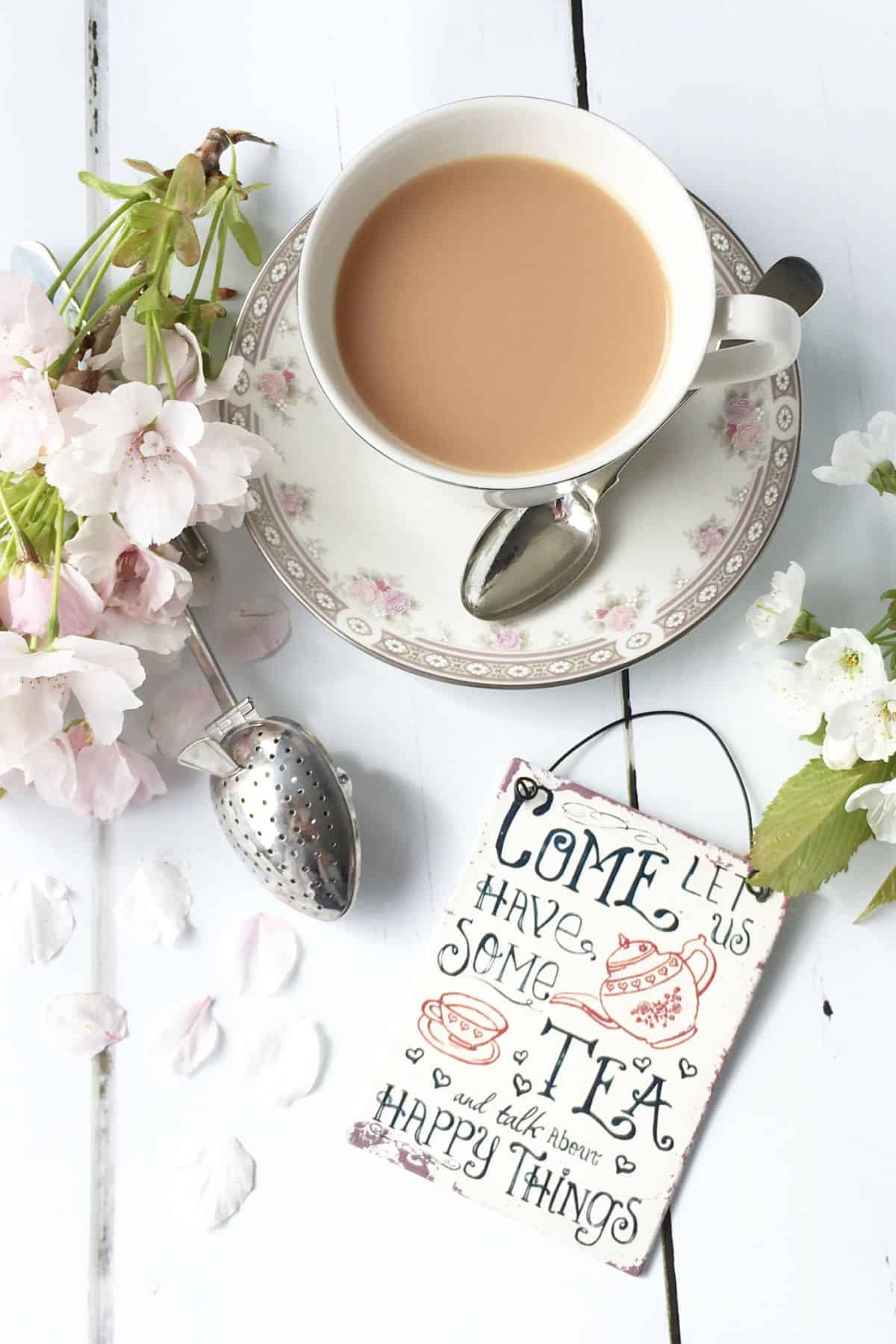 Quick Tips for hosting a successful afternoon tea party
There are so many tea party ideas out there that the planning can quickly get overwhelming. Here are a few key things to remember.
Remember to keep your party plans appropriate for the age group and occasion.
Send out invitations at least two weeks in advance (4-6 weeks for bridal or baby showers) so guests can mark their calendars.
If you're having a small party at home, keep your menu small with 5-7 different options.
Hosting a larger group? Mix in several store bought options or purchase party trays from a local restaurant.
Make sure you have a pot of tea with several different tea flavors available, as well as a variety of other drinks guests can enjoy.
Set your table with elegant tableware, napkins, and a pretty flower arrangement.
Make sure you have enough seating for all of your guests. Pull out extra chairs from other rooms if necessary.
Above all, enjoy yourself and have fun!
It doesn't matter if you're throwing a bridal shower, baby shower, or kids birthday party. As long as you keep these tips in mind, you'll pull together a party that everyone is sure to love.
And if planning your party still feels overwhelming or too much work, we've got you covered. You can download our free printable party planner snapshot page that will help you manage all the major details in one spot.
Download your copy now and don't forget to tag us in photos when your party is done!
---