As the leaves start to turn colors, and air becomes a little crisper, it can only mean one thing: Fall is officially here! And with fall comes all sorts of delicious food traditions, like pumpkin everything, apple recipes, and of course, all the fall desserts recipes.
We're sharing everything from easy treats for the kids, to show-stopping pear pie bars that are perfect for a fall dinner party. So, whether you're planning a fall brunch, a Halloween party for the kids, or a Thanksgiving celebration with the family, these fall desserts ideas are sure to please.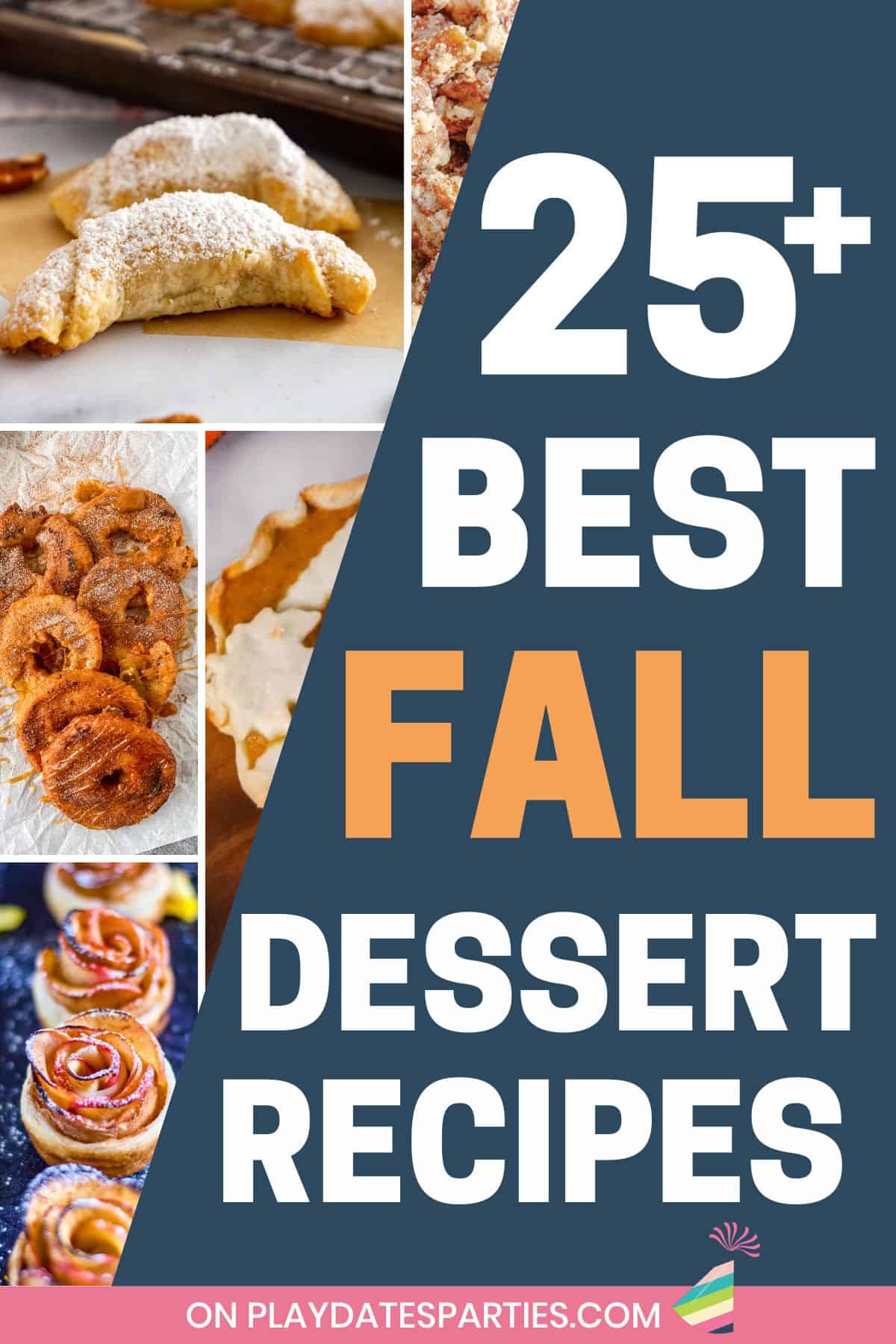 It's always a good choice to offer a variety of fall desserts for a crowd. It gives everyone a chance to try some new things, and there's bound to be at least one dessert that everyone will love.
And, let's be honest…dessert is always the best part of any party!
How Many Fall Desserts Should I Plan?
This really depends on the size of your party, and how many other food items you'll be serving, but here are some general guidelines:
If you're having a small get together, 2-3 desserts should be plenty.
For a larger party, or if you're serving dinner as well, 3-5 desserts would be a better choice.
I also have a full guide and a free cheat sheet showing how much food to make for a party. It covers everything from how much ice you need all the way to what size cake to purchase.
Want to avoid spending hours on end preparing food for your party? Click here to download 10 Fast and Easy Party Recipes that don't take more than 20 minutes of your time to prepare.
How to Display Your Desserts
Whether or not you're having a dessert bar, it's always nice to make your treats look as pretty as possible. Here are some simple ideas:
Use a tiered tray: Displaying mini fall desserts vertically on a tiered tray makes your buffet more interesting, and shows off all the pretty fall colors.
Garnish with seasonal fruits and vegetables: Cranberries, mini pumpkins, and gourds are all food safe ways to add color and texture to your party tray
Garnish with fall candy: If you're planning desserts for kids, scatter some fall M&Ms, Reese's pieces, candy pumpkins, or candy corn on the dessert tray to make it extra festive.
Fall Dessert Recipes
We're covering all the best fall desserts recipes today, and have even organized it all for you into the following sections:
Fall snacks for kids
Fall desserts with apples
Autumn Cranberry recipes
Pumpkin recipes
Chocolate Recipes for Fall, and
More Fall Dessert Recipes
As you can see, there are so many delicious flavors to explore this fall. And with so many different flavors and textures, making enough fall desserts recipes for your party is easy. The hard part is going to be picking just a few of them!
Before you put on your apron, don't forget to grab your free copy of 10 fast and easy party recipes. It's got 10 crowd pleasing recipes that take no more than 20 minutes of your time in the kitchen.
---