Fall is apple season, and apple recipes abound…recipes like homemade applesauce, mini apple roses, and so much more. If you're looking for an easy way to enjoy apples this season, you're going to love this cinnamon apple bread with streusel topping.
This from scratch recipe is loaded with fresh apples, cinnamon, nutmeg, and allspice for a dense moist bread that will fill your kitchen with the smell of apple pie. Then it's topped off with a buttery pecan streusel that will leave you licking up all the crumbs.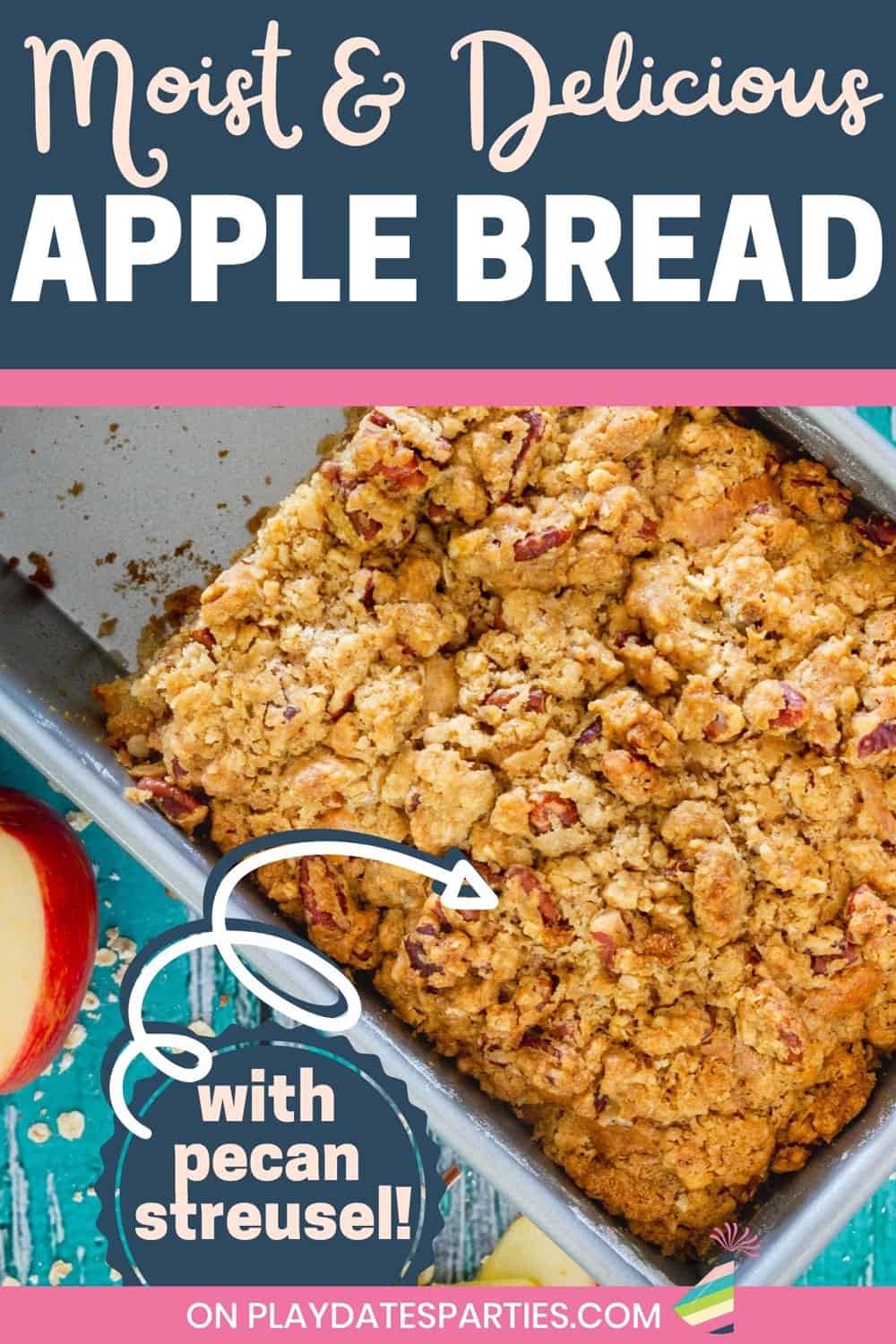 If you're looking for an easy way to enjoy apples this season, you'll love this recipe!
This quick bread is dense and moist, and is 100% addictive. Our kids beg for a slice for breakfast, snack time…or pretty much anytime they want something tasty and sweet.
I won't lie…the streusel topping is extra-messy. But it still makes an amazing gift for new neighbors, coworkers, or even as a hostess gift. Better yet, it's a delightful change from traditional fall flavors like pumpkin spice recipes and banana bread.
This recipe makes one loaf…but I definitely recommend you double up because it won't last long.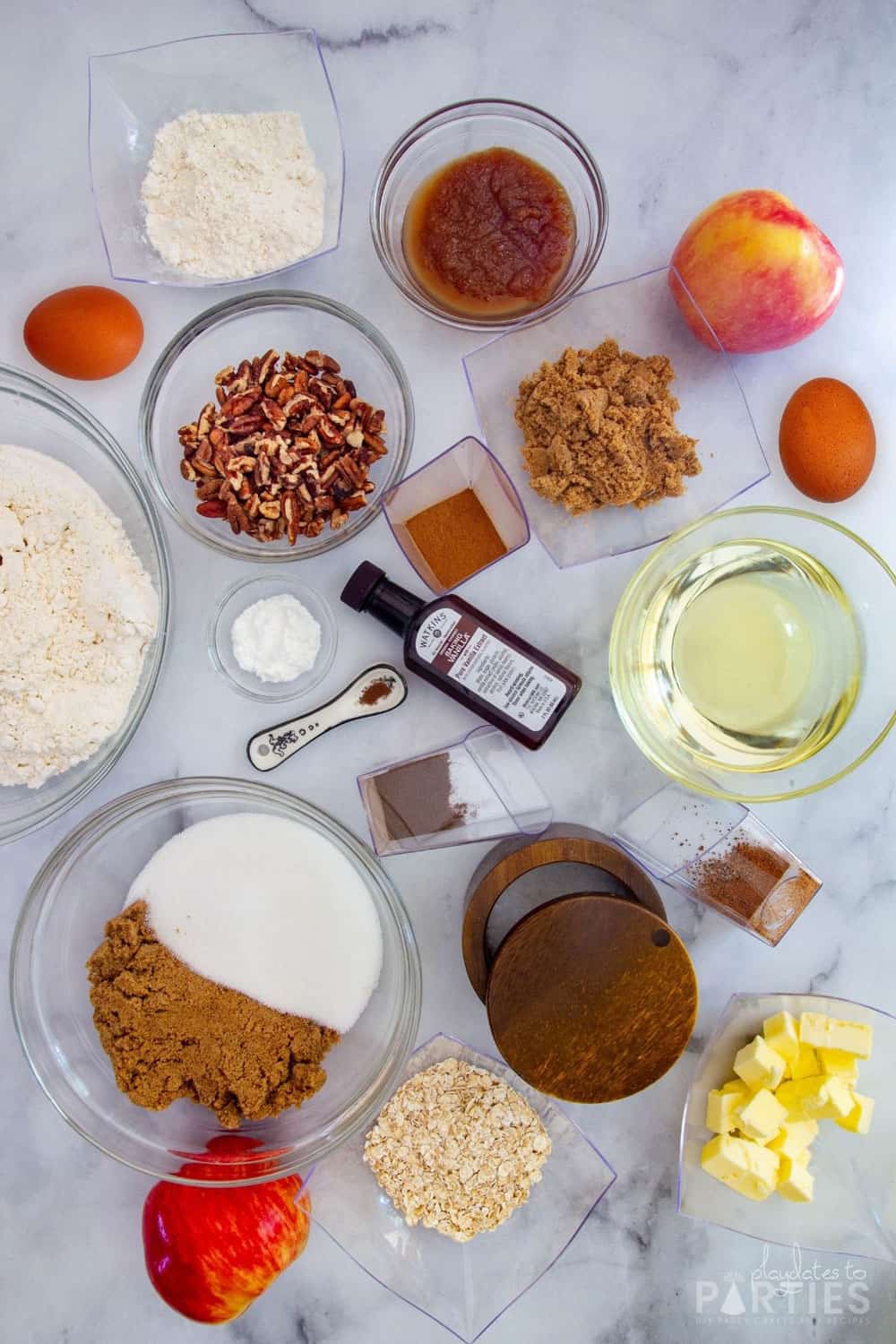 What You'll Need:
Ingredients:
All purpose flour
Eggs
Apples
Granulated sugar
Brown sugar
Vegetable oil
Apple butter
Vanilla extract
Salt
Baking powder
Ground cinnamon
Ground allspice
Cloves
Nutmeg
Butter
Quick cooking oats
Chopped pecans
Supplies:
2 large mixing bowls
1 medium mixing bowl
Electric mixer
Mixing spoon
Measuring cups and spoons
Step-by-Step Directions:
To make things even easier for you, I created a simple photo guide below. For all measurements and a more detailed guide, check out the recipe card at the bottom of this page.
Step 1 – Mix together the streusel ingredients by hand
Step 2 – Whisk together the dry ingredients
Step 3 – Mix together the 'wet' ingredients
Step 4 – Stir in the apples to the wet ingredients
Step 5 – Combine the wet and dry ingredients
Step 6 – Pour the batter into a prepared loaf pan.
Step 7 – Sprinkle streusel topping on top
Step 8 – Bake until cooked through.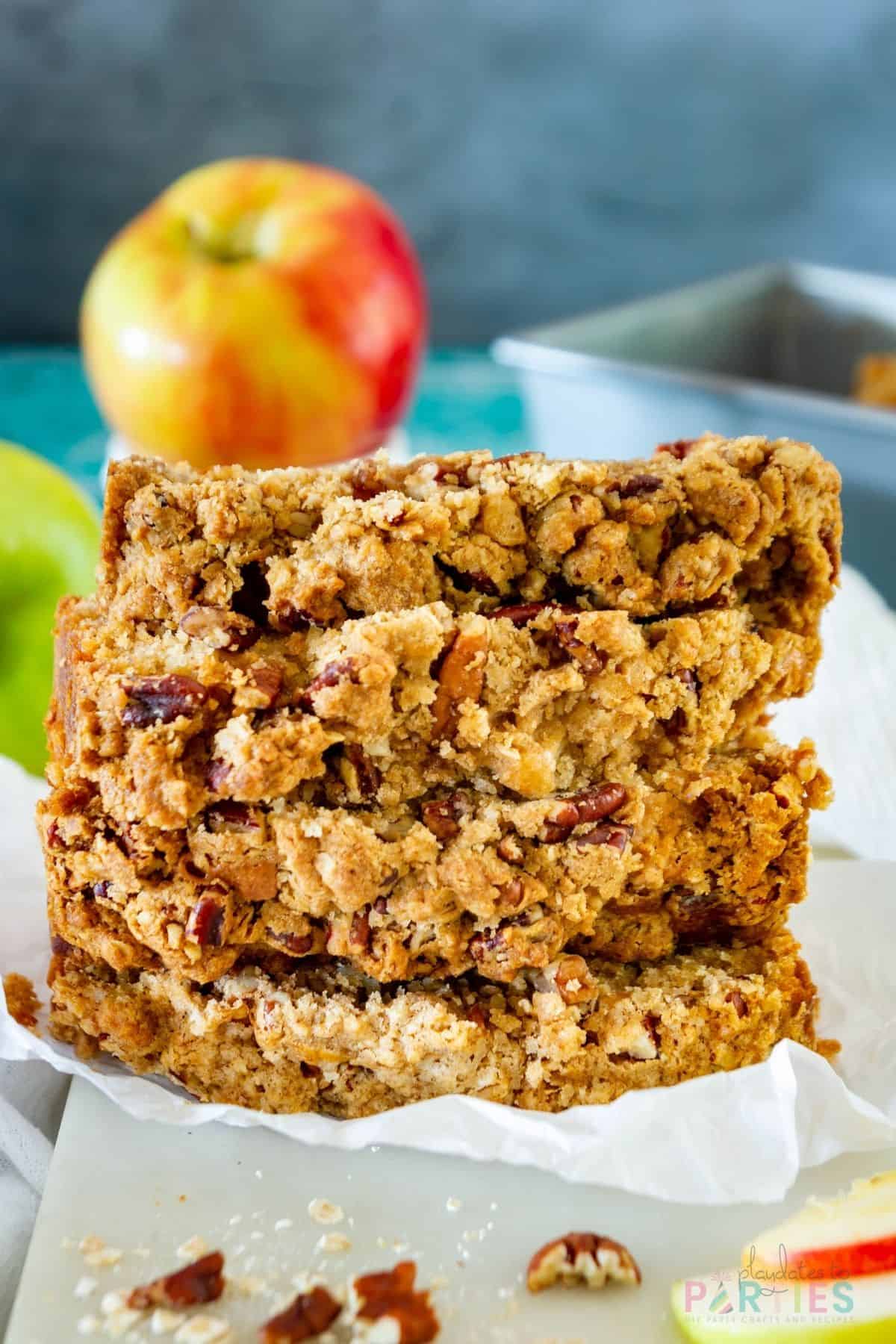 Essential Tips:
Don't skip these tips – read them before baking to avoid any potential mistakes.
Prepare your pan properly
Don't skip greasing and flouring your pan. When done right, it will help make sure your apple bread releases perfectly. And your loaf will look nicer than trying to line a loaf pan with parchment or foil.
Adjust for your loaf pan type & size
This was tested in a 9×5 metal loaf pan. Most loaf pans are about the same size, but there are a wide variety of materials. You can read up here on the difference between glass, ceramic, and metal bakeware.
Make the streusel first
One of the keys to making a good quick bread is to get them in the oven as quickly as possible after mixing the wet and dry ingredients. This is because the leavening agent (in this case, baking powder) is activated once it becomes wet.
Which is why I always prepare the streusel topping before making the batter. That way it's ready to add right after you get the batter in the pan.
Dice your apples into very small chunks
We found that using large apple chunks don't end up with the tastiest results. I use our apple corer/slicer/peeler to get thin slices and then chop them up even further.
This gadget really is a lifesaver with apple recipes. It's the difference between apples being ready in 10 minutes versus 3!
Don't overmix your batter
Overmixing the batter can result in a tough bread, and can also reduce the ability of the bread to rise.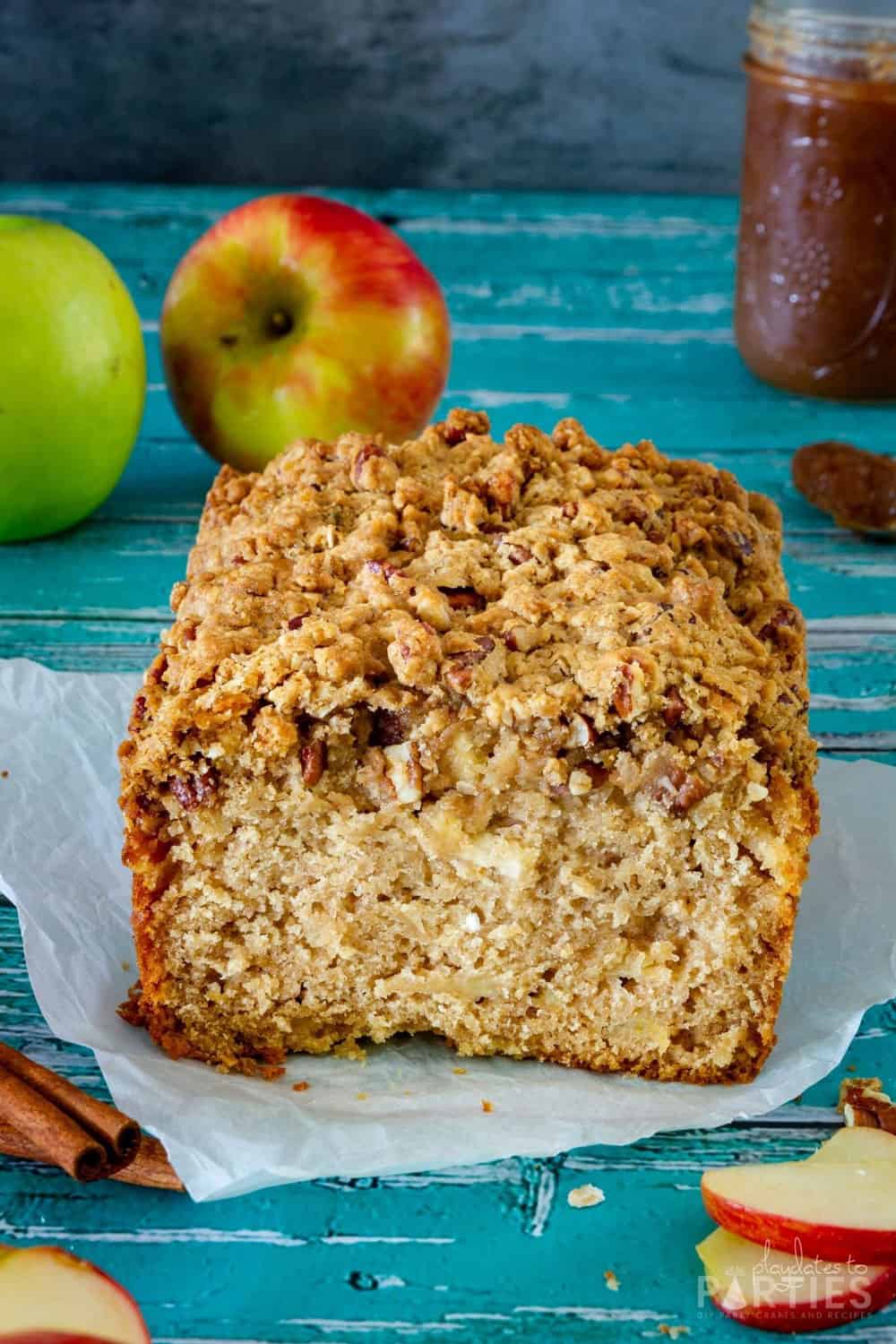 FAQs:
What kind of apples work best?
Firm apples typically used for baking are also best with this bread. We like Granny Smith and Pink Lady apples, but you can also use Gala, Fuji, and Honeycrisp.
How many apples do I need to make 2 cups?
Depending on their size you'll need 2-3 apples to get 2 cups of diced apple pieces.
I find it helps to place diced apples in a measuring cup as I cut them so I can keep track of how much more needs to be cut.
If you make this recipe, please leave a ⭐️⭐️⭐️⭐️⭐️ star rating in the recipe card and let me know how it turned out in the comments below. This provides helpful feedback for me and to other readers. And if you want more fun party ideas, subscribe to my newsletter and follow along on Instagram, Pinterest, and Facebook.
How can I keep the streusel from falling off?
This is definitely a very crumbly streusel recipe. If you're planning to give this as a gift, you may want to add an egg white to the streusel to help it hold together. It will change the texture of the streusel a bit, but it definitely
Can I skip the streusel topping?
Yes! In fact, we've made the base apple bread recipe to make flavorful muffins. They turned out perfectly with a crisp exterior and a moist center. Yum.
Can I substitute applesauce for the apple butter?
Absolutely! We tested this recipe with apple butter and unsweetened applesauce, and both were equally delicious.
How do I keep my bread from sinking?
There is a natural amount of sinking that happens with this bread due to the weight of the streusel. But it should still rise into a pretty little dome. Here are some common causes for sunken quick bread:
The oven temperature may be off. It's always best to have an oven thermometer on hand to make sure your oven is at the proper temperature.
The leavening agent is old or expired. Baking powder and baking soda lose their effectiveness over time, so it's important to make sure it gets replaced every now and then
Make sure your pan is in the center of the oven. Ovens have hot and cool spots, so cooking in the center helps ensure that the heat is as even as possible.
The bread isn't fully cooked. Rather than using a toothpick or knife, check your bread with a thermometer before pulling it out of the oven. If it's below 200˚F, it's not ready.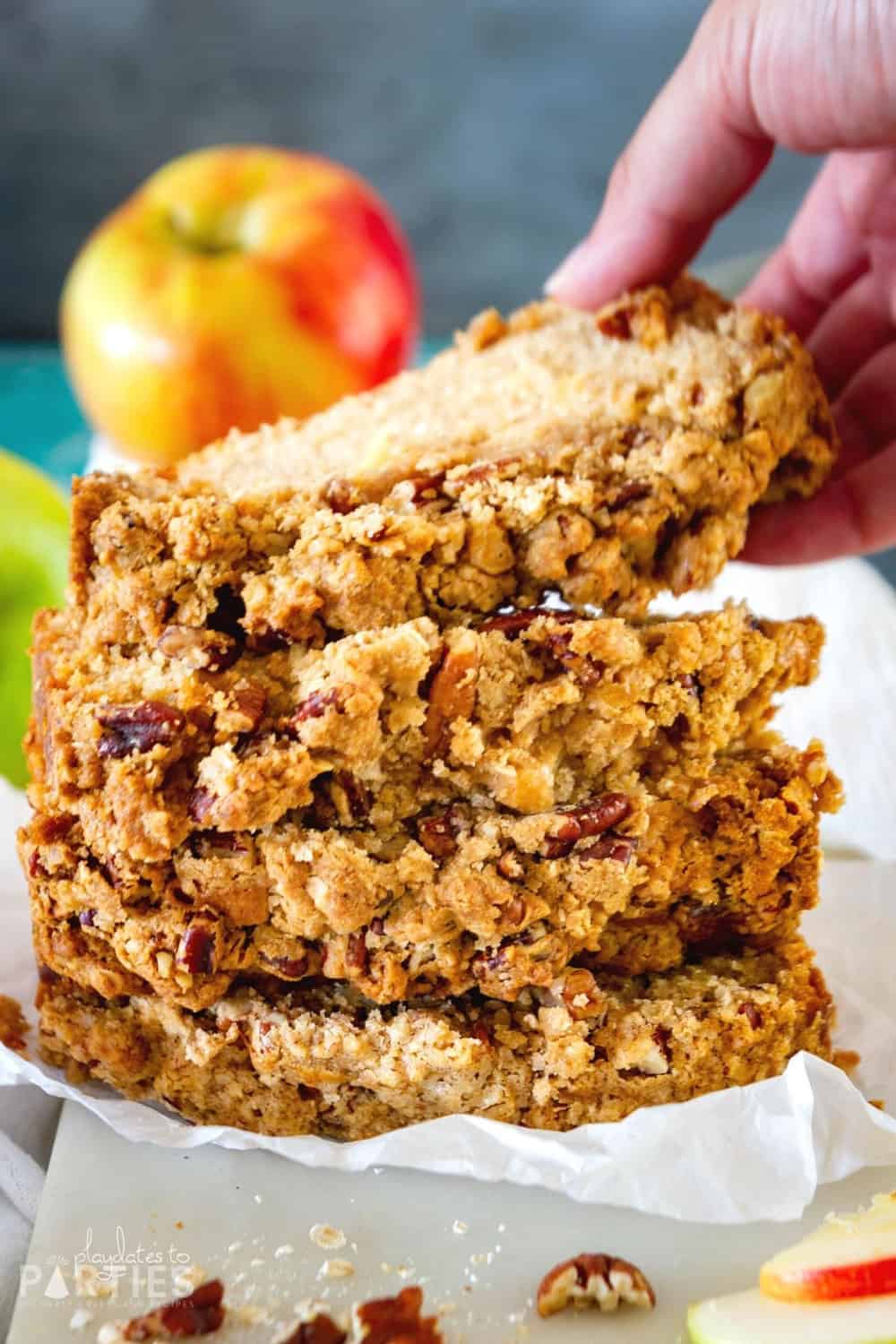 Can you freeze apple bread?
If you're lucky enough to have any apple bread left over, you can freeze it. Wrap the bread tightly in plastic, then place it in a ziptop freezer bag for up to a month.
When you're ready to enjoy it again, allow the bread to thaw completely at room temperature before serving.
What to Serve With Apple Bread
This is a super sweet bread that is more like a dessert, so we like to enjoy it on its own, or with a slather of butter, peanut butter, or apple butter.
It also pairs perfectly with a cold glass of apple juice or milk. Yum!
If you're adding this to a brunch or breakfast buffet, it goes nicely with fresh fruit salad, yogurt parfaits, and a tasty breakfast sausage.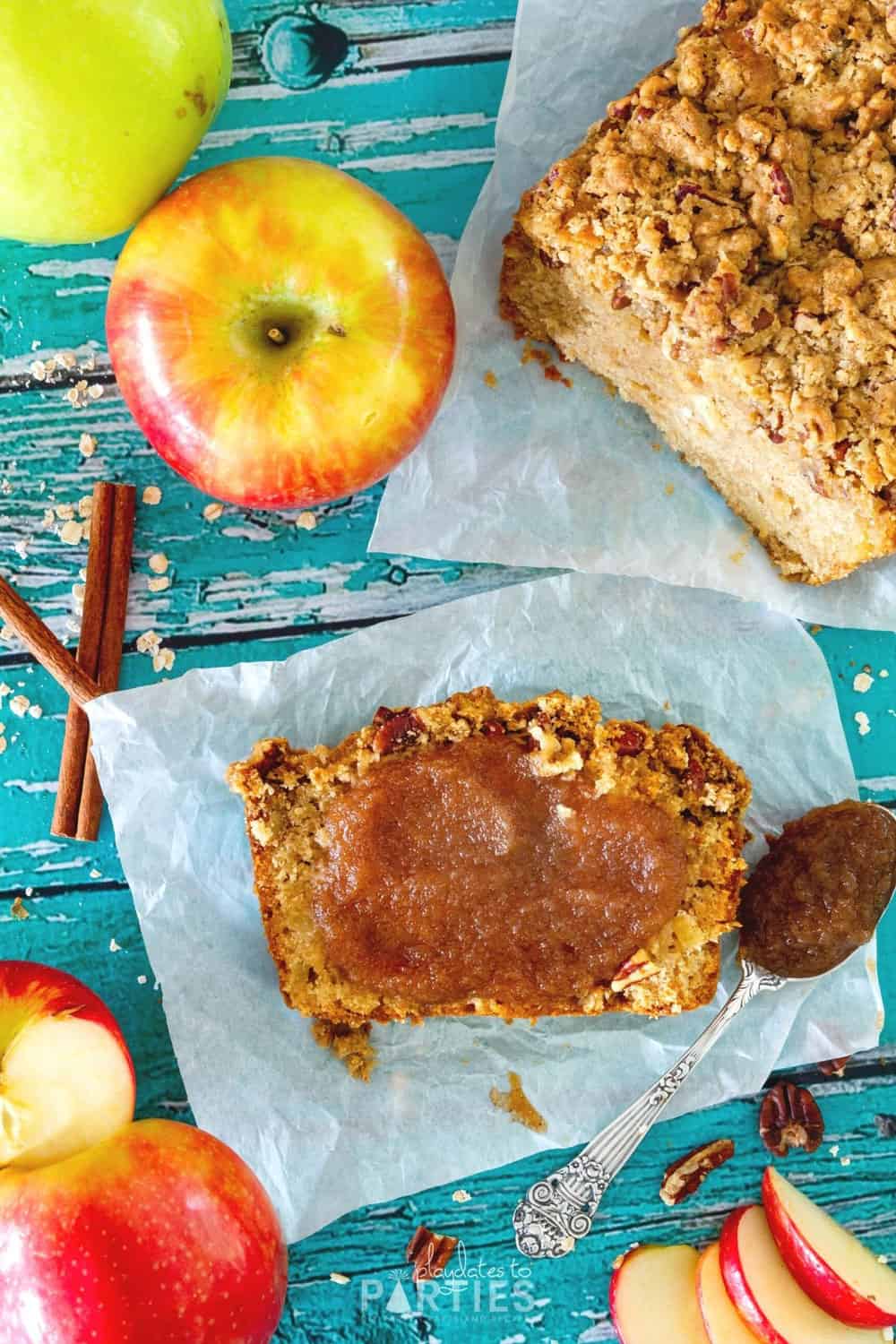 If you liked my apple bread recipe with streusel topping, you're going to love my other apple recipes to try this fall. There you'll find everything from comforting recipes like this quick bread to stunning desserts that are perfect for special occasions.
Or you can check out my other desserts right here.
Yield: 1 loaf
Cinnamon Apple Bread with Streusel Topping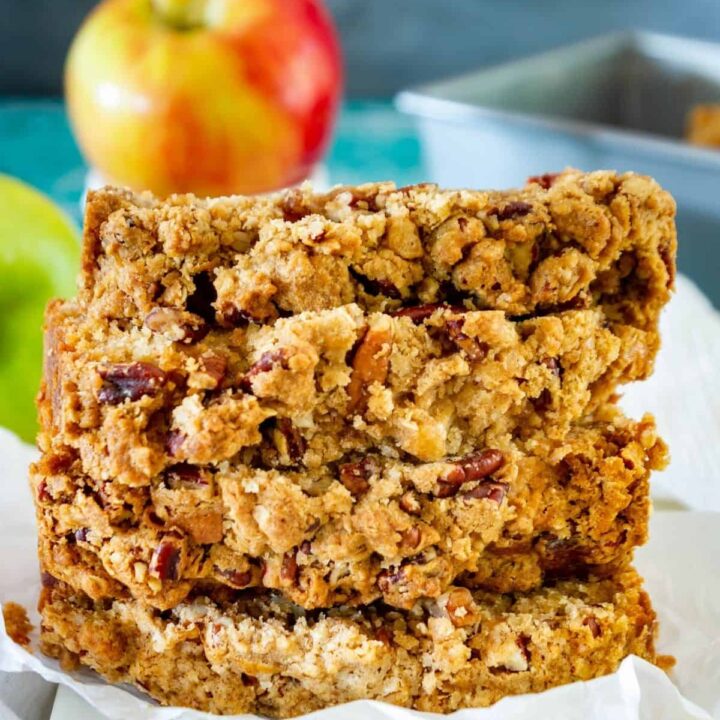 This from scratch cinnamon spiced apple bread is a moist quick bread that is full of fall flavors. It smells amazing as it cooks and tastes just as good.
Cook Time
1 hour
20 minutes
Total Time
1 hour
40 minutes
Ingredients
Apple Bread
1/2 tbsp butter or shortening
1/2 tbsp all purpose flour
2 eggs
2 c Apple, peeled and diced
1/2 cup white sugar
1/2 cup brown sugar, packed
1/2 cup vegetable oil
1/4 cup applesauce/apple butter
2 teaspoon vanilla extract
2 cup all purpose flour
1.5 teaspoon salt
1 teaspoon baking powder
1 teaspoon ground cinnamon
1/4 teaspoon ground allspice
Pinch cloves
Pinch nutmeg
Streusel Topping
1/4 cup cold butter, cubed
1/4 cup brown sugar
1/4 cup quick cooking oats
1/4 cup flour
1/2 cup chopped pecans
1/4 teaspoon cinnamon
Instructions
Preheat oven to 350˚F. (175˚C). Grease a loaf pan with 1/2 tbsp butter or shortening, then dust the greased pan with 1/2 tbsp flour.
Prepare the Streusel Topping: Combine 1/4 cup cold butter, 1/4 cup brown sugar, 1/4 cup quick cooking oats, 1/4 cup flour, 1/2 cup chopped pecans and 1/4 tsp ground cinnamon in a medium bowl. Knead together with your hands to create a coarse dough. Set aside.
Prepare the Batter: In a large bowl, whisk together 2 cups all purpose flour, 1.5 tsp salt, 1 tsp baking powder, 1 tsp ground cinnamon, 1/4 tsp ground allspice, 1/8 tsp ground nutmeg, and a pinch of cloves.
In a separate large bowl, beat together 2 eggs, 1/2 cup white sugar, 1/2 cup brown sugar, 1/2 cup vegetable oil, 1/4 cup applesauce/apple butter, and 2 tsp vanilla extract on low speed until combined.
Add diced apples and lightly stir together.
Add the dry mixture to the wet ingredients and stir until just combined. Do not over mix.
Pour the batter into the prepared loaf pan. Sprinkle the streusel topping on top of the batter.
Bake for 60-70 minutes. Cover the loaf with aluminum foil, and continue baking until a toothpick inserted in the center comes out clean - about 10-15 minutes.
Cool in the pan for 10-15 minutes. Then remove from the pan to finish cooling on a wire rack.
Notes
Don't forget, the step-by-step photos in the recipe post are there to help you if you feel stuck at any point.
Don't skip preparing the loaf pan. It's crucial for ensuring that the bread releases from the pan after cooking.
You will need 2-3 apples to get 2 cups of diced apple pieces.
Applesauce can be substituted if you don't have apple butter.
The streusel is quite crumbly. If that's a problem, you can try adding an egg white to the topping, but it will slightly change the taste and texture.
Small pieces of diced apples work better than large chunks.
Make sure to adjust your bake time and temperature if you are using a ceramic or glass pan (see tips in the post).
Apple bread can be frozen for up to one month if wrapped tightly in plastic and sealed in zip top bag.
Recommended Products
As an Amazon Associate and member of other affiliate programs, I earn from qualifying purchases.
Nutrition Information:
Yield:
16
Serving Size:
1
Amount Per Serving:
Calories:

197
Total Fat:

9g
Saturated Fat:

1g
Trans Fat:

0g
Unsaturated Fat:

7g
Cholesterol:

25mg
Sodium:

263mg
Carbohydrates:

27g
Fiber:

1g
Sugar:

14g
Protein:

3g
__________________________________ The nutrition information provided above is estimated using an automated calculation system. Actual nutrition will vary depending on brand and measurements used in your recipe. To obtain the most accurate representation of the nutrition information for any given recipe, you should calculate the nutritional information using the actual ingredients you used in your recipe.
---