I don't know what it is, but Fall just doesn't feel right until I've made something with pureed pumpkin in it.
Last year I made Mini Pumpkin Pies, a Pumpkin Roll, and Pumpkin Custard.  This year I wanted to make something different.
At first, I was determined to replicate Starbucks Pumpkin Bread but then I got an idea…pumpkin bars.  Who doesn't love chewy, tart lemon bars in the summer, and it just seems like a natural progression to enjoy pumpkiney goodness in bar form.
 Of course, I started by looking up tons of different recipes, but the one that caught my attention most was this a
Ginger Pumpkin Bars
 recipe from
With Relish
.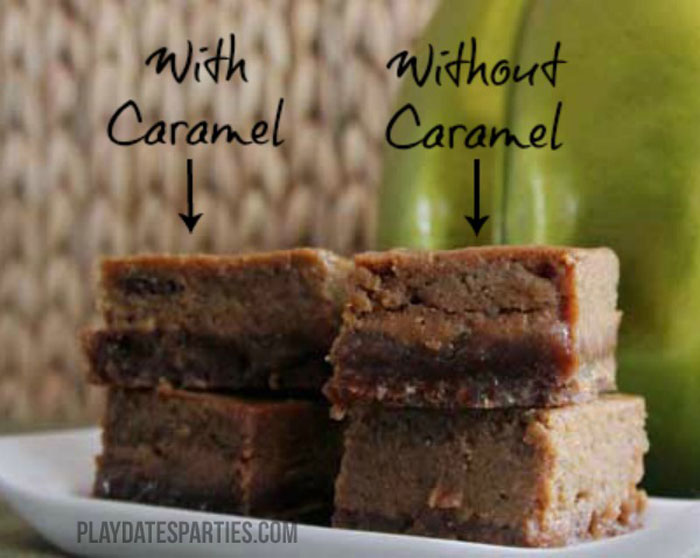 The original recipe calls for a caramel layer, which I wasn't sure about…so I made two versions.  One has the caramel layer and one doesn't.
Honestly, they're both fantastic.  The caramel version is much sweeter and develops little crunchy pockets when refrigerated.  The non-caramel version is a bit more like biting into a mini pumpkin pie.
Either way, they didn't last long in our house, and I got my pumpkin fix for this fall. Yummmm.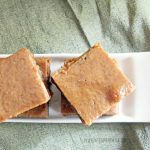 Ginger Pumpkin Bars
With pumpkin, caramel, and a gingerbread crust, these ginger pumpkin bars have just about every fall flavor in one delicious bar. Just make sure to leave some for friends and family, too!
Ingredients
Crust Layer
30-40

gingersnap cookies

crumbled in a blender or food processor

1

stick

1/2 cup butter, melted

1/8

cup

brown sugar
Caramel Layer (Optional)
12

oz

chewy caramels

1/2

cup

milk

I used 2%

3

Tbsp

butter
Pumpkin Layer
1 15-

oz

can pumpkin puree

not pumpkin pie filling

1 14-

oz

can sweetened condensed milk

2

eggs

lightly beaten

1/2

tsp

salt

1

Tbsp

cinnamon

1

tsp

vanilla

1/2

tsp

nutmeg

1/8

cup

molasses
Instructions
Preheat oven to 425 degrees and prepare a 13x9 inch glass pan (I lined the pan with Reynolds baking wrap)
Crust Layer:
Combine the cookie crumbs and brown sugar. Add to the pan and pour melted butter over top.

Combine butter and cookie mixture, pressing into bottom of pan until you have an even layer covering the entire pan.

Bake the crust for 10 minutes, being sure not to overcook.
Caramel Layer (Optional)
Place unwrapped caramels milk and butter in a double boiler (A metal bowl fitted over top of a pot with about an inch of simmering water. Try to ensure that the water does not touch the bottom ofthe bowl).

Stir until the caramels have melted and fully incorporated with the milk and butter. The mixture should be fairly thin.

When the crust is ready, pour the caramel mixture over the crust and spread evenly to the edges of the pan.
Pumpkin Layer:
Combine all ingredients and mix well.

Pour evenly over caramel layer. (Don't be surprised if the caramel layer rises up the sides of the dish. It will still taste great.
Baking The Bars:
Bake for 15 minutes at 425.

After the 15 minutes are over, reduce oven temperature to 350 and finish cooking for an additional 35 minutes. The bars are finished cooking when the top is firm and the filling no longer jiggles in the center.

Let cool completely before cutting.
Recipe Notes
These bars are best when refrigerated and eaten a day or so after baking.
Have you ever made a Ginger Pumpkin Bars recipe?
What's your favorite pumpkin flavored treat?
Subscribe via
Bloglovin, Facebook, and Twitter
to get more updates!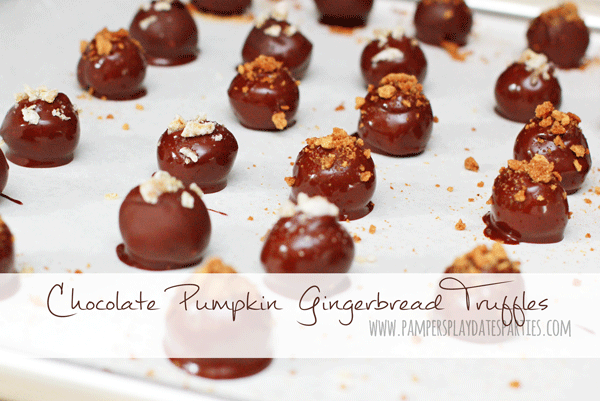 SaveSaveSaveSave
SaveSave