Yum! These easy pumpkin pie truffles with cream cheese are a perfectly sweet fall treat everyone in your family will love.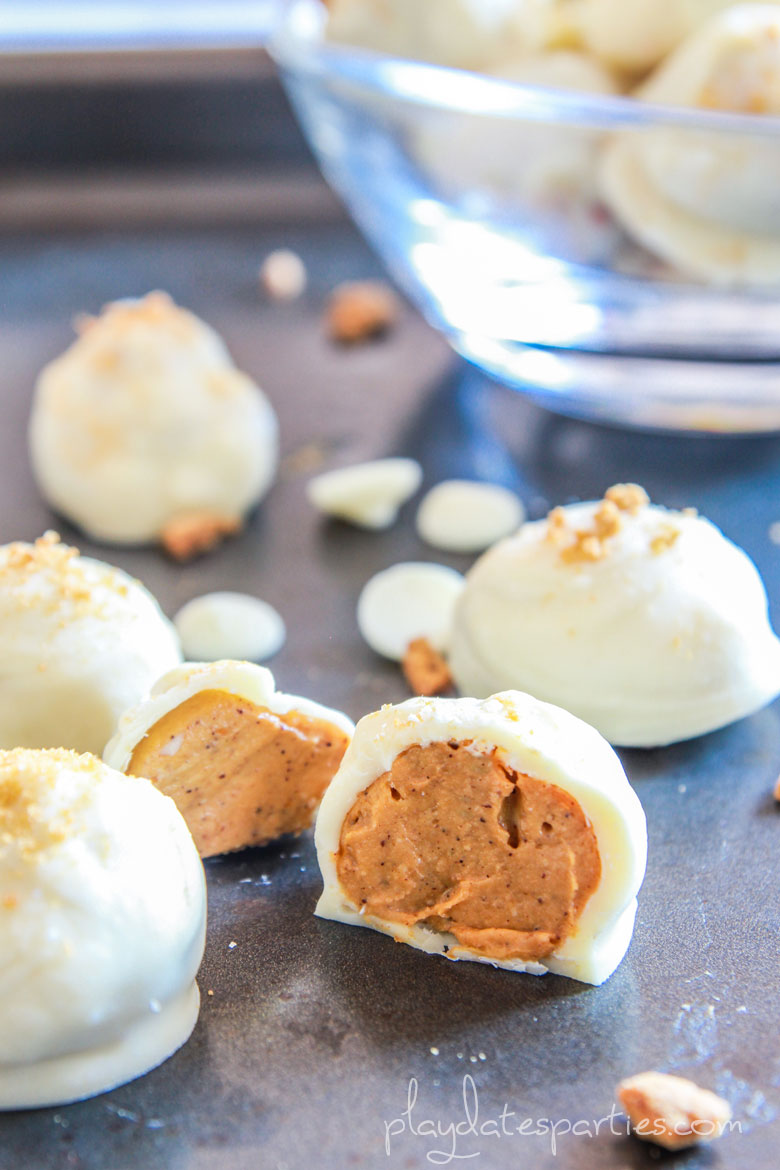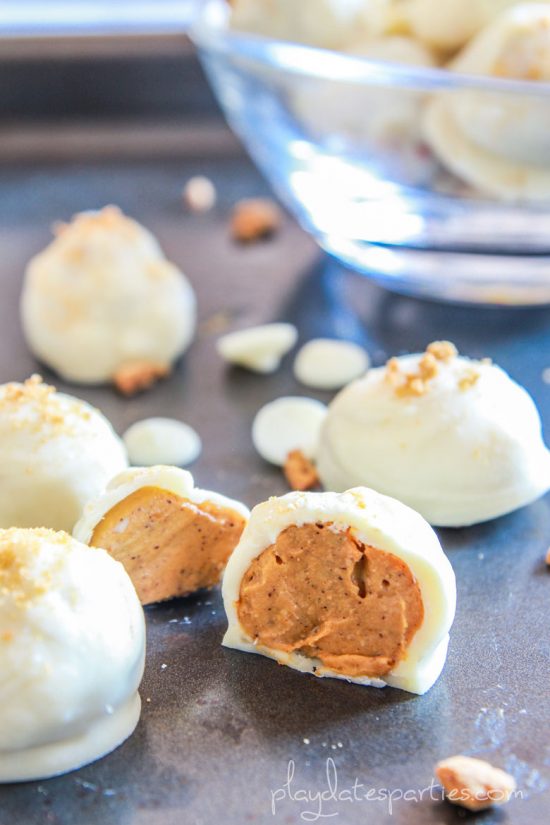 Yes, I'm yet another one in the crowd…totally addicted to pumpkin spice anything in the fall.
I love my pumpkin spice and I'm not afraid to admit it!
And it seems I'm also not able to resist these easy pumpkin pie truffles.
Filled with cream cheese, real pumpkin, pumpkin pie spices, and then coated with white chocolate, you'll be as addicted to these bite-size desserts as I am.
How to Make Pumpkin Pie Truffles
Crush the Gingersnaps
The kids love to get involved by rolling and banging on a gallon size zip-top bag. But you can feel free to use a food processor if you have one.
Don't forget to save a few of your crumbs for garnish!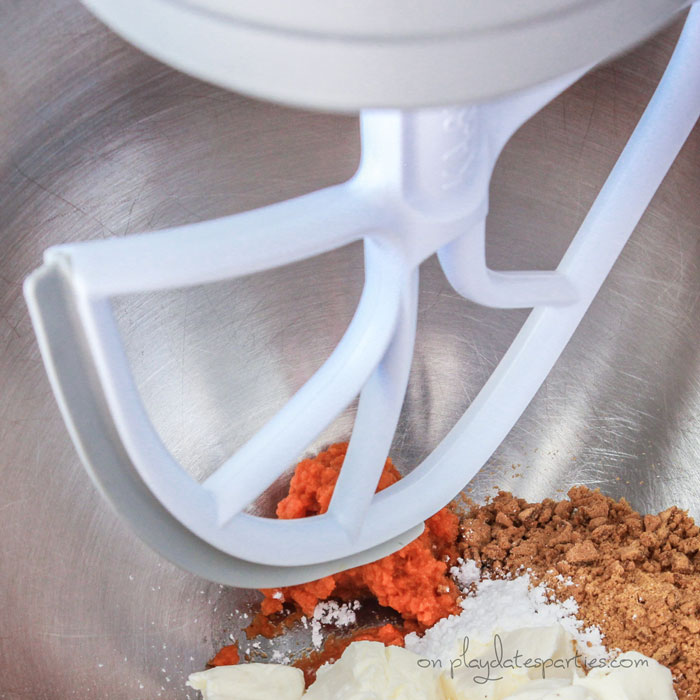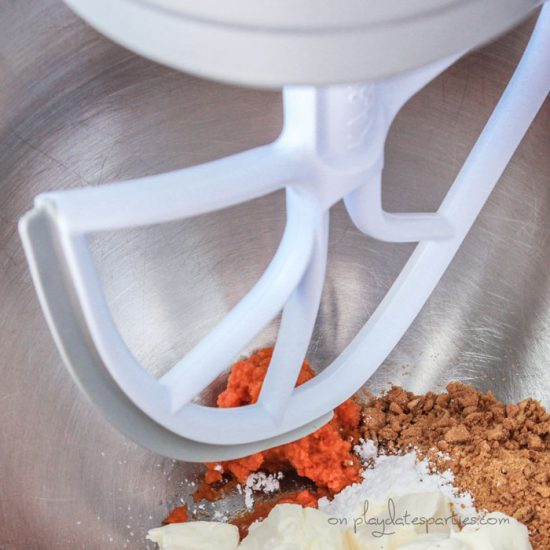 Prepare and Chill the Filling
You know what makes these pumpkin pie truffles so darn easy? This spatula mixer attachment from Kitchen Aid.
I might love it as much as I like pumpkin spice…and that's saying something.
Just add your filling ingredients to the bowl, and whip it all up like crazy. Then stick it all in the fridge to chill out for a bit.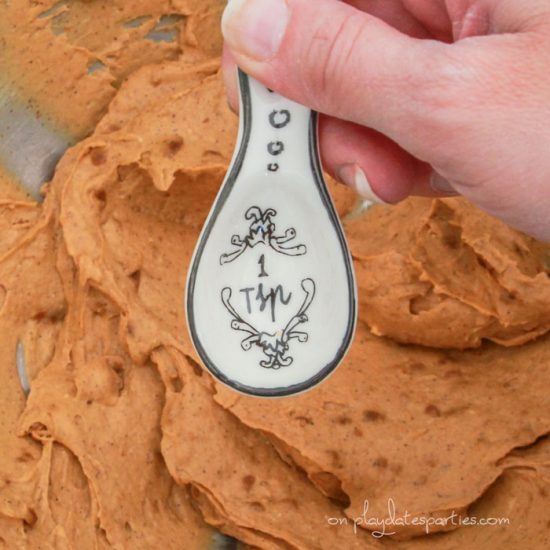 Roll, Chill and Dip
Once the filling is nice and chilled, it's time to roll your truffle balls! I usually use a 1 teaspoon measure to (try to) keep the sizes nice and consistent.
Then the pumpkin balls get put in the freezer this time. That way they stay nice and firm so you can get a gorgeous chocolate coating on top.
After they're nice and firm, it's time to dip them into melted white chocolate so you can get the full candy coated goodness. (see below for tips on how to dip your chocolates)
Garnish with a bit of crushed gingersnaps or candied ginger, and you're good!
Tips and Tricks
Will the Gingersnaps make the Pumpkin Pie Truffles Spicy?
Ironically, these pumpkin pie truffles have the same amount of gingersnaps as my chocolate pumpkin truffles…but aren't nearly as spicy.
Go figure.
I'm pretty sure it's because the dark chocolate in the other truffles add to the overall bitterness of those treats, and because these truffles have slightly more cream cheese.
The result is a creamy treat that tastes like itty bitty white chocolate coated mini pumpkin pie bites.
Does the filling HAVE to be refrigerated before rolling?
In short, yes. I strongly recommend you refrigerate your filling for at least 1.5 to 2 hours. Otherwise the filling won't be firm enough to roll into balls for dipping.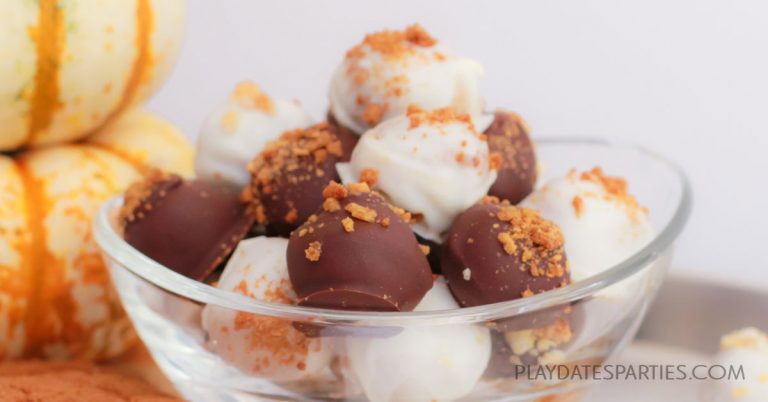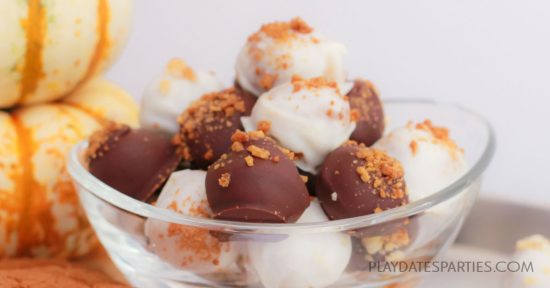 How long do pumpkin pie truffles last?
Because of the cream cheese in these truffles, you'll want to finish them off within a couple weeks of making them. Just make sure they stay refrigerated.
Though, they probably won't last that long. Just sayin'.
Tips For Dipping Your Pumpkin Pie Truffles:
Work In Batches
If possible, keep all the rolled filling balls in the freezer, pulling out no more than 10 at a time to dip.
If your freezer is too small (or too full) to hold a whole tray of truffles, rotate two freezer-safe plates full of truffles, 10 at a time. Just make sure your truffles are frozen for at least 15 minutes before dipping.
Have Some Heavy Cream on Hand
White chocolate chips are notoriously difficult to melt to a smooth consistency. If your white chocolate looks too thick, you can mix in a teaspoon or so of heavy cream to help smooth it out.
If it's still too thick, keep adding a tiny bit of cream. But be patient and try not to add too much, or it won't harden properly later.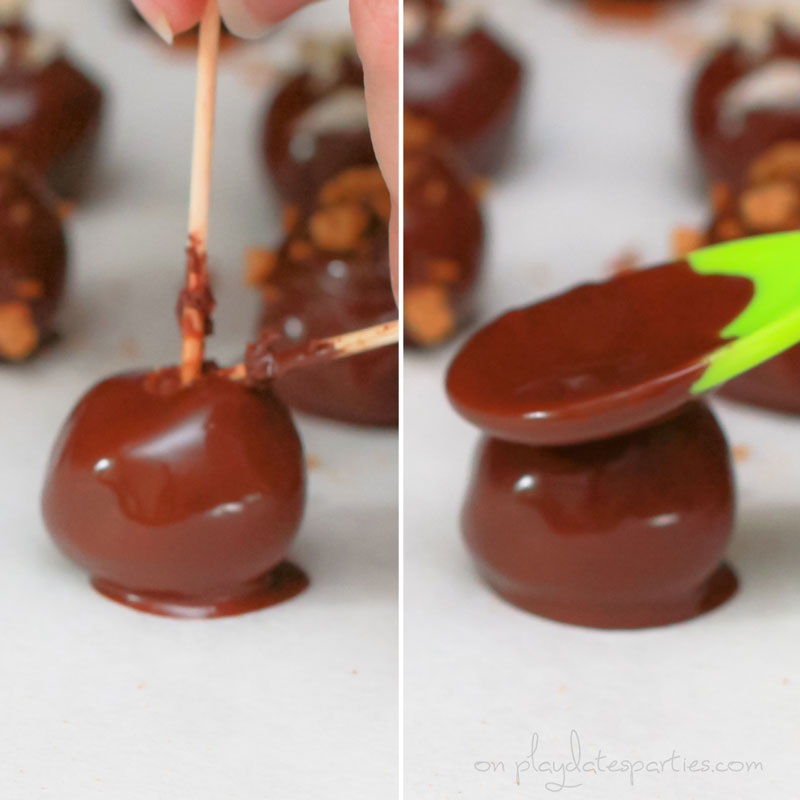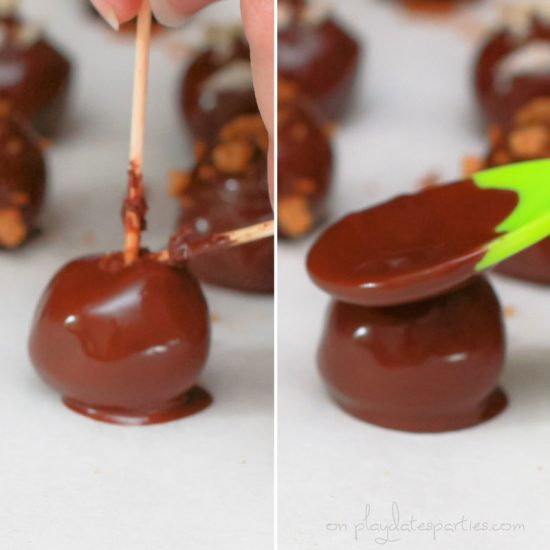 Use Two Toothpicks
Use one toothpick to hold your truffle as you dip, then a second toothpick to help get the truffle off the first one without messing up your chocolate coating.
Baby Spoons are Awesome
…for adding a little bit of chocolate to the inevitable hole that happens from the toothpick.
After you've placed your truffle on the parchment, quickly dip the back of a small spoon (I use a baby spoon…it's the perfect size!) in your dipping chocolate. Then carefully swirl a little bit of that chocolate onto the hole on top of your truffle.
It may take a few attempts, but once you get it, you'll see how easy it is!
More Creative Pumpkin Recipes to Try: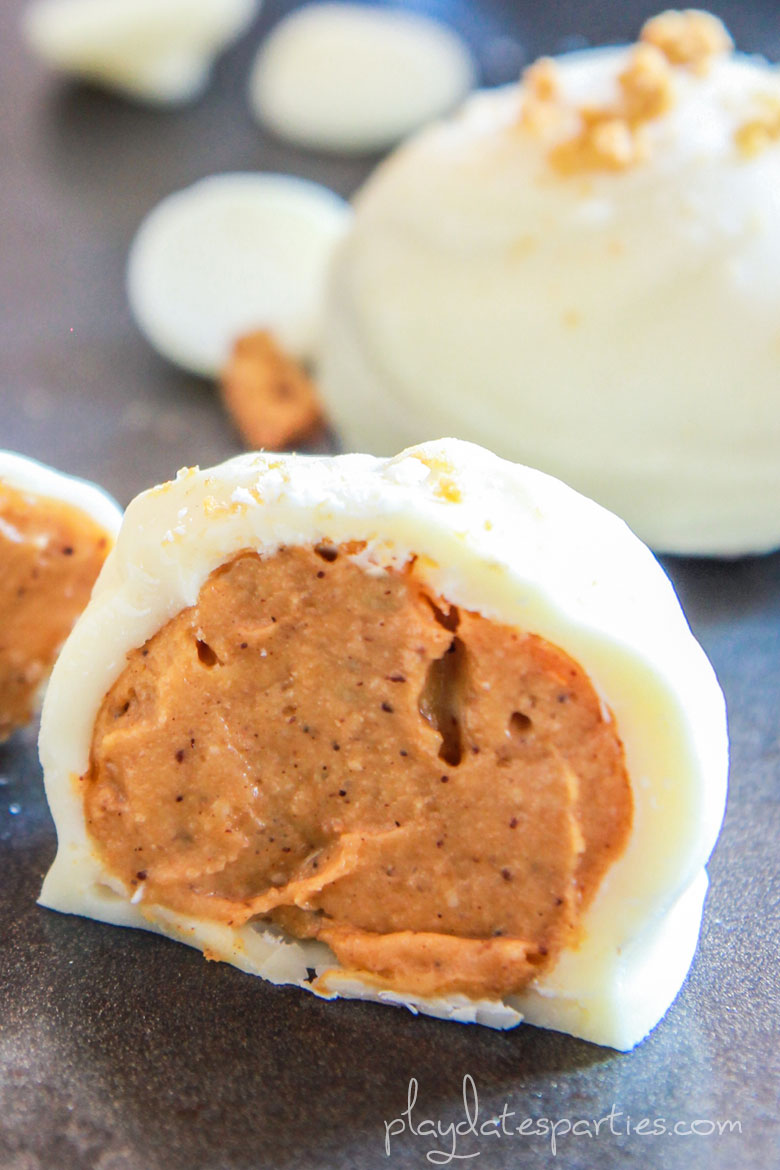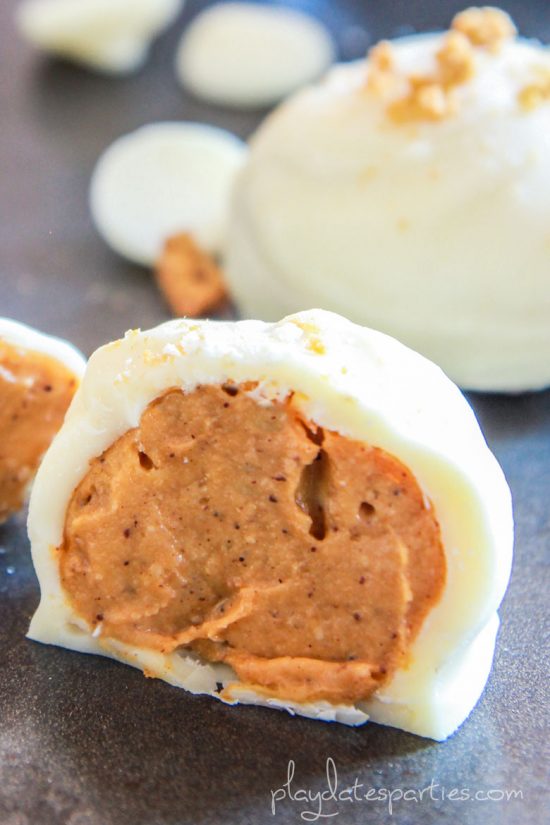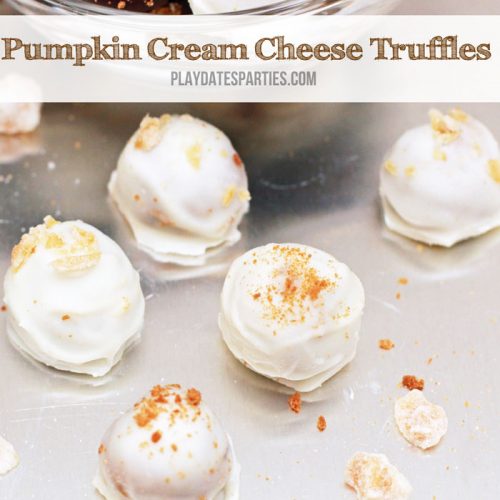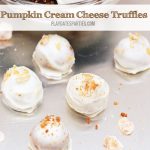 Pumpkin Cream Cheese Truffles
If you love pumpkin, these pumpkin cream cheese truffles are your new favorite treat! Best of all they are as addictive as they are easy.
Ingredients
1/3

C

pumpkin puree

1.5

cups

crushed gingersnaps

3

T

powdered sugar

1/2

tsp

cinnamon

1/2

tsp

ginger

1/8

tsp

nutmeg

1/8

tsp

cloves

1/8

tsp

salt

4

oz

softened cream cheese

14

oz

white chocolate or vanilla almond bark.

1

T

shortening or vegetable oil

Crushed gingersnaps or chopped candied ginger for garnish
Instructions
Combine the pumpkin puree, crushed gingersnaps, powdered sugar, cinnamon, ginger, nutmeg, cloves, salt and cream cheese in a stand mixer fitted with a paddle attachment. Mix until combined and smooth. Chill mixture until mostly hardened.

Using a teaspoon or melon ball scoop, shape mixture into balls and set on a baking sheet prepared with a sheet of parchment paper. Freeze until solid, approximately 2 hours.

Meanwhile, combine white chocolate and shortening in a double boiler and melt until smooth. Prepare a second cookie sheet with another sheet of parchment paper.

When truffles are set and chocolate is smooth, dip the balls in the chocolate mixture, placing them on a the new cookie sheet. **See dipping tips below**

Before the chocolate sets, sprinkle with crushed gingersnaps or chpped candied ginger. Return to refrigerator until firm, about 1 hour.

Keep refrigerated until ready to serve.
Recipe Notes
Tips for dipping truffles: Dip the balls in batches. If possible, keep all the rolled filling balls in the freezer, puling out no more than 10 at a time to dip. If your freezer is too small (or too full) to hold a whole tray of truffles, rotate two plates of truffles, 10 at a time, making sure that the truffles are frozen for at least 15 minutes before removing. Use two toothpicks.  One to hold the truffle while dipping and then another to gently loosen the dipped truffle onto the fresh parchment paper. Using a small spoon (baby spoons work great for this), and working quickly, add a bit more chocolate on top of the toothpick hole and smooth out.
Have you ever had pumpkin pie truffles?
What's your favorite way to serve pumpkin?


Don't forget to subscribe via
Bloglovin, Facebook, and Twitter,
to get more updates
SaveSave
SaveSave
SaveSave