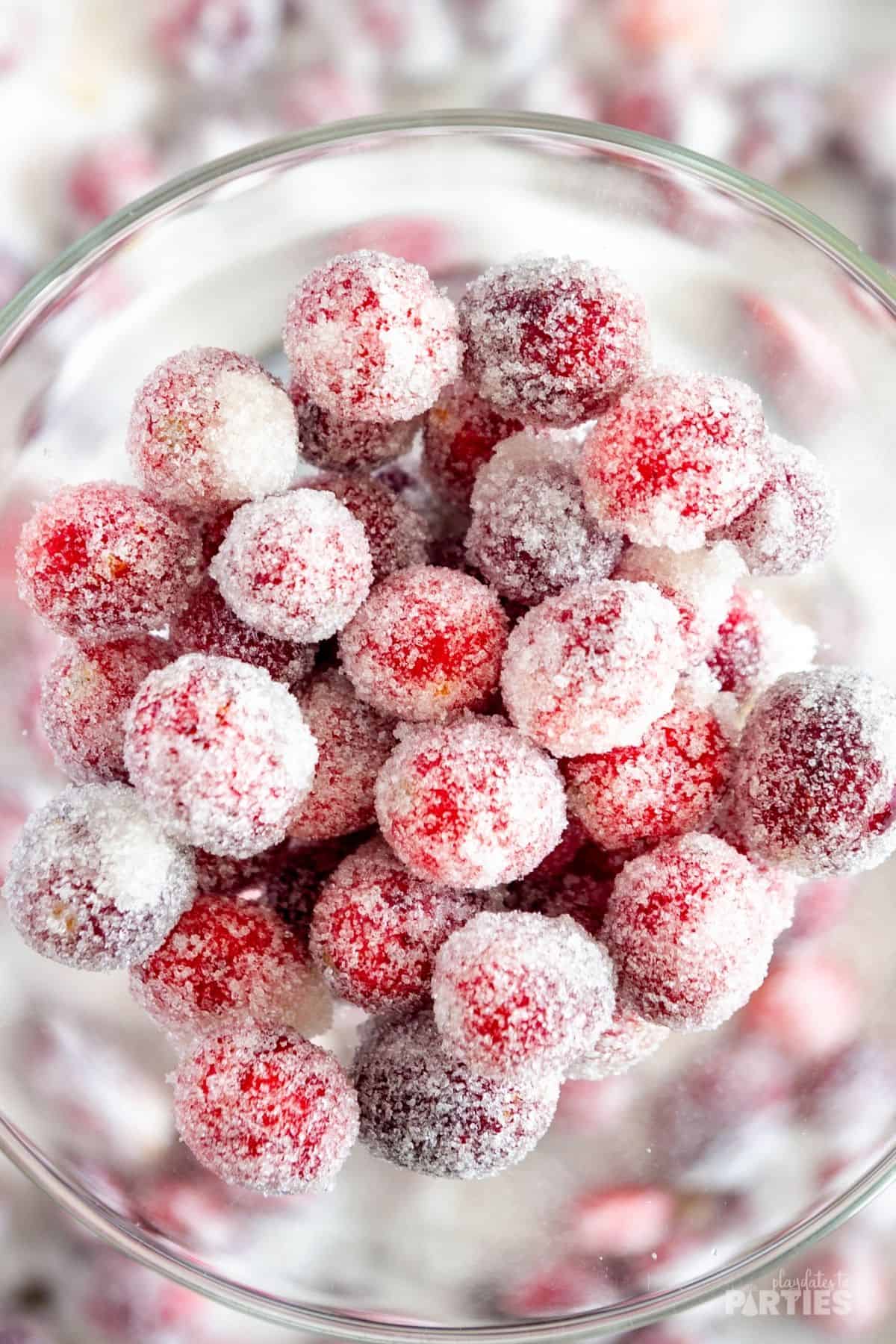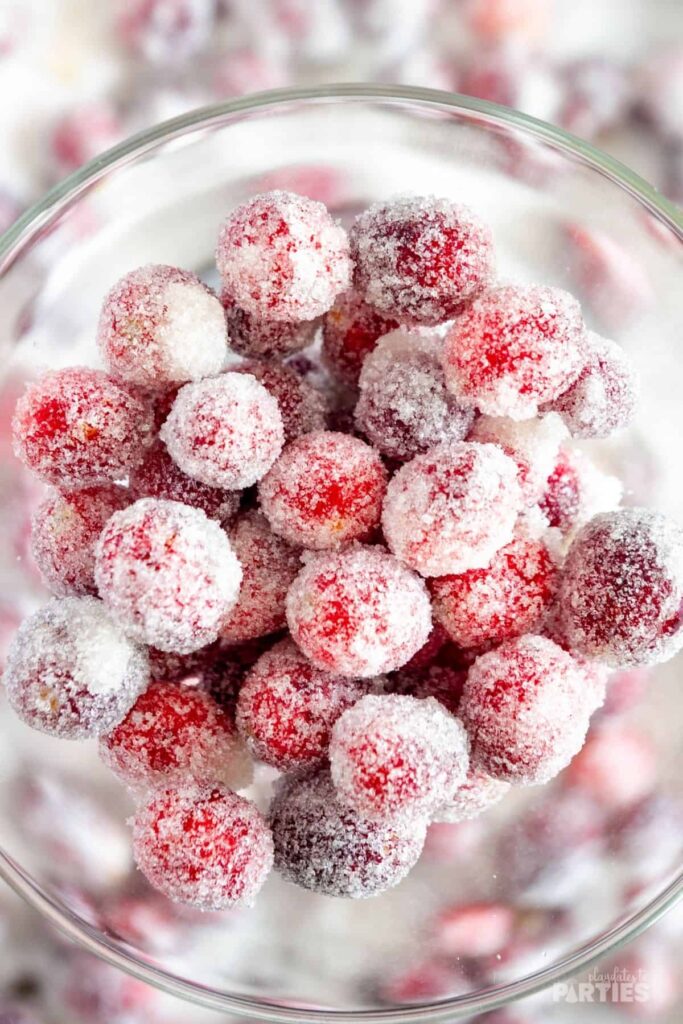 Orange vanilla candied cranberries are sweet and sour little bits of deliciousness that everyone in the family will enjoy.

Okay, I'm officially adopting a love of the sweet-tart combination!
I was always more of a sweet-salty person, but these orange vanilla candied cranberries are too good to pass up!
Who knows how the idea to make these popped into my head. Well, it was probably from searching for recipes to use up the extra package of cranberries we had after Thanksgiving.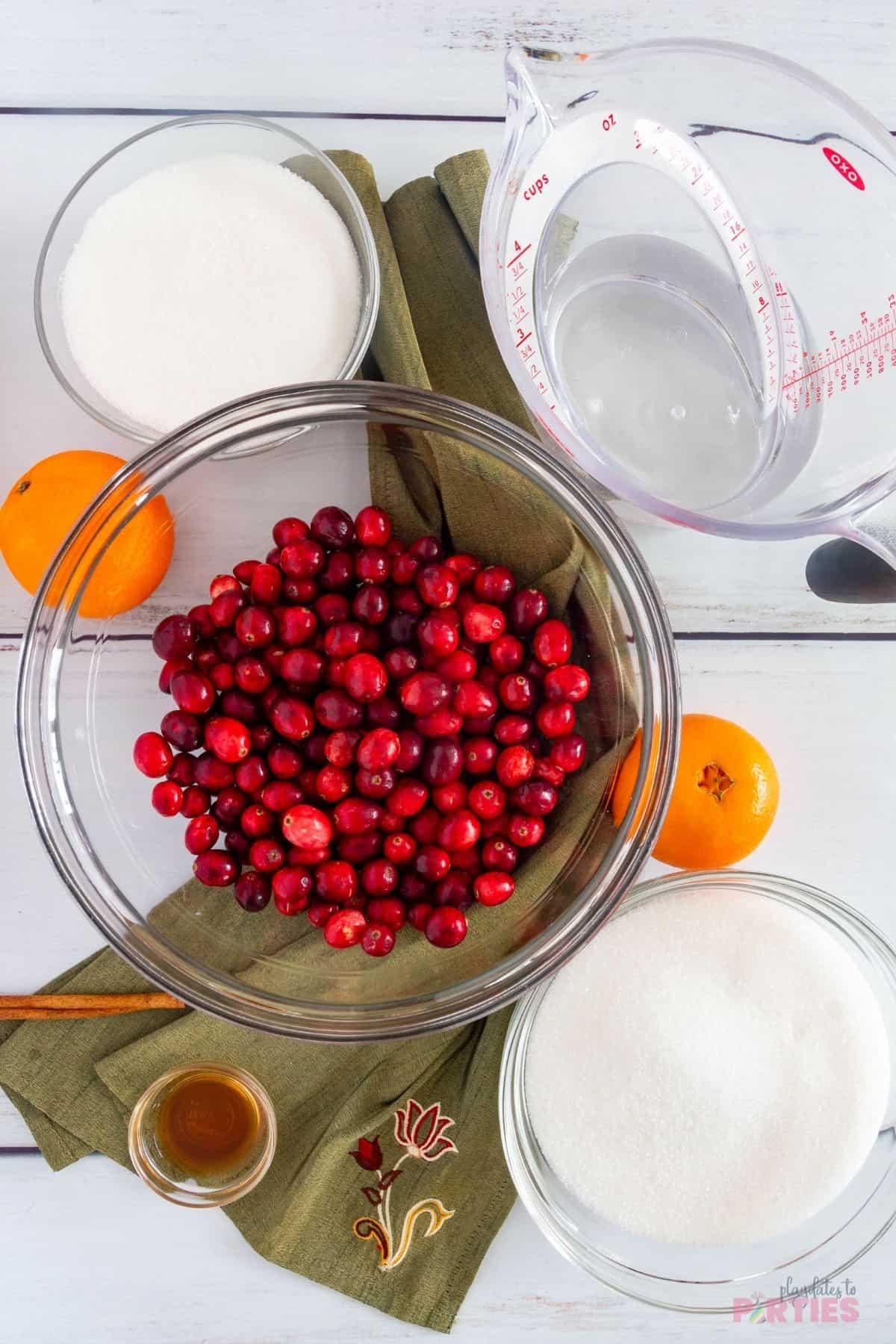 Then I came across candied cranberries…

And that's when the wheels began to turn:
'Cranberry and orange are a classic combination…but vanilla always adds a nice touch…oh, and don't forget some cinnamon!'
Welcome to how my brain works. It's no wonder I can't seem to ever completely finish a project…So many ideas, so little time.
Anyway, just try these little bits of heaven. They're worth the time it takes to make them, trust me.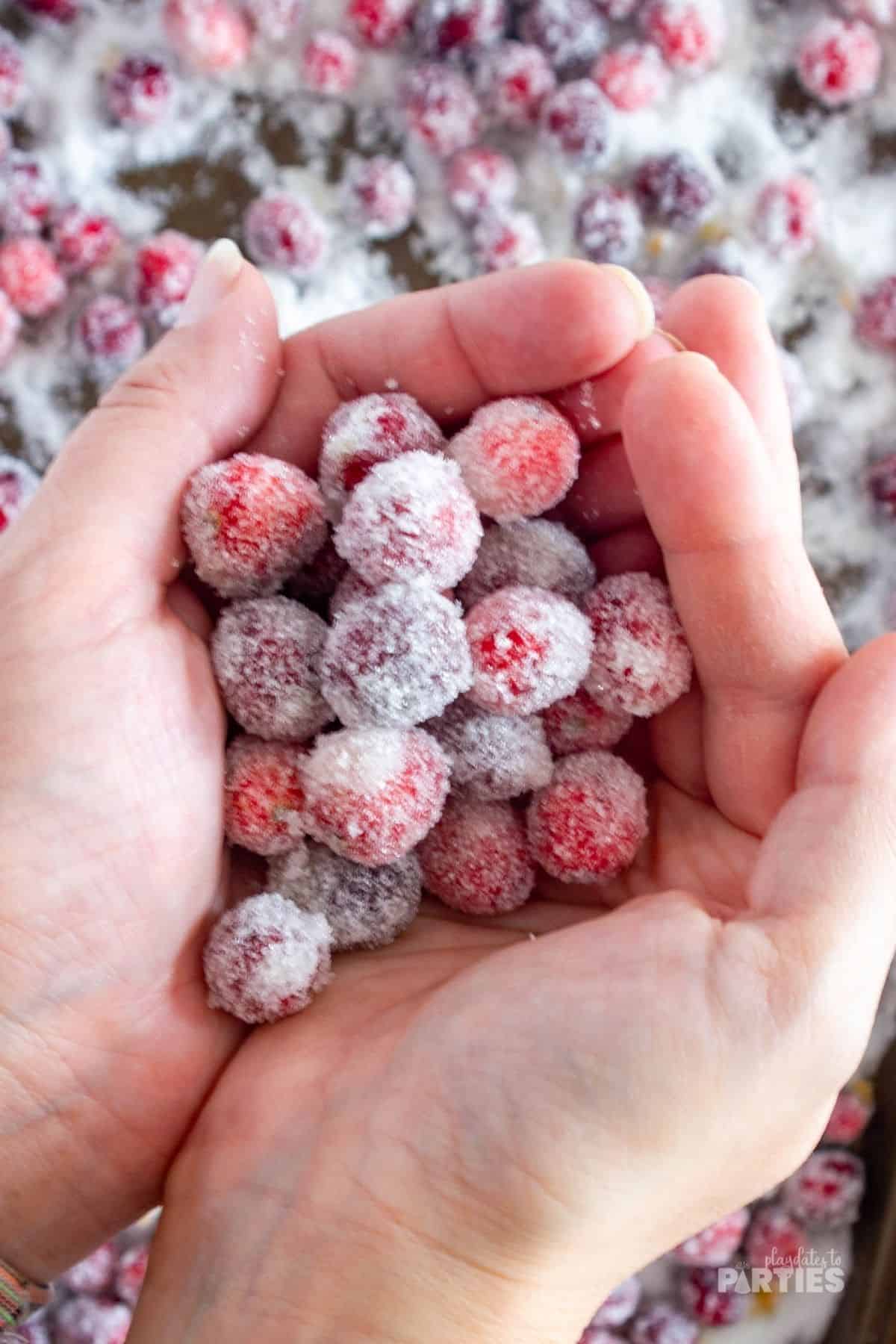 Orange Vanilla Candied Cranberries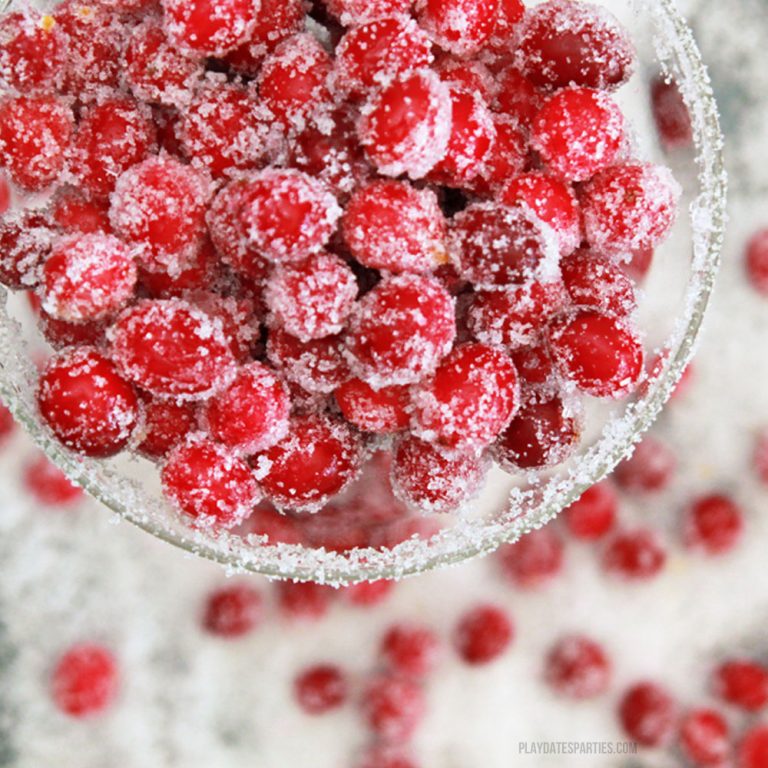 Orange vanilla candied cranberries are sweet and sour little bits of deliciousness that everyone in the family will enjoy.
Ingredients
1 12- oz bag of cranberries
1.75 C water
2 C sugar
Zest & juice of 1 orange, approx. 1/2 C fresh juice
1 tsp vanilla extract
1 whole cinnamon stick
1.5 to 2 C white sugar for coating, I used 3 parts granulated sugar and 1 part clear sparkling sugar
Instructions
Wash cranberries & remove any stems or cranberries that have gone bad. Place cranberries in a heat-safe bowl.
Combine water, zest, juice, vanilla, sugar & cinnamon stick in a 2 qt stock pot. Bring to a boil. Reduce heat to medum low or low & simmer for 5 - 7 minutes.
Remove from heat and allow mixture to cool for a few minutes. The mixture should be warm, but not so hot that the cranberries pop during the next step.
Pour mixture, including cinnamon stick, on top of cranberries and let sit overnight.
Using a colander over a bowl, drain the syrup from the cranberries; reserving for another use. Let cranberries sit for 30 minutes to an hour to get slightly tacky.
Pour 1.5 to 2 cups of white sugar onto a sheet pan. Gently roll about half the cranberry mixture into the sugar, coating evenly. Add remaining cranberries and roll in the rest of the sugar, rolling the cranberries into as close to a single layer as possible. The key here is to make sure you have enough air circulation around each cranberry.
Leave cranberries and sugar out to dry. This could take several hours. The cranberries are done when the sugar has created a crisp shell outside each cranberry.
Nutrition Information:
Serving Size:
1 grams
Amount Per Serving:
Unsaturated Fat:

0g
And after all that is done, try to keep these cranberries around for more than a day or two. I stored ours in a lightly covered container. Even the 3-year old could barely keep her hands off them!
Have you ever been surprised by a recipe?
Don't forget to subscribe via
Bloglovin, Facebook, and Twitter,
to get more updates!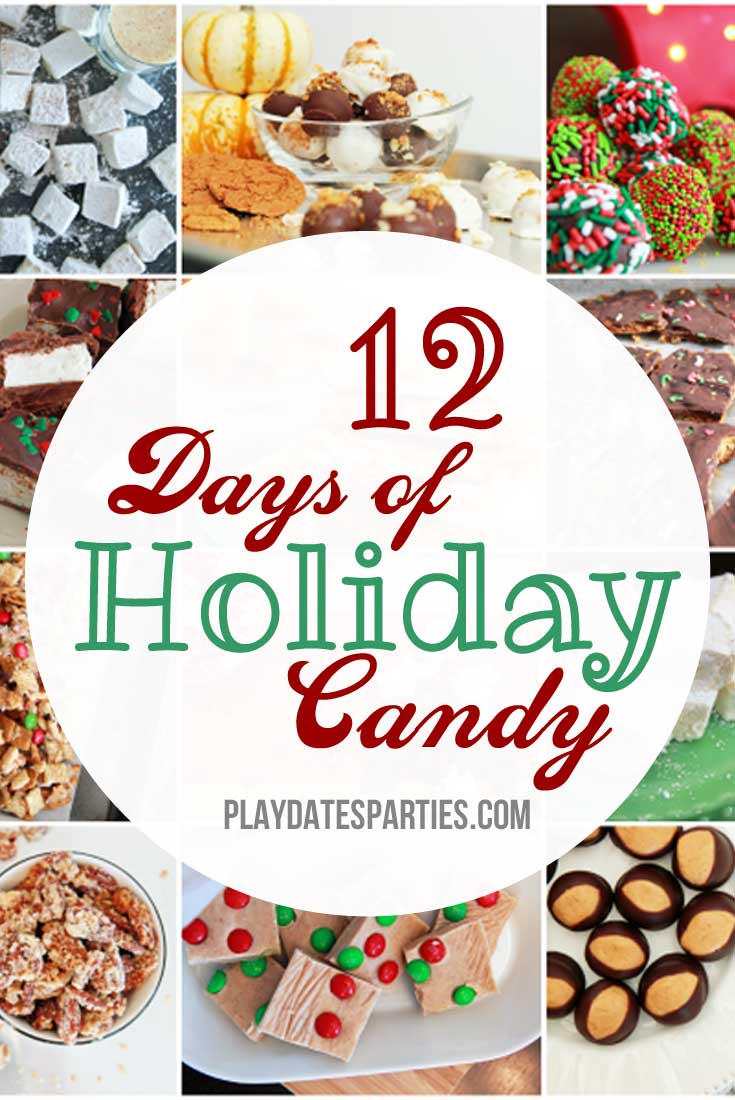 SaveSave
SaveSave
SaveSave