Make these soft and chewy almond macaroons when you're looking for an easy, small batch cookie that is totally irresistible.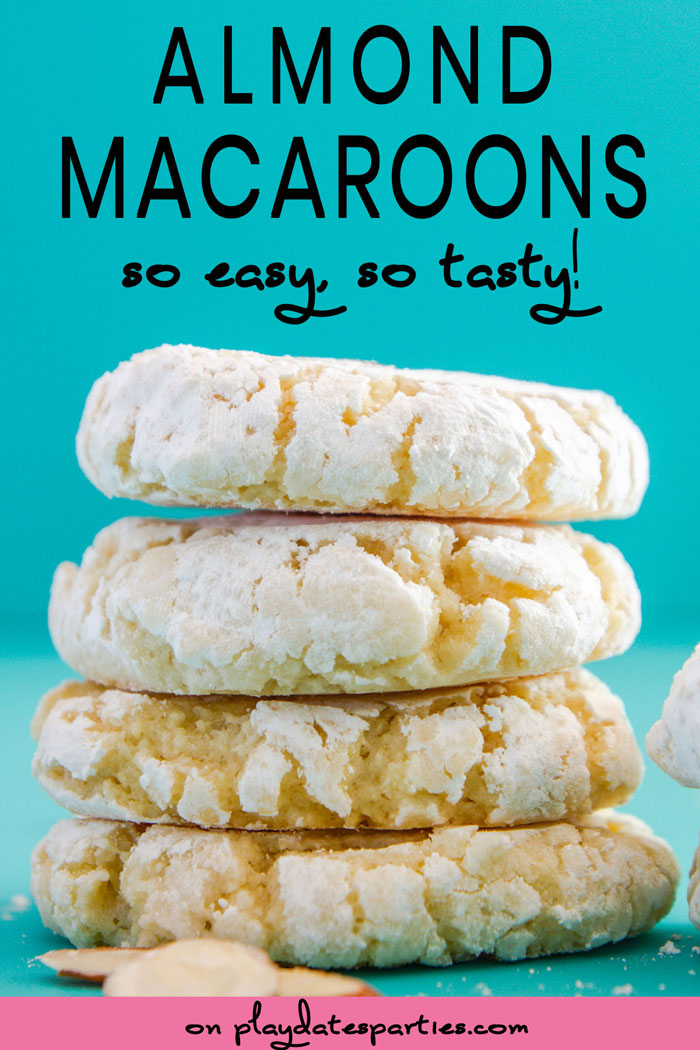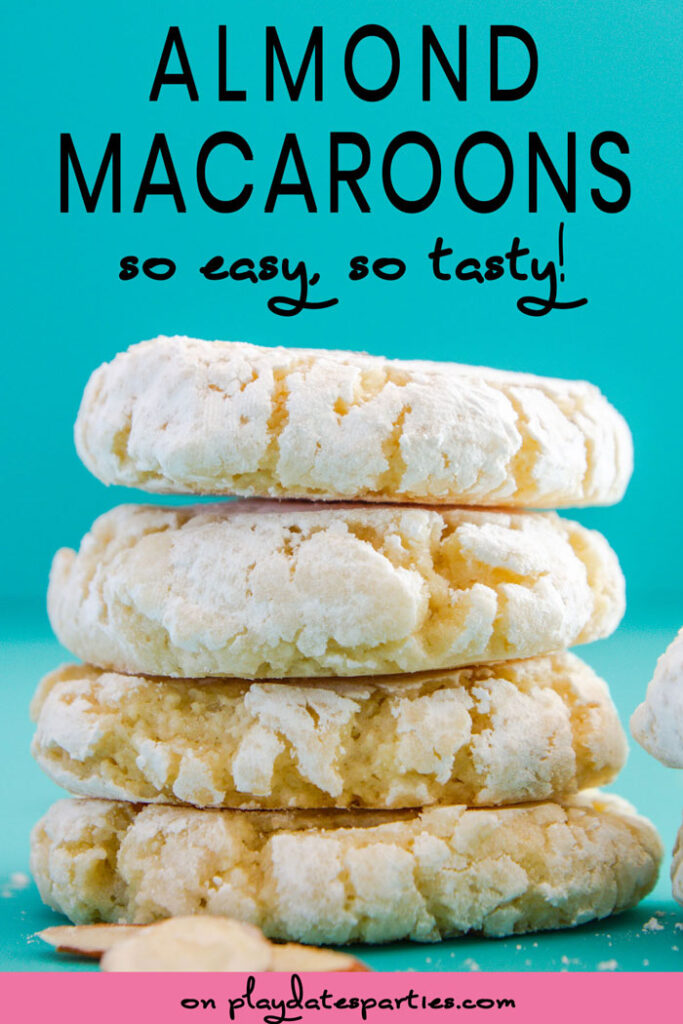 Who knew that there's a type of macaroon cookie made out of almonds instead of coconut?
And, no, I'm not confusing them with those sandwich cookies known as macarons. Those are something else entirely different. I even made some a few years back).
These are, in fact, almond macaroon cookies – and are also completely different from coconut macaroons, which most of us have seen in our grocery store bakery.
As it turns out, almonds were the original nut used when baking macaroons. And while many traditional almond macaroon cookies use almond paste in the recipe, I wanted to keep things simple, and stuck with ground almond meal.
If you've never tried almond macaroons, you're definitely missing out. They're so simple to make, and even my husband even had a hard time controlling himself. And that's unusual with him and sweets!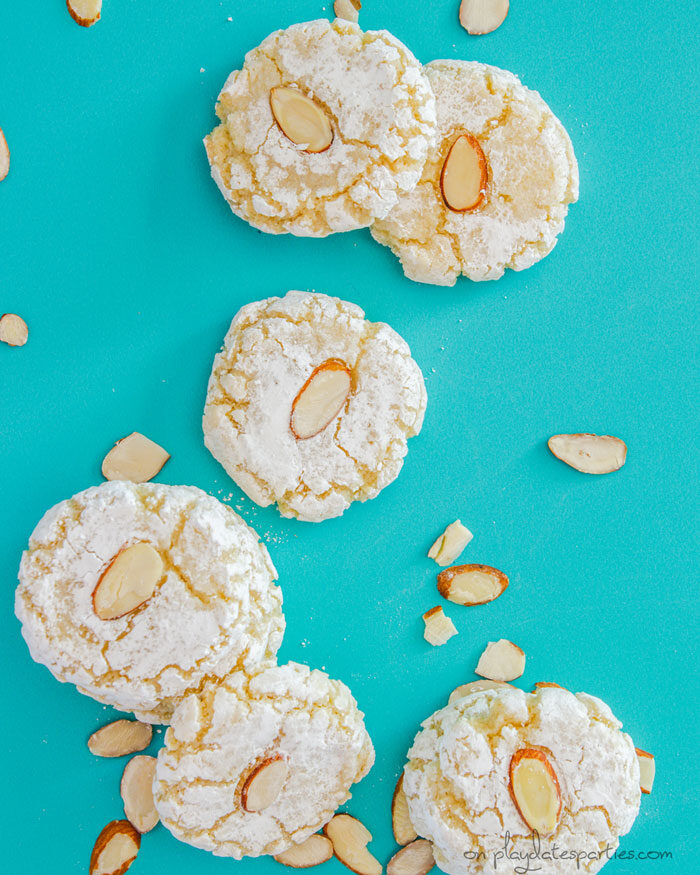 How to Make Almond Macaroon Cookies
Start by Mixing the Batter
The batter for almond macaroons comes together so fast, it's almost ridiculous.
First, you start off by mixing together the almond meal and sugar, then you add in the egg white, extracts, and salt.
Tip: Save the egg yolks and use them to make shortbread cookies to reduce waste.
Refrigerate the Dough
Now, this is the hard part, but it's totally worth it: You've got to let the dough sit in the refrigerator for a couple hours.
Refrigerating the cookie dough doesn't just make it easier to roll the cookies. Giving the ingredients time to sit together helps the flavors blend, making a tastier cookie.
Yes, I've made these cookies without refrigerating first, but they're so much better with patience.
Add your name and email address below and I'll send this cheat sheet- showing exactly how much food to make for your parties – straight to your inbox!
Note: When you click the button, you agree to this site's privacy policy. You'll also receive exclusive marketing content from Playdates to Parties. You may unsubscribe at any time.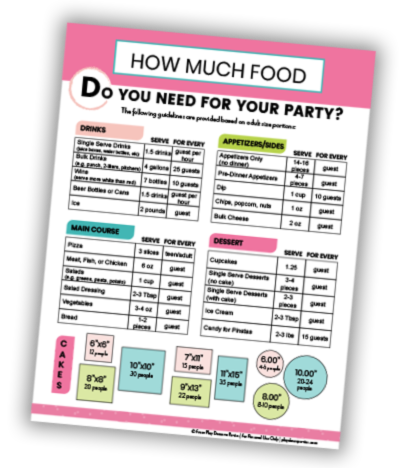 Roll, Flatten and Bake
For this batch of almond macaroons, I used the my handy-dandy cookie scoop. It's actually the smallest scoop from the set.
If you don't have a cookie scoop, then I definitely recommend getting one. They're so useful! Plus, the larger scoops in this set are also fantastic for scooping equal amounts of cupcake and muffin batter.
Also…dishwasher safe. Just sayin'.
Once you roll out a ball of batter, drop it in some powdered sugar to coat and then place it on a baking sheet. Use the bottom of a glass or a flat-bottom measuring cup to flatten out the cookie.
Finish it off with a sliver of sliced almond in the center and then bake until golden brown.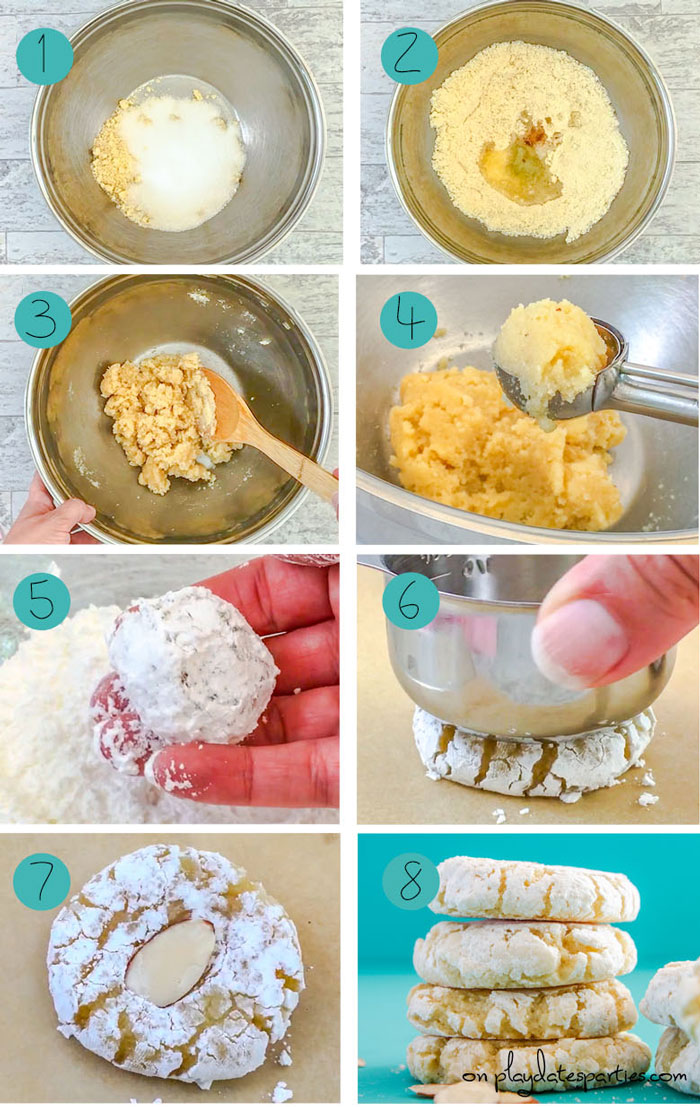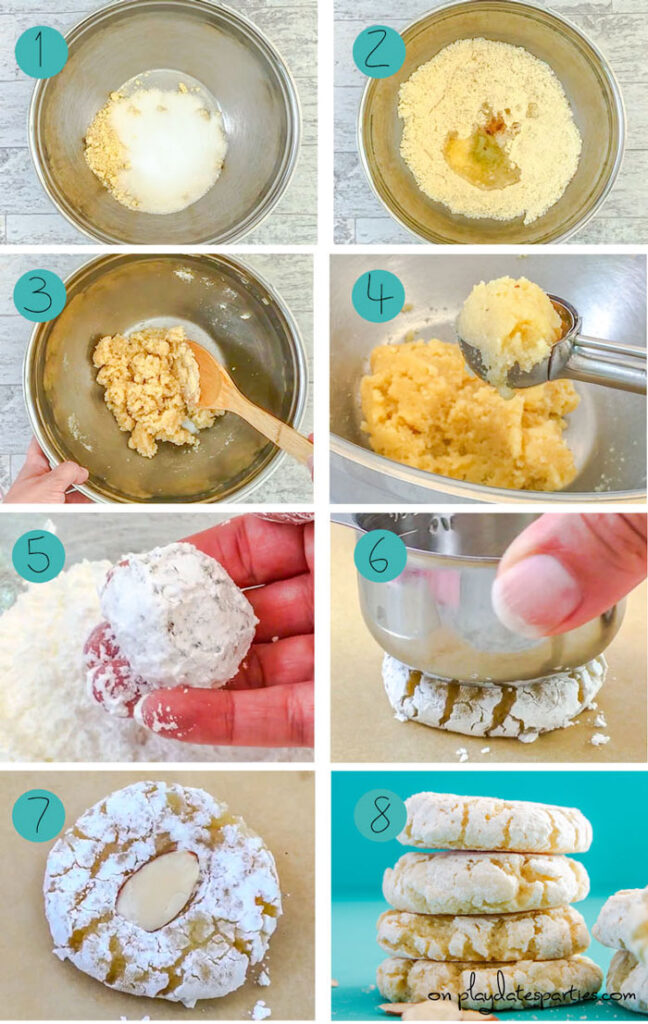 How Many Almond Macaroon Cookies Does This Recipe Make?
Just like any other cookie recipe, the number of cookies you get depends on how much batter you scoop out for each.
When using the cookie scoop I showed above, the cookies will be about 1.5" to 2" in diameter, and you'll get about 12 cookies.
I've also made them much smaller. The smallest we've made them is about ½ inch in diameter, which will be about one level tablespoon of batter, and yields about 18-20 cookies.
If you make the cookies smaller or larger than shown above, you will need to keep an eye on the bake time. These cookies don't brown around the edges like normal cookies, so you want to bake them until they're just barely golden around the edges, and no longer.
What if You Can't Find Almond Flour or Almond Meal?
While it's much faster to use prepared almond meal, you can also grind your own whole almonds.
The cookies will have a pretty flecked look from the almond skin, and will be a little bit less soft and chewy. But still so tasty!
To substitute, grind 1 cup of whole almonds in a food processor until they resemble a course flour. Double check the ground measurement and grind more nuts if necessary.
Yield: 12
Almond Macaroons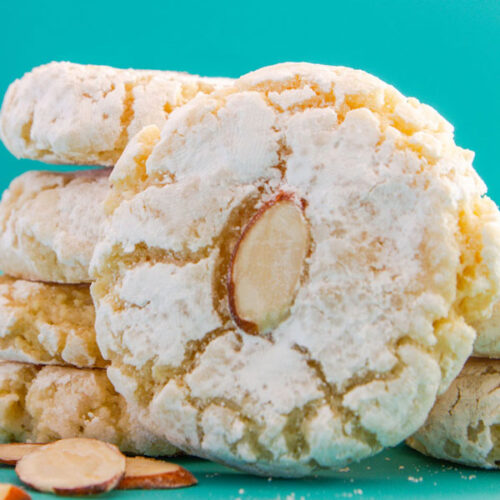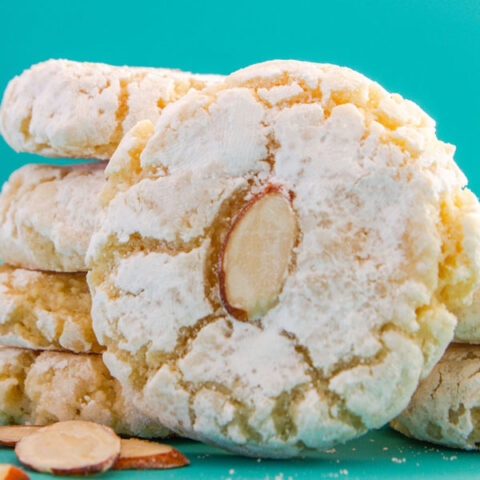 Soft on the inside with just the right amount of crunch, these almond macaroons are completely irresistible!
Total Time
2 hours
15 minutes
Ingredients
3/4 cup ground almond meal
1/3 C granulated sugar
1 large egg white
1/8 tsp almond extract
1/8 tsp vanilla extract
pinch of salt
1/4 cup powdered sugar
1/2 cup sliced almonds
Instructions
Preheat oven to 350 degrees F and prepare a baking sheet with parchment paper.
Combine almond flour and white sugar in a large bowl. Whisk to combine.
Add egg white, vanilla and almond extracts, and salt. Mix until just combined.
Refrigerate dough for 1-2 hours.
Scoop or roll dough into balls and drop into powdered sugar
Flatten with the bottom of a measuring cup and press a sliced almond into the center of the cookie.
Bake for 10-12 minutes until just barely golden in color. Allow to cool on baking sheet. Enjoy!
Notes
Use a cookie scoop or measuring spoon to ensure your cookies are equal in size.
If you choose to make the cookies smaller, check them for doneness at around 7 or 8 minutes.
You can substitute 1 cup of whole almonds ground in a food processor for the almond meal. This will have a slight effect on the final look and texture of the cookies.
Save the egg yolks and use them to make shortbread cookies to reduce waste.
Nutrition Information:
Yield:
12
Serving Size:
1 Servings
Amount Per Serving:
Calories:

103
Total Fat:

6g
Saturated Fat:

1g
Trans Fat:

0g
Unsaturated Fat:

5g
Cholesterol:

16mg
Sodium:

17mg
Carbohydrates:

10g
Fiber:

1g
Sugar:

8g
Protein:

3g
__________________________________ The nutrition information provided above is estimated using an automated calculation system. Actual nutrition will vary depending on brand and measurements used in your recipe. To obtain the most accurate representation of the nutrition information for any given recipe, you should calculate the nutritional information using the actual ingredients you used in your recipe.
This recipe is adapted from Epicurious.com
Now It's Your Turn
Make a batch of these amazing almond macaroons for Christmas, Easter, or just whenever! Just make sure you have friends around to keep yourself from eating them all…
---