It's almost turkey time! This fall, you can go all out with an easy Thanksgiving craft – turkey pudding cups!
Not only are these adorable turkey treats easy to make, they're inexpensive, and perfect for children young and old. All you need is some glue, scissors, and the free printable available at the end of this post.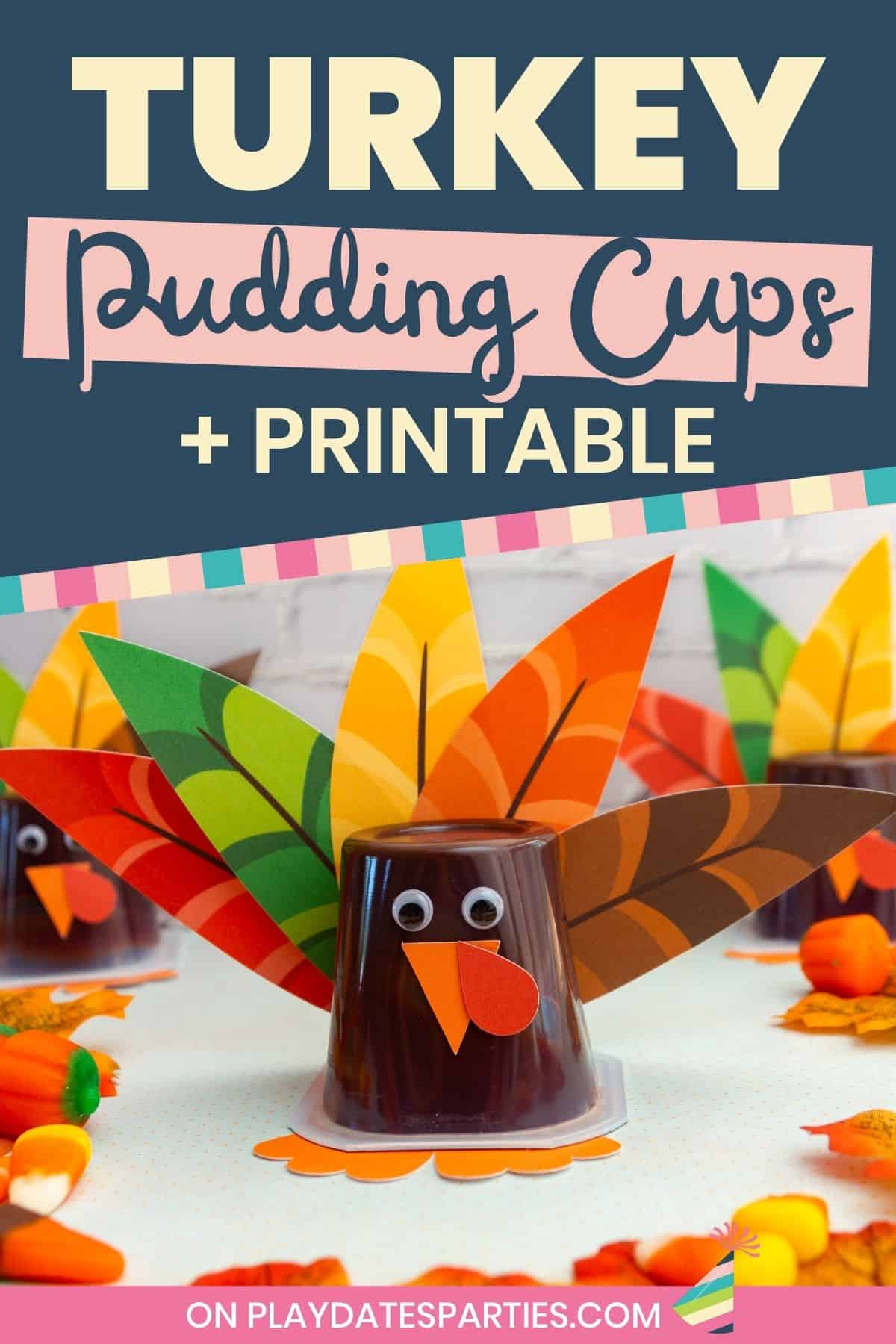 What makes these Turkey Pudding Cups so Fun:
Pudding cups are sealed, which means they're the perfect option for a make-ahead treat for class parties or for your Thanksgiving dinner.
They're a great Thanksgiving dessert alternative for kids that don't want pumpkin or pecan pie.
Have the cutest Thanksgiving kids table in town, and use the turkey pudding cups as place cards for the kids table.
Who doesn't love googly eyes? They just make everything better.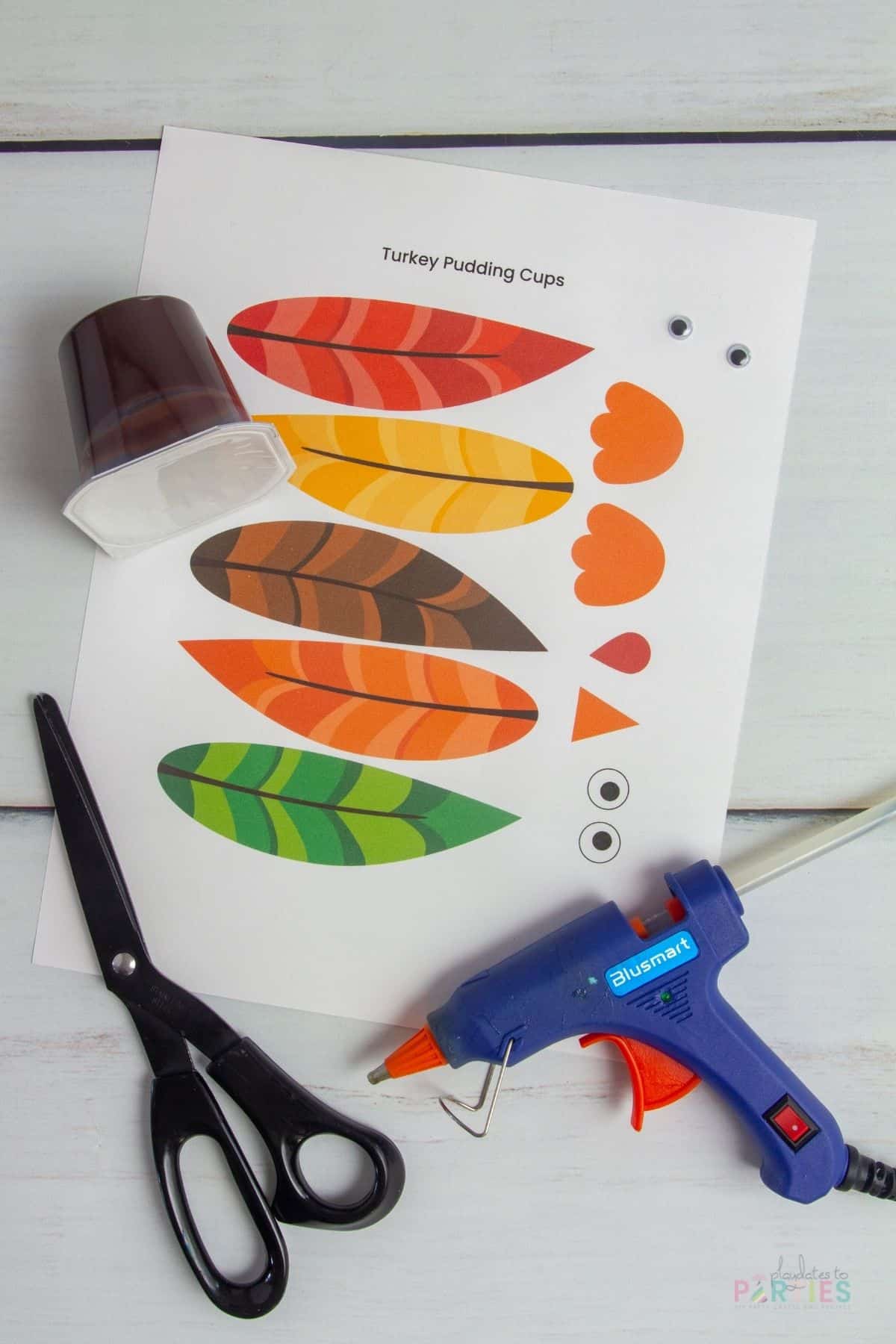 A Few Notes about the supplies:
Eyes are included in the printable file, but you can use googly eyes like I did here if you wish.
The colors of the leaves and beak stand out very well against the dark brown of chocolate pudding cups, but you can also use lighter colored flavors such as butterscotch or vanilla.
The design is easy enough to cut out with scisssors, but a PNG file that is Cricut Print and Cut Ready is also included. This is the perfect option if you want those perfect looking cuts.
I prefer to use a hot glue gun just because it's so much faster, but I also successfully tested them with a purple school glue stick. (More on that in the FAQ below)
Step-by-Step Directions:
To make things easy for you, I've got a step-by-step tutorial with photos at the bottom of this post. Don't forget to leave a rating and print out your copy of the instructions!
Essential Tips:
Don't skip these tips – read them before starting to avoid any potential mistakes.
Don't buy refrigerated pudding cups
You want the shelf stable pudding cups for this craft.
If you buy pudding cups that are already cold they will start to sweat as you assemble everything. This might make the ink on the printables bleed and may prevent the glue from sticking to the pudding cup.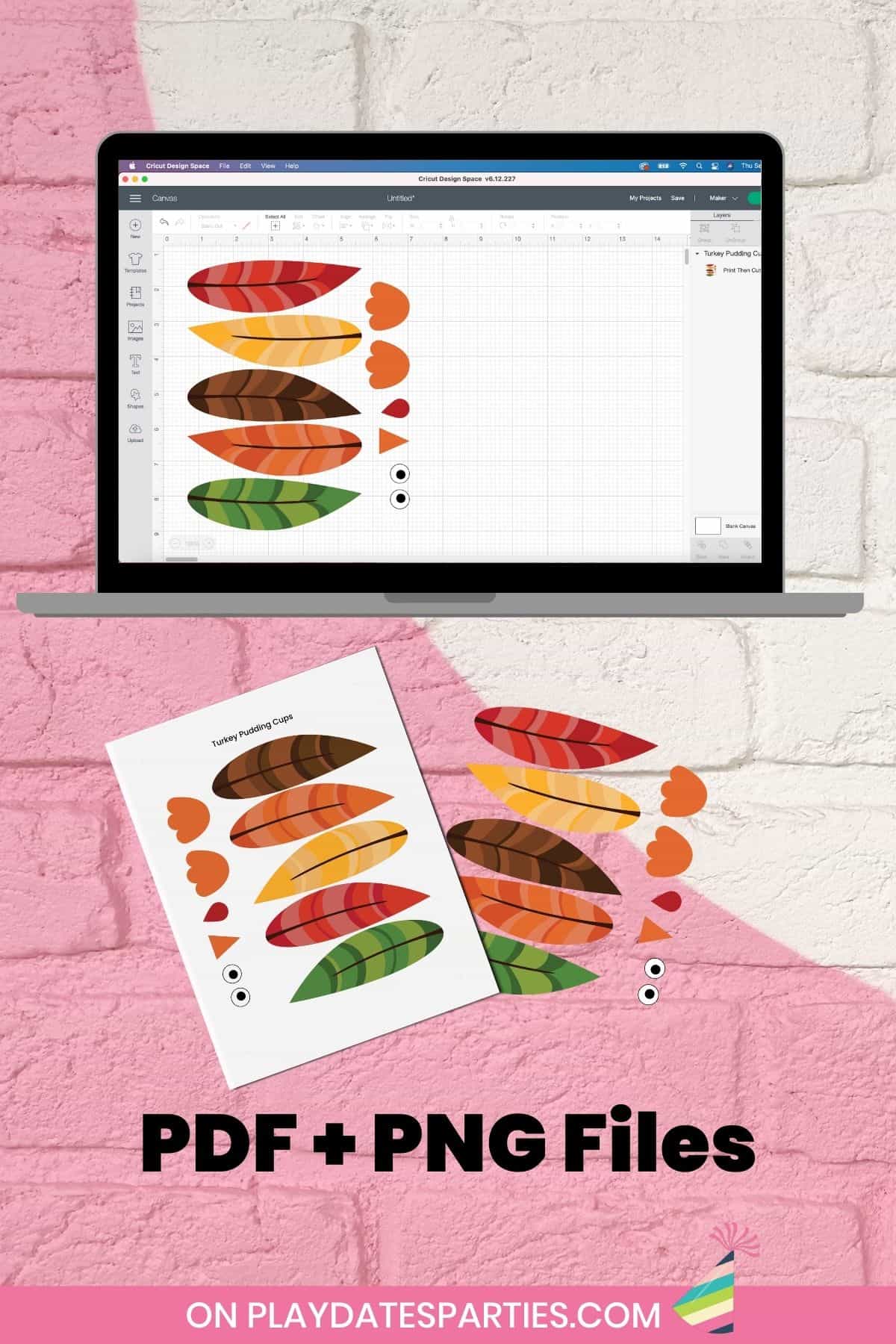 If you plan to make a lot of turkey pudding cups by yourself, the Cricut file is for you.
A Cricut Print and Cut ready PNG file is included with the download. If you plan to make more than four or five pudding cups, I definitely recommend using a cutting machine to save you some time and effort.
(Or, let your kids cut them out for you!)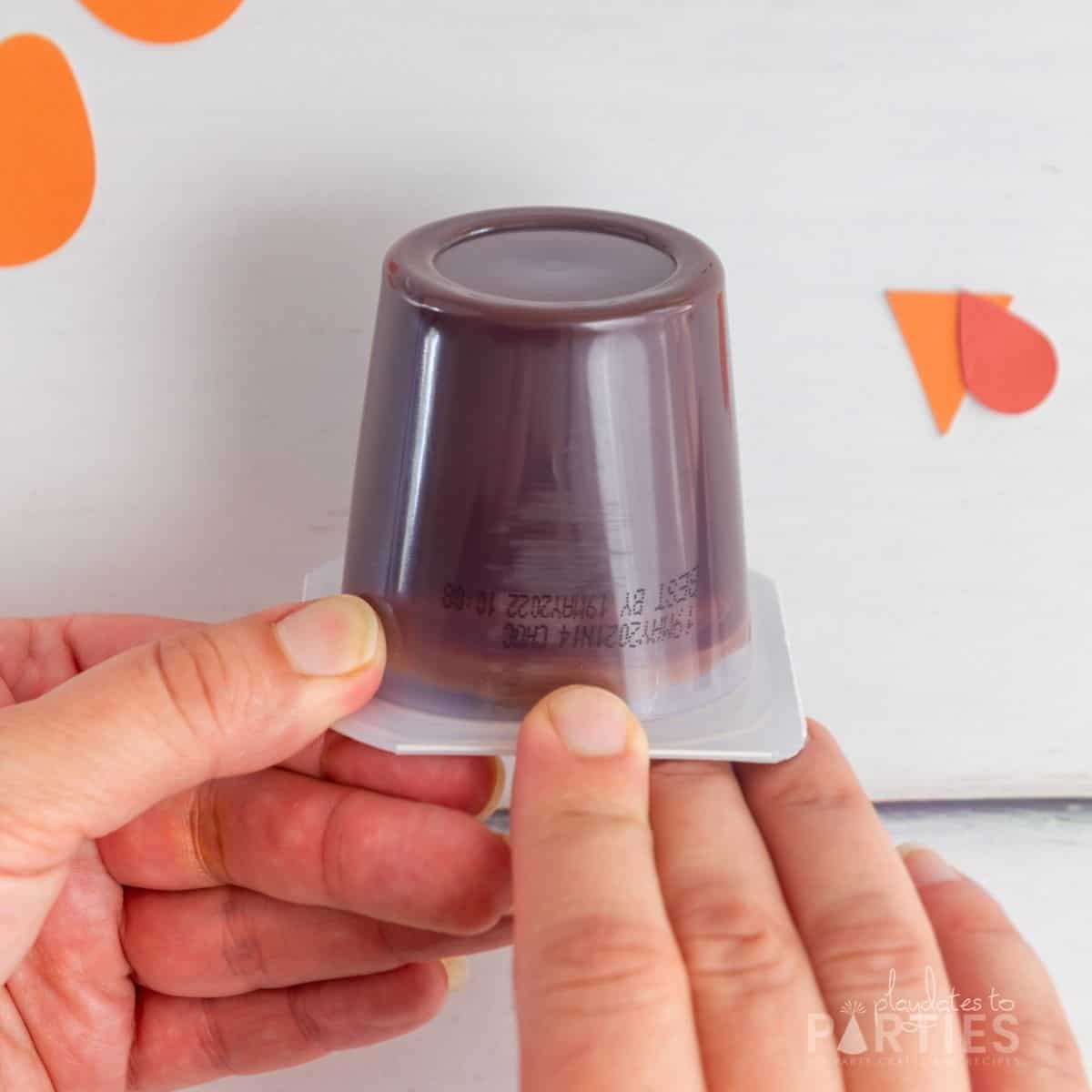 Watch out for the printed markings on the pudding cup
Many pudding cups will have a "best by" date and item number printed onto the cup somewhere. If you're moving quickly it's easy to accidently glue the turkey face on the same side.
It's not a big deal, but the craft looks cutest if the face side of the pudding cup is clear.
FAQs:
Can kids make these?
Yes! The cuts may not be perfect, but it's great fine motor practice for a little kids to cut out the turkey parts. And even my 12-year-old thought this Thanksgiving kids craft was "genius."
Quick Tip: If you plan to use this craft with kids, most of the paper pieces will stick to the pudding cup with a regular glue stick. The feet and googly eyes will need a bit more glue and patience.
Are Turkey pudding cups school friendly?
Most of the chocolate pudding cup labels I read did not include nuts as part of their allergen list. That said milk is a common allergen and is going to be a part of almost every mass produced pudding cup.
The best thing you can do is to contact the school before you get started, or bring the label with you to the school so that teachers and students can double check allergens before opening the cups.
Does it matter which order the feathers are in?
The printable turkey feathers are angled in different directions. So you can arrange your turkey feathers so that each of them goes in a consistent direction like I have here, or you can let them the all hodgepodge – which would probably look really cute.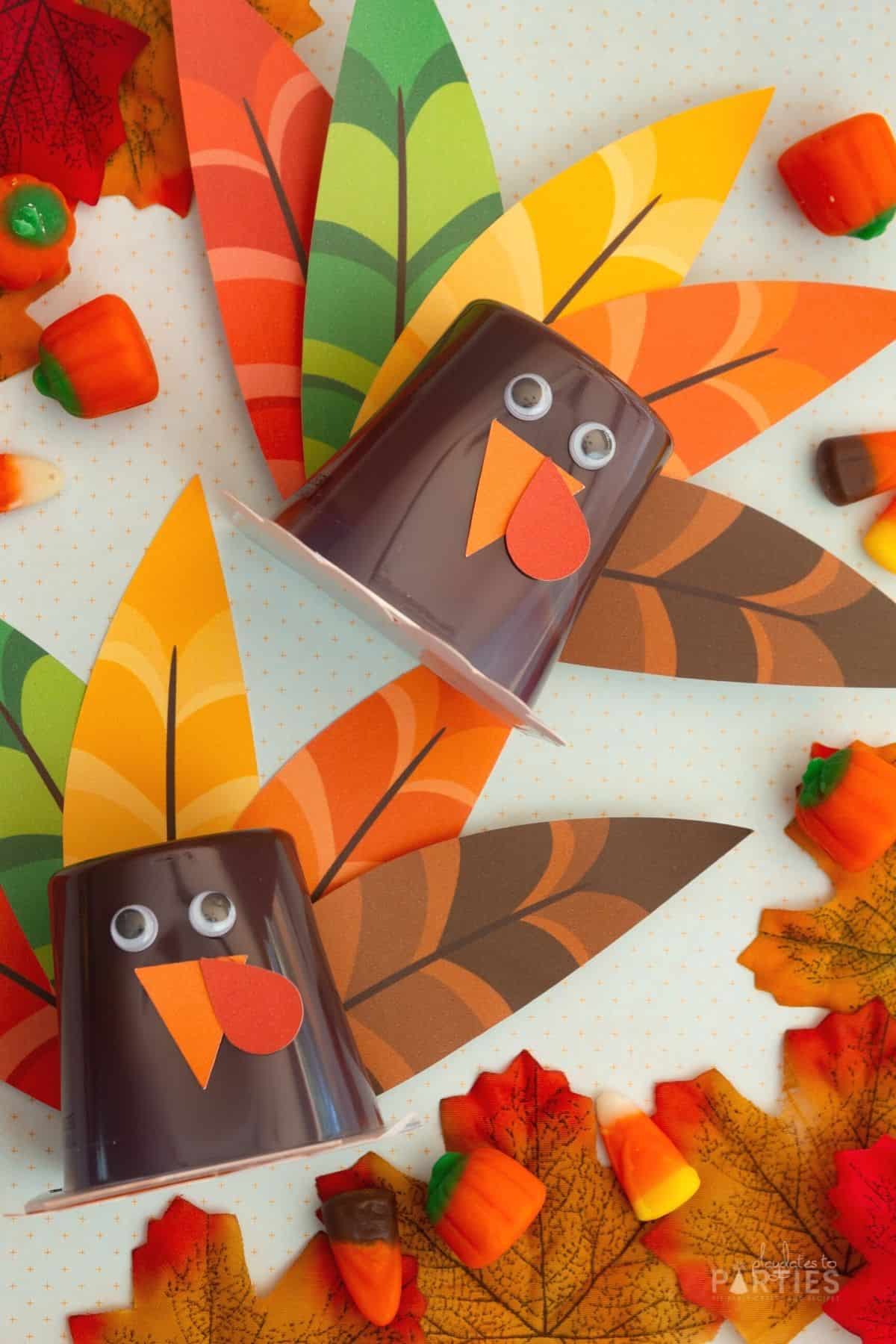 If you liked this turkey pudding cups, you'll also love my other projects:
Popcorn Corn on the Cob Favor Bags – These adorable party snacks look just like an ear of corn with the husk on. And best of all, they don't require any special materials or supplies.
Thanksgiving party printables – Everything from Thanksgiving planners to games, and even a full set of party printables to make your holiday decorating easy as pumpkin pie.
Acorn Treats with Nilla Wafers and Brownie Bites – These acorn treats are just too cute to pass up – especially since they don't require unwrapping gobs of kisses or using anything with peanut butter.
Or you can check out all my Cricut crafts here and all my Thanksgiving ideas here.
Yield: 1 turkey pudding cup
Turkey Pudding Cup Craft for Thanksgiving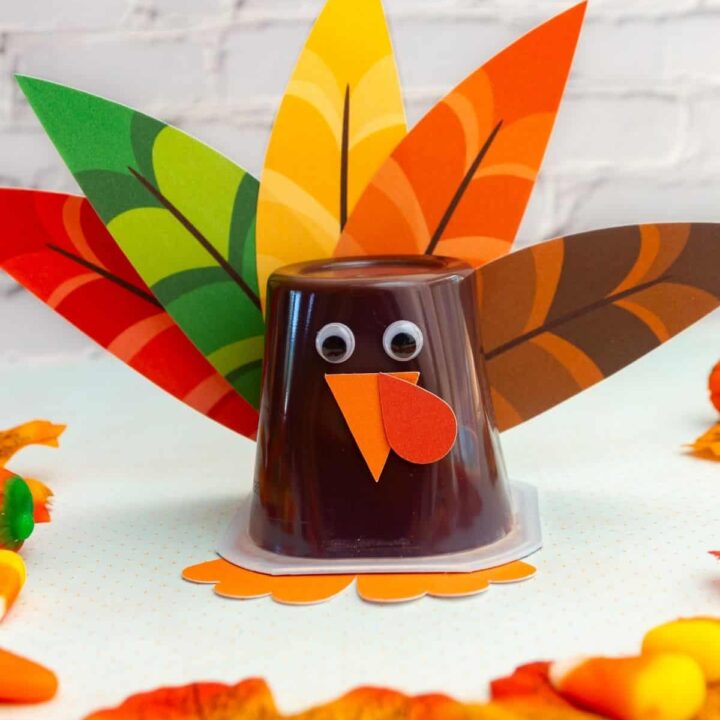 Turkey pudding cups make the cutest Thanksgiving craft - and it's even easier with this printable file too.
Materials
White cardstock
Chocolate pudding cups
Instructions
Print out the decorations and cut along the outside edges.
Glue the wattle to the turkey's beak.
Place a pudding cup on its side, and then glue the beak onto the side of the pudding cup, so that the bottom of the beak points to the pudding cup lid.
Glue the eyes to the pudding cup above the beak.
Stand the pudding cup upside down on the table, so the bottom of the pudding cup is standing up. Glue the feet to the pudding cup lid so they just peek out underneath the face. Set the pudding cup aside.
Arrange the cut out feathers as you would like them to be when finished. Then use a dab of hot glue between the base of each feather to attach them together in one plume.
Glue the feather plume to the pudding cup on the opposite side of the face you created earlier, making sure the printed design faces the pudding cup.
Now, you're done and ready to display your turkey!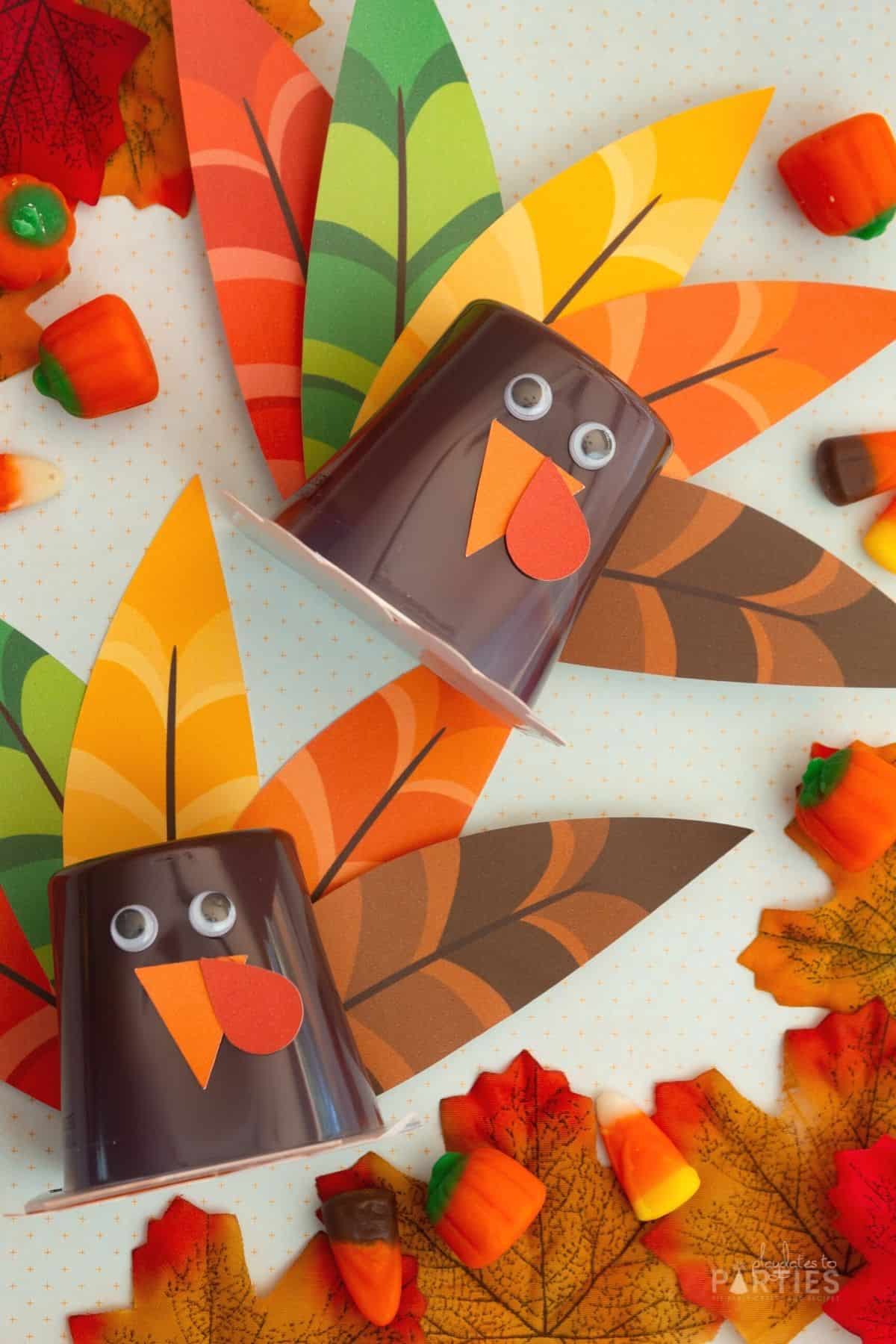 Notes
Don't forget, the tips and FAQ in the blog post are there to help you if you feel stuck at any point.
This craft is best made unrefrigerated, shelf-stable pudding cups
Make sure you are gluing the turkey face on the side that doesn't have the printed item number and date.
Kids can make these using a purple school glue stick. However, they may need a little extra glue (and patience) with the feet and the googly eyes.
For a school-friendly treat, double check the label of your pudding cups with your school's requirements. It doesn't hurt to bring the label into the classroom either.
Opening the Files: 
You will need to unzip the file after it is downloaded. I strongly recommend you download on a laptop or PC, as mobile devices can have issues opening some zip files. If you are having any difficulties, you can check out the links below for help:
Remember to save the unzipped folder to a location where you can easily find it again for next year.
As a special treat, newsletter subscribers can grab a copy of the printable Turkey pudding cup printable free of charge. Simply add your name and email address to the form with the turkey picture below to have the printable sent straight to your inbox.
Don't want to subscribe? You can also purchase the printable for a small price in my shop right here.
---