Making fancy desserts can be a time-consuming process, but sometimes you want to make a dessert that looks as beautiful as it tastes. If so, then apple roses with puff pastry might be your new favorite thing.
You can whip up a batch of apple rosettes in no time, but there are some tricks of the trade we want to share with you so you get the best results every time. So make sure to read all the info before you start baking.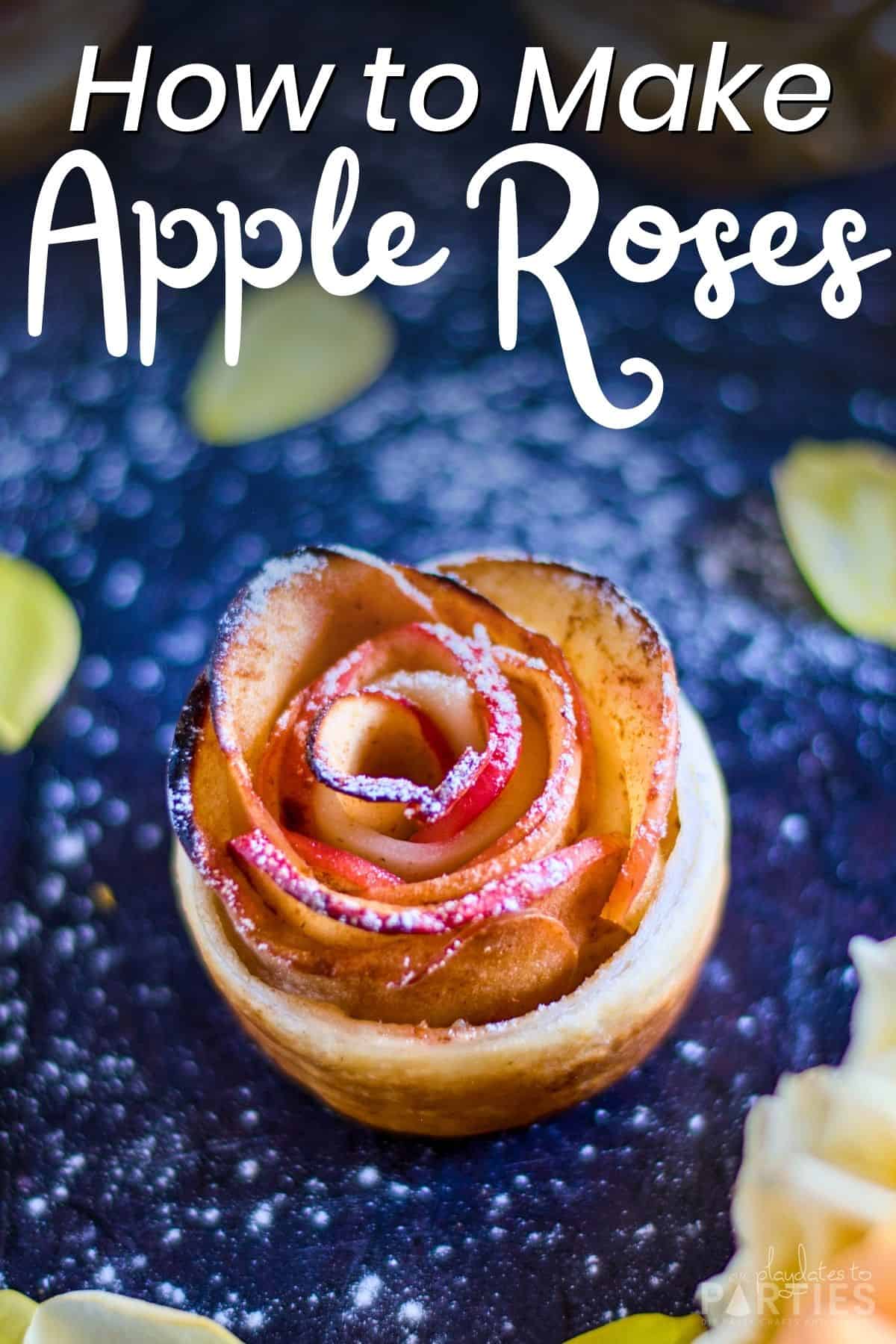 Making mini apple rose tarts is a great way to impress your friends and family. They look stunning, but they're actually very simple to make. And you can make them for all sorts of occasion, like:
Mother's Day
Thanksgiving
Valentine's Day
Date night
Bridal Showers
No matter when you decide to serve your apple roses , you'll be sure to impress everyone around your table.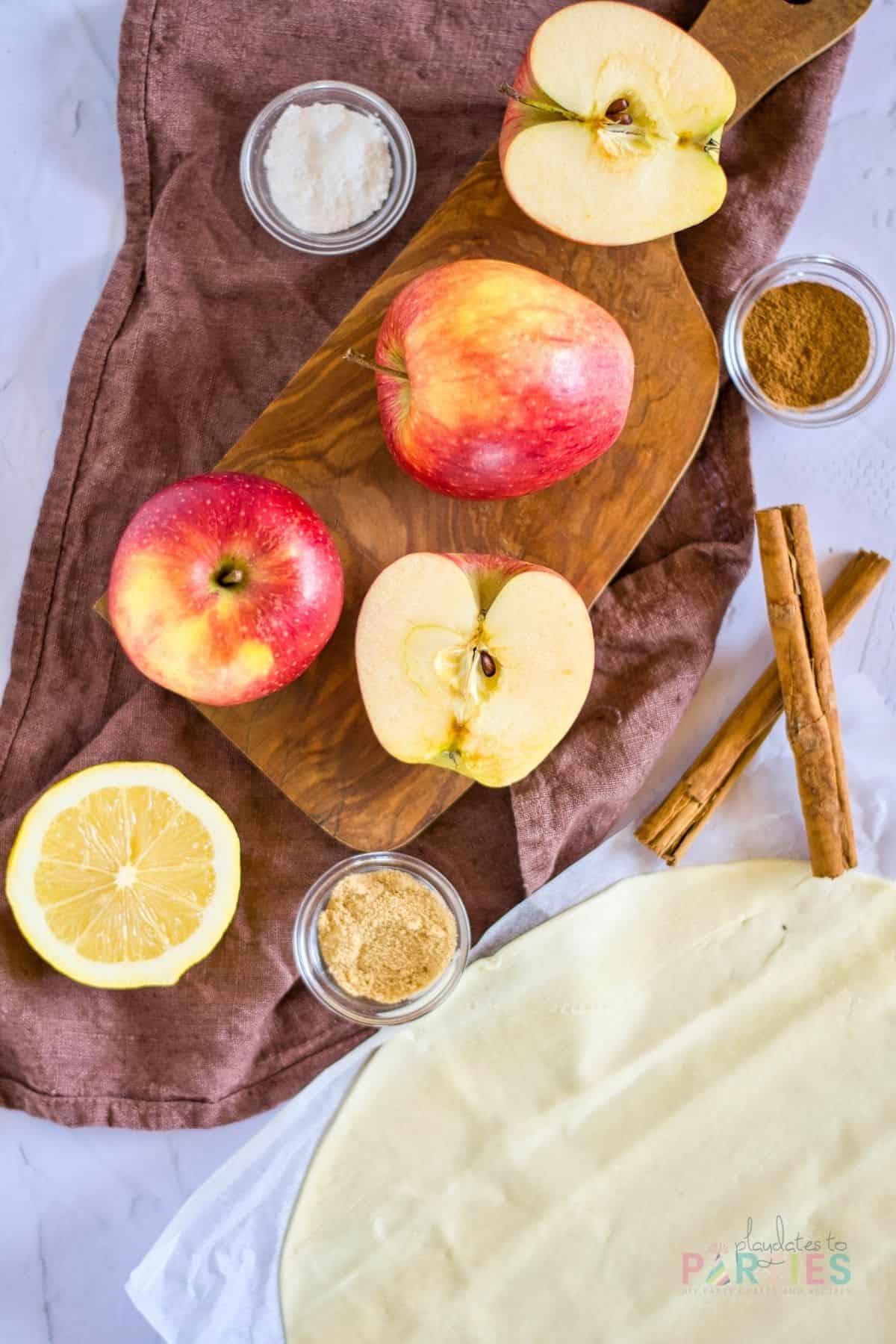 What You'll Need:
Ingredients:
Puff Pastry Sheet
Apples
Lemon juice
Ground cinnamon
Brown sugar
Powdered Sugar to garnish (optional)
Supplies:
Sharp knife or mandoline
Baking sheet or muffin tin
Parchment Paper
Measuring spoons
Pastry mat (optional)
A Few Notes about the Ingredients/supplies:
Use whatever brown sugar you have on hand. I used light brown sugar, but dark brown sugar will taste excellent as well.
You can use a parchment lined baking sheet or a muffin tin to bake the rosettes. (See FAQs below for more detail)
A mandoline and pastry mat will make your life much easier (see tips below for more details)
Step-by-Step Directions:
To make things even easier for you, I created a simple photo guide below. For all measurements and more detailed instructions, check out the recipe card at the bottom of this page.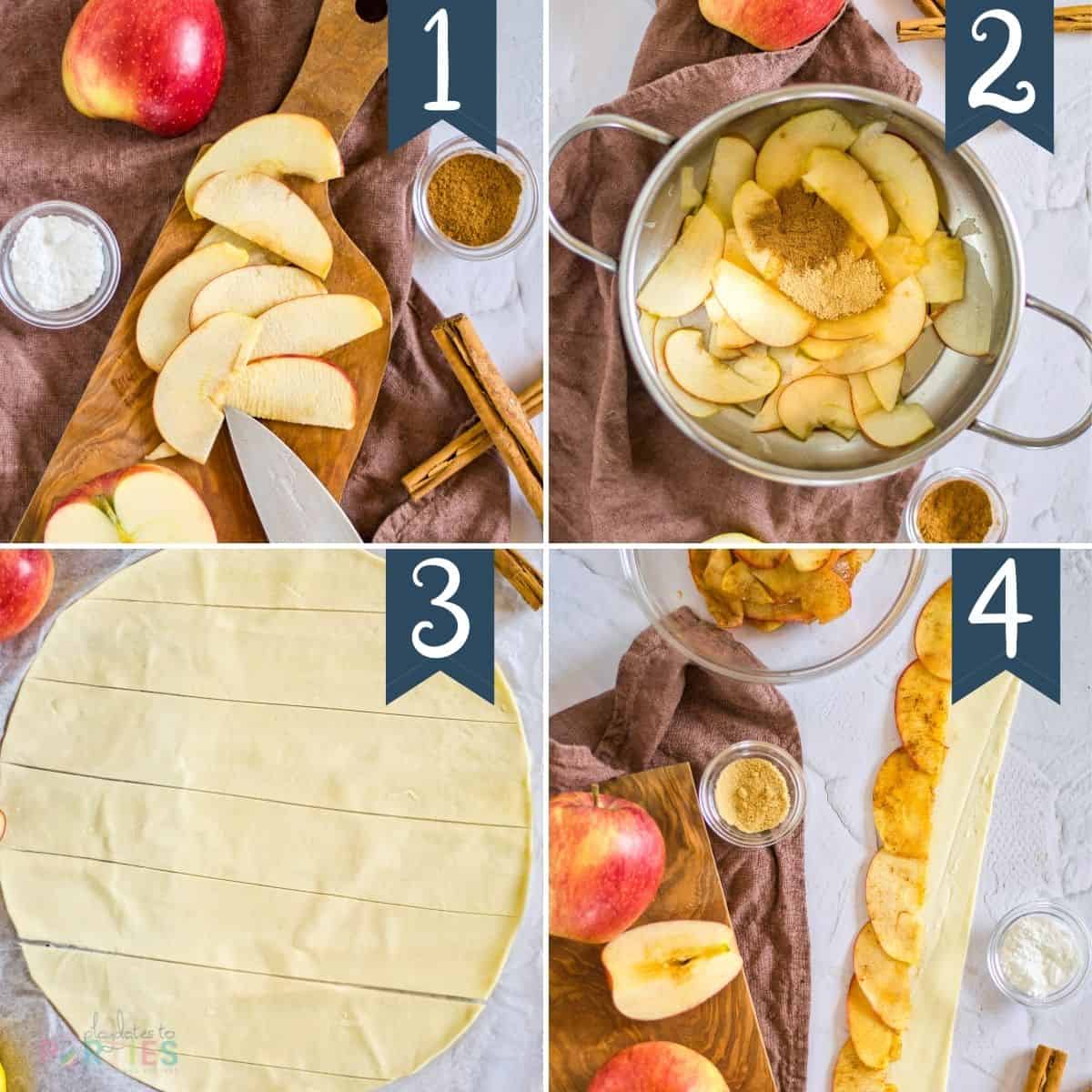 Step 1 – Wash and cut the apples into very thin slices, leaving the peel on.
Step 2 – Heat the apple slices in the lemon juice to help prevent browning. Add the cinnamon and brown sugar. Stir gently until the apples are pliable.
Step 3 – Cut thawed puff pastry into strips.
Step 4 – Layer apple slices along one long edge of each puff pastry strip, overlapping the slices.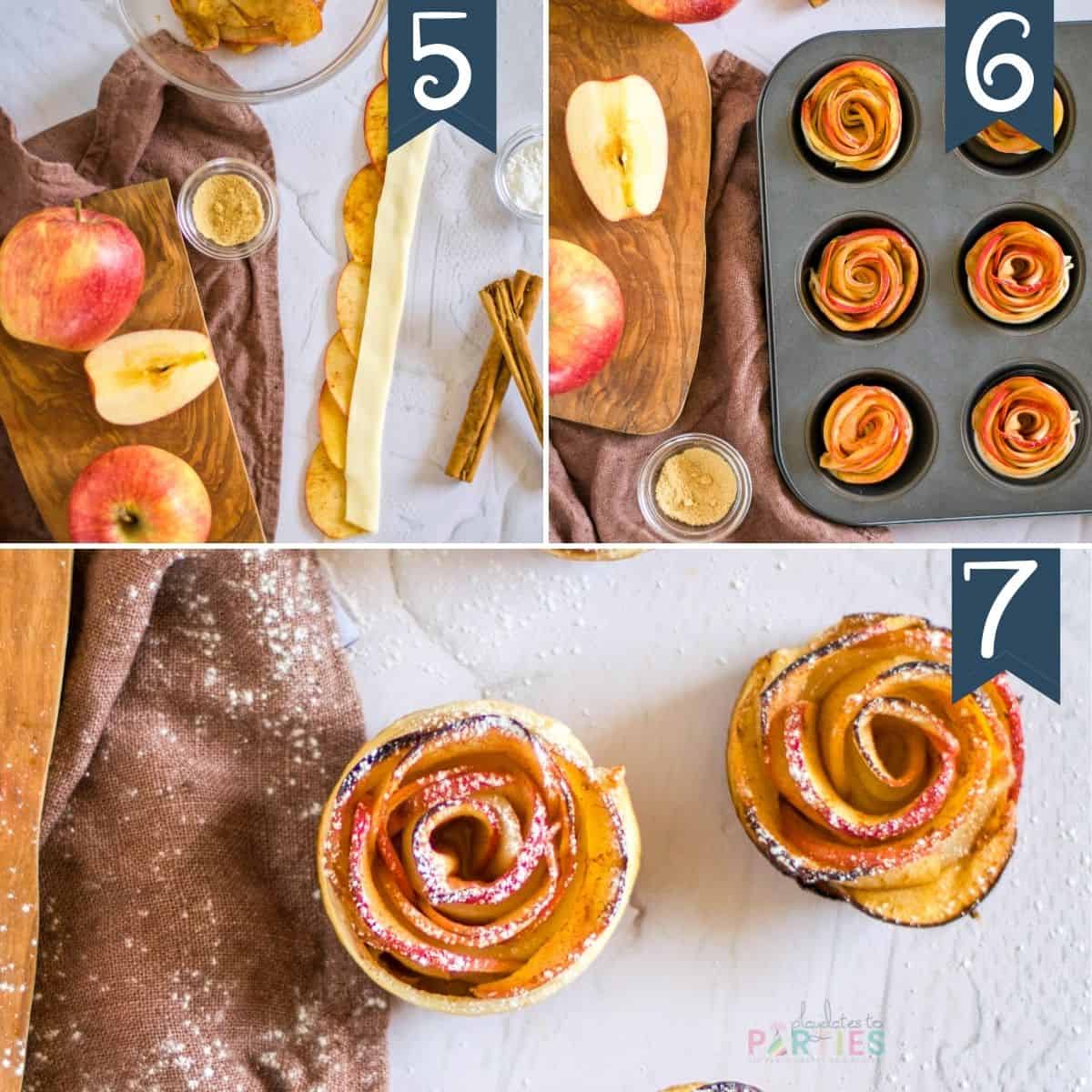 Step 5 – Fold the other side of the puff pastry over the fleshy edge of the apple slices.
Step 6 – Roll the strips up to create a rosette and place in a muffin tin
Step 7 – Bake for 20 minutes, and dust with powedered sugar right before serving.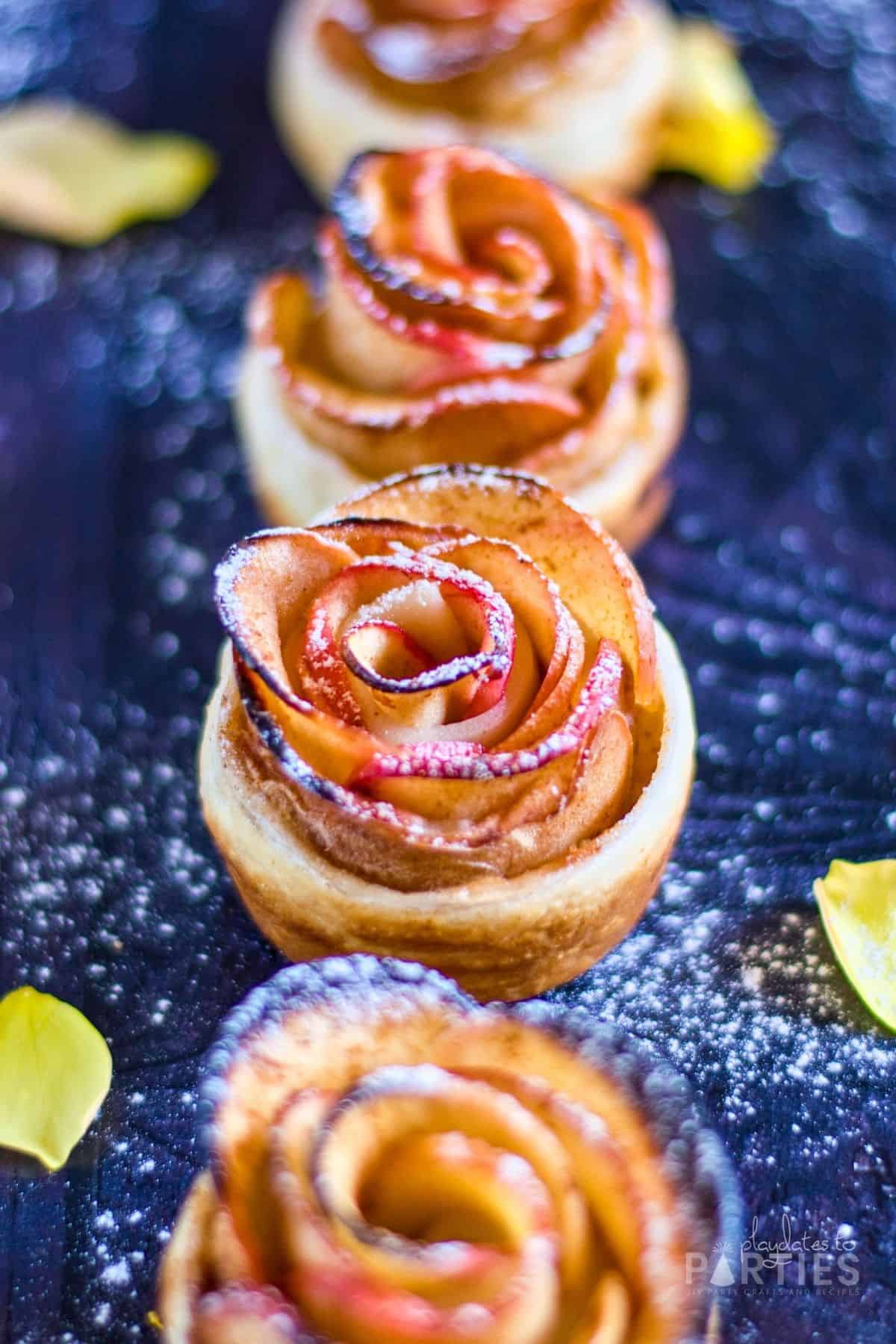 Essential Tips:
Don't skip these tips – read them before baking to avoid any potential mistakes.
Make the apple slices as thin as you possibly can.
When testing this recipe, I cut my apples both with a Santorum knife and with a mandoline (this is the kind we have and I love it) The mandoline won hands down. Why? Well…
The mandoline can cut ultra thin slices,
The slices are flat, whereas slices cut by hand can end up with a slightly wedged shape
It's easier to get apple slices that are a consistent thickness
Slicing the apple with a mandoline is much faster
This all makes the the apple slices easier to layer, and easier to roll into rosettes. The rosettes were prettier with the mandoline slices too.
Don't get me wrong, you can totally cut your apples with a knife. But you'll want to make sure you keep your slices no wider than 1/8″ wide.
Stir the apples very gently as they cook
Heating the apples in the lemon juice helps to prevent blackening, while also softening up the slices so they can be rolled.
That said, you're not aiming to fully cook the apples at that point. Instead, you're looking to make sure the slices are flexible, but not soft.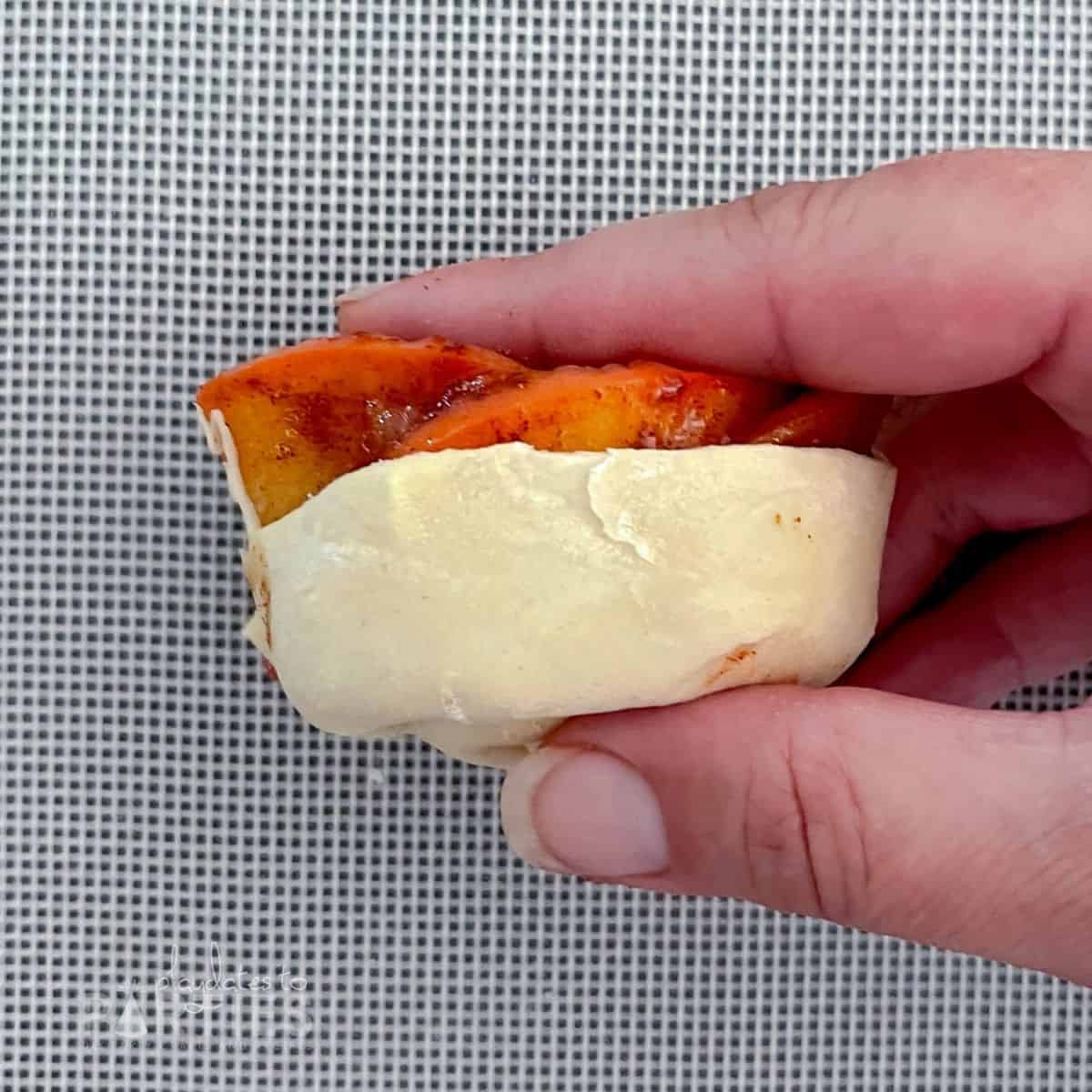 As you're rolling the apple rosettes, hold the apple slices in place
Sometimes the apple slices will slip out as you roll up the rosette.
If that happens, simply keep two fingers pressed on the apple slices as you roll them up. This should help keep everything in place.
If you have a silicone pastry mat, this is the perfect time to use it.
At one point I was gifted a silpat-style pastry mat that has measurements along the edge. While it's not strictly necessary for this recipe, it was incredibly helpful in making sure the puff pastry strips are evenly cut.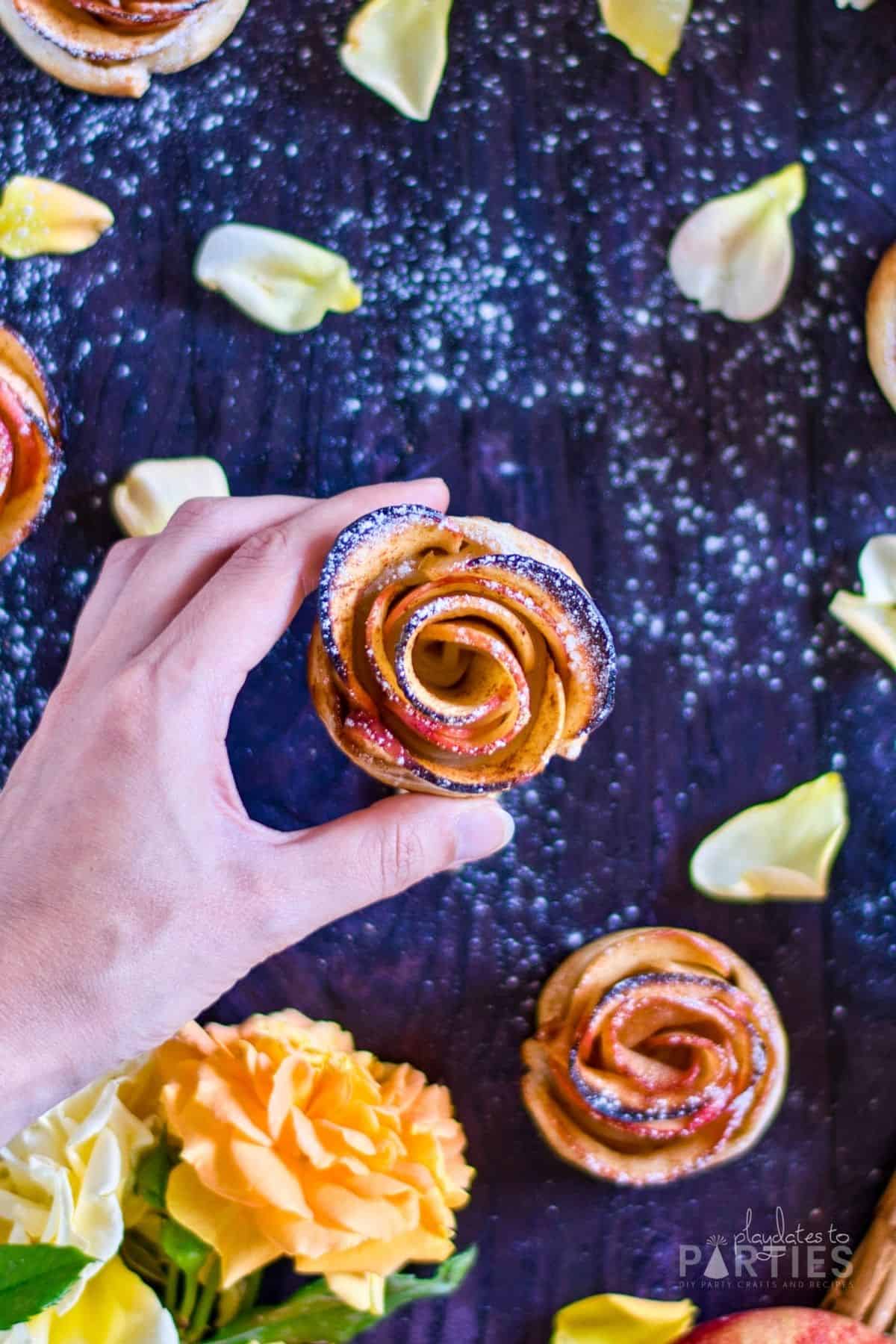 FAQs:
What type of apples are best?
I like Gala, Pink Lady and Honeycrisp apples for the rosettes. They're firm enough to hold up to cooking, and have a pretty red skin that is perfect for rosettes.
How many slices for each rosette?
between five and eight apple slices depending on how long your puff pastry sheet is and how big your apple is.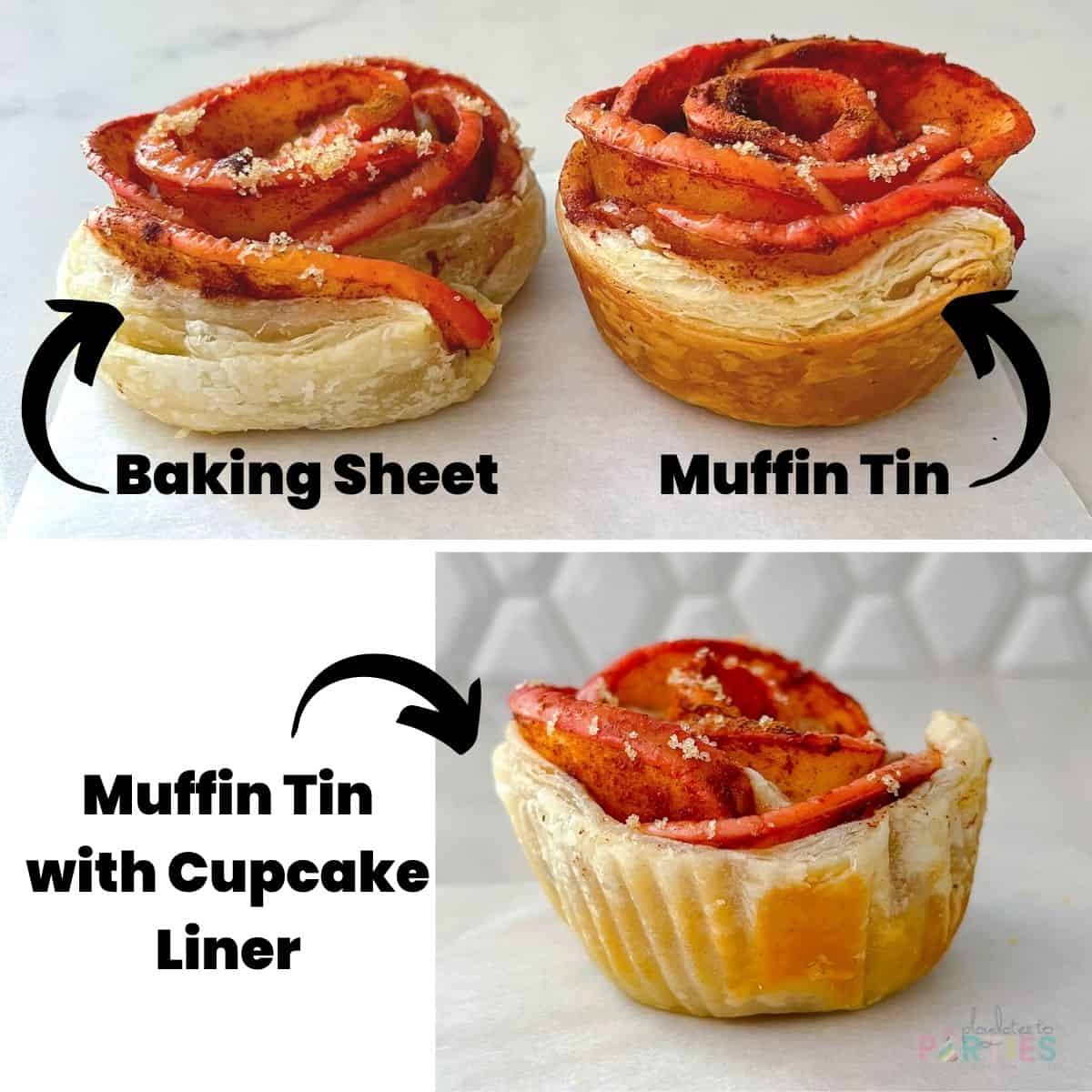 Which is best – Muffin tin or baking sheet?
I prefer to use a muffin tin for baking the apple rosettes.
Muffin tins will keep the pastry together during baking so you get a pretty puff pastry bottom. Just make sure you grease the pan well or make parchment paper cups to line your muffin tin.
If you decide to use a baking sheet, you may want to increase your baking time. As you can see from the test shot above, the rosette on the baking sheet is a little underdone compared to the one that was baked in the oven – even though they were baked together.
Fun tip– I also tried using a muffin liner when testing the recipe, and it worked better than I thought. Yes, you will get those signature grooves, and the rosettes don't always sit right in the pan, but it's definitely an option if you're tight on time.
Can these be made vegan?
Yes! Instead of regular puff pastry, you'll need to use vegan puff pastry. Just remember to adjust your plans for a longer thawing time according to the package directions.
Can I make apple roses with puff pastry ahead of time?
These are best made on the same day that you plan to serve them. However, I have made them early in the day and then gently reheated them in the oven for 5-10 minutes. (Be careful not to overcook them)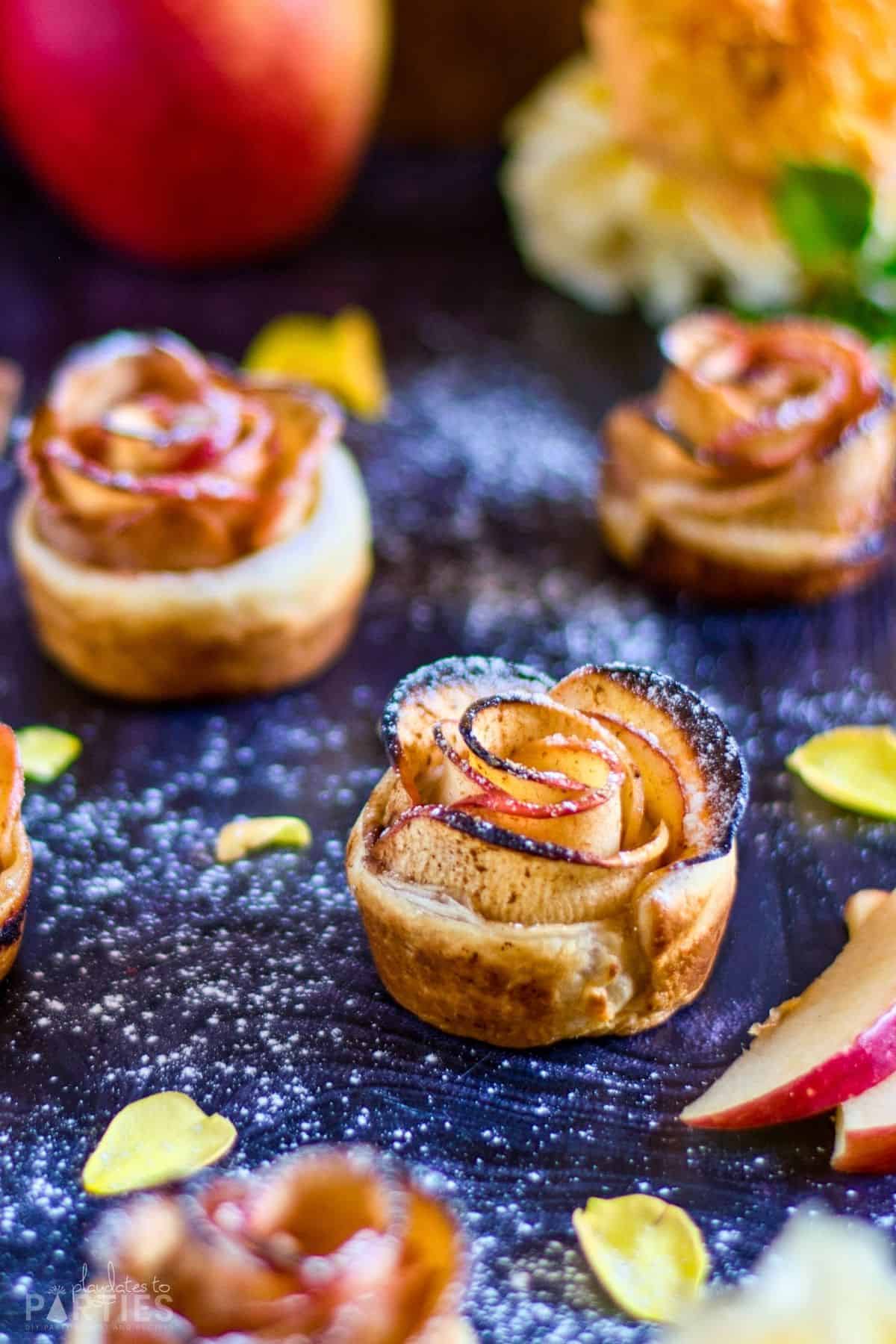 If you liked my apple rosettes with puff pastry, you're going to love these other apple recipes to make this fall. It's got everything from stunning desserts like these apple roses with puff pastry to simple treats like apple pie spiced pretzels.
Or you can check out my other dessert recipes right here. What are your family's favorite fall treats? Let me know in the comments below!
Yield: 5 apple roses
Apple Roses with Puff Pastry
Learn how to make perfect apple roses with puff pastry that are sure to impress your guests. Including tips and tools to make it easy.
Ingredients
1 Puff Pastry Sheet
2 Medium Apples
Juice of 1/2 medium lemon (about 2.5 tablespoons)
1 Tbsp cinnamon
2.5 Tbsp brown sugar
Powdered Sugar to garnish (optional)
Instructions
Thaw the puff pastry sheet according to package directions. Wash the apples, then cut into thin slices, leaving the peel on. (see notes)
In a 4 quart saucepan, combine apple slices and lemon juice. Gently warm on medium heat.
Add 2 tablespoons brown sugar and 1 tablespoon cinnamon to the apple slices. Stir gently to mix.
When the apples have softened (about 10-15 minutes depending on their thickness), remove from heat and let cool.
Preheat your oven to 375˚F (190˚C), and prepare a muffin tin or baking sheet.
Unwrap the thawed puff pastry over a clean surface. Cut each dough sheet into 5 strips, about 1.5 - 2 inches (4-5 cm) wide.
Assemble the roses: Place the apple slices along the long edge of a puff pastry strip so that the slices are about halfway on the puff pastry, and the skin side of the apple is outside the pastry. Overlap each apple slightly, and make sure the apple slices extend along the entire puff pastry.
Fold the other side of the puff pastry up to sandwich the bottom half of the apple slices between pastry.
Roll the puff pastry and apple strips up to create a rosette.
Place a puff pastry apple rose in each muffin tin. Sprinkle with 1/2 tablespoon brown sugar and a pinch of cinnamon.
Bake at 375˚F for 20 -25 minutes. When cooked through, remove from the oven and cool for 10 minutes. Sprinkle with powdered sugar just before serving.
Notes
Don't forget, the step-by-step photos, tips and FAQ are in the recipe post to help you if you feel stuck at any point.
Make sure to keep your apple slices no more than 1/8" thick. I recommend using a mandoline to keep the slices even.
A silicone pastry mat can help to ensure your puff pastry strips are all an even thickness.
While a muffin tin works best, you can also bake the rosettes on a parchment lined baking sheet.
These are best made on the same day you serve them.
Recommended Products
As an Amazon Associate and member of other affiliate programs, I earn from qualifying purchases.
Nutrition Information:
Yield:
5
Serving Size:
1
Amount Per Serving:
Calories:

216
Total Fat:

2g
Saturated Fat:

0g
Trans Fat:

0g
Unsaturated Fat:

2g
Cholesterol:

0mg
Sodium:

46mg
Carbohydrates:

50g
Fiber:

3g
Sugar:

42g
Protein:

1g
__________________________________ The nutrition information provided above is estimated using an automated calculation system. Actual nutrition will vary depending on brand and measurements used in your recipe. To obtain the most accurate representation of the nutrition information for any given recipe, you should calculate the nutritional information using the actual ingredients you used in your recipe.
---