Hosting a baby shower on a budget can be overwhelming. Not only do you have to plan baby shower snacks, drinks, and games – there's also all that decorating to do! Thankfully there are plenty of easy, DIY baby shower decorations that will make your shower look amazing without breaking the bank.
We've got 35 creative DIY baby shower decorations to help get you started, plus tips to help you avoid getting overwhelmed. Whether you're planning a baby shower for a girl, a boy baby shower, or just keeping it gender neutral, you're sure to be inspired.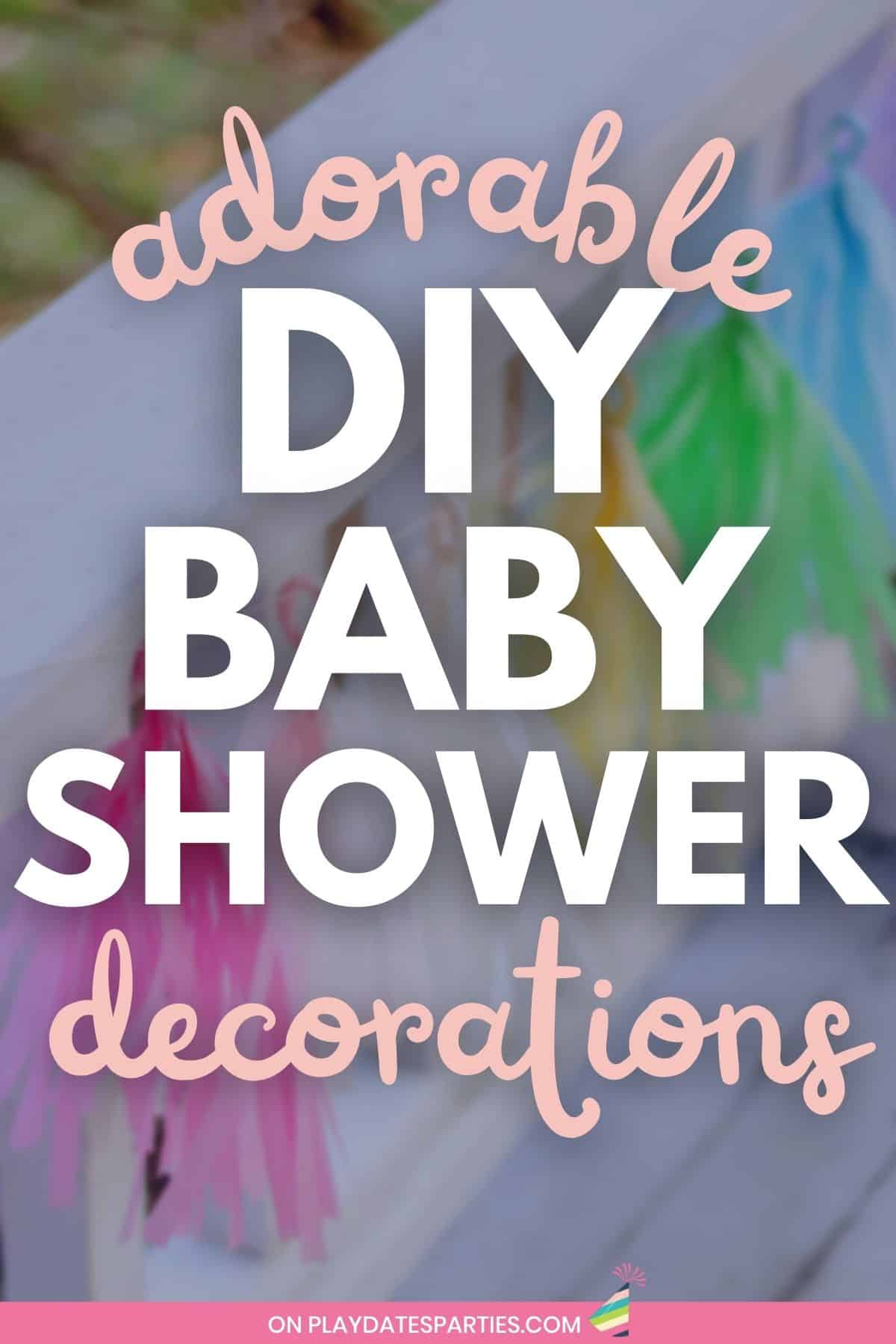 Tips to Remember When Decorating a Baby Shower on a Budget
Between the excitement of celebrating a new addition to the family as well as gathering friends and family together – it's easy to go overboard with your DIY baby shower decorations. Here are a few things to remember when you're picking out your decor:
Make a plan. Keep yourself organized by claiming your free copy of our printable one-page party planner at the bottom of this post. It's designed specifically for DIYers in mind, with sections to plan out your prep time and budget.
Think about your space. Will it be indoors or outdoors? How many guests will you have? What does the space look like already? With this in mind, you can start planning what spots you can emphasize, and which areas need to be covered.
Remember the weather. If you plan to have any of your baby shower outdoors, have a backup plan for bad weather. For example, table confetti is cute but how else can you use it if the weather is windy outside?
Sometimes it's better to spend a tiny bit more. Dollar stores are fantastic for parties when you're on a budget, but sometimes their products aren't worth the savings. If you're using their products to create something new (like a tablecloth backdrop, or paper flowers) make sure to check out the tutorials linked below to see dollar store items in action.
Get creative with what you already have. There are so many ways to shop your home for party decorations. Chances are you already have a lot of what you need – it just takes a little imagination to see it in a new light.
Consider having a party theme. There's no rule that you have to have a themed baby shower. However, it can make choosing decorations and food a little easier. If mom-to-be is on a budget, consider coordinating the party theme with the baby's nursery. This way decorations can be reused as bedroom decor.
Keep it simple. The more complicated the DIY party decorations are, the more time and money you'll spend. Stick to a few simple, elegant decorations that you can easily put together. And don't forget, sometimes the most beautiful decoration is something natural or organic, like fresh flowers.
Above all, have fun! Planning and decorating for a baby shower should be enjoyable – remember to take the time to savor the process. Now let's get to the fun part – the baby shower decorations!
Budget-Friendly DIY Baby Shower Decorations
As you can see, there are many budget-friendly DIY baby shower decorations you can make. Just remember the tips we shared up above: 1) Make a plan, 2)think about your space, 3) cheaper is not always better, 4) shop your home first, 5) consider having a party theme, and 6) keep it simple.
If you do all of those things, you'll be sure to throw a beautiful baby shower that won't cost a fortune.
Don't forget to grab your free copy of our free printable party planner snapshot page that will help you manage all the major details in one spot.
Download your copy now and don't forget to tag us in photos when your party is done!
---