Are you looking for a cute way to celebrate your summer baby's first birthday? This blue and green gingham garden birthday party perfectly balances the sweetness of a girl's 1st birthday without a lick of pink or purple.
Don't forget to check out the adorable first year timeline and the fun first birthday party foods.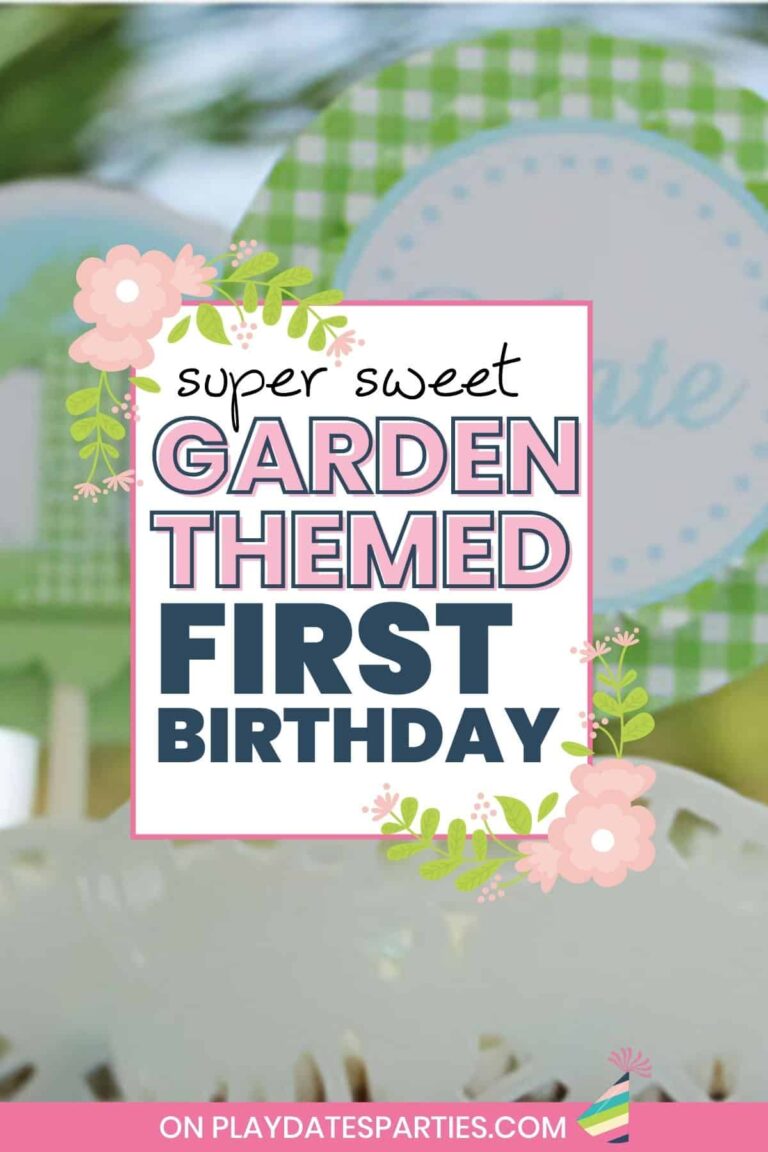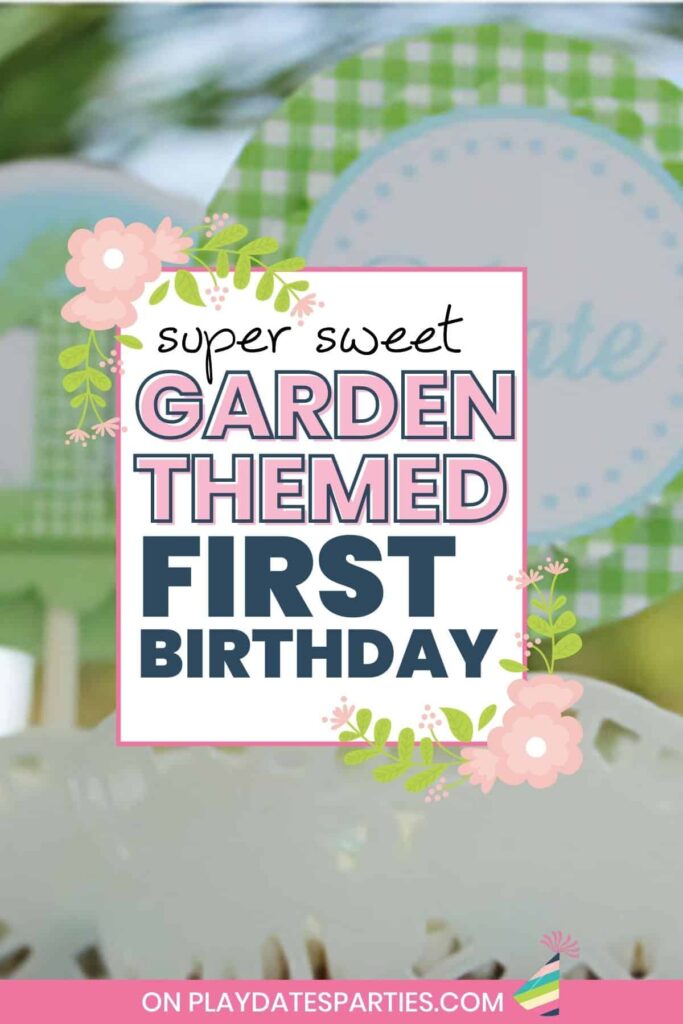 About the Party:
Created By: Mallard Cove Mommy
What Was the Occasion? 1st birthday
Theme Inspiration: The birthday's nickname is "Lady Bug" and she has beautiful blue eyes
Color Scheme: Blue and Green
Where Was the Party Held? Backyard at Home
Garden Party Decorations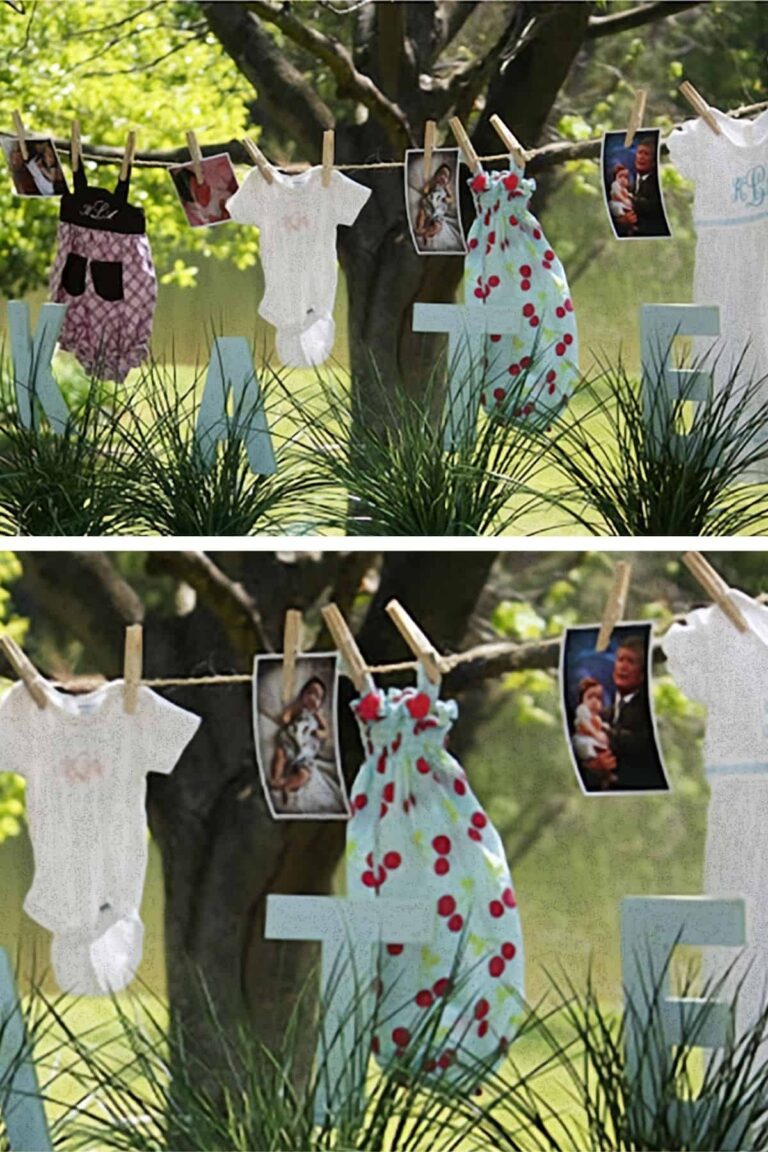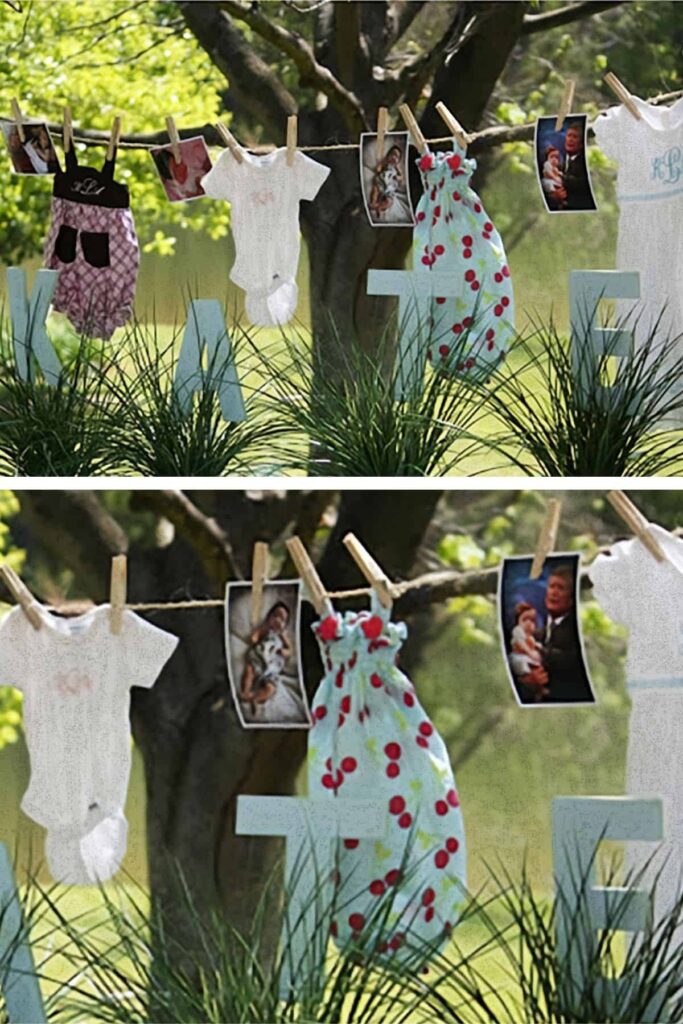 First Year Timeline
There's nothing that quite pulls at the heartstrings like seeing your baby's first outfit again. Which is why this clothes line of the birthday girl's first year is so sweet.
By combining the monthly photos outfits through the year, she created show-stopping decor without spending much money at all.
Oversized Name Letters
Oversized letters are cute, but when you're outside you run the risk of them getting blown over.
Mallard Cove Mommy took care of this by gluing cardboard letters to dowel rods. Then she made them fit in with the garden birthday party theme by adding the letters to plant pots that were painted blue and filled with ornamental grass.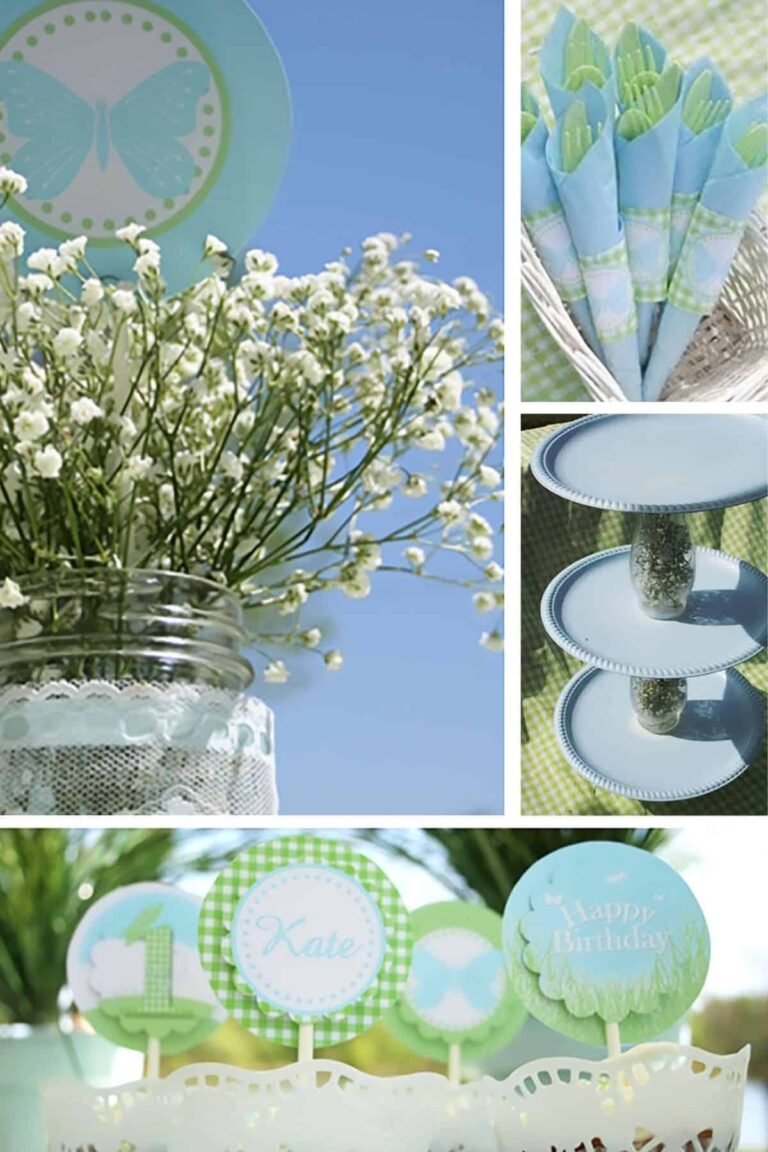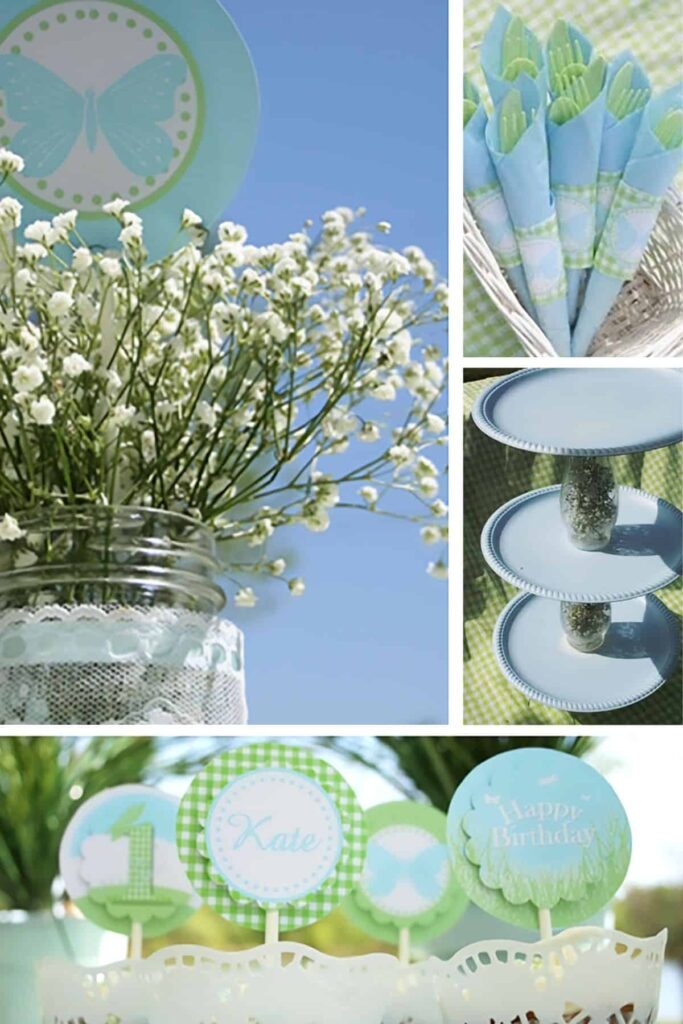 DIY Touches Galore
Mallard Cove Mommy made her own cute little party printables for this birthday, too. The blue butterfly party circle in the baby's breath is so simple, but beautiful.
I love how the scalloped cupcake toppers look layered around the lollipop sticks.
She even made her own cupcake stand with dollar tree trays (painted blue) and vases filled with baby's breath.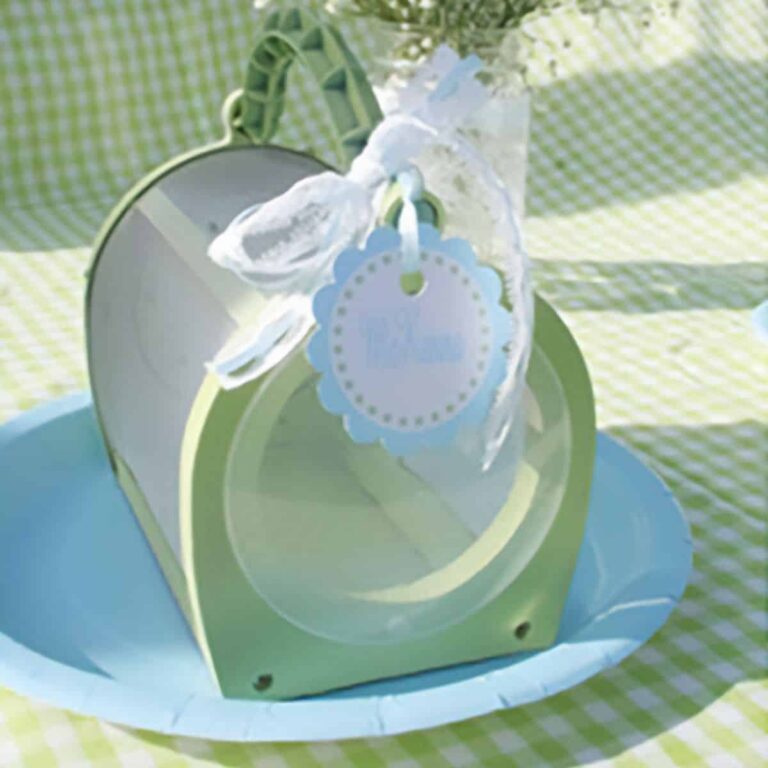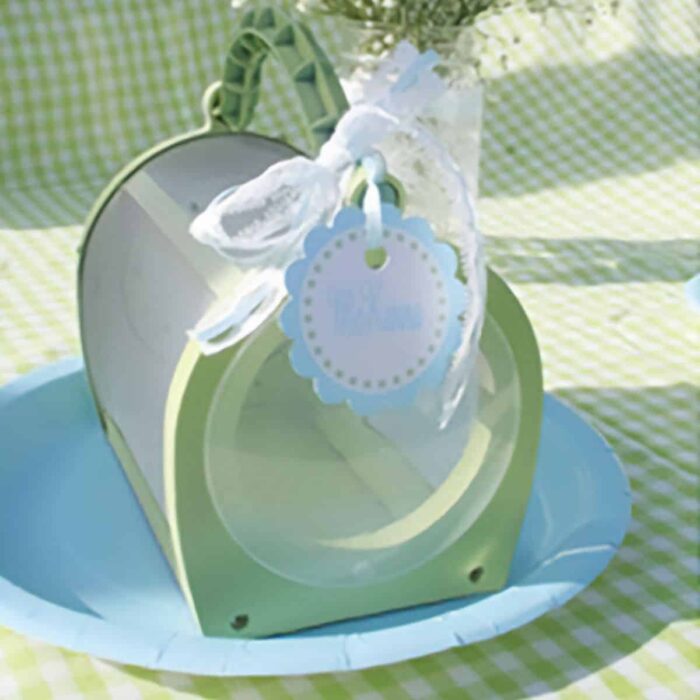 Kid-Friendly Table Setting
She also spray painted inexpensive bug catchers to match the theme colors, and then tied on a name tag with ribbon and lace.
Don't you just love how they fit the plates perfectly?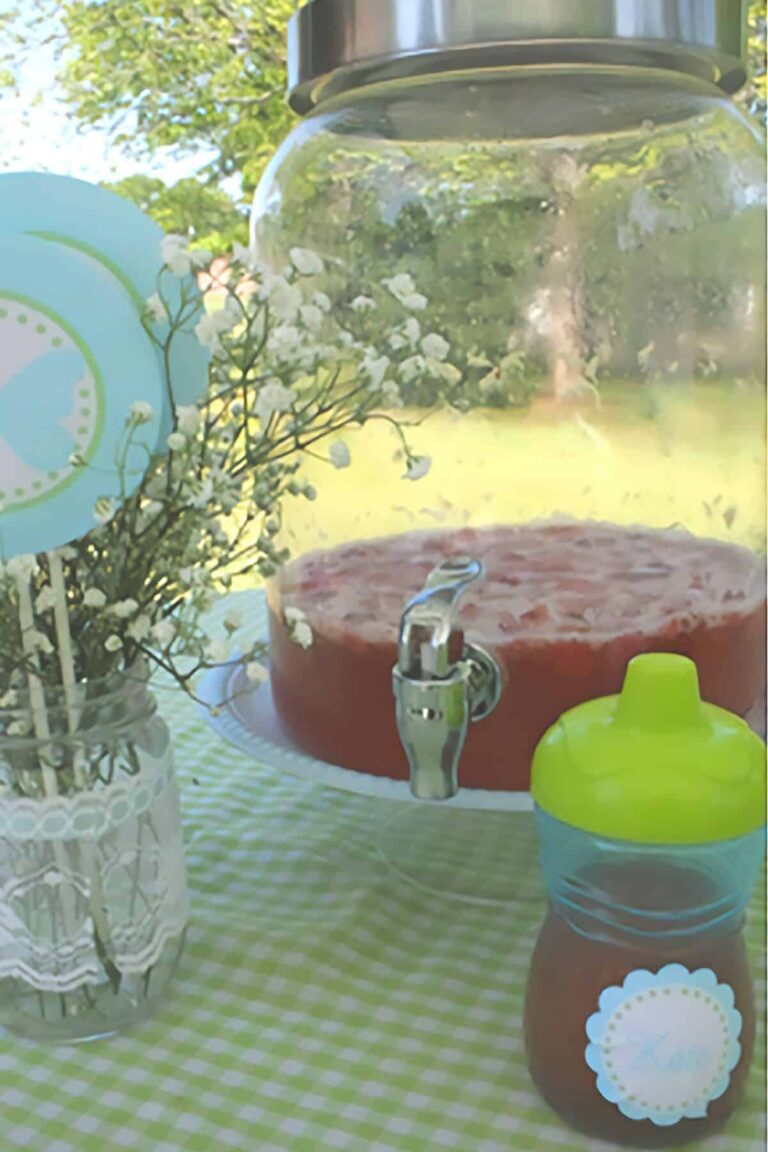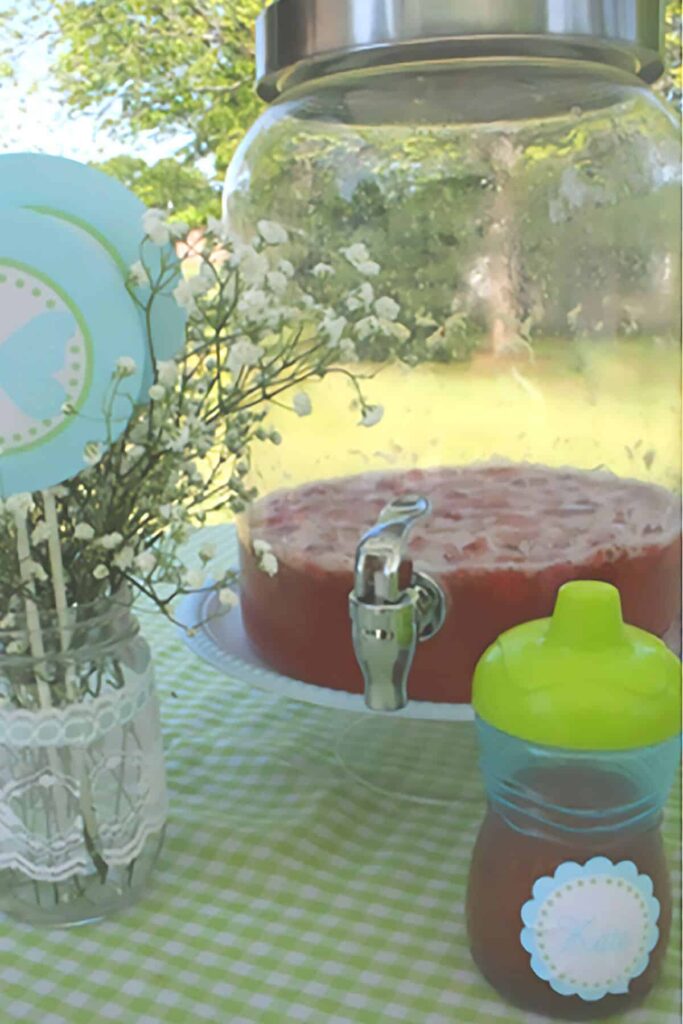 Garden Birthday Party Food
The nice thing about a garden party is that you can pretty much serve whatever you want, just make sure you serve safe food for a first birthday party.
This party menu was pretty much the perfect picnic menu. with:
Sub sandwiches
Butterfly shaped peanut butter and jelly sandwiches
Fruit salad,
Veggie tray
Layered potato salad, and
Confetti pasta salad with lemon vinaigrette dressing
Sparkling strawberry limeade, and
Iced cucumber water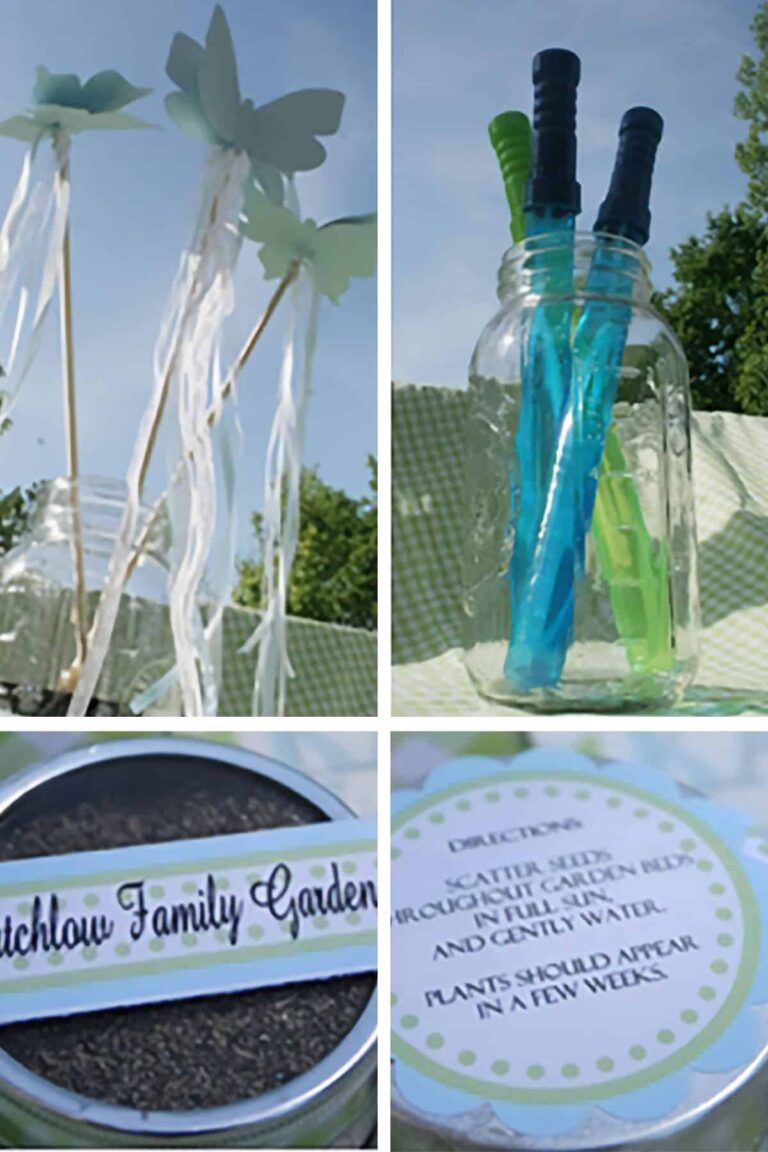 Party Favors
In addition to the bug catchers, kids got to take home:
Butterfly wands made with wooden dowels and blue butterflies cut out of card stock,
Butterfly nets,
Bubble wands from the dollar store, and
Flower seed tins with planting and growing instructions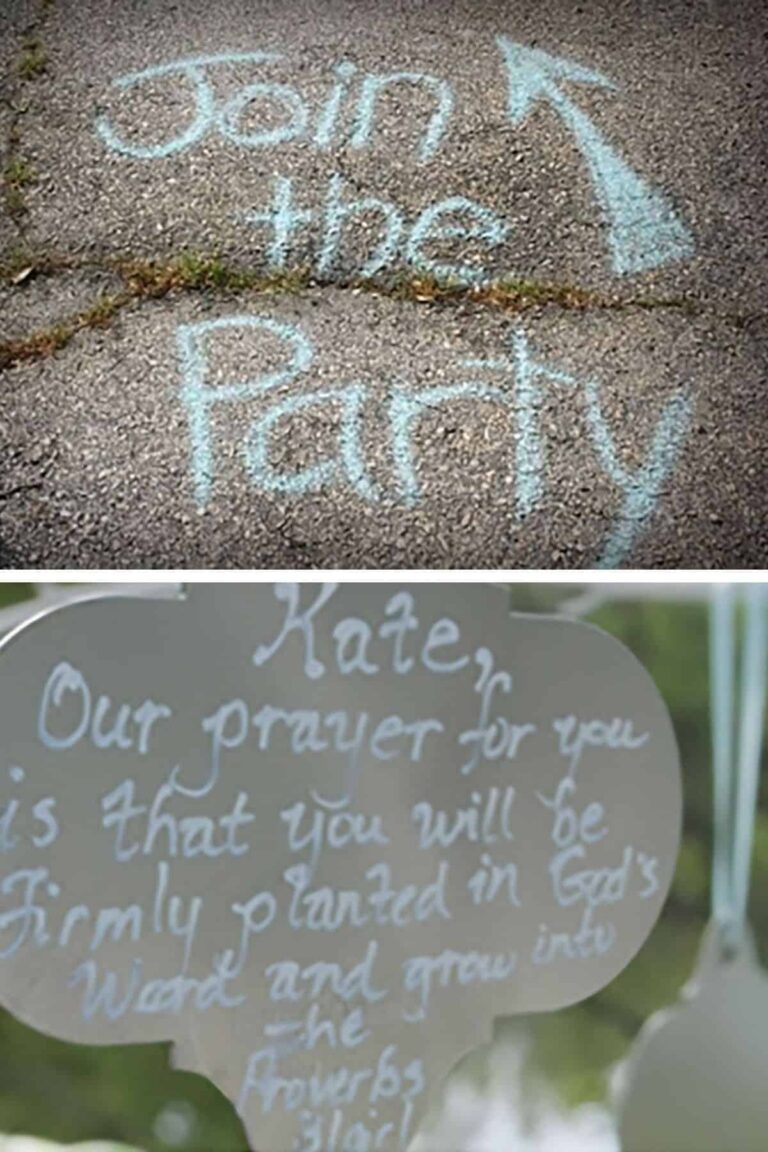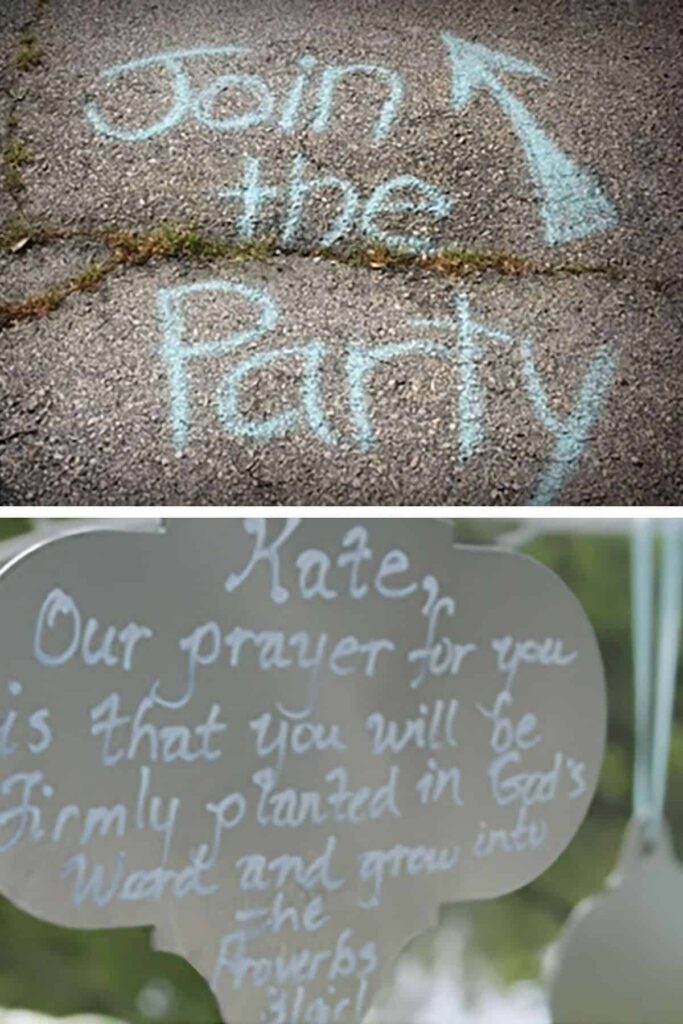 Details that Make the Difference
Driveway Chalk Greeting
Most parents of small kids have sidewalk chalk lying around, so why not use it to greet your guests – and to point them in the right direction.
If you like the idea, but want something a bit more 'make ahead', you'll love the chalkboard sign my oldest made for her little sister's birthday party, or this DIY chalkboard sign made with removable vinyl.
Wish Tree and Flower Garden
Talk about sweet. Each of the guests was asked to bring a favorite perennial flower, which was planted in the birthday girl's very own garden.
Guests also got to write a little wish for Kate on metal tags, which were then added to a wish tree. Finally, the tree was added to her garden after the party.
I wonder how her garden has done as she's grown up.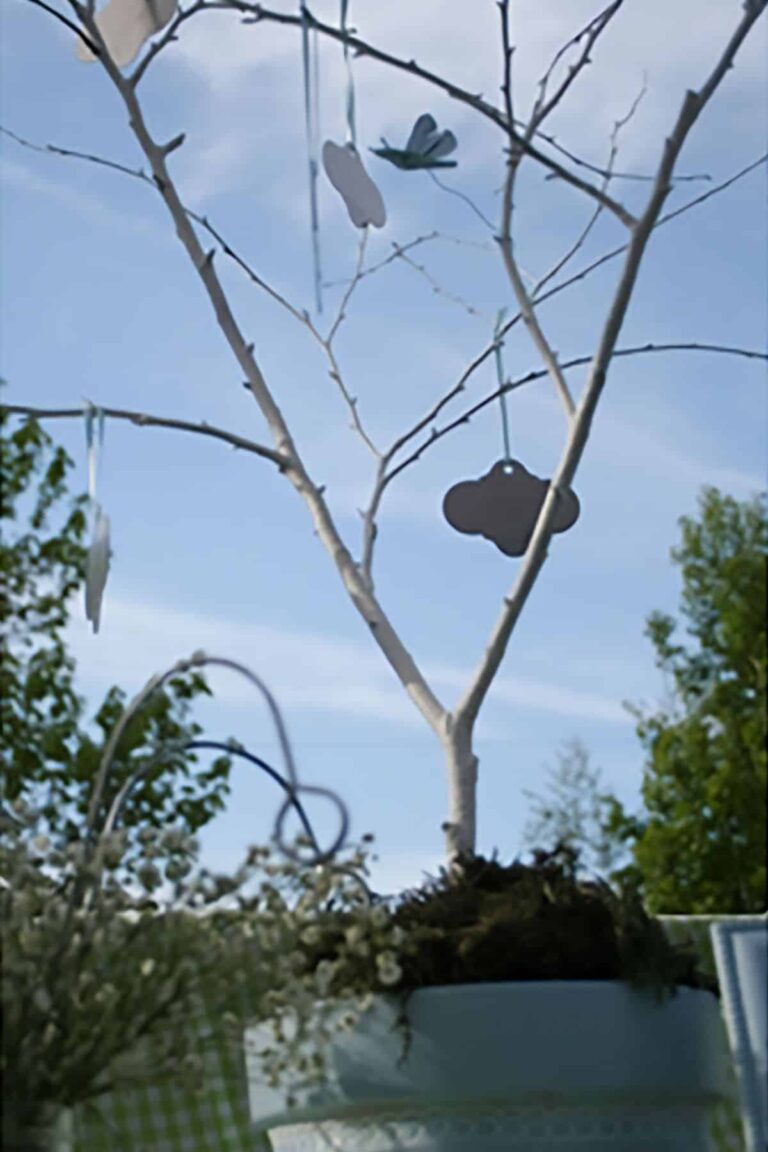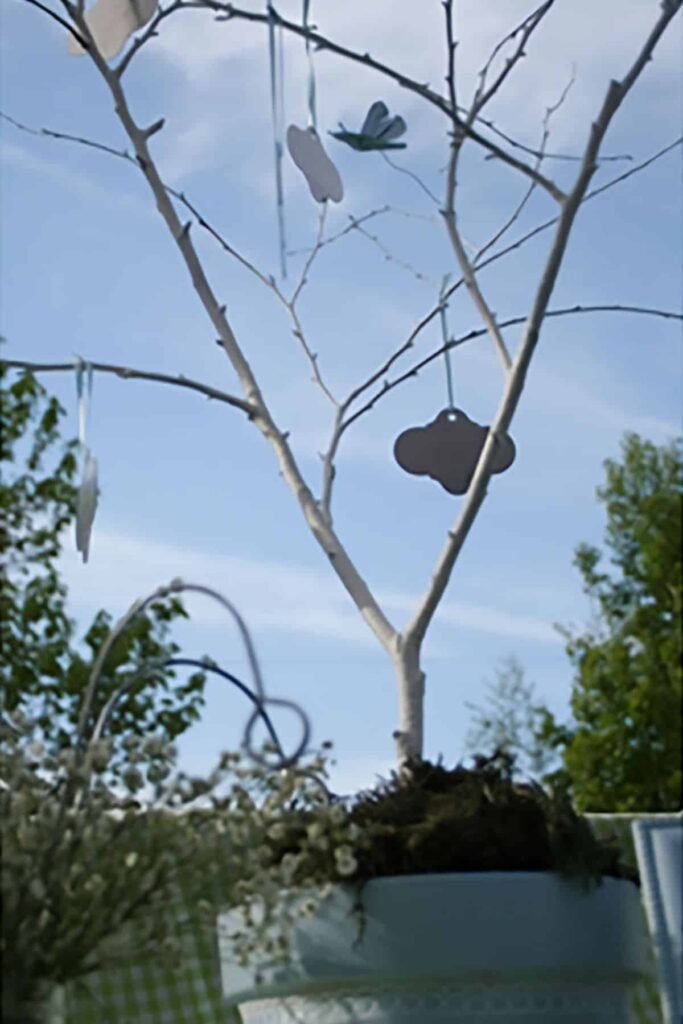 More Garden and Flower Party Ideas You'll Love:
Now It's Your Turn
This sweet summer garden birthday party is just full of creative inspiration. From the inspiration for the party theme, to the clothes line, and the flower garden/wish tree.
Hopefully you've found some ideas to incorporate into your party as well – ideas that will provide special memories that will last a lifetime.
Let me know in the comments below what your favorite part of the party is!
---
---
This post was originally published with permission on May 24, 2011. It has been updated with larger photos and additional party details.