Have you heard of the chalk paint trend? Here we discuss what chalk paint is, how to make your own homemade version, and how to use chalk paint in 4 fun and easy ways.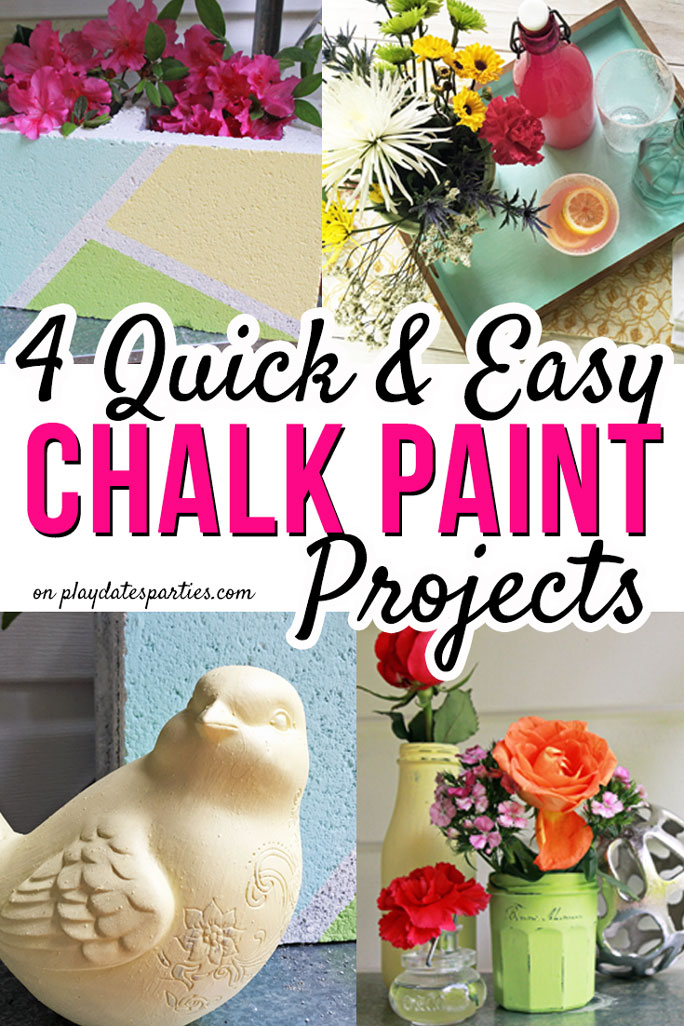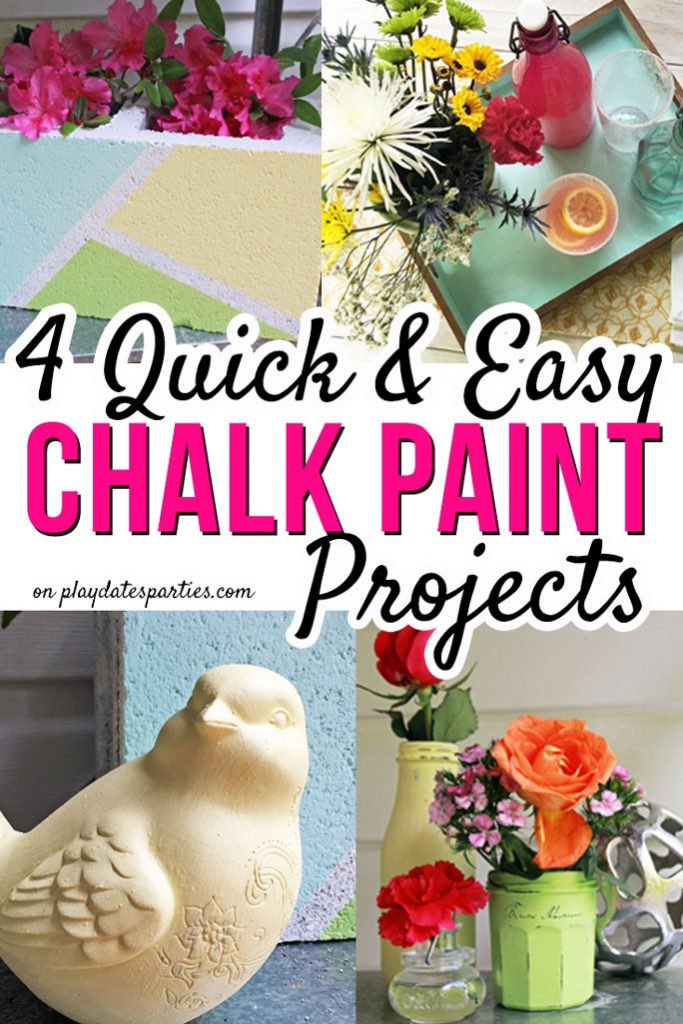 How was your Mother's Day?
We were blessed with lots of beautiful weather, and plenty of last-minute preparations to finally complete our backyard renovation.
One of the projects I couldn't wait to try was to start decorating with chalk paint!
What is Chalk Paint?
Now, I know I'm late to the chalk paint game, but just in case you aren't familiar with it, chalk paint was originally developed by Annie Sloan for use on furniture and other surfaces.
Some of the key benefits of chalk paint are:
Little prep work is required
Chalk paint is supposed to be very durable
The final finish is a matte, almost chalky effect
It is perfect for vintage projects, because it distresses beautifully
So why did it take me so long to try out chalk paint? It's plain expensive!
A single quart can cost over $30, not to mention the special brushes and finishes you might want for your project. Add on to it, the cost of finishing wax (to increase durability), and a single project can quickly run $100 or more just for the painting supplies!
Homemade Chalk Paint Recipes
Being a DIY girl, it's probably no surprise that I was intrigued by the idea of creating and using my own chalk-style paint.
Salvaged Inspirations wrote an excellent post outlining four different homemade chalk paint recipes. And after a thorough (meaning in-store) read, I decided to use the following chalk paint 'recipe':
The BEST thing about a homemade recipe is that you can choose your own paint color. I decided to mix up some chalk paint using a paint sample from the store and to use up some leftover latex paint.
RELATED>>>>The 3-minute Paper Doily Flower (using chalk painted Mason Jars)
How to Use Chalk Paint on Glass Jars:
Painting glass jars is the easiest way to get started with chalk paint projects. And even though I show mason jars in the tutorial below, feel free to paint other jars, too!
Seriously, I painted jelly and jam jars and Frappuccino bottles too. (I think the jelly jar is actually my favorite!)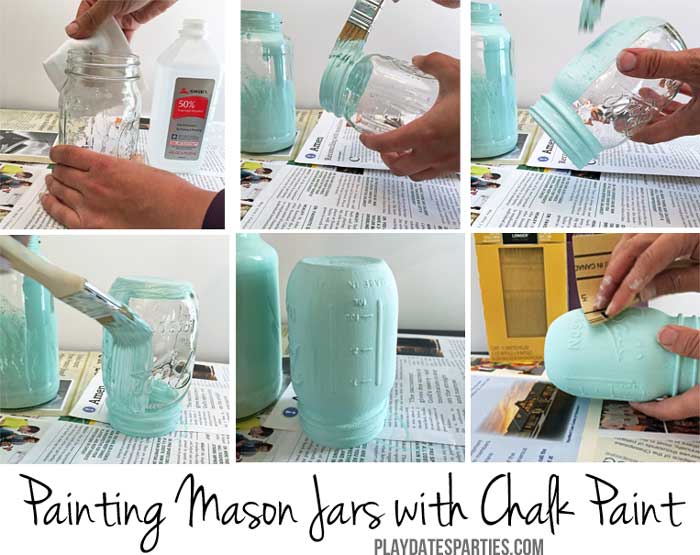 Materials:
Directions:
Wipe down the outside of the jar with rubbing alcohol and a gauze pad.
Using an inexpensive brush, apply a thin layer of paint. Start at the rim of the jar and then flip it over to finish the jar off.
Let the jar dry completely, about 2 to 3 hours.
Repeat steps 2 and 3 until you achieve your desired coverage.
Let the final coat sit overnight, or at least 8 hours.
Distress your jars by sanding the details. Recommend using 180 grit sandpaper on the main areas, and 220 grit sandpaper on the delicate areas.
Wipe off any excess dust.
Seal the jars with a finishing wax or an acrylic sealer. I used a spray-on acrylic sealer that I had on hand.
Note: This method will result in some brush strokes on the final project, so you will want to make sure you paint in the direction you would like the strokes to be seen.
More Chalk Paint Projects
Even after painting several glass jars, I had LOTS of homemade chalk paint leftover. So, it was time to have some fun.
Here's how to use chalk paint in a few other ways around your house: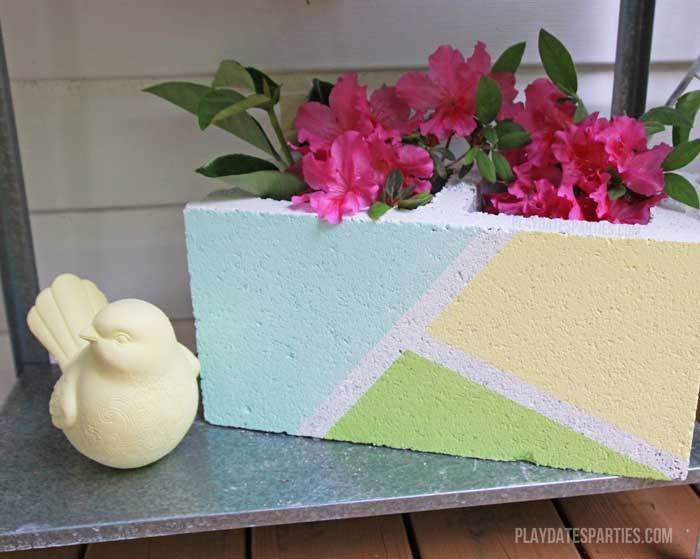 Turn a Cinder Block into a Vase:
This was so much fun. All you need is to put a base coat of paint on a cinder block, tape off a few areas, and then add your chalk paint in the remaining spaces.
Add some plastic jars (32 ounce yogurt jars are perfect) inside the openings of the cinder block, and you have a fun vase!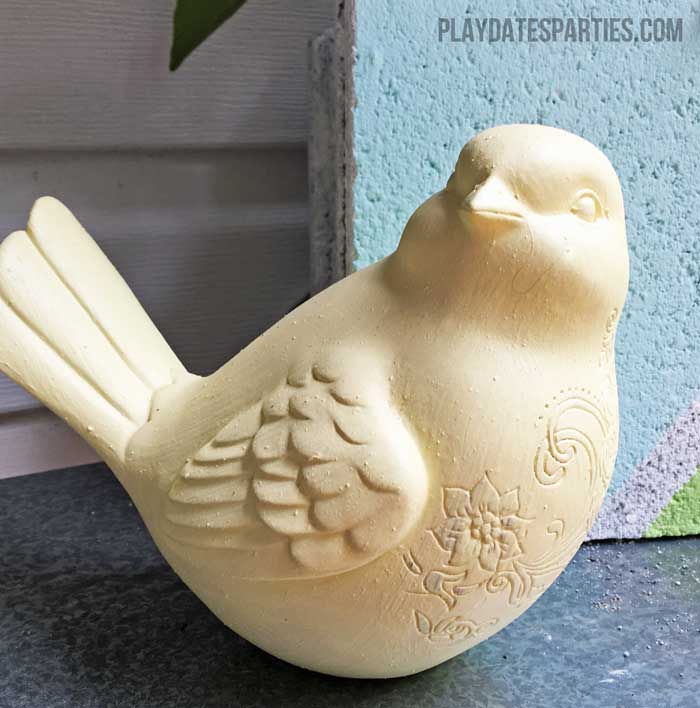 Update Your Old Ceramic Knick-Knacks
This ceramic bird has been sitting around our house for years. But I never wanted to display it because it was a bit too granny-chic for me.
A couple quick coats of chalk paint, and this little bird is all up to date!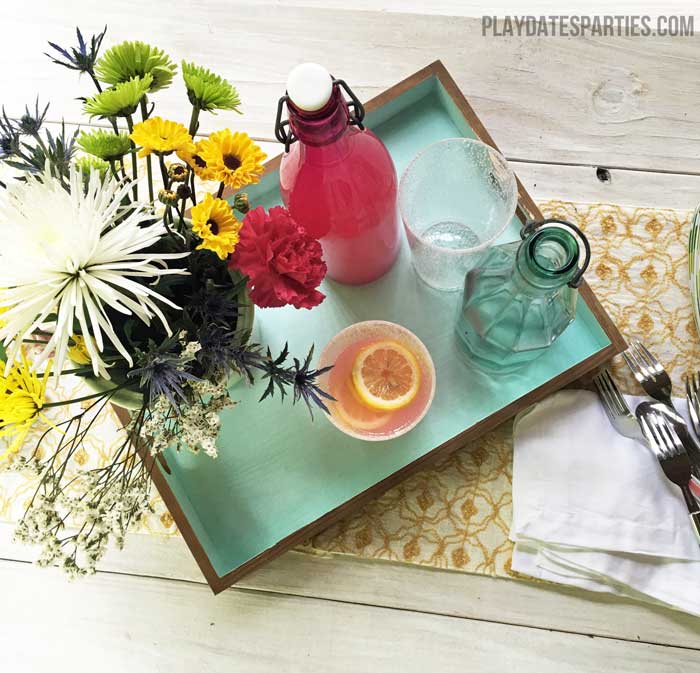 RELATED>>>>Homemade Stain with Steel Wool and Vinegar
Make a cute Serving Tray
This tray was actually an inexpensive wood tray from Target.
The interior of the tray got a coat of teal chalk-style paint, and the exterior was painted with an easy homemade stain.
Don't you just love the contrast? It's the perfect cheery color for spring and summer!
Now, It's Your Turn
There you have it! How to use chalk paint in four fun and easy ways. Plus, we also went over the benefits of chalk paint, and a simple homemade recipe so you don't have to spend oodles of money on a single color.
Have you ever used chalk paint?
How would you use it if you had some right now?
See the Entire Renovation:
---
---
I want to extend many thanks to the readers who have enjoyed renovation and home DIY posts over the years. Unfortunately, in January 2018 I was diagnosed with Stage II breast cancer and had to stop doing home renovation posts due to treatment.
Since that time, my focus has been on making this website an amazing resource for the everyday mom's parties. Due to their popularity, the DIY posts and tutorials will remain on the website, but comments are now closed. Thank you again and I wish you the best in your DIY endeavors!
SaveSaveSaveSaveSaveSaveSaveSave