In this tutorial, learn how to make tissue paper pom poms (also known as tissue paper flowers) and how they stack up against store-bought versions too!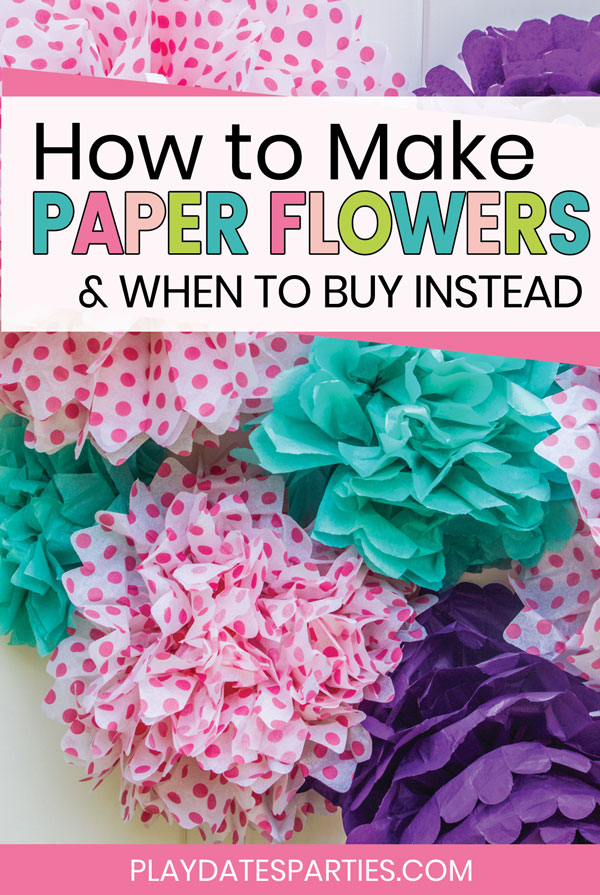 Whether you DIY or buy them, tissue paper pom poms are a great way to add big impact to your party decor for very little money.
I'm going to show you how to make 4 tissue paper pom poms from one stack of tissue paper, and I'm even going to share how long it took to make them, so you can decide if this project fits into your party planning timeline.
Purchased Tissue Paper Pom Poms
Before we learn how to make tissue paper pom poms, let's look at what it's like to buy them. Because, sometimes it's totally worth it to purchase a kit in order to save some time.
When you buy store-bought pom poms, they arrive folded and tied together, ready for you to open, and removing about half of the effort.
Plus, the cuts on purchased pom poms tend to be cleaner and more uniform, which can create a better end result.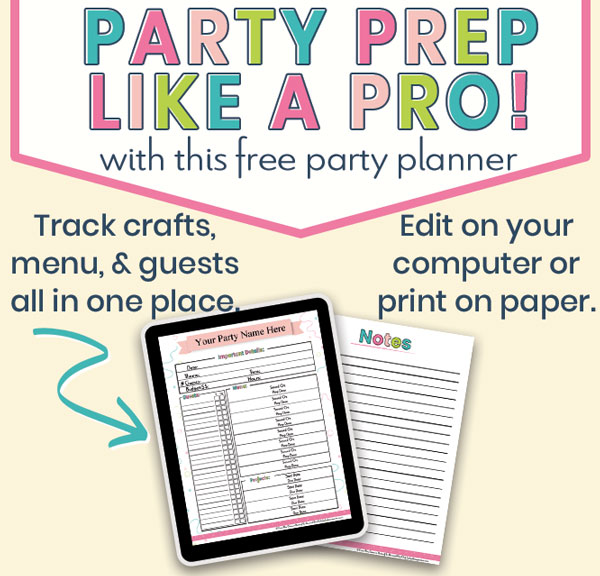 Make Life Easier
Start planning your parties like a pro with these FREE party planner sheets. Click the button below to get your planner sheets delivered straight to your inbox.
Cost of Purchased Tissue Paper Pom Poms
Tissue paper pom poms kits vary widely, and range from $0.50 a piece (at the Dollar Tree) to over $2.00 each in stores and online.
Prices are also going to vary based on the size and coloring of your pom poms.
With the DIY method I show below, you can make your own for as little as 25 cents a piece if you use a $1 stack of tissue paper from the Dollar Tree. That said, I recommend using a stronger tissue paper that is less likely to tear as you separate the sheets.
Where to Find Tissue Paper Pom Poms
There are dozens of places to find ready-made tissue paper pom poms. Here are some of the easiest places to buy from:
Testing Dollar Tree Tissue Paper Pom Poms
Of the two sources I tested, the Dollar Tree tissue paper pom poms were the first store-bought version I tried. Here's a quick run down of the result:
You get 2 12-inch pom poms per pack
Each pom pom has 8 layers of tissue
The tissue is thin, tears easily, and isn't very stiff
They are only available in a limited variety of solid colors
This is definitely a case of you get what you pay for. I found that because the tissue paper was flimsy, no amount of fluffing made these pom poms look good as a full sphere. Though they looked just fine if they were only opened with one flat side.
In short, Dollar Tree tissue paper pom poms are fine if you have a limited color palette, and plan to have the pom poms flat against a wall or on a table, but not hanging from a ceiling.
Testing Hobby Lobby Tissue Paper Pom Poms
I happened upon a set of cute polka dot tissue paper pom poms one day at Hobby Lobby (made by Brother Sister Design Studio), and figured I'd give them a try too. Here's the quick and dirty:
1 16-inch pom pom and 2 12-inch pom poms per package
Each pom pom has 8 layers of tissue
The tissue is fairly sturdy
Colors and styles change throughout the year based on season.
I was much more pleased with the Brother Sister Design Studio pom poms. Even though they have the same number of layers, the thicker tissue paper made a big difference in the end result.
I even got a little too rough and made a huge rip in one of the pom poms, but you can barely tell once it's fluffed.
How Much Time Does Buying Tissue Paper Pom Poms Save?
Making 4 tissue paper pom poms from start to finish took about 50 minutes. Now, that may be a bit longer than you. I was stopping and starting a lot to take pictures. But that averages 12.5 minutes per pom pom.
On the other hand, it took 32 minutes to open up 5 store-bought pom poms, averaging 6.5 minutes per pom pom. Which means, buying store-bought pom poms saves you about 50% of your project time.
How to Make Tissue Paper Pom Poms:
What You'll Need:
8-10 sheets of tissue paper
Floral wire
Ribbon or string (to hang your finished pom pom)
Scissors
Cutting your Tissue Paper
Lay a stack of 8-10 sheets of tissue paper on a sturdy, flat surface. Do your best to get the sheets lined up evenly (but don't stress over it)
Cut the stack of tissue paper in half, horizontally. Set aside one stack for later.
Fold the other stack in half and cut the tissue paper along the fold line.
Set aside one of the medium stacks of tissue paper.
Fold the second small stack of tissue paper in half, and cut that stack along the fold line. If you used more than 8 sheets of tissue paper, remove any extras from the smaller sets.
You should now have four stacks of tissue: One large, one medium, and two small.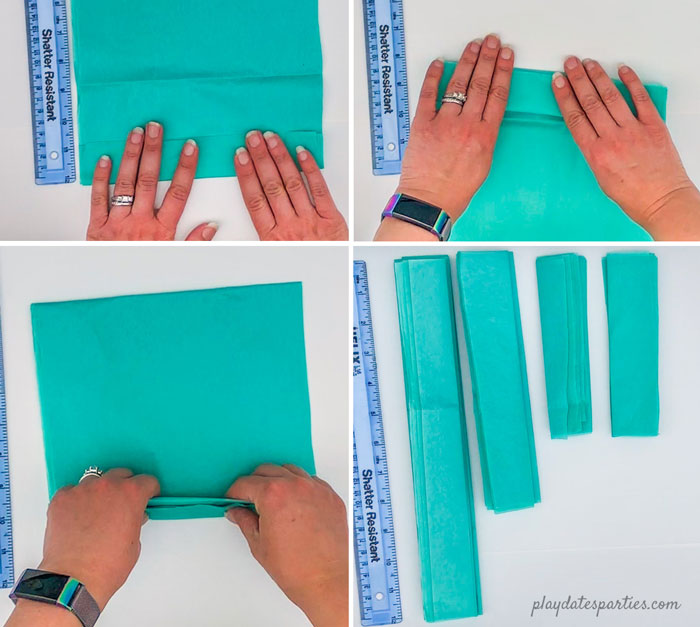 Accordion Fold the Tissue Paper Stacks
Accordion fold each set of tissue paper along the short edge:
Start by folding up the bottom edge of the tissue paper about an inch. Make a sharp crease.
Flip the tissue paper over and fold the tissue paper in the opposite direction.
Keep flipping and folding until you don't have any more paper to fold.
Don't be afraid to trim a little bit of excess paper if you need to.
Now you should have four sets of folded tissue paper, like this:
Binding the center of the pom pom:
Cut a strip of floral wire about 12 inches long.
Fold your tissue paper stack in half lengthwise to find the center.
Insert the floral wire in the fold and then wrap it around the stack of tissue paper, twisting the ends together to secure the floral wire in place.
You may want to take some of the excess floral wire at this point and create a small loop that can be used to hang your tissue paper pom pom later.
Repeat with the remaining stacks of tissue paper.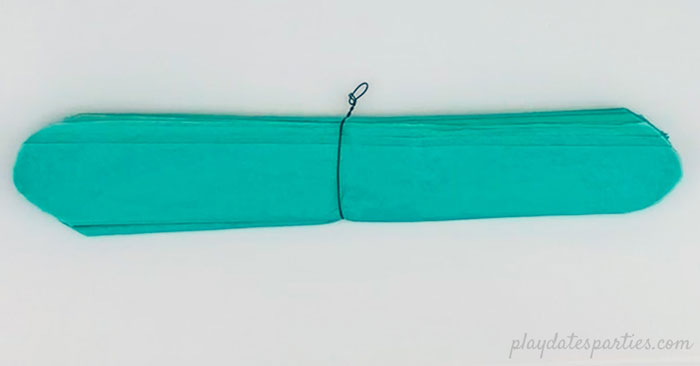 Trimming the ends of the tissue paper
This is the fun part! You can create so many different types of tissue paper pom poms just based on how you trim the ends. Be as fun and creative as you want, but here are some of the basic shapes:
Round the ends for a peony-shaped tissue paper flower
Make pointed ends will for a chrysanthemum-shaped tissue paper flower
Cut slits in the ends to create a frilly pom pom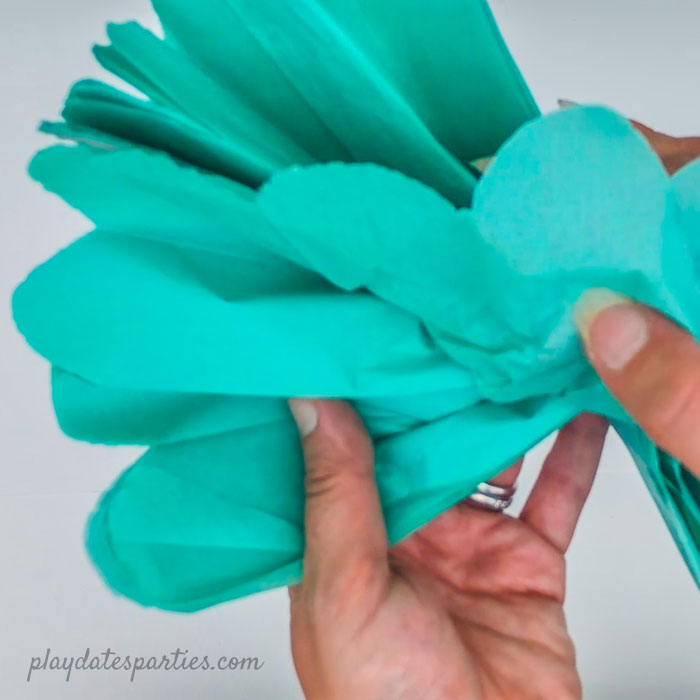 Opening Up Your Tissue Paper Pom Pom
Now it's time to open them up!
Fan out one side of the tissue paper stack from the center.
Then, very gently separate each layer of tissue paper. I recommend separating the tissue paper from the center of the pom pom and not from the edges.
You might want to be sure you have a bottle of water or even some fingertip moistener on hand if you're going to be making a lot of them
Tip: It's important to be very gentle as you open up the pom poms. Tissue paper tears so easily! That said, don't freak out if you get a few tears. Most small tears blend into the layers of the pom pom and won't be noticeable.
Tips & Tricks:
Open the tissue paper very carefully. The paper can rip even when you're being gentle
The type of tissue paper you buy does make a difference. While you can use cheap paper, it is more likely to rip, and doesn't look as nice
For giant tissue paper flowers, use more sheets of tissue paper
For small tissue paper flowers, use no more than 8 sheets. At that size, it gets difficult to open the flowers when the tissue paper is too crowded.
This isn't the project for the living room floor. You'll want a sturdy table or hardwood floor while folding.
It's not a big deal if the sheets aren't perfectly even.
Make sure you have sharp crafting scissors to cut through all those layers.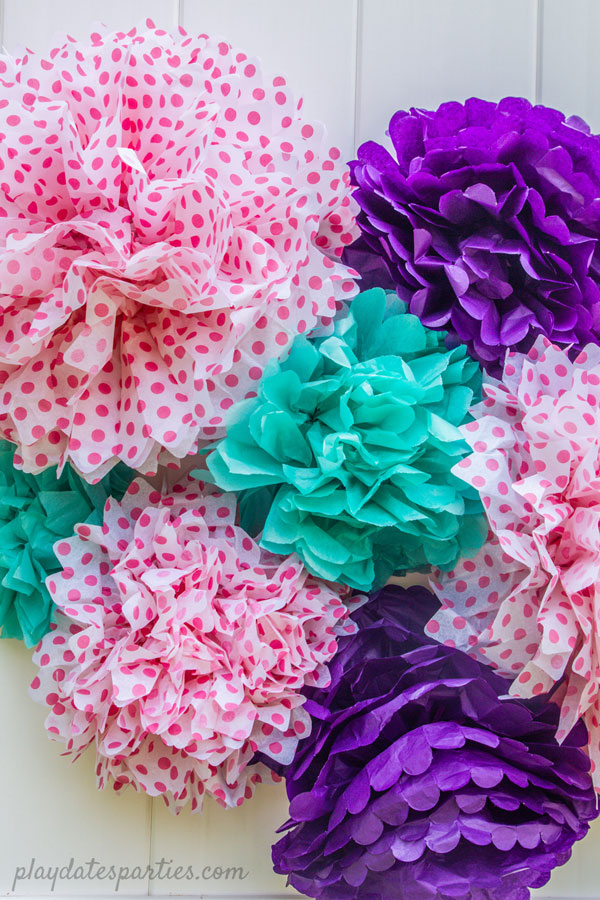 More Fun Party Crafts
Now It's Your Turn
Today, I not only showed you how to make tissue paper pom poms, but also shared where to buy them and how much time it saves when you do that. I strongly believe that when you're planning a DIY party, it's important to consider how much time each project is going to take.
Whether it's worth it to make your own or to buy pre-folded pom poms is totally up to you and your situation, but here are some guidelines to consider:
You Might Want to Buy Tissue Paper Pom Poms If You:
Are running short on time
Have to make a whole lot of pom poms for your event, and don't have a group to help
Don't mind working with a limited color palette, and
Can afford the extra money (anywhere between $0.60 and $1.50 more per pom pom, depending on where you buy them)
You Might Prefer to Make Your Own Tissue Paper Pom Poms If You:
Want a very specific set of colors, or multicolored pom poms
Are working with a tight budget,
Only need a few (10 or less) for your event, or
Have a group of friends available to help make the pom poms if you need a lot for your event.
Do you have any other questions about how to make tissue paper pom poms or where to buy them? Let me know in the comments!

Want more party inspiration? Join me over at
Facebook
, and
Twitter
, for regular updates and fabulous finds from around the web.