Are you looking for a simple, budget-friendly party backdrop that's full of color and personality? This DIY braided plastic tablecloth backdrop is so easy, anyone can do it. Use it as a stand-alone backdrop, or add decorations in front – either way this project packs some major decorating punch.
I'll walk you through the process of creating your own backdrop, including step-by-step directions, a video tutorial, and essential tips I've learned after making these backdrops for over 6 years.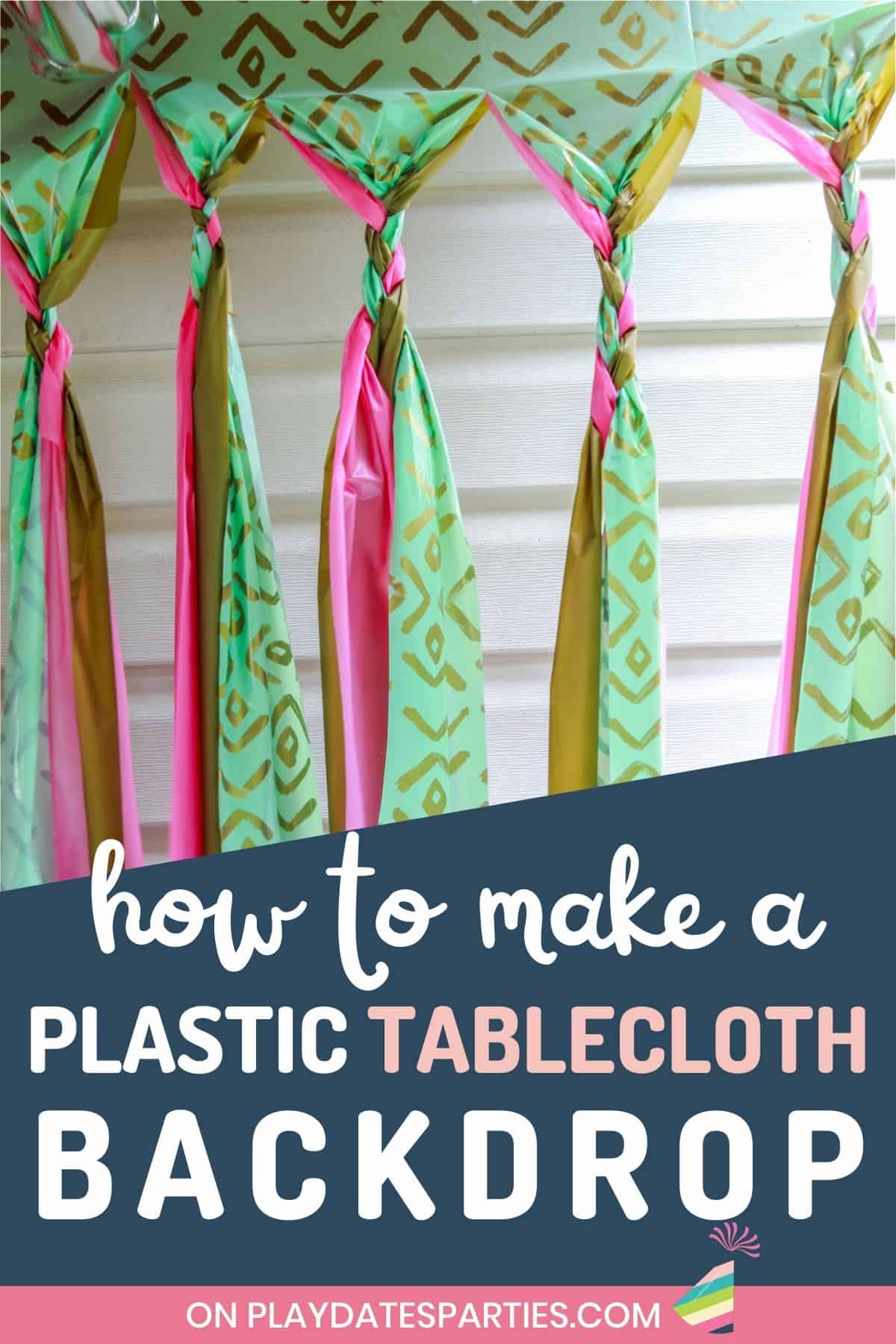 If you're anything like me, you love to make sure that no two parties you host look exactly the same. After all, getting creative is what makes it fun to pull events together.
BUT, one of the most important lessons I learned while working for a professional event planner and caterer, is that you also need to have some easy go-to ideas that you can customize for any party theme.
This braided plastic tablecloth backdrop is one of those go-to party crafts.
It can be used for almost any party theme…as long as you can find the colors you need
If you hang it in a doorway, the kids love running through them like a beaded curtain
You don't need to worry about perfection…they look cute even if there are rips and tears
It's simple but impressive! This backdrop will wow your guests without taking up too much space or breaking your budget.
Step-by-Step Directions (Video Tutorial):
To make things easy for you, I've got a step-by-step tutorial with photos at the bottom of this post. Don't forget to leave a rating and print out your copy of the instructions, too.
Don't forget to watch the full video tutorial either in the video player on this page, or over here on YouTube.
Essential Tips:
Don't skip these tips – read them before making your plastic tablecloth backdrop to avoid any potential mistakes.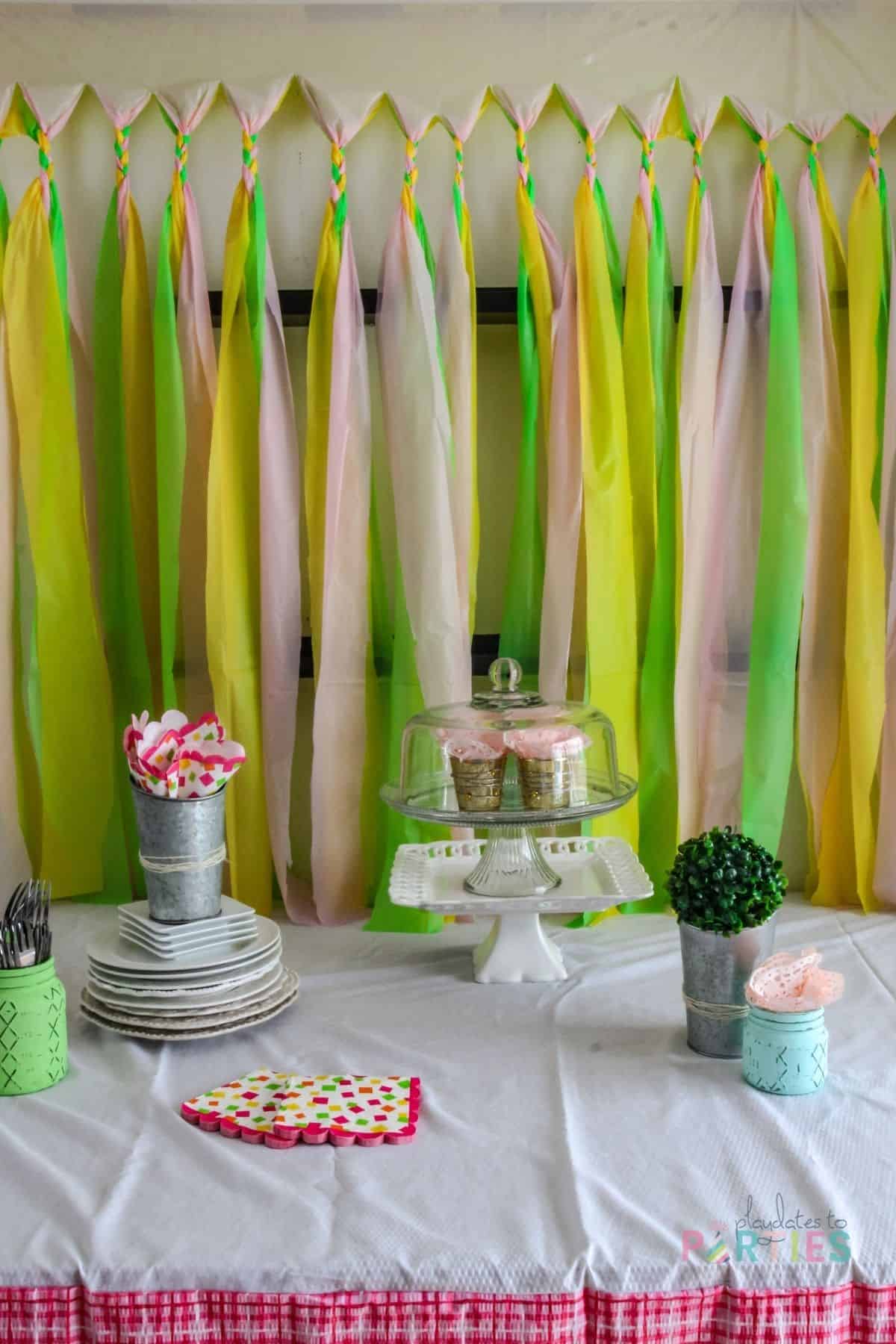 Make Sure the Space Behind the Backdrop Looks Nice
Don't plan on using a braided tablecloth backdrop to cover anything unsightly on your walls like photographs, ledges, or other wall art. As you can see from the photo above, the braided section at the top will leave plenty of your wall exposed.
That said, it is great for blank walls, against the side of the house, or in front of windows.
Use 'Quality' Tablecloths
Over time, I tested this DIY braided backdrop with tablecloths from Dollar Tree, Party City, Target, and Five Below.
Most of them were fine, except…
When I tried Dollar Store tablecloths, they were way too thin. You could practically see right through them! As a result, the colors showed through each other and had a muddy effect instead of being bright and colorful.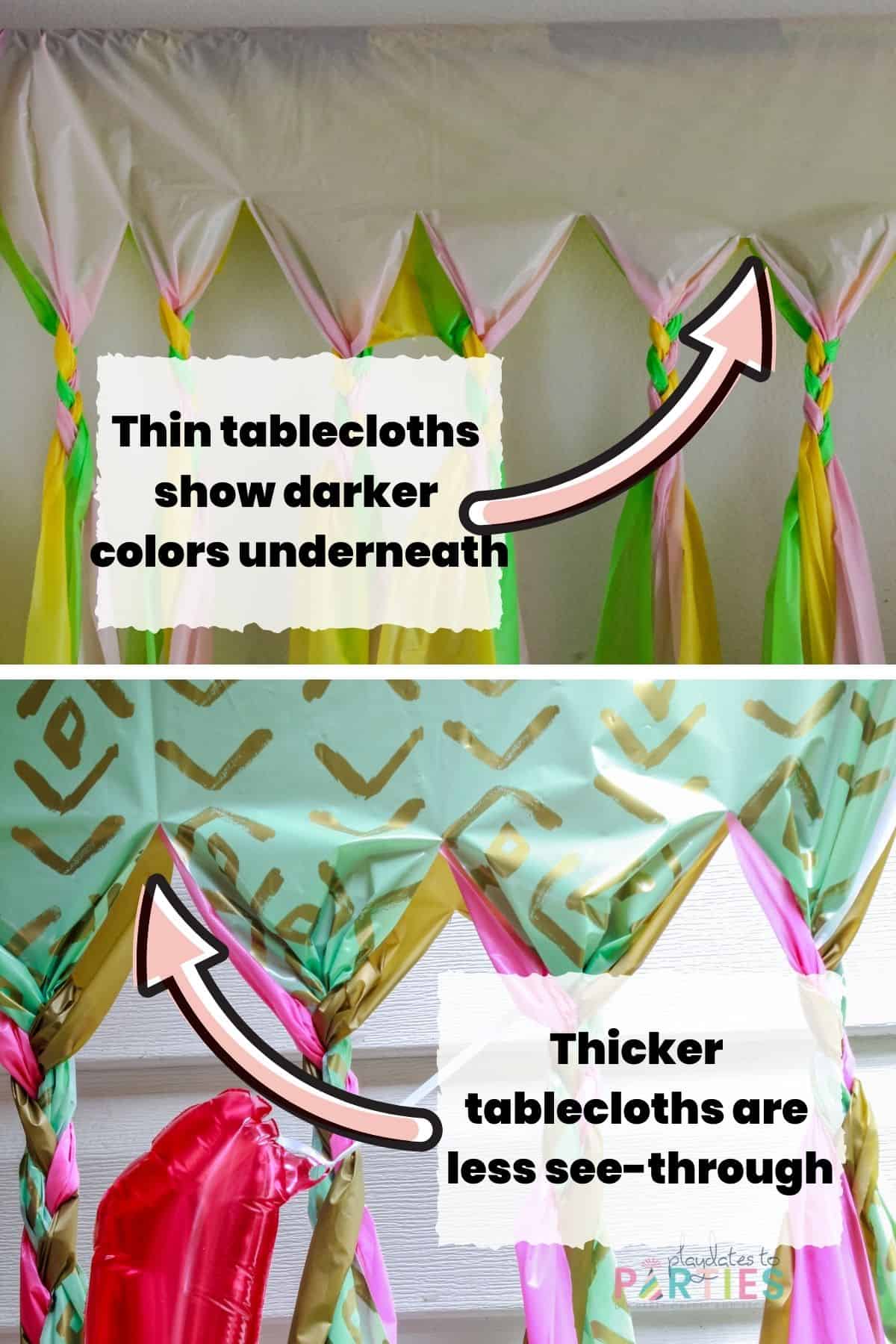 Color Combinations and Layer Order Matters
While you can technically use any color combination you'd like, I've found that there are two guidelines that make some braided tablecloth backdrops look better than others:
Don't mix pastels with dark or high contrast colors.
My experiments with pastels and contrasting colors were not good. So, it's best to keep dark or saturated colors with other saturated colors. Likewise, if you want to use pastels, keep them in the same color family.
Place your darkest color on top.
Twice I tried using a lighter color on top (because it was the primary color of the party). But both times, the result was less than stellar.
It's less of an issue if you have thick tablecloths, as mentioned above, but most plastic tablecloths will be at least a little translucent. So use the darkest color on top to get the prettiest effect.
Don't Worry About Making Your Cuts Perfect
I had some strips that were thicker than others, and some cuts that were pretty ragged. But it really didn't matter in the end. Because the tablecloths create a fringe-effect, those imperfections aren't very noticeable.
Be cautious making this when little kids will be present
I made a braided plastic tablecloth backdrop once when my kids were 1 and 4, and they both nearly brought the whole thing down within a couple of hours.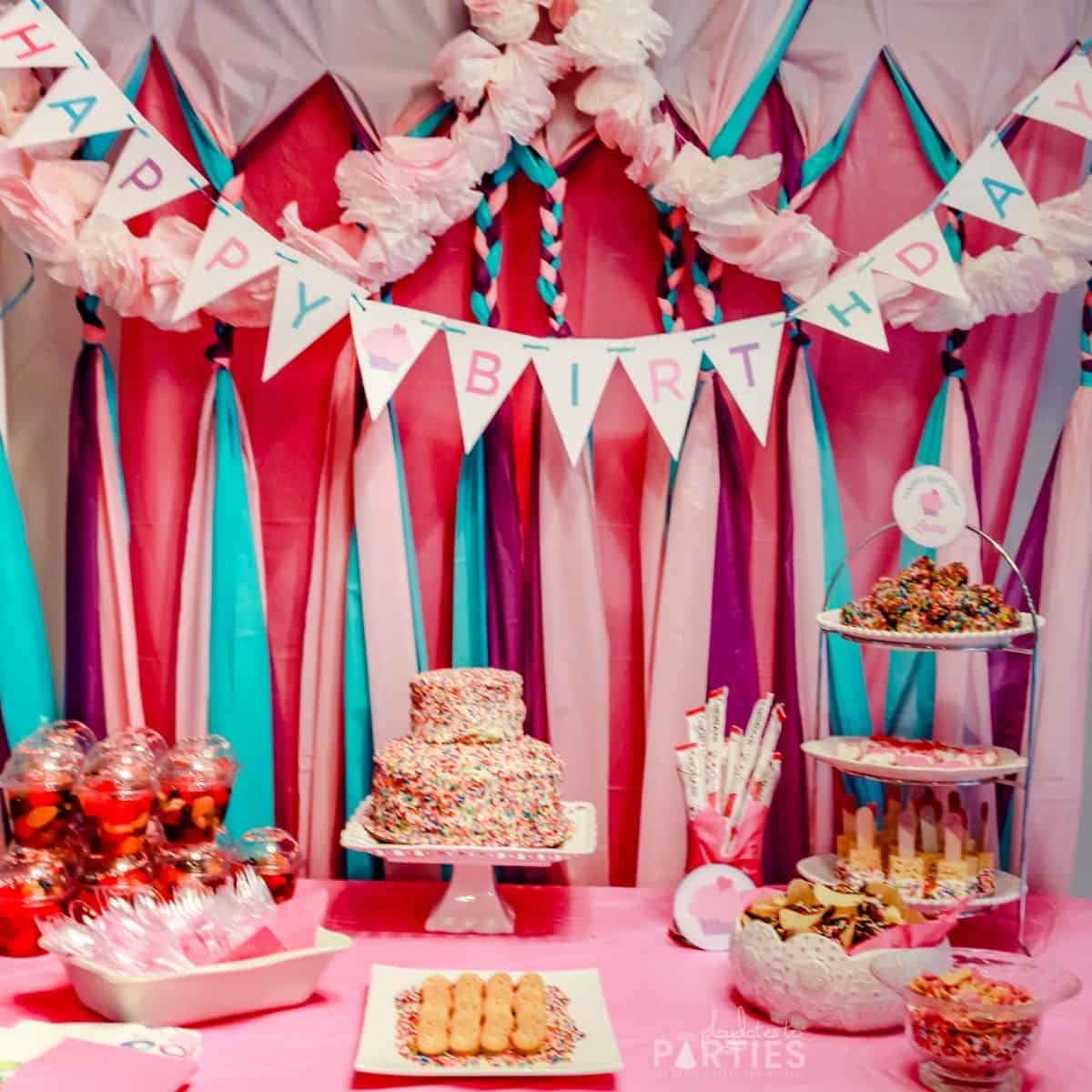 FAQs:
How Much Should I Braid?
You'll braid all of the sets of strips, BUT I strongly recommend you keep each of those to just a few braids at a time.
The first time I made these, I was braiding each set of strips 6-7 inches long, and it felt like it took forever. Keeping the braided section short still gives you the desired effect, but takes much less time.
Which Side of the Tablecloth Should I Staple?
This will depend on the space you're decorating.
I tend to use narrow tables with a tall backdrop, so I stapled along the short side of the tablecloths. However, if you're decorating a wider space, you may want to staple the long side, and keep the fringe a bit shorter
How Do You Keep the Braid from Unwinding?
As long as you make your braid tight enough, this shouldn't be an issue. One of the backdrops I made was on a windy day, and the braids stayed put without anything holding them together.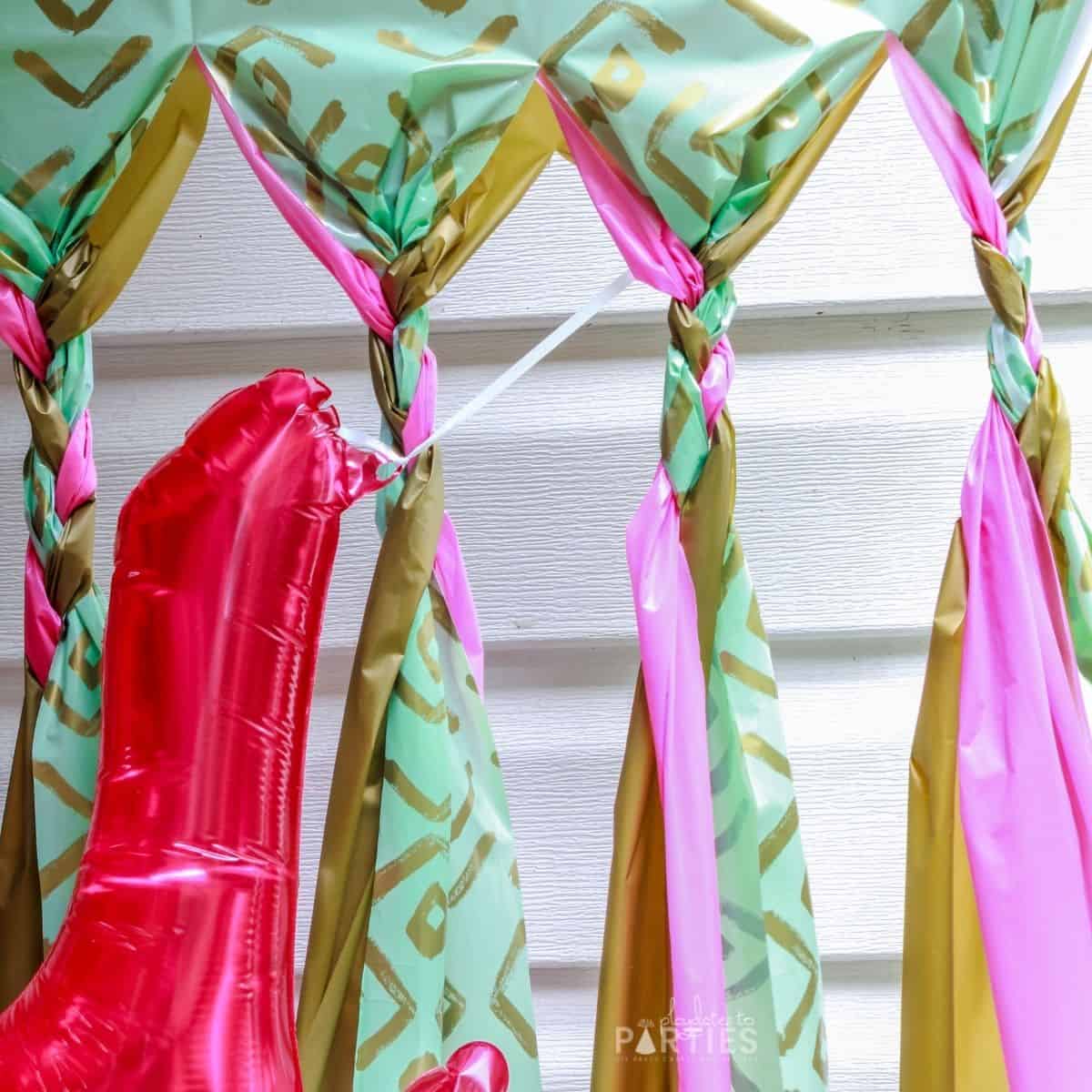 How Can I Attach My Backdrop to a Wall?
Ideally, you'll use some sort of backdrop stand. You can either make your own or you can buy an inexpensive stand from Amazon.
If you must attach the backdrop to a wall, I recommend rigging up some clear Command hooks to the wall and then using thread, twine, or monofilament (fishing line) to hang the backdrop from the staples.
How Wide Should My Slits Be?
You can make your slits anywhere from 3 to 6 inches wide…or even wider depending on the look you're going for.
Just remember, wider strips of tablecloth will mean less braiding (and less time), but narrower strips could mean that the area behind your backdrop is better covered.
Can I Make the Backdrop at Home and Transport it?
Theoretically you could, but I wouldn't recommend it. The fringe is likely to get tangled, and plastic tablecloths rip pretty easily.
However, if anyone has successfully transported a finished backdrop, let us know in the comments how it turned out!
If you liked this braided tablecloth backdrop, you'll love my DIY balloon arch tips and tricks for beginners, and these 7 ways to decorate with balloons without helium. They're full of decorating tips you can use over and over again.
You can also check out my other party decorations right here and all my party printables right here.
Yield: 1 Backdrop
DIY Braided Tablecloth Party Backdrop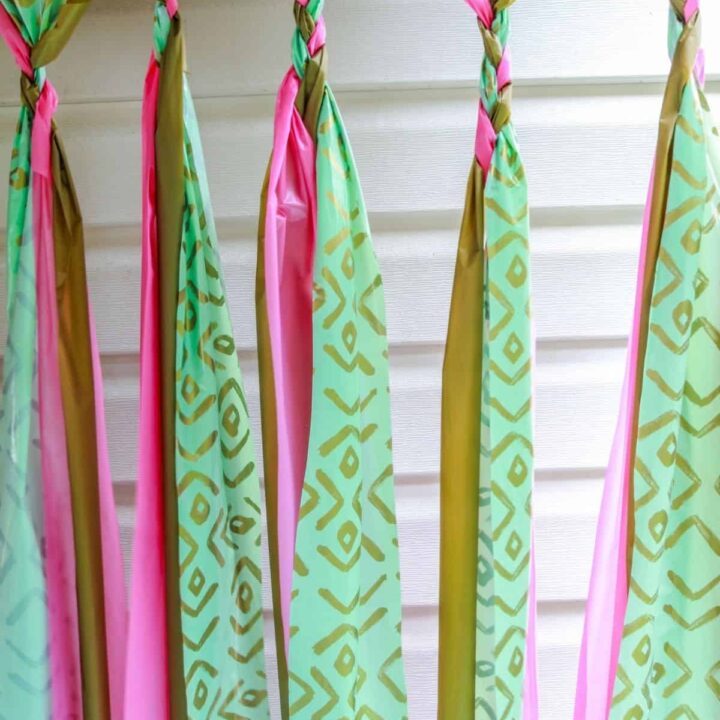 Learn how to make easy braided plastic tablecloth backdrop for your next party. It's a cheap and easy way to decorate, and can be customized for any party theme.
Total Time
1 hour
5 minutes
Materials
3 Tablecloths in coordinating colors
Duct tape or painter's tape
Tools
Stapler
Scissors
Binder Clips or clothes pins
Instructions
Unfold and layer 3 plastic tablecloths on a solid surface. Do your best to make sure the edges line up.
Staple along the top edge, roughly 4-6 inches apart.
Use duct tape to attach the stapled edge to your backdrop frame
Cut off any uneven or excess portions of tablecloth from the bottom of your backdrop.
Hold together all three tablecloths with a bit of tape, a paper clip, or a clothespin on the bottom sides.
Starting at the bottom, cut slits most of the way up all three tablecloths at the same time. Leave about 6 inches of the top of the tablecloth attached. Slits should be about 3-6 inches apart.
Grab one set of strips (one strip for each layer of tablecloth) and braid the three pieces 3-4 times from the top of the tablecloth. Let the remaining portion of those strips hang loose. Continue until all sets of tablecloth fringe are braided at the top.
Fluff the hanging strips and add your remaining decorations. (We love to add banners, balloon phrases, and garlands in front)
Notes
Don't forget the detailed FAQs and tips in the blog post are there to help you if you feel stuck at any step.
About Color Combinations:
While you can technically use any color combination you'd like, I've found that there are two guidelines that make some braided tablecloth backdrops look better than others:
Don't mix pastels with dark or high contrast colors.
Be wary of using light colors on top of dark colors.
Don't Worry About Making Your Cuts Look Nice
Because the tablecloths create a fringe-effect, imperfections aren't very noticeable.
---