Planning a baby shower is lots of fun – especially when it comes to brainstorming food ideas. Whether you want foods that match your baby shower theme or classic, crowd pleasing baby shower snacks, you've come to the right place.
We're sharing more than 30 of the best sweet and savory ideas for your baby shower. You'll find plenty of quick, easy, and flavorful recipes as well as a few recipes that are sure to be a show stopper.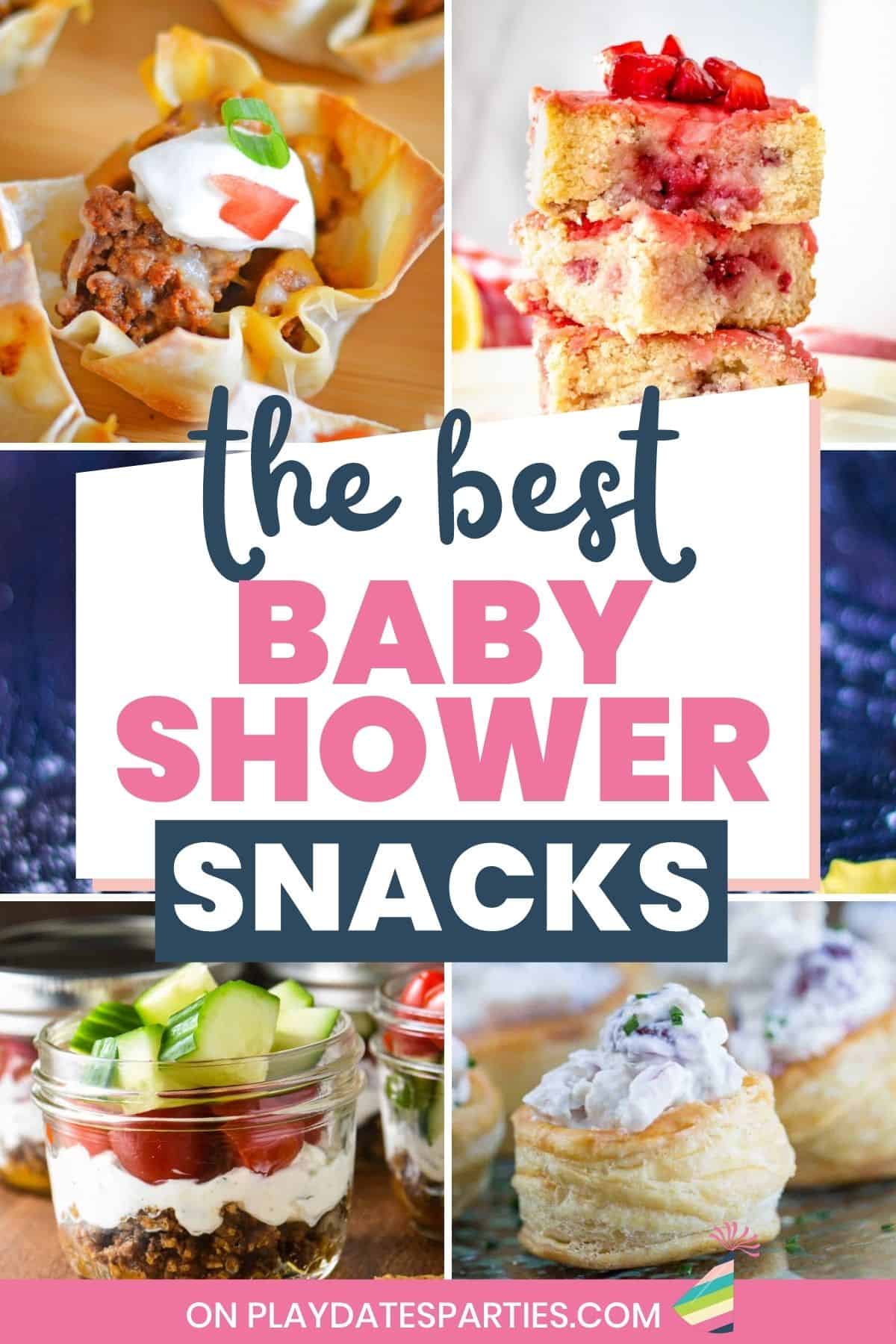 While it's always easy to order a few trays of food from your local restaurant or grocer, there's something extra special about homemade snacks and treats.
Making the food yourself shows how much you care about the guests and the mom-to-be. Plus, homemade snacks tend to be fresher, healthier, and more flavorful than store-bought options.
But planning a homemade menu doesn't have to be overwhelming. We're going to go through a few tried and true tips for planning the perfect baby shower menu and then we'll share over 30 sweet and savory baby shower snacks that your guests are sure to love.
Tried and True Tips for Planning the Perfect Baby Shower Menu
While it's best to make slightly more food than you think you'll need, no one wants to be left with far too much food at the end of a party. Here are a things to remember when planning your party menu:
1. Figure out how much food you need before you plan your menu.
I personally like to have a lot of variety when I'm hosting a party…even if it's just a small gathering. And while it's nice to make enough of every single recipe for every single guest, it's also a great way to make sure you end up with way too many leftovers.
You can read my detailed guide showing how much food for a party is just right, or you can download my cheat sheet at the bottom of this post. It helps you calculate exactly how much you need of each type of food and includes everything from drinks and ice, to appetizers and cake.
Once you know how much food you need, it's time for the fun part…planning what you're actually going to serve!
2. Serve a mixture of flavors
Planning your baby shower menu isn't just about picking what looks prettiest. You want to make sure you have a good variety of flavors. Aim to have at least one recipe that fits into each of these categories:
Sweet – For example, cookies, brownies, candy…this doesn't need a lot of explaining.
Salty foods like
Sour foods can be straightforward (think pickles and olives), or more subtle (Lemon bars or Cranberry Curd Bars)
2. Include a variety of textures
You'll also want to make sure you've got a range of textures planned for your party menu:
Crunchy foods like wonton taco cups, candied pecans, or apple pie spiced pretzels
Soft foods like easy stuffed mushrooms and
Creamy recipes such as dips and spreads.
By serving a mix of sweet and savory snacks, as well as foods with different textures, you're sure to create a well-rounded menu that everyone will enjoy.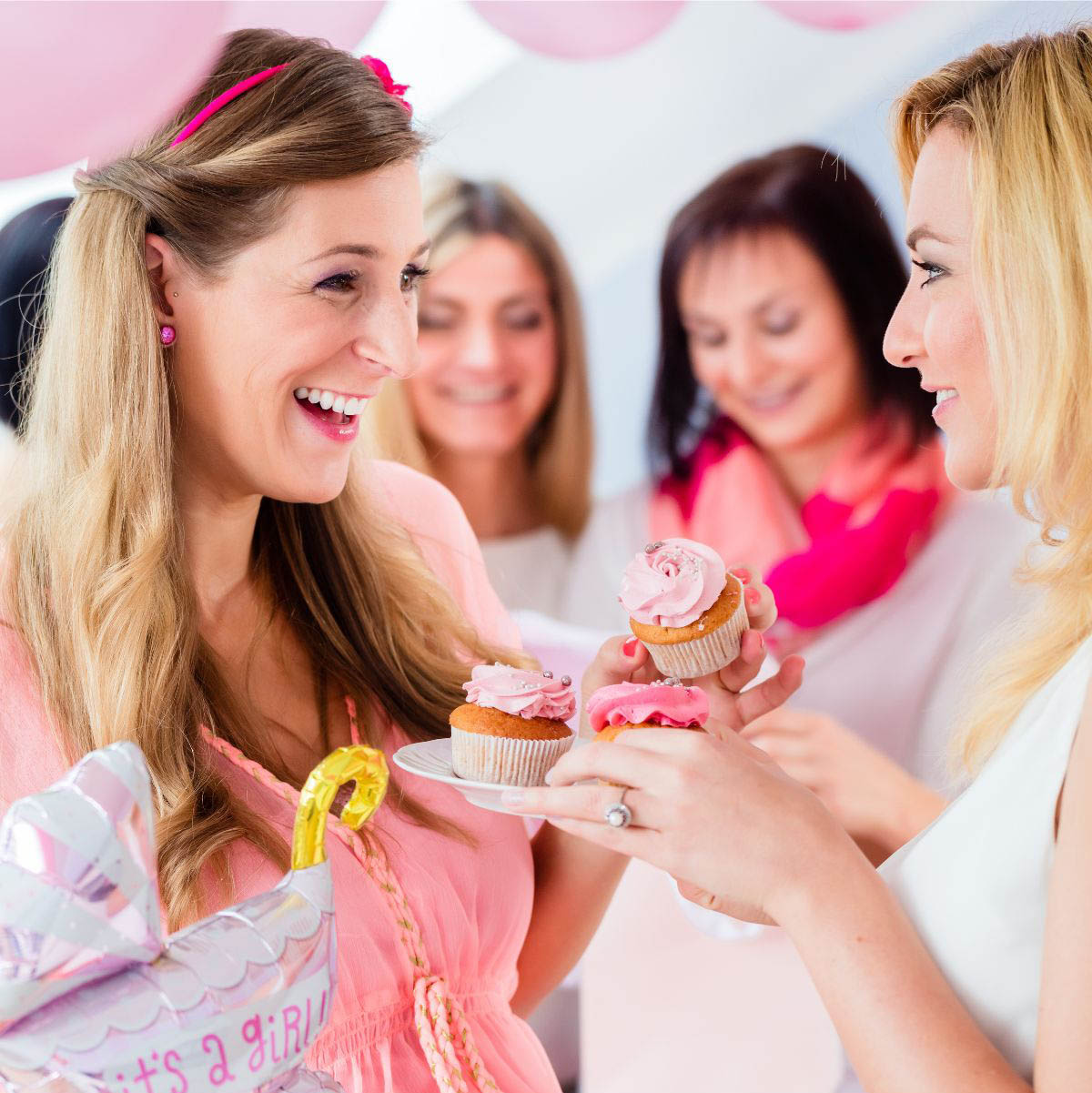 3. Pick foods that are easy to eat while you mingle
Remember to include foods that are easy to carry on appetizer plates and to eat while mingling. It's best if most of your baby shower snacks are small, one or two-bite foods and aren't too saucy messy.
4. Changes in Seasons = Changes in Tastes
Sunlight and temperature have a significant impact on our tastes and appetites. In summer, you'll need to provide more lightweight appetizers like chicken salad and finger sandwiches.
In cooler months, you'll probably need heavier foods like taco cups and stuffed mushrooms. This list of fall appetizers for a crowd is another great read.
5. Consider what time of day your party will be held.
Parties that are hosted anytime during the hours of 11am to 1pm or after 5 in the evening should include enough food to equal a full meal. That could mean serving heavier appetizers like meatballs and mini sandwiches, or could simply mean including a wider variety of foods.
If you're hosting a party in the afternoon, you can often include lighter fare such as mini quiches, snack mix, and apple roses.
6. Serve a mixture of fresh, make-ahead, and store-bought snacks
Save yourself time (and sanity), and avoid planning a bunch of baby shower snacks and appetizers that need to be prepared at the last minute.
The best way to do this is to make a few appetizers that can be frozen in advance and reheated or defrosted a day or two before your party. Then add in some easy fresh recipes you can pull together the day of your party.
7. Don't forget the drinks!
While it's easy to focus on the food , don't forget to include plenty of fluids in your party planning, too. We've got a fabulous list of baby shower drinks right here.
8. Most importantly, think about the guest of honor
What foods does mom-to-be love? Or, does she have any food dislikes or allergies? You'll definitely want to make sure you have at least a few snacks and desserts that she'll enjoy. Don't forget to also find out if she's had any particular cravings or aversions to foods. You don't want to accidentally make mom-to-be feel sick at her own party.
If you're not sure what foods she likes, ask her friends or family. They should be able to give you some good ideas.
30+ Baby Shower Snacks, Appetizers and Desserts for a Crowd
Planning a baby shower and looking for some new food ideas to add to your celebration? Look no further! These snacks, both sweet and savory, are sure to be a hit with guests. Many of them can be made quickly and are good for a small group of close friends or can be made in bulk to feed a crowd!
Homemade treats and finger foods are a great way to show your guests that you care and that you put thought into every detail of your party, from the moment they walk in and see the baby shower decorations, all the way to the last of the baby shower games. Thankfully there are plenty of easy baby shower snacks you can make that everyone will love.
We hope that this list of 30+ baby shower snacks has given you some ideas for what to make for your next gathering. So whether you're looking for something sweet, savory, or a little bit of both, there's something here for everyone.
Grab Your Free Printable Cheat Sheet Here
Don't forget to download our free cheat sheet to find out how much food you need to make for your guests. With this guide, you'll be able to plan and prepare everything ahead of time, so you can relax and enjoy the party too!
Simply fill out the form below, and I'll send it right over to you.
---