What do you do when you've got 20 people coming over for a baptism, and all your time is taken up with a baby and a 3-year-old? For us, the answer was to keep things simple and to find a way to combine kids activities with fall inspired baptism party preparations.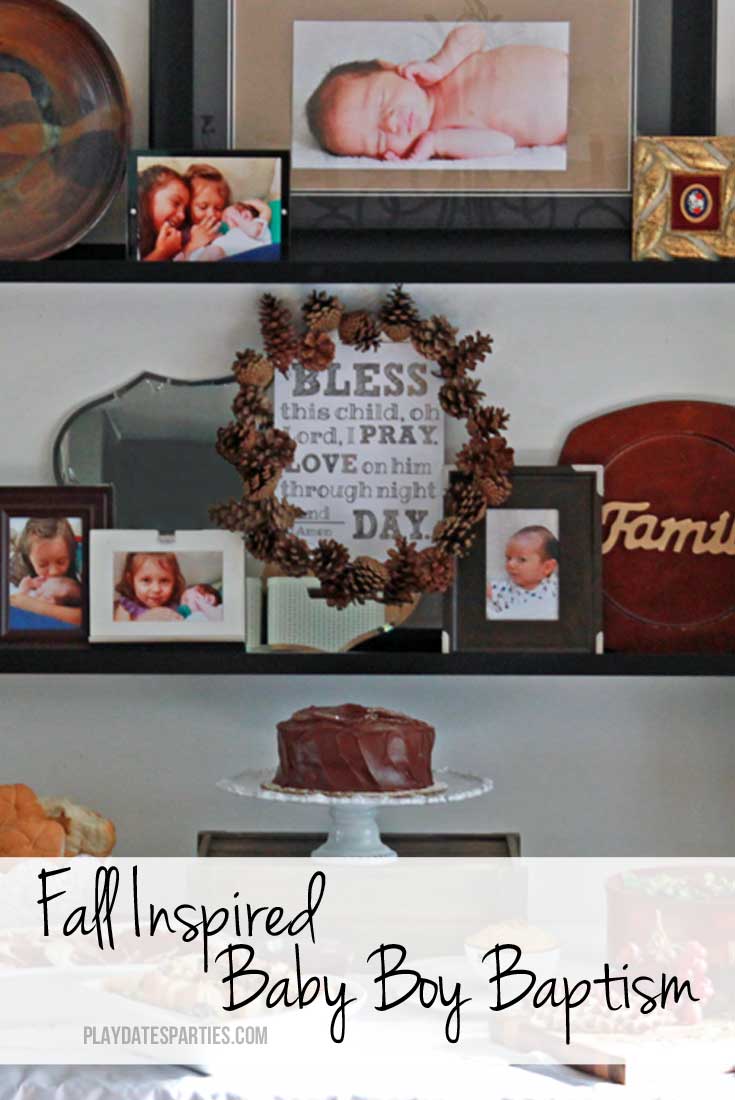 You might say that E's baptism was the opposite of L's. Her baptism was covered in pink and frilly, handmade decorations and favors. This time, I shopped our house and neighborhood and fell back on favorite party recipes.
Shopping Nature for Decor
Since the baptism was held last fall, while E was still only a couple months old, I used E's long naps to take L on neighborhood nature walks. She pulled her wagon while I pushed the stroller, and together we collected sticks, pinecones, and acorns for decorating. She was so excited to help out that we ended up with a trash bag full of pine cones and a shopping bag filled with acorns. Almost every other day she requested to go out and find even more. Her enthusiasm was just adorable.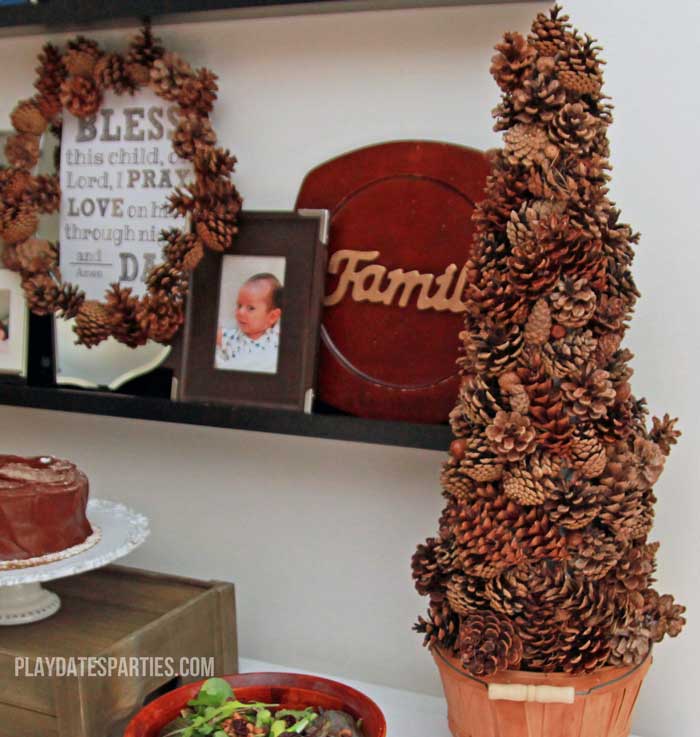 Natural items like pine cones add texture to decor without a lot of expense or effort, but you have to be careful. If you don't treat them properly, you may find unwanted bugs inside your home. We made sure to clean them all very well, and used them to make a pine cone wreath and tree for the buffet table.
Inspired by our nature finds, I kept the rest of the decor brown and white. Keeping the color scheme simple made the rest of the decorating much easier. You might be surprised to find out how much brown decor you probably have. Brown wood frames, wood baskets and boxes, brown craft paper, and cutting boards were all easy ways to work within the color scheme.
Inspired by an art print available on Etsy, I created my own brown and white version to hang behind our pine cone wreath. It was one of the few projects I actually made, and I still love it.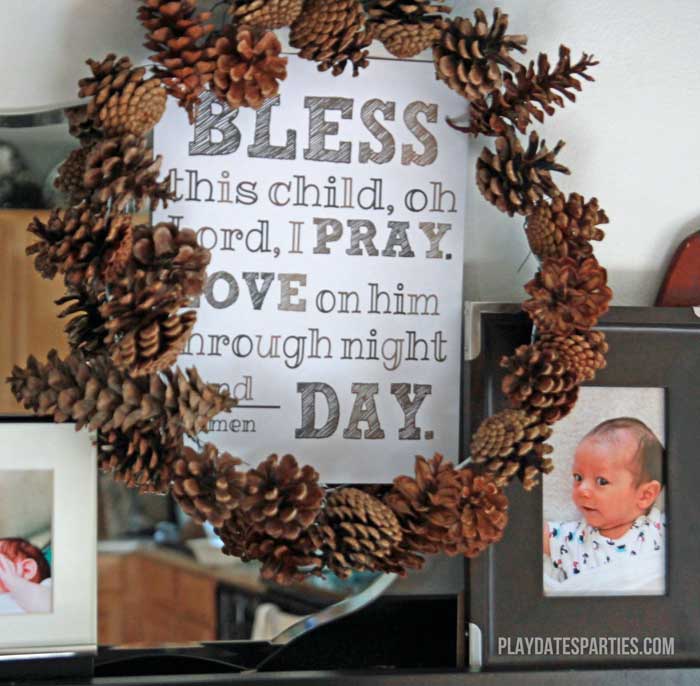 [clickToTweet tweet="Come find great make-ahead #party #food ideas for any fall themed #brunch. via @PlayDatesParty" quote="Come find great make-ahead #party #food ideas for any fall themed #brunch."]
Serving an Easy Fall Menu
I love to make cute food, but it's not always practical. We fell back on a few easy make-ahead recipes for our brunch reception:
Sliced Smoked turkey is perfect on its own or on rolls with cranberry chutney
Get all the best fall flavors with apple slices and pumpkin cream cheese dip
Tossed salads are an easy and classic way to add vegetables to any luncheon.
Make sliced baguette egg boats for those who want more breakfast foods
Pine cone cheese balls are an adorable make-ahead alternative to a cheese platter.
Something about brunch just makes me want to serve quick bread. We served a delicious banana bread with walnuts, but any fall favorite would do.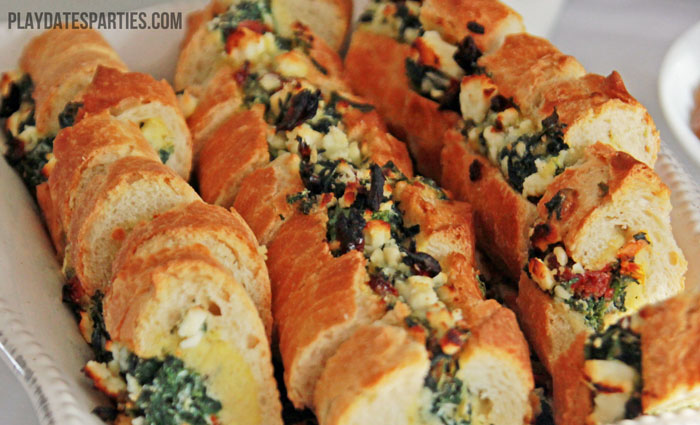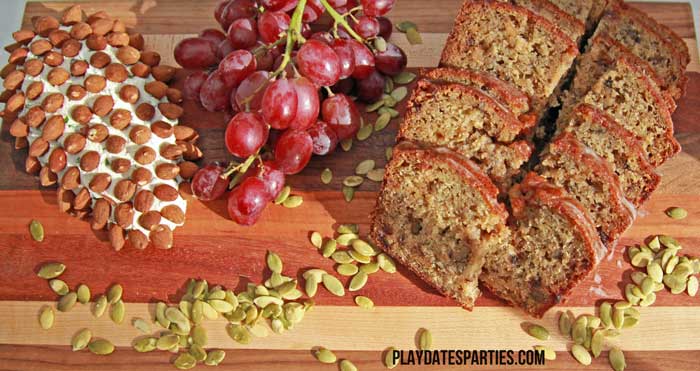 Effortless Fall Inspired Baptism Decor
I won't lie, the pine cone wreath and tree were as time-consuming as they were cost effective. But if you don't have time to make your own there are plenty of other ways to achieve that rustic fall look without much effort:
Serve food on your best wood cutting boards. Give the cutting board a thorough wipe with mineral oil to give it some shine. (This will also help condition the wood and keep it in tip-top shape, too!)
Brown contractor's paper is inexpensive and extremely versatile. We used brown paper as a faux photo mat for a picture that wasn't big enough for its frame. I also used a family heirloom tablecloth that has cut designs in it. Spreading brown paper underneath the tablecloth accented the designs and fit within the theme.
Pepitas (pumpkin seeds) are readily available at grocery stores and look gorgeous scattered around a platter as garnish.
Turn a wood box upside down as a riser for food or other platters
Gather together all your wood frames and use them to create a display of printables or family photos.
Fill vases and glass pitchers with pine cones, acorns, and twigs from your backyard. (Be sure to get rid of bugs first)
This wasn't my typical party, but it was still fun and different. I loved getting L involved in creating the fall decor. It made her feel like an important part of her brother's life. And by serving some fall-back items, and shopping our home for the rest of the decor, we were able to focus on the more important task of spending time with our guests and celebrating our newest addition to the family.
What is your favorite fall-back party recipe?
Do you get your kids involved in decorating for your parties?
You May Also Like: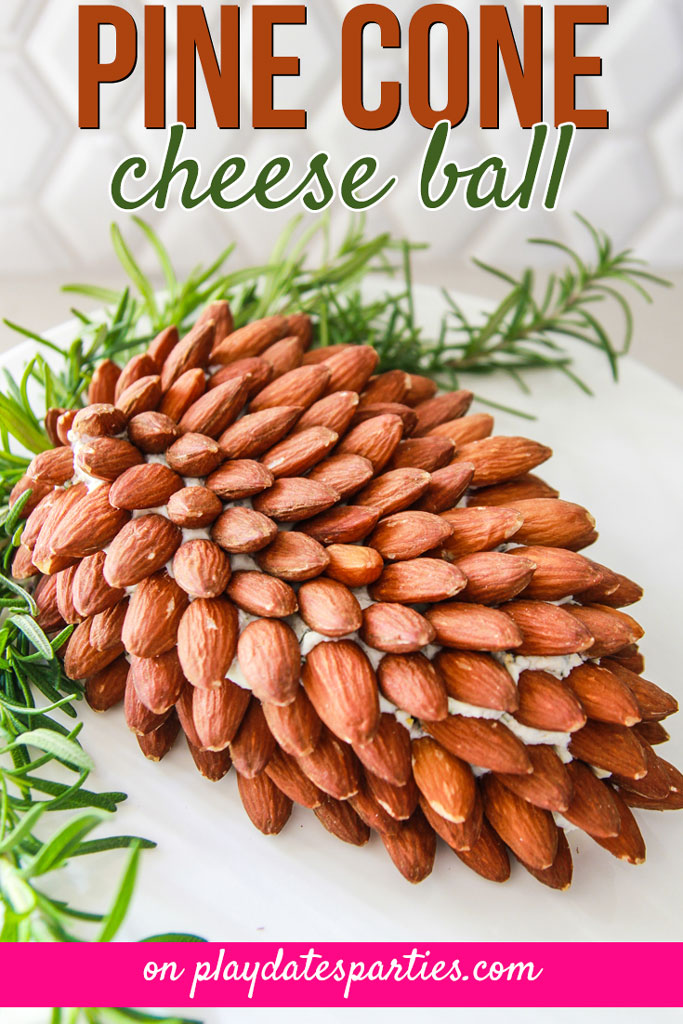 Don't forget to subscribe via
Bloglovin, Facebook, and Twitter,
to get more updates!