Whether you're hosting a Mother's Day brunch, afternoon tea, or a sweet birthday party, scones are a flavorful treat that just can't be missed. The good news is that there are dozens of scone flavors out there that are unique for your event.
From sweet, to savory, and even gluten-free, we've got a recipe for any palate. So get ready to celebrate with these delicious scone recipes.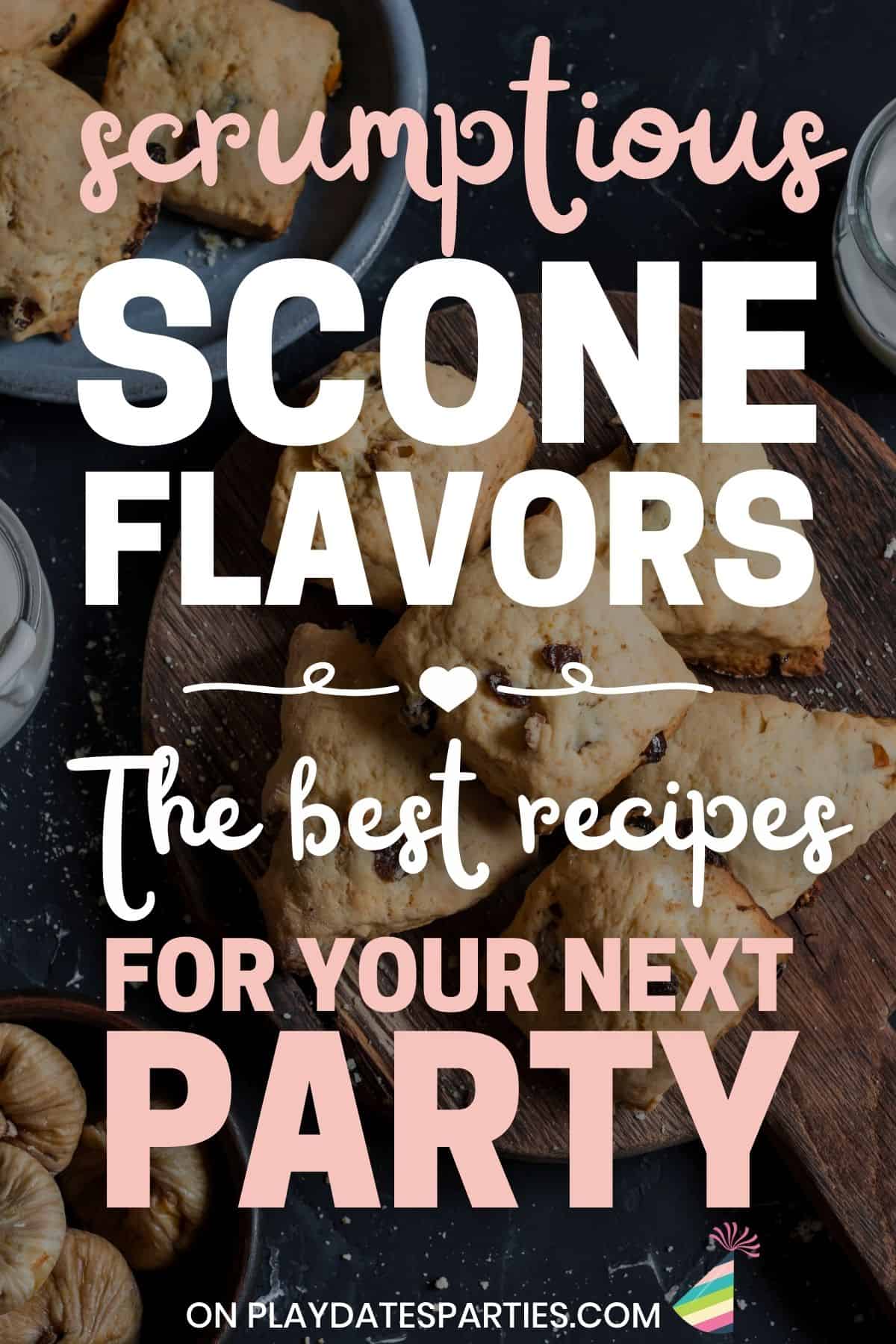 What are scones?
Scones are a baked good that is believed to have originated in Scotland. They are made with flour, sugar, butter, eggs, and baking powder and usually baked on a baking sheet. (source)
Scones are often associated with afternoon tea, but they can be enjoyed any time of day. With nearly endless flavor options, you can make flavors that match the event, the season, or even just your mood.
For example, you might want to make a floral based scone recipe for your Mother's Day or Easter brunch to celebrate spring. Or you might want to make a couple savory scone flavors for an afternoon bridal shower.
But beyond just the flavor, scones can be a great way to show off your baking skills. With so many different flavors and decorating options, scones offer a chance to get creative in the kitchen. They're also relatively quick and easy to make, so while you look like a baking guru, you'll know they didn't take all day.
What is the difference between American Scones and English Scones?
There are several differences between American and British scones, but the primary difference is often the sweetness.
British scones are simpler, lightly sweetened, with fewer ingredients. This is because they are often served with plenty of butter, jams, and creams to put on top.
American scones are typically very sweet, heavy, and dry. You'll find them in most American coffee houses in a variety of flavors.
If you want to learn more, this article from Cook's Illustrated goes more in-depth about the differences.
What is the difference between a Scone and a Biscuit?
While the ingredients for both may often look similar, there are some subtle, but key differences between the two. Here's the short version:
Biscuits should be buttery and flaky, with plenty of layers, and is fairly moist -thanks to all that butter.
Scones, on the other hand, are slightly sweeter, denser, and a bit more crumbly.
This is at least my American take on the subject. Plenty of other people have strong opinions about this. If you disagree…let me know in the comments section below!
Toppings for Scones
Scones were made for toppings. In some ways, they're really just a delivery vehicle for the delicious spreads and toppings added just before taking that first delicious bite.
Most of the scone recipes here won't need much more than a bit of butter or cream for moisture. But if you're wanting to set out a full display for afternoon tea or brunch, here are a few toppings to get you started:
Butter – A must. Make sure it's softened so it spreads easily.
Clotted Cream – This extra thick cream is made by heating whole cream cow's milk and then leaving cooling it slowly in shallow pans. (You can find it in some grocery stores in America. Just ask the dairy manager at your local store)
Lemon curd – One of my favorites, this tart and tangy spread is made with eggs, butter, sugar, and lemon juice. It's a great way to add a burst of flavor to your scones.
Jams and Jellies – Sweet and available in just about any fruity flavor, you can't go wrong with a selection of jams and jellies.
Honey – Drizzle a little on top for a bit of moisture and a touch of sweetness without preservatives
Nutella – It's not a traditional topping, but you can't go wrong with a little Nutella on your scones.
The Ultimate List of Scrumptious Scone Flavors and Recipes
Ready to dig in and find your favorite scone recipes? We've got you covered with this ultimate list of scone flavors. To make it even easier, we've broken it down into the following sections:
Traditional Scone Flavors
Popular Scone Flavors
Sweet scone flavors 
Savory Scone Flavors
Scone flavors for Spring 
Summer scone Flavors 
Scone Flavors for Fall and Winter
Don't forget, there's often overlap between sections, so make sure you check out the whole list before you head off to your favorites.
As a hostess, it's always a good idea to have a variety of foods to share with your guests. That could be a whole buffet full of different scone flavors, or a classic scone with plenty of toppings. Either way, it's important to make sure you satisfy all of your guests' needs and desires.
With these 35+ scrumptious scone flavors, there's sure to be something for everyone on your guest list – from the keto dieter to the sweet fiend.
If you need help deciding which one might be best suited for your event, think about what other foods will be served and try to complement them. For example, if you're having a light brunch, then something like the raspberry scone would be a great option. If you're looking for an afternoon tea snack in the wintertime, then the walnut oat scone would be delicious.
Or you can go ahead and try them all – we're pretty sure you won't be disappointed!
Want an easy way to figure out how much food you actually need for your next party? Fill in the form below to download our free cheat sheet! It shows exactly how much food you need to for everything from ice and drinks all the way to finding the perfect quantity of birthday cake.
Simply enter your email address below and we'll send it right over!
---