Cranberry brie bites are the perfect appetizer to wow your guests this holiday season. Buttery brie and tangy cranberries create a heavenly combination that looks as good as it tastes.
Best of all, these mini tarts only take a few ingredients and less than 30 minutes to pull together thanks to crescent roll dough and leftover cranberry sauce.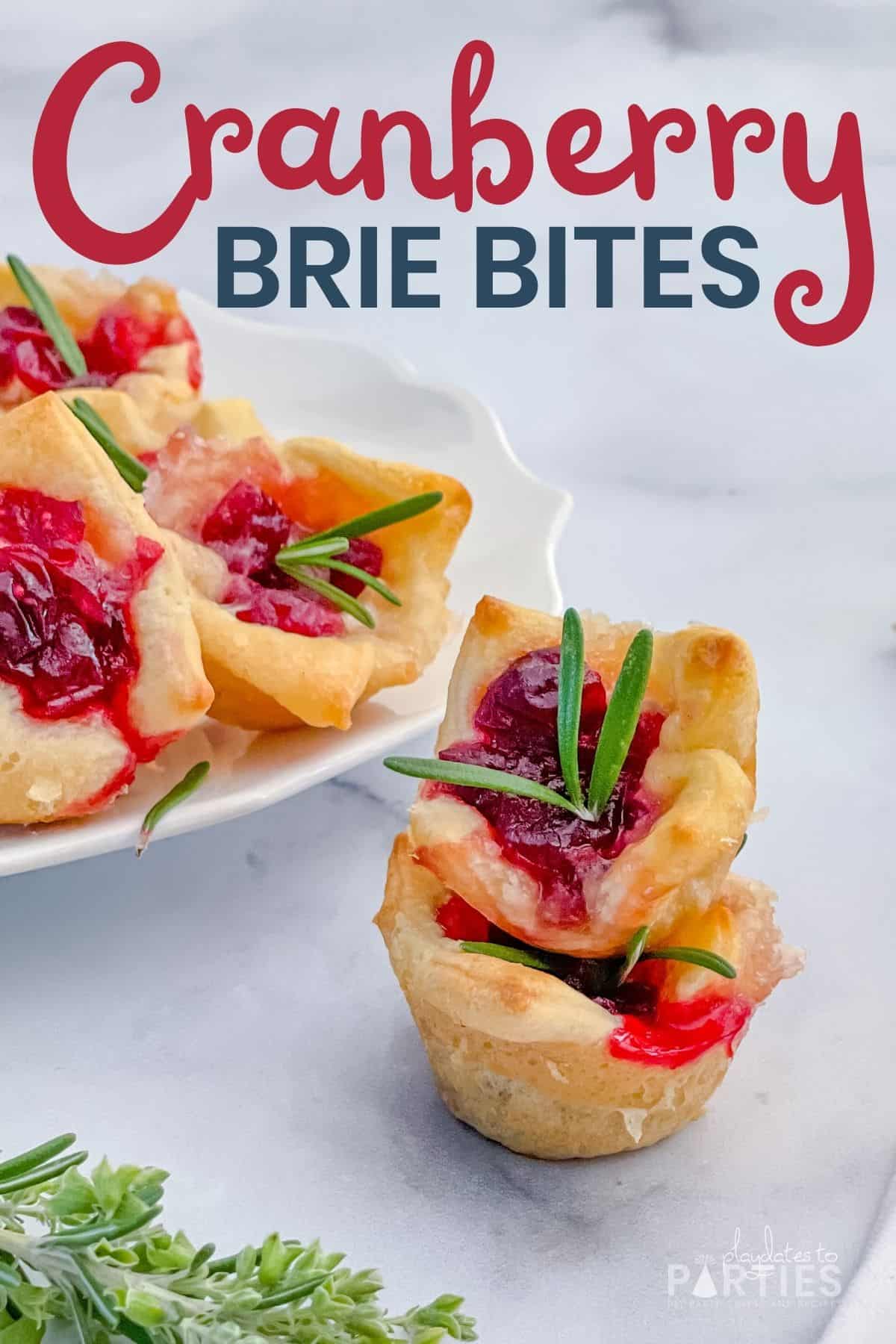 Tell me about Cranberry Brie Bites
They're the perfect combination of creamy, and tangy with an earthy burst from fresh rosemary that takes them over the top.
Use leftover cranberry sauce from Thanksgiving to save money and reduce waste.
The colorful red from the cranberry sauce and the green from the rosemary make this a festive appetizer for holiday parties.
Pillsbury's crescent dough sheet makes this recipe dead simple. And since it's ready in about 30 minutes, it's an easy last-minute appetizer that can even be made ahead of time.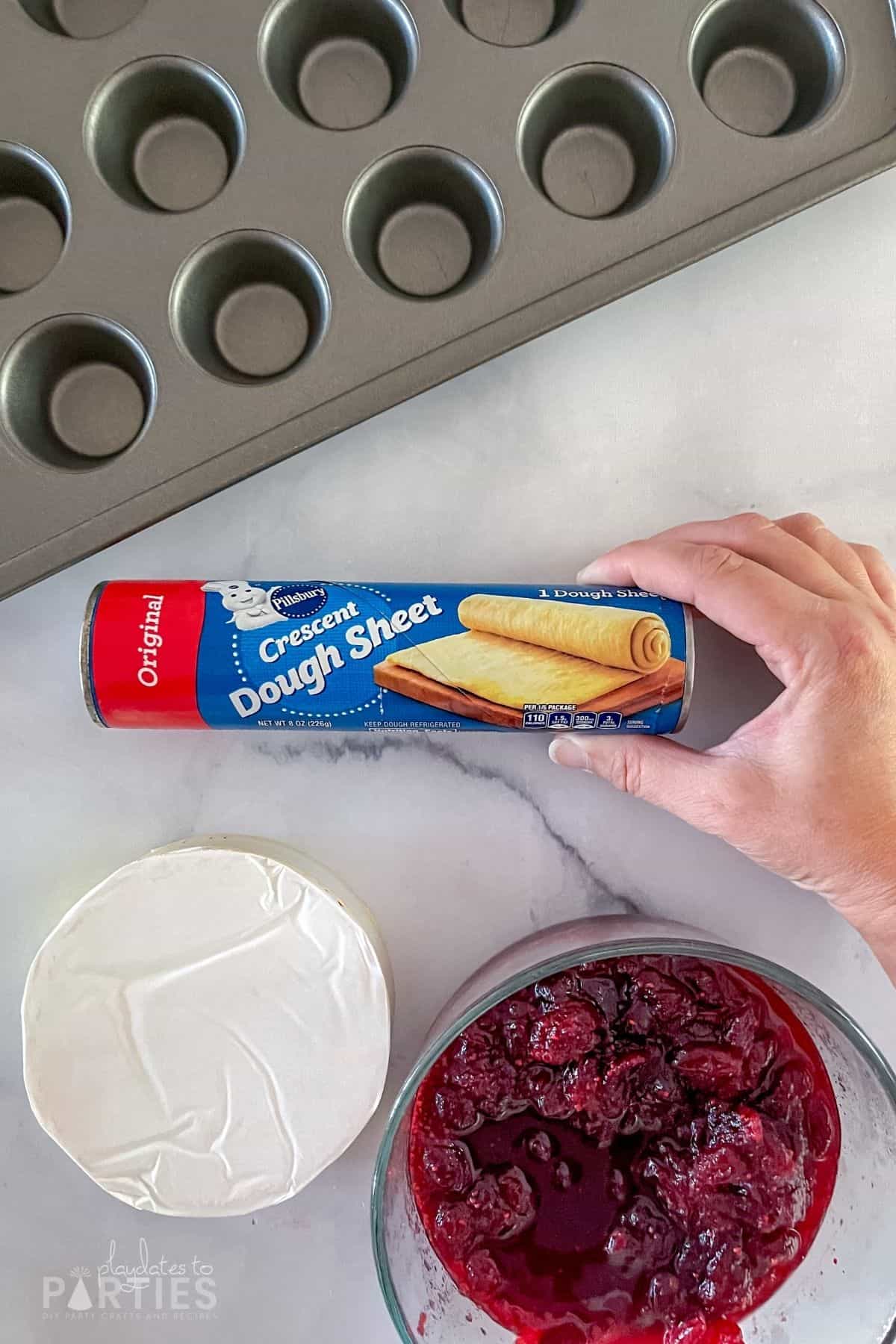 What You'll Need:
Ingredients:
Crescent roll sheet
Brie Cheese wheel
Fresh rosemary
Supplies:
Step-by-Step Directions:
To make things even easier for you, I created a simple photo guide below. For all measurements and a more detailed guide, check out the recipe card at the bottom of this page.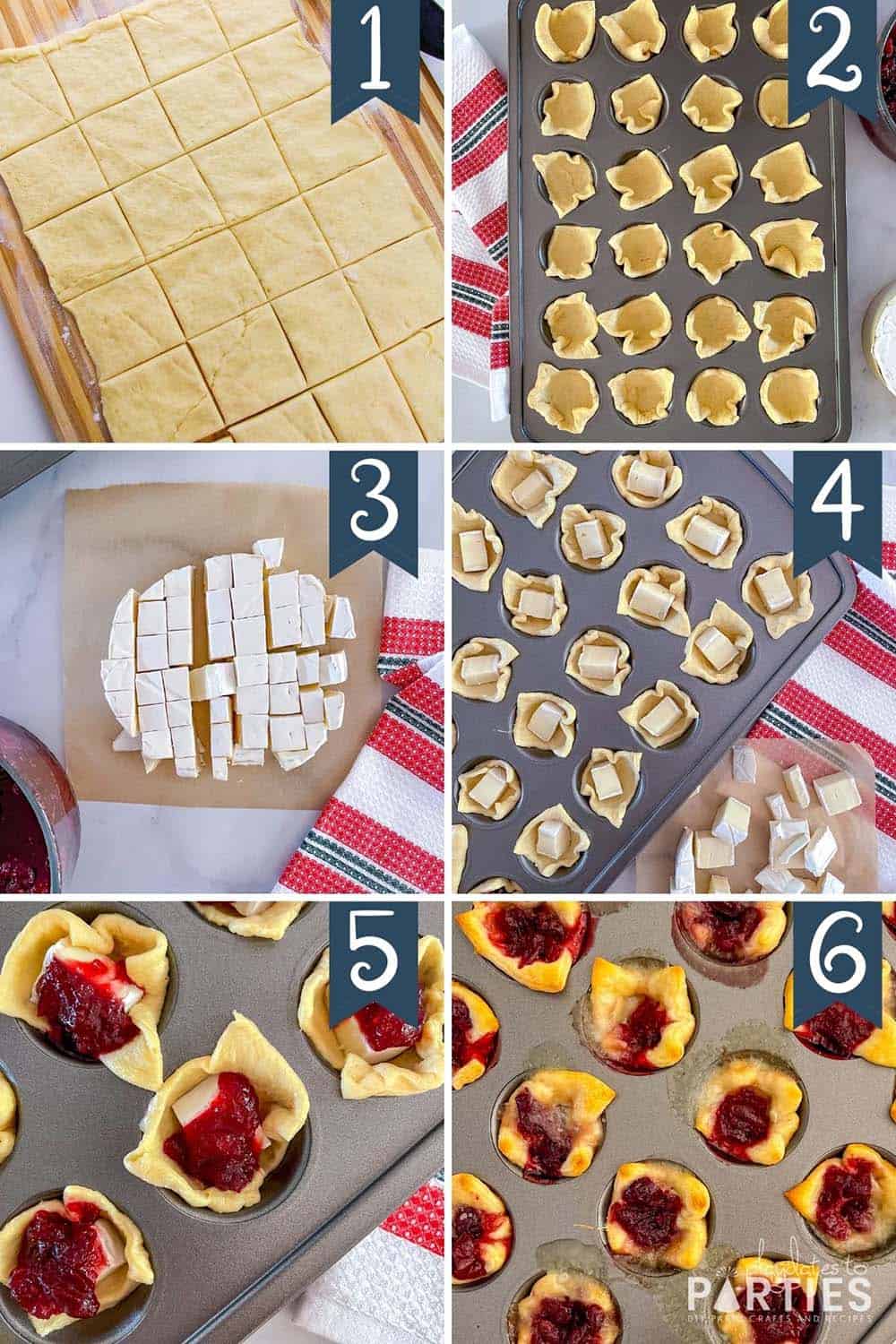 Step 1 – Roll out the crescent roll sheet and cut the 24 equal squares.
Step 2 – Place a dough square into each cavity of a mini muffin tin.
Step 3 – Slice the brie into 1/4 inch pieces.
Step 4 – Add one slice of brie to each mini muffin cup.
Step 5 – Top the brie slices with cranberry sauce.
Step 6 – Bake until the pastry is golden brown. Garnish with fresh rosemary and enjoy!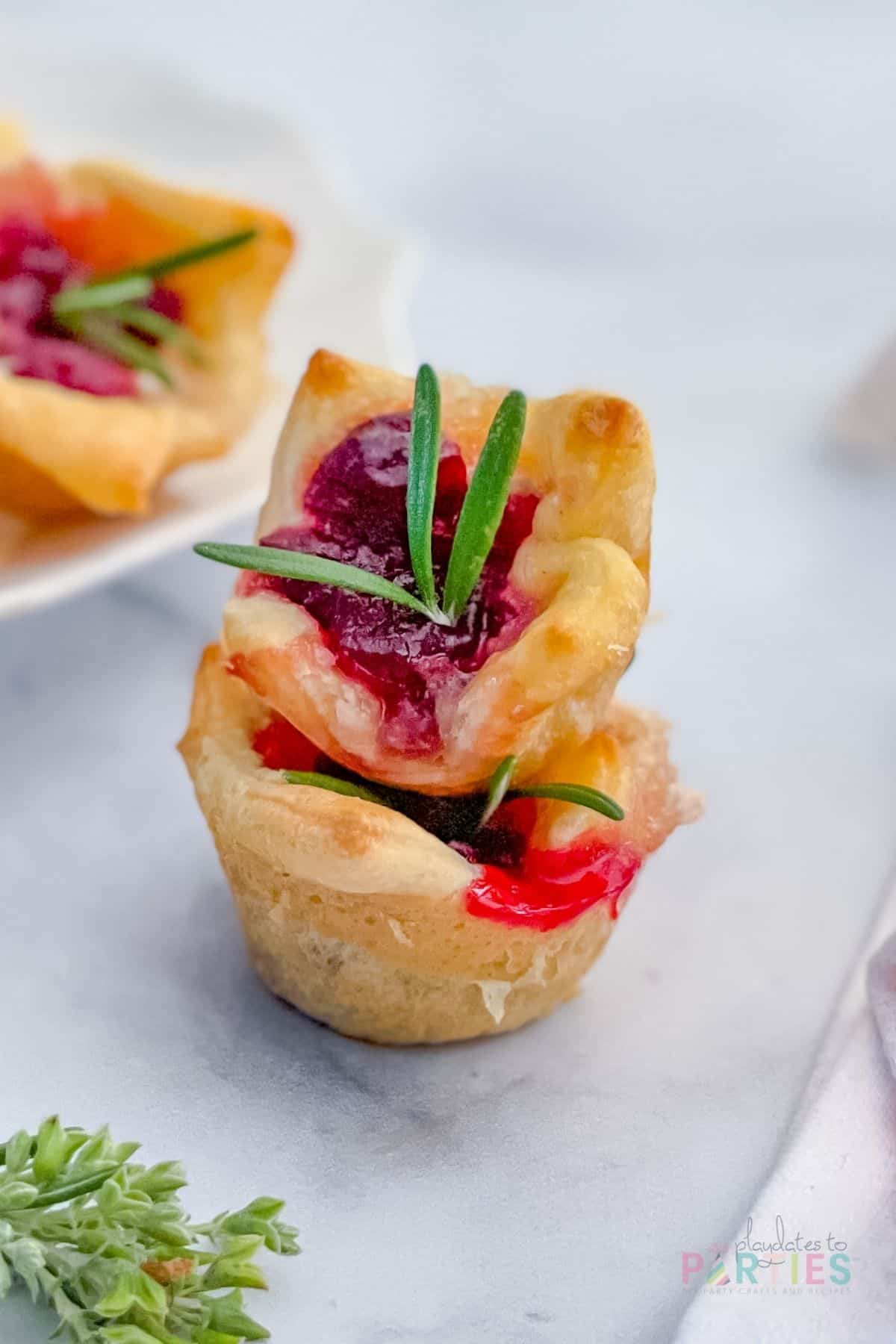 Essential Tips:
Don't skip these tips – read them before baking to avoid any potential mistakes.
Use a pizza wheel to cut the pastry dough
It may not be meant for crescent roll dough, but it makes slicing everything so much easier.
Cut the Brie cold
While fresh brie tastes best at room temperature, it's much easier to cut when it's cold.
Cut your brie wheel straight from the fridge, or place it in the freezer for 10-15 minutes to make sure it's even easier to slice.
Make sure your brie slices aren't too big.
While a little bit of bubbling over is normal, large brie slices will bubble up all over the pan and all over the other brie bites.
The best size is about 1/4 inch wide. 6 to 8 cuts along both the horizontal and vertical should get you there.
Yes, you will likely have some brie left over. It will be the perfect size for something like a small Christmas charcuterie wreath.
Want to avoid spending hours on end preparing food for your party? Click here to download 10 Fast and Easy Party Recipes that don't take more than 20 minutes of your time to prepare.
Use a toothpick or knife to release the bites from the pan
Because these are cooked in a mini muffin tin, the brie can bubble up and overflow onto the pan. There's nothing wrong with that, but you may need run a toothpick or a small knife around the edge of the cooked bites to release them from the pan.
Brie Bites are Best served slightly warm
Make your brie bites in advance (see below) and have a tray ready to pop in the oven when your guests arrive. Then quickly place them on a platter for your guests to devour them.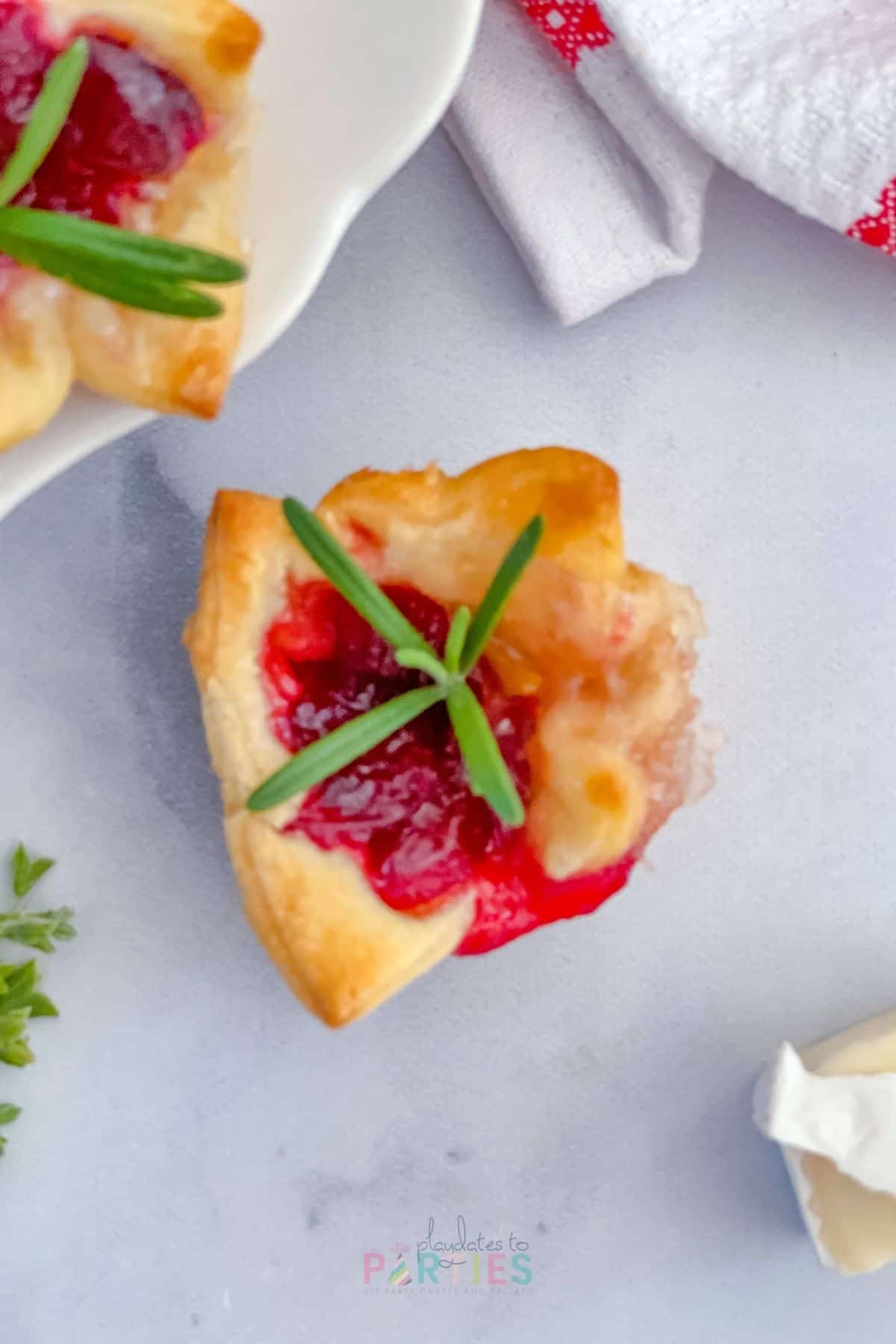 FAQs:
What can I substitute for Brie?
If you can't find brie, you can also substitute Camembert or even a teaspoon of cream cheese if you're really in a pinch.
Do I need to grease the pan?
As mentioned above, I don't grease my mini muffin pan to make these, but you can grease your muffin tin with butter or shortening.
I don't recommend cooking spray for baking tins as I find it burns onto the pan and is nearly impossible to clean off.
What if I can't find crescent roll sheets?
You can use regular crescent roll dough to make these too. Simply roll the dough out on a cutting board and pinch the seams together well. (You may need to overlap the seams slightly to get the best results.)
I used this process for my Mummy Dogs. You can see it in action on the video for that post.
Do I need to cut off the cheese rind?
Nope. The rind is perfectly fine to eat. However, you can cut it off if you prefer brie without the rind.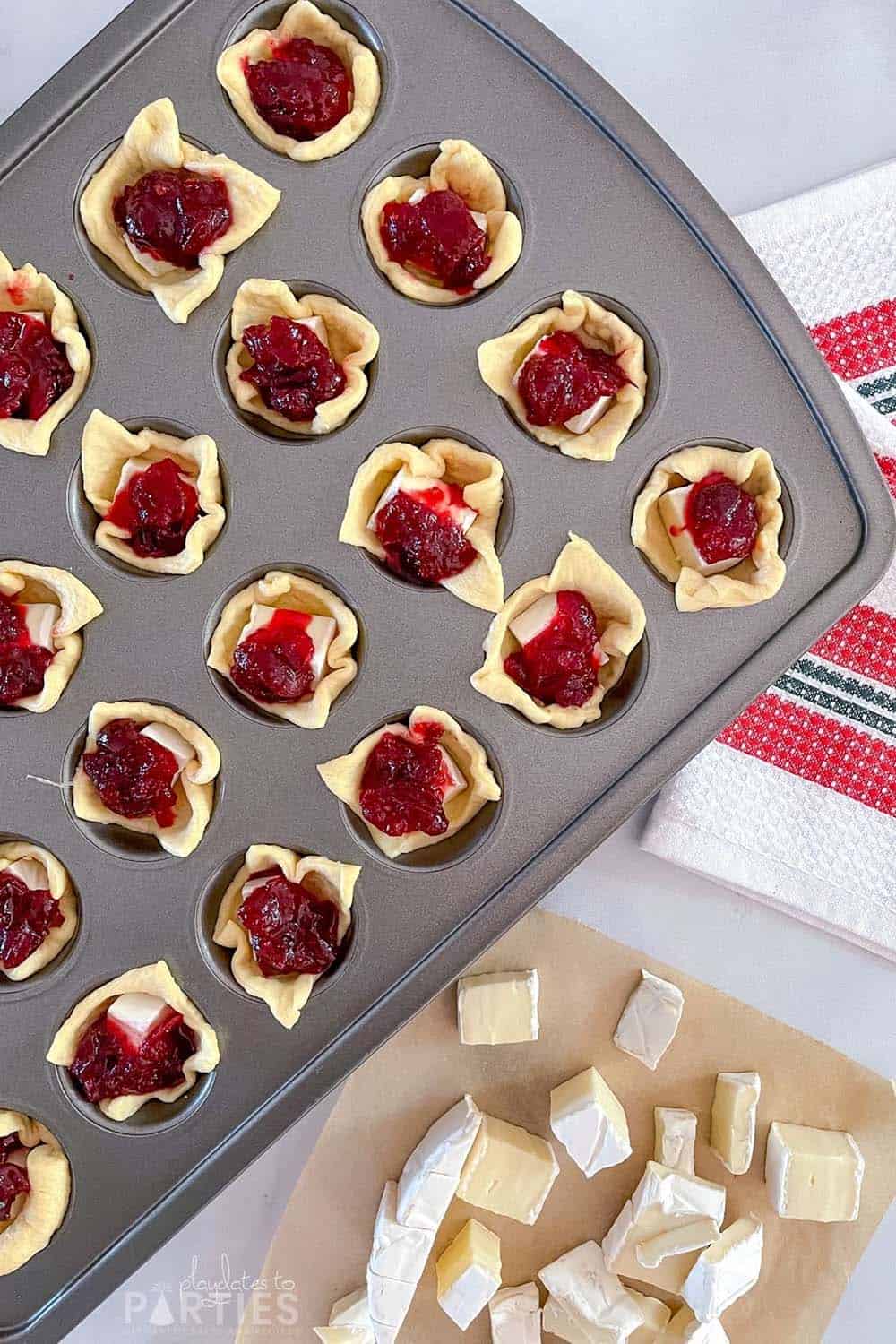 How to Store Cranberry Brie Bites
You can make your brie bites up to 2 days in advance.
Fully cook your brie bites and then keep them in a sealed container in the refrigerator.
To freeze your brie bites:
Place them in a single layer on baking sheet and freeze until solid. Transfer to a sealed container for up to 1 month.
To reheat your brie bites:
From Refrigerated – Bake them on a parchment covered baking sheet at 350˚F for 10 minutes, until warm.
From Frozen – Bake on a parchment covered baking sheet at 375˚F for 10-20 minutes until warm.
Pro Tip: Use the day-of timeline in your holiday planner to list what time everything needs to get done. That way you can stay on task and be less stressed.
If you liked my cranberry brie bites, you're going to love these 15+ killer fall appetizers for a crowd. It's got everything from easy last-minute appetizers like these to stunning appetizers that will make your guests jaws drop.
Or you can check out my other appetizer recipes right here.
Yield: 24 Cranberry Brie Bites
Cranberry Brie Bites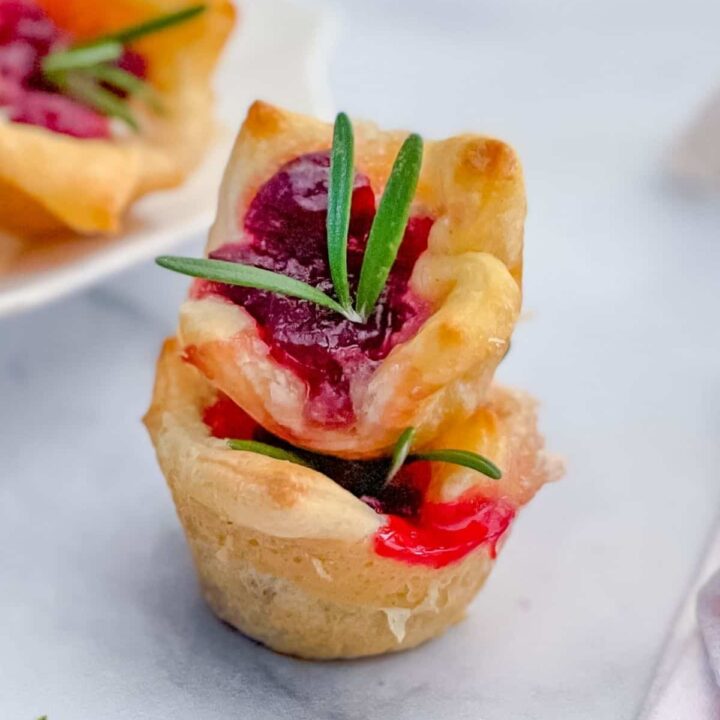 Easy, fast and delicious, cranberry brie bites are the perfect choice when you need an impressive last minute holiday appetizer.
Ingredients
1 package crescent roll sheet or crescent roll dough
8 ounces (227g) brie cheese wheel
2 sprigs fresh rosemary
Instructions
Preheat oven to 375˚F.
Roll out the crescent roll sheet on a cutting board. Cut the dough into 24 equal squares (6 cuts along the long side and 4 cuts along the short side.)
Place each square into the cavity of a mini muffin tin, gently pressing down to create a small muffin cup.
Use a sharp knife to slice the brie into 1/4 inch pieces. (Approximately 6-8 cuts in each direction.)
Add one slice of brie to each mini muffin cup.
Top the brie slices with 1/2 to 1 teaspoon cranberry sauce.
Bake at 375˚F for 10 to 12 minutes until the pastry is golden brown. Cool in the pan for 5 minutes before removing from the tray.
Garnish with a few fresh rosemary leaves. Serve warm.
Notes
Remember, the step-by-step photos and FAQ in the recipe post are there to help you if you feel stuck at any point.
You can pinch together the seams of regular crescent roll dough if you can't find crescent roll sheets at your local grocer.
Place the brie in your freezer for 10-15 minutes to make slicing easier,
A pizza wheel makes cutting the dough super duper easy.
Use a toothpick or knife to release the brie bites from the pan after baking.
Refrigerate prepared brie bites for up to 2 days or freeze for up to 1 month. Reheat on a parchment lined baking sheet in the oven until warm.
Use a holiday or party planner with a day-of timeline to stay on task and help make sure you're serving these appetizers at just the right temperature.
Recommended Products
As an Amazon Associate and member of other affiliate programs, I earn from qualifying purchases.
Nutrition Information:
Yield:
24
Serving Size:
1
Amount Per Serving:
Calories:

98
Total Fat:

6g
Saturated Fat:

3g
Trans Fat:

0g
Unsaturated Fat:

2g
Cholesterol:

11mg
Sodium:

110mg
Carbohydrates:

8g
Fiber:

0g
Sugar:

2g
Protein:

3g
__________________________________ The nutrition information provided above is estimated using an automated calculation system. Actual nutrition will vary depending on brand and measurements used in your recipe. To obtain the most accurate representation of the nutrition information for any given recipe, you should calculate the nutritional information using the actual ingredients you used in your recipe.
---