Finger sandwiches are the quintessential food for any luncheon or tea party. They're dainty, tasty, and easy to eat without utensils. Even better, they can be made in all sorts of flavors, using your favorite ingredients.
So whether you're looking for a classic cucumber finger sandwich or something a little more adventurous, we've got fifteen delicious tea sandwich recipes for everyone on your guest list.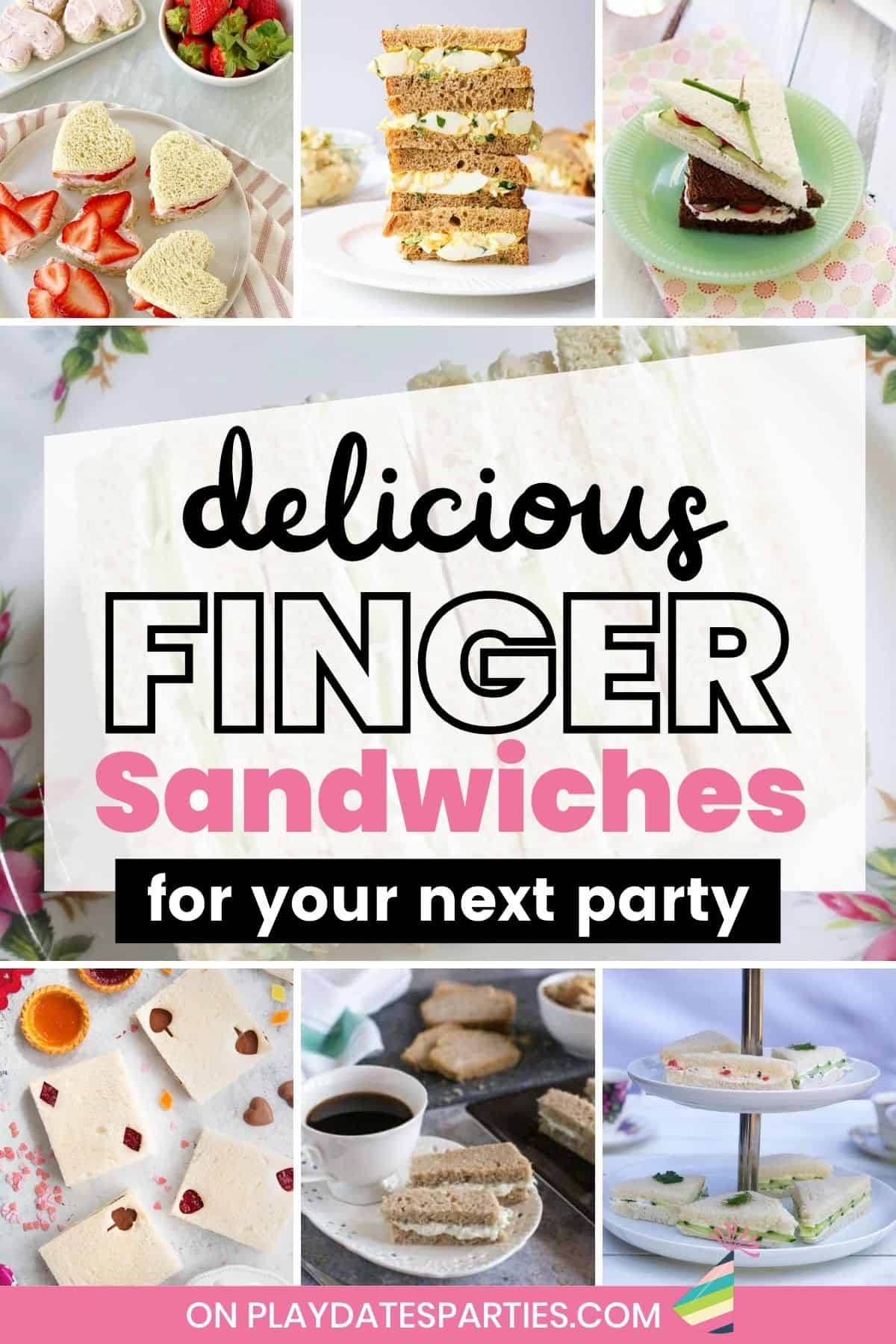 There's no need to settle for bland fillings with so many flavor-packed finger sandwich recipes out there. Best of all, with the right filling combinations, and a careful cut, these dainty sandwiches look amazing on your favorite tiered tray.
What to Serve with your Finger Sandwiches
It's no surprise that tea sandwiches are the perfect food to serve alongside your favorite afternoon tea. But they're also a fantastic way to add variety to a brunch or luncheon buffet.
Here are a few suggestions for delicious accompaniments that will perfectly complement your finger sandwich feast:
For more flavorful ideas, you'll want to check out my upcoming list of Tea Party Food. It'll be filled with all the delectable dishes you need – from coffee and tea, to appetizers and desserts.
15 Delicious Finger Sandwiches for Your Next Tea Party
Let's tuck in and start looking at some of the best tea sandwich recipes out there. To make it even easier, we've broken them down into the following groups:
Classic Finger Sandwich Recipes
Creative Finger Sandwich Recipes
Finger Sandwiches for Kids Parties
Don't forget, you might love something from all of these sections, so make sure you check out the whole list before you head off to see your favorites.
Finger sandwiches are a great way to enjoy a simple, light meal. They're perfect for tea parties, luncheons, baby showers, and other special occasions. As you can see, almost all of the finger sandwiches we shared here include simple ingredients that are easy to find and use.
But even still, there are nearly endless ways to make finger sandwiches for your tea parties. And since they're easy to customize with your favorite flavors and ingredients, you can make a wide variety of options to please even the pickiest eaters.
Looking for a way to make your next tea party even easier? Download our free cheat sheet to find out how much food you need to make for your guests. With this guide, you'll be able to plan and prepare everything ahead of time, so you can relax and enjoy the party too!
Simply fill out the form below to grab your copy, and I'll send it right over to you.
---