Classic appetizers are a comforting and welcoming way to feed our guests. But sometimes they can be too time consuming. Which is why this easy stuffed mushrooms recipe is perfect for last-minute parties.
Filled with a savory mixture of breadcrumbs and pecans, and with less than 10 minutes of cooking time, it's going to become one of your go-to party appetizers.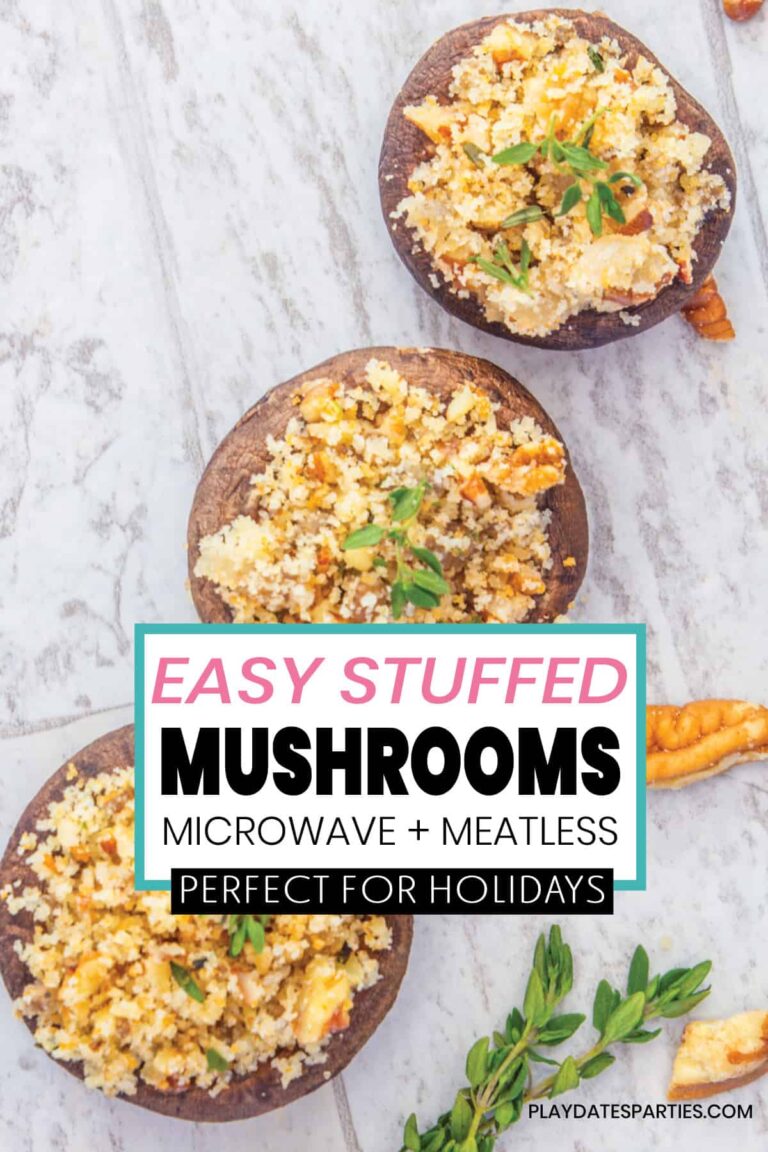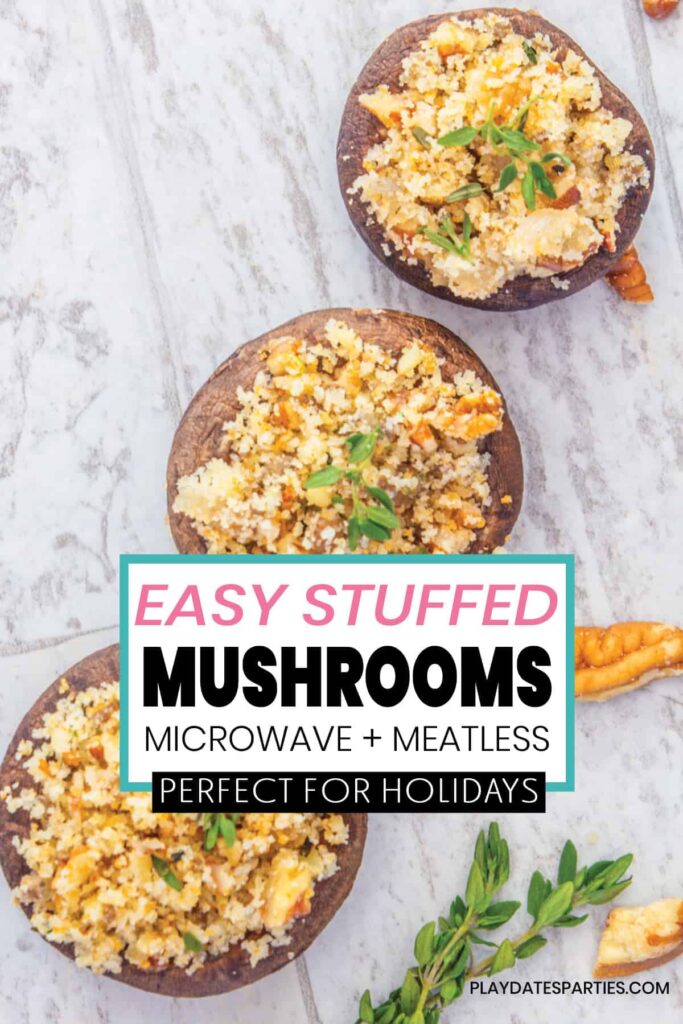 Confession: Sometimes I can be just as picky about what I eat as my kids.
It's shameful really. I'm a grown woman who loves food and I love to try new food. But there are some foods that I just don't enjoy.
Case in point: mushrooms.
Somewhere along the way my brain decided that mushrooms are always chewy, rubbery and unpleasant. The thing is, I know that's not really true if you're eating fresh mushrooms.
So I keep trying mushrooms over and over again. Partly because it sets a good example for my kids and partly because I know there are some mushroom recipes somewhere that I will like.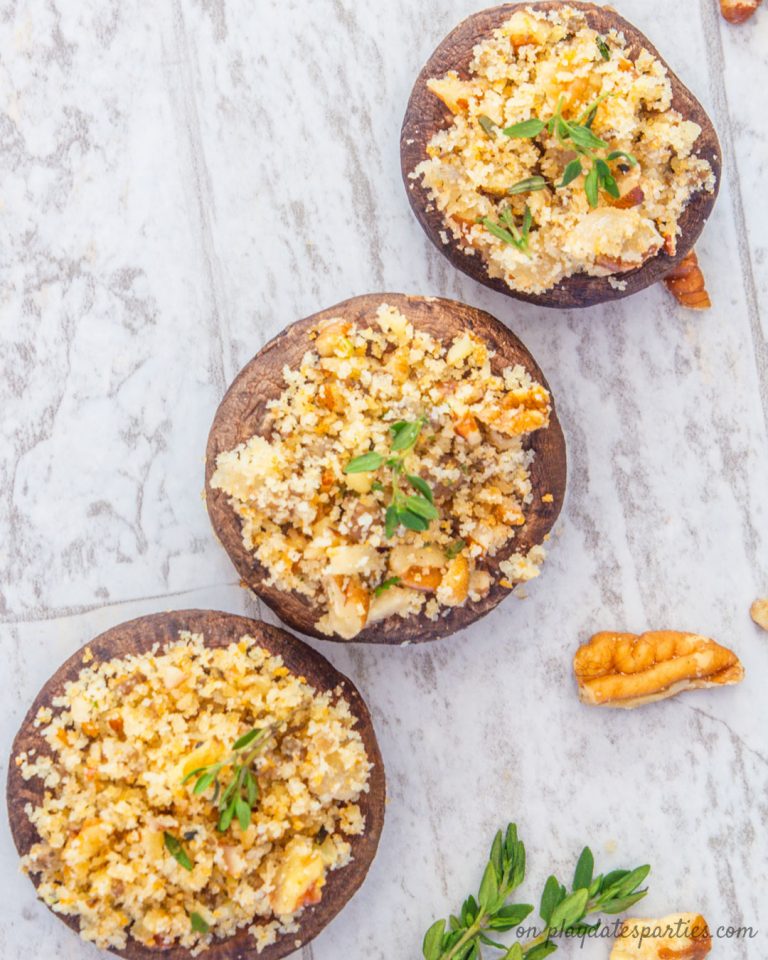 But no matter how often I tried mushrooms, I just couldn't get past the texture…until I found these easy stuffed mushrooms!
The original recipe came to me from my mother-in-law, and I fell in love with them the very first time I had them. But, of course, I had to make a few adjustments. Now, these are one of my go-to recipes for fall.
It doesn't hurt that they're also stupid simple to make!
Add your name and email address below and I'll send this cheat sheet- showing exactly how much food to make for your parties – straight to your inbox!
Note: When you click the button, you agree to this site's privacy policy. You'll also receive exclusive marketing content from Playdates to Parties. You may unsubscribe at any time.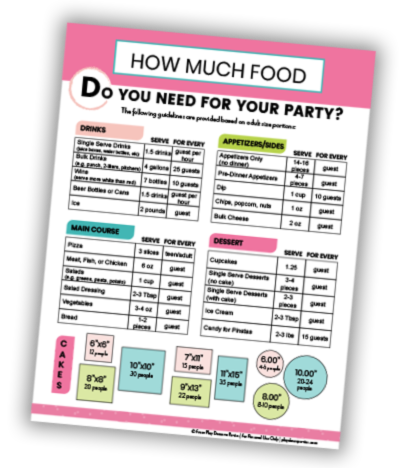 All About this Easy Stuffed Mushrooms Recipe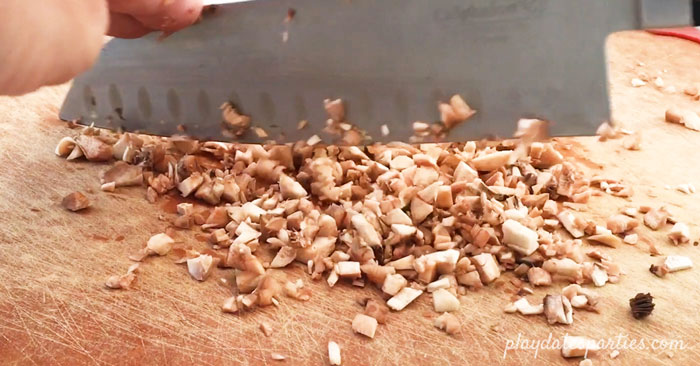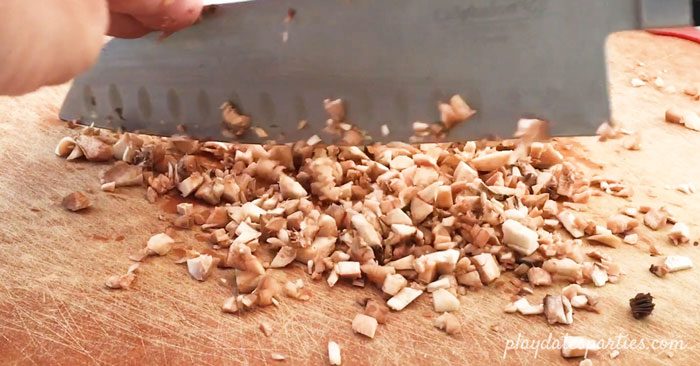 Use the Whole Mushroom for Less Waste
Instead of filling the mushrooms with ingredients like sausage or cream cheese, this recipe uses chopped up mushroom stems and pecans.
Paired with an awesome combination of other seasonings, it's still quite hearty, which is great for your budget!
An Awesome Vegetarian Appetizer
Unlike many other stuffed mushroom recipes that include sausage or fish, these are easily made vegetarian by using vegan or vegetarian Worcestershire sauce.
You can also leave the sauce out if you like. (Though, the Worchestershire sauce does help give the whole bite a fantastic meaty flavor)
RELATED>>>>VEGAN APPETIZER RECIPES EVEN MEAT EATERS WILL LOVE

Stuffed Mushrooms Made in the Microwave
Yes…you read that right. This easy stuffed mushrooms recipe is made right in your microwave. First, the filling is softened for a couple minutes, and then the mushroom caps get an extra bit of time to finish the recipe off.
There's no butter splattered all over the stovetop. And you don't need to use up precious oven or stovetop space if you're cooking a big meal, like Thanksgiving dinner.
And believe it or not, the mushrooms come out nice and firm…not soggy at all!

Cook and Serve in the Same Dish
I love to use my French White Corningware to serve stuffed mushrooms. It's microwave safe, looks beautiful, and coordinates with pretty much any party theme.
Can You Make Stuffed Mushrooms Ahead of Time?
It is best to prepare and serve these stuffed mushrooms as close as possible to serving time. That said, I have prepared them up to a day in advance without any noticeable difference in quality.
Just be sure to use the freshest mushrooms possible, because older mushrooms will go bad quickly after they are washed and stemmed.
Transform Leftovers or Extra Mushrooms into an Amazing Second Meal
You will probably have leftover filling. Don't throw it away! Here are a few delicious ways to use up leftover filling:
Top chicken breasts with leftover filling and bake until cooked through….mmmmm,
Make soup and add the filling to the soup base as a thickener and to add flavor,
Slice up leftover stuffed mushrooms and add them to a beef stock base with leftover beef or pork. Finish with sour cream and you have a quick and tasty stroganoff!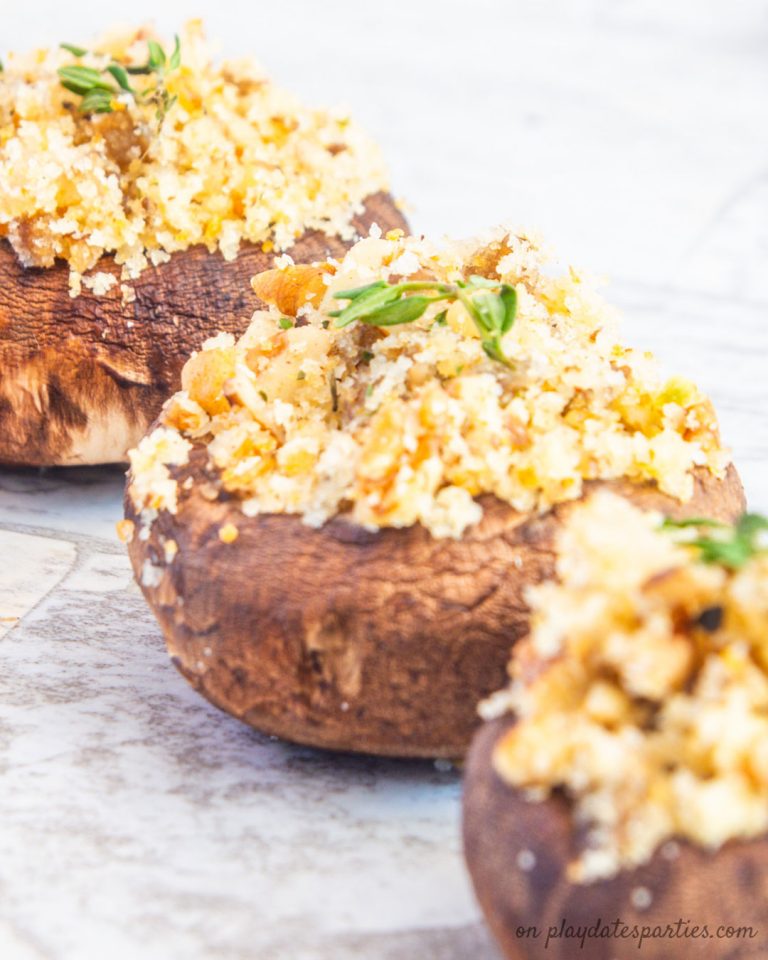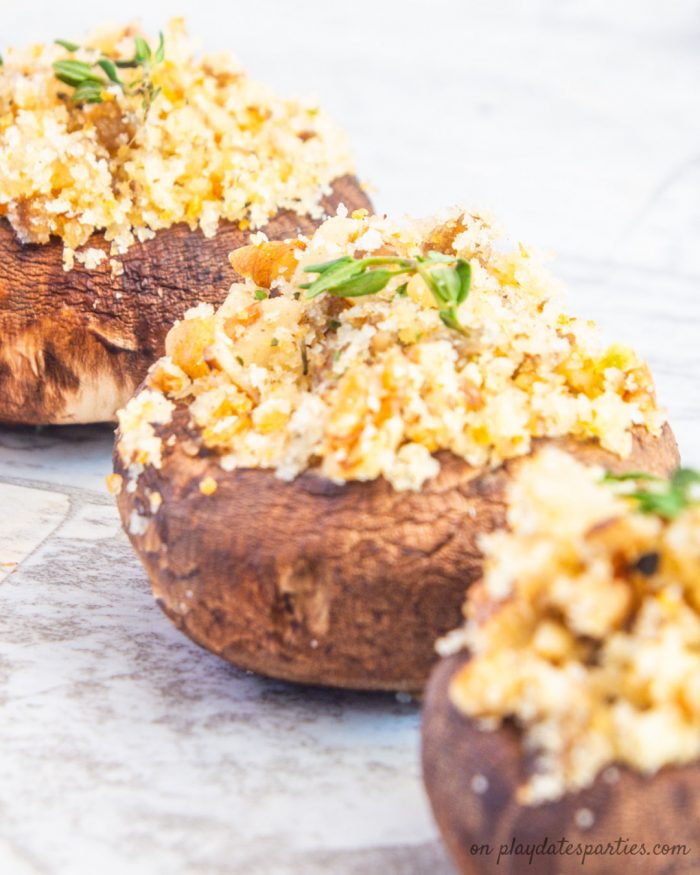 More Appetizer Inspiration:
Yield: 12
Easy Stuffed Mushrooms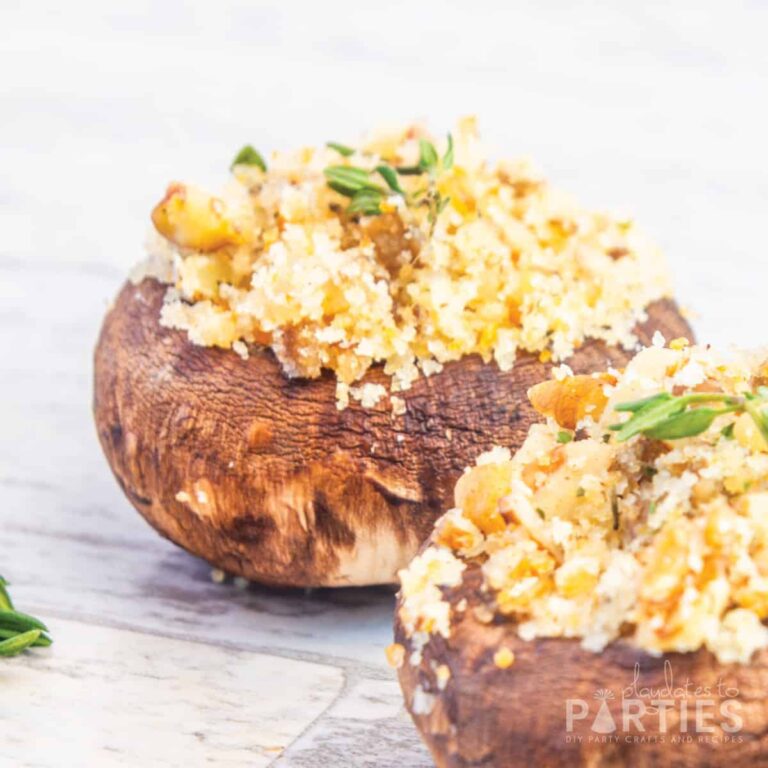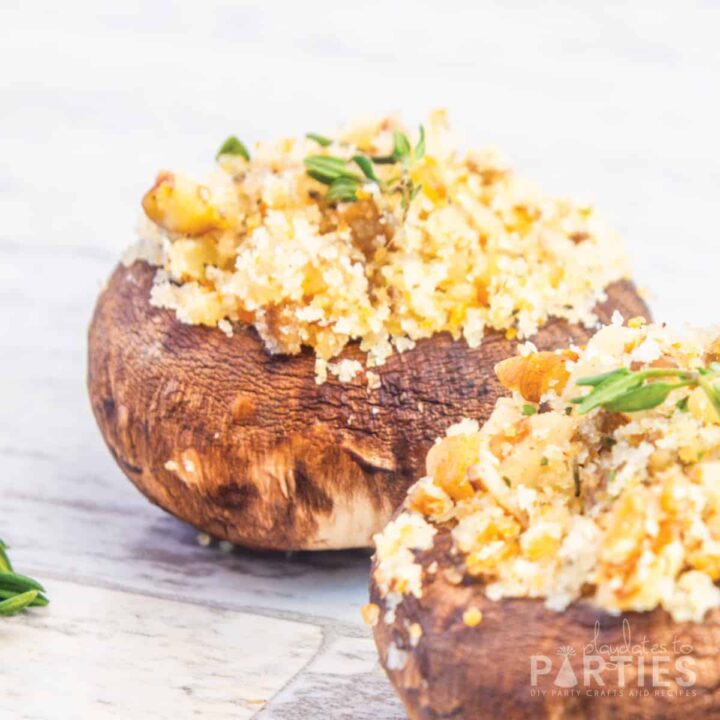 This easy stuffed mushrooms recipe is perfect for last-minute parties. Filled with a savory mixture of breadcrumbs and pecans, this is going to become one of your go-to party appetizers.
Ingredients
12 large fresh mushrooms, about 3/4 lb
2 T finely chopped onion
2 T butter
1/2 cup chopped pecans
1/2 C panko breadcrumbs
1 t lemon juice
1 sprig fresh thyme
1/4 tsp worchestershire sauce
1/4 tsp sea salt
Instructions
Clean mushrooms with damp paper towels, removing the stems to a separate bowl. Set the caps aside.
Chop mushroom stems and combine about 3/4 of the chopped stems with onion, thyme, and butter in a glass measuring cup or bowl.
Microwave uncovered, on High for 2 to 3 minutes, stirring halfway.
When onion is tender, add pecans, breadcrumbs, lemon juice, salt, and worchestershire sauce. Stir well.
Arrange caps in a microwave safe dish and spoon pecan mixture into the caps.
Microwave, uncovered on high until heated through, about 3 to 4 minutes. Serve immediately.
Nutrition Information:
Yield:
12
Serving Size:
1 grams
Amount Per Serving:
Calories:

75
Total Fat:

6g
Saturated Fat:

2g
Trans Fat:

0g
Unsaturated Fat:

4g
Cholesterol:

5mg
Sodium:

98mg
Carbohydrates:

6g
Fiber:

1g
Sugar:

1g
Protein:

2g
__________________________________ The nutrition information provided above is estimated using an automated calculation system. Actual nutrition will vary depending on brand and measurements used in your recipe. To obtain the most accurate representation of the nutrition information for any given recipe, you should calculate the nutritional information using the actual ingredients you used in your recipe.
Now It's Your Turn
I can't believe it took me over 20 years to find a mushroom recipe that I love. Hopefully you and your guests will love this recipe as much as our family does. It's one of our staple party recipes!
---