Do you ever tire of making the same food over and over again for your parties? I know I do.
Sometimes it feels like all we ever serve is cheese plates, vegetable platters, and sliced fruit. Not that these are bad. They're easy, and most people eat them without complaint. But sometimes I want something more interesting. Something with more pizzazz.
But have you ever noticed that so many party recipes take a LOT of time to prepare? Not only that, but they also need to be served almost immediately. Who has time for that? Not me, that's for sure.
I need easy, delicious, make-ahead recipes that impress the pants off of my guests. It's a tall order, but I think I found a hit.
A couple weeks ago, I went down to Virginia with my family to celebrate both my niece and my father's birthdays. My parents went all-out hosting an over-the-top party for my niece, but hardly anything was planned for my father. What do you do for a man who can buy himself pretty much anything he wants?
Our solution was to cook brunch for him. It's not thrilling, but it's always nice to know that you can sleep in while someone else is preparing a delicious breakfast for you. We cheated, and used leftover fruit salad and a store-bought gourmet banana bread. But we also added these awesome giant gougeres to the spread. They were so easy to make, and tasted delicious both warm and at room temperature. Most sources say that gougeres are easily frozen, which is perfect for the upcoming holiday season.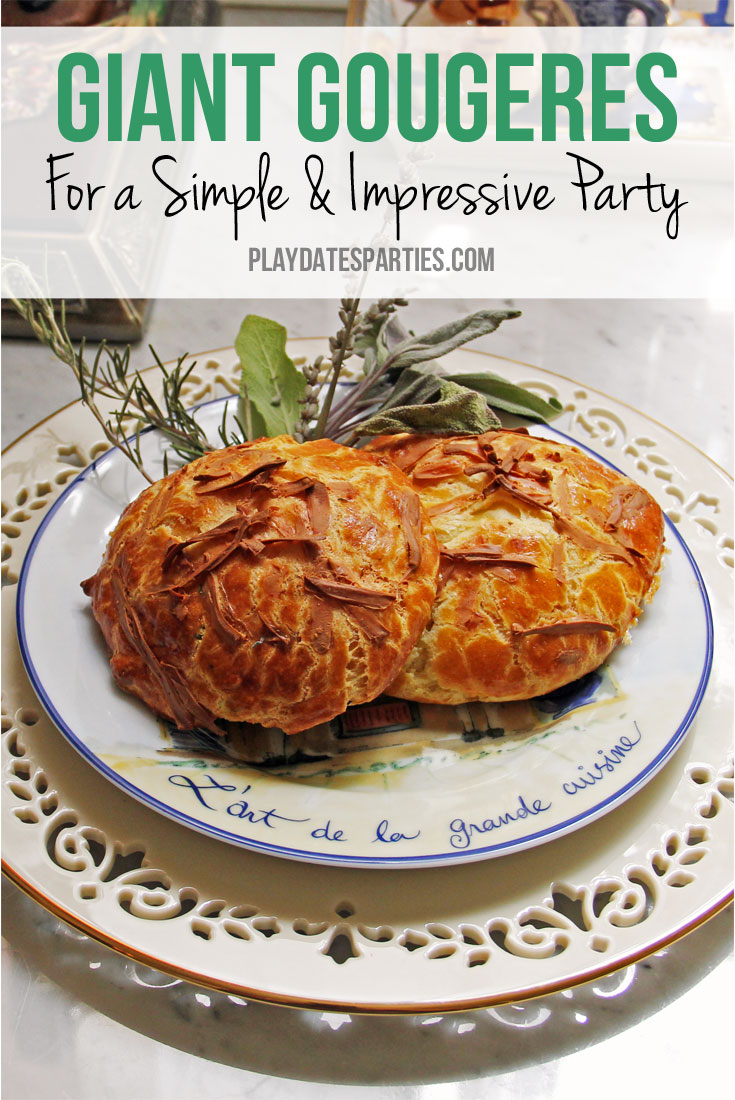 Giant Gougeres
Ingredients
(Adapted from Serious Eats)
1 1/4 cups skim milk
10 TBSP unsalted butter
1 TSP salt
1 C all-purpose flour
5 large eggs
3/4 C grated Gruyère cheese, for filling
 1/4 C little extra for topping
1 TSP freshly ground black pepper
1 TBSP fresh herbs, minced (we used lemon thyme and sage)
1 egg for egg wash
1/4 C grated Gruyère cheese, for topping
Directions
Preheat your oven to 350°. Prepare two sheet pans with parchment paper.
Over medium heat, combine the milk, butter and salt. Cook until the butter melts and the mixture begins to boil.
Add the flour, and stir vigorously with a wooden spoon until the batter smooths out and pulls away from the side of the pan. This happens quickly, about 3 or 4 minutes.
Move the batter to a heat-safe bowl. One at a time, add 5 eggs, fully incorporating with a wooden spoon before adding the next egg. The resulting batter will be thick and smooth.
Using a rubber spatula, incorporate the fresh herbs, grated cheese and pepper.
Prepare an egg wash by whisking together 1 egg and a pinch of salt.
Using a large spoon, make large round dough balls, about 3 inches wide and 1 inch tall. Place on the prepared baking sheets about 2 inches apart.
Brush each round with egg wash and sprinkle with grated cheese.
Bake about 35 minutes, until the gougeres are puffed and golden brown.
After baking, immediately poke a small hole in the side of each pastry to allow steam to escape. (This prevents collapsing)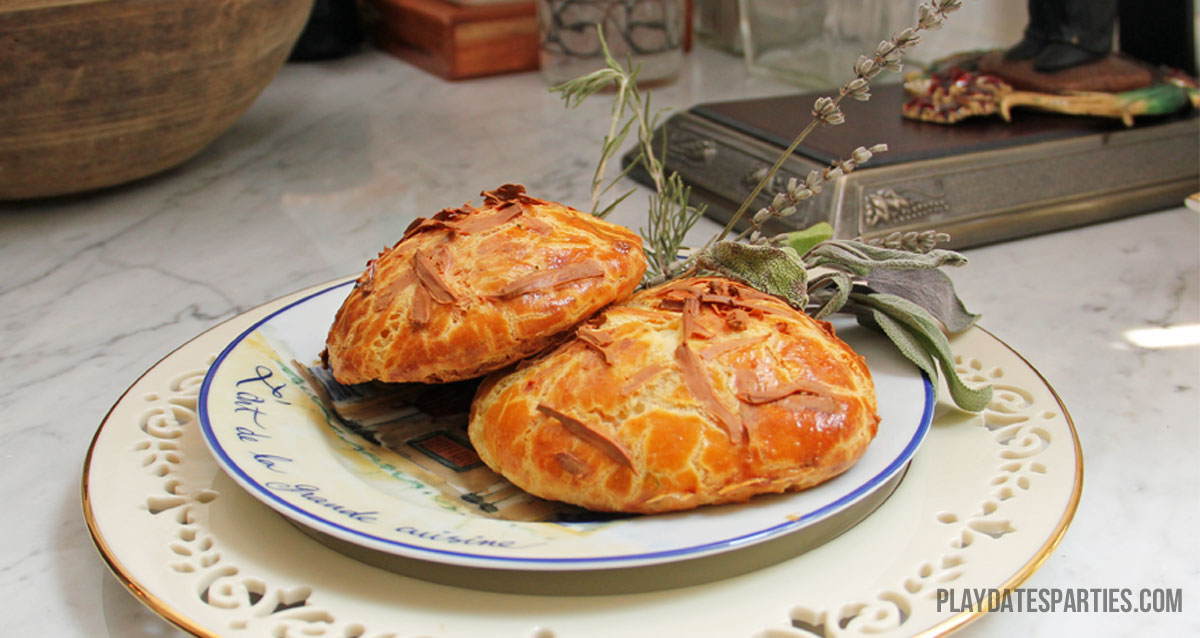 What is your favorite make-ahead party recipe?
Do you ever feel like you're in a recipe rut?
Sharing this post with the parties at the bottom of the page!
Don't forget to subscribe via Bloglovin, Facebook, and Twitter to stay up-to-date.
Don't forget to check out these other awesome posts!