What could be more delightful than enjoying a delicious tea party with friends? Especially with wonderfully sweet and decadent tea party desserts like these.
We're sharing over 55 recipes that will tantalize both your eyes and your tastebuds. So put your pinky fingers up and get ready to indulge in the most delicious treats imaginable.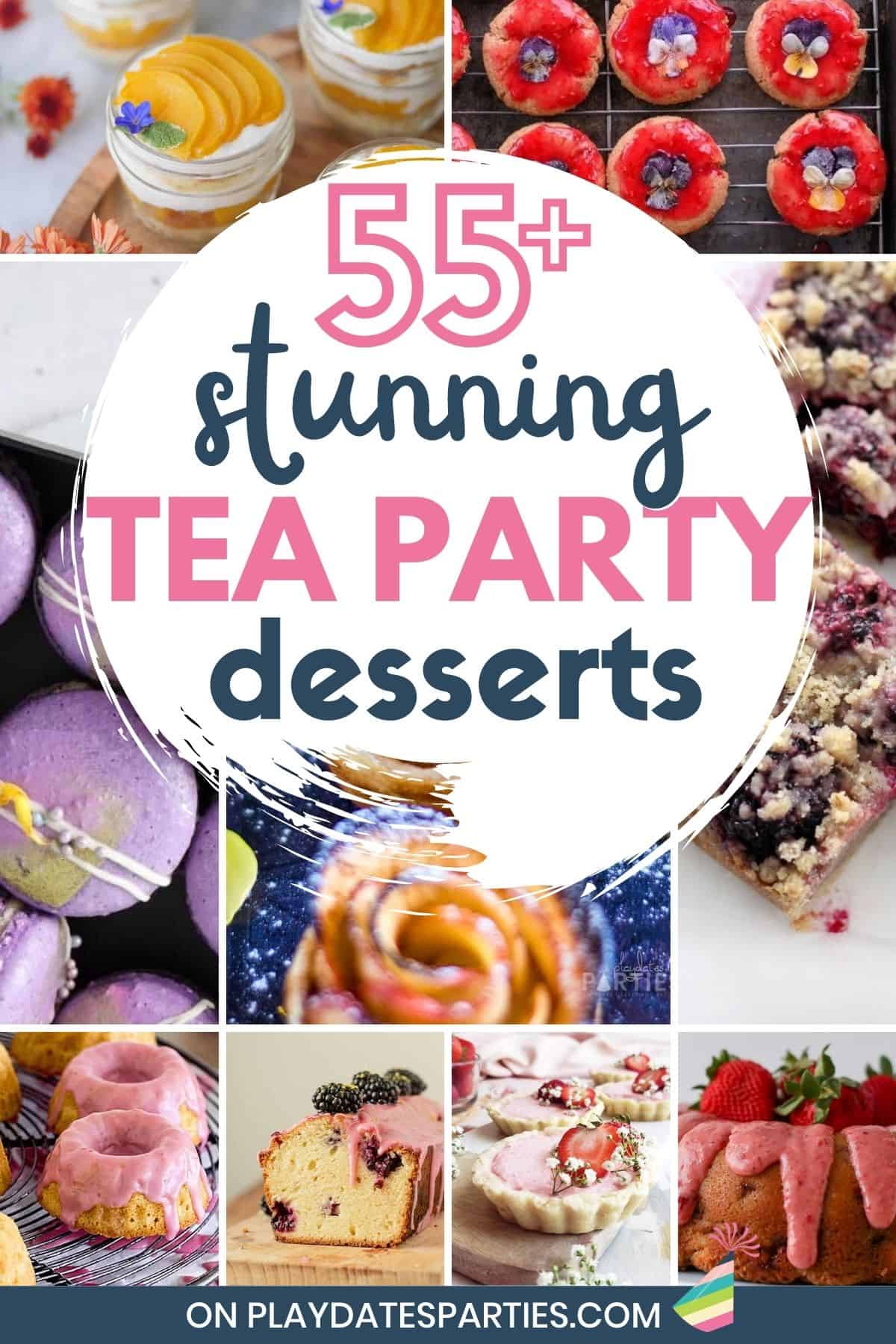 We all know that the real star of every tea party is the dessert tray.
Whether you make edible Chip teacups for a birthday tea party, flower laden cheesecake bites for Mother's Day, or strawberry pound cake for a baby shower or bridal shower, this is one time you want to make sure your food is as beautiful as it is tasty.
That's why we scoured the internet to find the most beautiful and delicious tea party desserts for every occasion, including cookies, cakes, candies, quick breads, tarts, and even a few no bake desserts.
Can Tea Party Desserts be Made Ahead?
The last days before a party can be stressful and time consuming, so it's always helpful to find some recipes that can be made well in advance. Here are a few tips to make your life easier:
Most baked goods like cakes and muffins freeze well, but it's best to add any fresh ingredients like fresh fruit or edible flowers just before serving.
Make cooked desserts like puddings and custards a day or so in advance and refrigerate until ready to serve.
Most candy recipe can be made up to two weeks in advance and stored in an airtight container at room temperature.
Quick breads like banana bread and apple bread freeze beautifully. Just be sure to thaw completely before cutting.
Catering Shop Tip: Get perfect cuts with your brownies, blondies, and bars by freezing them first. When ready to cut, allow your bars to soften for about 30 minutes, and then use a sharp chef knife to press down and slice the brownies.
Looking for More Tea Party Ideas and Recipes?
Then you'll love these other posts:
Or you can check out all of my best tea party ideas right here.
Deliciously Decadent Tea Party Desserts
Tea party desserts for women should be beautiful and delicate, as well as delicious. Thankfully there are plenty of recipes to choose from to fit every style and occasion.
If you're still stuck deciding which of these desserts are best suited for your event, here are some things to think about:
Budget: If money is tight, opt for recipes that are pretty on their own, like apple roses and lemon blackberry bread. If you have a bit more money to spend, add in one or two fresh fruit items or a recipe that uses edible flowers.
Guest list: If you're hosting a kids birthday party, it's best to serve simple, cute recipes, like Chip the Teacup and Cut out Sugar cookies. But if your guest list includes primarily adults, add in at least one stunner.
The rest of the menu: If you plan to serve other snacks like finger sandwiches, and appetizers, then keep it simple with two or three desserts.
Time of year: Generally, guests prefer lighter and more fruit forward foods (like peach cake in a cup) in spring and summer, and warmer foods (like apple bread and pecan crescents) in fall and winter.
Want an easy way to figure out how much food you actually need for your next party? Fill in the form below to download our free cheat sheet! It shows exactly how much food you need to for everything from ice and drinks all the way to finding the perfect size birthday cake.
Simply enter your email address below and we'll send it right over!
---