Everybody loves meatballs for a party, but making them can be a hassle. The solution is simple! Crockpot apple butter meatballs with bourbon are easy enough to throw together in just a few minutes.
This quick meatballs appetizer is so easy to prepare for your next party or get together. And the combination of flavors is so unique and tasty that everyone will be asking for your secret recipe.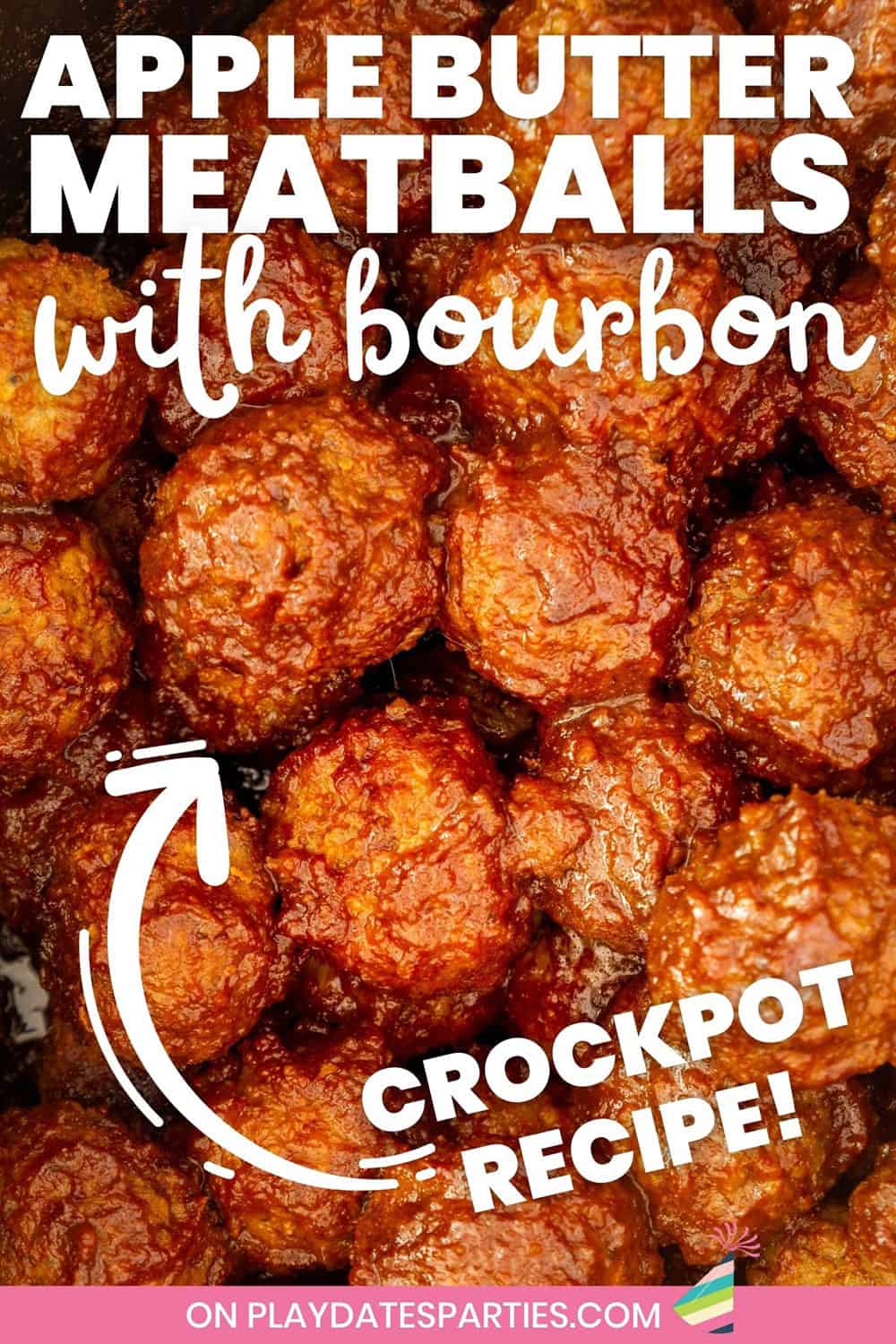 This recipe is my husband's new favorite appetizer. We both like to try a wide variety of ethnic cuisines, and when he tasted these cocktail meatballs, he lit up and said "it tastes a lot like Indian food!"
It's true…the combination of apple butter, BBQ sauce, and spices gives them a flavor you've never tasted before in cocktail meatballs.
Throw these meatballs together in a few minutes and enjoy them with your guests after they've heated through during party time. They're guaranteed to be a conversation starter.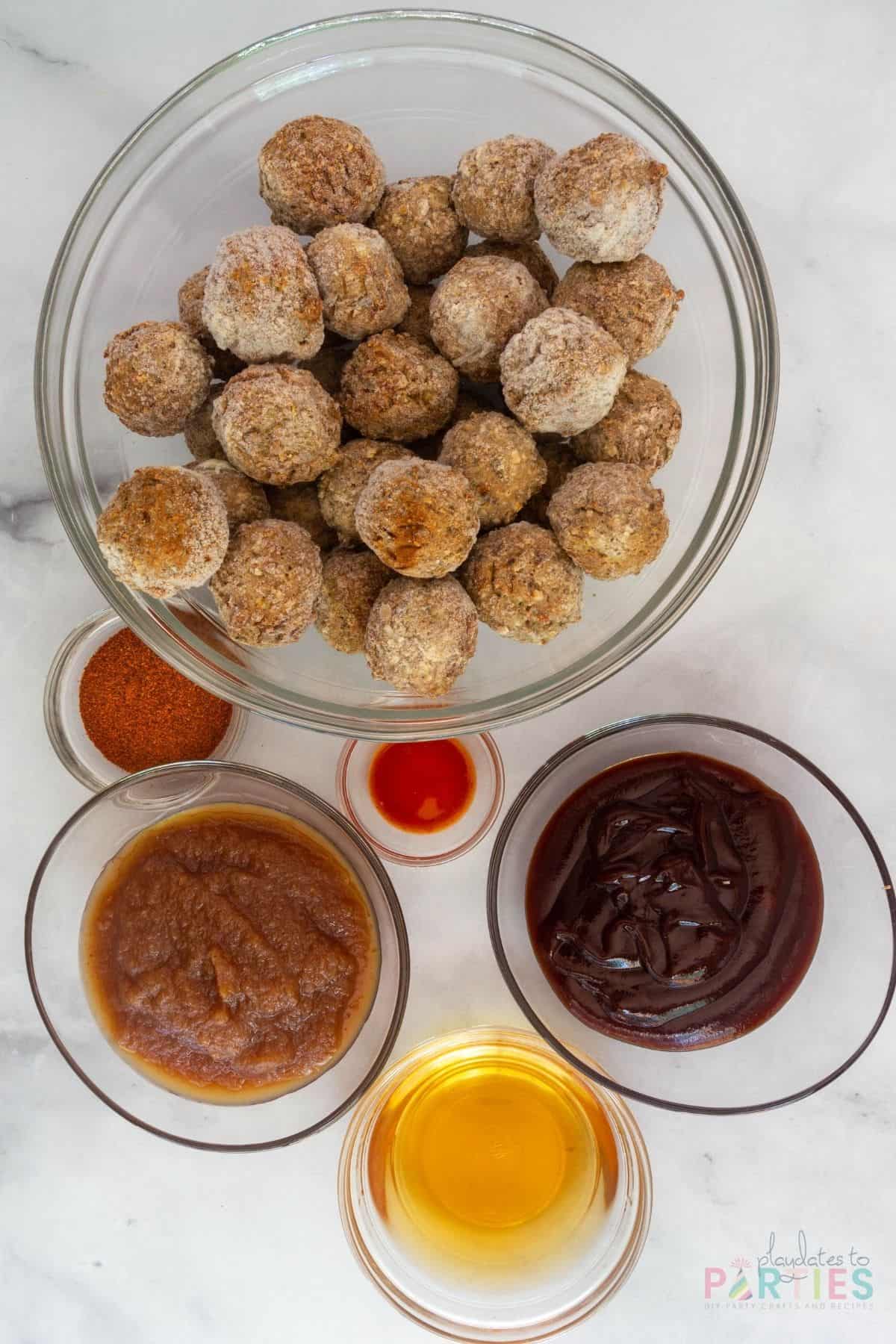 What You'll Need:
Ingredients:
Barbecue sauce
Hot sauce
Bourbon
Chili powder
Meatballs
Supplies:
6-quart crock pot or slow cooker
Medium mixing bowl
Measuring cups and spoons
Mixing spoon
Cocktail forks or toothpicks for serving
Step-by-Step Directions:
To make things easy for you, I created a simple photo guide below. For all measurements and a more detailed guide, check out the recipe card at the bottom of this page.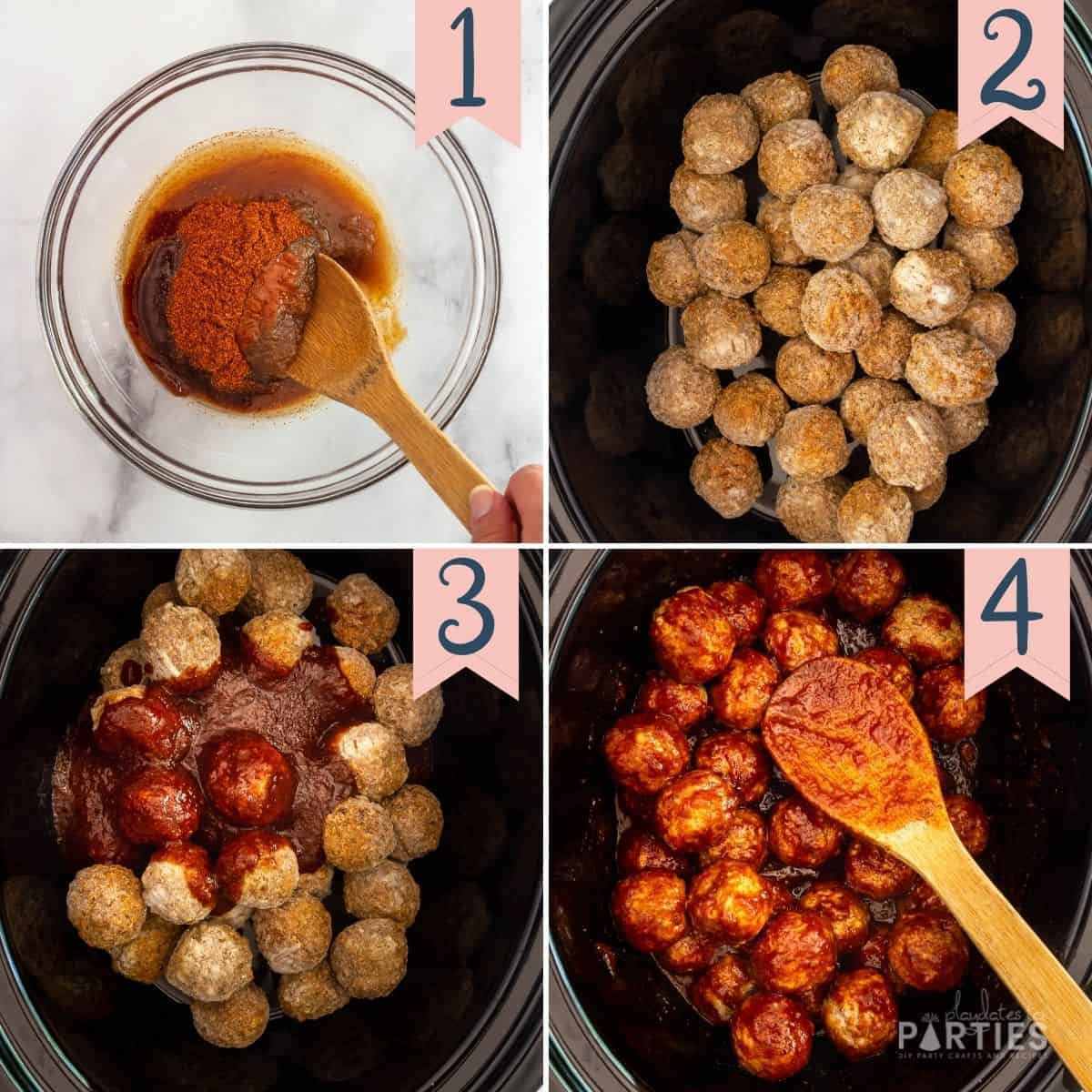 Step 1 – Stir together all ingredients except the meatballs.
Step 2 – Place meatballs in a slow cooker.
Step 3 – Pour the apple butter barbecue sauce on top.
Step 4 – Cook on low for 2 hours.
Essential Tips:
Don't skip these tips – read them before cooking to avoid any potential mistakes.
Store-Bought vs. Homemade Apple Butter
I use my easy apple butter recipe to make these meatballs, but you can use store bought apple butter if you prefer.
Use crock pot liners for easy clean up
Cleaning up after a party is the worst. So I definitely recommend lining your slow cooker with some crock pot liners. Instead of having to scrape off any burnt sauce from sitting so long, all have to do is wipe out anything that got through the liner.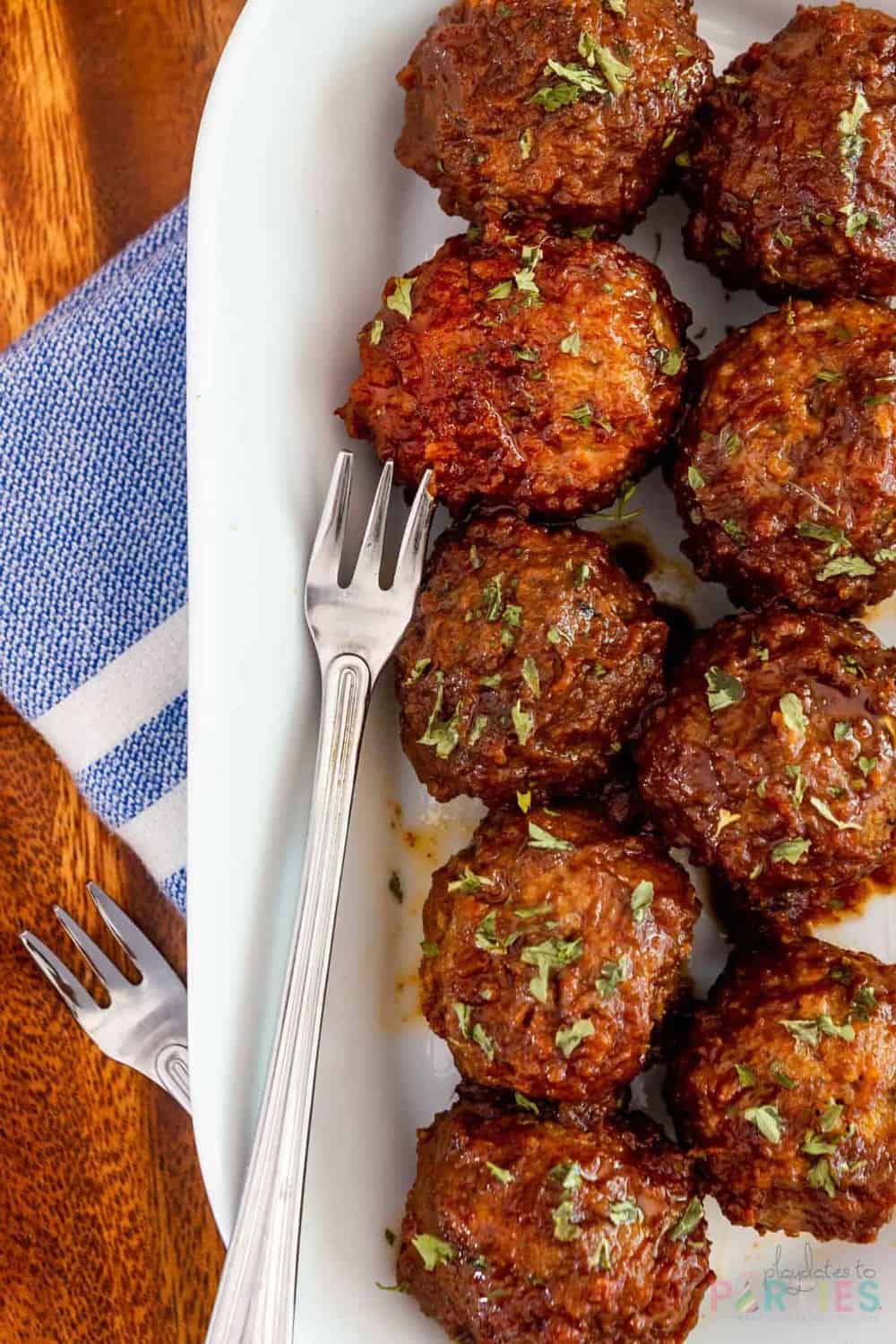 Expect the sauce to be very thick
This recipe was developed with a thick sauce that will stick to the meatballs…and won't dribble all over your guests as they eat.
But if you're planning to make these meatballs for dinner, or would prefer to have more moisture to prevent burning, you can either double the sauce mixture, or thin the sauce with a quarter cup of beef broth.
However, due to the thickness of the sauce, I don't recommend cooking your meatballs on high. If you are looking for a quicker way to prepare your meatballs, you can use the stovetop method outlined in the notes section of the recipe card.
Serve straight from the crock pot to keep the meatballs warm
Yes, I know it's not the prettiest thing out there, but cold meatballs aren't very tasty.
If you want your food to be pretty while also staying warm, you can purchase a chafing dish or you can try a warming plate.
Use the leftovers for dinner the next day
Regular readers know that I try to create party recipes that can easily be used as or in leftovers when the celebration is over.
Our family enjoys eating these meatballs for dinner on a bed of basmati rice. Just add a salad or a green vegetable, like broccoli, and you're set!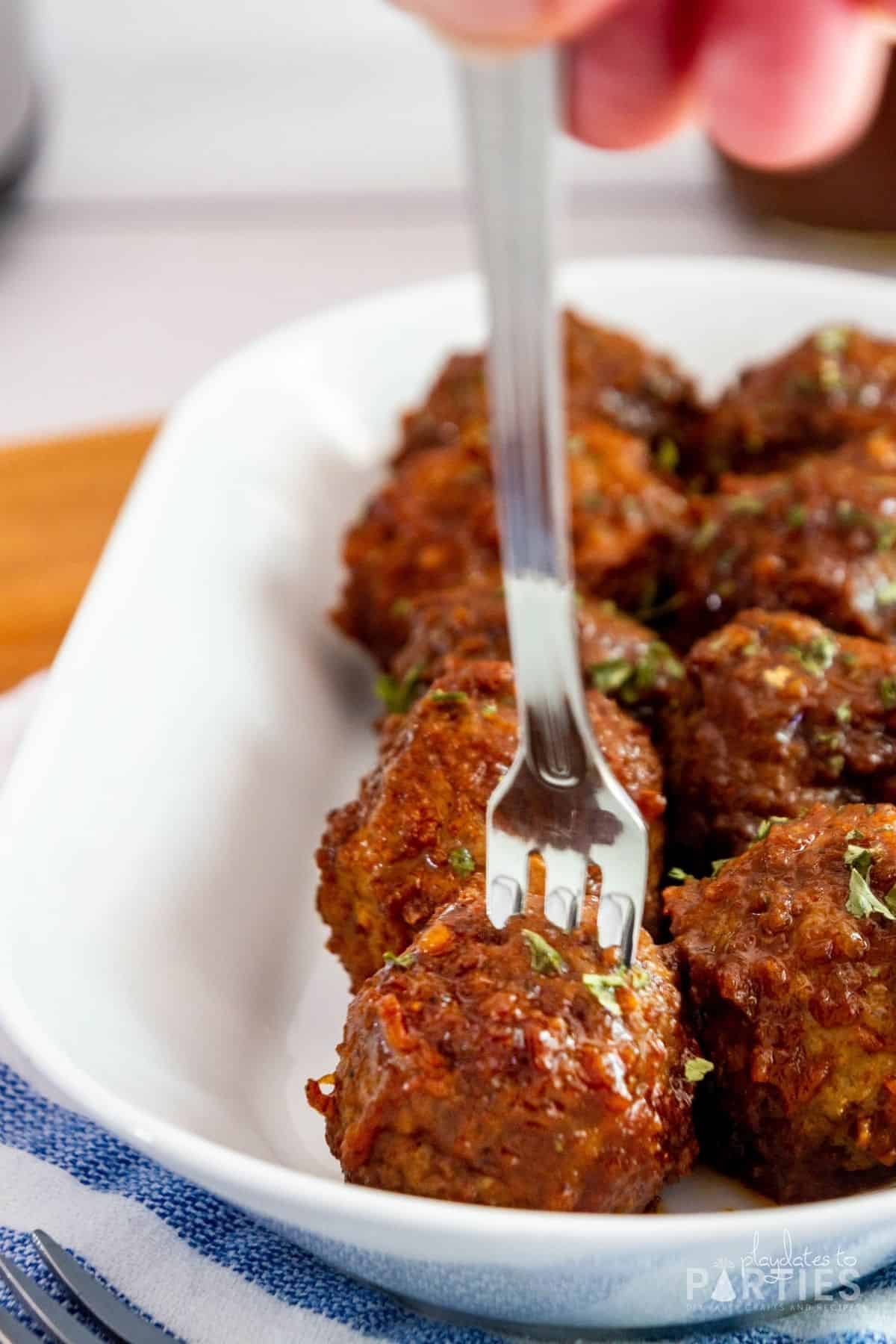 FAQs:
What kind of meatballs do you use?
Party prep is hectic, so I use regular beef meatballs from the grocer's freezer. You could also use turkey meatballs if you prefer. Just make sure you purchase regular or cocktail sized meatballs and not jumbo meatballs.
That said, if you have an amazing family recipe for meatballs, feel free to use those instead.
What kind of hot sauce should I use?
We used Tapatillo for this recipe. But most standard hot sauce will work.
If you are out of hot sauce, you can also try substituting with one of the following:
Adobo sauce from a can of chipotles
Sriracha
Chili sauce
Texas Pete
(Please remember, that substituting ingredients may change the flavor profile of the dish)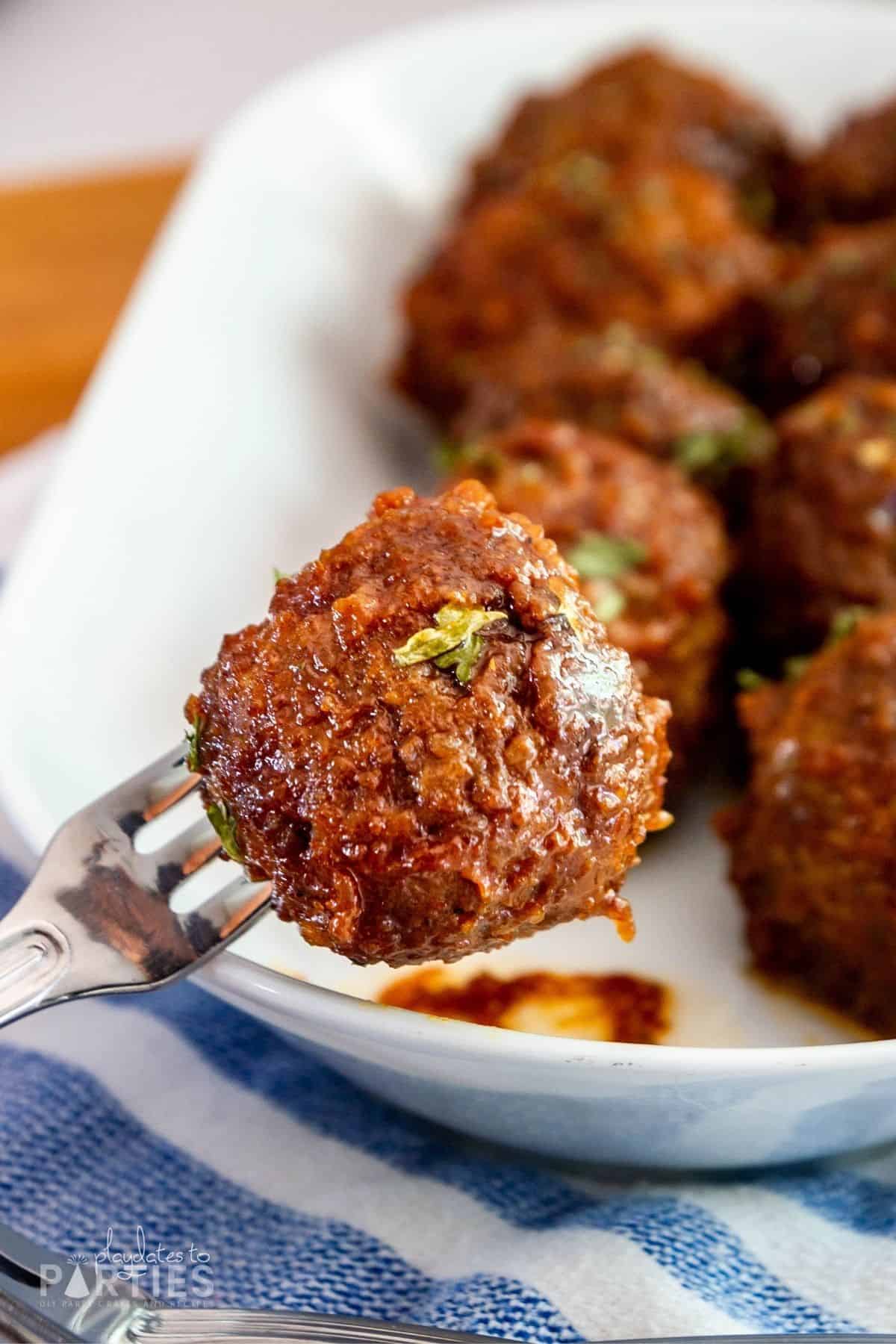 How spicy is the sauce?
This isn't a very spicy sauce. It leaves a warm heat in your mouth that builds up as you eat more meatballs.
If you prefer spicy food, or won't have too many children present, you can add more hot sauce to taste. Or, if you don't like spicy food at all, you can omit the hot sauce.
Can I make these ahead of time?
Yes, you can make the meatballs up to a day in advance. However, the sauce is already thick, so you may want to have some extra sauce on hand or a splash of beef broth to moisten them.
If you liked these crockpot apple butter meatballs with bourbon, you're going to love these killer fall appetizers for a crowd. It's full of appetizers that are sure to impress your guests. Or you can check out my other appetizers right here.
Yield: About 32 meatballs
Crockpot Apple Butter Meatballs with Bourbon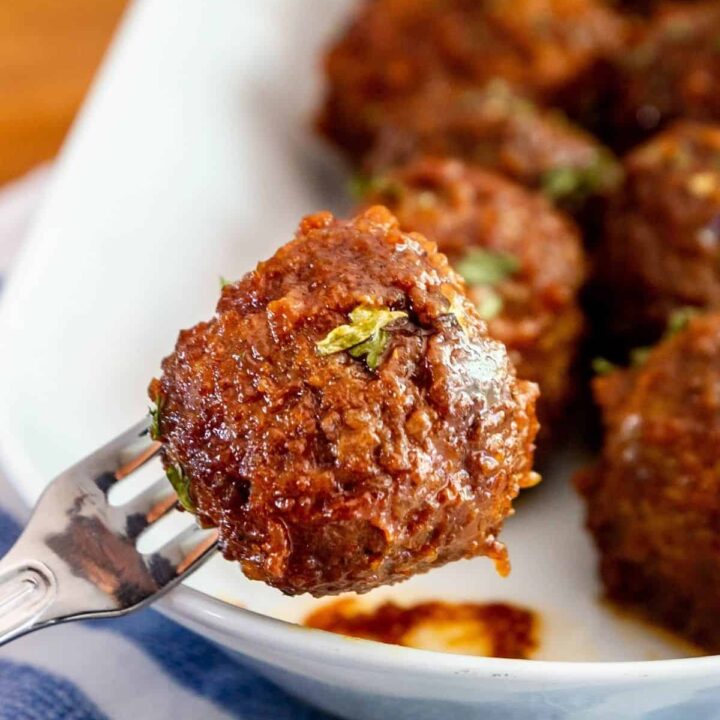 Make a batch of these crockpot apple butter meatballs with bourbon for your next fall party. They're incredibly easy to make and are bursting with flavor.
Total Time
2 hours
5 minutes
Ingredients
2/3 cup barbecue sauce
1/2 tsp hot sauce (optional)
1/3 cup bourbon (We used Maker's Mark)
2 tbsp chili powder
32 ounce bag frozen pre-cooked meatballs
Instructions
Combine apple butter, bbq sauce, hot sauce, and bourbon in a small bowl.
Place meatballs in a slow cooker.
Pour the apple butter barbecue sauce on top.
Cook on low for 2-3 hours. Serve warm.
Notes
Don't forget, the step-by-step photos, tips, and FAQs in the recipe post are there to help you if you have any questions.
If the meatballs will be sitting in a crockpot during your party, you may want to double the sauce to avoid scorching.
Yield will vary depending on the size of the meatballs you choose.
Stove Top Method:
Place the meatballs in a 6-quart saucepan. Heat on medium low, stirring frequently. Continue heating for 30-40 minutes, or until the meatballs are warmed through.
Substitutes for hot sauce (may affect the flavor):
Adobo sauce from a can of chipotles
Sriracha
Chili sauce
Texas Pete
Recommended Products
As an Amazon Associate and member of other affiliate programs, I earn from qualifying purchases.
Nutrition Information:
Yield:
32
Serving Size:
1
Amount Per Serving:
Calories:

107
Total Fat:

6g
Saturated Fat:

2g
Trans Fat:

0g
Unsaturated Fat:

4g
Cholesterol:

19mg
Sodium:

265mg
Carbohydrates:

7g
Fiber:

1g
Sugar:

5g
Protein:

4g
__________________________________ The nutrition information provided above is estimated using an automated calculation system. Actual nutrition will vary depending on brand and measurements used in your recipe. To obtain the most accurate representation of the nutrition information for any given recipe, you should calculate the nutritional information using the actual ingredients you used in your recipe.
---