Get all the details for how to make an epic (and kid-friendly!) Valentine's Day charcuterie board. It's perfect for a family dinner or as an appetizer board for a small party. With photos and video!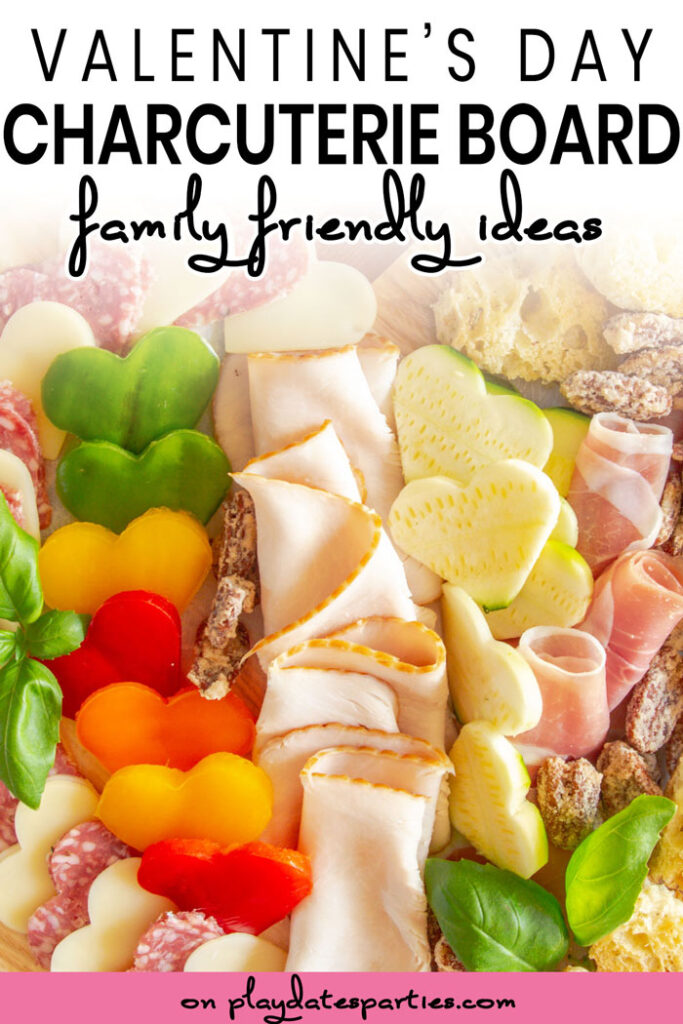 Back when I worked in catering, we served a lot of cheese boards. In fact, I would say they were a party menu staple.
It makes sense. They can easily be made in advance, they serve a lot of people with little work, and everybody loves them.
These days, it's all about charcuterie boards. Which is really just a fancy way of saying 'cheese board with meats and other extras.'
But I recently had the idea to make a Valentine's Day charcuterie board for our family dinner.
What to put on a charcuterie board:
The only staples for charcuterie boards are meat and cheese. There's no right or wrong choices, it's all about your preferences.
Since we made this to be kid-friendly, I included the following:
Deli Turkey
Salami
Prosciutto
Bell Peppers
Swiss Cheese
Zucchini
Toasted Ciabatta bread, and
Add your name and email address below and I'll send this cheat sheet- showing exactly how much food to make for your parties – straight to your inbox!
Note: When you click the button, you agree to this site's privacy policy. You'll also receive exclusive marketing content from Playdates to Parties. You may unsubscribe at any time.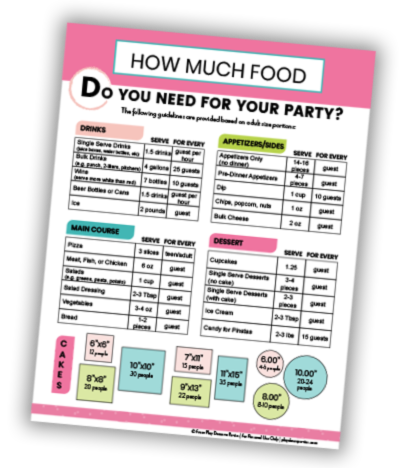 Some other ideas for charcuterie boards:
Fresh or dried fruits (such as grapes, craisins, and apple slices)
Sliced ham
Cubed or sliced hard cheeses
Roasted nuts
Pumpkin or sesame seeds
Cornishon (little pickles)
Olives
Small bowls of roasted bell pepper slices
Figs
Dates
Crackers
Dark chocolate chunks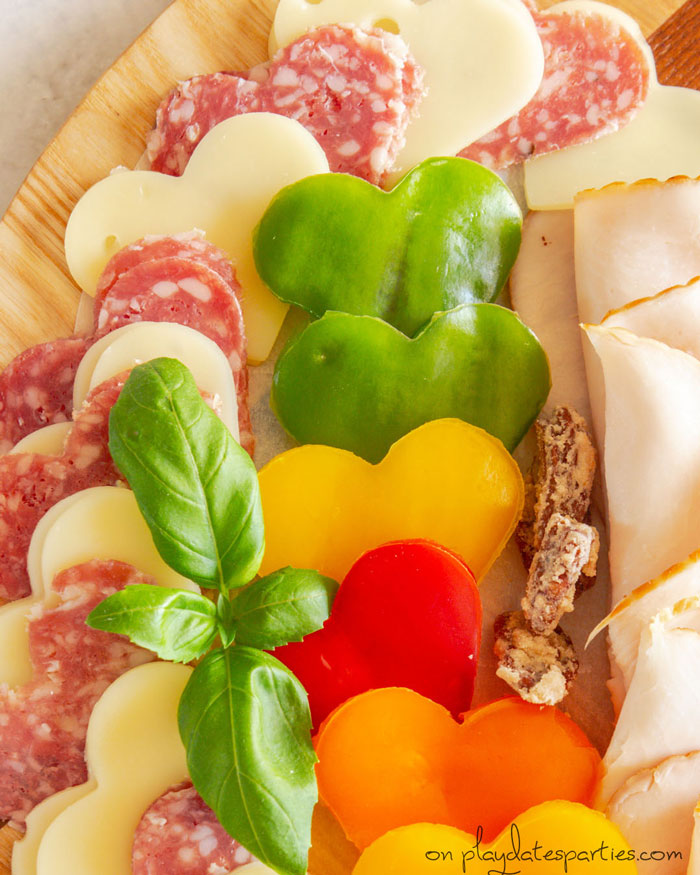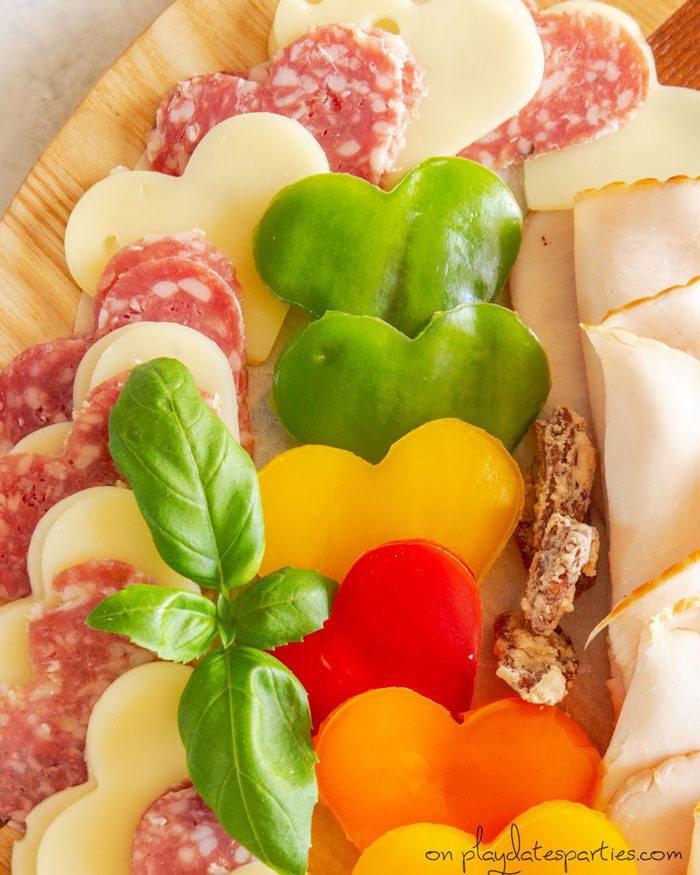 What to avoid:
I don't recommend using soft cheese wedges, cheese balls, or any whole cheese wedges when you're going for the packed charcuterie board look.
Don't misunderstand me, I love a good self-serve cheese board. But don't make your guests uncomfortable by making them worry they are going to spill food everywhere.
I get it. Jam-packed charcuterie boards are pretty. But unless you leave plenty of space around cheese wedges (especially soft cheeses), it will be difficult for guests to cut them, and will make a mess of the rest of the ingredients.
Charcuterie boards are best when the ingredients are easily picked off the board – no cutting necessary.
Heart-Shaped Charcuterie:
Perhaps my favorite part of the Valentine's Day charcuterie board is that most of the foods were cut into heart shapes, and it was all even arranged in the shape of a heart.
Though, to be honest, cutting out all those hearts took a lot longer than it would to just arranging simple slices on a board. I took a few shortcuts when possible, like stacking the salami and cheese to cut multiple hearts at once. But overall, it took about 30-40 minutes of actual prep time.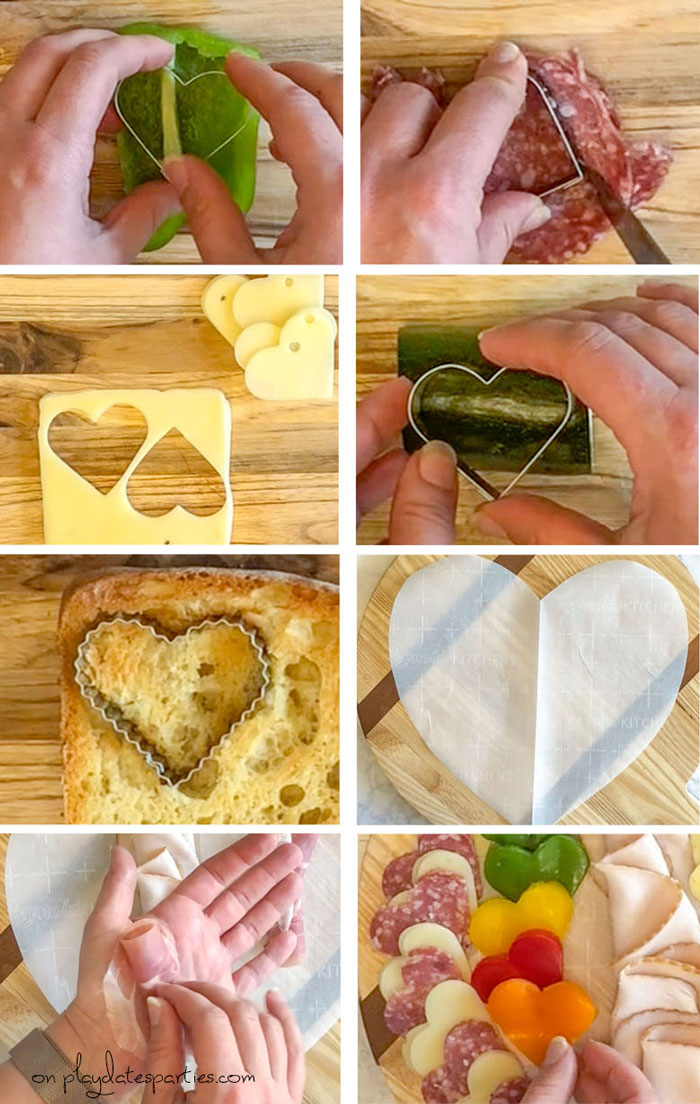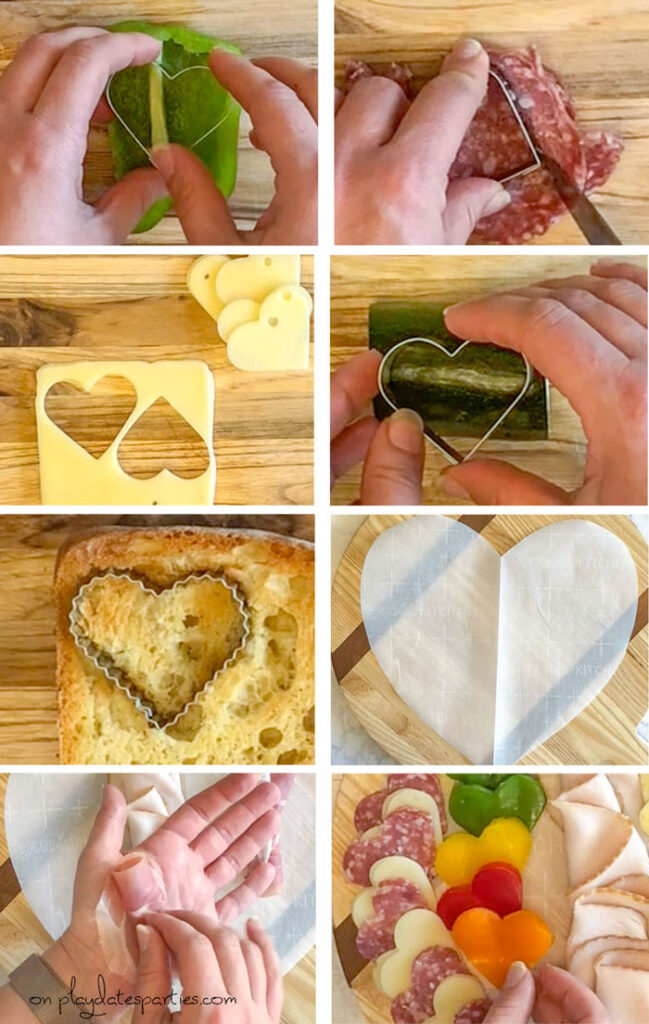 What to do with the food scraps?
The parts of the food that aren't on the charcuterie board don't need to go to waste! Here are some of the ways we used up the scraps from all those adorable hearts:
Use them as salad toppings
Cook the leftover vegetables in pasta sauce
Place extra bread into a food processor to make bread crumbs
Watch the Video
What You'll Need:
Heart Shaped Cookie Cutters (I used these)
Cutting Board
Paring Knife
Bread knife
Parchment paper
More Popular Valentine's Day Posts
Yield: 1 board
Valentine's Day Charcuterie Board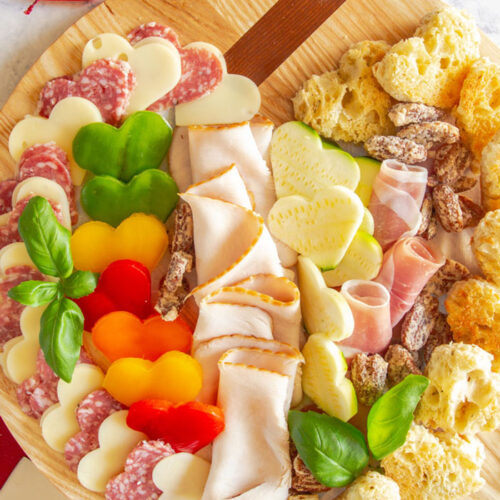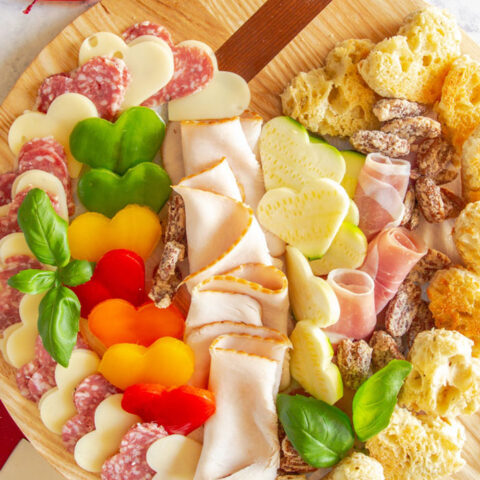 Spread the love with a Valentine's Day charcuterie board made with heart shaped meats, cheeses, vegetables and croutons.. It's perfect for a family dinner or as an appetizer board for a small party.
Ingredients
1/2 green bell pepper
1/2 red bell pepper
1/2 yellow bell pepper
1 loaf ciabatta bread
1 Tbsp butter, melted
½ tsp sea salt
½ tsp black pepper
16 oz salami
4-6 oz sliced swiss cheese
4-6 slices slices deli smoked turkey
4-6 slices prosciutto
1 zucchini
½ cup pecans
Instructions
Prepare the Heart-Shaped Ingredients:
To Make Bell Pepper Hearts:
Cut the sides off of the bell peppers and trim off any remainings seeds and veins.
With the skin side down, press a heart-shaped cookie cutter through the flesh of the peppers.
Peel back the remaining bell pepper flesh to reveal a heart. You may need to use a paring knife to cut around the cookie cutter.
Repeat until all the bell peppers are cut
To Make Cheese Hearts:
Stack 3 - 4 slices of deli swiss cheese on a cutting board.
Press a small heart-shaped cookie cutter through the cheese.
Repeat until all cheese is cut into hearts.
To Make Zucchini Hearts:
With the ends of a whole zucchini trimmed, cut a zucchini into sections slightly larger than your cookie cutter, about 2 inches wide.
Trim the peel off of one side of the zucchini to create a flat area.
Place a zucchini section, flat side down on a cutting board.
Press a heart-shaped cookie cutter through the zucchini, trimming excess off with a paring knife as needed and then removing the zucchini from the cookie cutter.
Thinly slice the zucchini heart.
Repeat with remaining zucchini sections.

To Make Ciabatta Hearts:
Preheat your oven to 350 degrees Farenheit.
Cut a loaf of ciabatta bread in half lengthwise.
Brush the inside of the loaf with 1 tablespoon melted butter and sprinkle with salt and pepper.
Place ciabatta bread halves on a baking sheet and bake for 12-15 minutes, until golden brown and crispy. Allow to cool.
Once the bread has cooled enough to handle, remove the ciabatta bread to a cutting board, and use a small heart-shaped cookie cutter to create heart-shaped croutons. You may need to trim the bread around the cookie cutter with a paring knife.

Assembling the Charcuterie Tray:
Optional: Cut a piece of parchment paper roughly equal in size to your charcuterie board. Fold the parchment paper in half and cut out a heart shape. Place the parchment paper on the charcuterie board as a guide to create a heart-shaped display.
Start by placing the biggest items on the tray first - the deli turkey and prosciutto. Neatly fold each deli turkey slice and arrange the slices so they slightly overlap each other.
Roll up each slice of prosciutto and arrange in a similar manner to the turkey.
Place zucchini hearts between the turkey and prosciutto.
Alternate salami and Swiss cheese hearts around the left edge of the board, overlapping slightly.
Arrange overlapping ciabatta hearts around the right edge of the board.
Fill in remaining areas with bell pepper hearts and candied pecans.
Nutrition Information:
Yield:
8
Serving Size:
1
Amount Per Serving:
Calories:

834
Total Fat:

55g
Saturated Fat:

24g
Trans Fat:

1g
Unsaturated Fat:

26g
Cholesterol:

171mg
Sodium:

2435mg
Carbohydrates:

35g
Fiber:

3g
Sugar:

6g
Protein:

50g
__________________________________ The nutrition information provided above is estimated using an automated calculation system. Actual nutrition will vary depending on brand and measurements used in your recipe. To obtain the most accurate representation of the nutrition information for any given recipe, you should calculate the nutritional information using the actual ingredients you used in your recipe.
Now It's Your Turn
Nope, a Valentine's Day charcuterie board doesn't have to be just for big partie or adults. By combining adult favorites like prosciutto with kid friendly favorites (like deli turkey and cheese, and toasted bread or crackers) everyone in the family can enjoy their favorite mini heart shaped sandwiches. And that's definitely something to love.
---