As I mentioned yesterday, a part of me really wants to host my family for a Mother's Day brunch this year. There's just something so special about brunch. Champagne and vodka are suddenly a-okay as morning drinks as long as you mix in some fruit or vegetable juice. Most breakfasts around here are limited to cereal, oatmeal, or greek yogurt. But once someone says brunch I'm imagining stacks of pancakes, french toast with berry compote, omelets, and stratas. If I could live out my dreams, I might make something like these tasty treats: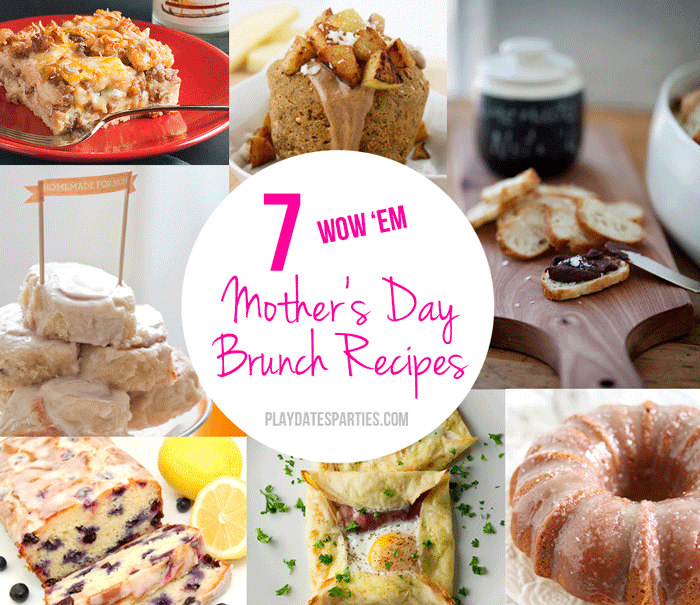 Mother's Day Brunch Recipes:
(from top left to bottom right)
Sausage & Apple Overnight Casserole from Real Mom Kitchen
Cinnamon Apple Bake from Natural Noshing
Nutella with French Bread & Sea Salt from A Cup of Jo
Homemade Cinnamon Rolls with Grand Marnier Icing from Sugar and Charm
Lemon Blueberry Yogurt Loaf from Sweet Pea's Kitchen
Ham and Egg Crepe Squares from Framed Cooks
Salted Caramel Cake from The Tasteful Life
That said, I only have a few weeks left until my due date, we have a party to attend on Saturday, and still haven't finished the nursery. So we're probably still going to keep things simpler than even the recipes above.  Nothing too fancy, but a nice display and some tasty food. We'll most likely stick with my standby menu of fresh fruits and berries, breakfast breads, and a make-ahead egg dish. It may not be much but sometimes all you need is a meal that's simple, tasty, and filling.  But someday I'll make those brunch dreams come true.
Do you make brunch for Mother's Day?
If you could only have one of the recipes above which would you want?
What are your favorite Mother's Day brunch recipes?