This classic Shirley Temple recipe is a favorite for kids and adults. The pretty color and refreshing flavor make it a classic non alcoholic drink option for parties and gatherings.
All it takes are a few ingredients from your kitchen and less than five minutes to bring out that big, beautiful Shirley Temple grin. So go ahead and give it a try – we think you'll be hooked!
Why We Love This Shirley Temple Recipe
It's pretty! You know I love color, and the bright pink-red hue of this drink is extra cheerful
It makes the kids feel special. Do you remember how grown up you felt when you could order a Shirley Temple as a kid? Now you can give your kids that same feeling right at home!
It's fast! You barely even need 5 minutes to pull together this Shirley Temple recipe…which means it's great for last-minute celebrations, too!
It's a Small Batch Recipe – We don't always need a big bowl of party punch, which is why every hostess should be able to make a few single serve mocktails like this.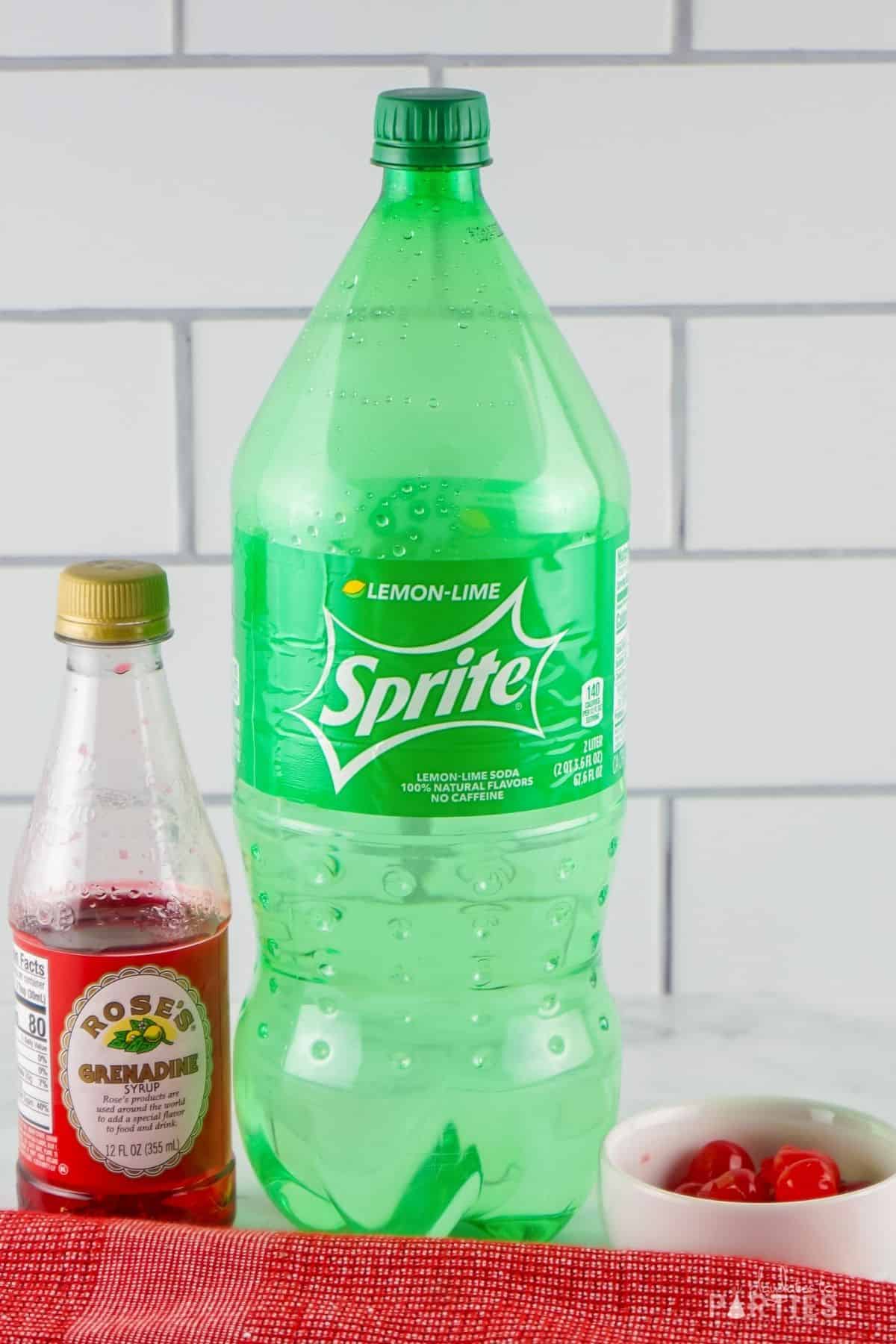 What You'll Need:
Ingredients:
Lemon Lime Soda
Maraschino Cherries
Ice (optional)
Equipment:
How to Make a Shirley Temple:
To make things even easier for you, I created a simple photo guide below. For all measurements and a more detailed guide, check out the recipe card at the bottom of this page.
If you make this recipe, please leave a ⭐️⭐️⭐️⭐️⭐️ star rating in the recipe card and let me know how it turned out in the comments below. This provides helpful feedback for me and to other readers. And if you want more fun party ideas, subscribe to my newsletter and follow along on Instagram, Pinterest, and Facebook.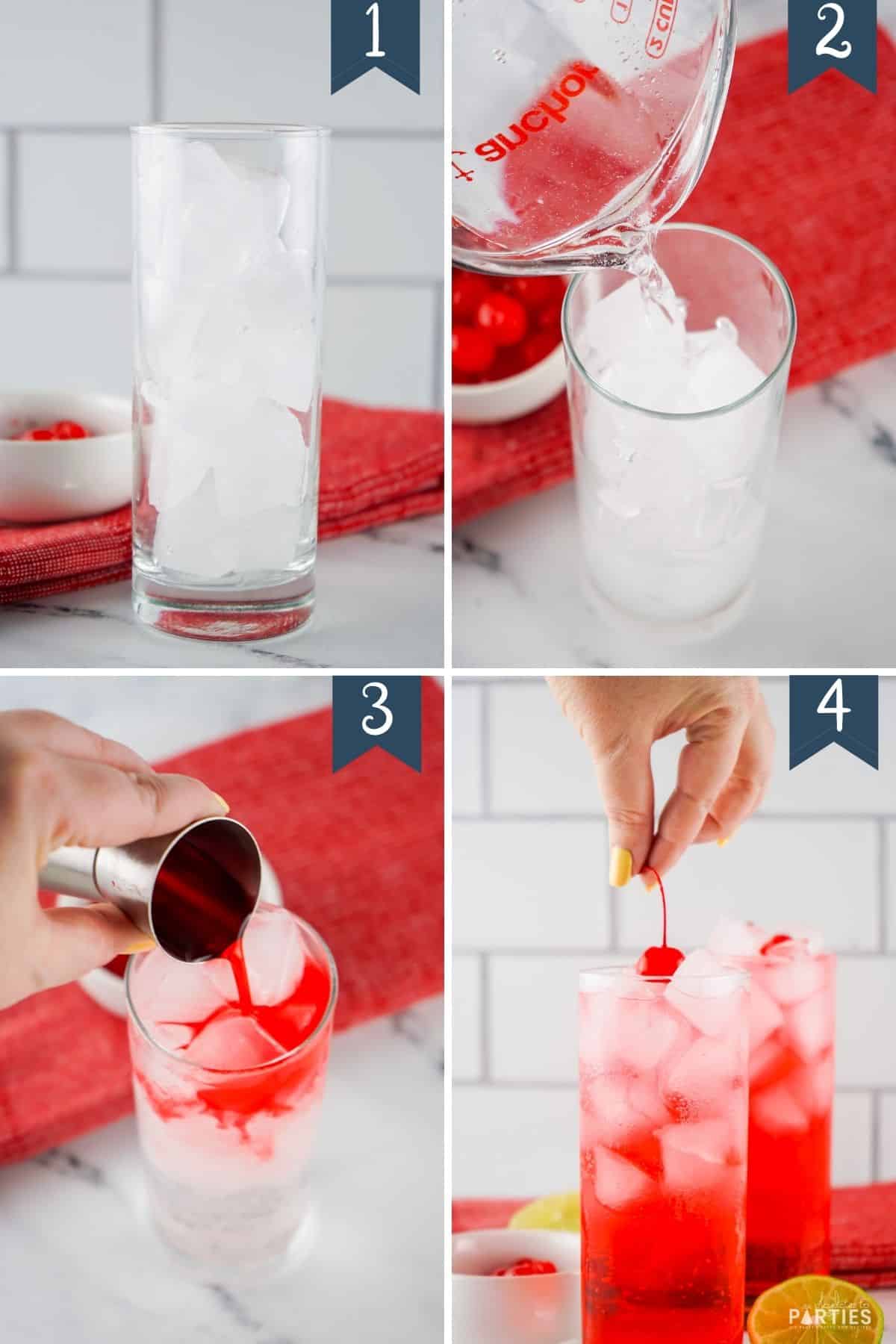 Fill a tall cup, or highball glass with ice. (Ice isn't necessary, but does keep your drink nice and cold!)
Add lemon lime soda.
Top with grenadine. Stir lightly.
Garnish with maraschino cherries, or lime slices. Enjoy!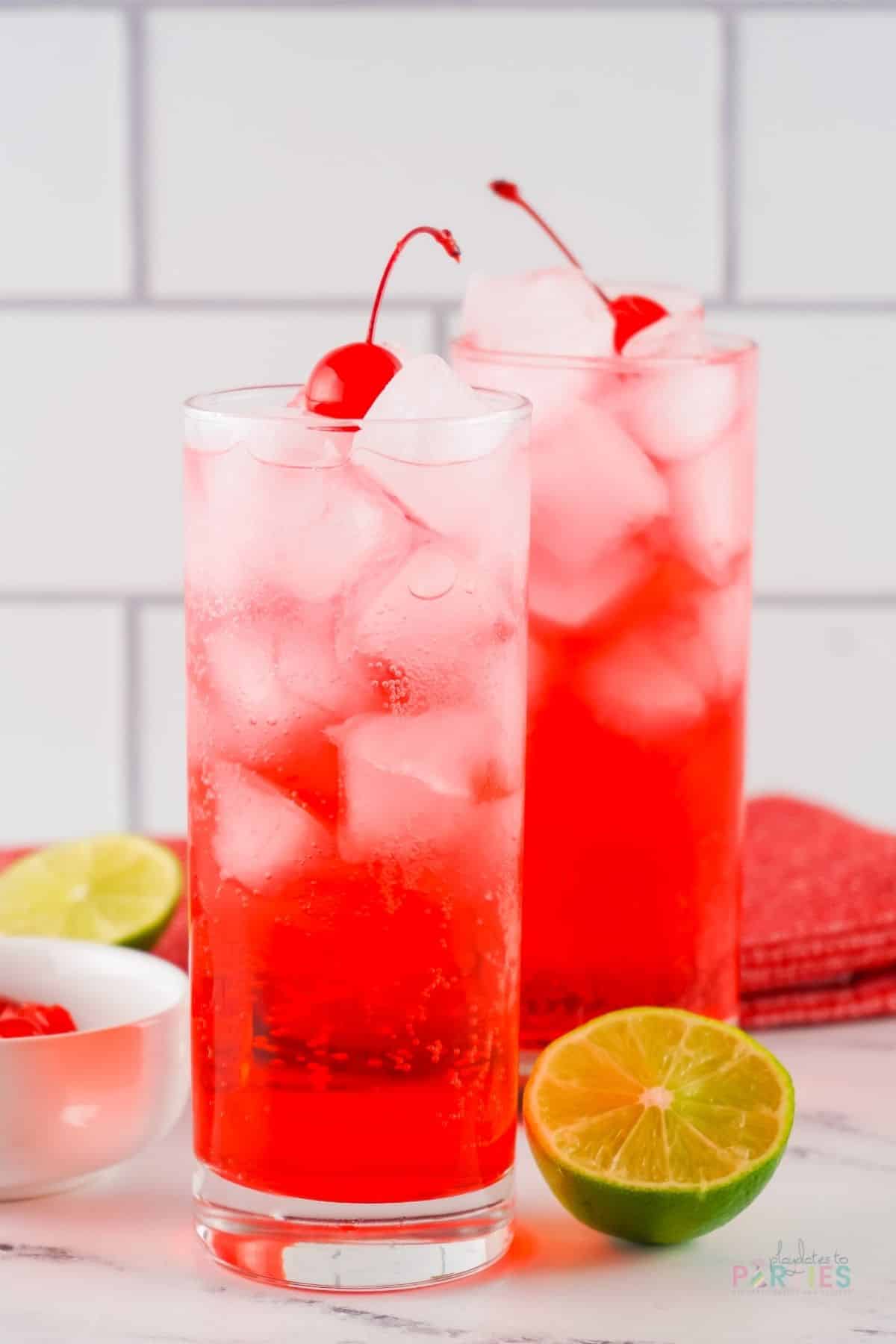 Essential Tips:
Don't skip these tips – read them before mixing to avoid any potential mistakes.
For a more arresting presentation…
You can make the drink layered. Simply tilt the glass at a slight angle and pour the grenadine down the side of the glass.
Don't forget to stir it all together before drinking. No one wants a mouthful of just grenadine.
Don't over mix your Shirley Temple
Once you add the soda and grenadine, you only need to stir a couple times toto mix the ingredients. Mixing much more than that will cause the carbonation to dissipate, which will make the drink less refreshing.
Feel free to adjust the proportions
The ratio in this recipe (8 ounces soda to 1 ounce grenadine) is fairly standard. However, if you're serving small kids, you may wish to use smaller glasses. Feel free to play around with the proportions to fit the cups you have on hand.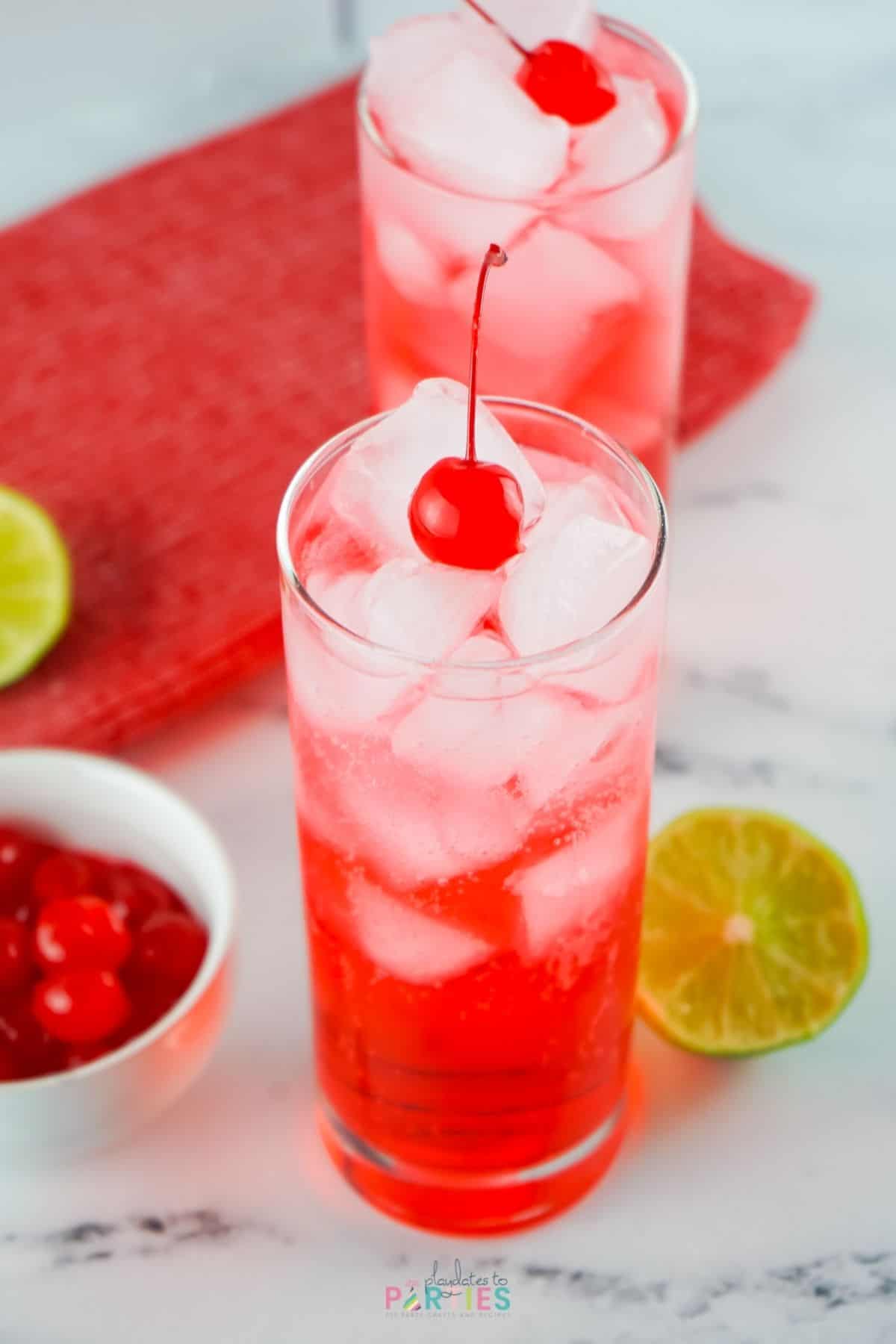 Common Substitutions:
Grenadine: If you run out of grenadine, you can substitute the syrup from a jar of maraschino cherries, though the flavor won't quite be the same.
Lemon Lime Soda: We've updated the classic ginger ale with a brighter, citrusy lemon lime soda. Feel free to substitute one for the other, or serve a combination of both.
Garnishes: We all know and love a colorful maraschino cherry in our Shirley Temple, but you could also garnish with a lemon or lime slice to shake things up a bit.
Shirley Temple Recipe Variations:
There are several variations of this mocktail. Here are a few of the most common:
How to Make a Dirty Shirley Temple
Did you know there's actually an alcoholic version of this recipe too? It's called a Dirty Shirley Temple…but it's not as naughty as it sounds:
7 Ounces Lemon Lime Soda
1 Ounce Vodka
1 Ounce Grenadine
1 Maraschino Cherries
For those of you who are looking to scale this recipe up or down, all you need to do is replace one ounce of lemon lime soda with an ounce of vodka…and there you have it!
How to Make a Roy Rogers
Confession: I never heard of a Roy Rodgers drink until I worked for a man with two sons, and I can tell you, I was missing out.
A Roy Rodgers drink is similar to a Shirley Temple. The only real difference is that it uses regular soda (Coca-Cola or Pepsi) instead of lemon lime soda:
8 Ounces soda
1 Ounce Grenadine
Maraschino Cherries for garnish
Hosting a Party? Set up a bar with grenadine, maraschino cherries, lemon lime soda, and regular soda. Add a sign with the Roy Rodgers and Shirley temple recipe (you can find pretty blank signs here). Then let your guests enjoy mixing their own drinks.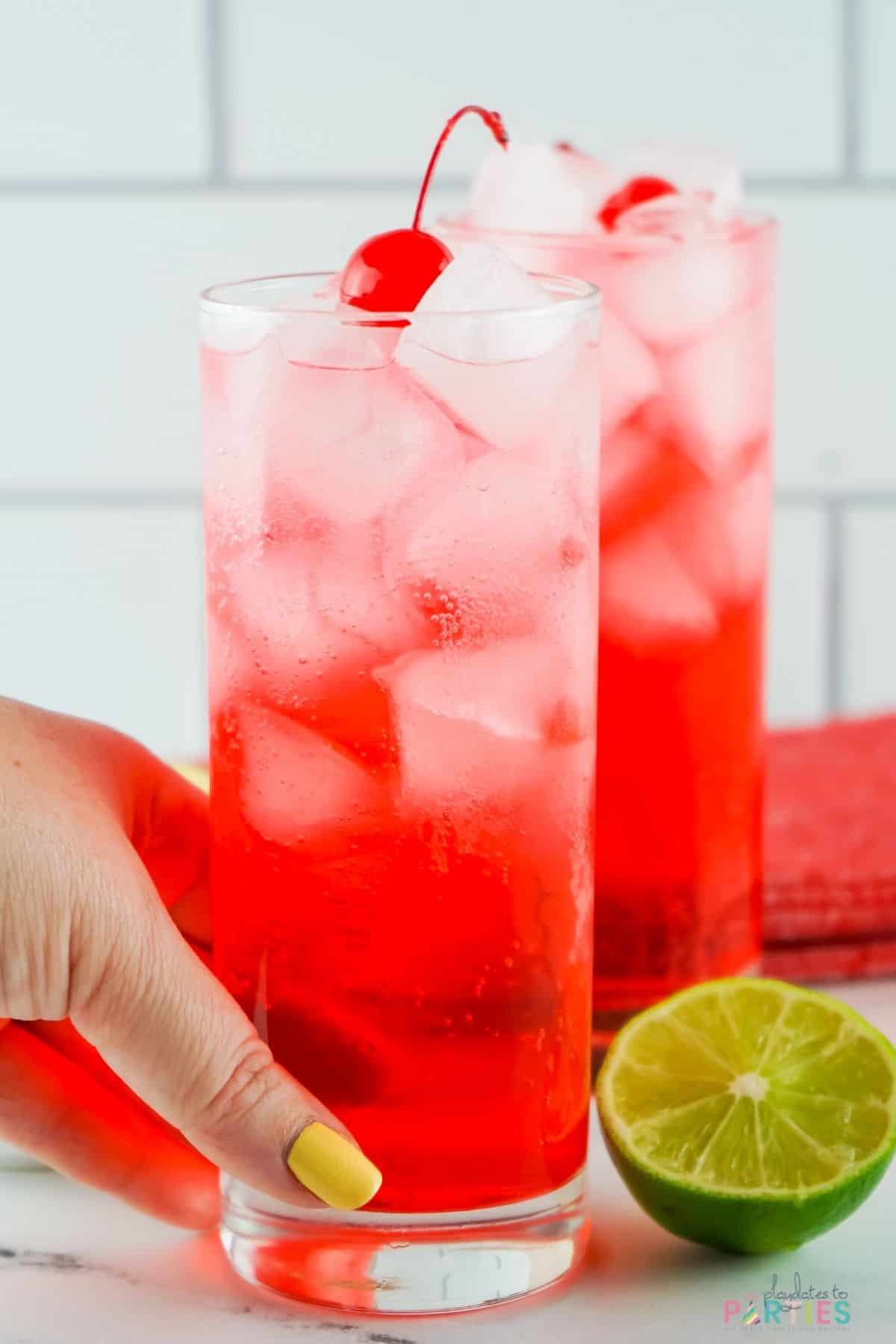 More fruity variations for your Shirley Temple
Fun fact: Making a Shirley Temple with orange juice is a fairly common variation. Instead of 8 ounces of lemon lime soda, mix 1 ounce grenadine with 4 ounces lemon lime soda and 4 ounces orange juice.
There's no need to stop there, either. Have fun and adapt your Shirley Temple with other fruity additions like cranberry juice, grapefruit juice, fresh strawberries, or fresh raspberries.
Just remember, whatever type of fruit you choose will enhance either the grenadine's sweetness or its tartness.
FAQs:
What is Grenadine? Does grenadine have any alcohol in it?
Grenadine is a non-alcoholic, pomegranate flavored fruit syrup. It tastes both sweet and tart without being too heavy.
Known mostly for its deep red color, grenadine is used in mixed drinks (like the Shirley Temple) to add both color and sweetness. You can find it in most grocery stores in the drink mixers aisle.
Why is it called a Shirley Temple cocktail?
This mixed drink was named after the famous child actress Shirley Temple. Accounts of the origin of the Shirley Temple drink vary. Ironically, however, the actress herself didn't care for the sweetness of the drink.
Even still, the Shirley Temple drink is a beloved drink by kids and adults. It's also one of the most requested mocktails at restaurants and bars around the country.
How long does an old Shirley Temple stay fresh?
It's best to drink your Shirley Temple mocktail right after mixing it. As the ice melts, the flavor gets watered down, the soda loses its fizziness, and the grenadine can start to taste bitter.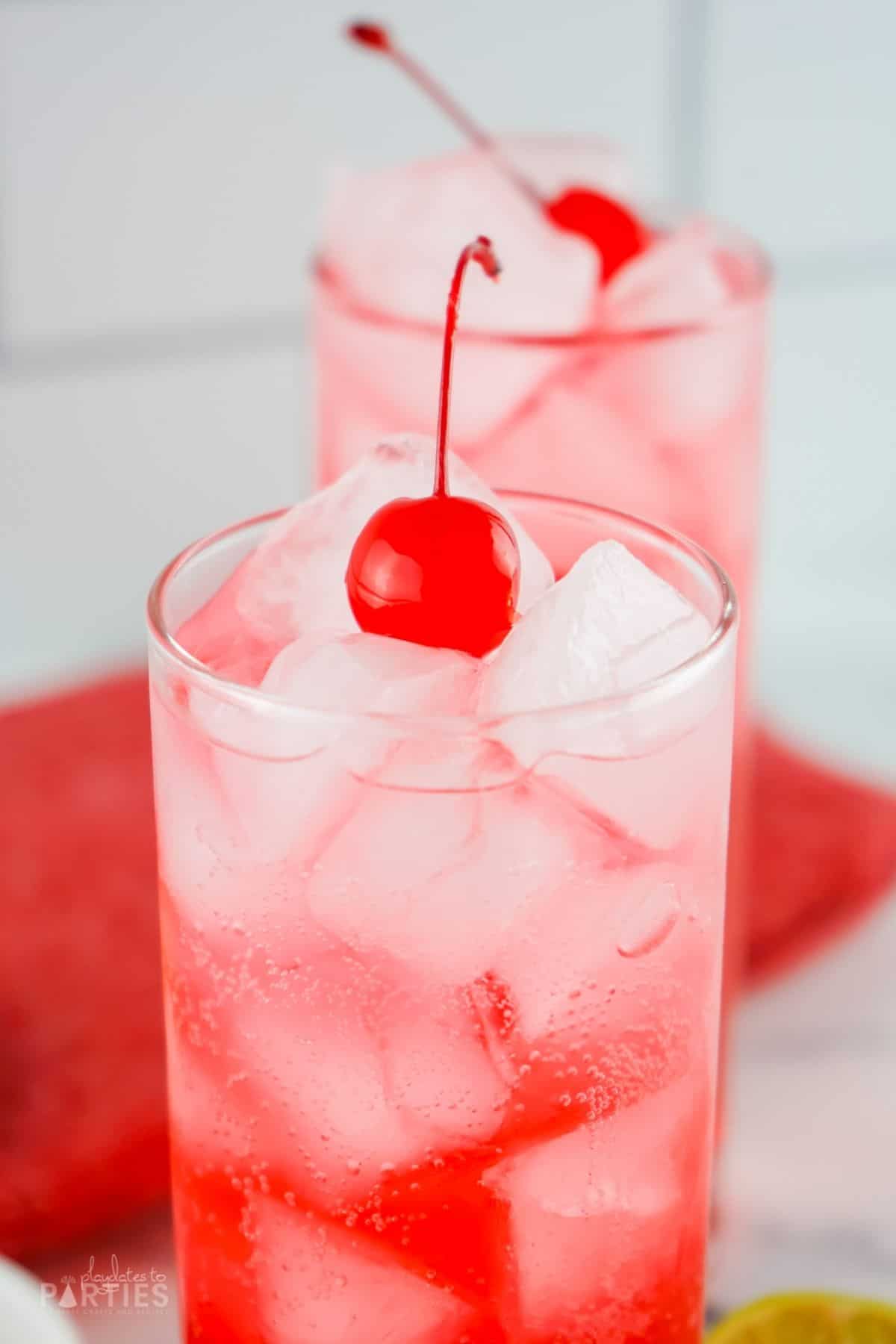 If you liked my Shirley Temple Recipe, you're going to love my Cherry Ginger Mock Margarita. Similar in flavor to the Shirley Temple, this half drink half dessert recipe is made even more festive with a pink sherbet wreath in the center.
Or you can check out my other drink recipes here.
Yield: 1 Shirley Temple
Shirley Temple Recipe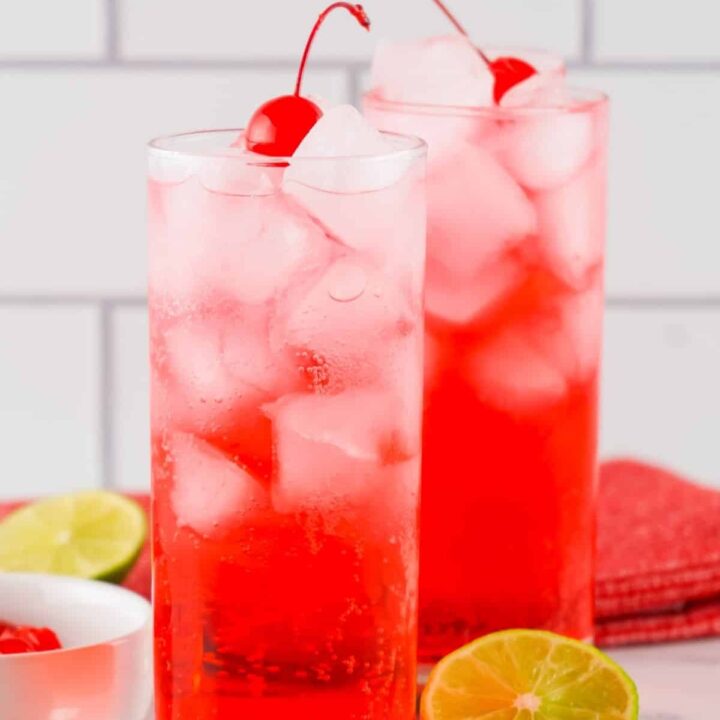 This classic Shirley Temple Recipe is a favorite for kids and adults thanks to its pretty color, refreshing flavor, and no alcohol required.
Ingredients
8 Ounces Lemon Lime Soda
1 Ounce Grenadine
Maraschino Cherries
Ice (optional)
Instructions
Fill a tall cup or highball glass with ice. (Ice isn't necessary, but does keep your drink nice and cold!)
Add 8 ounces lemon lime soda. Top with 1 ounce grenadine. Stir lightly.
Garnish with maraschino cherries, lime slices, or other fruit. Enjoy!
Notes
Remember, to check out the substitutions and variations in the recipe post for more ways to enjoy your Shirley Temple.
Recommended Products
As an Amazon Associate and member of other affiliate programs, I earn from qualifying purchases.
Nutrition Information:
Yield:
1
Serving Size:
1
Amount Per Serving:
Calories:

185
Total Fat:

0g
Saturated Fat:

0g
Trans Fat:

0g
Unsaturated Fat:

0g
Cholesterol:

0mg
Sodium:

34mg
Carbohydrates:

47g
Fiber:

0g
Sugar:

41g
Protein:

0g
__________________________________ The nutrition information provided above is estimated using an automated calculation system. Actual nutrition will vary depending on brand and measurements used in your recipe. To obtain the most accurate representation of the nutrition information for any given recipe, you should calculate the nutritional information using the actual ingredients you used in your recipe.
---