I'm back again today to share with you more about how T and I dedicated one week of our summer together last year to an at-home kid's cooking camp. Having spent our Monday making applesauce in the crockpot, and learning about key concepts like kitchen safety and hygiene, I decided to up the ante just a little bit. On Tuesday, T graduated from using the slow cooker to using her oven mitts with a basic banana bread.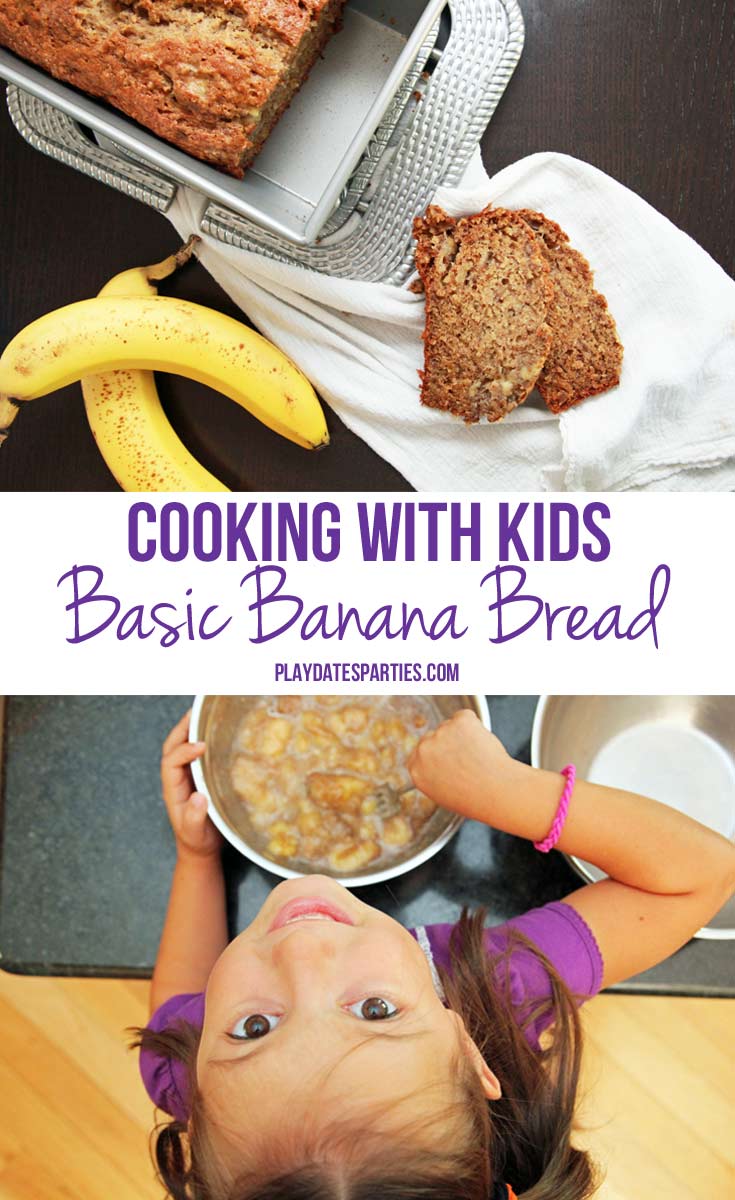 Quick breads are a fun way to introduce baking to kids – and I think of banana bread as the quintessential quick bread. Unlike a lot of cookies, quick breads don't require resting between mixing and baking; and the result is almost always delicious. We used the opportunity to learn about safety around ovens, how to crack an egg (we use the same method as Joy the Baker) and a little bit about the chemical reactions that make the bread rise up while it's baking.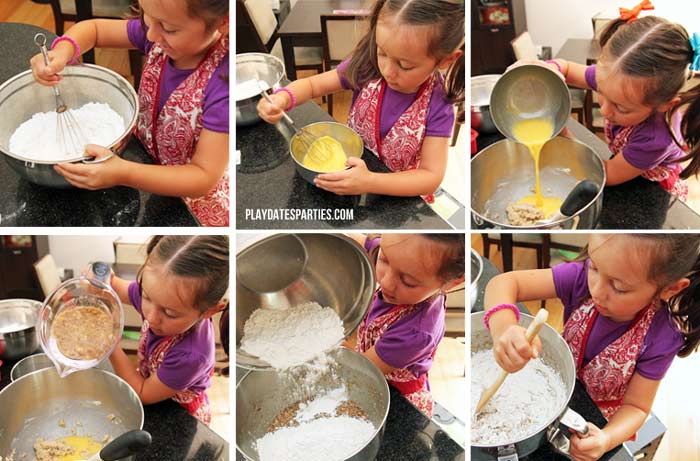 I remember my father baking banana bread as a kid, and loving the deep brown color and rich flavor. The only hint he ever gave me is that he used brown sugar, and I already knew the bananas he used were the overripe leftovers that were kept in the freezer until there were enough to make a batch of his delicious bread.
But in my own search for the perfect banana bread recipe, I've seen countless variations. From brown vs. white sugar to a combination of the two, softened vs melted butter, how many bananas to use, sliced vs. smashed bananas, and even whether or not to include seasonings. After all these years of searching, I think that T and I hit on a winner. We just made a basic bread, without any additions, but I wouldn't hesitate to make it again with whatever goodies we had on hand. Perhaps some mini chocolate chips, or mini M&Ms if I want to treat the kids. If I'm feeling like I want to reduce the sugar content, I might compensate by adding dates or raisins. It would even be delicious with a streusel topping or a powdered sugar glaze for a special occasion.
The end result to this recipe is a moist, dense bread. You can try to keep some for leftovers, but good luck. It was hard enough just getting these photos before the whole loaf was devoured by our family within a couple days.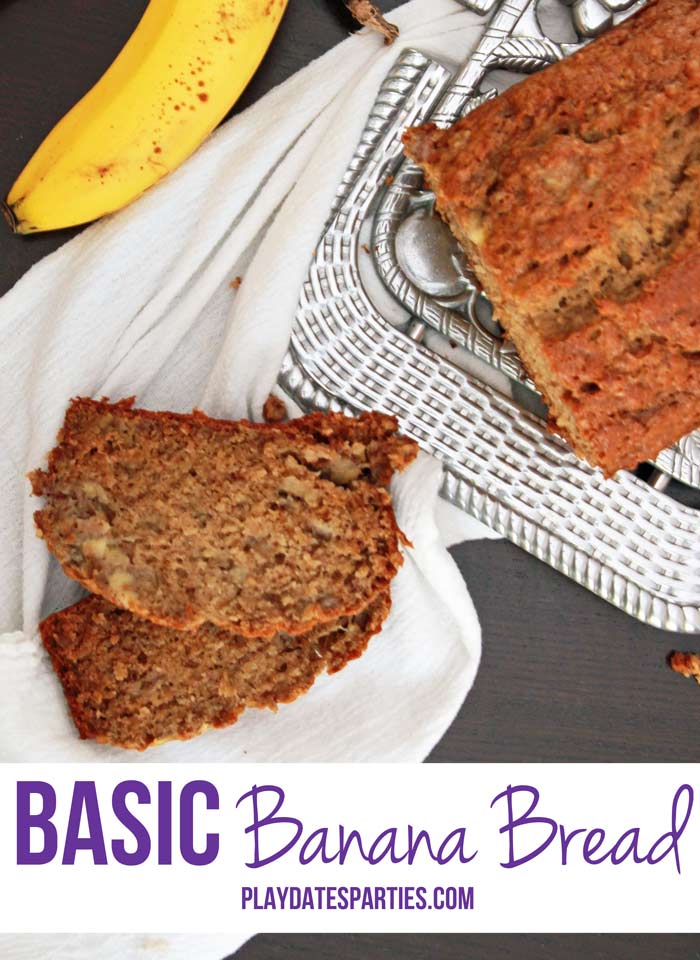 Basic Banana Bread
(adapted from allrecipes.com)
Makes 12 Servings
Ingredients
2 cups all-purpose flour
1 teaspoon baking soda
1/4 teaspoon salt
1/2 tsp cinnamon
1/8 tsp cloves
1/2 cup softened butter
3/4 cup light brown sugar
2 eggs, lightly beaten
5 large, very ripe bananas, (about 2 cups once mashed)
1/2 tsp vanilla extract
1 Tbsp light brown sugar
1/2 – 1 Tbsp water
Directions
Preheat oven to 350 degrees F.  Lightly grease a 9×5 inch metal loaf pan with butter. Be sure to get in all the corners.
Using a whisk, combine flour, baking soda, salt, cinnamon, and cloves in a large bowl.
In a medium bowl or large measuring cup, mash bananas with a fork.
Prepare butter by softening in a microwave, 10 seconds at a time until it can be stirred with a spoon, but is not completely melted.
In a mixing bowl, combine softened butter and brown sugar. Combine on low speed until creamy. Stir in eggs, mashed bananas, and extract by hand until well blended.
Pour banana mixture into flour mixture and stir until just moistened. Do not over stir. Pour batter into prepared loaf pan.
Combine 1 Tbsp brown sugar and water. Brush on top of banana bread. (This will create a sweet, almost crunchy crust)
Bake in preheated oven for 50 to 60 minutes, checking at 45 minutes. Remove from oven when a toothpick inserted into the center of the loaf comes out clean. Cool in the pan for 10 minutes, then turn out onto a rack to cool.
What's your favorite banana bread addition?
Do you bake with your kids?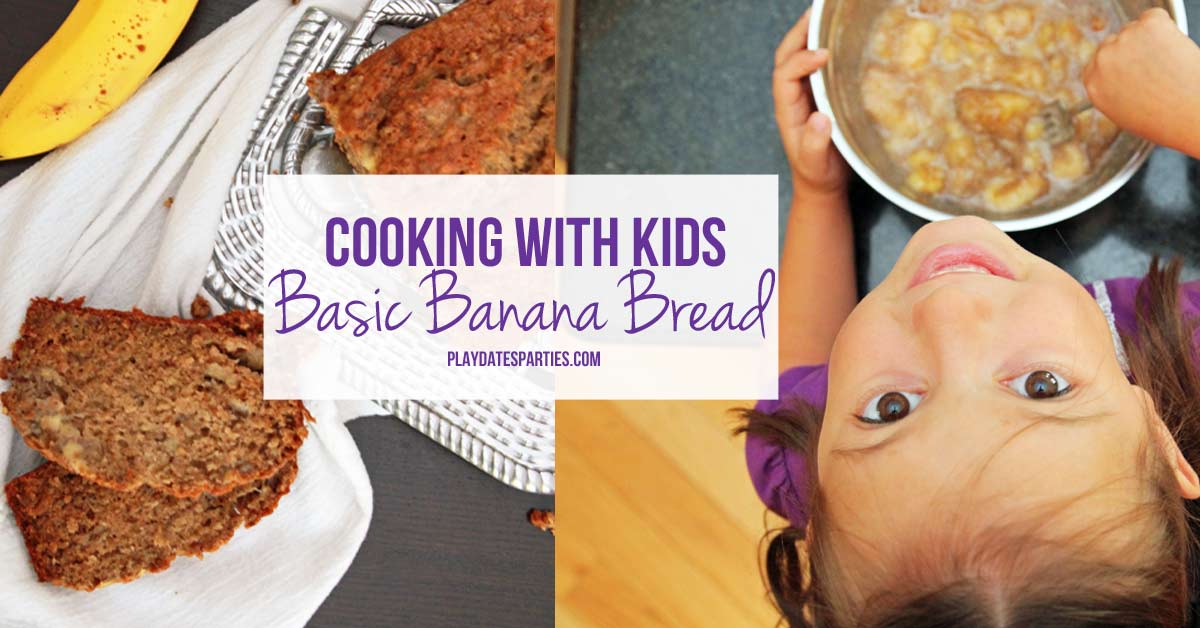 Subscribe via
Bloglovin, Facebook and Twitter
to get more updates!
More on Kids Cooking Camp:
[pt_view id="4c6c957391″]