Get a healthy and tasty start to your day by grabbing a bite of this easy make ahead breakfast quinoa bake with eggs, spinach, and tomatoes.
Given the choice between a cold bowl of cereal, or a warm tasty breakfast casserole, which would you choose?
Oh, you know you would pick the casserole! It's January and temperatures are freezing outside. Who wants a cold breakfast in that weather? I know I don't.
What if I told you that you could have this breakfast quinoa bake ready to go for busy school mornings?
And that it can be portioned out so you know you're staying on track?
Not to mention, the casserole is filled with high protein grains, and loaded with veggies, so it's also a fantastic option for the low-carb crowd.
Yep. All of the above.
Breakfast Quinoa Bake with Eggs, Spinach, and Tomatoes
Now, let's clarify something: I'm not on a low-carb diet.
My goal these days is to find an easy grab-and-go breakfasts that get some vegetables in my body straight away (because we all could use more of those) and has as close to 20 grams of protein in it as possible.
And in all honesty, it's been tough to get there.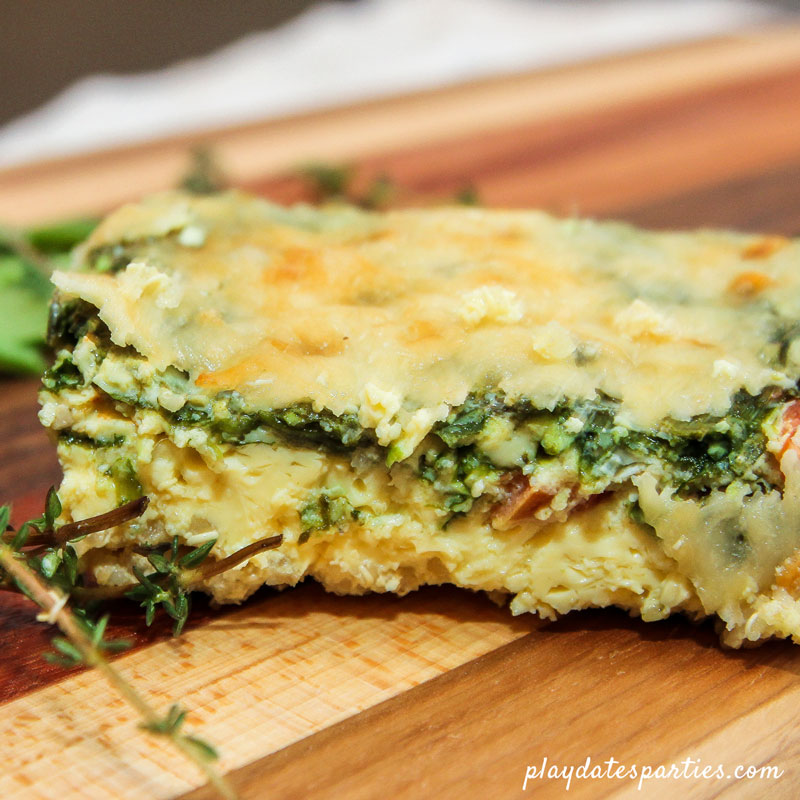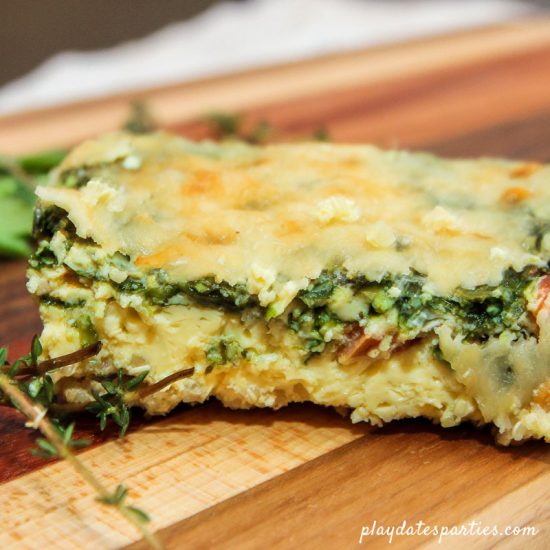 Which is why I love this breakfast quinoa bake. It doesn't quite hit the 20 gram mark on the protein scale, but it has plenty of vegetables, and is filled with high-protein, high-fiber quinoa.
If you look at the nutrition information listed below, you may balk at the percentage of fat, which comes mostly from the egg yolks and cheese topping. To reduce the fat, you can try the following:
Reduce the cheese by 1/4 or 1/2 cup. (I can't help but pile the cheese on sometimes…it's just so good!), or
Substitute 2 egg whites or 1/4 cup egg substitute for the whole eggs.
Now, if you do this, I can't guarantee that it will taste or set up the same as mine, but you know what macros you're going for with your own diet.
Make Ahead Breakfast
Okay, so we've established that this breakfast quinoa bake is awesome from a nutritional perspective, but most casseroles don't actually make the best grab-and-go breakfasts, right?
Well, not this time!
You see, this recipe bakes up to a nice firm consistency, which means you can easily cut it into eggy, quinoa breakfast bars! Then, you can package them up individually to grab just what you need in the morning. Enjoy them cold or warm them up in the microwave (I'm whole-heartedly in the warm food camp right now!)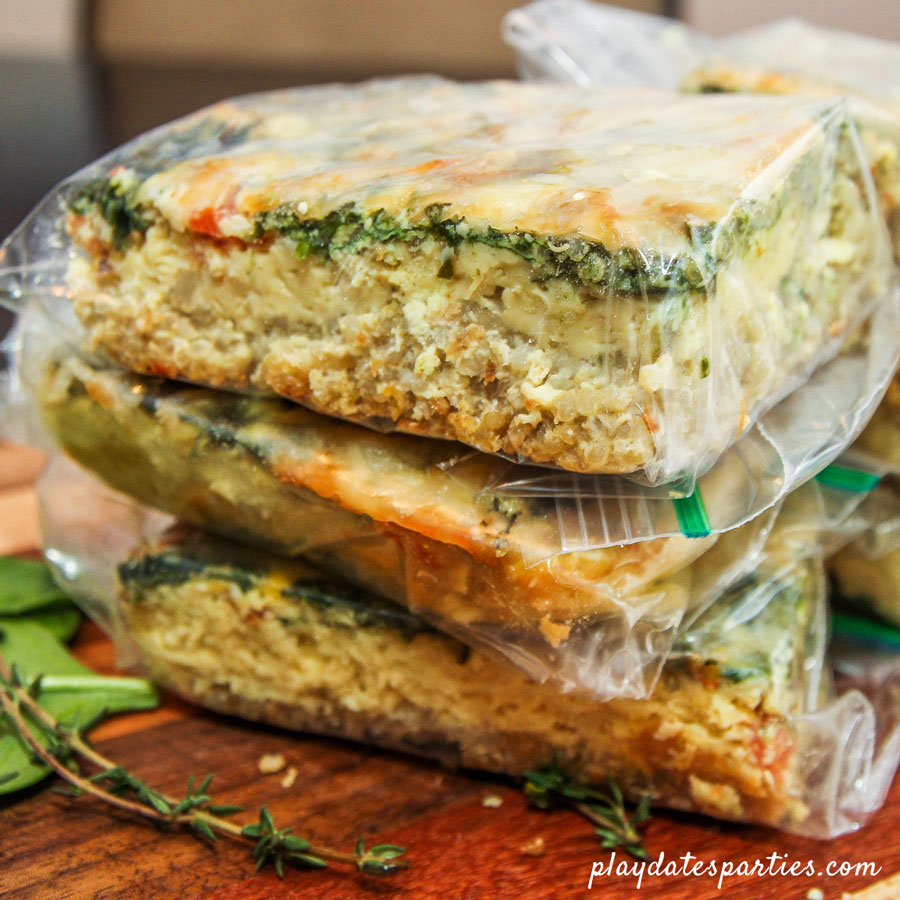 Totally awesome, right?
Well, maybe too awesome. The husband liked these so much he polished off all my quinoa breakfast bars by mid-week. Whomp whomp.
Next time, it'll be a double batch.
Make Sure You Use the Right Pan
You can see from the pictures above that I used a metal baking pan for this recipe, which is totally fine. But I definitely recommend using a glass pyrex pan instead. That way you can see that the quinoa has settled properly before baking.
(Plus, if you use the glass pan from my favorite baking set ever, you can just slice the bars up, put the lid on the pan and be done with it. No plastic baggies required!)
Breakfast Quinoa Bake Recipe
Yield: 6 bars
Breakfast Quinoa Bake with Eggs, Spinach, and Tomatoes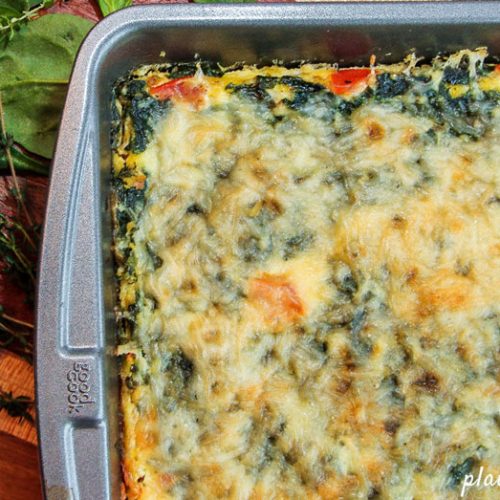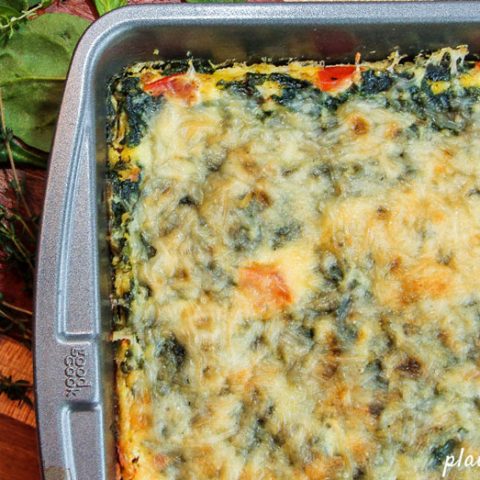 Get a healthy and tasty start to your day by grabbing a bite of this easy make ahead breakfast quinoa bake with eggs, spinach, and tomatoes.
Ingredients
1 teaspoon butter or butter substitute
1/2 cup uncooked quinoa
8 eggs
1 1/4 cup 1% milk
1 tablespoon chopped garlic
1 teaspoon chopped fresh thyme
1/2 teaspoon salt
1/2 teaspoon pepper
2 cups packed baby spinach, roughly chopped
2 to matoes seeded and chopped
1 cup finely shredded Parmesan cheese
Instructions
Preheat oven to 350°F.
Use butter to grease a square metal or glass baking dish.
Rinse quinoa under running water in a fine mesh strainer until water runs clear. (Tip: Rinsing quinoa gets rid of the soap-like saponins that occur on the outside of the grain. Some brands of quinoa don't include directions to rinse. Check the directions on your container if you're not sure.)
In a large bowl, whisk together eggs, milk, garlic, thyme, salt, pepper and uncooked quinoa. Stir in spinach and tomatoes. Pour into prepared dish.
Cover tightly with foil, then jiggle the dish and tap lightly on the counter to get the quinoa to settle on the bottom in an even layer. (I found this difficult with the metal pan since I couldn't see anything!)
Bake until just set, about 45 minutes. Remove foil and sprinkle top with cheese. Bake, uncovered, until cheese turns golden brown and bubbly, 10 to 15 minutes.
Let cool before slicing and serving.
Nutrition Information:
Yield:
6
Serving Size:
1 grams
Amount Per Serving:
Unsaturated Fat:

0g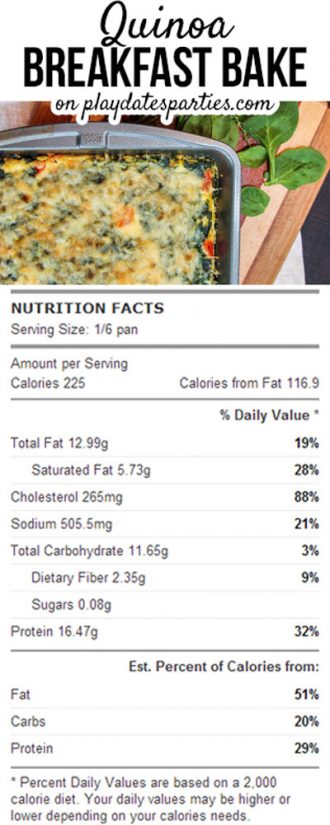 (Nutrition Information is estimated according to Livestrong.com and may be different based on the ingredients you use)
Now It's Your Turn
Forget the bowl of cold cereal! Winter months like these call for a filling, healthy option like this breakfast quinoa bake with eggs, spinach, and tomato. Make a batch this weekend, and you'll be so happy to have it ready to go for busy school mornings!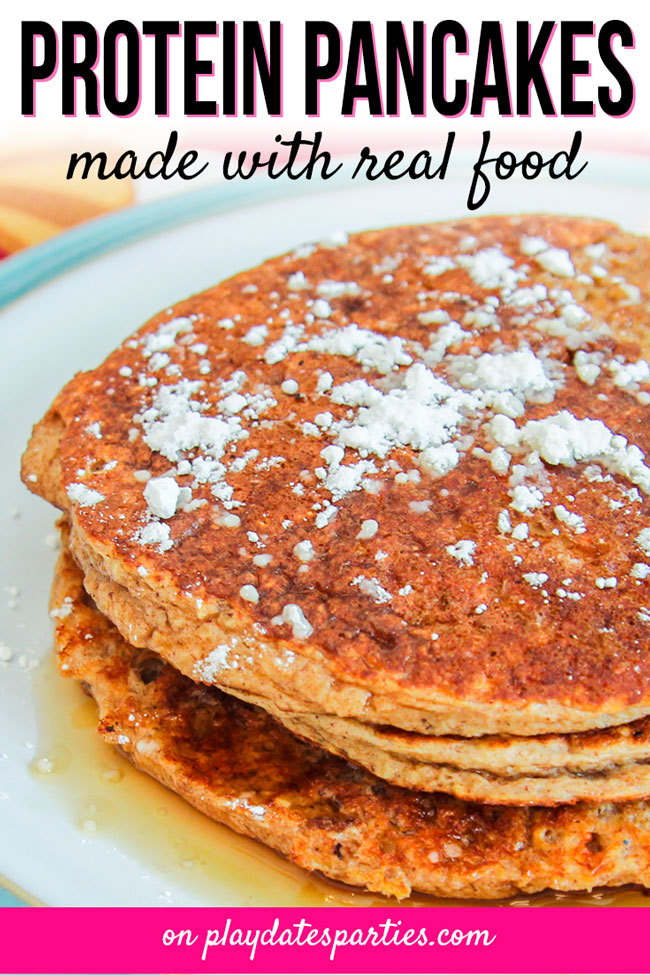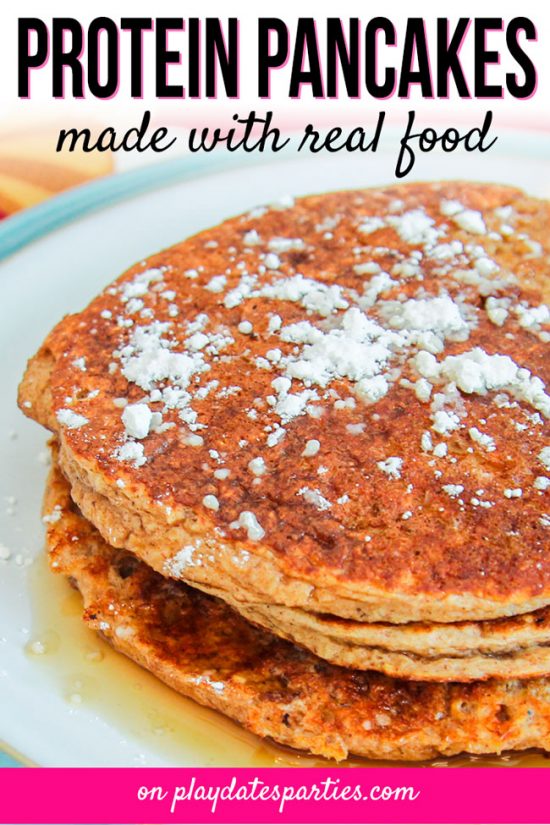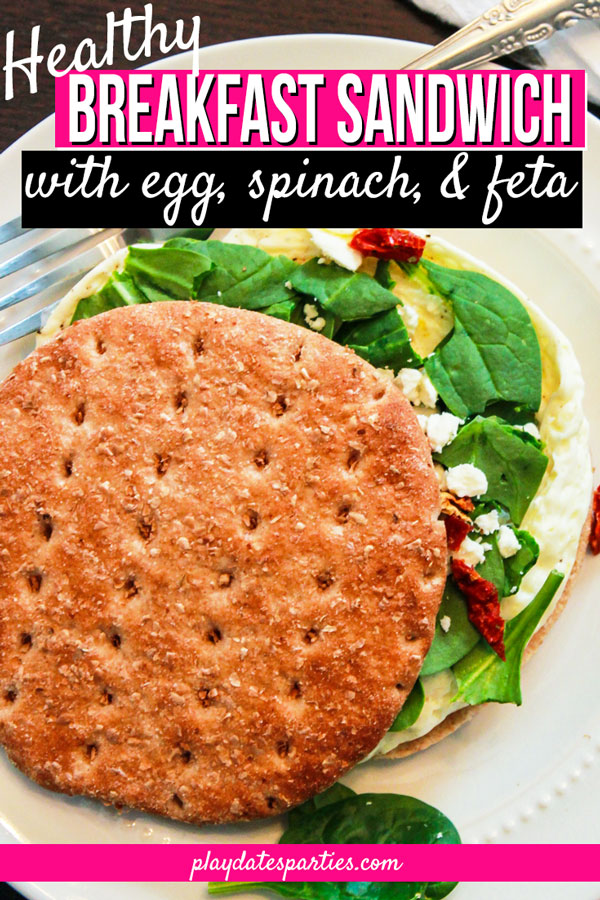 Don't forget to subscribe via
Bloglovin, Facebook, and Twitter,
to get more updates!