Looking to change up your meal planning routine? With these 15 dinner night themes and a few extra tips, you'll never be bored with you family meals again.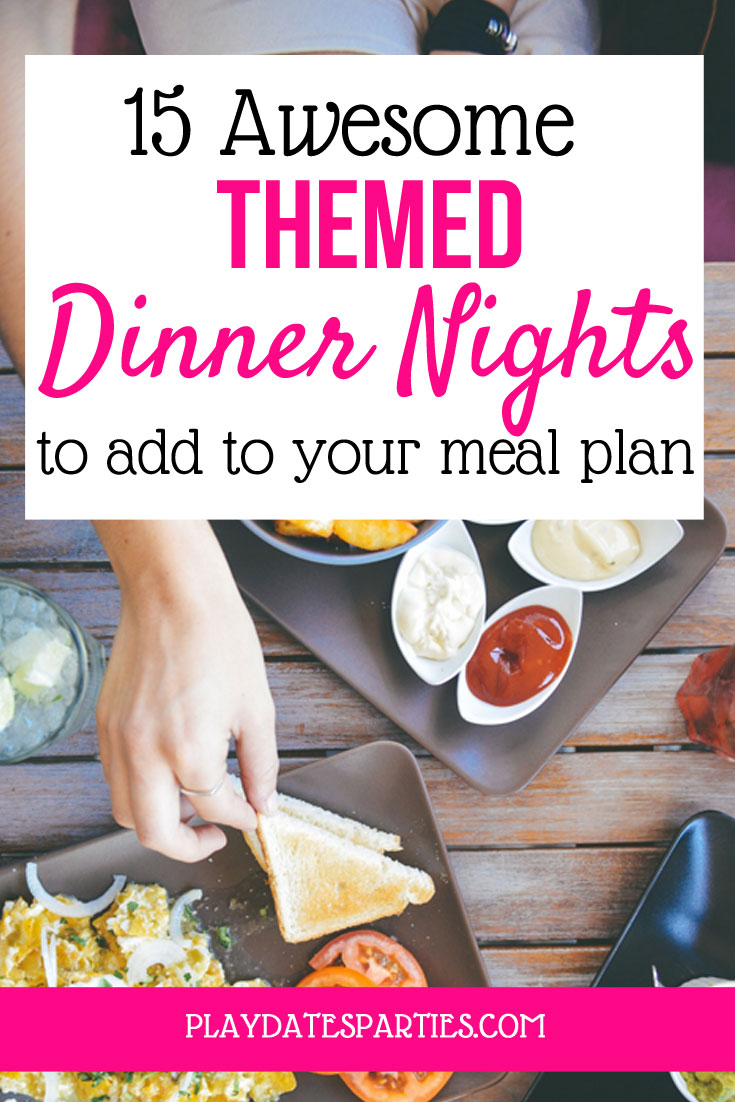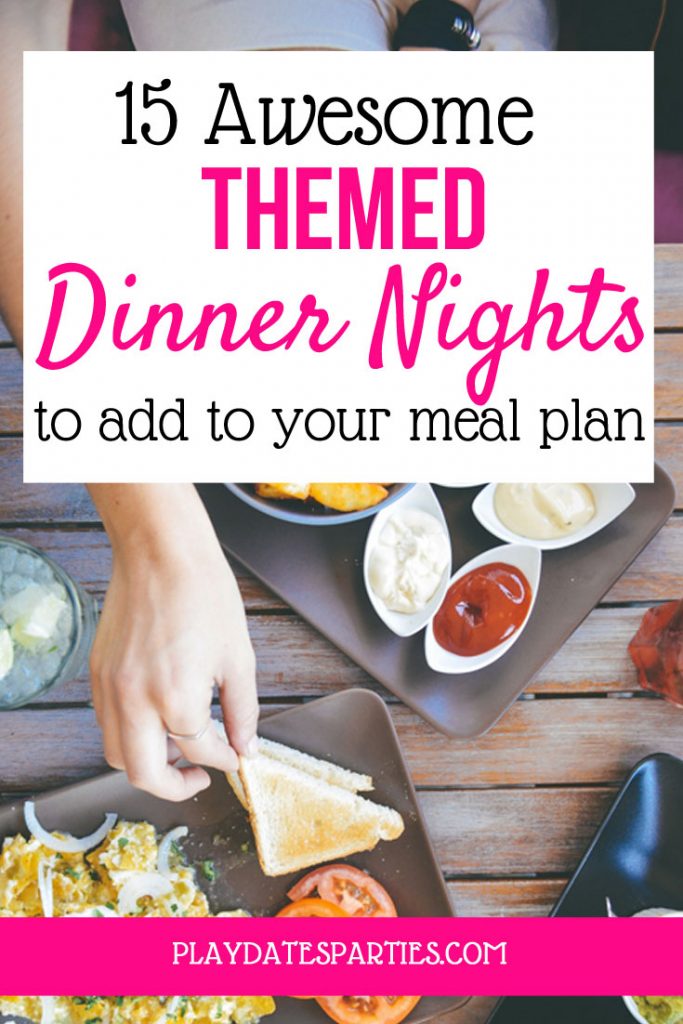 Can I confess something to you?
Until a year or so ago, I hated the idea of themed dinner nights.
Just the thought of eating the same type of food on the same day, every single week felt SO BORING. Let's face it, when you hardly have time to plan your meals, then it becomes far too easy to make the same exact meal for each theme night
But my least favorite, was taco night.
Sure, the kids loved it, and it was a great way to use up leftover meat and protein. But, my husband and I always wanted fresh toppings such as diced tomatoes or onions.
To make matters worse, I felt the need to present the meal on our dinner table in a pseudo-Donna Reed type of perfection. Each filling and condiment was removed from it's original packaging, and put into a bowl to be passed around the table.
The thought of all those extra dishes still gives me the shudders.
Eventually, I got rid of that perfectionist ideal. I started plopping down the original containers right on the table, saying "help yourself."
Or, instead of tacos, I just made a pan of nachos in the oven. Same flavors, same concept, one dish.
That's when themed dinner nights started to become more interesting, and I looked for more ways to incorporate themes into our meal planning.
[clickToTweet tweet="Which of these 15 dinner night themes will & your #family try this week? ? via @PlayDatesParty" quote="Which of these 15 dinner night themes will & your #family try this week? ?"]
I realized rotating a long list of themes over several weeks and months keeps things far more interesting than just making every week Taco Tuesday or Meatless Monday.
Yes, we do have a couple nights each week that are exactly the same (leftovers night is pretty varied on it's own, and who doesn't like pizza night on Fridays?)
But, now, I no longer look at themed dinner nights with hatred. Instead, I see them as a fantastic resource when I'm stuck for ideas and there are only three or four meals left to plan for a month!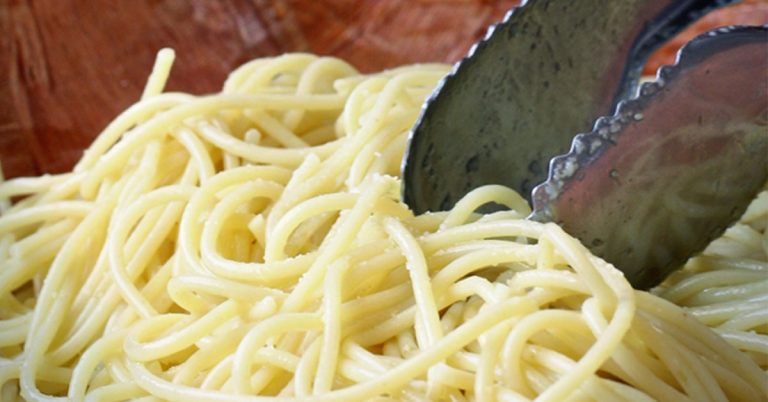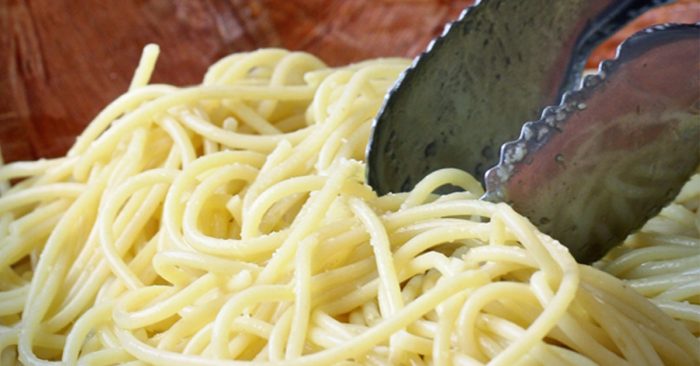 15 Awesome Dinner Night Themes to Try
Italian Night. Yes, I love pasta, but Italian food goes WAY beyond spaghetti. We love using our copy of Essentials of Classic Italian Cooking to help us get out of the red sauce rut.
Taco/Nacho Night. Taco night is great, but give sheet pan nachos a try…you'll be a convert, trust me.
Leftovers Night. It's a classic for a reason. No stress, and less waste!
Meatless Monday (or whichever day). Meatless meals aren't just about pasta and salad. If you're willing to try something new, you can have SO much fun with the theme.
Breakfast for Dinner. Use up bread that's about to go stale and make some french toast. Or finish that pack of eggs that have been sitting in the fridge for the last couple weeks. The options are endless.
Transform It Night. Turn your leftovers into something completely new just by using the food you have in your kitchen. You just might be surprised at what you can come up with.
Throwback Night. Make a meal that you LOVED as a kid. One of my favorites is John Marzetti, but the husband always loves his mother's Italian meatloaf and peanut soup.
Kids' Choice. Give them specific rules (e.g. It MUST include a vegetable), and let the kids plan the meal. Bonus points if they can cook it too!
Something New Sunday. Make a new recipe and try it out as a family.
Sheet Pan Dinner Night. Sheet pan dinners are a great way to get dinner on the table FAST. And they keep dishes to a minimum too, which makes them perfect for busy weeknights.
Soup & Sandwich Night. Won't have much time to cook? Plan instead to make some sandwiches and grab a bit of soup. This is a great option in the cold winter months.
World Traveler Wednesday. Try a cuisine from somewhere exotic. My friend Jas has all sorts of ethnic recipes that are so approachable.
Movie Matchup. Watch a favorite family movie and make a meal that is featured in or inspired by that same movie.
Take-Out Fake-Out. Make a meal that mimics your favorite take-out food.
Pizza Night. Whether you go to a local pizzeria, order in, or make your own, pizza night is the ultimate family favorite.
Now, It's Your Turn
Add these 15 dinner night themes to your meal planning sessions and you'll see how much faster your planning goes. Remember, how you use these themes is up to you. You can:
Choose one or two themes to repeat every week,
Rotate all 15 dinner night themes over the course of 2-3 months, or
Use dinner night themes as inspiration when you're losing steam at the end of your meal planning session.
I want to know…
What are your favorite dinner night themes?
Do you like to use dinner night themes?
Did you enjoy this post? Don't forget to save in on Pinterest for later!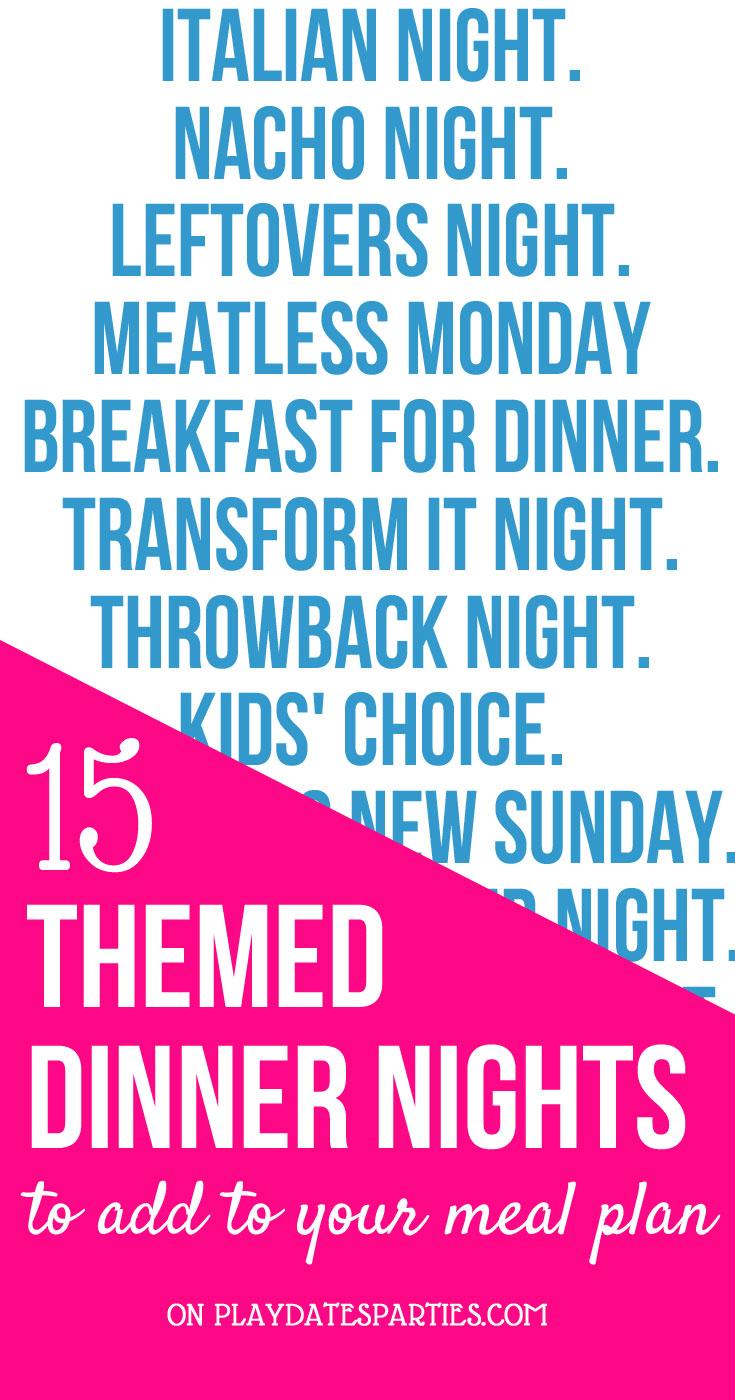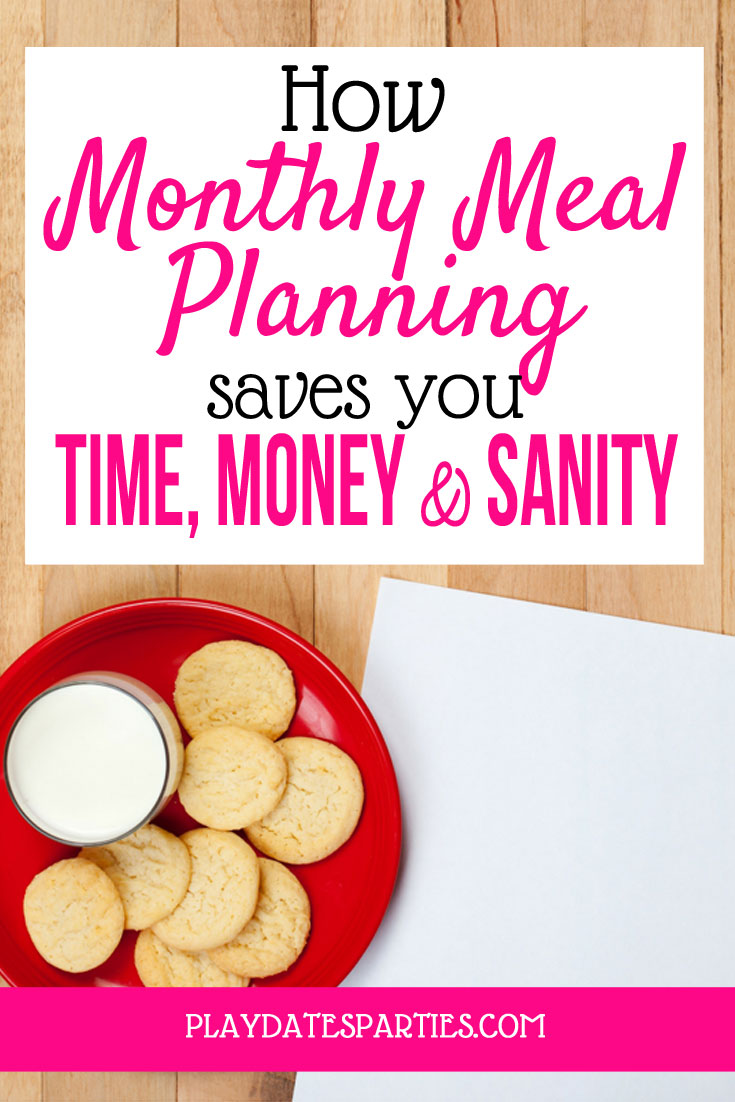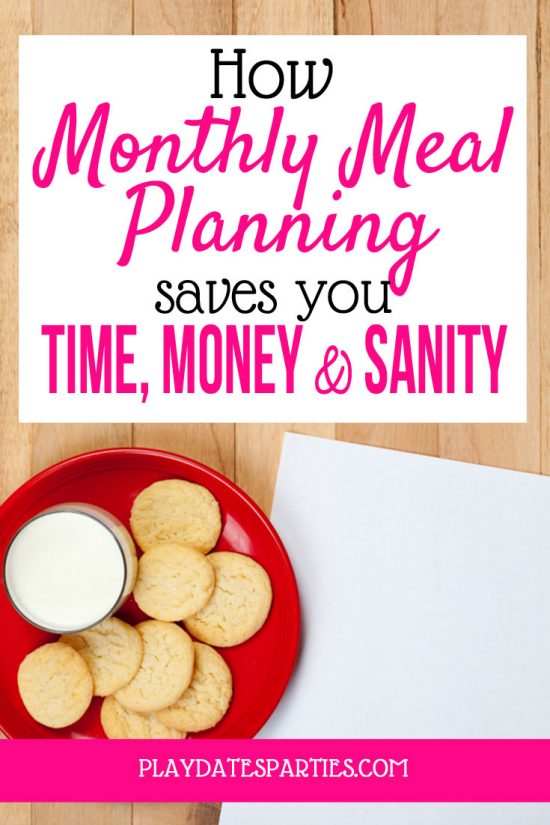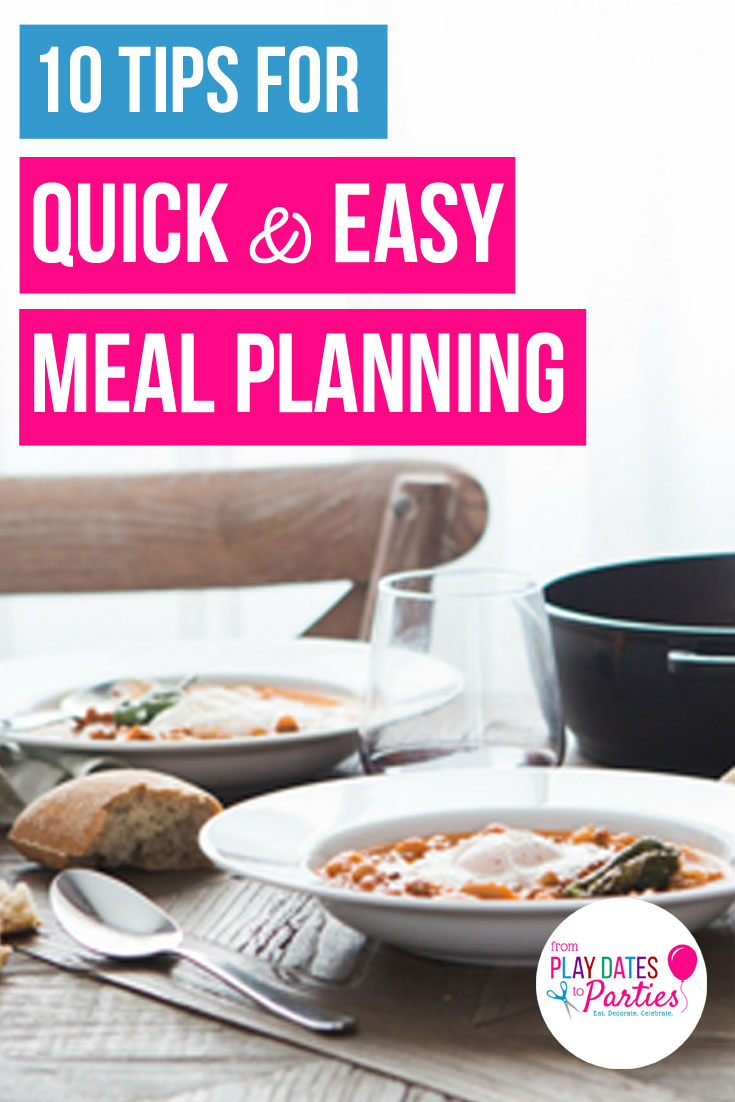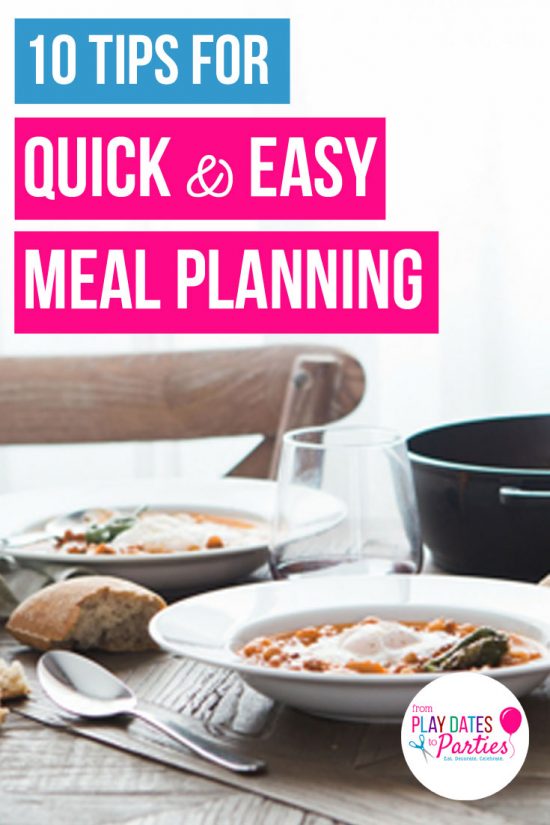 Don't forget to subscribe via
Bloglovin, Facebook, and Twitter,
to get more updates!
SaveSave
SaveSave
SaveSave
SaveSaveSaveSave